Back in early 2016 when we were thinking about moving to Japan, my Auntie Meiko said she and her sisters were coming to Japan on a tour in Spring 2017.  That seemed like a far way off.  But suddenly it's Spring 2017 and she has already come and gone!  I'd been looking forward to her visit for a long time.
The day finally arrived on Saturday, May 20.  I picked her up at Shin-Osaka train station.  She said it only took 13 minutes by Shinkansen (bullet train) to get from Kyoto to Osaka.  I guess that's platform to platform.  I couldn't believe it!  She said she was nervous about taking the train by herself, but it was a piece of cake.  The Shinkansen is really easy.  Even when we left for Nagano and I was driving the ticket counter lady crazy with my indecisiveness, I was shocked that when I finally bought our tickets we had only 5 minutes to get on the train… and it only took us 3 minutes!  But the thing about the Shinkansen is that you have to be ready to hop off when it's your stop.  Even the announcement on the train says, do not miss your stop.  The train only stops very briefly before closing the doors and moving on.  So if you are like us, a family of 5 looking for dropped items, putting on jackets and pulling bags down at the last minute, you'll have to work on getting more organized.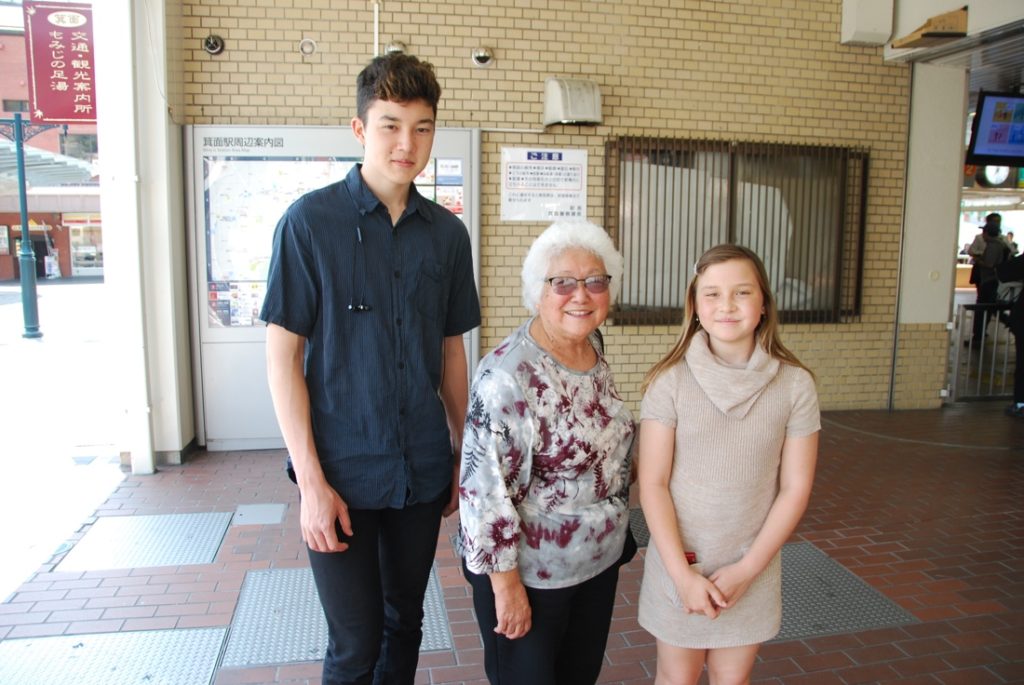 Anyway, after I picked her up, we took the train and bus combo back to our house in Minoh.  She got to see all of the kids and John even drove the car to downtown Minoh… only for special guests!  My Japanese friend helped me make reservations for kawayuka dining along the path to Minoh Falls.  Kawayuka are dining decks built above rivers.  The most famous kawayuka and kawadoko (They're pretty much the same.  As best I can tell, one might be beside the river and the other is over the river.) are in Kyoto and Kibune, north of Kyoto.  Anyway, this is Minoh's famous one!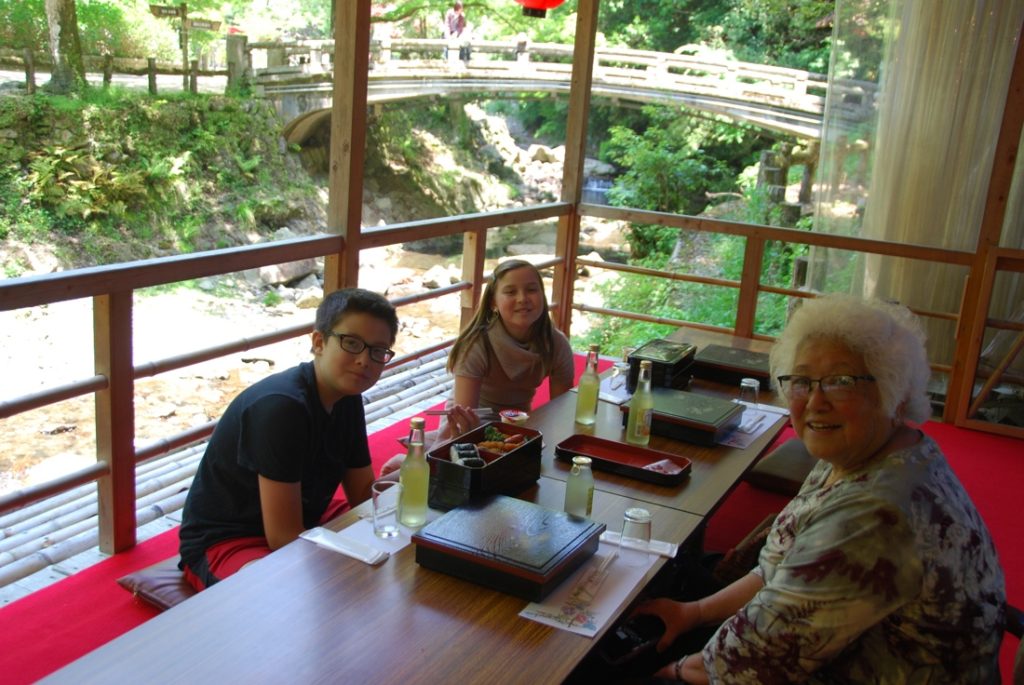 When you arrive, you have to take off your shoes.  The tables are low so you sit on cushions on the floor.  But they offered my aunt a low chair to sit on.  How thoughtful!  She appreciated it because she said it might take her a while to get off the floor otherwise.
Our lunch turned out to be a special, beautifully presented, kaiseki lunch and we were all thrilled.  Kaiseki is a traditional Japanese multi-course meal.  Generally speaking, little dishes of food just keep coming and coming and coming!  I asked for kids' lunches for Avalon and Kaiyo and we weren't sure what they were going to get, but they also enjoyed their mini-kaiseki lunch with kid-friendly food.  They had mini-dogs, hamburg (it's like Japanese meatloaf) and french fries, rice balls, little veggies, fried chicken, cheese, cookies and custard.
The adult lunches were filled with fresh sashimi, local vegetables, root vegetables, a special fish served in the spring (what was the name of that again? Aji?), a bowl of soup (not miso but something else traditional), a bowl of rice (was it chirashi?) and probably more that I've forgotten.  Auntie Meiko knew the names of most things we were eating.  I should have written them down!  We also ordered yuzu citrus drinks, the specialty flavor of Minoh.  Oishii (delicious!)!  [I got the update that the special, seasonal fish was called Ayu.]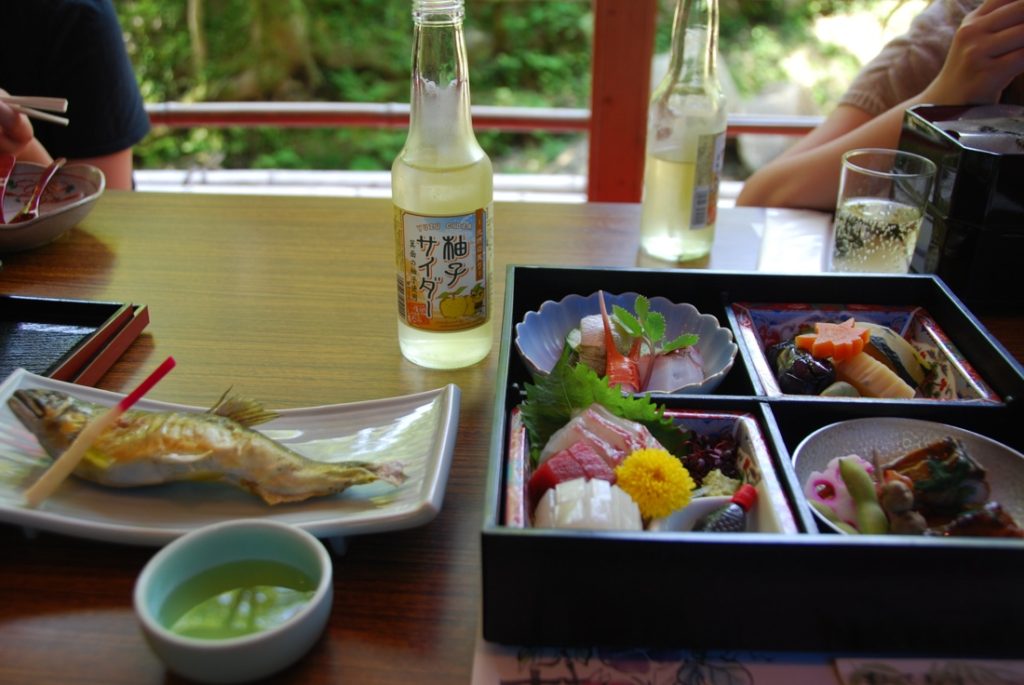 Kaiyo and the kid's kaiseki lunch!  It's a double layered box.  The sweet and savory items are on the bottom.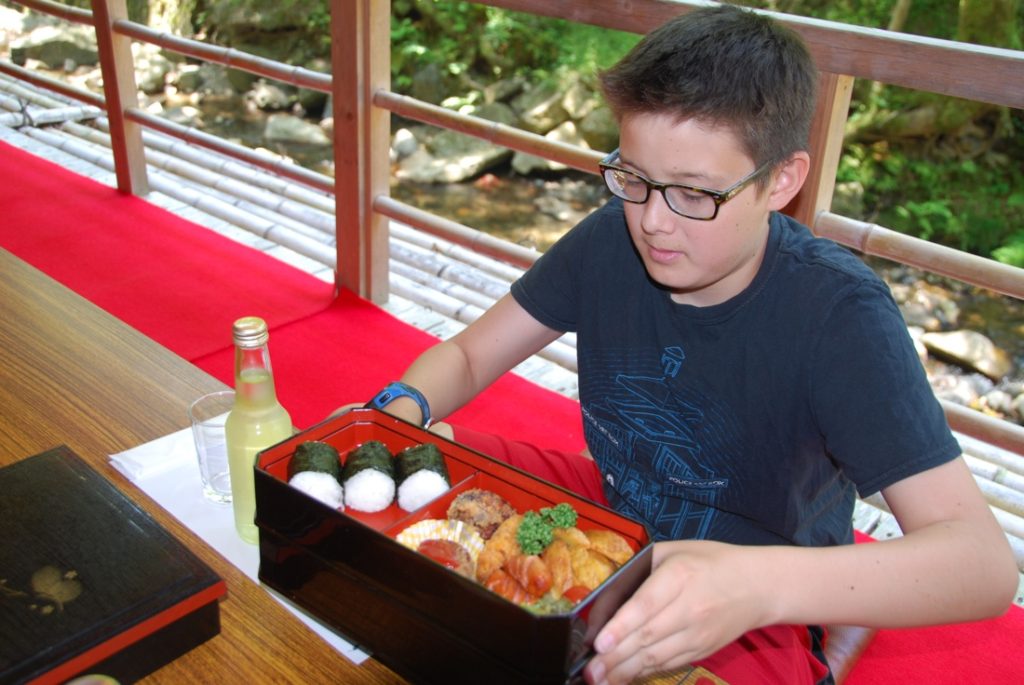 From the Kansai Tourism Bureau: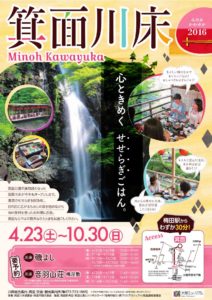 Minoh City is promoting Minoh Kawayuka as a contemporary version of the rest sites that once existed along the Minoh River and were free for public use from the Meiji period through the early Showa period (ca. early 20th century). Visitors will enhance their enjoyment of summer in Japan by relishing seasonal cuisine on the unique kawayuka of Minoh while experiencing the richness of nature in Minoh Quasi-National Park, the refreshing breezes along the Minoh River, the pleasant sound of the mountain stream and the many other attractions of Minoh's natural wealth.
That pretty much sums it up!  It's also a seasonal thing.  The dates on this flyer say it's only open from April 23 to October 30.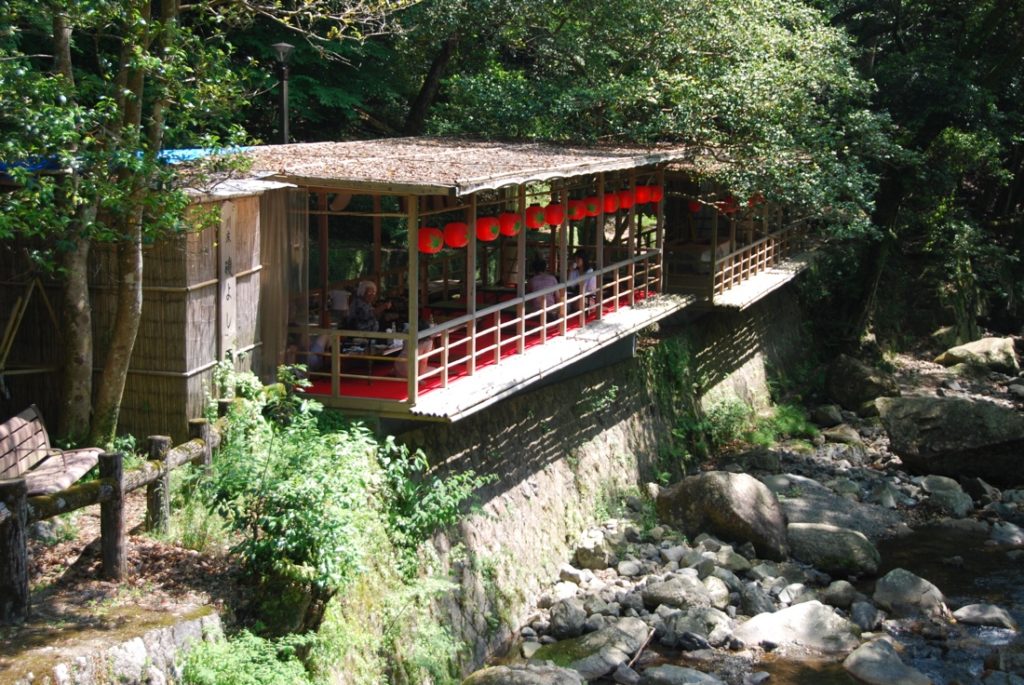 Auntie Meiko brought us a special gift from California.  See's chocolates!  The box is empty now.  We are still working on the See's Lollipops.  I'm trying to make them last but the kids might complain that I am parceling them out too slowly.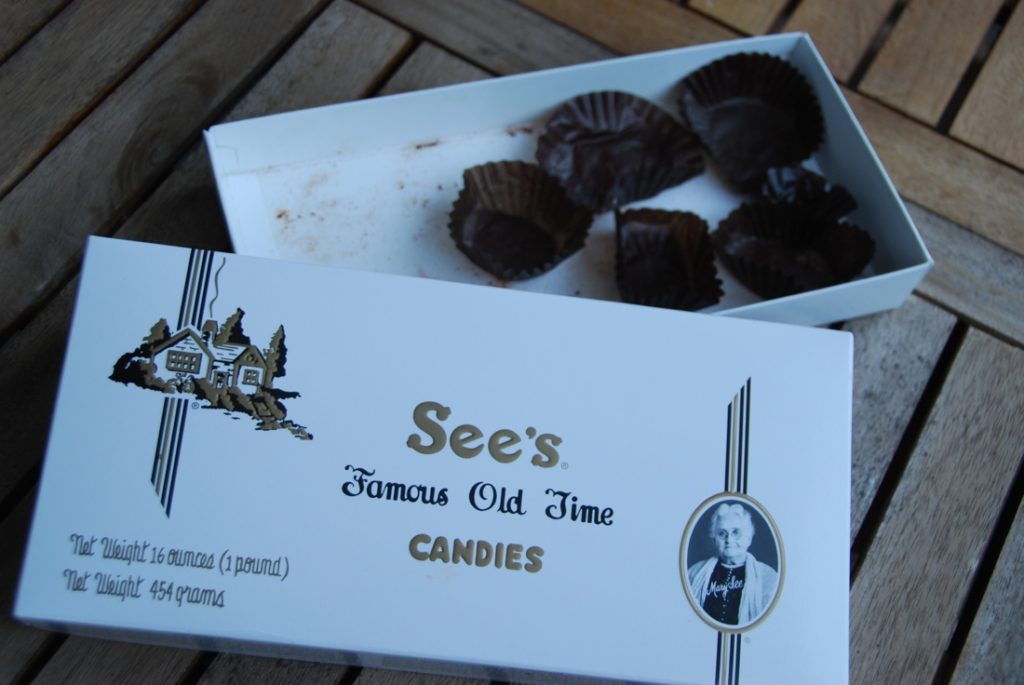 After lunch we came back to our house for a rest.  Halyard left us early on so he missed the special kaiseki lunch.  Kaiyo left mid-way through lunch to catch his teammates play in a final volleyball championship (did I mention Kaiyo joined the school volleyball team!?!).  He literally ate and ran.  The people at the kawayuka asked what had happened to him.  Avalon stuck it out with us.  When we got home, she went off to watch the iPad, John fell asleep on the couch, practically in mid-conversation, and Auntie Meiko decided she'd sit in the big leather chair and give her eyes a rest, too. We all checked out for about a half hour!  Then it was time to escort Auntie Meiko back to Shin-Osaka for her 5:30 Shinkansen train back to Kyoto.  It was a great day and we had perfect weather!