Dining on Virgin Voyages' Scarlet Lady is a different experience from your "regular" ocean-going ships. Each restaurant is included with your trip so there's NO extra cost to dine anywhere. No. A few items on the menus do have an upcharge, such as lobster or wagyu beef, but that's an exception. Typically, the most difficult part about dining on Scarlet Lady is deciding what to eat.
There are six specially themed sit-down restaurants. We were on a 5-night cruise which meant that we had to leave one restaurant out. The way reservations work on Scarlet Lady is that you are allowed to make one reservation per restaurant. If you want to re-visit any of them you can show up and get seated based on availability.
There's also a large open area on Deck 15 called The Galley with a lot of various food options that are cafeteria style. There are a few other places sprinkled throughout the ship, like a carnival tent meets soda fountain, poke bowl station, ice cream counter and popsicle push cart (which doesn't actually move anywhere). You can also find beverage bars such as Sip, a fancy champagne bar which also serves pastries and high tea, coffee and tea bars, and fresh pressed juice bars.
First night dinner reservations: Test Kitchen
This is presented as a high concept, experiential dining experience. When I first walked in I was struck by all the chrome and mirrors and orderly layout of the interior. It very much feels like a laboratory or some secret underground S.H.I.E.L.D. meeting place.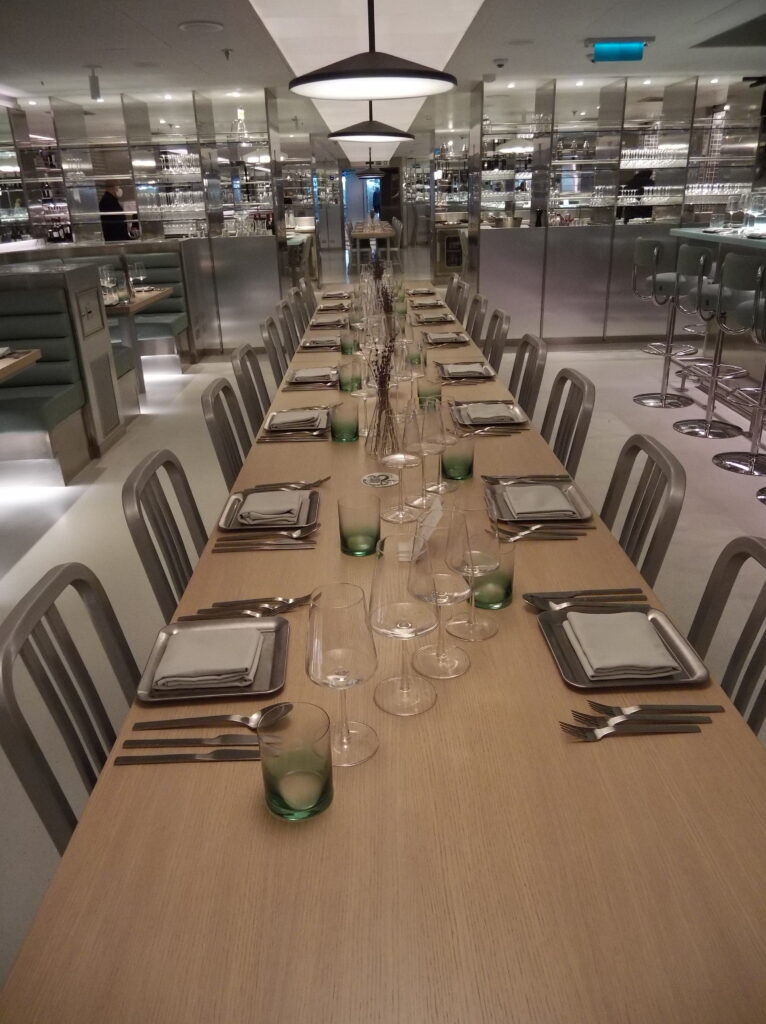 We were handed a welcome drink of something sweet and led to a nice table in a corner. Mistakenly thinking there was something to see over at the bar seats, we asked to be moved to the counter. But as it turns out, there's nothing being "cooked" or "made" over at the kitchen counter. Rather, it's an assembly station where someone was carefully arranging many of plates of mushroom pate with little flowers and dots of saucy something.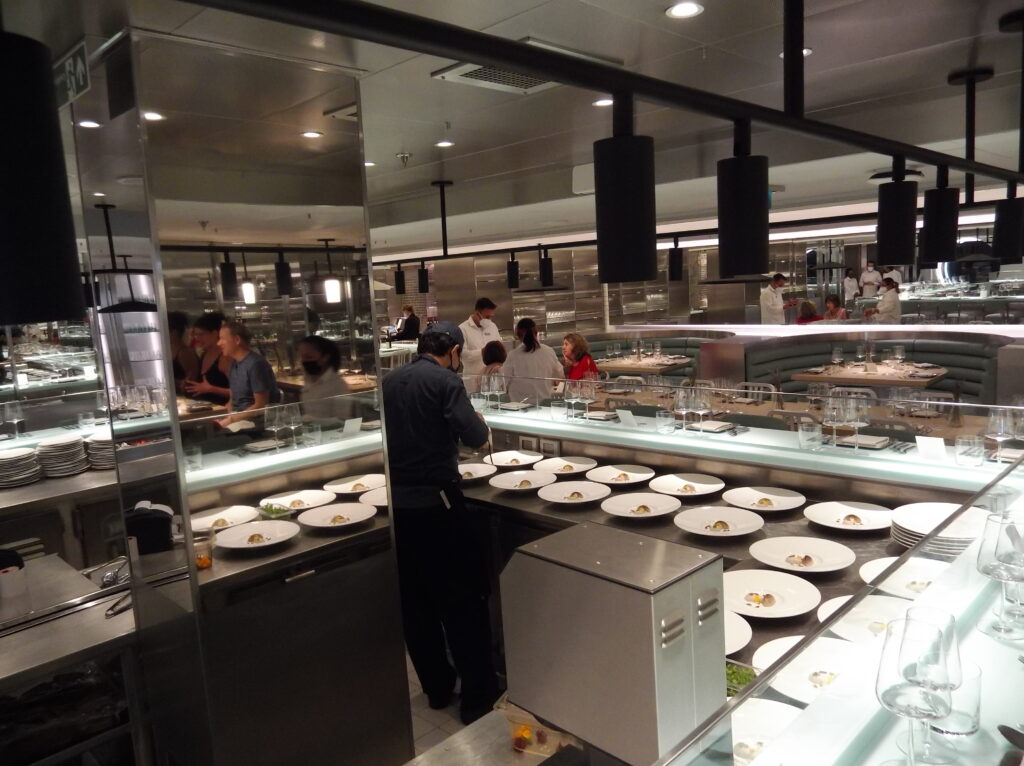 Interestingly, I looked at someone else's blog with a Scarlet Lady food post and our mushroom dish was MUCH PRETTIER than theirs. They had sailed from Portsmouth, UK and obviously their chef was not as artistic as ours.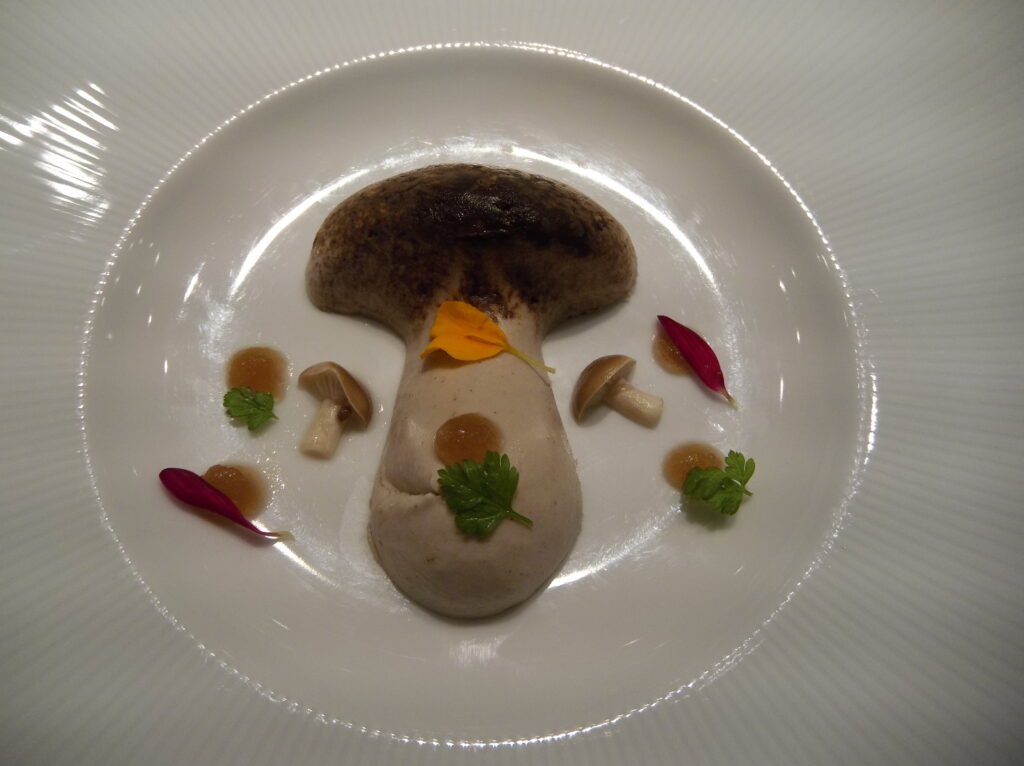 The next few photos give you an idea of this high concept food design. Did it hit its target or miss the mark? A mixed review. I appreciated the inventiveness and desire to do something totally different. And it's also probably nice for the chef to just make the same thing every night on every cruise.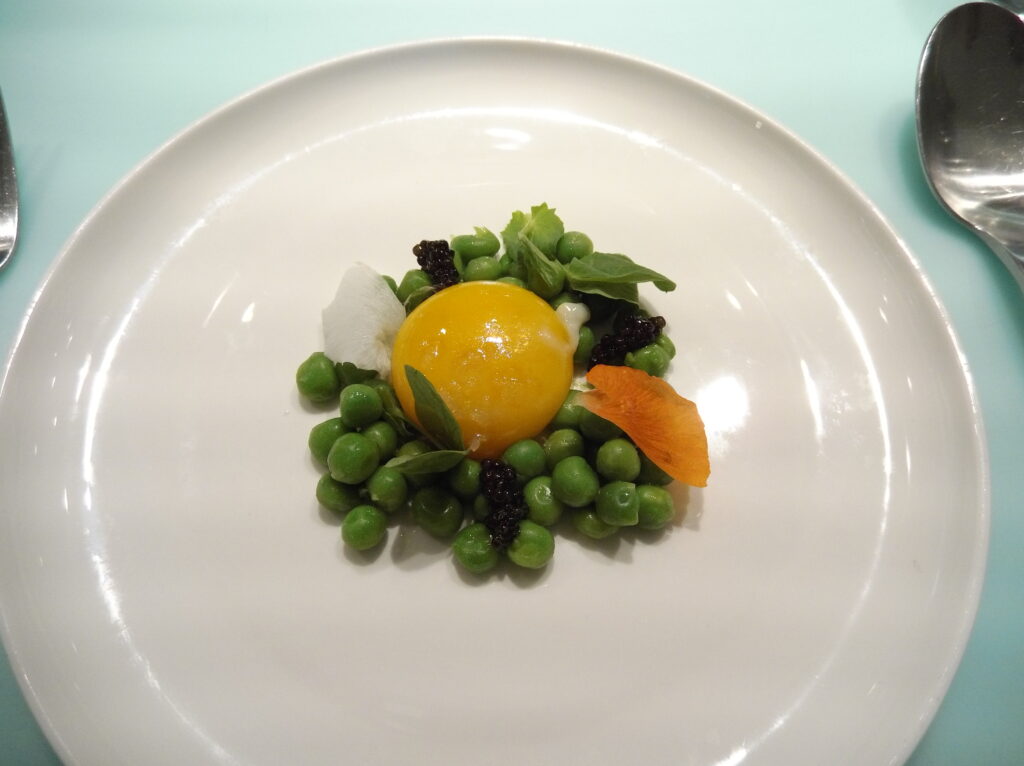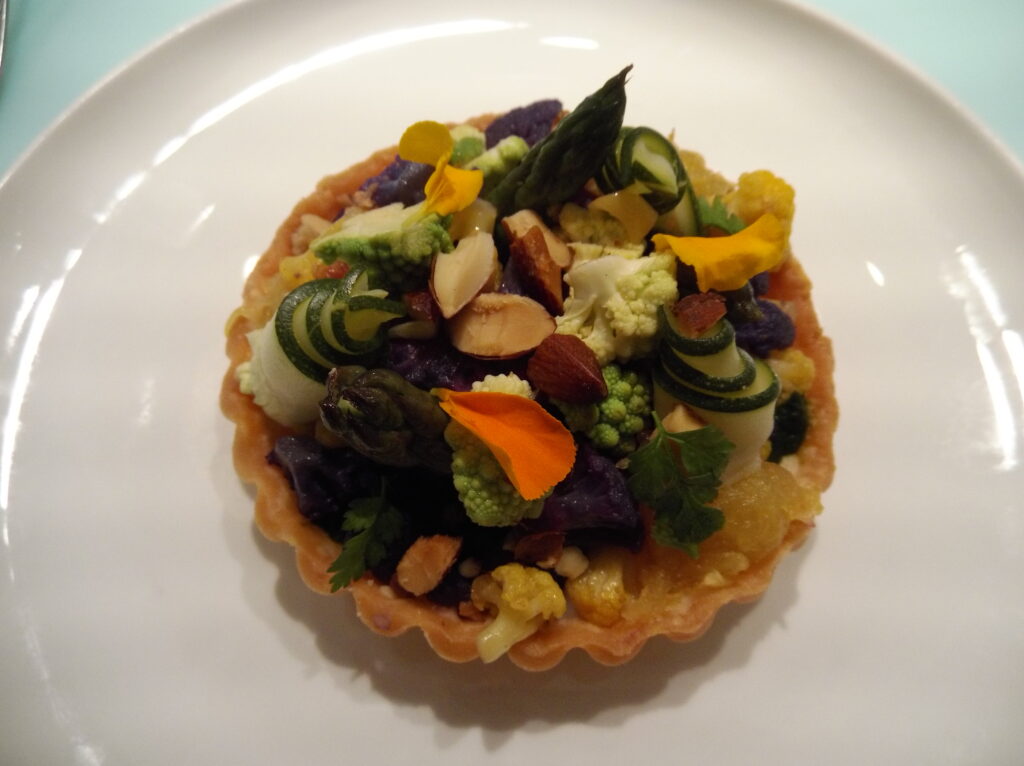 This is the vegan tart that we got instead of choosing the venison or beef course. This is a ridiculous amalgam of the refrigerator vegetable drawer thrown together. I even recorded the waiter explaining the ingredients because I knew I'd never remember anything. Even now I had to listen to him several times to catch it all. As best I can tell, he said… it's 2 types of puree, sunchoke and kale puree, marinated daikon in soy sauce, 3 types of cauliflower, a little bit of squash and zucchini, asparagus and hazelnuts, a little bit of basil and nasturtium petals (for color and a trendy look). It was too many flavors mixed together for me. It just tasted like veggie mush in a crust.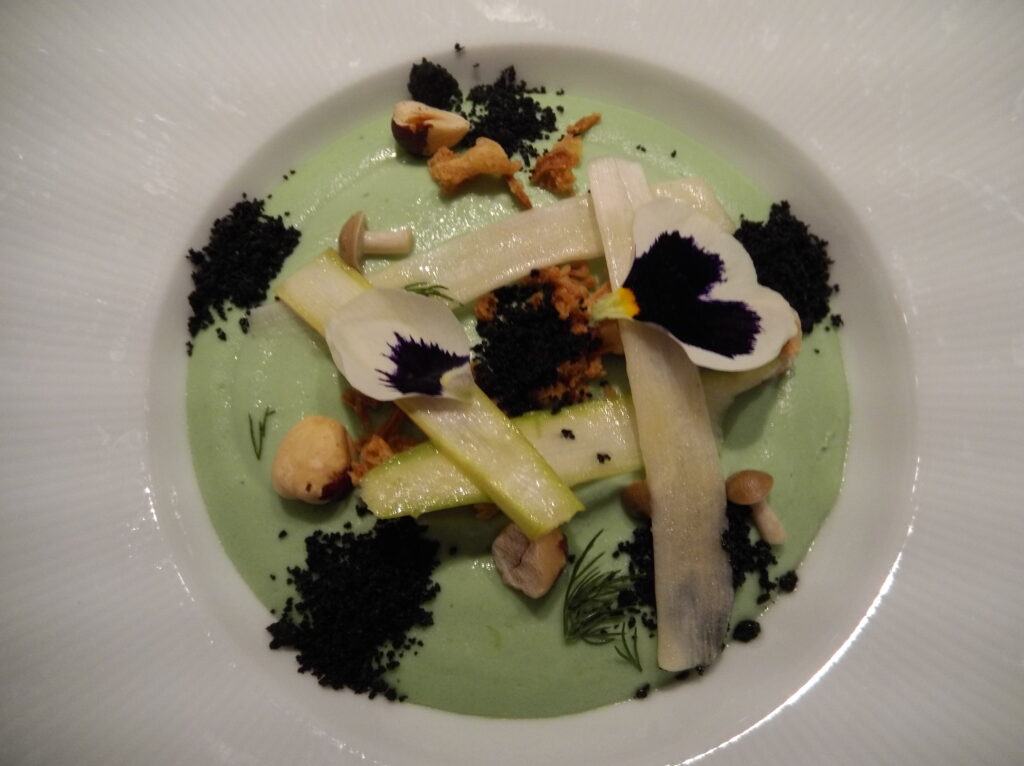 Overall, Test Kitchen was tasty enough and fun. Manage your expectations and go in knowing it's meant to be experiential. Oh also, my friend got the $35 wine pairing with each dinner course and if you love white wine, you are in luck. If you do not love white wine, then there's a cocktail pairing that might be better for you.
Second night dinner reservations: Razzle Dazzle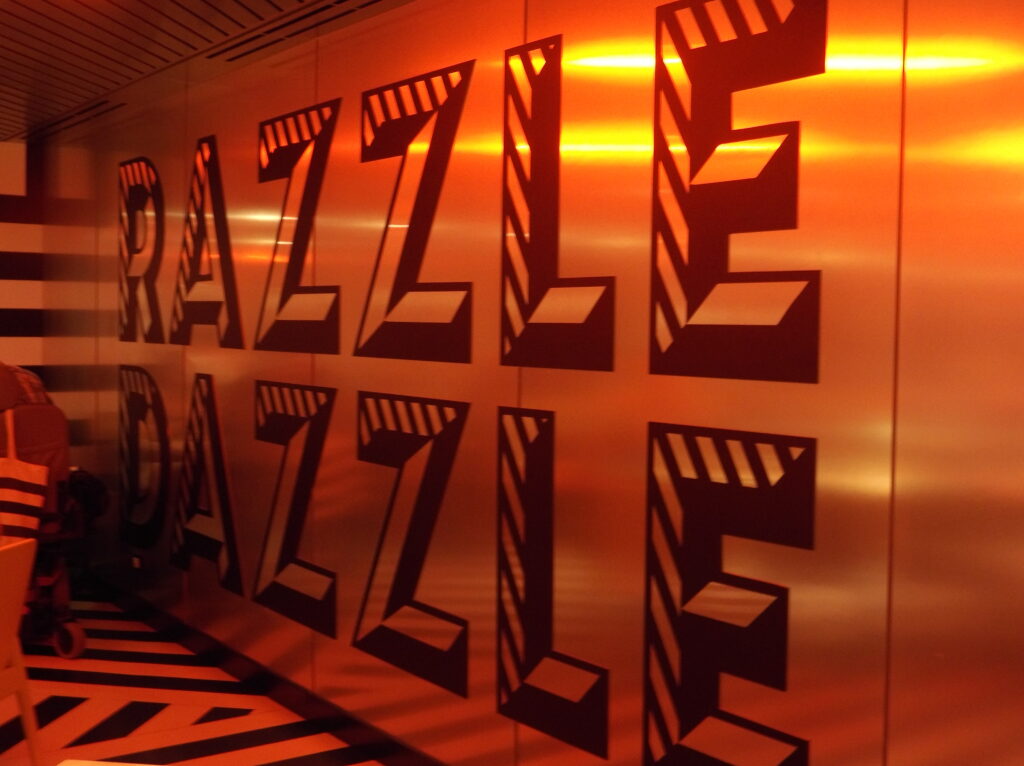 Prepare to be dazzled everyone said. High expectations are rarely good. But I agree, this was one of the better dining options. The décor is fun and eye popping. Definitely not a place you'd get boring vibes from. My heirloom winter squash ravioli was probably the best entrée I had on the cruise. It arrived piping hot, major plus. My friend ordered the whole roasted heirloom cauliflower (the featured pic above) which arrived as a whole head on a plate with a steak knife. We also ordered the mushroom tartare to start which was very good.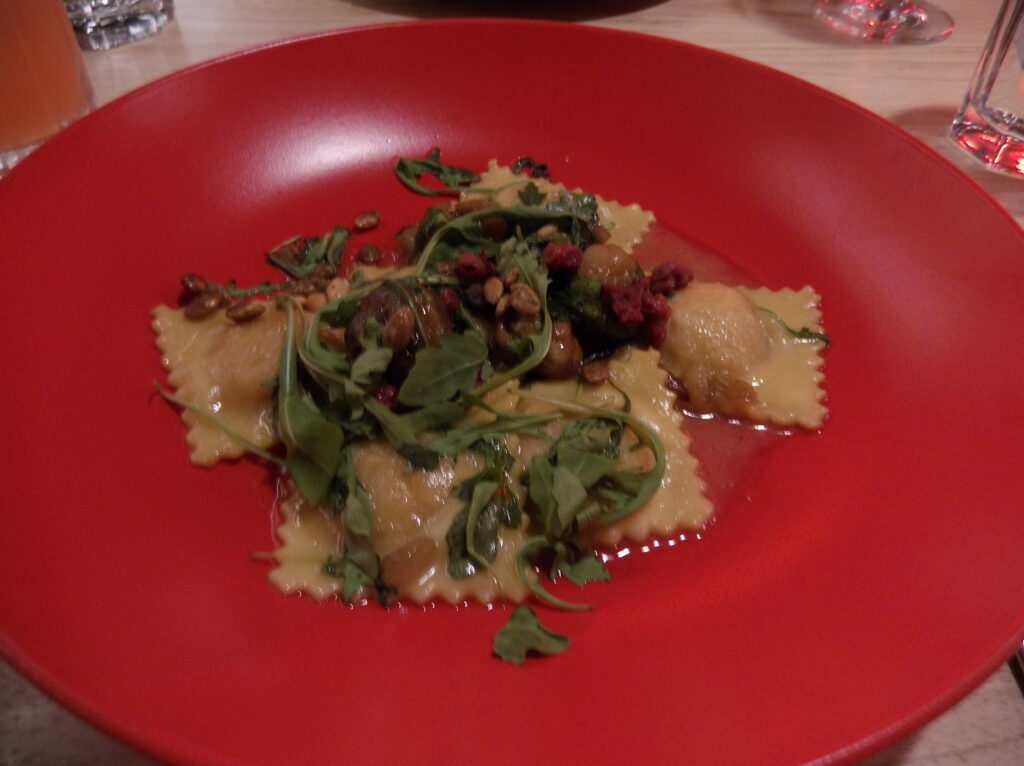 I was so curious to know how well they prepare salmon here that I asked our server if I could have a plain salmon without any of its sides.  The waiter was perplexed.  Bring the salmon, naked on the plate??  I told him, I don't want to waste the potatoes and the rest of it because I'm too full to eat the sides.  I just want to try your salmon.  He literally forced himself to bring me a naked plate of salmon.  Sadly, the salmon was a tad overcooked. I'm not picky, I swear!  I hope our server didn't mind my feedback after all the trouble just to get a plain plate of plain salmon. 
But, you can never be too full for dessert. Who could turn down rainbow churros, aka unicorn jenga? Delicious. It even came with ube ice cream. And our accompanying popcorn themed drink (which was basically an old fashioned with kettle corn piled on top and served in a popcorn box) was a fancy flourish.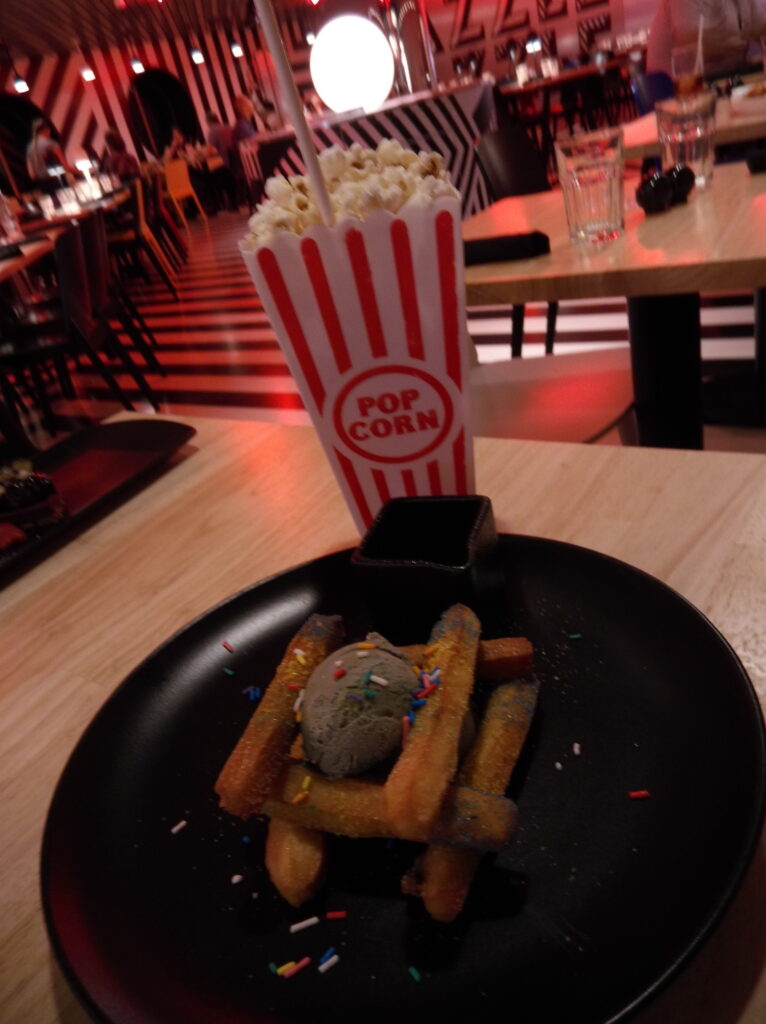 Third night dinner reservations: Extra Virgin
This is the Italian option. It was like a cozy, neighborhood spot. Booths and tables with photos on the wall. I could have been anywhere, in any town, eating any type of food. I felt like I was in a Chicago suburb, to be honest. This was the décor.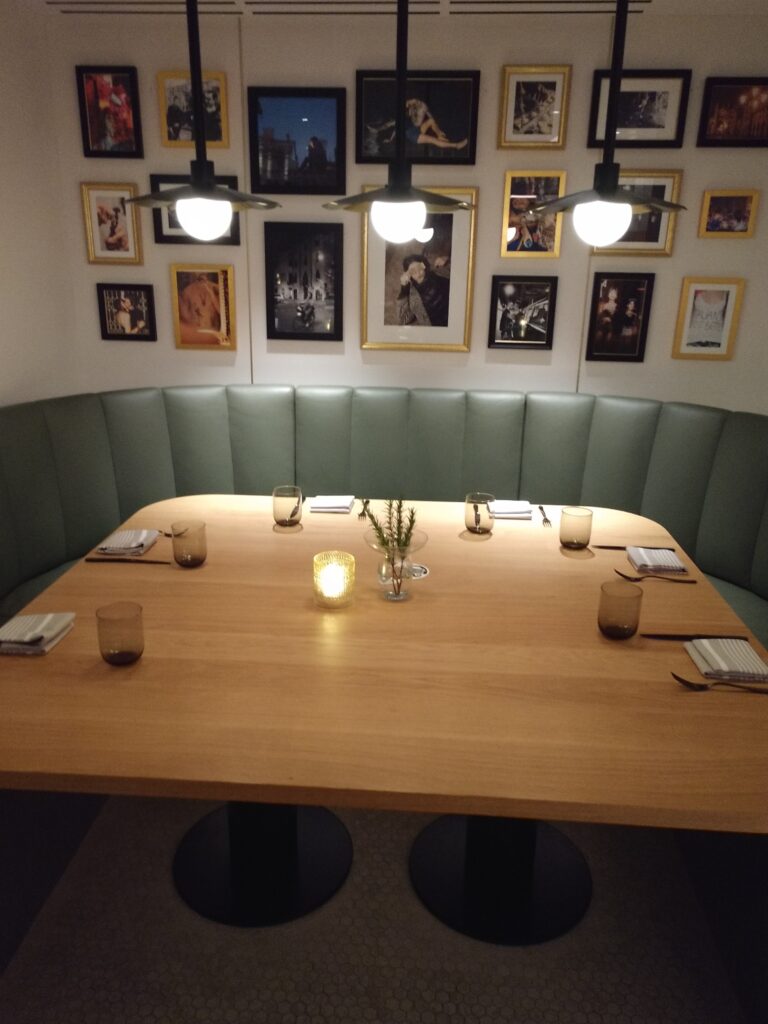 I liked Extra Virgin but, like its décor, it was nothing special. We ordered crispy artichoke and fried calamari to start. I ordered the artichoke because VV recommends it as a not-to-miss item. But, it was only the artichoke heart and it was teeny tiny and oily. I fully expected the whole artichoke, leaves and all. VV has a Recommends Feature in their app where I saw a photo of a whole artichoke! So that was misleading. Our entrees were fine though. One bothersome bit that happened at other restaurant as well, is that the wait staff urge you to order everything at once. I was on the fence about ordering spaghetti alle vongole as an extra entrée, thinking I might be too full and I didn't want to waste it, so I said, I might order that later. And she said, no the kitchen needs time to make it so you have to order it now. And I was like, well I'm not really sure if I want it yet. But she ordered it for me anyway.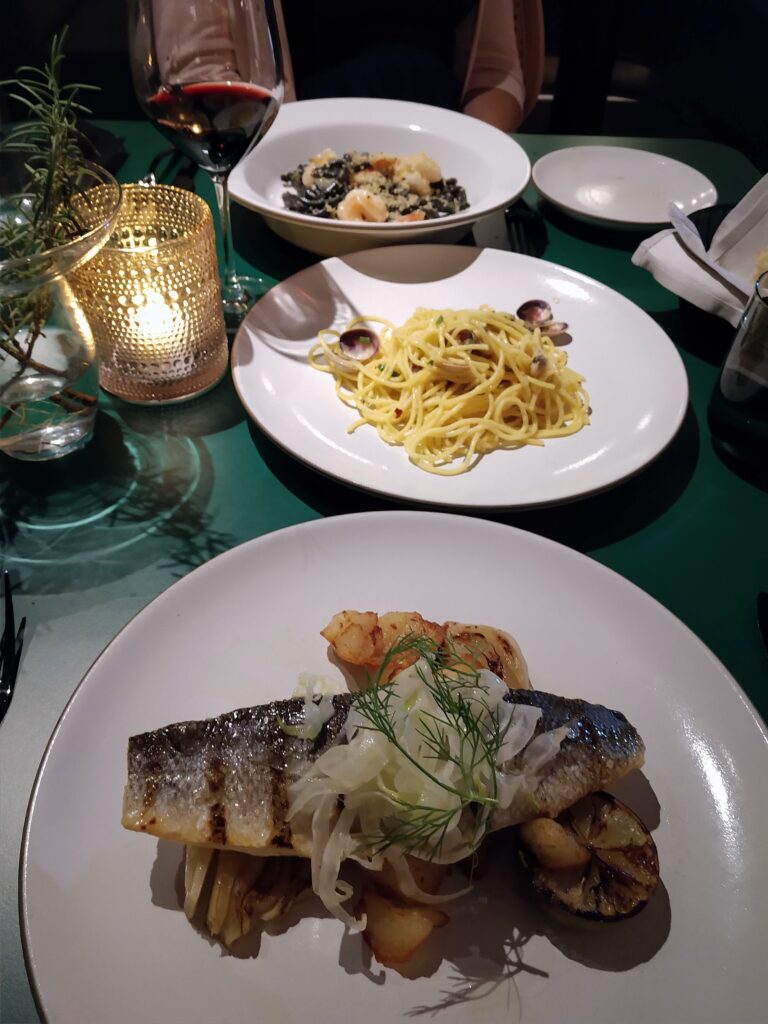 And all of the entrées came at once. Which meant that while I was eating my grilled Mediterranean sea bass, the spaghetti was getting stone cold. I simply couldn't eat it by the time I got to it. Its al dente-ness had turned hard and cold. I felt terrible wasting it.
Fourth night dinner reservations: Gunbae Korean BBQ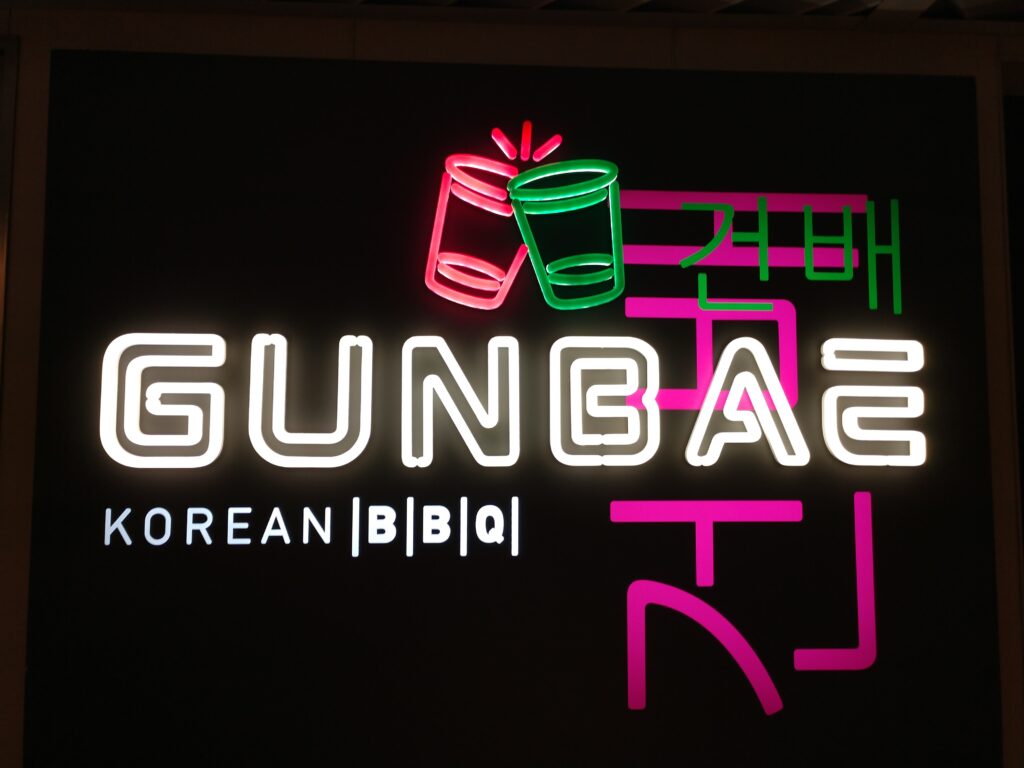 Talk about high hopes. I know that Korean BBQ is a meat-eaters paradise and I don't eat meat. But from all I'd read about this place, and my love of Korean food, I had high expectations for a really fun time. I also knew that veggies, seafood and soju were on the menu so I'd be fine.
Gunbae is one of the hardest restaurants to get a decent reservation time for. If you aren't quick you're going to be stuck eating early when it opens, or late at closing. Regarding getting good reservations here, this is one of the occasions when I had help from Sailor Services.
The table arrangement is 6 people sitting around a circular table. The grill is in the middle. Our server was a lady who explained how Gunbae works for those not familiar with Korean BBQ. Then she told us we were going to play a drinking game!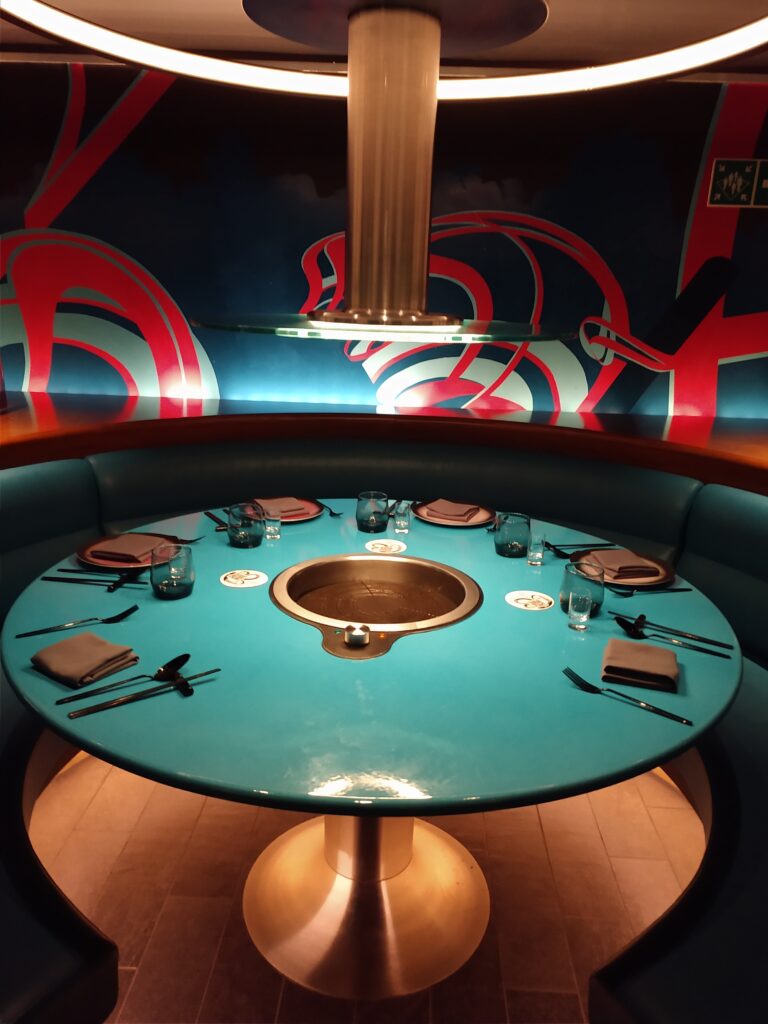 Soju is a distilled alcoholic beverage. It's like the working man's drink in Korea and most everyone over there drinks volumes of it. At least that was my impression when we were in Seoul. We had 4 people at our table. Another couple who love cruising were sitting with us. The game went like this: We went around the table counting off numbers. In place of the numbers 3, 6 and 9 we were supposed to clap instead of saying the number. If you messed up, you had to drink the soju shot. Our server filled our tall shot glass to nearly overflowing. It was really fun. The husband with us just could not wrap his head around the rules of the game. He either purposely said the wrong number or he doesn't know how to count. His wife was rolling her eyes at him. He also made a big production about how the soju went down, which made me nervous. But I think he must have been faking it because it seemed fairly smooth to me.
In typical Korean fashion, we got little plates of kimchi, bean sprouts, sauteed spinach, etc. as a preliminary course. My friend ordered bibimbap and I ordered japchae. I loved the delicious grilled veggies and seafood. I very much appreciated that they changed the grill before the meat courses started. The woman next to me appreciated it too, because she didn't want her meat touching any seafood.
My only complaint about Gunbae isn't for me. I loved it. It's for the false advertising. At least at our table. VV says this about eating at Gunbae: "It's a catalyst for great conversation since we all have that one friend who insists on being the meat-master. Go ahead and roast the master while they roast the meat."
Except that all of our food was grilled, roasted and cooked for us.  We didn't get to roast any one or any food!
Fifth night dinner reservations: Pink Agave
Of all the restaurants on board, it seemed everyone raved most enthusiastically about Pink Agave. It was our last night's reservation and I wished it would have been our first so that we could have revisited it.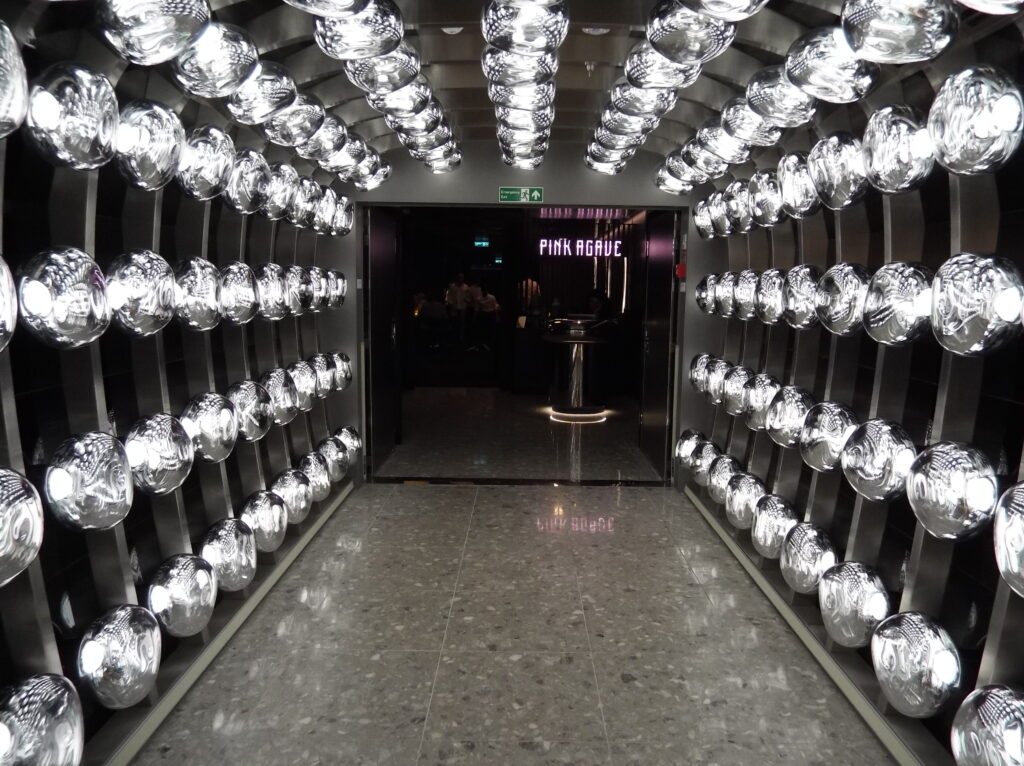 This restaurant is billed as Upscale Mexican. We didn't get a master of ceremonies guiding us through a highly curated dining and drinking experience. VV advertises this. Where could I sign up for that? If you did that let me know in the comments.
In my opinion, any great Mexican restaurant can be measured by its chips and salsa. In the case of Pink Agave, its chips and guacamole. We ordered two bowls of chips and guac and could probably have just ordered a third round and called it a night. They were delicious. The next app we ordered was a tuna, avocado, jicama tartare dish and we also ordered a second round of this. It was so tasty. Top notch apps. So good.
As for the main courses, the sea bass was salty and the mashed potato stuffed chile relleno was a bit odd but not bad. The recommended chocolate tacos dessert and milhojas with passion fruit glaze and pastry something tasted decadent and very filling after our double round of appetizers plus entrees.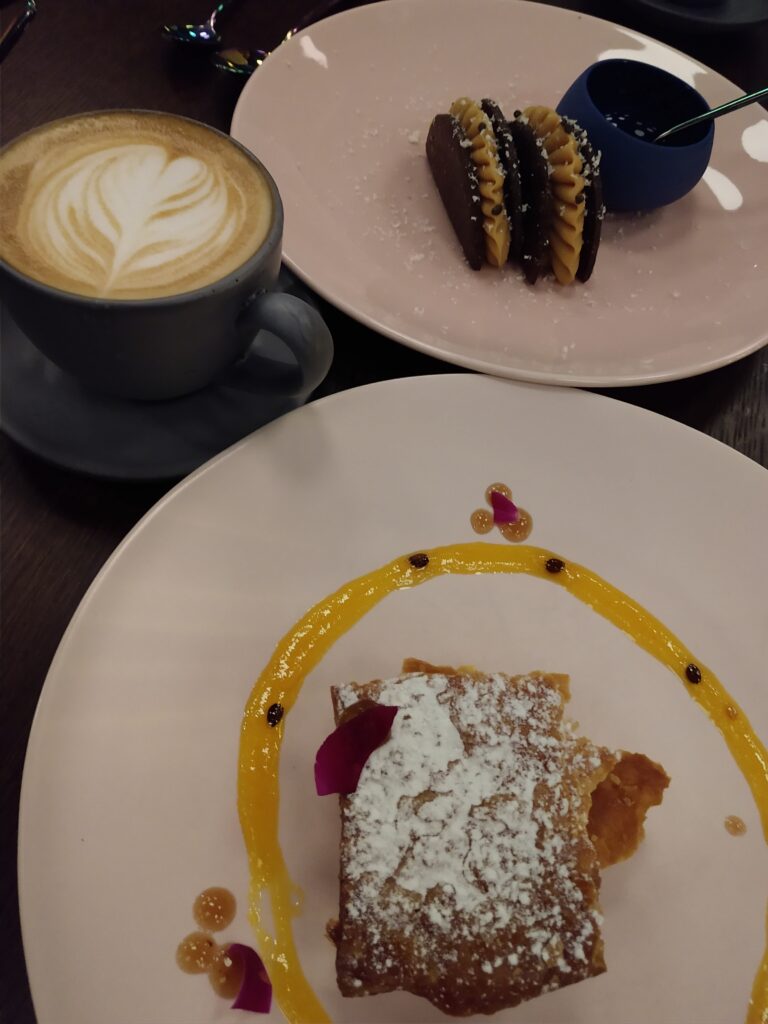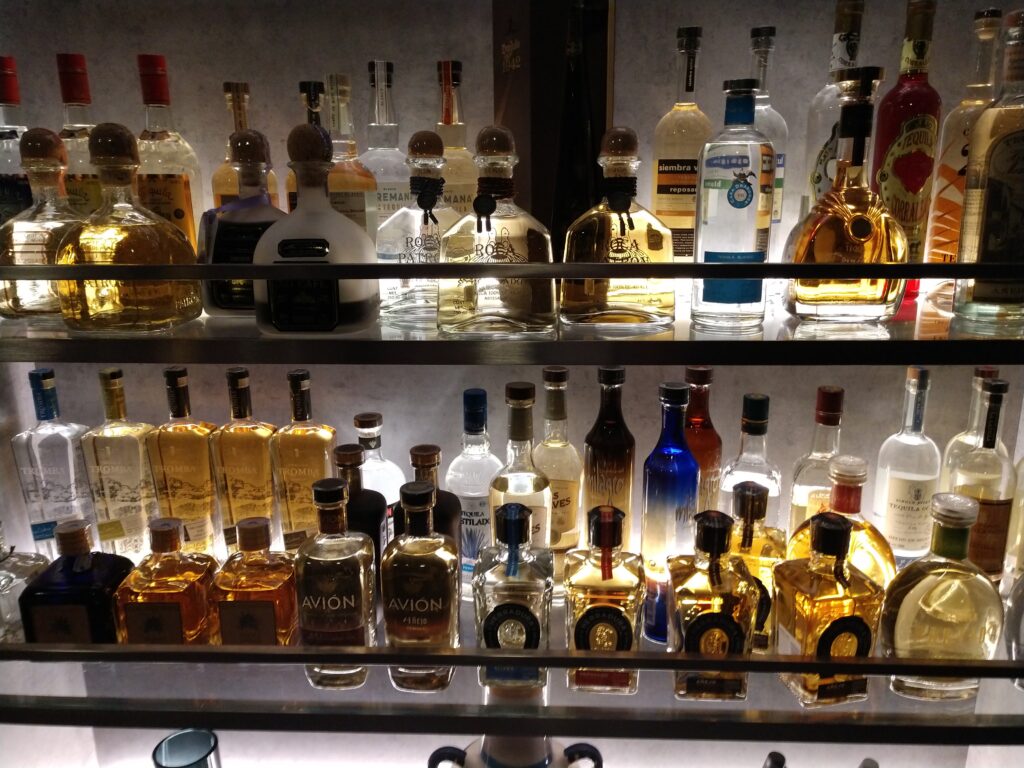 Overall, Gunbae and Pink Agave lived up to scuttlebutt as the best options on board, imho. I've already written about my delicious brunch at The Wake, the grilled small plates that I kept going back for at The Dock House, my funny chopsticks exchange at Sun Club Café where the poke bowl came from, and my delicious mango tamarind popsicle.  I wrote about the bowl of udon from Noodle Around that tasted like someone dumped a jar of salt in it.  The Pizza Place was excellent, but the individual pies were quite large so bring your appetite.  I didn't know that loose leaf teas cost $5!  The specialty coffees were all good.  I didn't get around to the juice bar for a fresh pressed juice, darn it.  I did enjoy the candy counter at The Social Club Diner, which VV bills as "classic carnival eats."  Oh, here is a photo of some of the choices from The Sweet Side, found in The Galley. Definitely worth visiting multiple times. Loved these.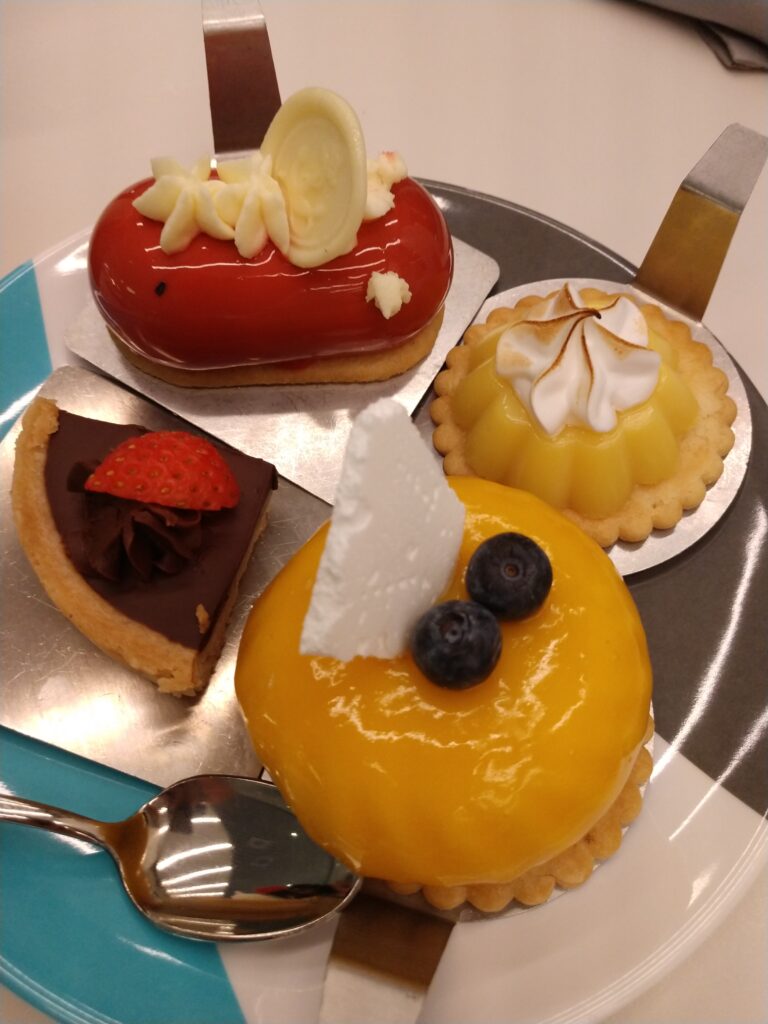 MMM MM M! The food on board Scarlet Lady is special. I know that cruises typically like to fill you up, and there was definitely a tendency by the staff to urge you to order more and more, even if you didn't want more. I didn't like that. Especially with food waste and overeating. But the food did make me feel I was getting more value for my money since it was nearly all included. I love the special care and attention that Virgin Voyages obviously has put into its menus and presentation. And the restaurant staff were all attentive, cheerful and kind. If you like cruises with good dining experiences, this is one to check out.
Don't take my word for it though. Contact me so that I can book you on your own Scarlet Lady voyage. Try all of these restaurants and let me know what your favorite is. Bon appétit!
And by the way, since VV just started cruising, Scarlet Lady is a brand new ship. Travel in pandemic time has some small extra steps but if you're curious you need to book now because there are some really enticing deals and extras for anyone who wants to book now and sail later. I can't wait to hear from you!
www.epicaway.com