Virgin Voyages Day 4. Wednesday, December 22, 2021.
Back at sea. We are on our way to Bimini now. We had a pretty full day yesterday so a lazy morning is in order. We have nothing on today except dinner reservations at Gunbae, the Korean BBQ joint. Tonight is the big, ship wide Scarlet Night. It's an extravaganza of red and I'm really looking forward to it.
We haven't made it to Noodle Around and their udon bowl looks delicious.  Noodles for breakfast it is.  The wind is kicking up a bit and it's cool this morning.  Hot noodles should hit the spot.  AAACK.  The udon is served with shitake mushrooms and spinach and it tastes like a shaker of salt has been poured in my bowl. Hellooooo Jimmy Buffet! I found your lost shaker of salt… it's in my udon!  I have never tasted anything so salty.  I tried two bites (with a 2 minute break in between) and both times my tongue shriveled up.  I could not eat it.  I have no idea who could enjoy such a salt fest.  I really need to head over to the ice cream counter asap to counteract this taste on my tongue.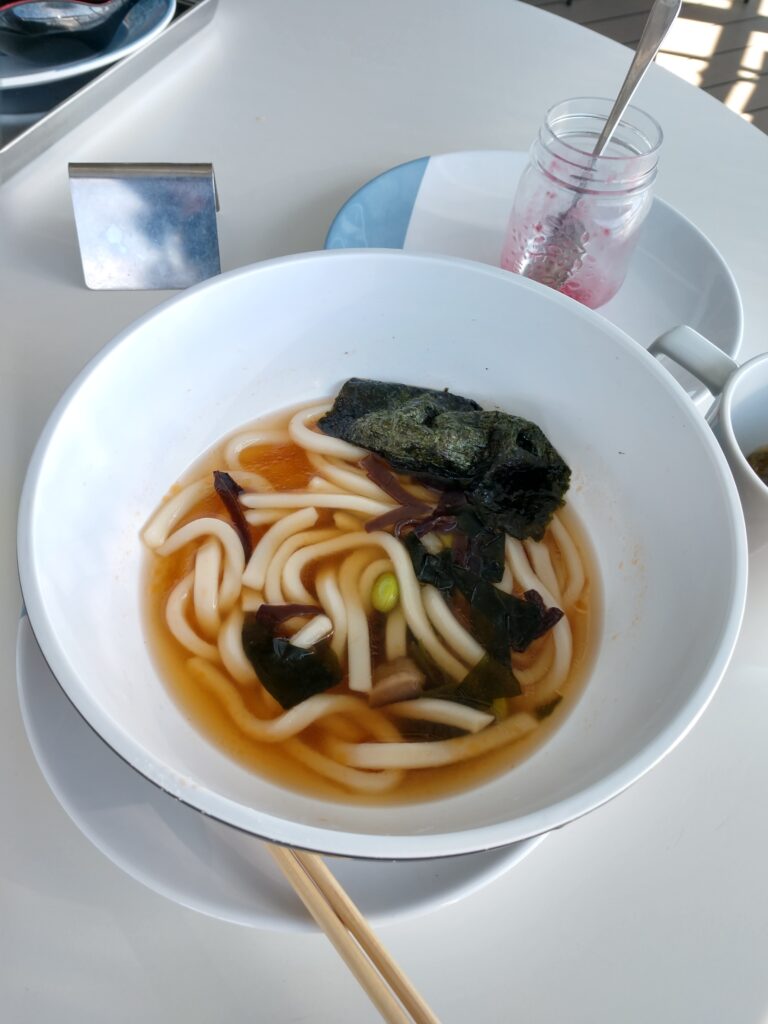 Use caution if ordering this.
We seem to have our own private ship today. Barely anyone around. We've come to the conclusion that everyone here stays up all night and then sleeps all day. So much drinking and eating and dancing. Exhausting!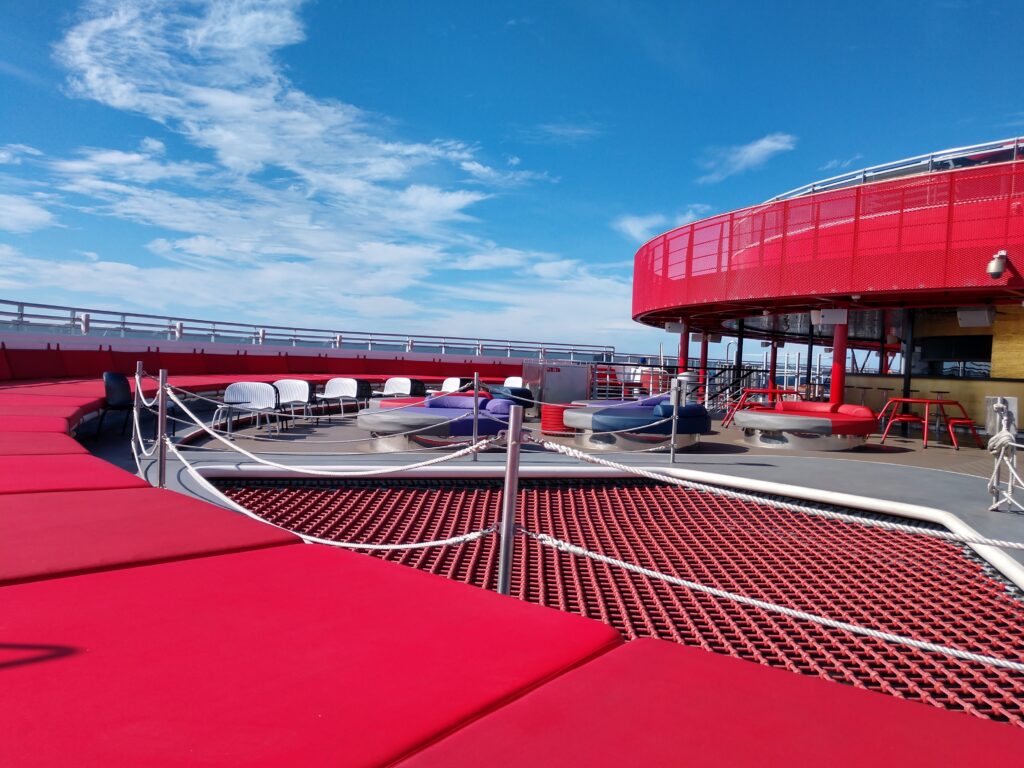 Our own private cruise ship
The front of the ship is fun, even without anyone around. Here's where the painful catamaran net is.  You can see it in the photo above. The rope netting would be okay to walk on, but there's these plastic balls in the mesh design and they HURT bare feet.  A sign says to take off your shoes before walking on the net but it's like walking on hot coals or sharp rocks.  Very painful.  A lot of people want to take their photos while lying on it. I don't know how it would feel on your back. Some people scooted out to the middle on their butts. I think it must be painful by design in order to detract too many people from getting on it.
Today John called me via WhatsApp from home.  It's amazing that the cellular reception is so good in the middle of the ocean.  During our call the wind kicked up and it started to rain lightly.  Before we left home, John had told me that the wind would be coming along on our way to Bimini.    
Wendy scheduled a Swedish massage for herself at the spa. (She said it was awesome.) I worked on tying up some travel stuff and answering e-mails. It was nice to feel like I was getting caught up. It's overwhelming to get home from being away and then feeling like there's a mountain of catch up to do. And we're getting home Christmas Eve so I'll be busy with family fun time for a few days, too.
We are seeing Dual Reality before dinner. This production is a circus and acrobats type of entertainment.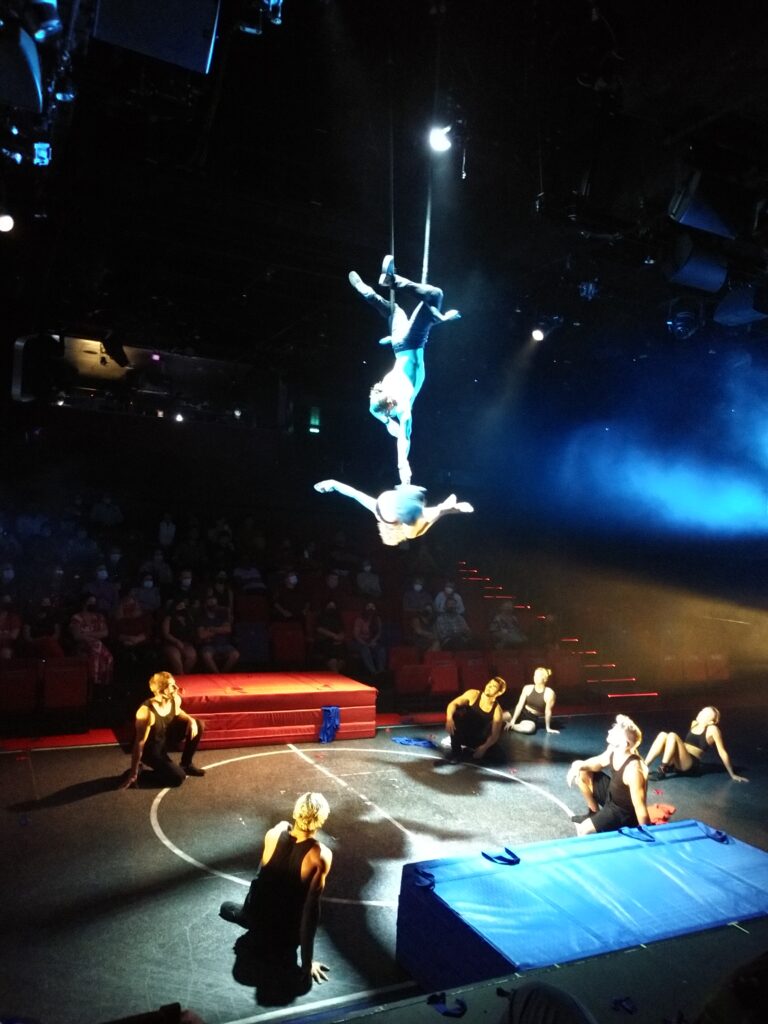 It is very, very much like Phare the Cambodian Circus which we saw in Siem Reap. Same kind of stunts, feats of athleticism, side stories and acts like juggling, hula hoops and swings. The story of this Dual Reality show starts out as a gang rivalry, then evolves into West Side Story/Rent, then ends as a lovefest message of we are all one people, one color, one love. It was entertaining for sure. If you ever find yourself in Siem Reap be sure to find Phare the Cambodian Circus. It's an enterprise designed to give disadvantaged Cambodian youth a profession and a place in the world. A vocational training center started by 9 young men returning from a refugee camp offers not only an art school, a music school and a circus school, but also hope, freedom and a way out of poverty. It's really fantastic in every way.
Fast forward to dinner. We're at Gunbae tonight. We got the advance intel on the drinking game at Gunbae from a woman named Kimberly who was on the ship celebrating her 40th birthday. She was standing around by herself, sampling desserts at the Sweet Side counter, so I told her to sit with us. She told us she's from NYC, is a school teacher, and she came alone to celebrate her milestone and do something nice for herself.
For all the details and opinions on Gunbae (one of my favorites), the drinking game, and every other restaurant on Scarlet Lady, I've already posted my full food rundown here:
https://myadventureabroad.com/scarlet-lady-food-review/
Tonight is Scarlet Night
Everyone is supposed to bring a "splash of red" to wear for the big Scarlet Night party. It starts on Deck 7 mostly, and then later moves to the pool deck before ending at The Manor nightclub. It was by far the best night of the cruise. First, there was a photo booth to document Scarlet Night.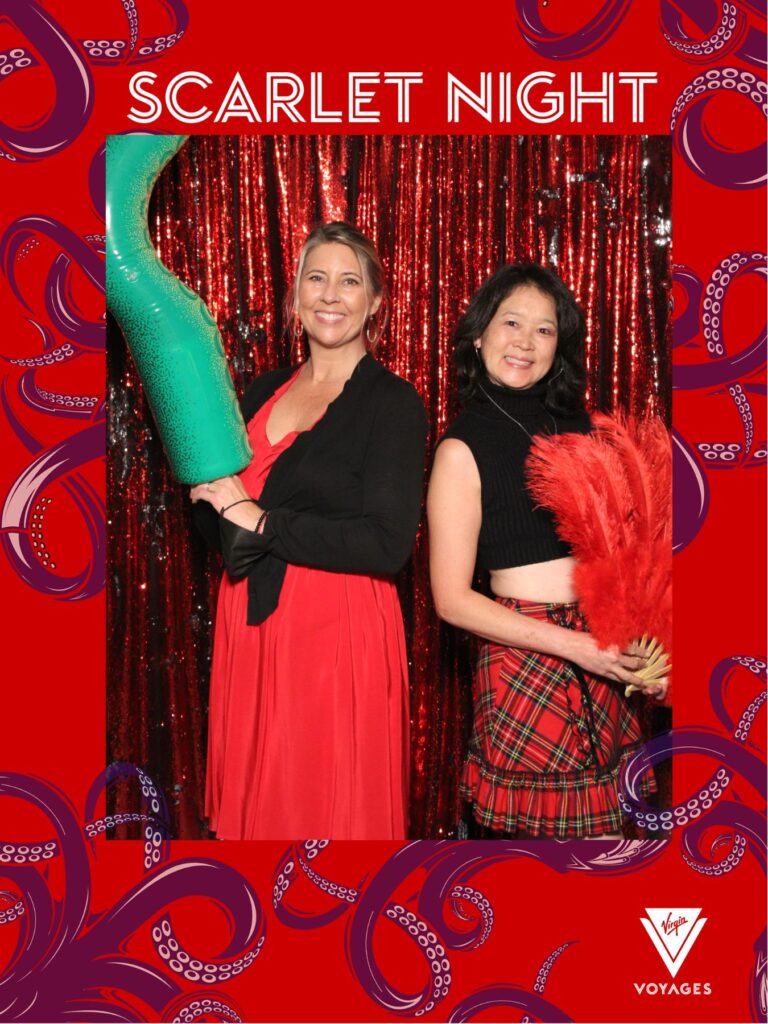 Then, the ship's performers paraded around and performed here and there. There were a lot of very large inflatables around the ship. And red lights. And live music and big, booming bass dance tunes. There was even a Scarlet Night wedding on Deck 7.
Up at the pool there was a lot of dancing and drinking and splashing around. The entertainers danced around the perimeter of the pool and in the shallow water. We moved on to The Manor when the pool got boring.
Here's some of the night in pictures. We called it a night at around 2 am.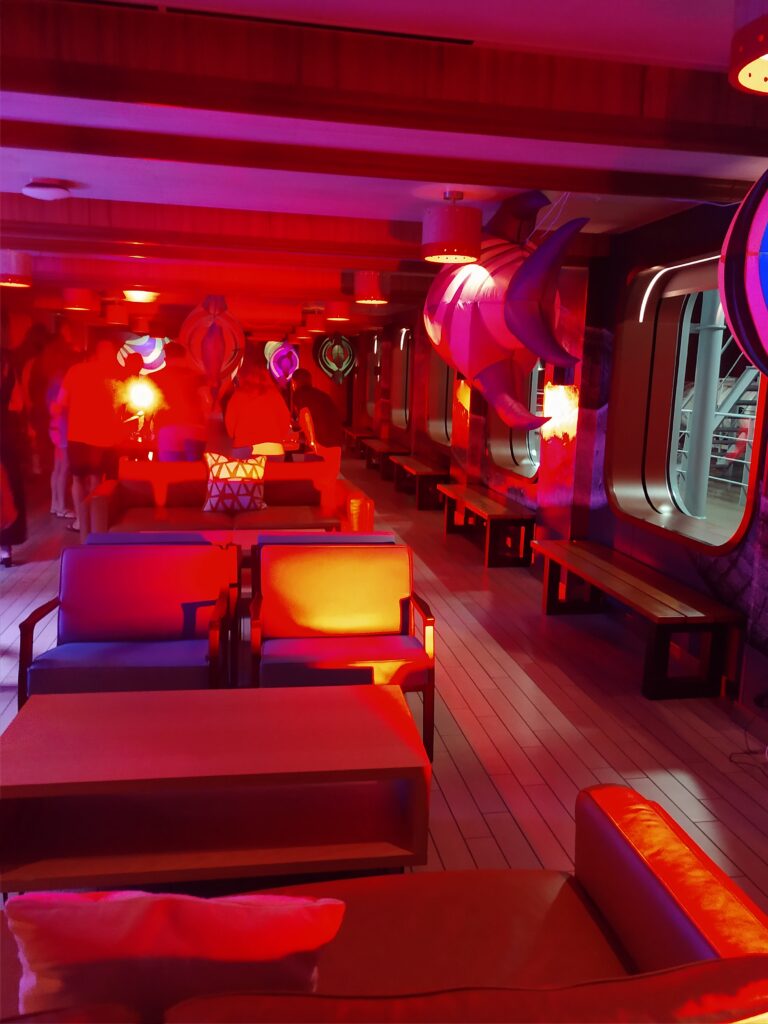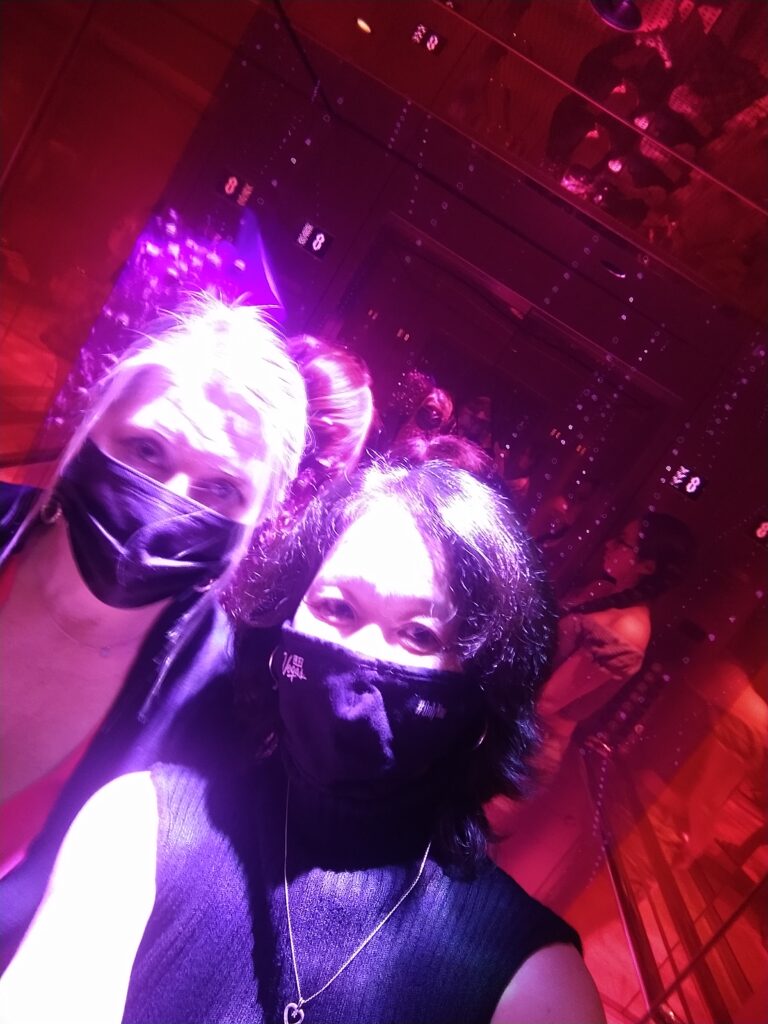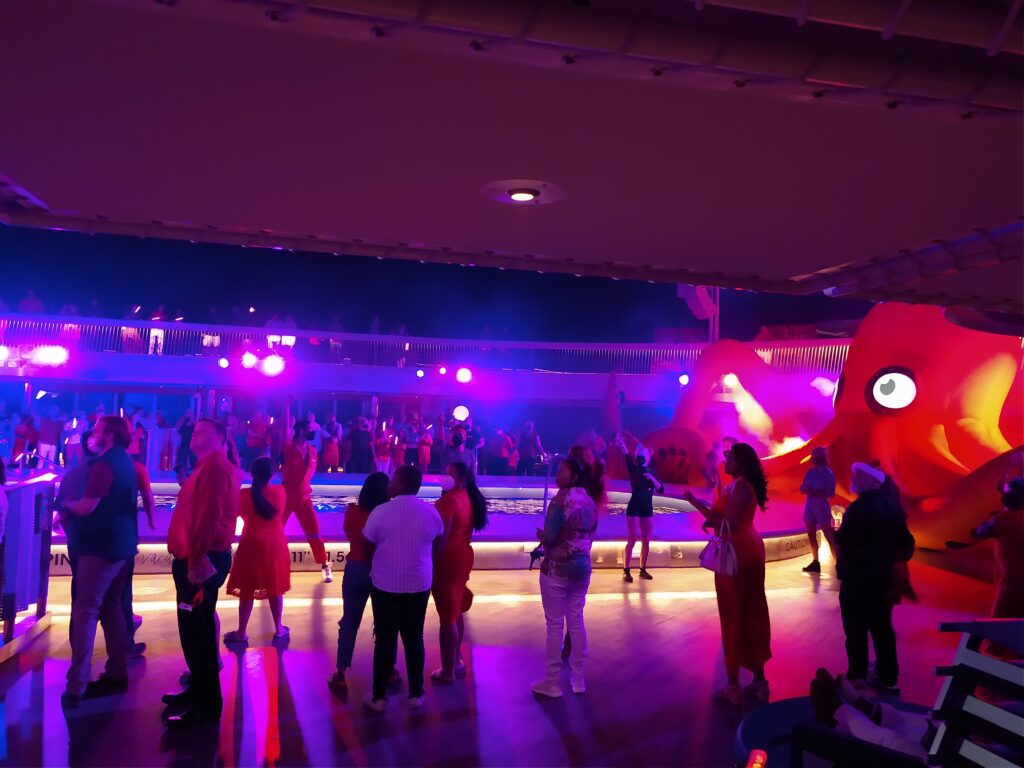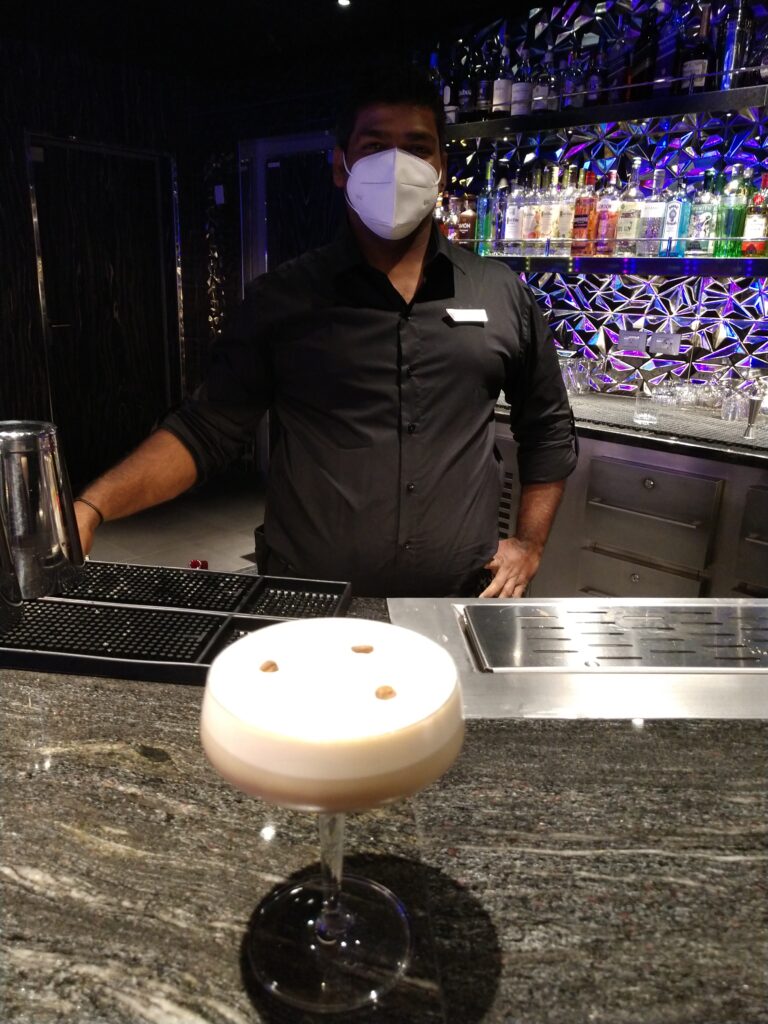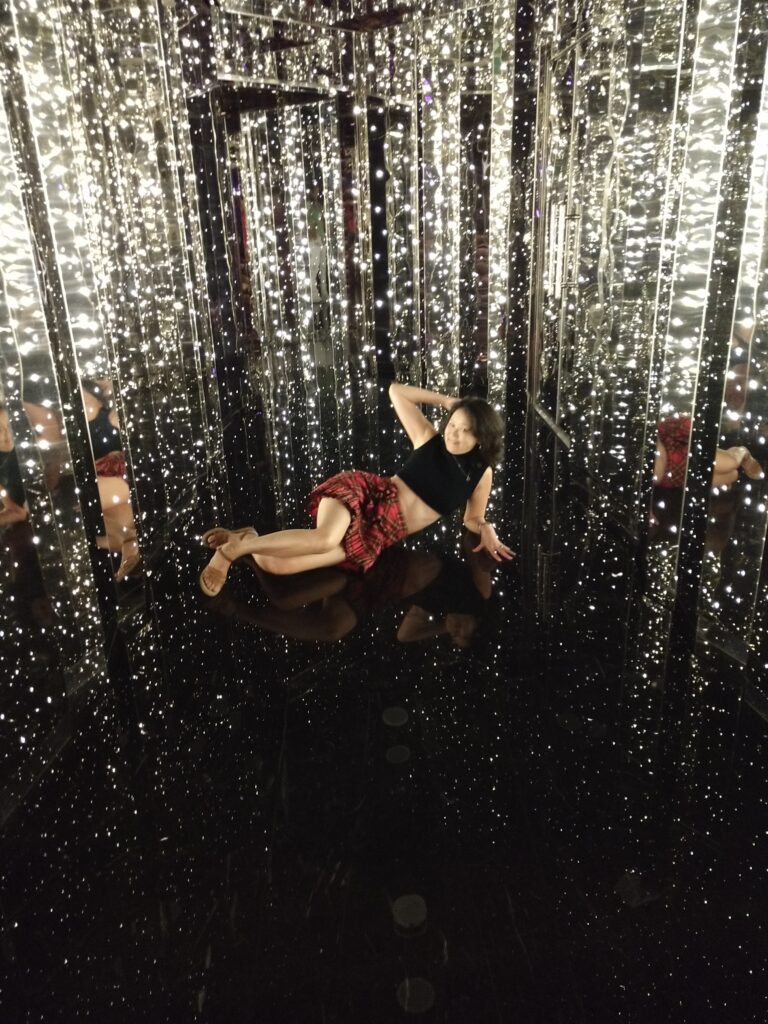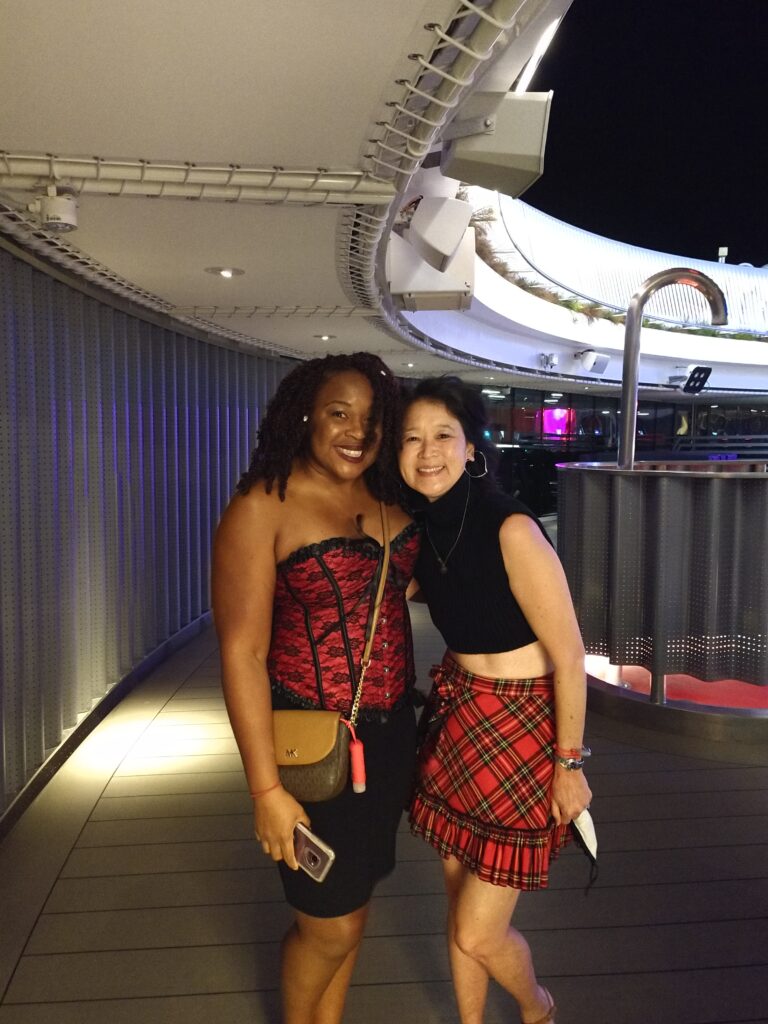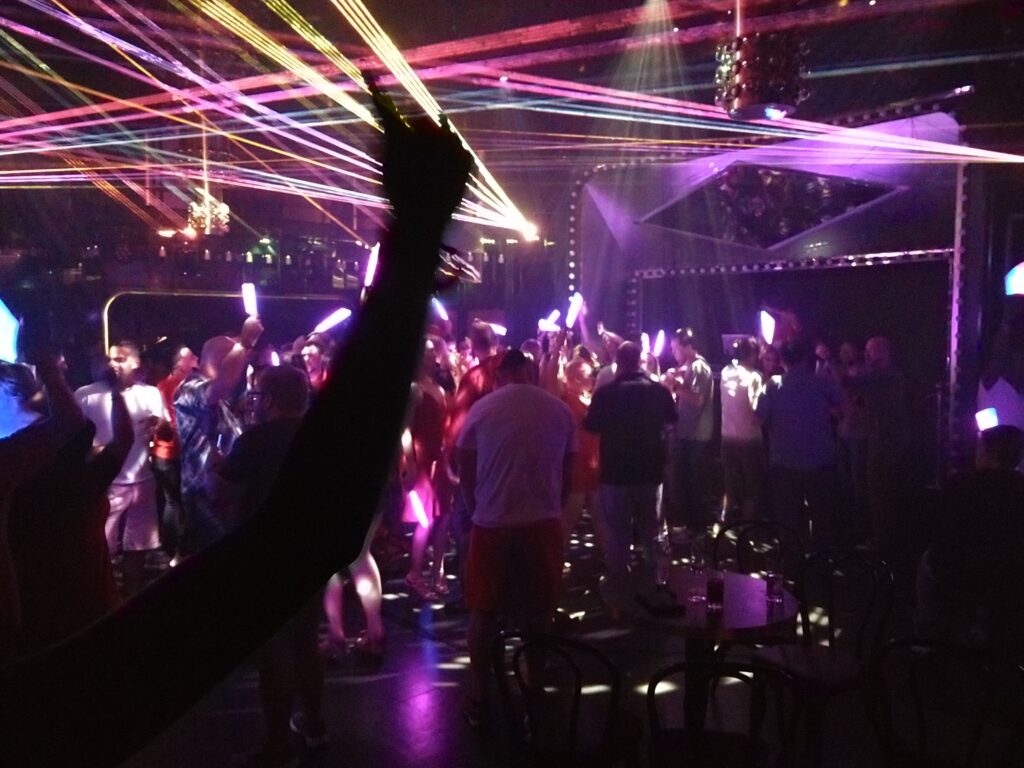 There are a lot of reasons to hop on board Virgin Voyages' Scarlet Lady, but Scarlet Night is probably one of the biggest reasons. It was a super entertaining night. It was fun to see everyone glamming it up in red. I saw a lot of sequins. On men and women. Some of the red fits were over the top.
VV is pulling out all the stops to get cruisers to try out their new line. If you contact me now, I can help with some pretty sweet deals, like free bonus money added to your pre-paid bar tab. You'll be happy to have a little extra on the tab on Scarlet Night.
www.epicaway.com