Virgin Voyages Day 3. Tuesday December 21, 2021. Wow it's just 4 days till Christmas.
Woke up this morning for an early-ish breakfast. Ate a so-so omelet and funky round hash brown patty from The Galley on Deck 15. Brrr. It's cold this morning. Had to get a cup of hot tea to warm my hands. Today is a shore day in Puerto Plata, a port town in the Dominican Republic. We are the FIRST Scarlet Lady cruise that gets to dock at the brand spanking new Taino Bay port. The other scheduled DR cruises were diverted elsewhere in the past few months because the port was behind schedule and unfinished.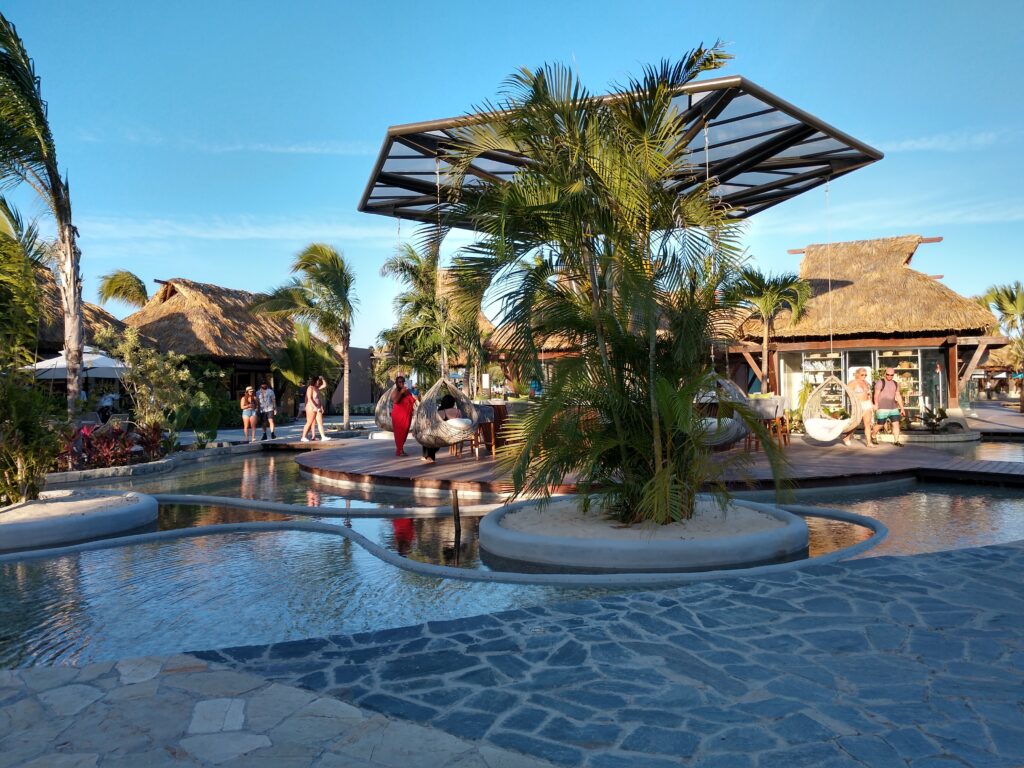 But first, it's time for our private bungee class with our new friends from the MyBeast Fitness class. I've never done anything like this before. It was pretty fun. Part of the class is swinging around in a harness and part of it is like working with a contraption of large scale resistance bands. Some of it was making me ache in places it really shouldn't have. I was doing something wrong. Our instructor's name is Reef and he has a very nice accent. He made everything look so easy.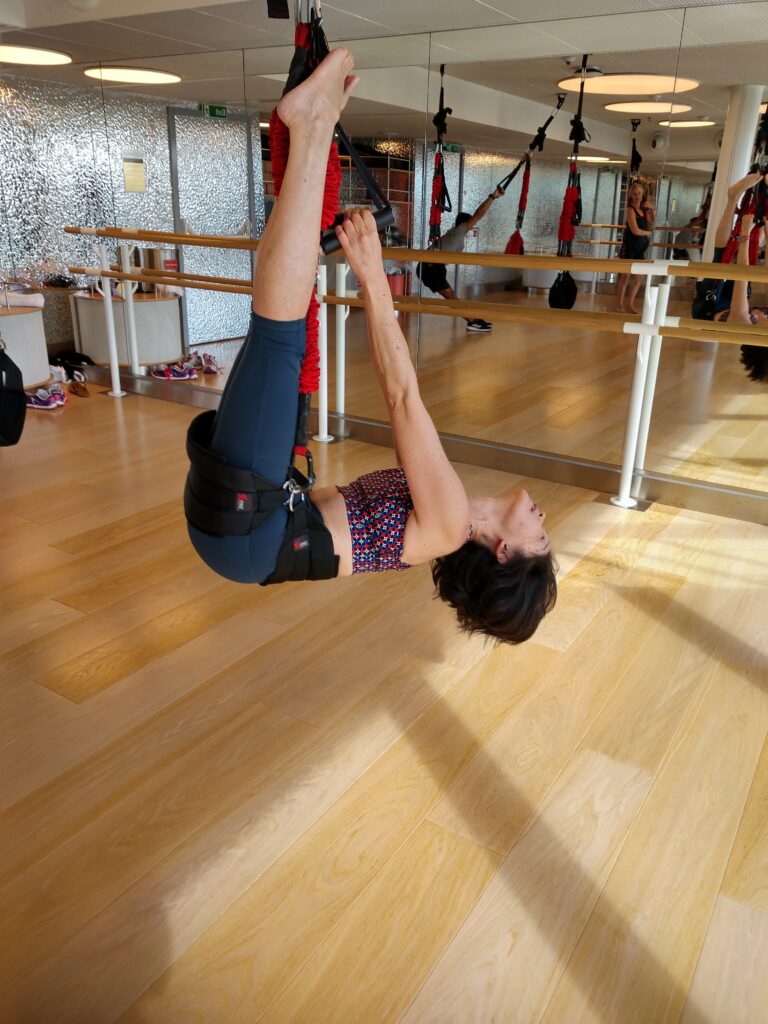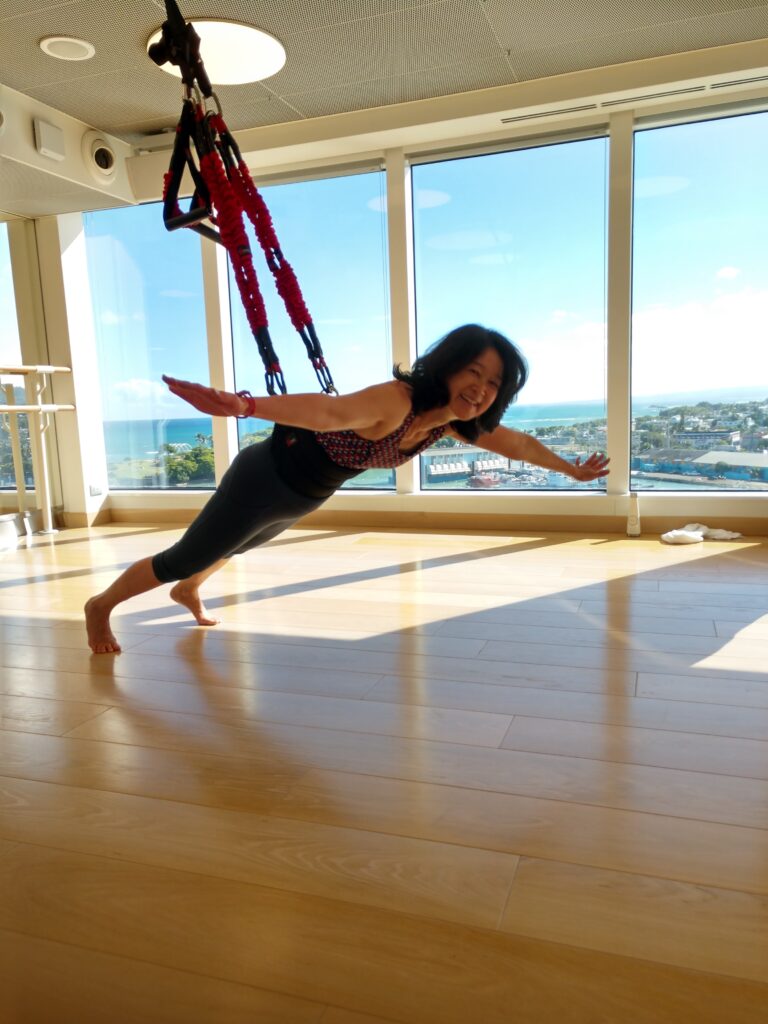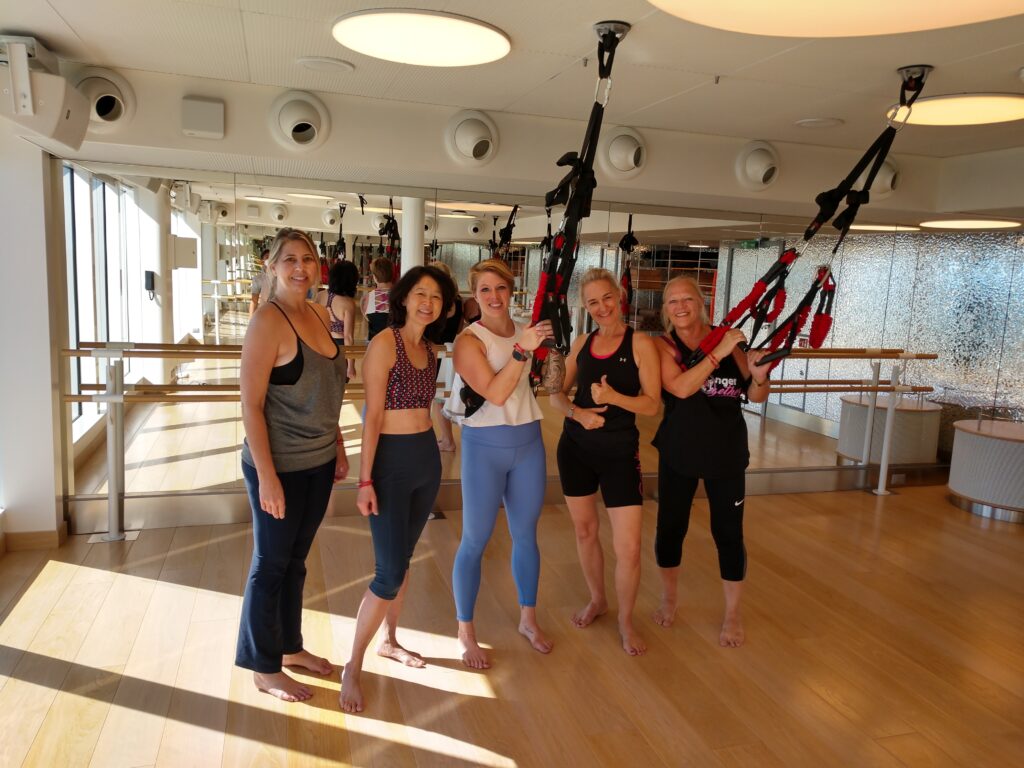 I highly recommend this bungee class but it's very popular so you must sign up quickly or do what we did and form your own private class with up to 6 people.
Now we're off for a quick shower because it's time to experience Taino Bay port and find our tour group. We've signed on for the "Eat, Drink and Be Merry" excursion.
Our guide's name is Pedro and he is an energetic and happy dude. He makes some jokes and tells some stories and shares the history of his home, Puerto Plata. He instructed us: Puerto = Port and Plata = Silver. First stop on our tour is the obligatory souvenir shop that you must visit when going on a group tour to any third world country. We all sampled a DR comfort drink, mamajuana juice. Our host told us it's basically a sickness remedy that a Mama named Juana made up for her kids which consists of rum, honey and spices. LOL. It was pretty good but not quite good enough to justify hauling a bottle around. Wendy thought it tasted like medicine. Mama Juana was on to something. She probably just used it to knock her kids out.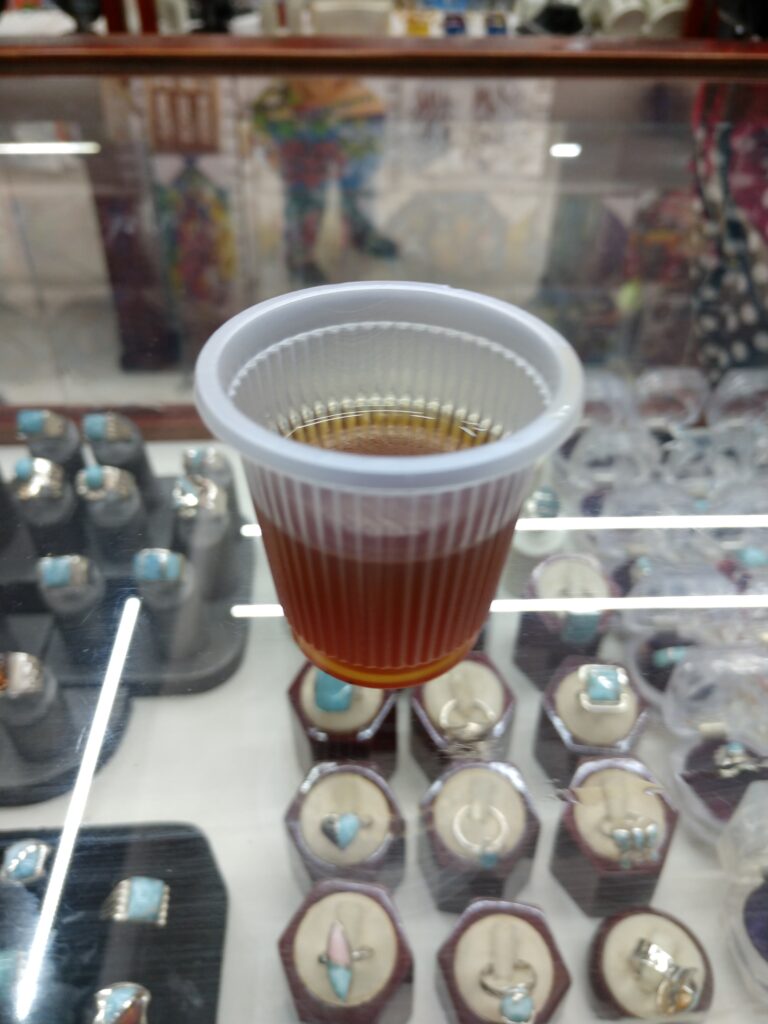 We walked around Puerto Plata to Plaza Independencia. Some people made a detour to a man selling coconut water straight from the coconut and some people veered off toward the pina colada truck. We saw a colorful street with hanging umbrellas and bougainvillea making a colorful splash against a blue sky with cotton clouds. Then we walked down a pink street which was dedicated to a lady who did a lot of good for this town. Then we tried 3 kinds of DR chocolate in a different souvenir shop. Pretty darn tasty DR chocolate. That was good enough to buy for later but I was afraid it would melt in my bag. All this time, as we are moving about, Pedro is chanting, "Pedro Pedro Pedro" and "Pedro People, Pedro People!" in order to keep our group together.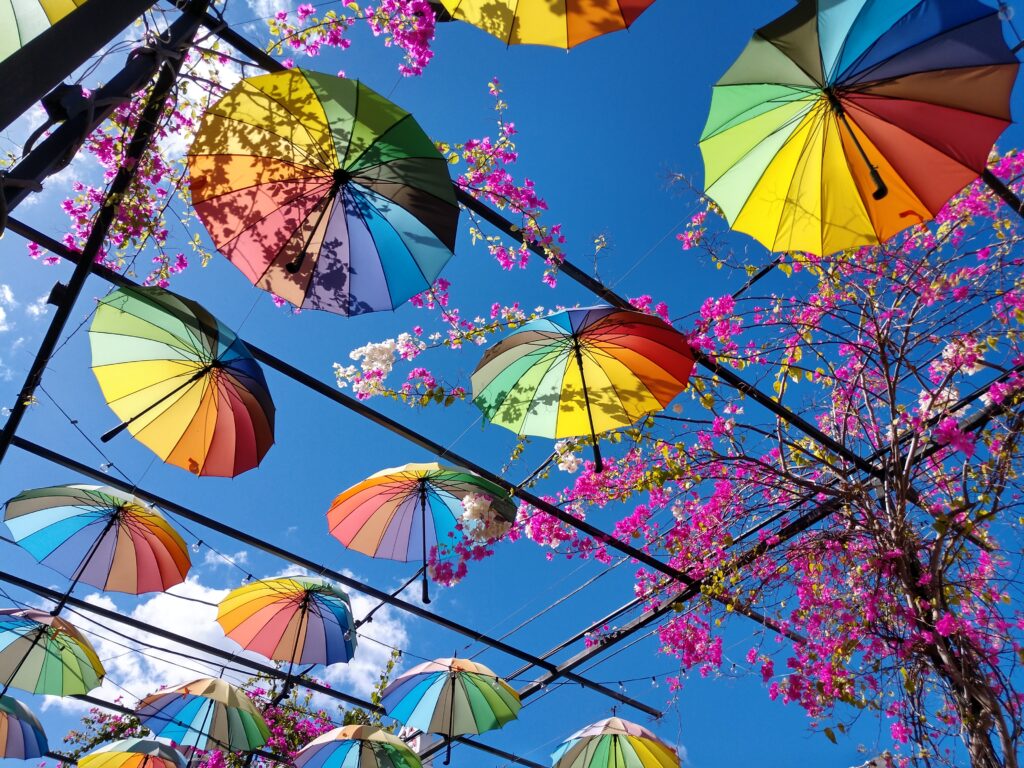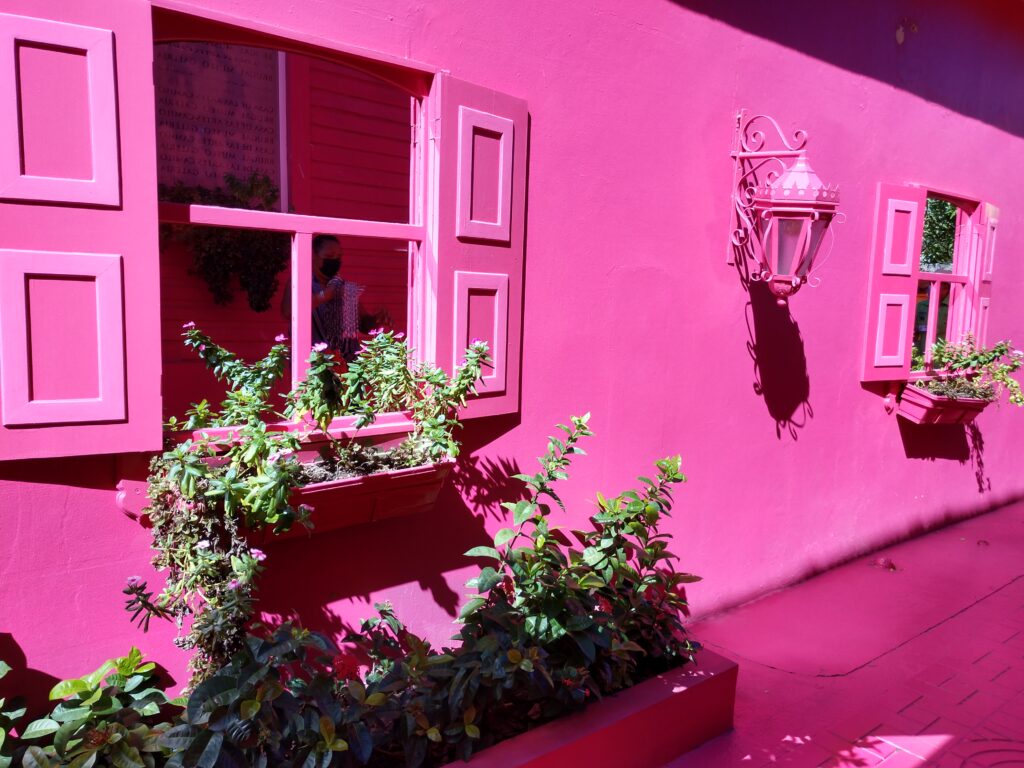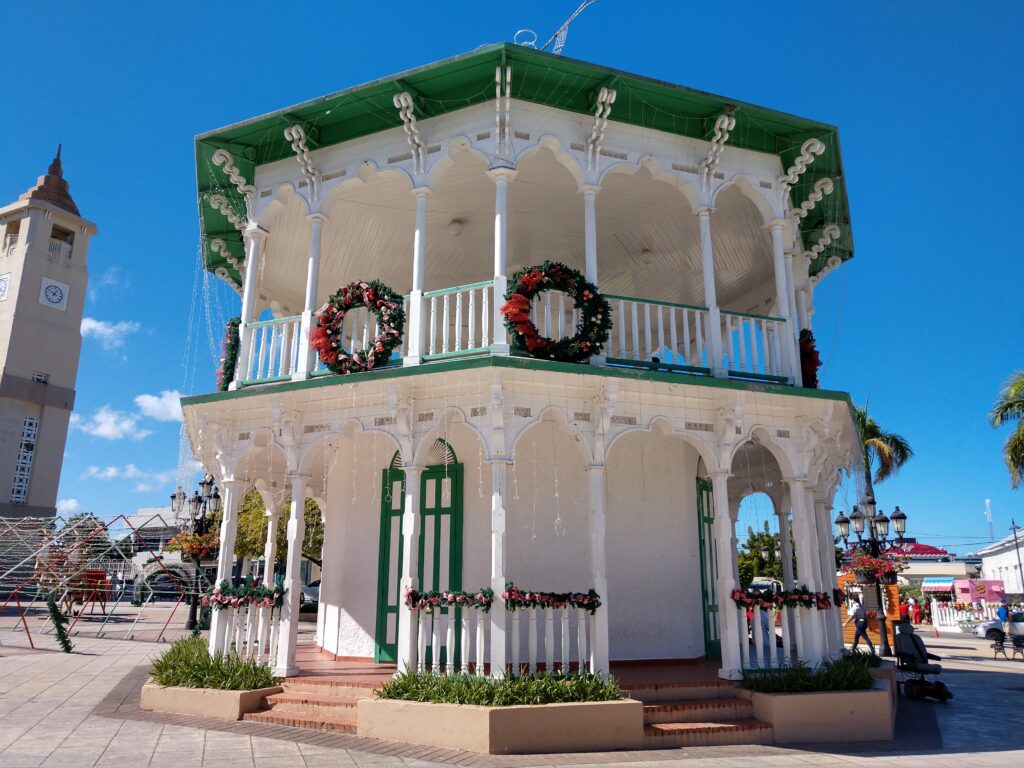 Then we piled back in the bus for a trip into higher elevation. A twisting road that was at times very difficult for the bus to navigate took us to Rancho La Catalina Restaurant. We're in the mountains and pasture now.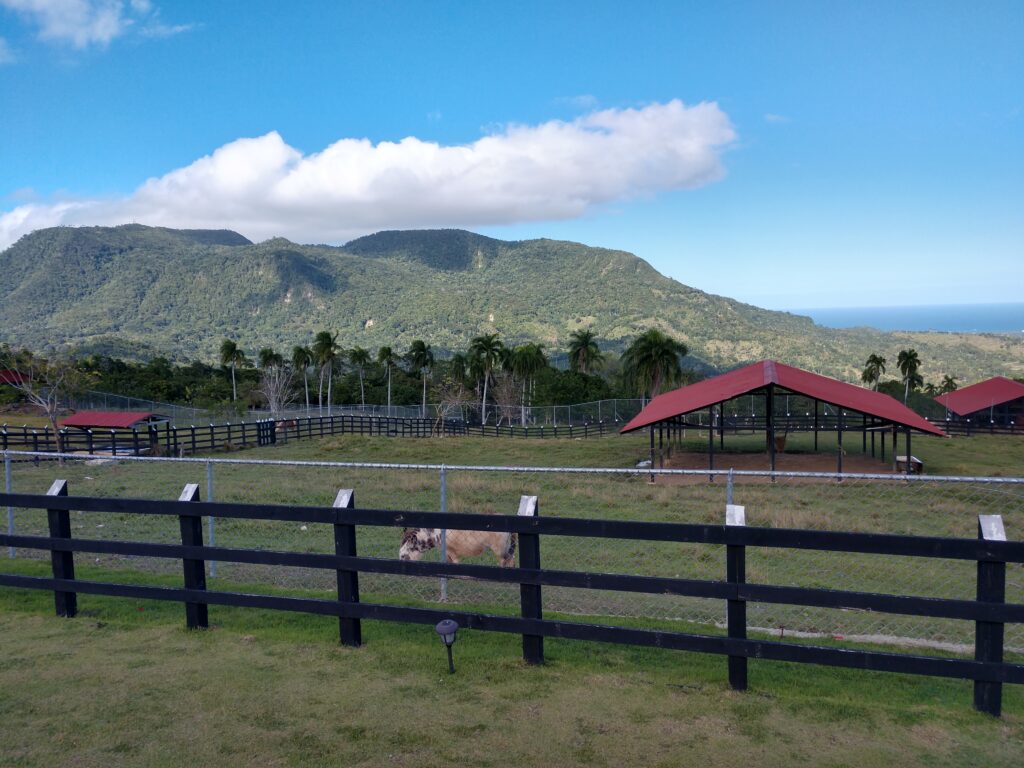 Pablo gave us a few lessons. He told us about merengue. He told us how to make authentic Cuba Libre and how to spot a fake from the bar. He gave us a lecture about fruit in Puerto Plata and educated us on their names. We learned about Sancocho, a native DR soupy stew. For lunch we ate Sancocho with rice and avocado, drank Cuba Libre (dark rum and Coke) and Santo Libre (light rum and Sprite). I tried both drinks and picked the meat out of my stew bowl. Later a woman made small batch pour over coffee using a really beautiful wooden device with a cheesecloth looking bundle of grounds hanging from it, ready for hot water. See photo because I don't know how to describe this simple thing.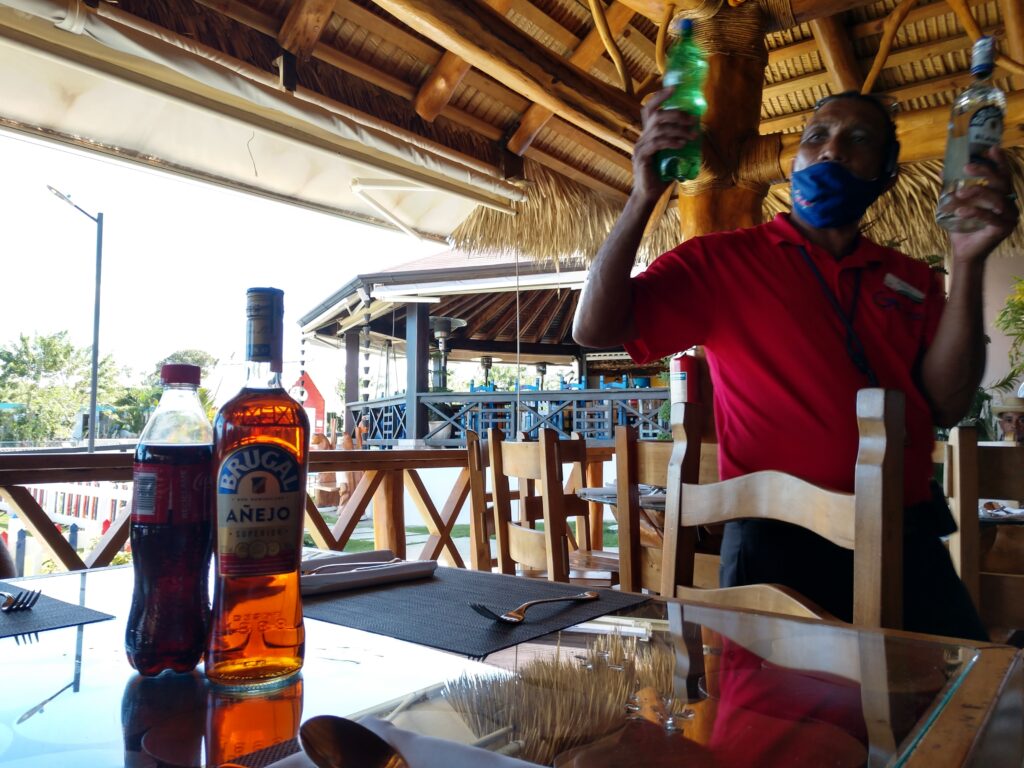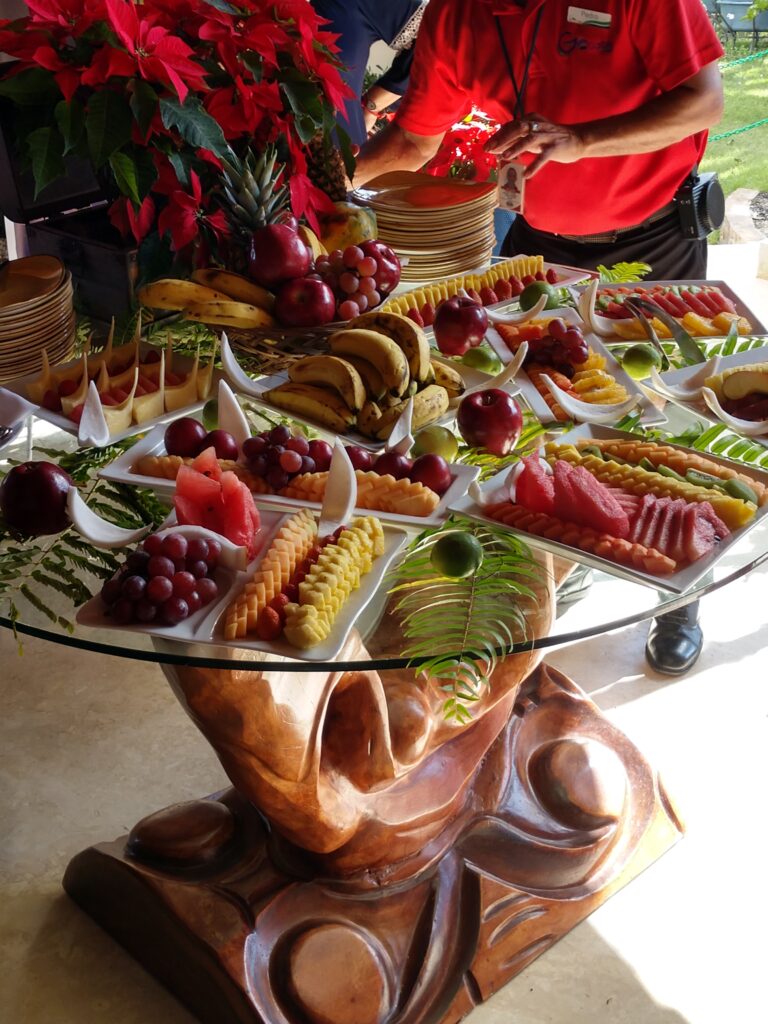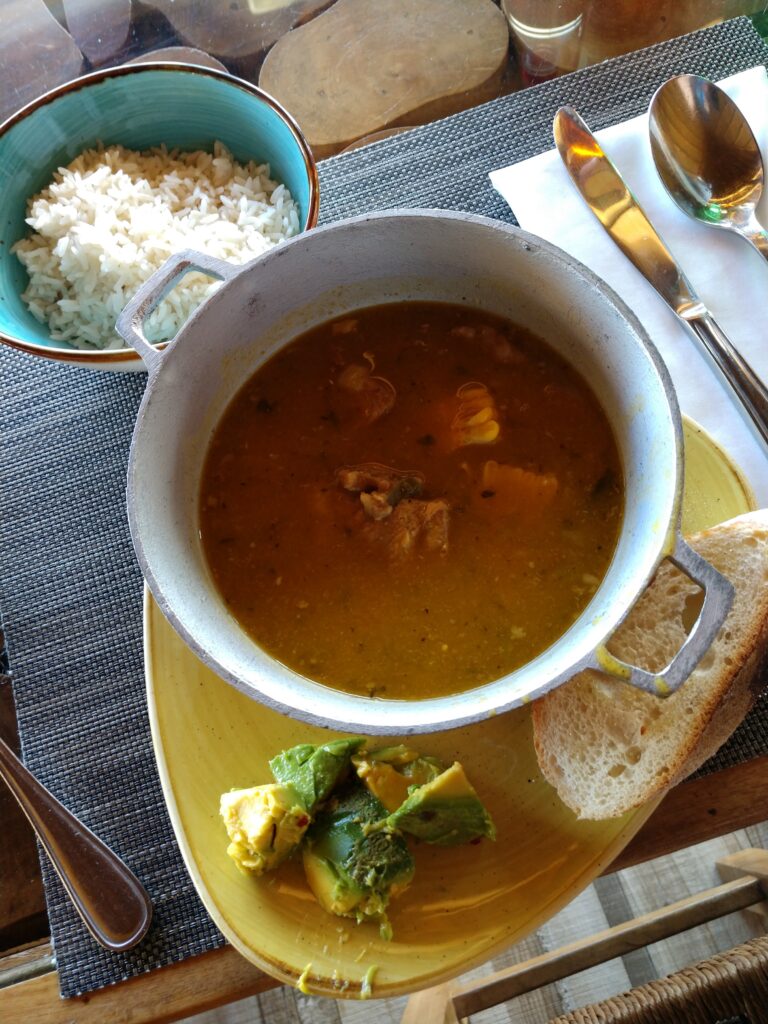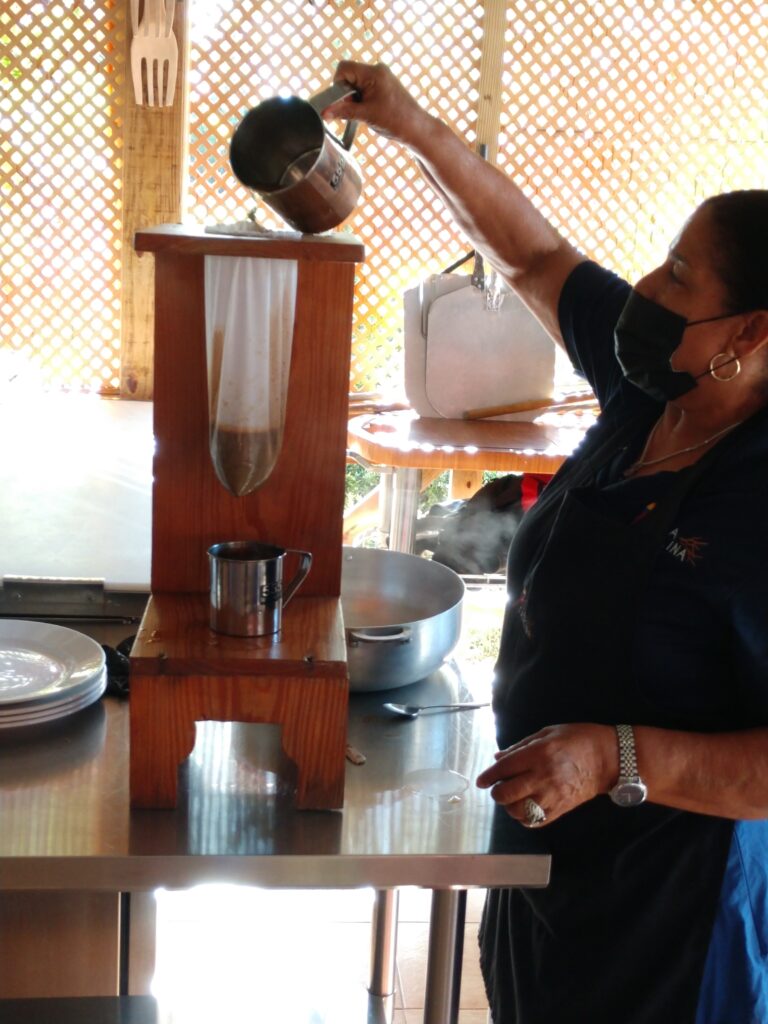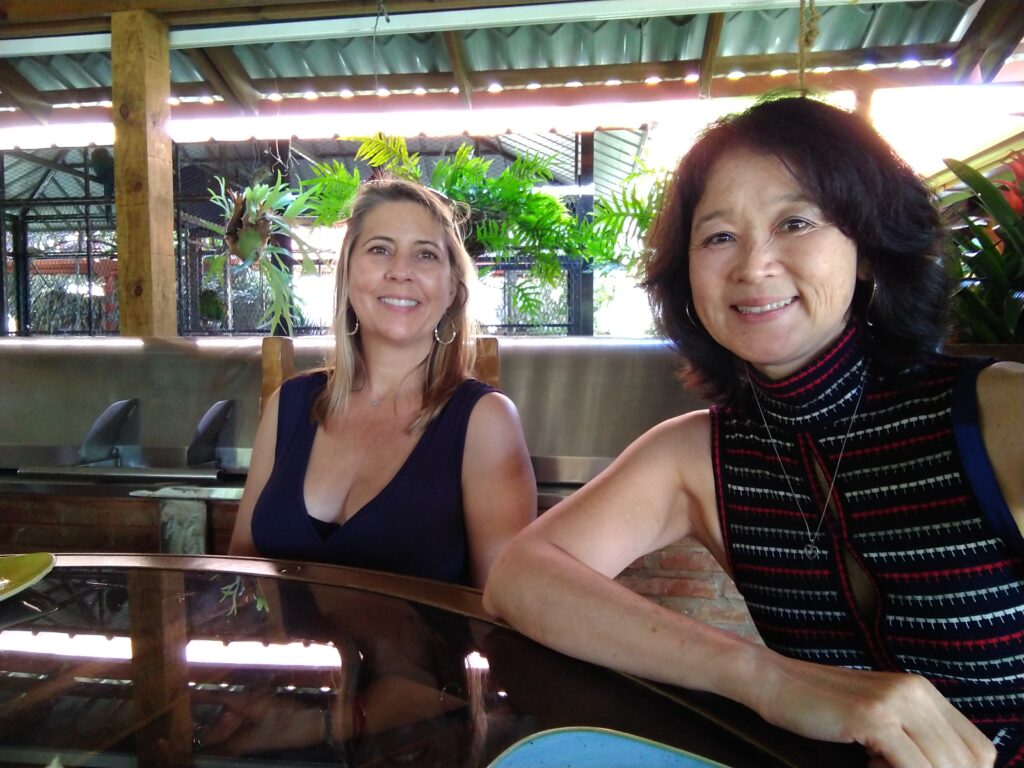 Back on the bus on our return trip, Pablo gave us a very in-depth lesson on ALL famous baseball players from the DR. He said many young boys learn the strategy of baseball from a young age when they are throwing up a flat round plastic cap and trying to hit it with a bat. Playing with a small plastic cap allows them to develop skills to hit anything once they're finally playing real ball. I don't think he left out a single DR native baseball player. He had print out photos of each player that he held up while he talked about them. I'm not a huge baseball fan but even I know Sammy Sosa, Vladimir Guerrero and Manny Ramirez. The latter two having played for the Angels and Dodgers, respectively. Pedro even threw A-Rod in there because he has Dominican immigrant parents. They are very proud of their famous players.
This evening we have reservations for Extra Virgin, which is the Italian restaurant on board. This seemed very promising, but my review is mixed. Read on in my separate Scarlet Lady dining blog post.
https://myadventureabroad.com/scarlet-lady-food-review/
Finally, a word about Never Sleep Alone, the wacky show we saw at night. First of all, this show sells out very quickly and a long line forms outside The Manor to get in without reservations. Make reservations for this one asap. You can always cancel later. Second, the concept of this show is not for everyone. A group of 3 people next to us left about 15 minutes in. It's a raunchy sex-themed production, based on a Dr. Ruth kind of character, with a lot of F-bombs that are used to describe sex more than as a swear word. It feels like there's a lot of shock value here. It was clever and well written and funny, yet the content got tiresome for me and started dragging.
One of the clever segments I liked is called 2SOQ, which stands for 2 statements, 1 question. 2SOQ is a dating/pick up/lead in to sex strategy. A lot of "helpful tips." Hahah. The show is participatory, so if you are a shy person who doesn't like to talk sex out loud, don't sit up front. If you are up for it, audience participation ranges from improv, blindfolds, a dating game, and watermelon and a banana. Intrigued?
After the show I finally made it to "Lick Me Till Ice Cream" for a late night ice cream. Butter Pecan. It tastes handmade and it is. We took our ice cream to the hot tub for a soak. Too bad the water felt lukewarm-ish. Definitely not up to Japanese onsen standards!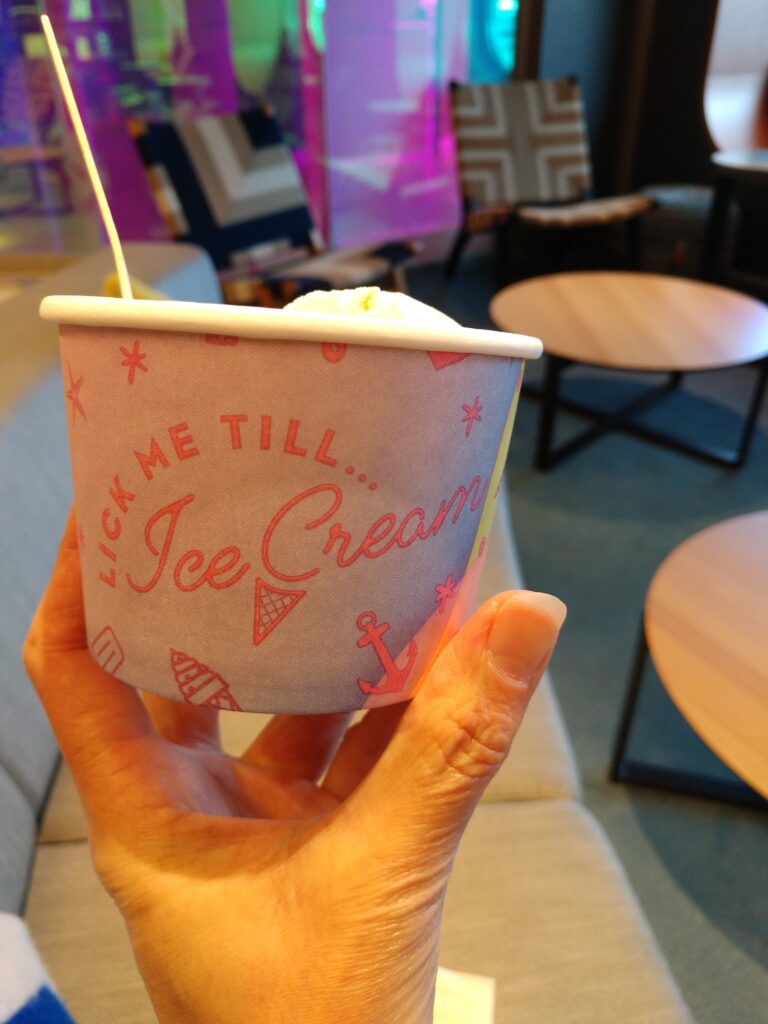 If any of this day sounds fun to you, it's time to stop wondering and get on board Scarlet Lady. From the unique classes, to fun excursions, to specialty food, to wacky and obscene entertainment, this ship is not your run of the mill cruise. Contact me and I'll share even more scoop on this unique and fun experience!
www.epicaway.com