My G Adventures group and I are hiking on a slice of Iceland's largest glacier today, November 18. The guides must approve our hiking boots for proper ankle support otherwise we'll be forced to rent their boots. We're getting heavy duty steel crampons and ice picks. Our glacier guide Christian says the ice picks are for photo ops. Hah. We've arrived at Vatnajökull National Park and after we are all approved and loaded on a minibus we'll drive to the path where the glacier hike starts. Icelandic has a lot of pronounciation rules. Here's where we're at. There's like 7 vowels.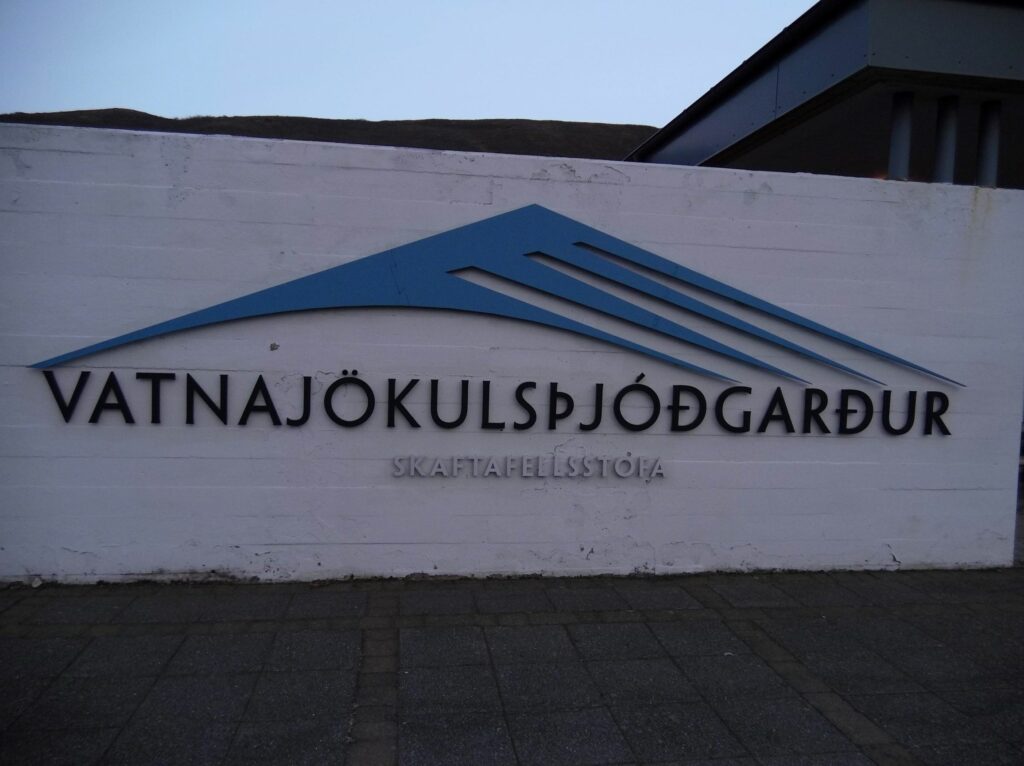 The drive from the equipment rental area to the glacier trail is better than a ride at Six Flags. Actually, this could seriously be a 3-D simulator ride on the moon. Seat belts are the law in Iceland. And no wonder. The terrain and the weather can make for some wild driving. I can't remember what the tires on this mini-bus look like, but they must be big with large tire tread. It feels like a 4×4 adventure over lava rock and hills. We are literally bouncing right off the seats. If we weren't strapped in we might be hitting the ceiling. When we first climbed on our guide said lay your crampons and ice picks on the floor so that they won't fly around. And buckle up.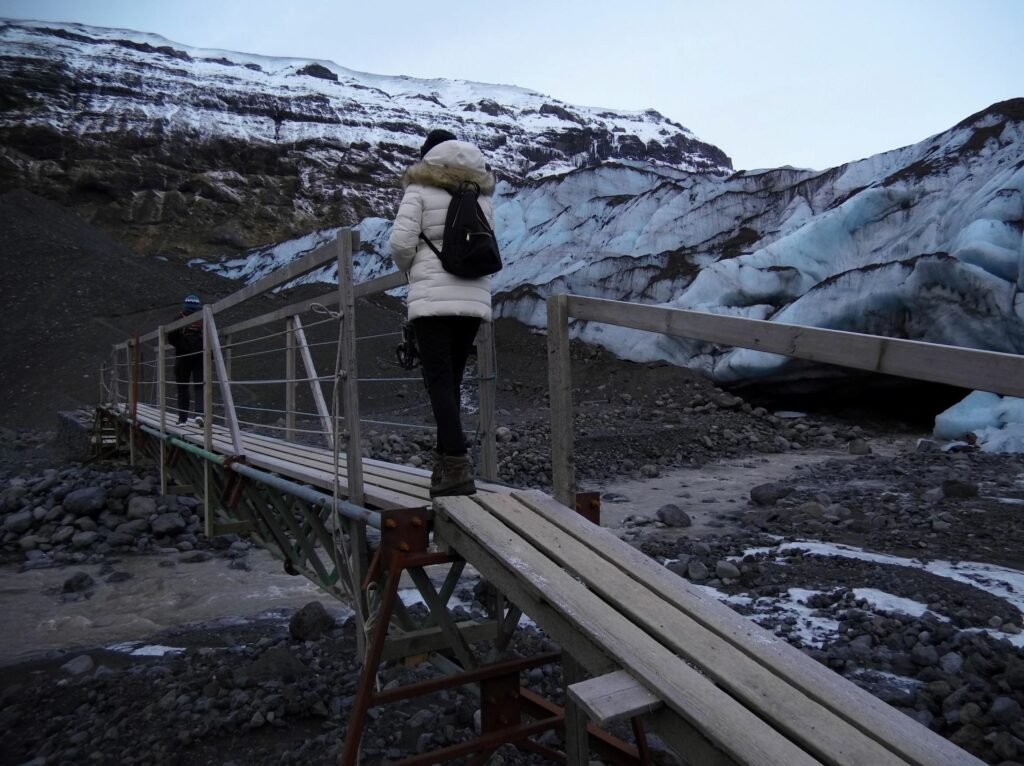 Once we're out of that thrill ride, we need to cross a stream via a wooden plank bridge that's been constructed of long planks and steel pipes. Then we need to climb a switchback trail in soft lava rock and sand. Finally, we are ready for our first order of real business. A lesson in putting on our crampons. Our guide is very detailed about this important safety measure. Christian says a 75% success rate in bringing everyone back in one piece would be great. Our G Adventures CEO (Chief Experience Officer) Oliver also makes cracks like this so I think in a country of extreme weather and activities this kind of "making it back alive" attitude is a topic of levity. (No one here jokes around when true safety is at hand. Iceland can be very dangerous.)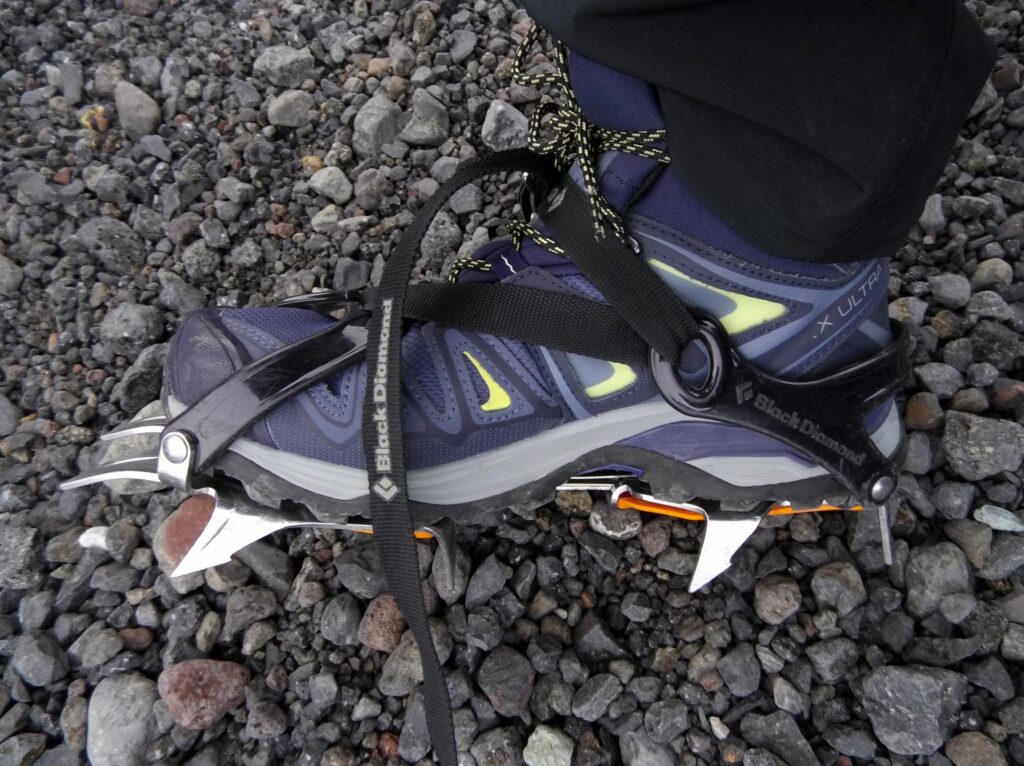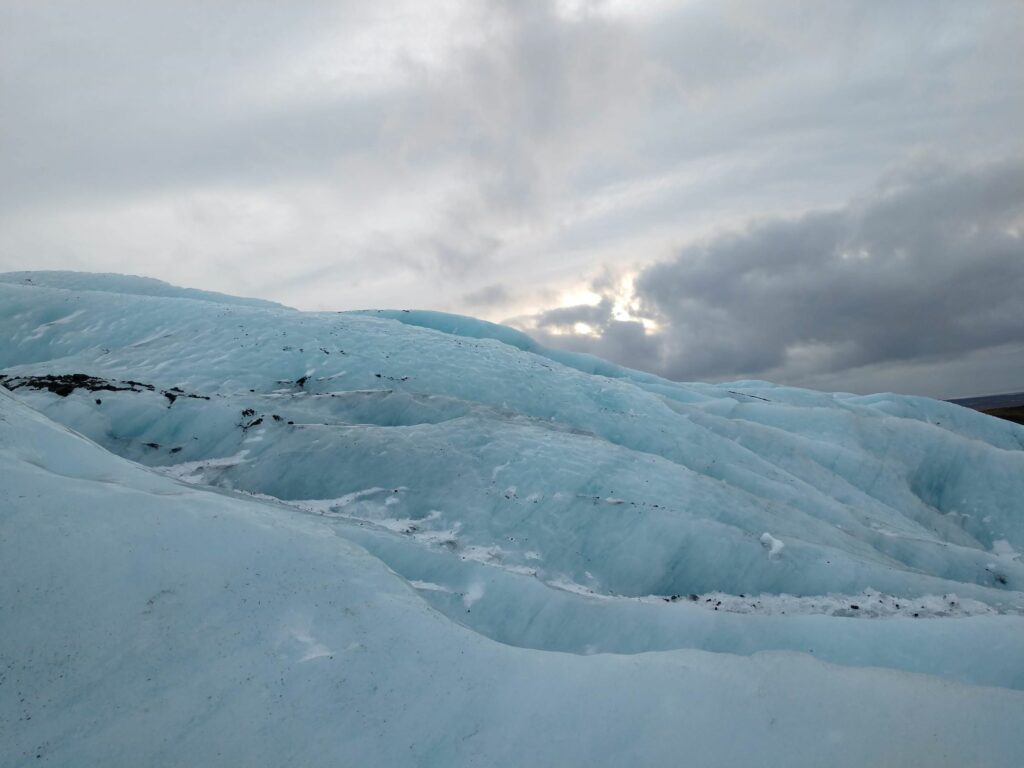 Once we have our crampons properly affixed to our approved hiking boots we are ready to get moving. Our guide tells us to STOMP STOMP STOMP on the ice so that the crampons can do their job. Whether we are hiking uphill or downhill he says to trust the crampons because they will not fail us if we are stomping properly. Initially it is very intimidating to walk on the ice. You can tell it's ICY ice. Some parts of the glacier are sheer and the visibility into the ice is crystal clear. Amazing. Other parts of the glacier are blue and opaque. We traipse around for a while, going uphill and up some steps that the guides have carved in the ice.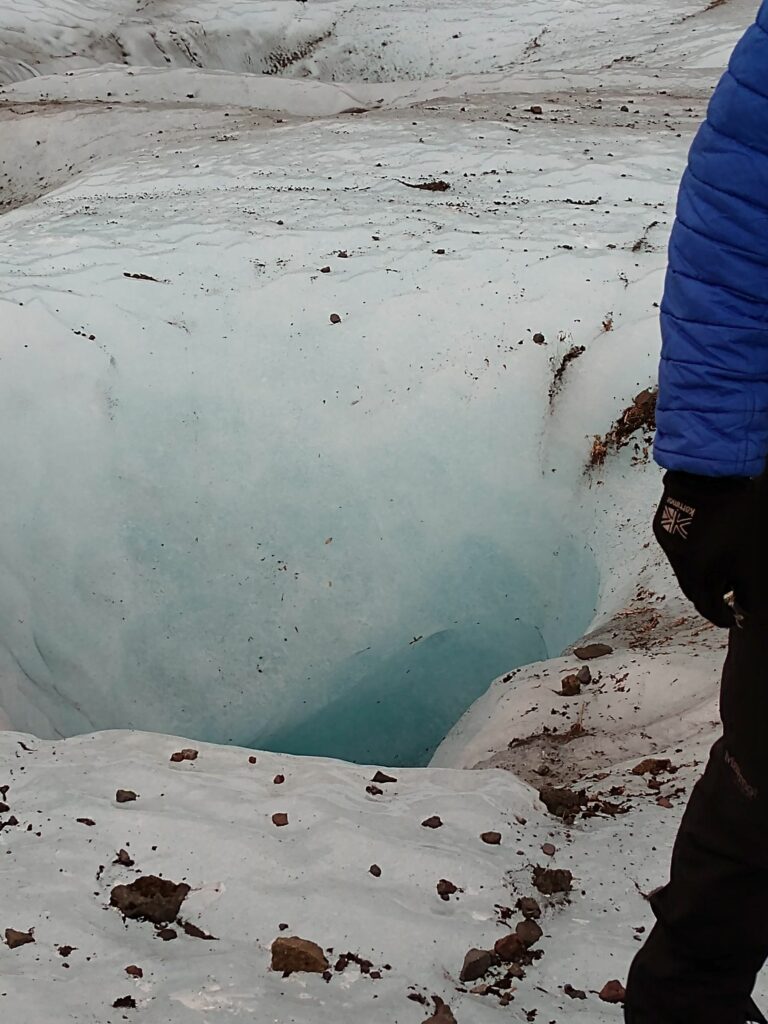 We encountered deep sinkholes called moulins that looked like a scary pit from the surface. These holes act as drainage for meltwater from the surface. Here, the water runs down to the base of the glacier and into the lake below. We also hiked around large crevasses that were a great backdrops for photos. We passed a few other groups, some with hard hats on. Christian said some groups go into an ice cave if conditions allow. Our tour is apparently an open air, in the sunshine, hike only. All of my photos on the glacier, glacier lagoon, and in many parts of Iceland for that matter, have a real blue hue to them. I think part of the reason is the Icelandic winter, where the sun is up for only a limited amount of time during the day. Also during this time of the year the sun never gets high in the sky. It feels like we are in a perpetual state of either sunrise or sunset. So that makes for some really beautiful photos sometimes, but the lighting can be dark and the blue of the ice reflects in my photos.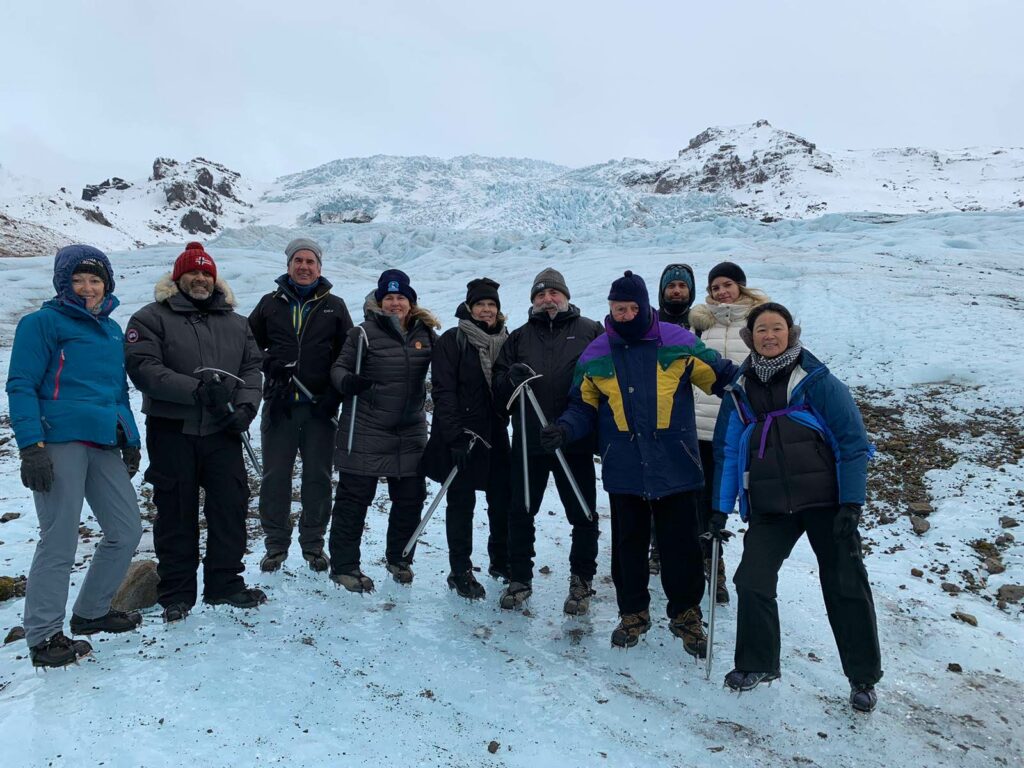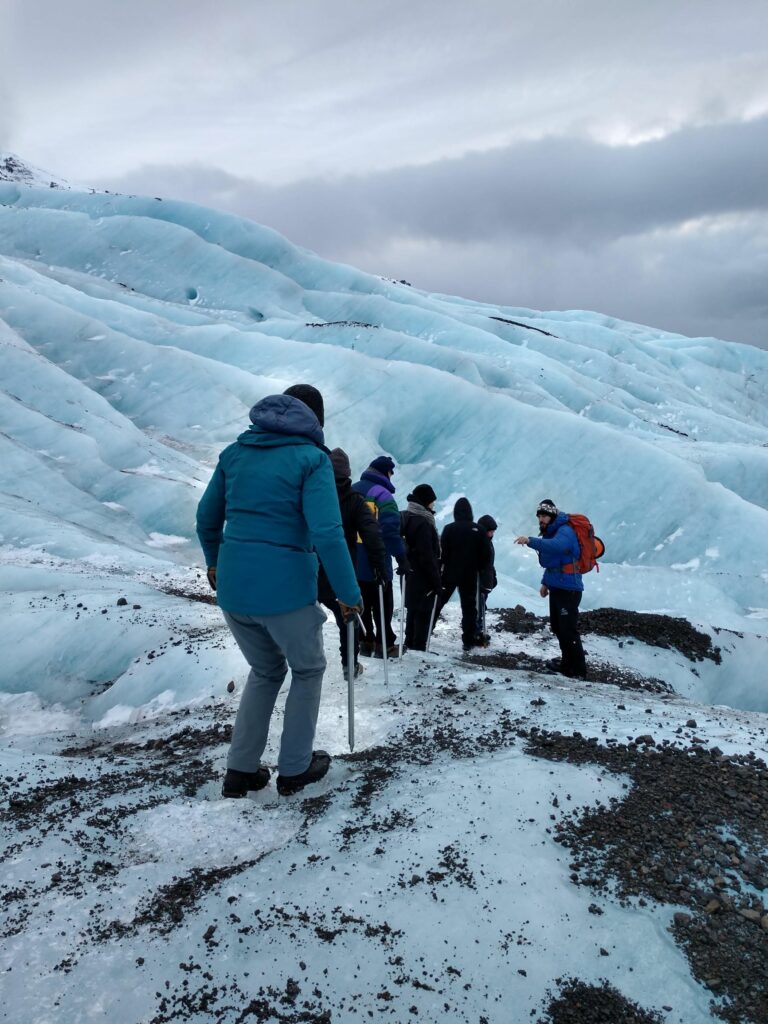 I could have stomped on the ice all day, but too quickly it was time to go. We traced our steps back. Back down the ice stairs, STOMP STOMP, down some slippery ice, STOMP STOMP, took off our crampons, back down the lava and sand switchback path, across the wooden plank bridge, and back on the bus for our Universal Studios minibus, Interstellar volcanic lava joy ride.
Next stop Oliver says he's taking us to is the famous Jökulsárlón Glacier Lagoon with views of the ice cap. G Adventures' description says, "The lake is the lowest point in the country and filled with icebergs drifting towards the sea, often with seals lounging on top. The blocks of ice coming off the glacier are typically 30m high, in dramatic shades of white and bright blue."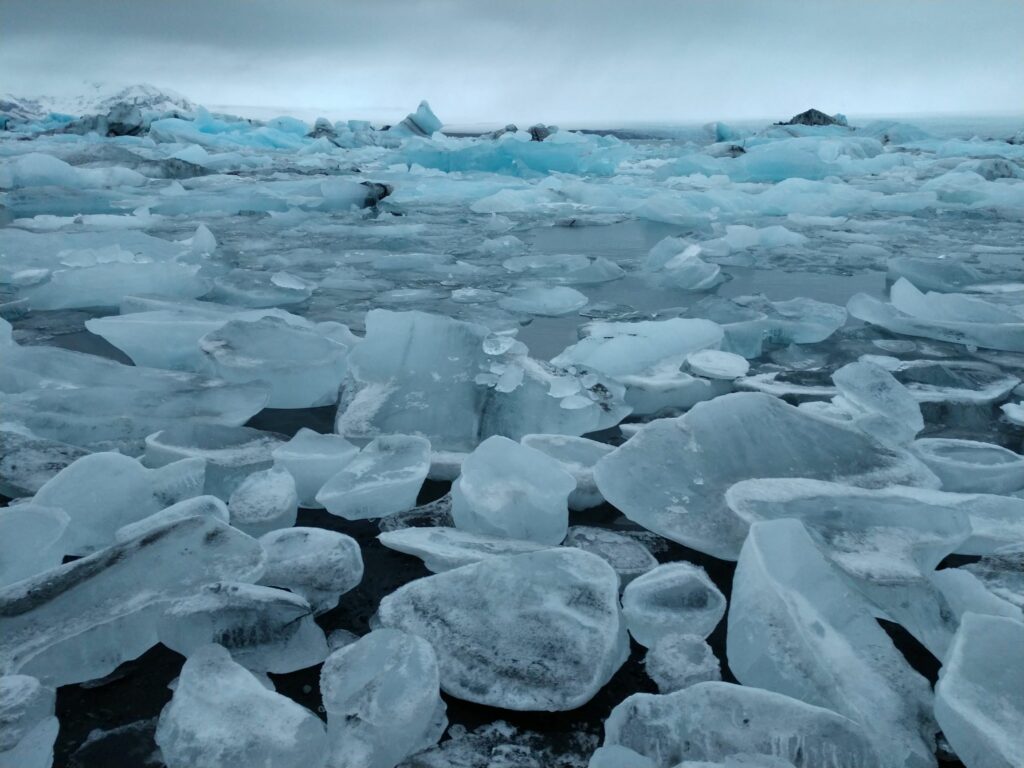 The icebergs floating around in the lagoon are beautiful. We saw some seals swimming around with their heads above the waterline.  On our way there Oliver said he hoped there would be ice in the lagoon, because sometimes it can be sparse.  But when we got there, it was full of icebergs, and Oliver even said he hadn't seen that much ice for a while.  This is actually the way our entire trip went.  Or maybe Oliver was putting us on to make us feel good.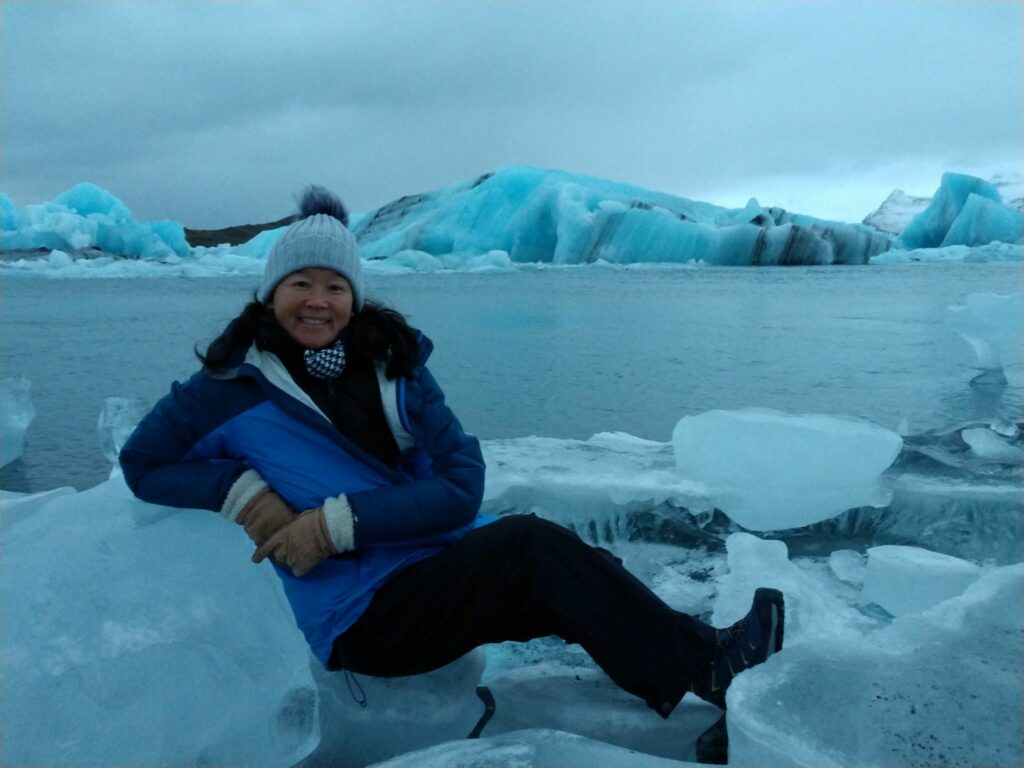 We have to rush around to hit all of these spots in relative daylight. It starts getting dark around 4 pm, and since it doesn't really lighten up till 10 am, that doesn't give us much time to get to everything. By the time we arrived at our last stop of the day, Diamond Beach, it was fairly dark. I'm not complaining one bit, it's one of the sacrifices of coming to Iceland in winter, but for anyone planning a trip to Iceland it's an important consideration.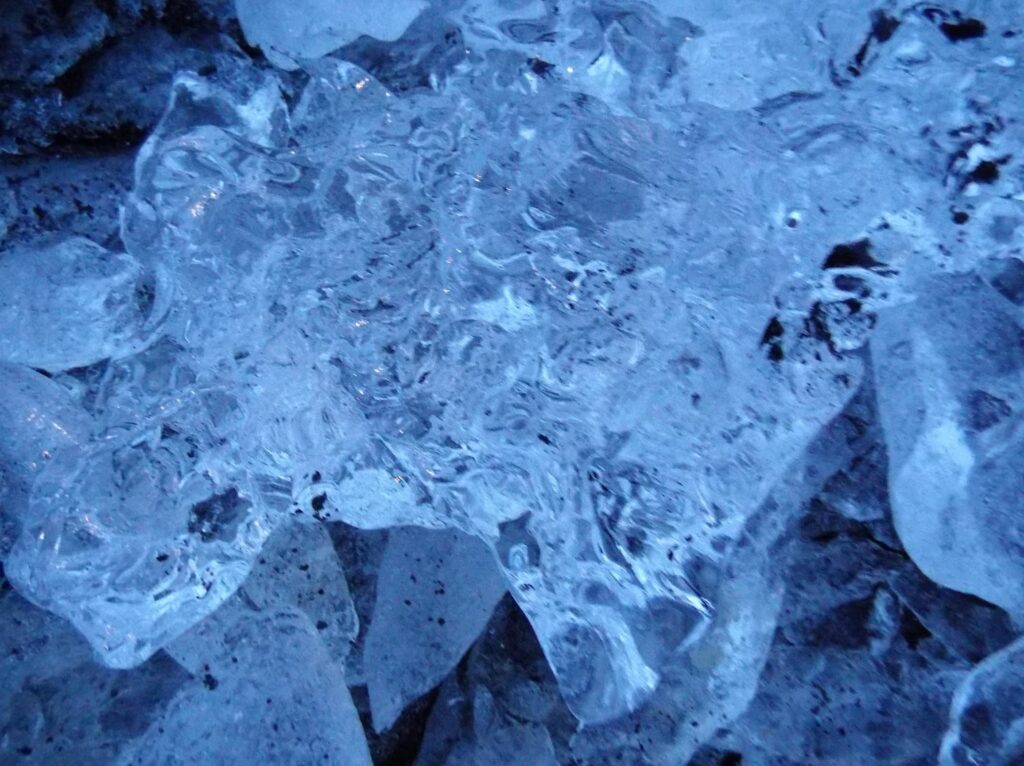 Diamond Beach wasn't sparkling in the dark.  It was cool to see ice washed up on the shores of the black sand beach.  But I've seen photos of this beach in sunlight and the ice can sparkle like multi-faceted diamonds against the black sand. It gets its name from chunks of the Breiðamerkurjökull glacier that float down the coast and stop there for a rest.  Oliver warned us not to climb on ice by the shoreline, no matter how enticing.  These harmless icebergs that look like perfect Instagram photo ops can get washed up by an incoming wave and carried away as the water recedes.  I've read stories about people drifting away after they were caught by surprise.  Oliver said he had read about someone who staged a photo with a small table and chairs on a flat iceberg, only to have it float off into the lagoon and drift untethered and aimlessly.  Sounds like a swell idea but that water will give you hypothermia in an instant I bet.
Thank you to G Adventures for introducing me to my adventure abroad in Iceland. I am an Ambassador of Change for G and it's been my privilege to spread the word about the amazing good they are doing in the world. They are connecting tourists to local experiences in every part of the world, and really bringing travel to a grassroots level as means of lifting up impoverished, recovering, hidden, disabled and indigenous communities.

In Iceland, G, along with their partner the Planeterra Foundation, are involved with the Solheimer EcoVillage. Over 100 people live in this little community that helps disabled people. As part of my Ambassadorship, I'm on this trip to experience their G Adventures National Geographic Journeys Explore Iceland program. I'll be reporting back on the Solheimer EcoVillage later. Follow along in my Epic Away Travel social media @epicaway and #epicaway on FB and Insta and here at myadventureabroad.com.
If you'd like to learn more about G Adventures and Iceland, contact me for details on how to get to this incredible country. I was blown away by the beauty, the varied landscape and this amazing tour that offered a perfect mix of adventure, education, comfort and fun. [email protected]
#exploreiceland #epicaway #epicawaytravel #epictravel #gadventures #planeterra #solheimerecovillage #nationalgeographicjourneys #myadvenureabroad #icelandjourney #glacierhike #bluelagoon #northernlighthunting #auroraborealis #bucketlistdreams @epicaway @gadventures @planeterracares