Wednesday, September 7
Here are a few interesting comments about our blog:
From my 100-year old Grandma:   RE: the Minoh waterfall post:  Taki-michi means waterfall road. — Winnowing rice is shaking rice to separate from straw. — Momoji means red leaf. — Hyaku-en is 100 yen.
My friend Sandi says she is impressed by my new commitment to Costco. But here is a seriously impressive commitment to Costco… I met a mom today named Julie whose son is a high school senior at OIS.  She and her husband do not have a car.  They bike everywhere.  They say biking is cheaper than riding the train (and it is, but oh so much more work).  She and her husband ride their bikes to Costco!  It's like a 45 minute drive from here!  And hills and traffic!  How in the world does one shop at Costco and take their purchases home in a bike basket?  Really.  She said when they first started it would take all day to get there and back home.  Now they've got it down to 2 hours each way.  Needless to say, Julie and her husband have come from the US and they need their American comforts.  In fact, Julie's husband John grew up in Emerald Bay (Laguna Beach) and went to school at Carden Hall in Newport Beach.  How is that for small world!!
The most comments I've received by a landslide have to do with Halyard and John's experience with the food ordering machine and the huge button that said English.  Everyone loves Halyard's post!
And yes, I am going to make a bigger effort to have the kids write more.  Stay tuned…
My brother Grant says the blog is "too many words!"  He wants "more photos."  So the rest of this blog post is for my brother.
Scenes from our new hometown: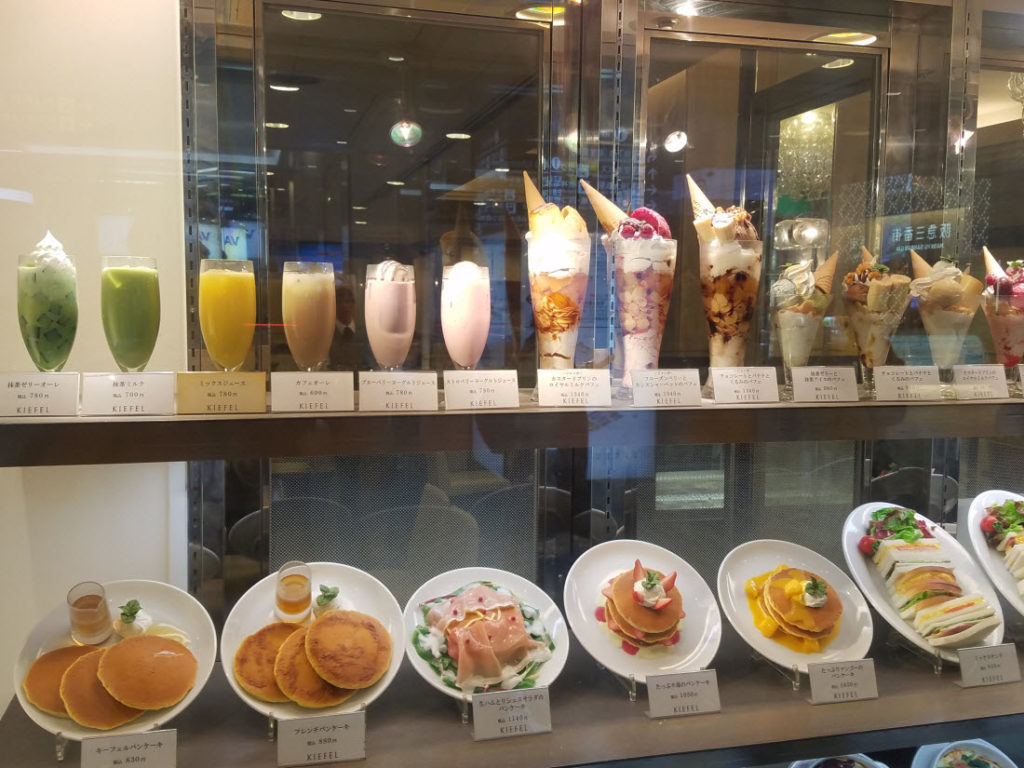 Plastic food in the restaurant windows are all over Japan.  Easy for foreigners to order.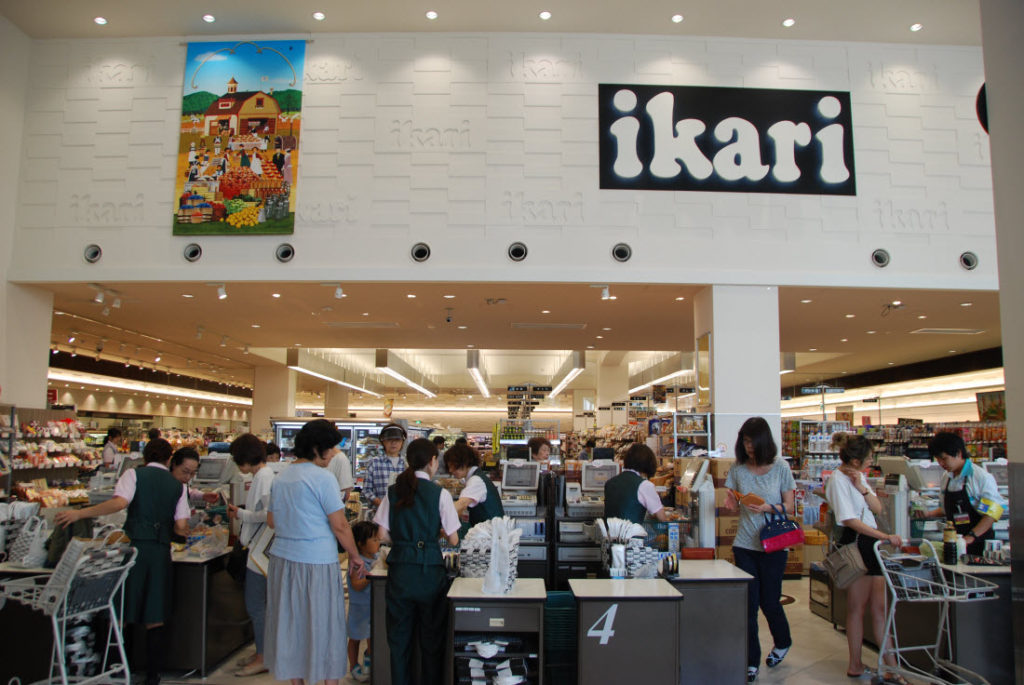 The high end grocery store ikari.  We accidentally made our first grocery trip here.  I found some good spaghetti sauce from a brand called "California Gift."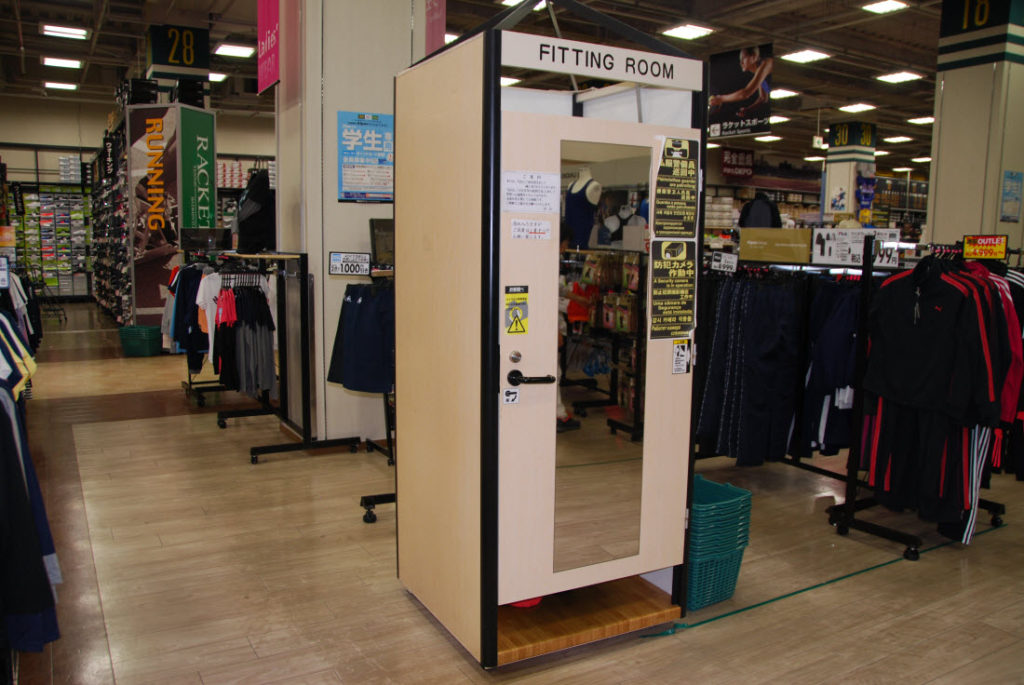 This is a fitting room in the middle of a store called Sports Depo.  Hilarious.  Halyard said you are supposed to take off your shoes before you go inside.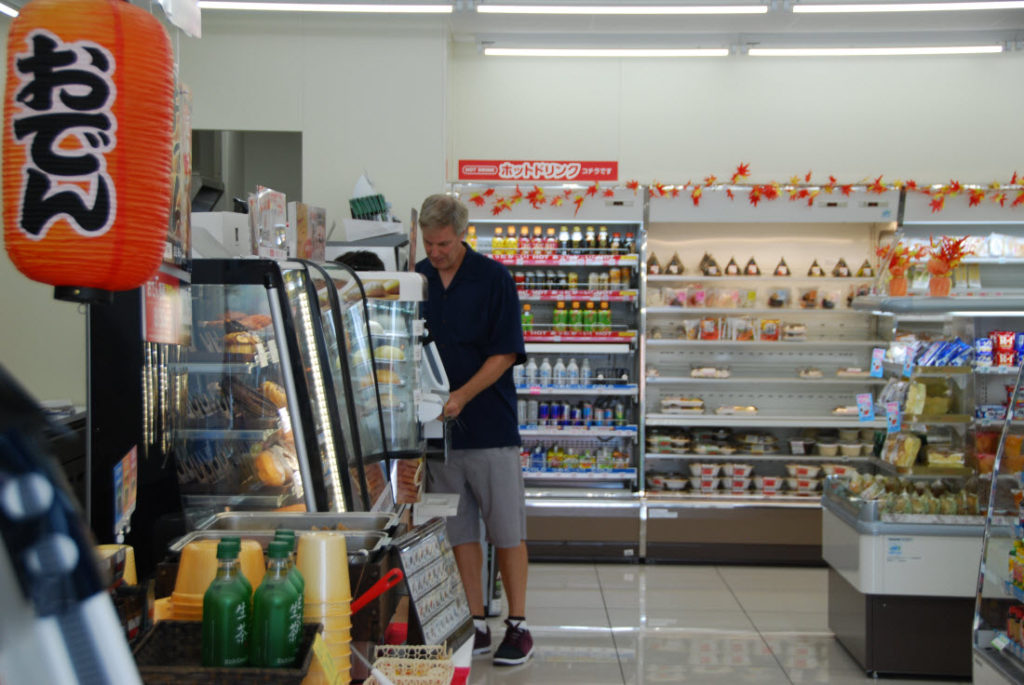 This is a convenience store called Lawson.  They are all over Japan.  John ordered a book from Amazon Japan and it was delivered to Lawson the next day.  He just had to figure out how to pick it up.  That was quite an effort with the language confusion!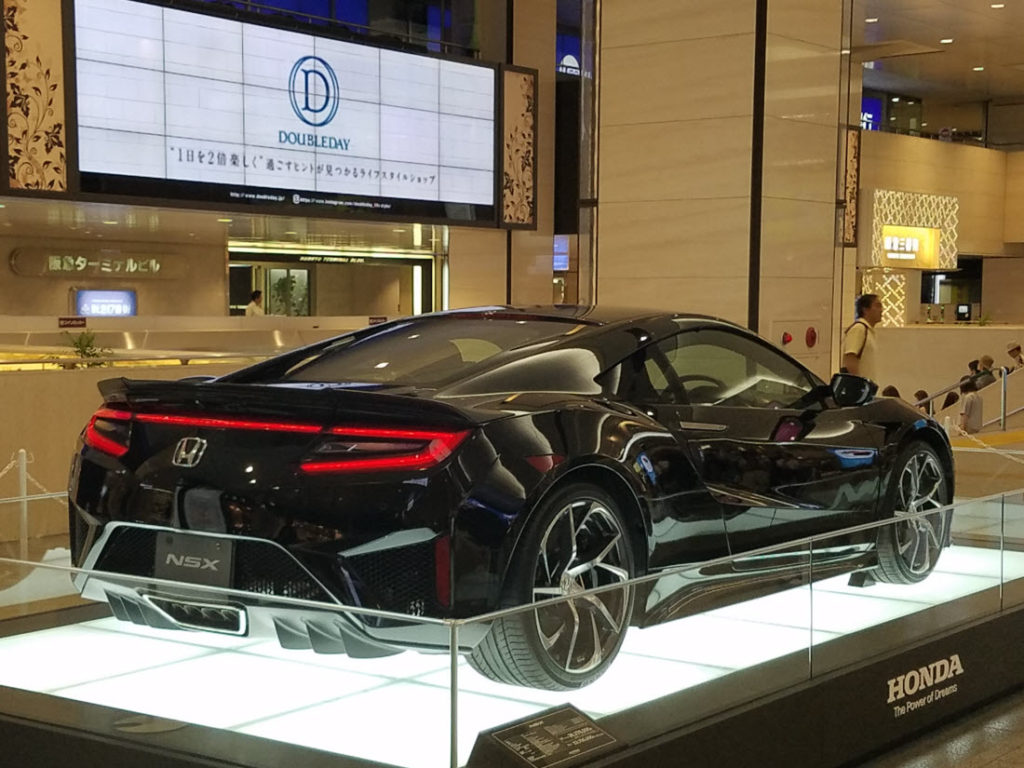 This display at the Umeda Train Station is the new Honda NSX.  There is no Acura in Japan.  It's all Honda.  The display says this car loaded is 26,278,000 YEN.  (About $262,000 USD).  This is the latest of the hybrid supercars.  I think it's better to buy it in the US though.  I looked it up and this Acura NSX base price is $156,000 USD.  I told John there's no way this car will sell for a quarter of a million in the US.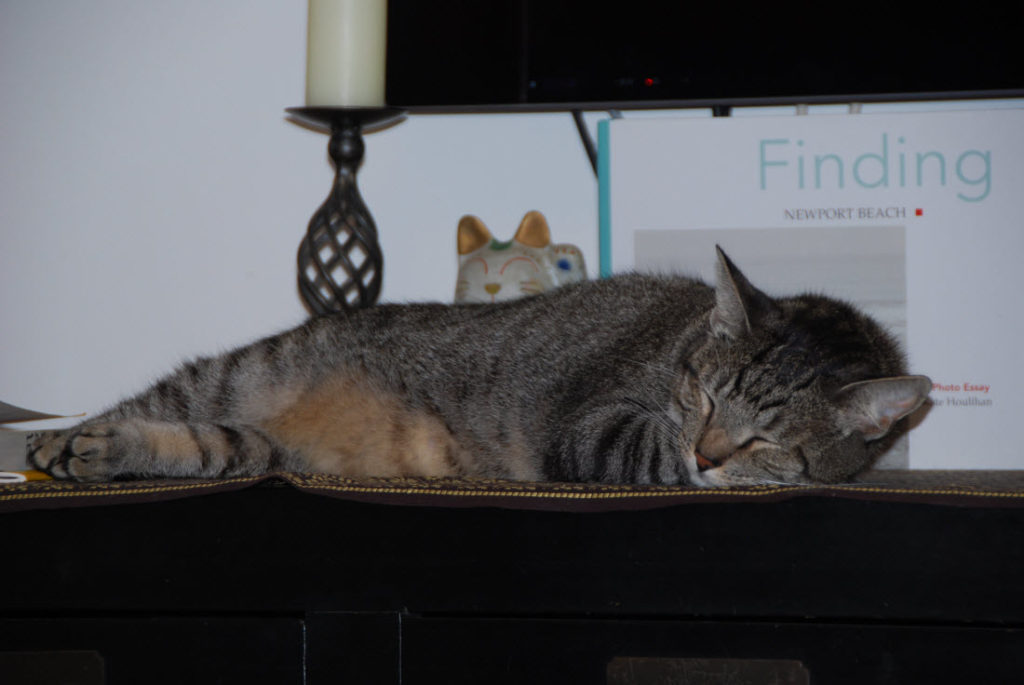 Pickles is enjoying Japan, but not the crazy heat.  He brought his fur coat for winter.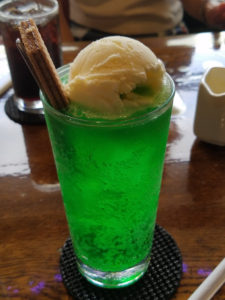 This is a melon creme soda.  John loved it.  It's so pretty.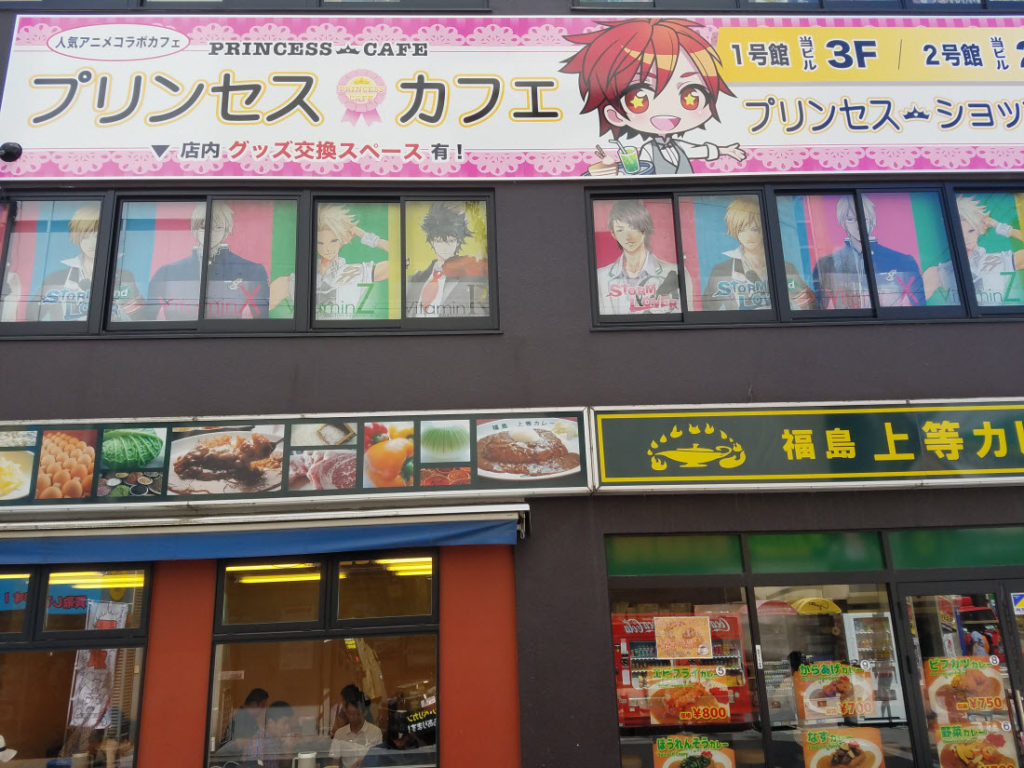 Princess Cafe.  Avalon missed it.  John ordered a drink in her honor.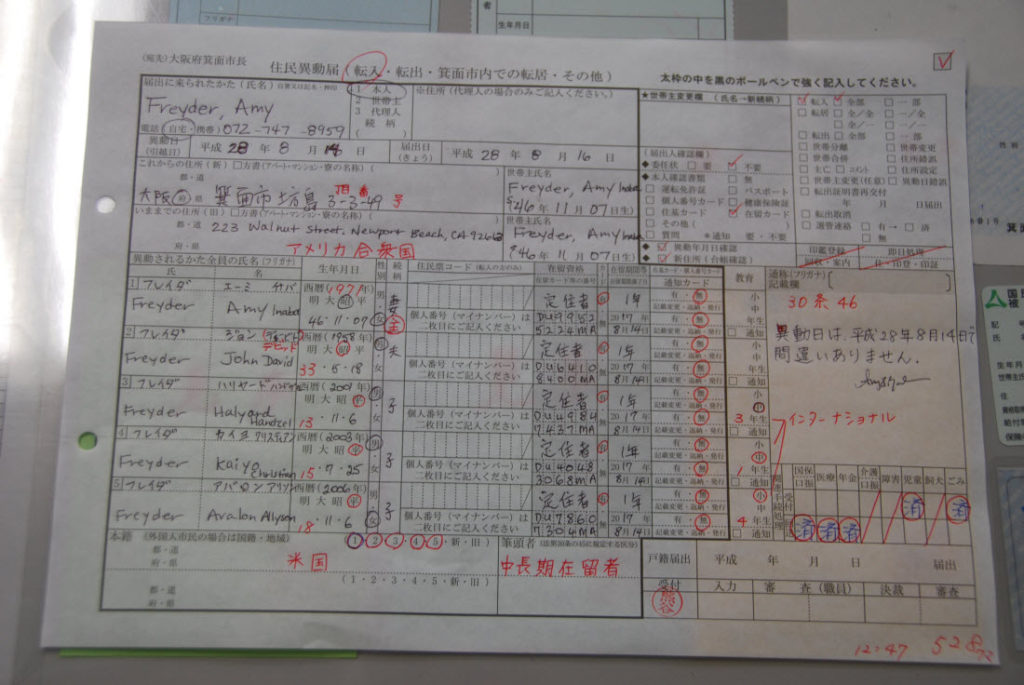 This is the registration form that we needed to fill out when we came to register ourselves at Minoh City Hall.  Andrew helped us fill it out.  The form shows that I was born in '46 and John was born in '33.  This is because the year is counted from the emperor and what year of rule he was in.  So I was born in the year Showa 33 (The Showa Emperor's 33rd year of rule).  John was born in the year Showa 46.  The kids were born in the next emperor's reign so their birthdays are Heisei 13 (Halyard), Heisei 15 (Kaiyo) and Heisei 18 (Avalon).  This isn't really common but on official records it is written this way.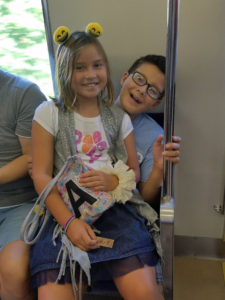 Kaiyo and Avalon fooling around on the subway.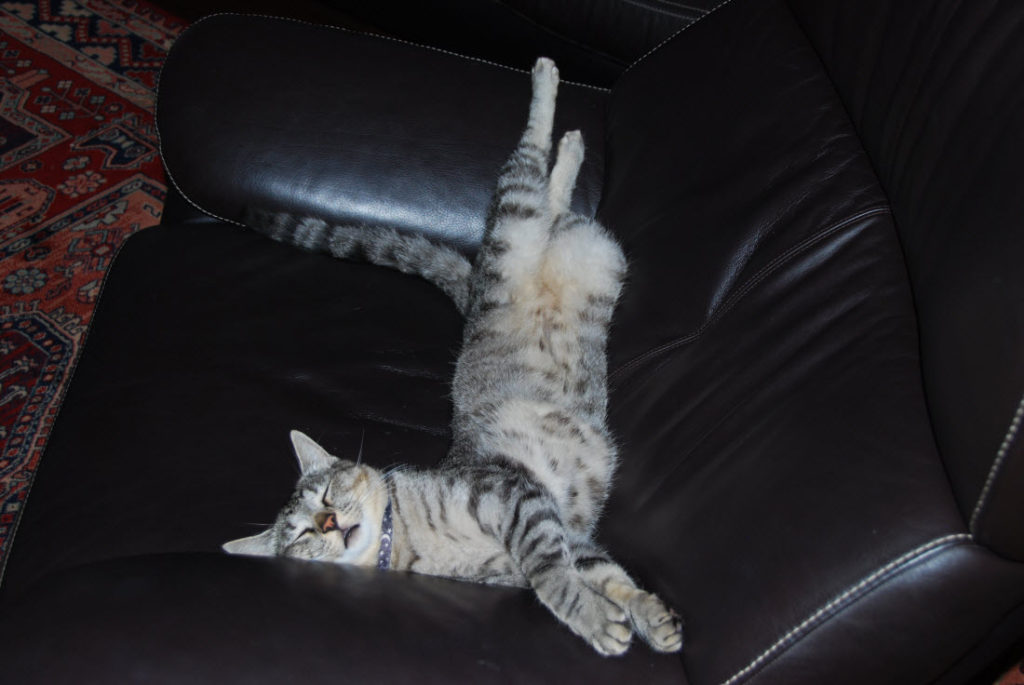 Maneki is making himself at home in Japan.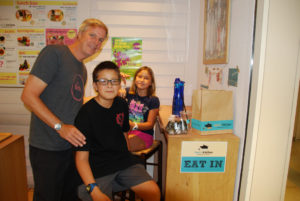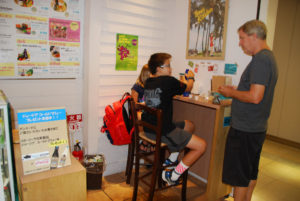 This is a shop in Umeda Train Station called Boo's Kitchen.  We stopped to get a snack of onigiri (rice balls).  The Eat In section consists of 2 stools.  We had to wait our turn.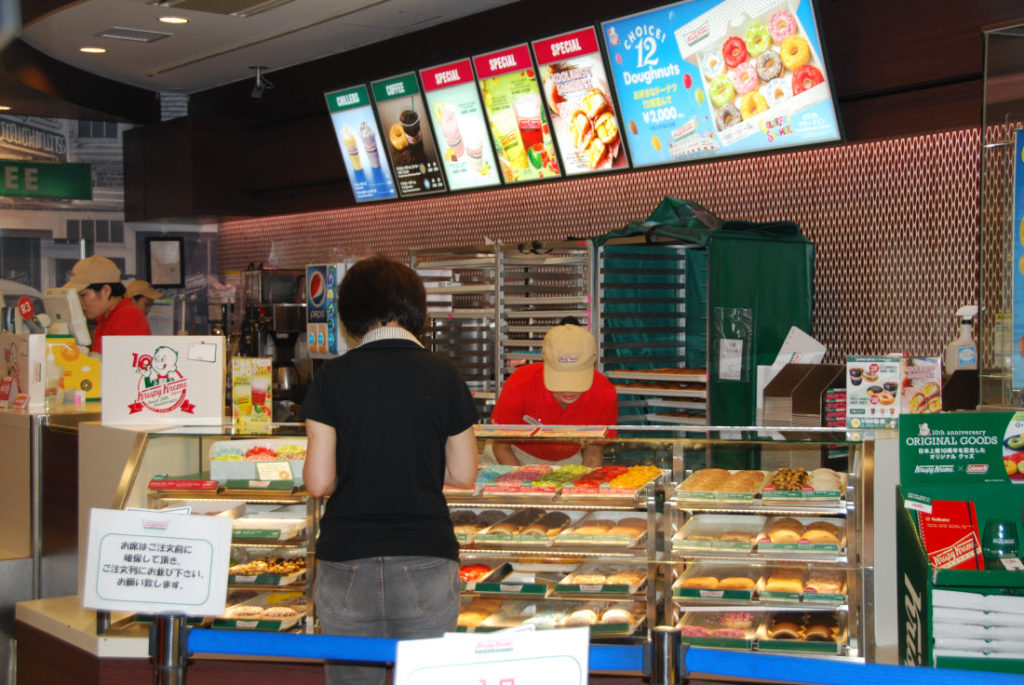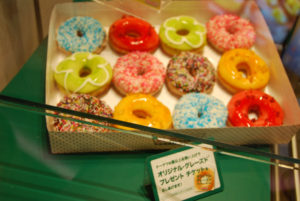 Krispy Kreme!  In case we're craving an American donut.  These donuts are very colorful.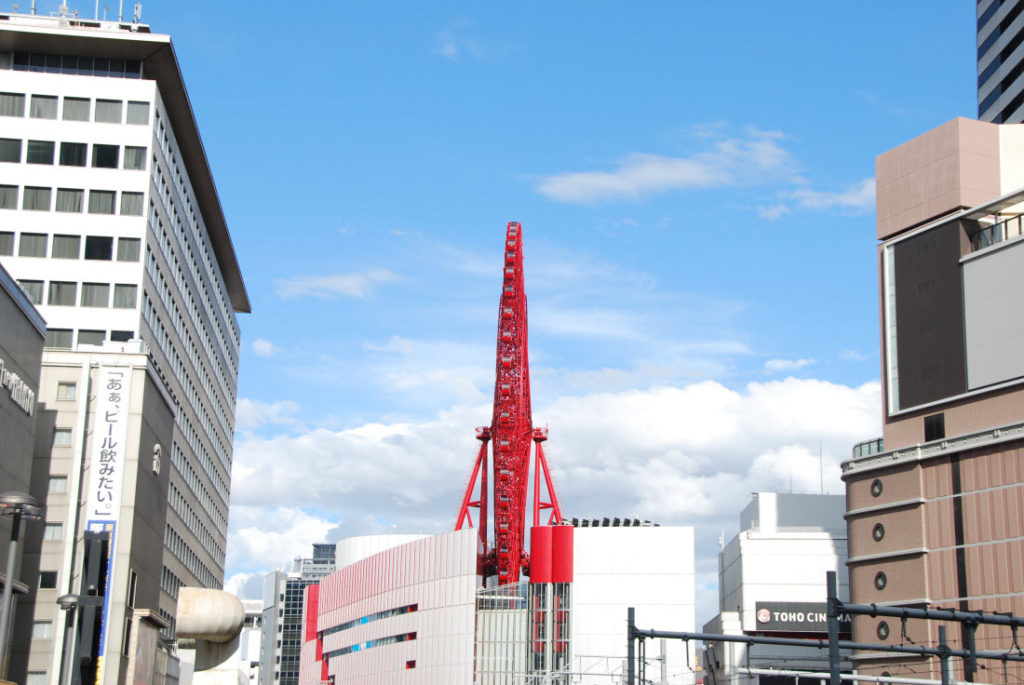 Big red ferris wheel in downtown Osaka.  We haven't tried it yet, but we will.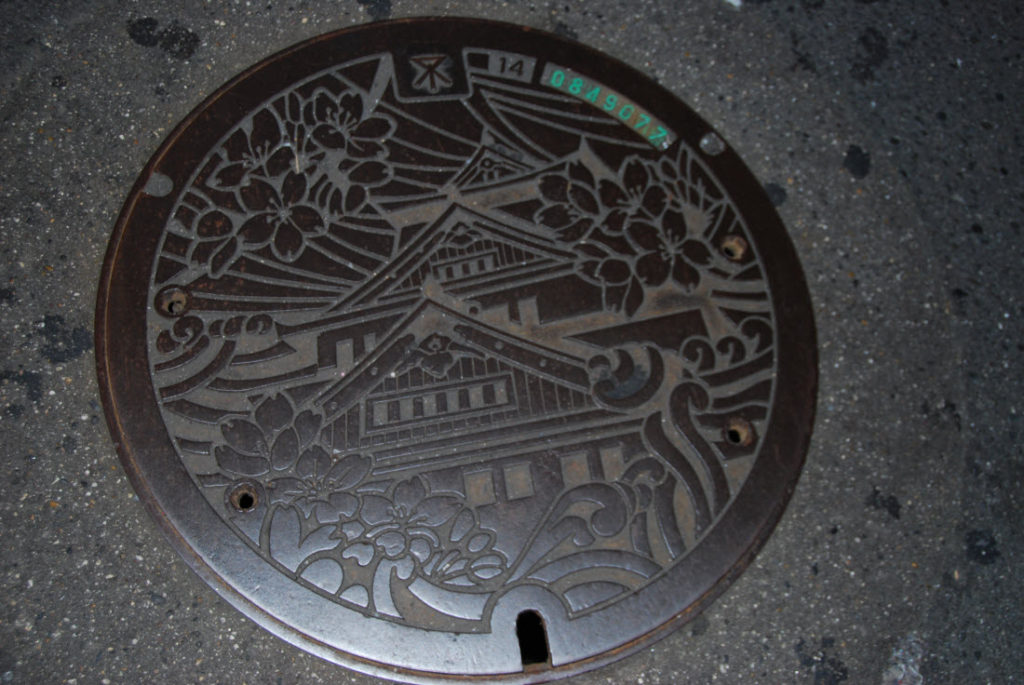 The manhole covers have such intricate designs.  This is downtown Osaka.  The manhole cover featured at the very top of this post is from downtown Minoh where we live.  Note the red maple leaves and waterfall on the Minoh manhole cover.  Every manhole I've seen so far has some kind of fancy pattern.  Some have color and some do not.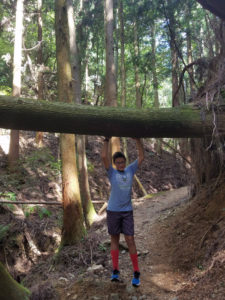 Kaiyo loves hiking in the nearby mountains.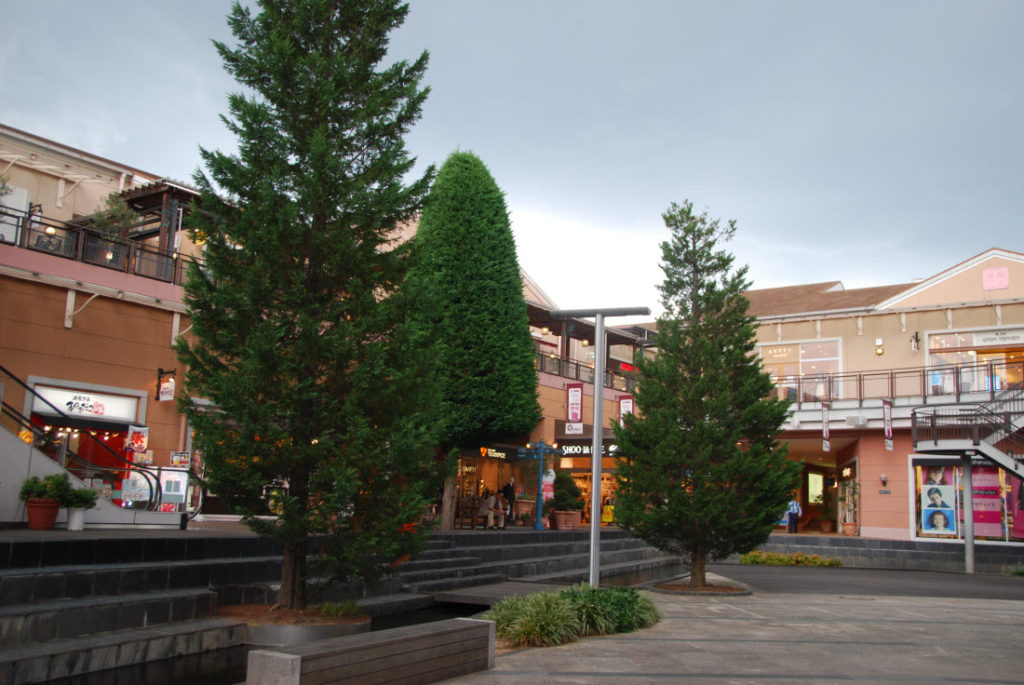 This is Q's Mall near our house.  We can walk here in about 5 minutes.  This is where Aeon and Starbucks are, as well as a shoe store, docomo phone store, restaurants, an IMAX theater, arcade, hyaku-en store, Uniqlo, Sports Depo, athletic club and many more.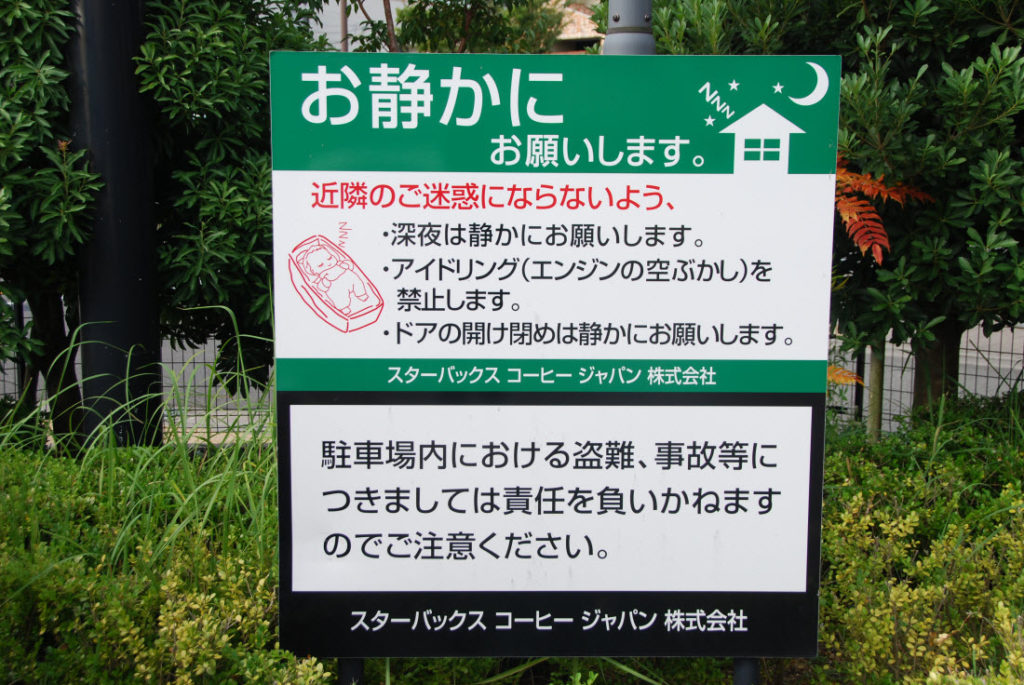 This sign is interesting.  It's in the Starbucks parking lot near the kids' school.  It basically says that you need to be quiet and do not run your engine, especially at night.  I guess you don't want to wake the sleeping babies pictured above.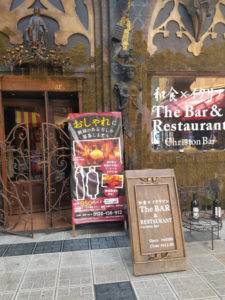 This place is called Christon Bar.  As in "Christian Bar."  There is a Virgin Mary over the doorway. There are all sorts of crazy statues around the facade. And the photos on the advertisement show a very gaudy decor complete with a large Pieta!  I have to see it.  Unfortunately when we were there it wasn't open yet.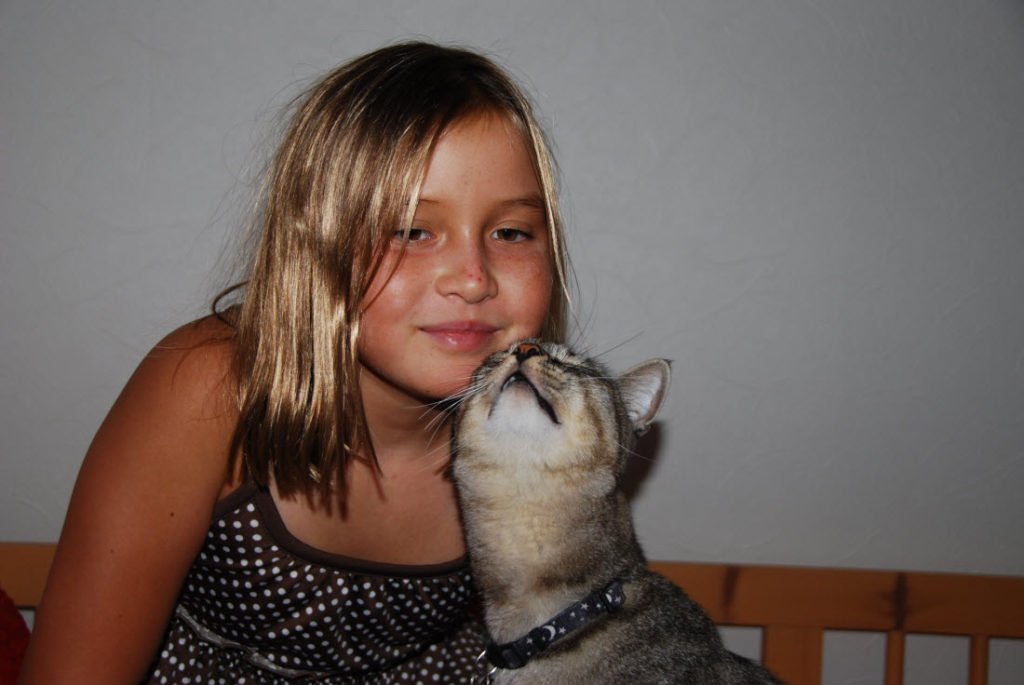 Maneki loves Avalon!