November 13, 2019. 8 AM. I'm on the plane on my way to Iceland. Technically I'm on my way to Portland, Oregon. I decided to fly out of John Wayne Airport, instead of having John drive me to LAX at the break of dawn. I was supposed to go non-stop SNA to Seattle, but at the last minute the flight got cancelled and I got re-routed from SNA to Portland to Seattle. When I left the house this morning I took a package of Trader Joe's orange cranberry scones with me. My husband said, why are you taking those? I said, because food is really expensive at the airport and in Iceland. Maybe I'll want a snack. He said, that's ridiculous. Eat at a café and enjoy yourself. So I only took 3 out of 6 of them. But he doesn't know that I actually packed a lot of snacks in my luggage. I had planned to pack really light, but I think it got heavy with all of my snacks.
After I finally land in Iceland at 6:10 AM tomorrow local time, I've arranged for an airport transfer to my hotel. I'm staying at the Northern Light Inn which I hope gives me good luck for seeing the Northern Lights. No false advertising please! Don't crush my dreams Northern Light Inn. Of course it's completely out of their control. Anyway, the Northern Light Inn is on the Reykjanes peninsula of Iceland, which is about 15 minutes from the airport and 40 minutes from downtown Reykjavik. They (the internet) say it's rather remote there and in the middle of the lava fields so it gets really dark at night and there's not a lot of light pollution around, being in the middle of nowhere. The other plus is that it is not far from the Blue Lagoon.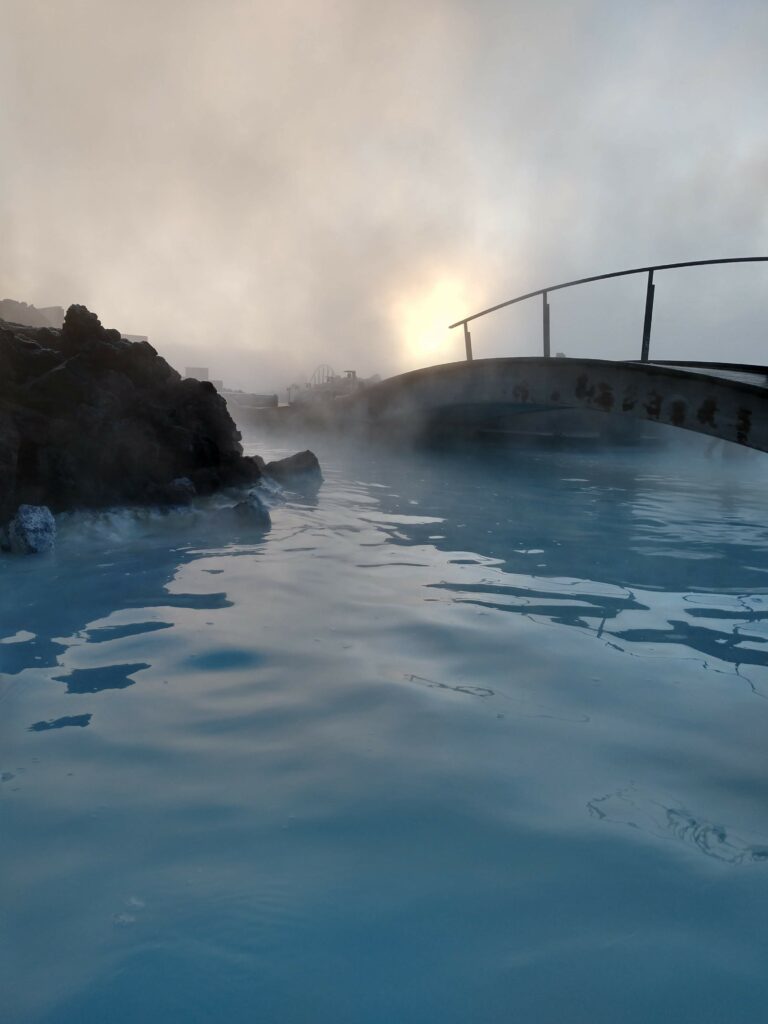 I associate the words Blue Lagoon with Brooke Shields. I never saw the movie but her photo was plastered everywhere when it came out so I don't know how you can disassociate her with Blue Lagoon if you have a memory of that time period. When I read that the Blue Lagoon is in Iceland I was wondering if it was really THE Blue Lagoon, or just A Blue Lagoon. The Northern Light Inn is within walking distance to this Blue Lagoon, or you can take a free shuttle there. This is awesome because it's a bit of a haul from Reykjavik. Since I'll arrive at the hotel somewhere around 7:30 AM that's way too early for check-in. So I've booked myself a reservation at THE/A Blue Lagoon for 10 AM.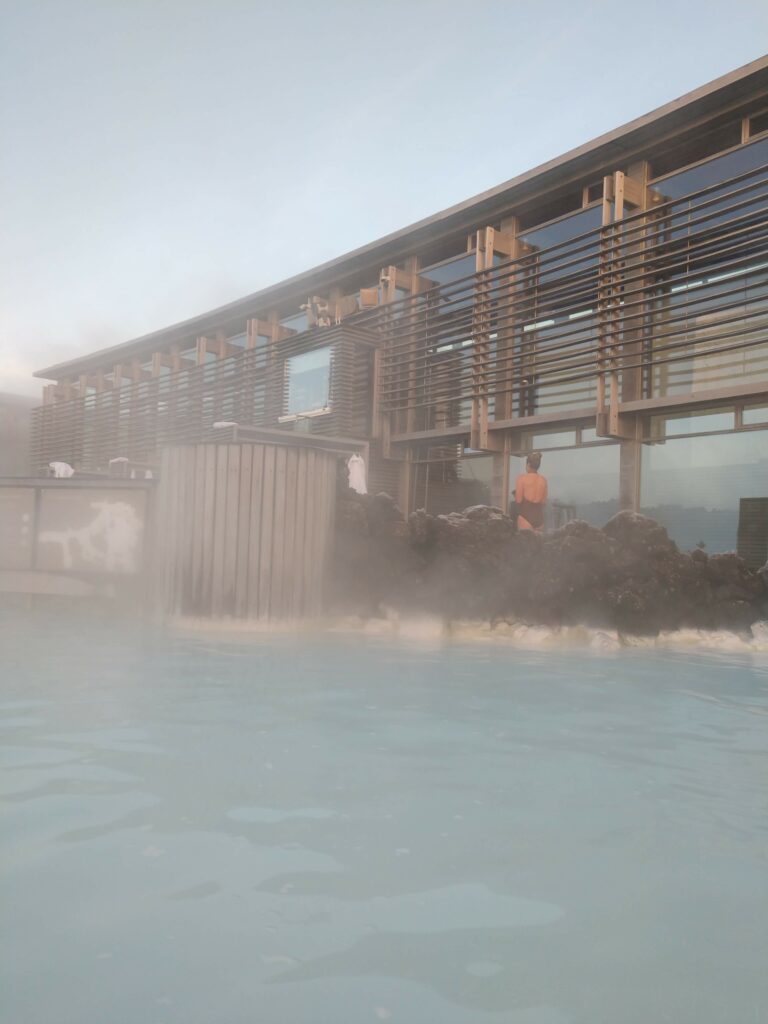 Update.
Brooke Shields was not there. The Lagoon was indeed Blue. It is both A Blue Lagoon and THE Blue Lagoon. It's huge, it's not hot by Japanese onsen standards, and it's a natural, man-made wonder, if that makes any sense. Oh and I learned after I got out and dressed again that there's a swim up bar. Darn it. I was wondering where everyone got their cups full of wine and smoothies. I noticed that there were faucets for drinking water in the lagoon, too.
They give you a scoop of complimentary mud mask, complete with the water's bioactive elements—silica and minerals — and you slap it on your face for a deep mineral cleanse. You can buy an algae mask for an extra fee. The pre-soak entry ritual is a bit like Japan.  You have to take a full shower (with soap and everything) first, and then you can put on your bathing suit and go outside and get in.  Since you are wearing a suit you don't have to feel shy about the mixed gender situation.  In Japan you must stay naked and the hot springs are almost always separated by gender.  The Blue Lagoon is the size of a small lake.  You could do laps in there if it weren't for the fact that it's crowded, shallow and you shouldn't submerge your face. I should note, the silica mask actually stung my sensitive skin a little. While I was in the lagoon it didn't feel great and I was worried it might make me break out into a rash. But later, after I showered off with clean water my face felt really smooth and nice. But my hair feels like straw now!
This is what bluelagoon.com has to say about this natural wonder:
"The beneficial powers of geothermal seawater were first discovered in the early 1980s when local residents began to bathe in the warm blue reservoir that had formed in the shadows of the Svartsengí geothermal power plant. The lagoon eventually became the focus of intense scientific study, giving birth in 1992 to Blue Lagoon Limited, a company dedicated to the research and development of the water's primary elements: silica, algae and minerals. In 1995, with research confirming the healing properties of geothermal seawater." In particular it has proven to really help people who suffer from psoriasis and eczema.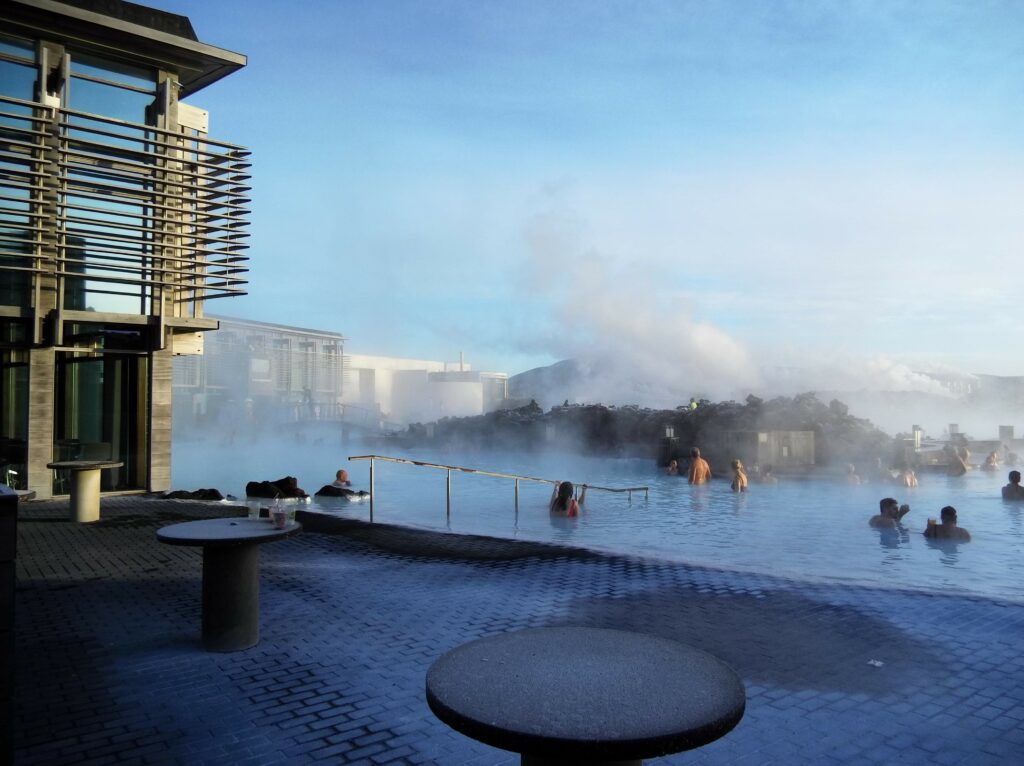 I loved it and I'm not even a hot tub/hot springs person. Some people say it's too touristy, and maybe it is. But at the same time, it's like visiting Paris and not going to the Eiffel Tower. If you've come all that way to experience the country, why miss out on its best parts? It's touristy because it's so wonderful and you have to go.
Two parting thoughts on my experience: I went early in the morning at sunrise (9:30 am in mid-November wintertime) and it was not crowded, plus it's low, low season. Only crazies would come to Iceland in these temps. There's a long, winding, roped out line for check-in so you can see how it's probably like waiting for a ride at Disneyland in high season. Secondly, all sorts of people are walking around in the water with their phones and cameras. I suspect a tiny fraction of them were waterproof. Mine was not waterproof and I was a bit stressed about taking it in with me.
I watched one man do a comical dance on one foot as he tried to regain his balance in the lagoon while waving his phone in the air with his hand. His phone was in a plastic baggie. His girlfriend was transfixed. Instead of wading over to help him she just stood there and watched. I can't blame her. It was mezmerizing. Consider a waterproof case if you want to bring your phone in the water!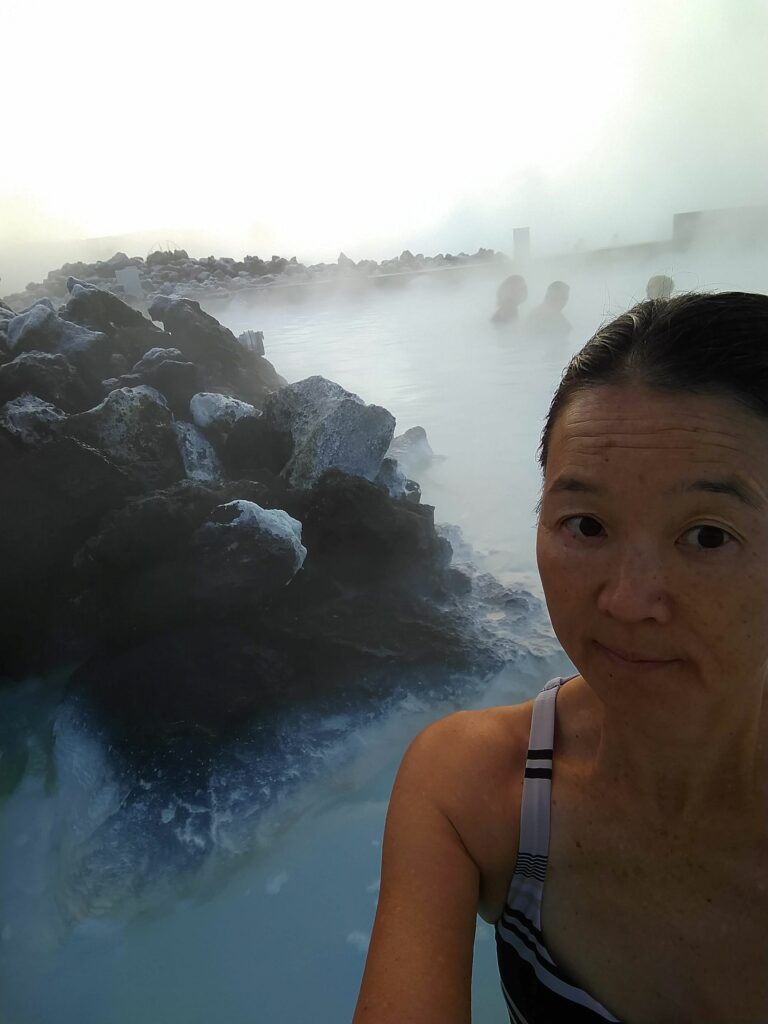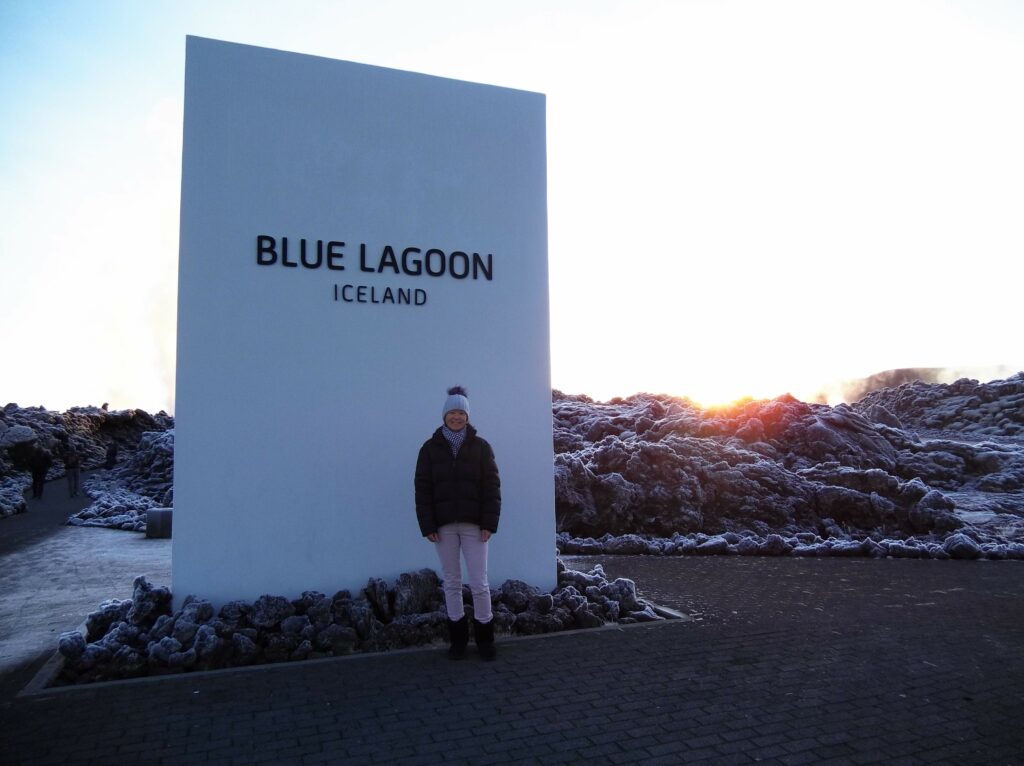 Shout out to G Adventures who is responsible for getting me to Iceland. I was selected as a 2019 Ambassador of Change for G and it's been my privilege to spread the word about the amazing good they are doing in the world. They are connecting tourists to local experiences in every part of the world, and really bringing travel to a grassroots level as means of lifting up impoverished, recovering, hidden, disabled and indigenous communities.
In Iceland, G, along with their partner the Planeterra Foundation, are involved with the Solheimar Ecovillage. Over 100 people live in this sustainable community dedicated to helping people with disabilities. As part of my Ambassadorship, they have sent me to Iceland to get to know the G Experience. I've arrived a few days early to do two extra things, and then in a few days I'll be joining the tour group. The tour I'm participating in is their G Adventures National Geographic Journeys Explore Iceland program. I'll be reporting back on the Solheimar Ecovillage later. Follow along with me in my Epic Away Travel social media accounts @epicaway and #epicaway on FB and Insta.
#exploreiceland #epicaway #epicawaytravel #epictravel #gadventures #planeterra #solheimerecovillage #bluelagoon #northernlightinn #northernlighthunting #auroraborealis #bucketlistdreams @epicaway @gadventures @planeterracares
www.epicaway.com
By the way, I ate 2 out 3 of my cranberry orange scones and I was happy to have them!
Next up: A rundown on the Northern Light Inn in Reykjanes. It really is in the middle of a lava field.