My friend Tina was the first person I ever knew to go to Iceland. This was back in the late 90s or early 2000s when no one was really going to Iceland. Back then she told me it was like the surface of the moon. Which I really didn't understand. Because a) how did she know what the surface of the moon was like and b) what in the world made the geography like something out of this Earthly world? I finally have an answer. It's the lava landscape.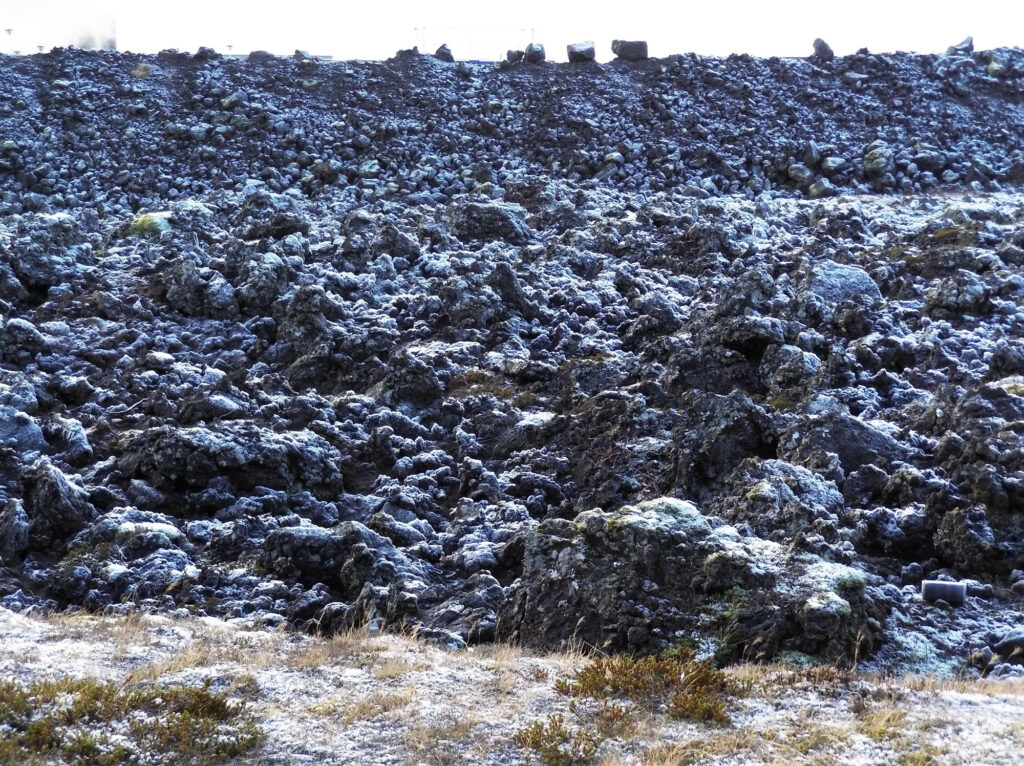 Iceland was formed a long time ago from volcanos and earthquakes. And as the earth moved and erupted and land rose from the ocean and the lava came pouring out of the earth and then cooled, it created this incredible, strange terrain. I just totally made that up. No one should use that as part of their book report on Iceland. But my imagination says so. You might recall the 2010 eruption of Eyjafjallajökull which sent dark ash into the jet stream and literally shut down the European airspace and halted all flights for days. It was a combination of glacier ice, steam heat, lava and ash that made that happen. Science in action.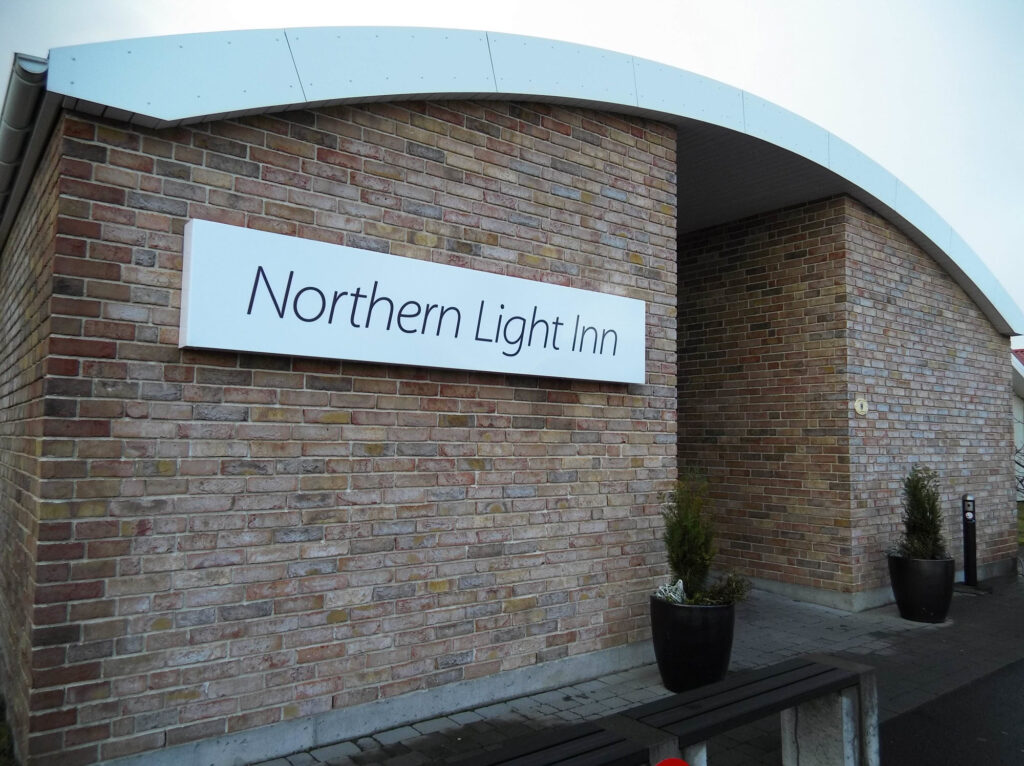 The Northern Light Inn is located outside of Reykjavik on the Reykjanes Peninsula. It took 15 minutes to drive there from Keflavik Airport. The man who drive me to the hotel told me that "reykja" means smoke and "nes" means peninsula in Icelandic. Also "vik" means small bay. Smoky peninsula and smoky bay. He thinks the Viking people saw the steam rising out of the earth and must have thought it was smoke. He also told me this Sunday is a good forecast for the Aurora so I'm really trusting his information by citing him here.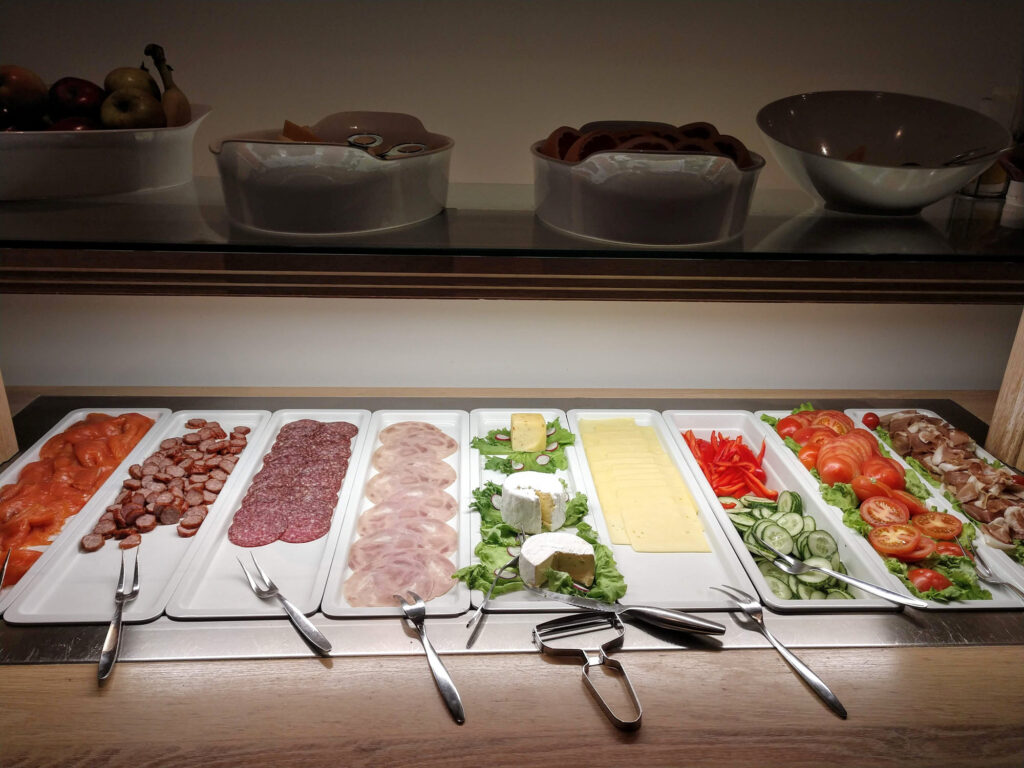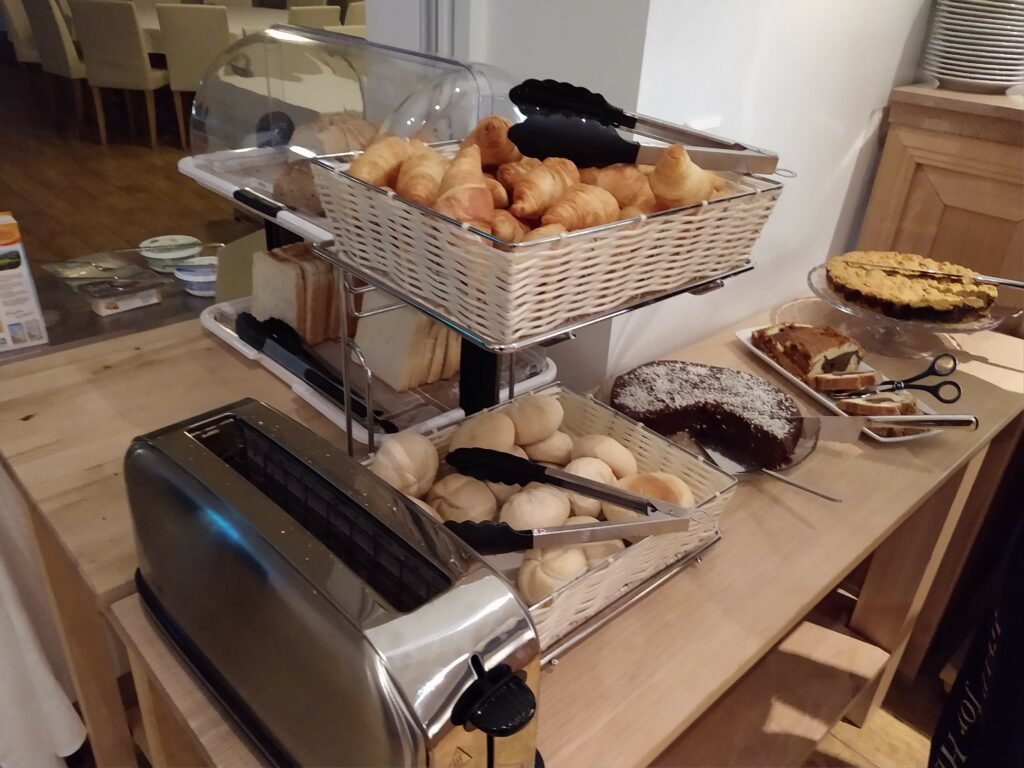 This inn is a comfortable, rustic place that has a restaurant, geothermal spa, lounge and honesty bar. They serve a hearty complimentary breakfast every morning. There's everything from eggs, fruit, veggies, oatmeal and salmon, to lots of bread and pastries, to coffee, tea and juice. But do not take anything from the buffet to your room like we do in America. There's a sign on the table that says: Big No-No and if you get caught red-handed they'll charge you. Not every accommodation here includes breakfast and since every meal in Iceland is expensive this is nice… so follow the rules. Another nice touch is the mid-afternoon DIY waffle cart in the honesty bar area. This is a huge hit with the online reviewers so I'm looking forward to making mid-day waffles and washing them down with a drink from the bar. By the way, no one is manning the station at the honesty bar. There's a sign-up sheet on the counter and you just note the price and your room number and take the goods.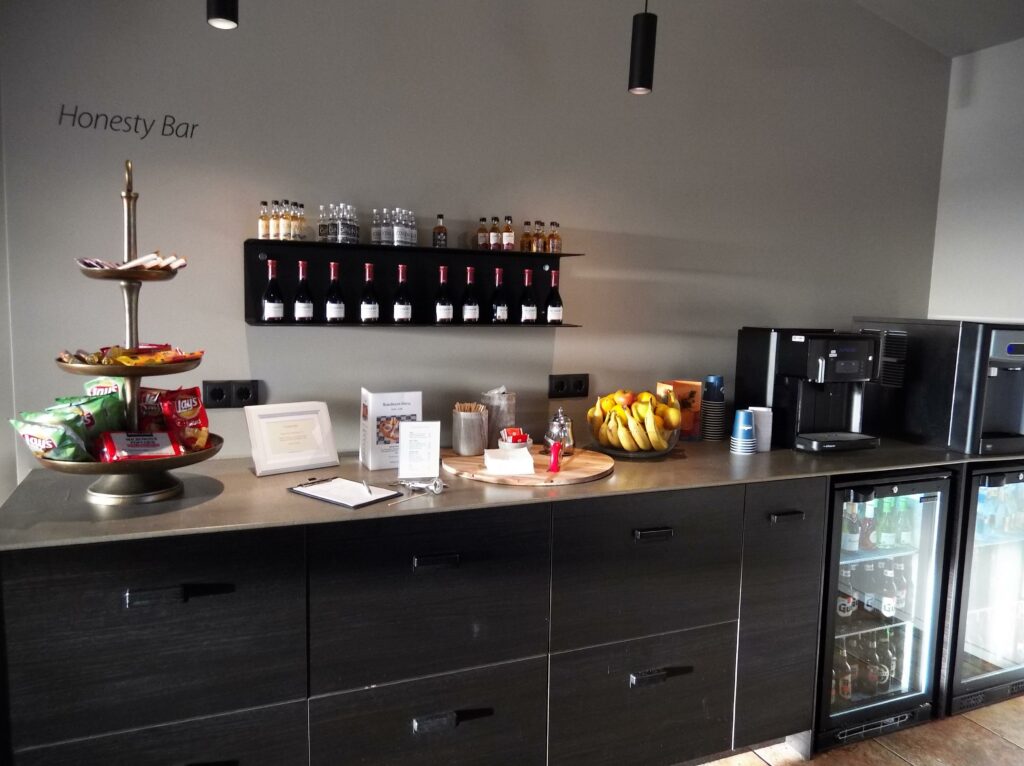 There are a few reasons why this is a good place to stay if you want to view the Northern Lights. It's out in the middle of the dark in a lava field and the darker the better for seeing the Aurora. It has a big glass room on an upper level where you can star gaze and watch the sky for any action. And they offer middle of the night wake up calls. You add your room number to their wake-up call list and if the lights show up they'll ring your room and wake you up. Brilliant. This way you don't have to wake yourself up every hour to see if you're missing anything. Or more precisely, to discover that you're not missing anything.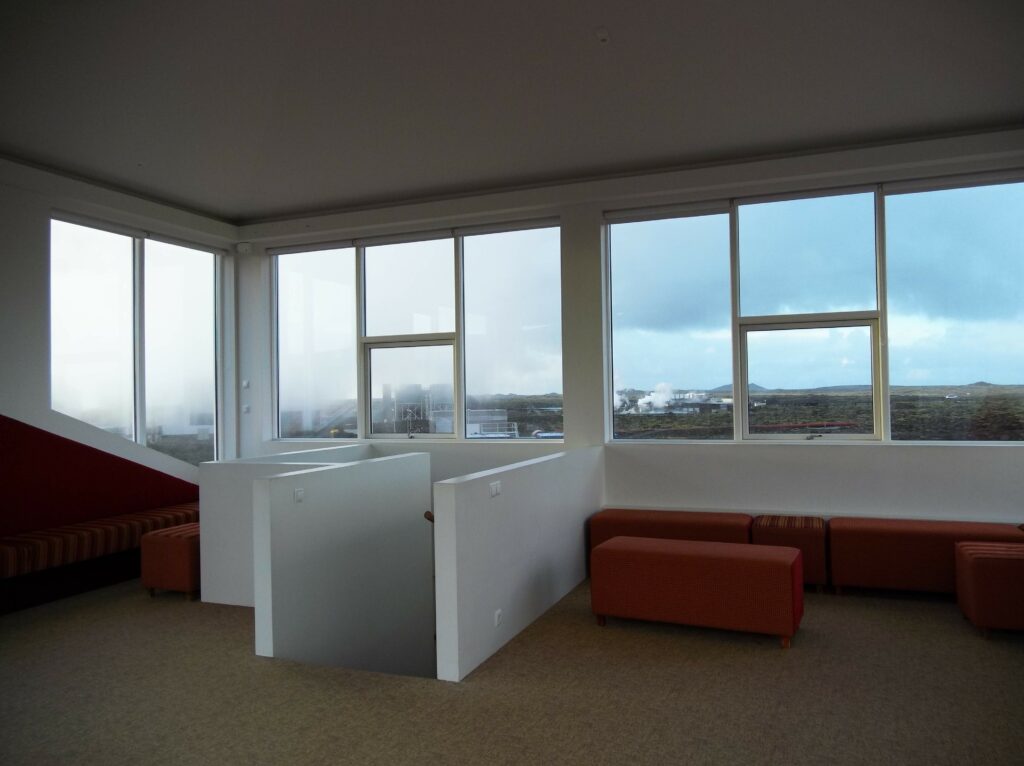 From the minute I arrived on November 14, it was best place I could have stayed. The young man at the front desk found a room for me at 7:30 AM, when check in isn't even until 3 PM. What an amazing difference that made in my first day after having been on 3 flights to get here and landing at 5:30 AM. He was a fellow American (so polite!) from Virginia and I asked him why he'd moved to Iceland. He said he came here with the military and when he finished he loved it so much he stayed for good.
Another bonus to staying here is that it is less than 5 minutes from the Blue Lagoon. In good weather you could even walk there. They run a free shuttle on the hour starting shortly after opening to closing.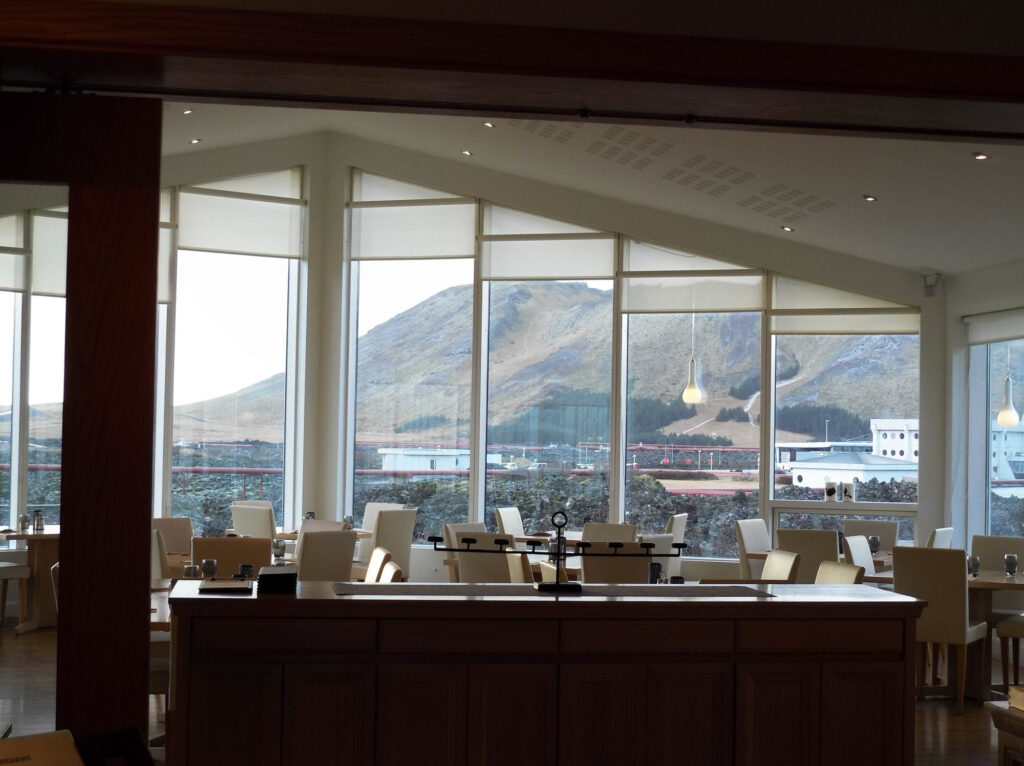 The only place to eat here is Max's Restaurant and it's superb. I paid for the beautiful special dinner, which is billed as "the freshest food you'll ever eat." It wasn't the freshest I'd ever eaten, but that's only because my family goes ocean fishing in the Pacific and we can eat the fish right off the boat and you can't get fresher than that. But the meal was delicious. I was stuffed. And the Icelandic beer is refreshing.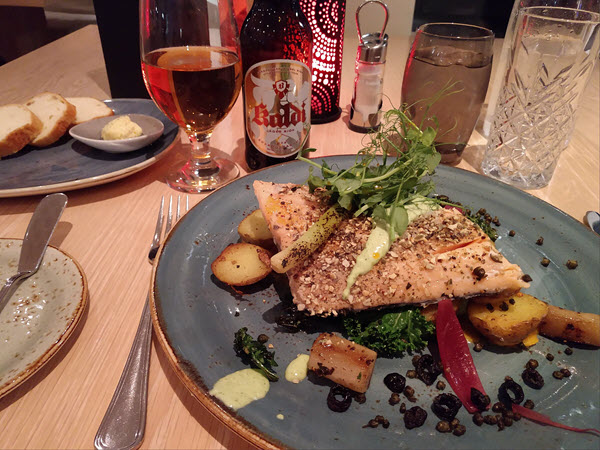 The sky was too cloudy or the solar activity too dormant during my 2 nights here so I didn't get the late night wake up call I was hoping for. Luckily I'll be in Iceland for another 8 nights so I have some more chances. I'm moving on to a new hotel in downtown Reykjavik to meet my G Adventures group soon.
Shout out to G Adventures who is responsible for getting me to Iceland. I was selected as a 2019 Ambassador of Change for G and it's been my privilege to spread the word about the amazing good they are doing in the world. They are connecting tourists to local experiences in every part of the world, and really bringing travel to a grassroots level as means of lifting up impoverished, recovering, hidden, disabled and indigenous communities.
In Iceland, G, along with their partner the Planeterra Foundation, are involved with the Solheimar Ecovillage. Over 100 people live in this sustainable community dedicated to helping people with disabilities. As part of my Ambassadorship, they have sent me to Iceland to get to know the G Experience. I've arrived a few days early to do two extra things, and then in a few days I'll be joining the tour group. The tour I'm participating in is their G Adventures National Geographic Journeys Explore Iceland program. I'll be reporting back on the Solheimar Ecovillage later. Follow along with me in my Epic Away Travel social media accounts @epicaway and #epicaway on FB and Insta.
#exploreiceland #epicaway #epicawaytravel #epictravel #gadventures #planeterra #solheimerecovillage #bluelagoon #northernlightinn #northernlighthunting #auroraborealis #bucketlistdreams @epicaway @gadventures @planeterracares
www.epicaway.com