Day 2 on Virgin Voyages Scarlet Lady ship. It's Monday, December 20, 2021. Sunrise yoga and meditations? Break of dawn mimosas and crisp fresh air? Nope. Sleeping in feels so nice.
I looked at the clock briefly at 7:30am and thought about getting up for yoga. Then promptly pulled the covers higher and forgot about it.
My first scheduled activity today is a MyBeast Fitness class at 2pm. Hahah. Why torture yourself on a cruise? Idk. In the morning we wandered around looking at the ship and taking photos. Then we went to The Wake for brunch. This is the one restaurant I didn't make dinner reservations for because it's a steak and seafood place. Since my friend and I don't eat meat, I decided to skip it for the other hard-to-make-reservation places. But it is available for brunch. Both The Wake and Razzle Dazzle are open for breakfast and lunch.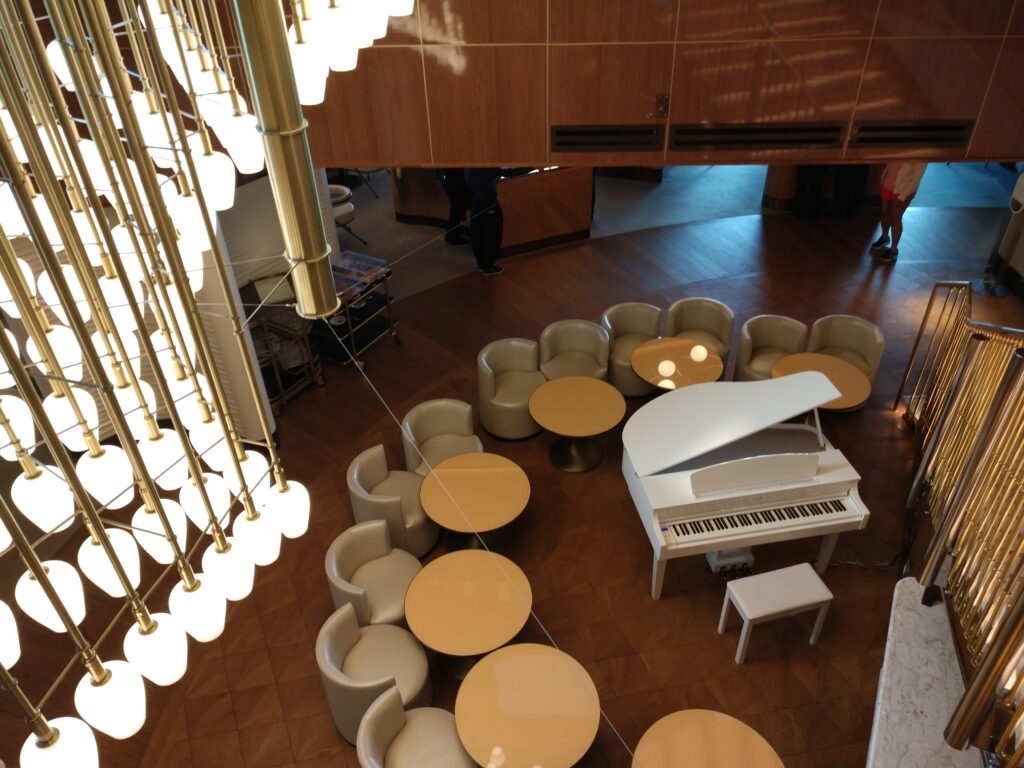 I ordered a fennel and citrus salad and an avocado benedict. Delicious. My friend ordered the same salad and French toast on brioche. Mmmmm. Coffee, tea, orange juice, all included. And why not try a dessert for good measure? It's all in the name of research. It was some pistachio thing. Darn it. I forgot what I ate and no photo. It was totally forgettable. A cold, pie slice shaped thing, with many thin layers and very, very dense. It had strawberries and a little rhubarb compote on top. It was so dense and I couldn't even taste any pistachio. When I was out of strawberries and rhubarb compote I stopped eating it.
I just looked it up. You can find any menu from Scarlet Lady online. My dessert was called crepe cake and it had a pistachio crumble on top. I don't recommend this one. A woman at the table next to me got a dessert called coconut panna cotta which looked very interesting. She said it was yummy.
Then we went to the pool to hang out and I worked on this blog and my friend brought some training material and videos to work on, too. It's a working vacay! The pool area is very nice with a lot of cushy loungers. I overhear a lot of sadness that the pool is too small. Indeed, there are two miniature pools. And the hot tubs are mini, too. Off the pool there's a gender neutral, ADA accessible bathroom. Inside is a really large, wall-to-ceiling window looking out to the ocean. Pretty cool view while you are on the toilet.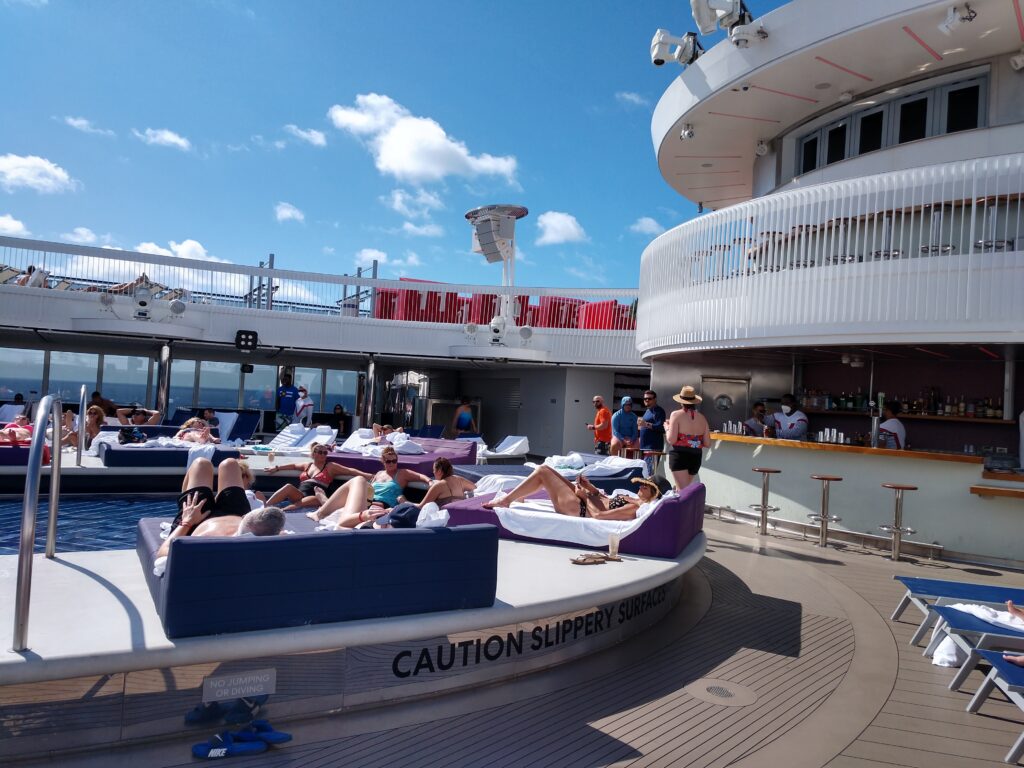 Time to get workout clothes on for MyBeast Fitness. The app says to report to the "Gin & Tonic" area of the ship. As we were getting ready an announcement over the loudspeaker said, "Medical team to Gin & Tonic. Medical team to Gin & Tonic." Is Gin & Tonic the funny name of a workout room and we were about to need medical attention? The answer is no and yes. Gin & Tonic is actually the outside bar in the photo above and yes we were about to get our butts kicked.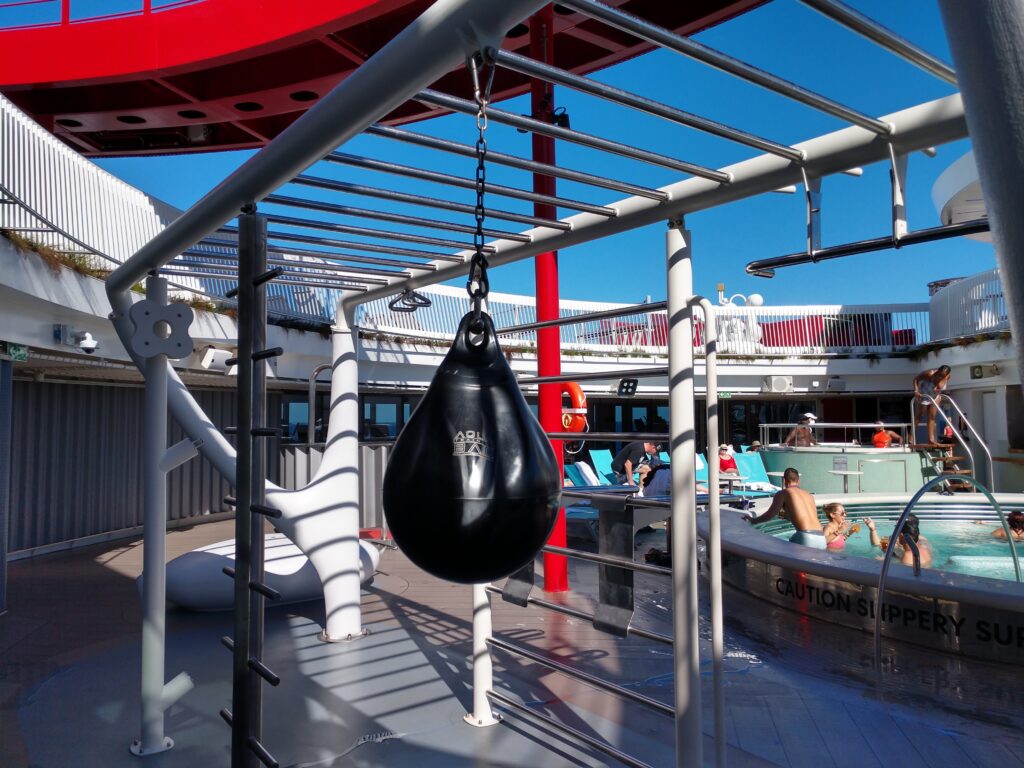 When we got to the top of the stairs I saw a medical person and two VV staff standing and talking. I overhead them saying, "someone had a little too many Bloody Marys today." Okay, at least they didn't keel over from a fitness class. I thought MyBeast was going to be tough floor program. Like some kind of killer strength training workout, on the floor. No. That's the HIIT class I guess. MyBeast is like an Army obstacle training workout station.
The instructor, whose name tag said Magic, told us, this is the hardest fitness class on the ship. Ofc. It consisted of monkey bars, a punching bag, chin up/pull up bars, and a sit up area. Rotations of 30 seconds each with 4 rotations. Aaack. I already knew I was going to suck at all of the fitness challenges. And the workout area was on the pool deck in front of everyone drinking their tropical drinks and relaxing on loungers. Wondering what kind of cruiser signs up for that.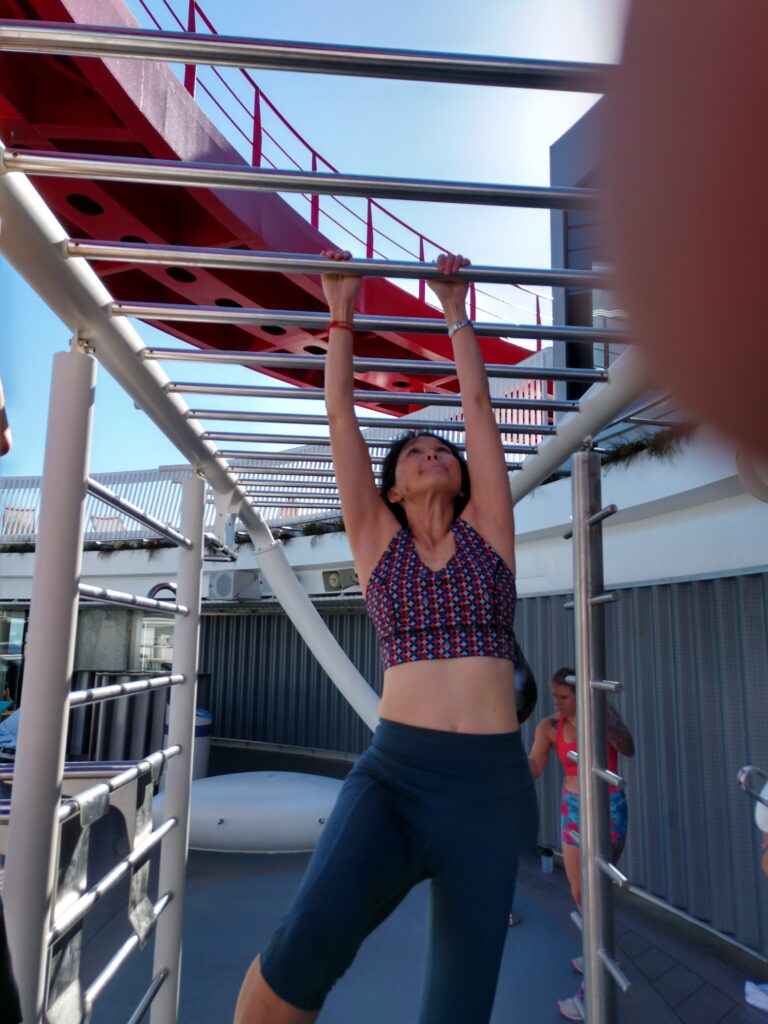 I got halfway across the monkey bars 3 times. The fourth time my hands slipped off. Those metal bars are slippery! Punching bag, okay. No gloves. Red knuckles so I switched to hitting the bag with my forearms as Magic showed us. Chin up and pull ups, no good. Lifting my entire body weight into the air from standing wasn't ever something I could do. Sit ups for a while, crunches after that, then just lifting my neck off the ground! Hahahah. My abs might be sore.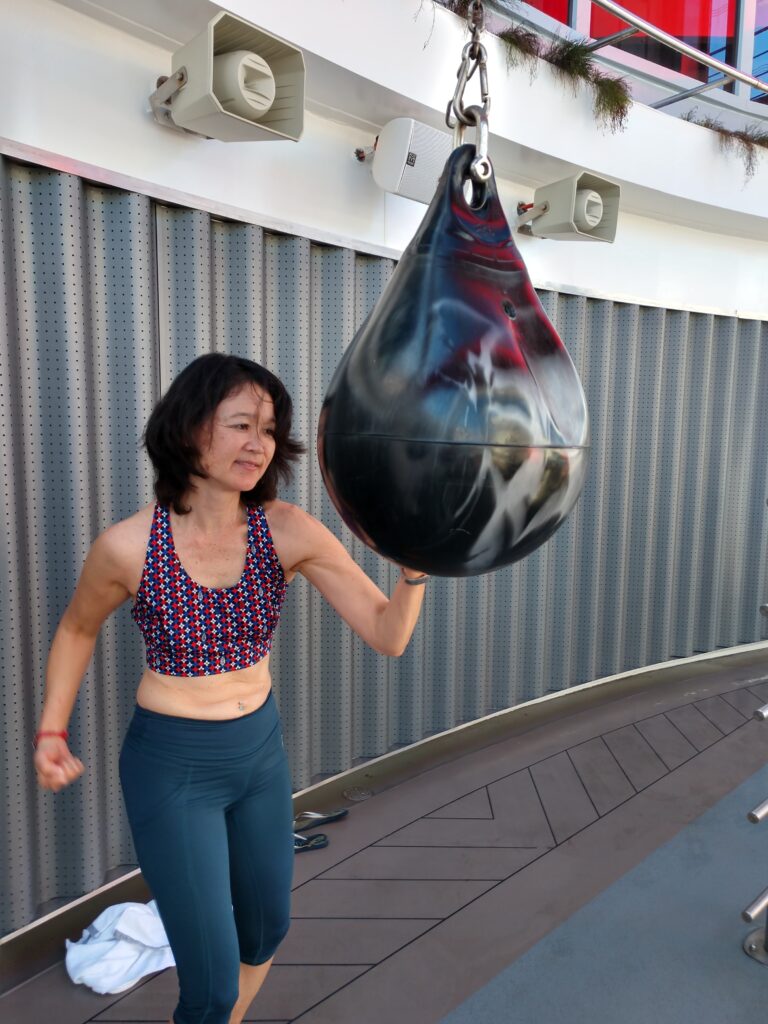 The very best outcome of this workout, is that we met two other ladies doing this with us and they were so nice! After telling them about bungee, they said they're interested in joining us for a private class. Yessss! We've now got 5 of us total to split the $105 private class cost. It's booked for tomorrow morning! I have to mention that one beautiful badass girl from our class went through the monkey bars, forward, backward and forward again at impressive lightning speed. She proceeded to kill it on all other rotations as well. Turns out she's in the Army. She could squash me like a bug with a smile on her face.
Here's a recap on the rest of our day.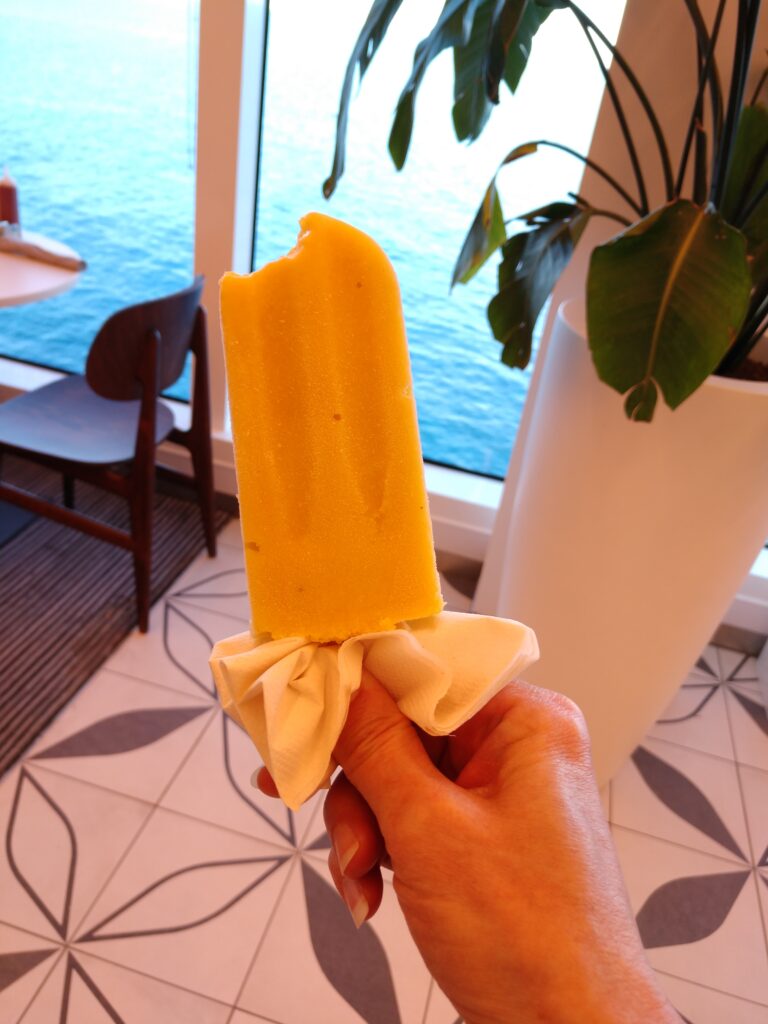 Wendy ordered a salmon and tuna poke bowl from a counter high up on the ship. When the server arrived with the bowl she brought 2 forks with it. Then she looked at me and asked apologetically if I wanted to chopsticks. Well no, I did not want chopsticks. I said no, I am too lazy to eat with chopsticks. But my friend Wendy, who is Caucasian, wanted chopsticks and the server didn't even ask her. Racial profiling in action? LOL. We had a laugh about it. And when the server came back she brought two sets of chopsticks anyway. Poke is Hawaiian which makes it American food right? Why would I need chopsticks to eat poke.
Later we went to The Dock House to eat and drink more (What else are we going to do on this ship. We don't gamble.) I ordered an anise daquiri that made my tongue burn. Weird. And more tender tasty octopus. I also tried goat cheese polenta on a stick with saffron veggies.
Coming off the earlier MyBeast Fitness, we signed up for a Roll-out and Recover class in the gym. Basically it's learning how to use a roller thing. John bought one a while ago but I can't remember seeing him use it. I figured someone could show me how. The best part of this class was the room we were in had a beautiful view out of the floor to ceiling glass windows and as we sailed along you could see Cuba out there. It looked a lot like the view of Catalina Island from the hill near my neighborhood.
Time to get ready for dinner at Razzle Dazzle. I'm ready to be dazzled. Everyone I've talked to that's already been on this cruise says it's one of the best restaurants. I'll be writing about all the dinners in one blog post so search around later for more detail on the food.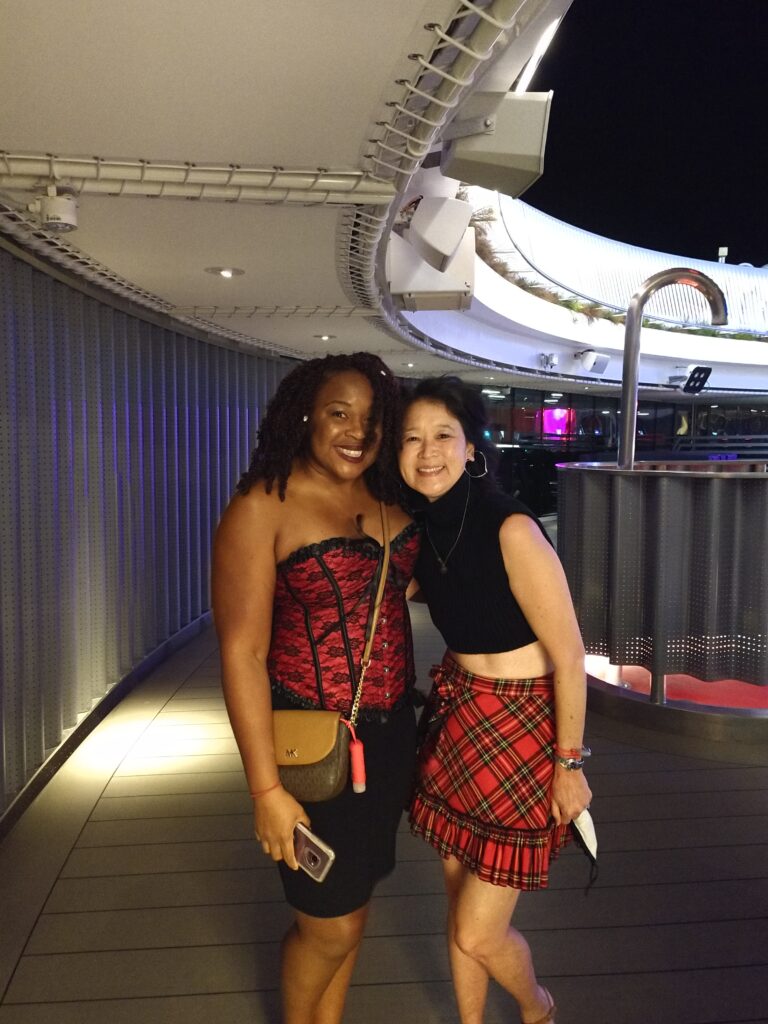 After dinner, but before our evening show, we met up with my travel colleague Monique! She and her bf and family are also enjoying Scarlet Lady. It was so nice to see her onboard! We listened to the Blues band and talked about the pandemic and crazy travel planning headaches these days. Then it was off to the next spectacular activity.
Ships in the Night is a campy, singing revue with a male lead wearing make-up and heels and leading a chorus of other dancers and singers. It was entertaining but I can't even remember what the story arch was now. I think I was so tired! People dancing around with flashy costumes. At the end of the show the lead came down from the ceiling on a pulley with butterfly wings and then draped on a flashy cape when he got to the ground. That's pretty much all I can remember.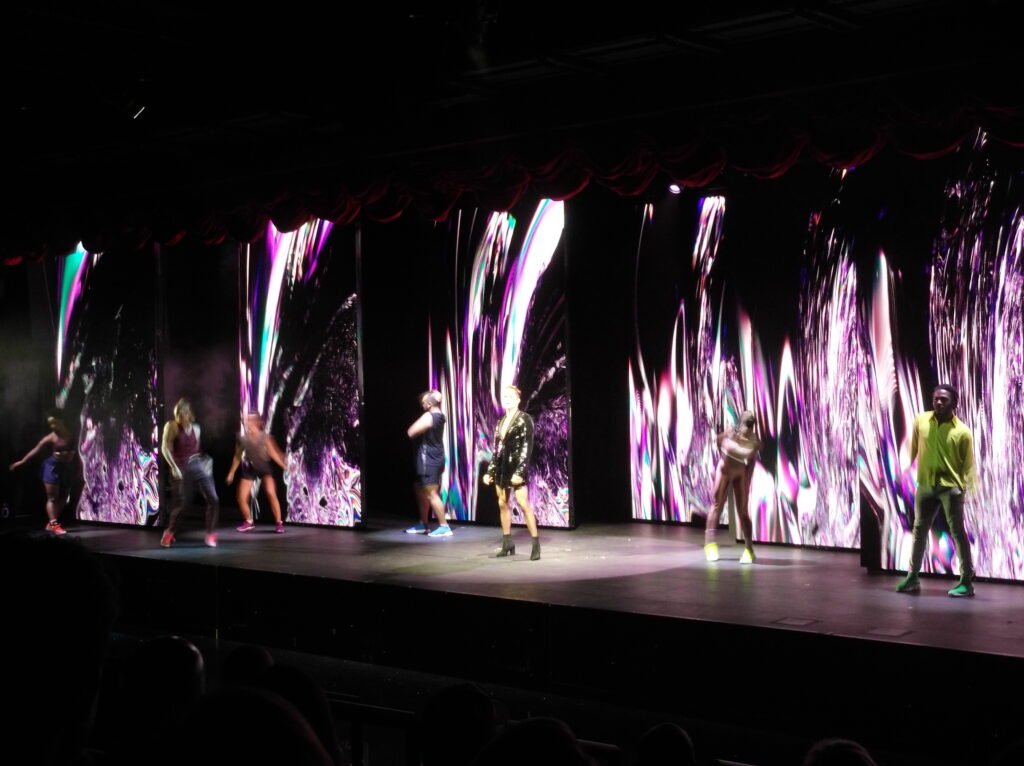 Stay tuned for more Scarlet Lady thoughts coming soon. This itinerary goes to Puerto Plata in the Dominican Republic and on to the Beach Club in Bimini after that.
www.epicaway.com