Our last month in Japan we really packed it in.  As soon as Osaka International School ended on Friday, June 29, Avalon went to our local public Japanese school for a couple of weeks.  I was so proud of her for trying it out.  Sometimes a public school will let international students join their classes if they are still in session.  I've heard of several families in the US that send their kids to Japan for a month of public Japanese school before the local kids start their summer break.  These are mostly Americans with a Japanese parent, but once we met some kids from Newport Coast that had no blood ties to Japan but still they wanted to enroll in Japanese public school every July.  
Some of Avalon's girlfriends also planned to go to Toyokawa Minami Elementary School for two weeks and asked Avalon to join them.  She said yes!  Here it is.  It's just down the road about 5 minutes from our house.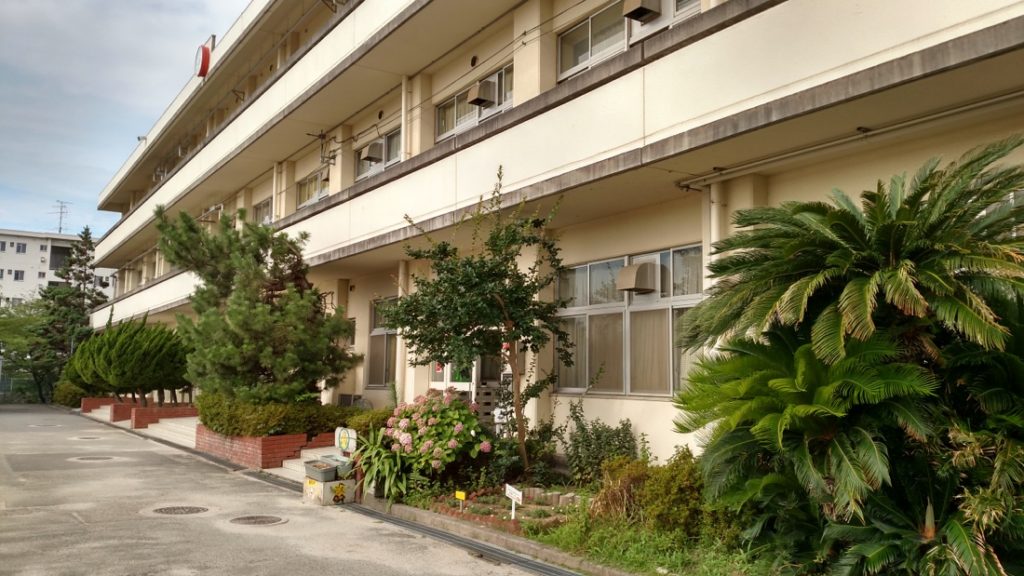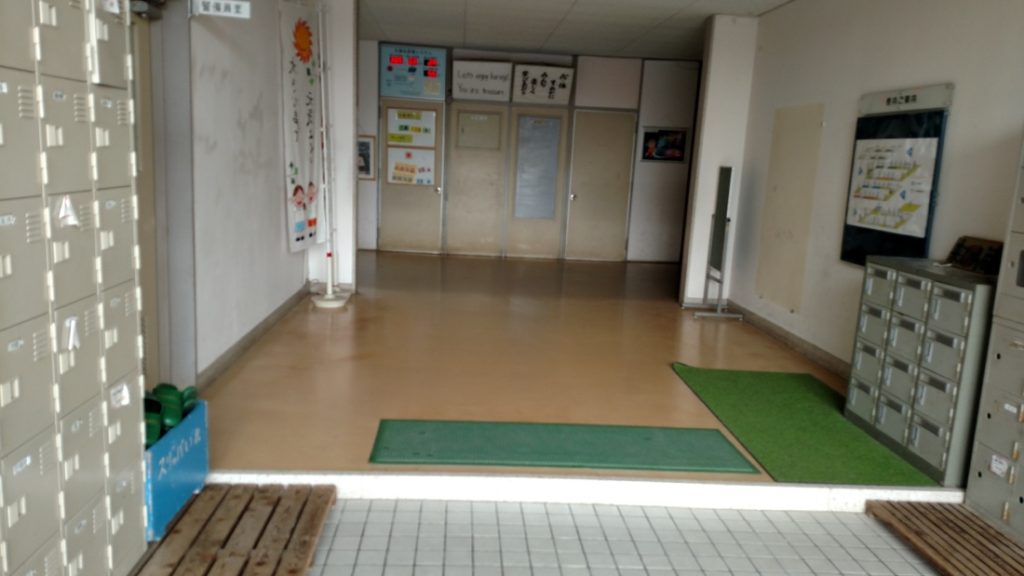 We had to go beforehand to register her.  The administrators at the school were incredibly nice.  The grade 5 English language assistant (ELA) came to help translate for us.  He was a nice, young man from the US.  And this school has an outdoor swimming pool that they fill in Spring.  Avalon was excited to see what the Japanese elementary swim class was like.  She said they were learning breaststroke.  Everyone asked her what she thought about her school lunch.  Apparently Japanese school lunches are not only mandatory but notorious in Osaka.  But Avalon said it was edible.  The coolest thing about school lunch in Japan is that the kids serve lunch to their peers.  They also have a designated clean up time where all of the kids clean the school – including the bathrooms!  Avalon said she never got bathroom duty.  
One day school was canceled due to a torrential downpour that flooded parts of Western Japan and was later declared the heaviest rain in decades.  Our home in Minoh survived just fine but in our surrounding areas it was another natural disaster compounding the mess that's still being cleared from our recent North Osaka earthquake.  It literally rained for three days straight without stopping, no kidding.  The rain vacillated between torrential, heavy and light but it was three days of being stuck inside.  We got drenched every time we stepped out the door.  By the time the rain stopped, over 200 people were dead in Southern and Western Japan, many were missing, and homes and businesses were destroyed by land and mudslides.  The Kamo River in downtown Kyoto had crested over its bank and onto walkways.  Crazy. 
After the rain, Toyokawa Minami Elementary called me to say I was due a refund for the one day school cancellation.  There is a small fee for attendance and also school lunches.  I had to go in personally (it either couldn't be sent home with Avalon, or I was merely unable to get that question across) and collect 216 yen (about $2).  They said I needed to bring my hanko (signature ink stamp), to make the refund official for my copy of the receipt and the school's copy.  The transaction felt elaborate and very official.  Just for 216 yen.  That's so Japanese.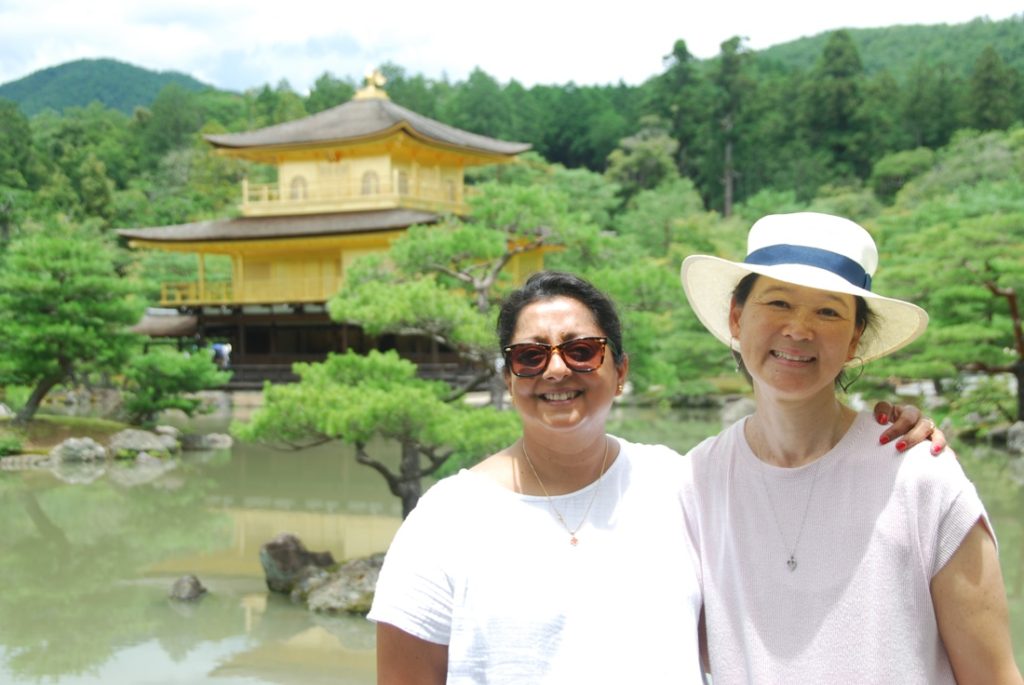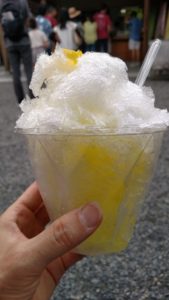 The day after the rain stopped my friend Yvette took the Shinkansen down from Tokyo to Kyoto, just to spend a day with me.  Yvette and I worked the overnight shift together for Fox Morning News in Washington, DC, back in the day.  When you work a high-pressure shift from 11 pm to 7 am, you really bond with your co-workers.
Yvette now splits her time between New York City and Madrid, but she's constantly flying all over the globe for work.  I haven't seen her for about 14 years so it was a special treat.  We went to Kinkaku-ji, Nanna-ji, Nishiki Market and the Kawaramachi area.  Hooray for lemon shaved ice on a hot day!  Yum.  Because of the recent rain, the crowd was so sparse.  It was unbelievable.  We chatted on and on like only 14 days had passed, instead of 14 years.  Those kind of friends are the best.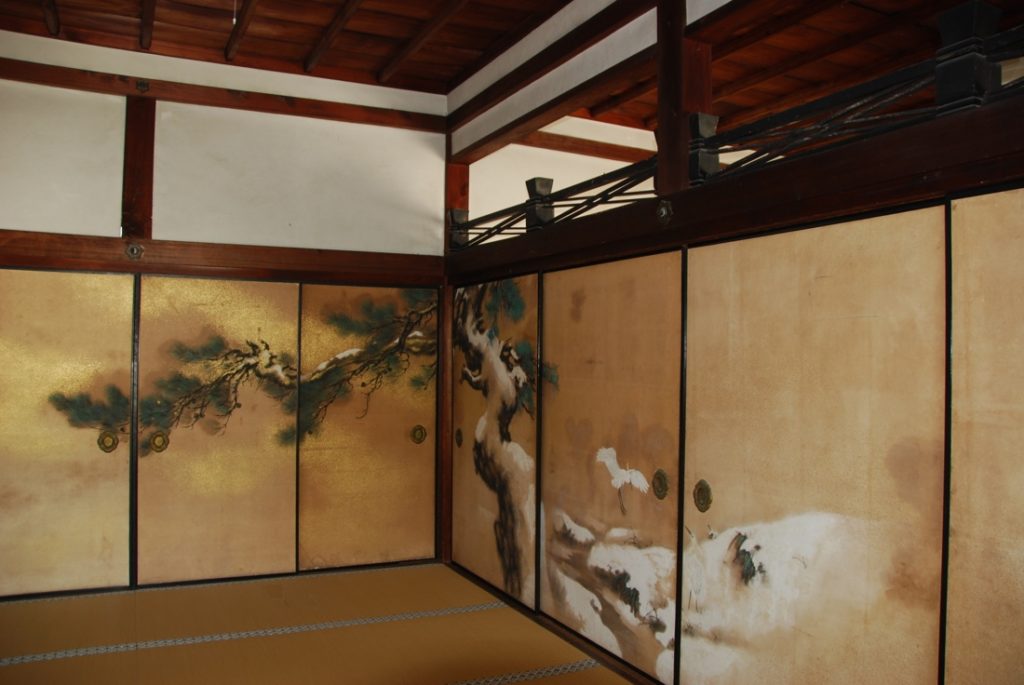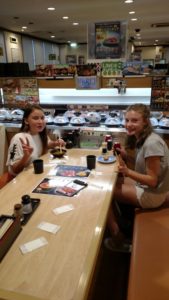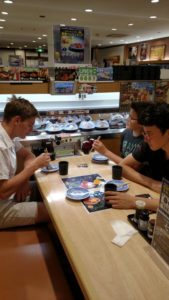 The day after my visit with Yvette we had more guests.  Our friends Mary Beth and Cliff arrived with their two kids.  They traveled from Sydney, Australia, and I haven't seen Mary Beth for at least 18 years.  It was another fun trip down friendship memory lane.  Mary Beth and Cliff have a son that is between Halyard and Kaiyo in age, and a daughter that is a little older than Avalon.  They all hit it off wonderfully and we had a great three day visit together.  We took them to dinner at Kura Sushi, our local kaiten (conveyor belt) sushi place, and Avalon and Brielle were fast friends right away.  Avalon asked to skip the next two days of Japanese school in favor of hanging out with Brielle. 
We took them downtown to wander around Shinsaibashi, Namba, and Dontonbori.  We went fishing in the basement of an arcade, ate fresh, warm melon pan (sweet bread) stuffed with ice cream and vanilla soft cream cones, and ended the evening at Round 1 with karaoke and arcade games.  The next day we all wandered around Kyoto.  Avalon even had a sleepover with Brielle in her hotel room.  The boys also had a good time together.  Mary Beth's son Boden said it was one of his best vacations ever.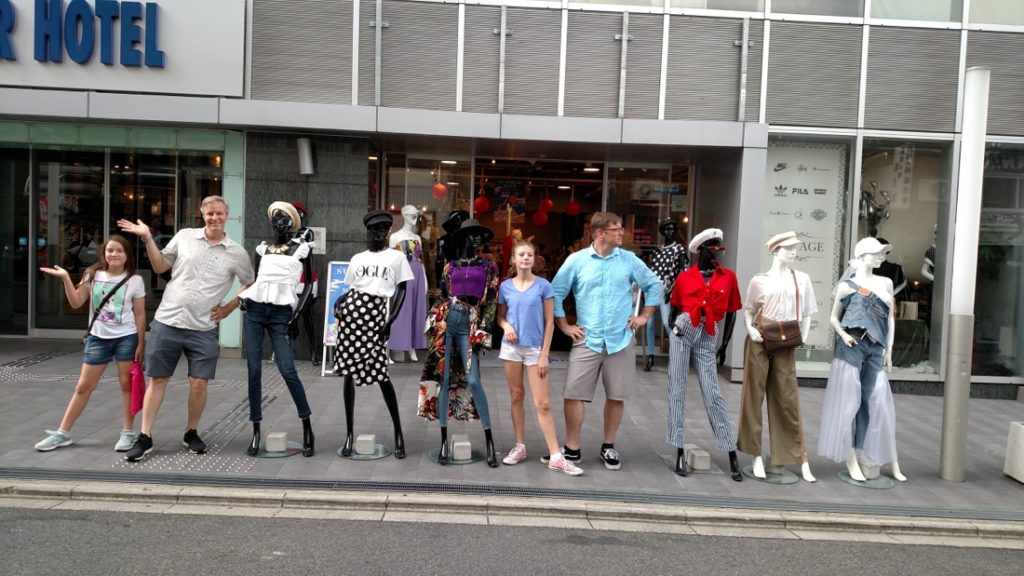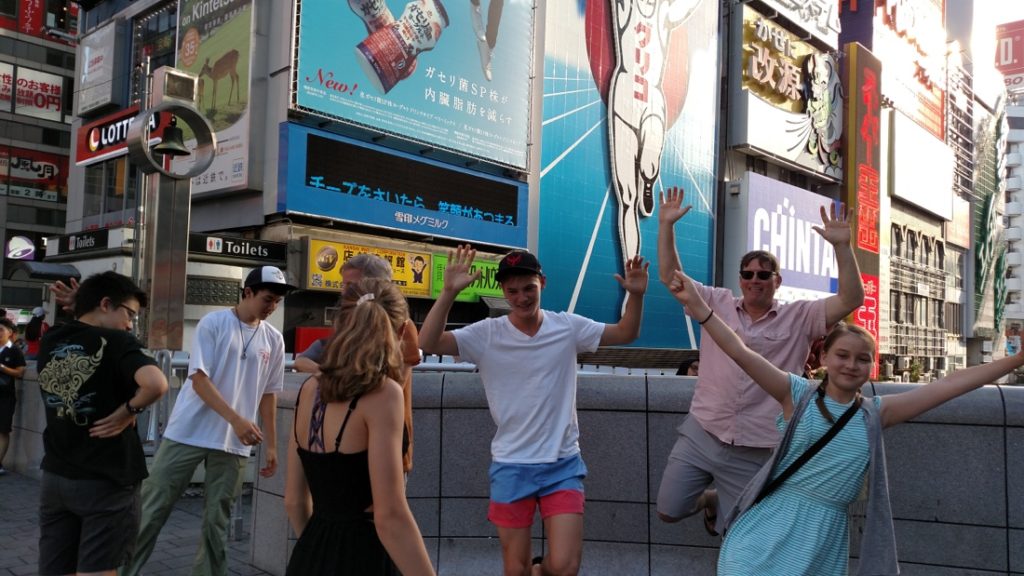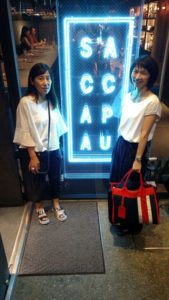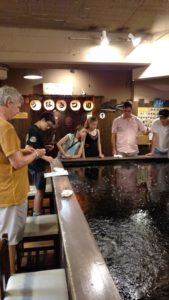 After we said good bye to them I had a few days to pack boxes, sell furniture and give away items to friends.  We posted some items on Craigslist, but there's only a small market in Japan for secondhand items and you only get pennies for your treasures.  And, since you have to pay to get the trash folks to come fetch your big stuff, my goal was to just give stuff away in the end.  It's tough leaving a house or apartment in Japan.  You have to get rid of everything!  I'll spend another blog post on that saga.  It's a whole-nother trash story.  
In mid-July I went on a girls' outing to Tokyo for one night.  The three of us had a special mission.  My friend called her contact at the restaurant company Delicious Links, Inc. and booked a table for us at S'ACCAPAU.  It's an Italian restaurant in the hip Azabajuban area of Toykyo, just next to Roppongi.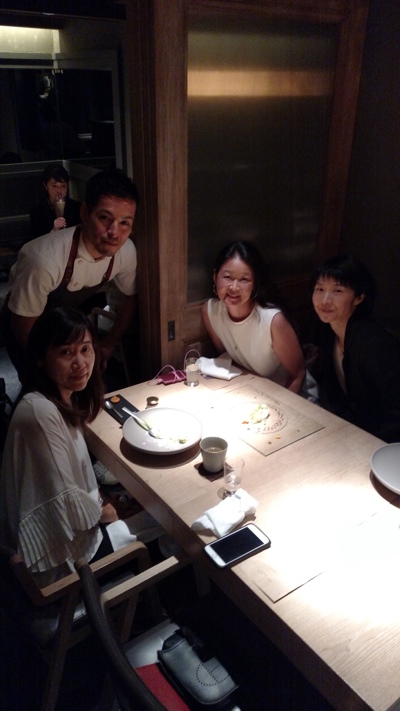 For over a year my friends Satoko and Sayaka and I have been working for Delicious Links, translating their company website pages from Japanese to English.  Delicious Links aims to tell a story about their various restaurants, their many colorful staff, their origins and history and their special events.  Satoko, who owns a copywriting business, gave the translation work to Sayaka and she completed the initial Japanese to English translation.  Sayaka, who is a Japanese native, has lived in both Sweden and Boston and she speaks excellent Swedish and English as well as her native Japanese.  Sayaka hired me to help her with the "native English check." 
Delicious Links has several restaurants, but S'ACCAPAU is the swankiest.  After writing about S'ACCAPAU's history, executive chef, waitstaff, special wine tastings and collaboration events, we felt like we knew these people intimately.  So we went to meet them, eat the food and see the place for ourselves.  The neighborhood is called Nishi Azabajuban.  Nishi means West.  Azabajuban is too close to Azerbaijan for me and my small brain can't process the pronunciation.  It's a hip place that's open from 6:00 pm to 3:00 am.  Our menu was almost exactly the menu of the special 2nd Anniversary dinner that the restaurant hosted and we wrote about.  When our server Mr. Arita presented my friends pate topped with popcorn (!) it was just as we had written.  The whole meal was like a revelation.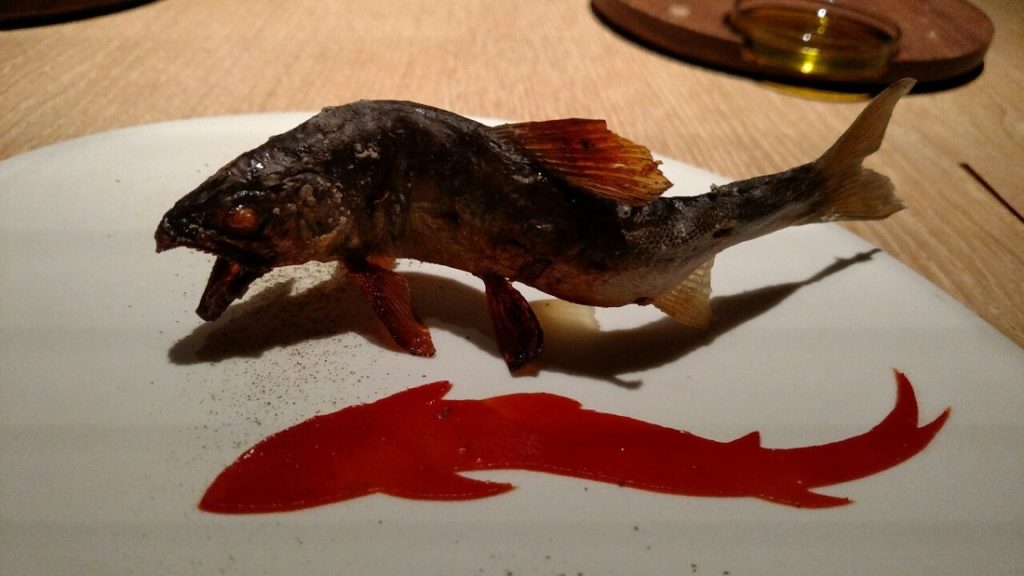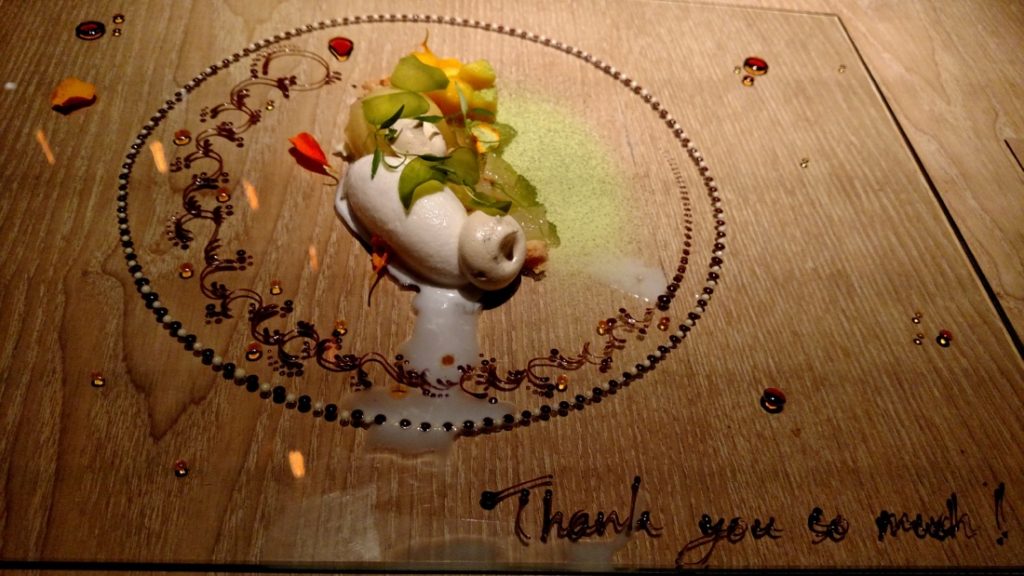 Besides S'ACCAPAU, Satoko and I also went to see Japan's famous dog Hachiko in Shibuya, we got lost in the famous Shibuya Crossing, we shopped in Harajuku, and stuffed ourselves full of sushi on Omotesando.  At the sushi shop Satoko asked for extra wasabi.  The young assistant behind the counter dipped three fingers into a container of wasabi and it looked like goop hanging off his fingertips.  Satoko put her plate under his fingers and he bounced his fingers up and down, trying to get the wasabi goo off his fingers.  It was the most hilarious, horrifying and puzzling thing ever.  After he was done Satoko said, "I've never had wasabi by fingers before."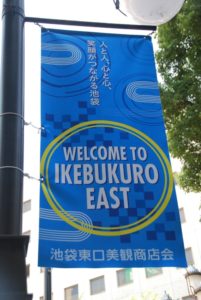 The next day I met my friend Makiko and she took me to Ikebukuro.  She showed me the highlights of the area and I told her I was shopping for John and the kids.  With Makiko's help I bought a personalized mechanical pencil for Kaiyo, anime Yuri On Ice and Fairy Tale "merch" for Avalon, a skater shirt from Harajuku for Halyard and an awesome shirt for John depicting animals riding a Japanese commuter train.
In the two years we lived in Japan both Halyard and Kaiyo came to Tokyo by Shinkansen for swim meets against the American School In Japan (ASIJ).  But besides those school trips, I was the only other person in our two years of living here to go to Tokyo.
This is "fruits pancake" from Honolulu Coffee in Azabajuban.  Good thing Satoko and I split it.  It's a fat fest of calories and carbs.  But, sooooo yummy.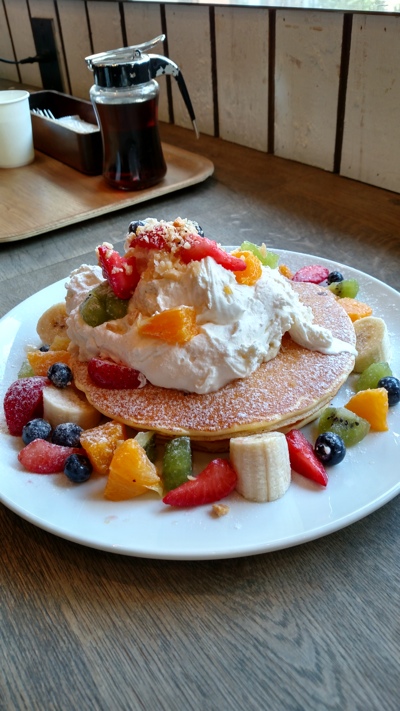 Good-bye Tokyo!  Until I see you again… hopefully with a JR Rail Pass next time.