Not a real cruise. But a docked cruise ship. I'd actually never ever been on a big, tux and ballgowns, bells and whistles, floating city cruise ship before last Thursday, February 7. I've only been on small ships on the Nile River in Egypt and Ha Long Bay in Vietnam. I've seen the Love Boat about a thousand times so I was just sure I knew exactly what to expect. But I figured it's high time I get out there in person and see what the cruise ship craze is all about. I really prefer cruising on a sailboat or floating on a SUP, but they are a lot more work. It's never too late to become a convert to something new.
So last Thursday I had a chance to board the MSC Magnifica. Oooh La La. The first thing I noticed, before I got anywhere near the ship entrance, was the tight security at the Port of Los Angeles. I was pleasantly surprised by the roaming security officers and by the triple checking of IDs at three points. The strictest ID check was getting on the ship itself. Very good sign. I felt secure.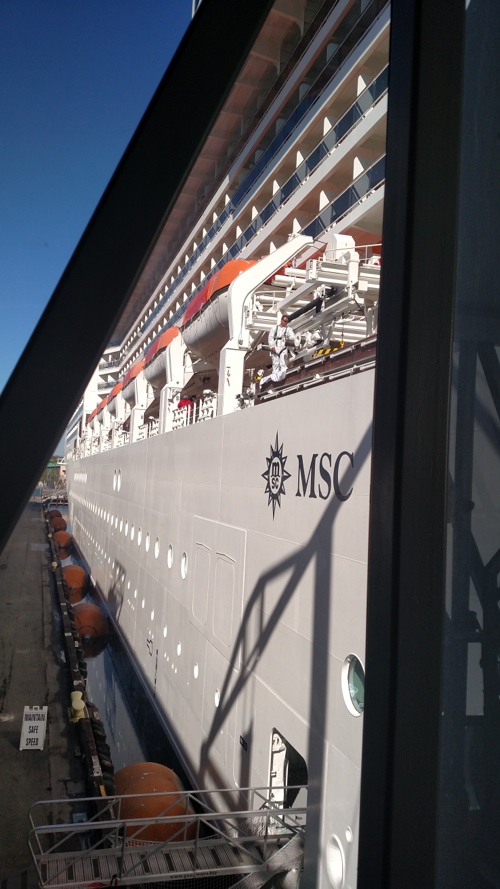 I'm standing in line here with other travel advisors, waiting for the ID check to board this ship. It looks enormous to me. But I'm told it "only" holds 2,518 (exactly!) passengers and the ship is fully booked to the max so we will not be able to peek inside any of the staterooms. Just use your imagination. Perhaps it's a fancy cracker box? Perhaps an ocean suite is the size of my Japanese house with my Western size refrigerator in the living room.
MSC Magnifica is on a world cruise. I have never heard of such a thing before. This ship is well into its 119-day itinerary around the world. It's making a brief overnight stop in Los Angeles so that the passengers can get off and cruise by their own feet down Rodeo Drive and eat at Spago or The Polo Lounge. The activity board lists today's excursions as Beverly Hills, beaches, and Universal Studios Hollywood.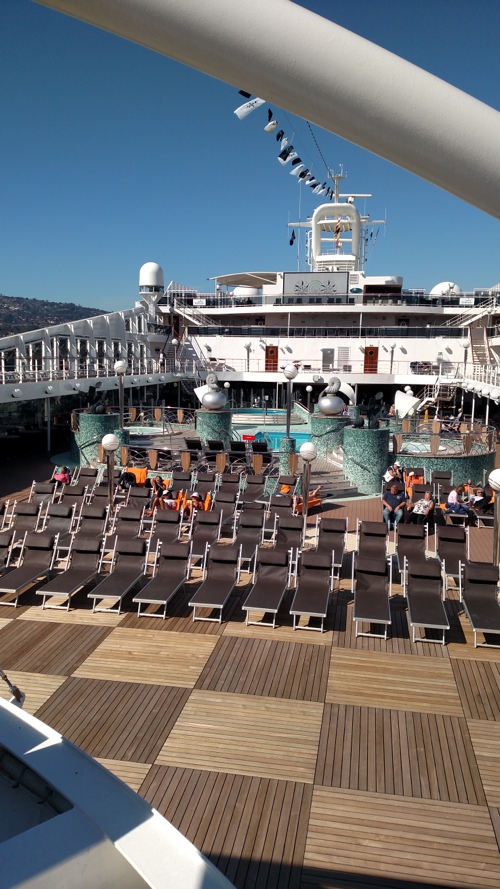 This ship is going to stop at 32 different countries, including 4 continents. No repeat countries. I have a lot to learn about cruises. I asked someone if every major cruise line sails a world cruise and they said, oh yes, of course. Does Disney? If they do, it must be for the ridiculously rich. Four months of Mickey, Minnie and friends as your traveling companions. My girlfriend Holly would love that.
I was sincerely in awe of just the inside staircase. And the grand piano and the fancy stores with sweatshirts with huge MSC logos on them. That was my first impression as I walked on the ship after security. There's a big theater here too, of course. I knew that, but all the lights and the fancy art deco decor still surprised me.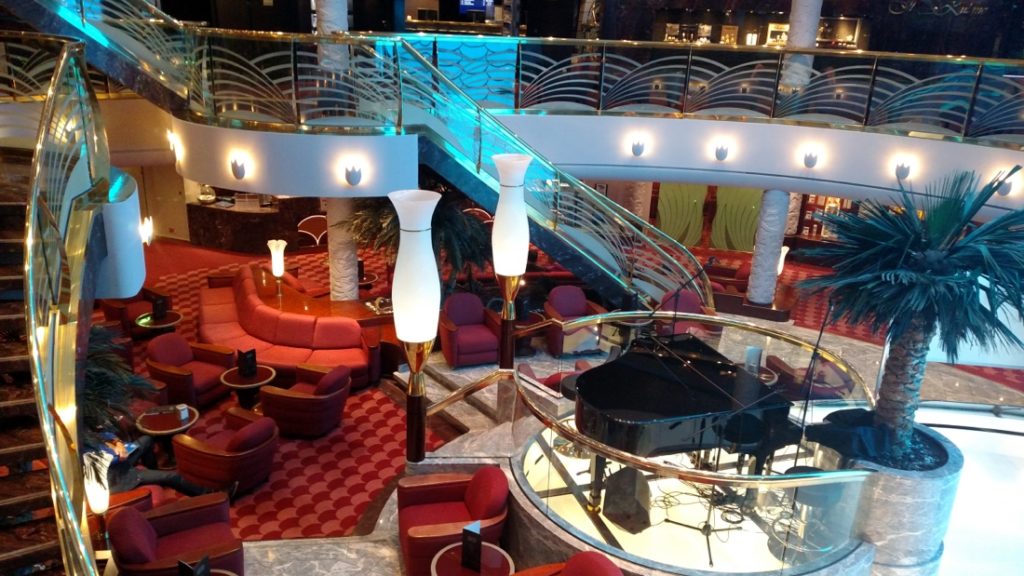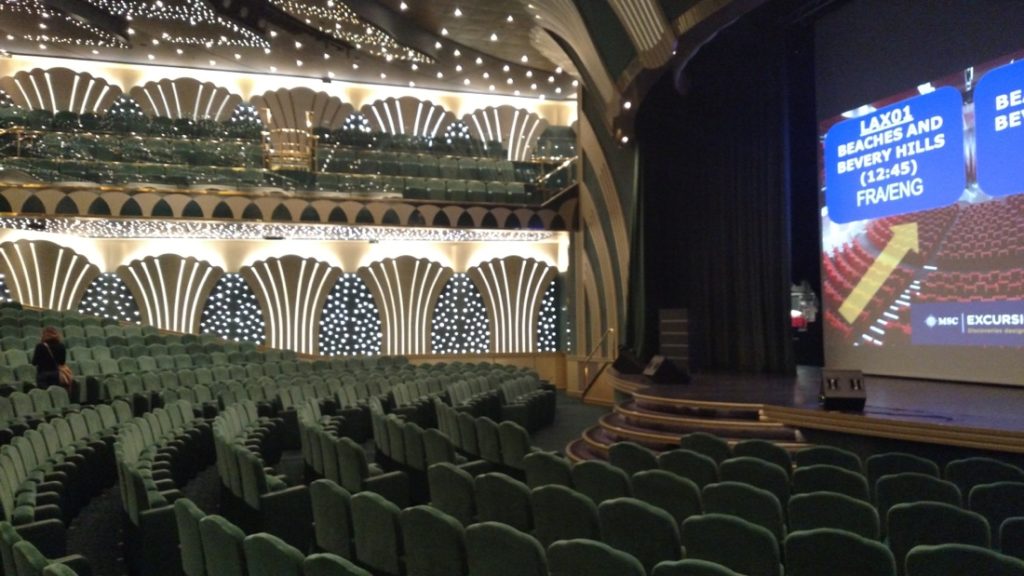 So what can you do for 119 days at sea?  There's a pool and jacuzzis on the top outside deck.  And a bunch of lounge chairs for curling like a cat in the sun. My cats would love this ship.  One downside is that all of the smokers seem to be congregated at the tables around the outside pool deck. I got a temporary headache from the smell while walking through there. I actually thought about how if I was a passenger here I couldn't spend much time on the upper deck due to the smokers. But there's also a nice indoor pool with a retractable roof.  So you can comfortably swim in bad weather, too.  And around the inside pool is the ice cream bar.  Yum.  Sign me up.  There's a fancy spa here with a full service hair and nail salon, masseuse, hot tubs, several saunas and a large boutique full of very expensive products.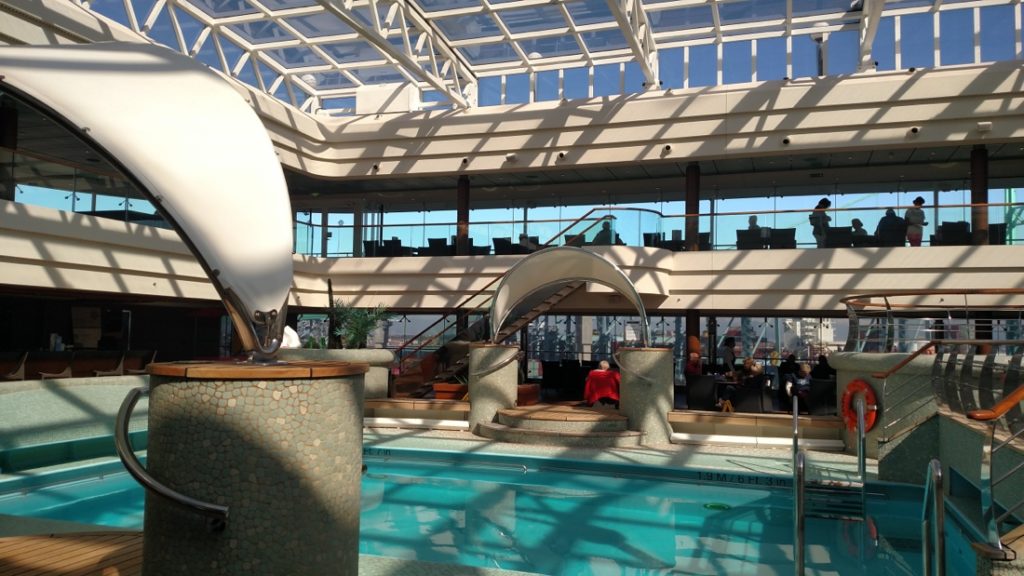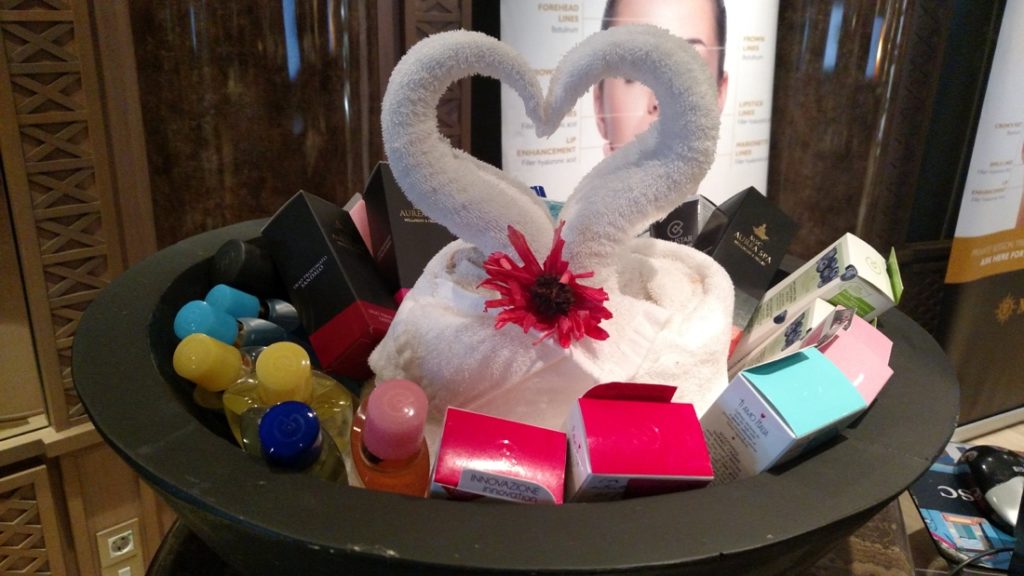 The ship is obviously kid friendly so you don't have to be nervous about taking your kids around the world and thinking they might get bored with all that exotic travel. First off there's wifi, so what kid could ever get bored with wifi included. You have to pay extra for the wifi but when you're on an around the world cruise you need wifi for your immediate Instagram and Facebook photos. 119 days without social media? Inconceivable! There's daycare for little ones and a bowling alley, disco dance floor and video games for older ones. And for the much older folk, a bright casino with tables, slots and other noisy machines. And a sports bar with a lot of TVs. So who could get bored with all that. I'd sit at the roulette table and bet on black and make just enough to sit at the ice cream bar for the rest of the day. Oh maybe it's all inclusive ice cream here?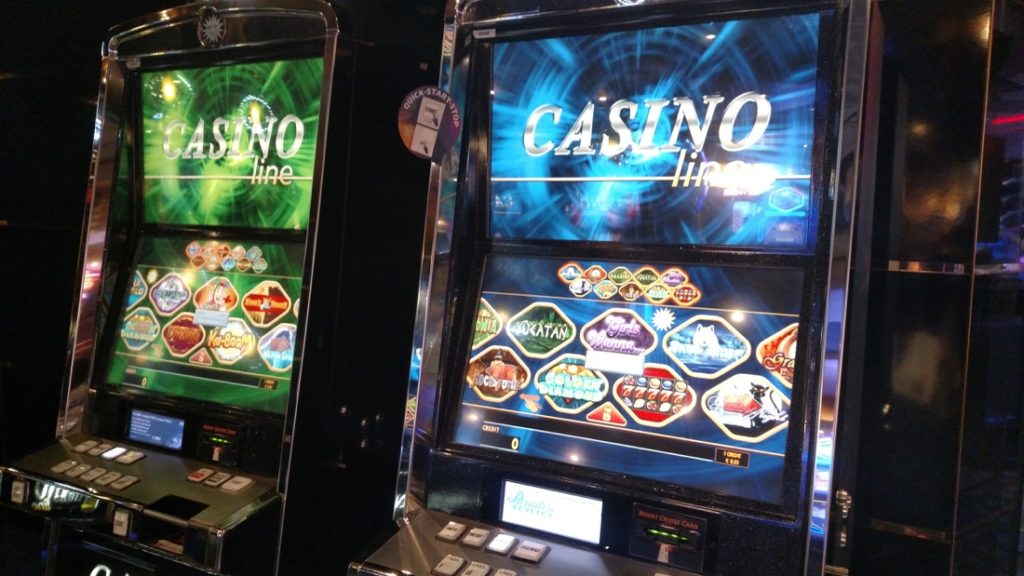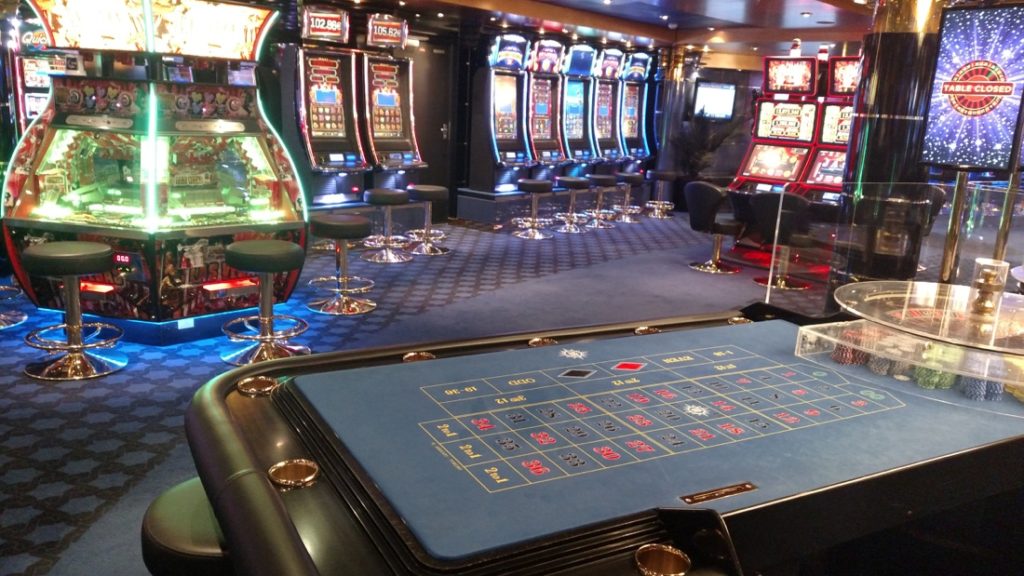 Just who sails on a 119-day, 32-countries, floating city around the world? A lot of elder people on this boat, but I also saw two young kids, probably about 8 years old, sitting at a table scribbling in school workbooks. I can hear a lot of foreign languages spoken by passengers walking by me. Our tour guide said English is the ship's main language, but they give all announcements in 5 languages on this circumnavigation. That's interesting because I've heard that MSC isn't always catering to the English speaking crowd.
A tour guide is taking my small group of about a dozen travel advisors to see several levels of this ship.  She's never been on this particular ship before so if she gets lost we should help her out she says.  She might accidentally lead us into some secret restricted area.  Or maybe we'll get lost and wander into an unauthorized look at the Captain's quarters.  After our tour we will hear from the MSC executives and get a presentation on why our clients should sail with MSC.  They say the main reason is because it's an awesome cruise line.  I just paraphrased that.  
At the end is lunch in the main dining area. I pick a seat with a gentleman who is sitting alone. His name is Leon. He works in West Hollywood but his tour company is based in Orlando. Leon deals 100% in cruises. So I sit with him and he gives me a long education on cruises. He sells mostly Disney he says. Collectively he thinks his company sells 100,000 Disney cruises a year. His market is South and Central Americans. Lots of Brazilian clients it sounds like. He tells me he came on the MSC ship to see what it looks like because MSC is making a big push into the North American market. He says they are pricing their cruises really low so passengers are taking notice but he worries about the type of clientele the low fares will attract. I loved hearing his insight. We both agreed the food was like cafeteria food. The chocolate on my dessert plate was the only thing worth seconds so I only took a photo of dessert.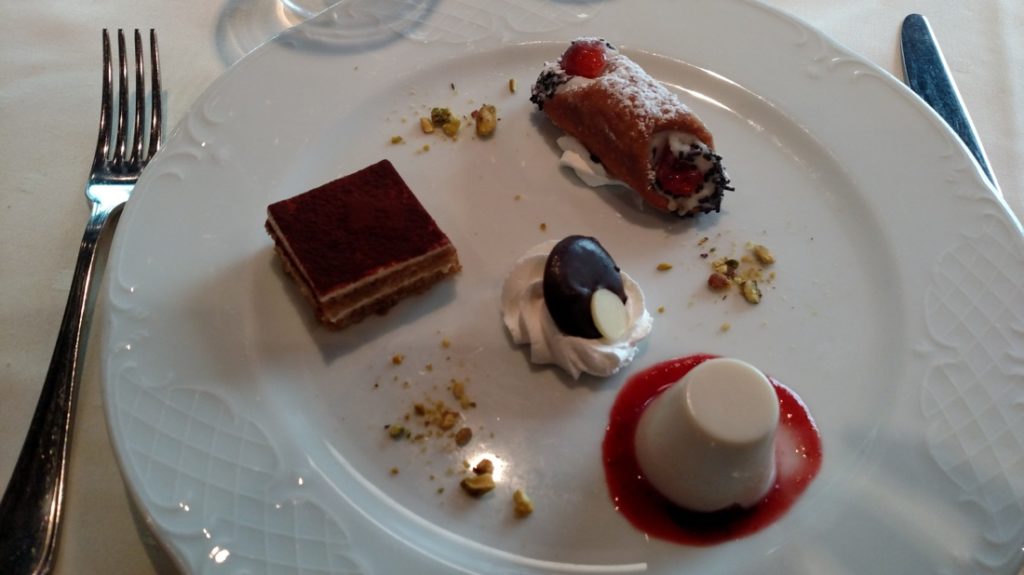 Leon told me he's been on lots of cruises.  He loves them.  He likes traveling for a week or two and unpacking once.  Big sales point for the cruise lines.  But not me.  I like hauling my stuff around.  That's why my family only travels with backpacks.  No matter if we're traveling for 1 day or 21 days.  One backpack per person.  My kids don't know any other way so that's how it is.  I asked Leon which cruise line he likes best.  Disney.  Mickey Mouse at your service.
Next up for the MSC Magnifica is San Francisco. Then it's across the Pacific to Hawaii. Bon Voyage!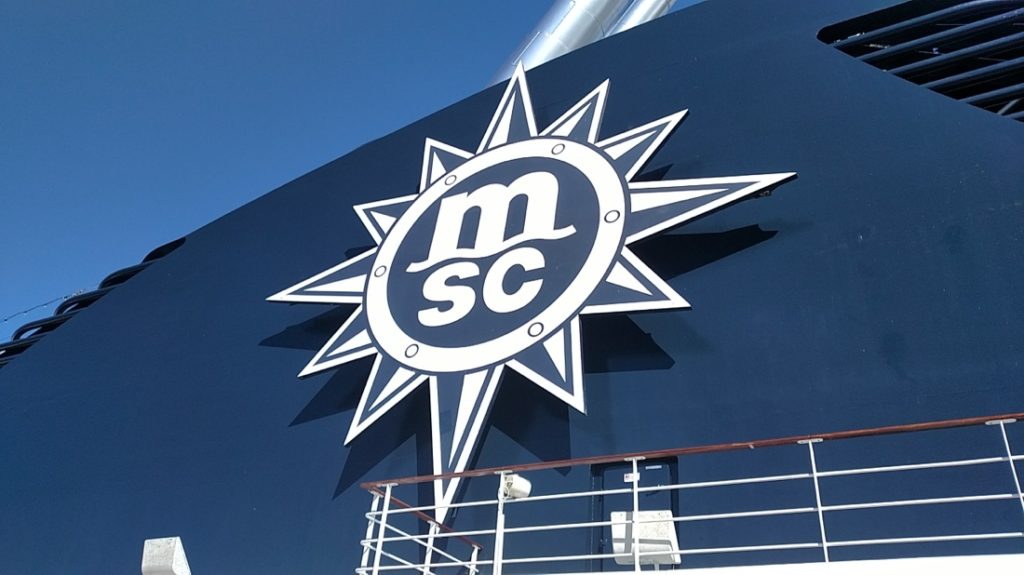 #epicaway #epicawaytravel #myadventureabroad #bucketlist