JOY. EnJOY. JOYful. Recently I went on a JOYride aboard the Norwegian JOY cruise ship on its inaugural US run, up and down the west coast, from Vancouver to Mexico and back again. For my part of the ride, I got to sail for a quick 24 hours from the Port of Los Angeles to Ensenada, Mexico and back to LA.
JOY is a beautiful ship. As I've chronicled here in previous blog posts, until three months ago, I'd never even set foot on a big cruise ship. (I'm not counting the Nile River or Ha Long Bay which were both teeny cruise "boats.") In just three months I've been on a MSC Cruise ship, a Princess Cruise ship, I've been on the Carnival Splendor and Carnival Inspiration and now Norwegian JOY.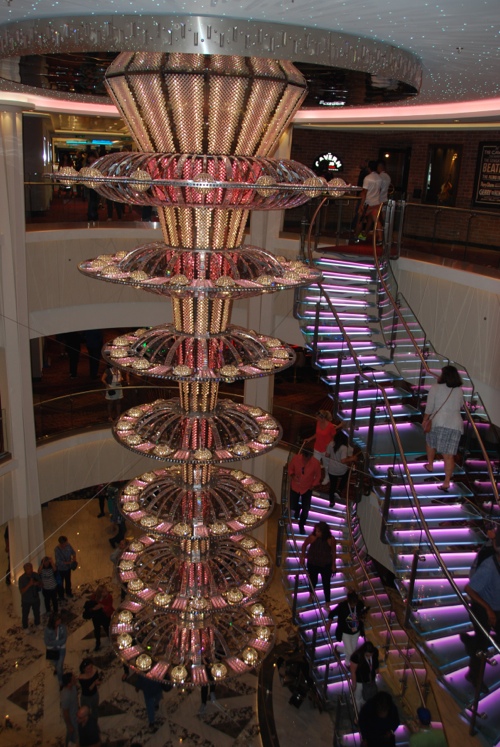 If someone said, "Quick! Name 5 things that stuck in your head from the Norwegian JOY," I'd say…
1. I saw three places on board where I could get a real Starbucks fix. I personally don't care about Starbucks but I know a lot of people, including my husband, do. I think that's probably a pretty solid sales point. In one stroll through the fancy Observation Lounge, where one of the Starbucks stations is located, there was a coffee cup with the green logo on every table where people were seated. EVERY table.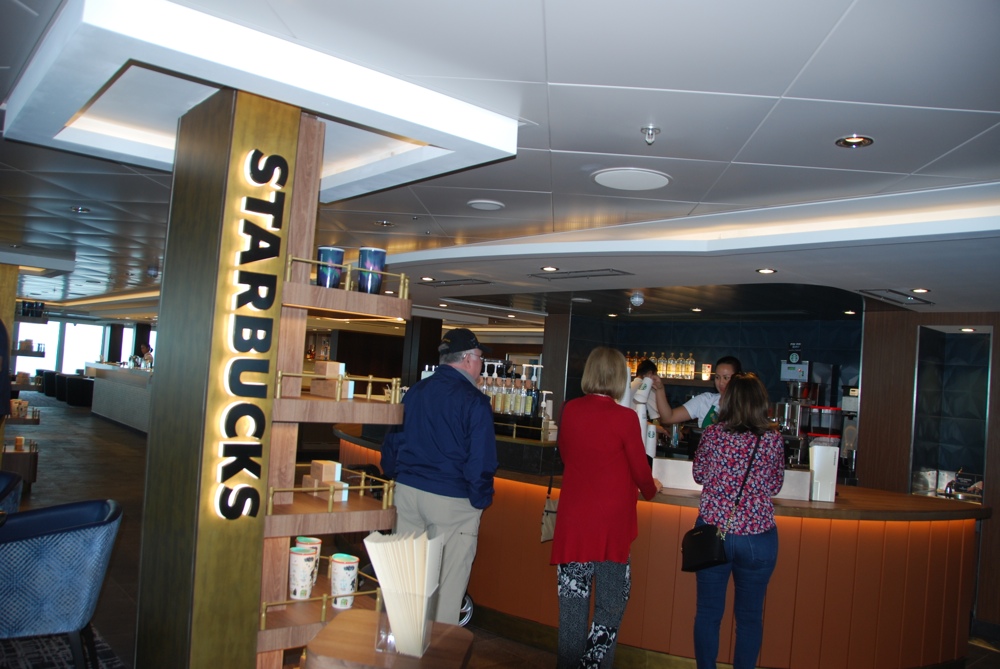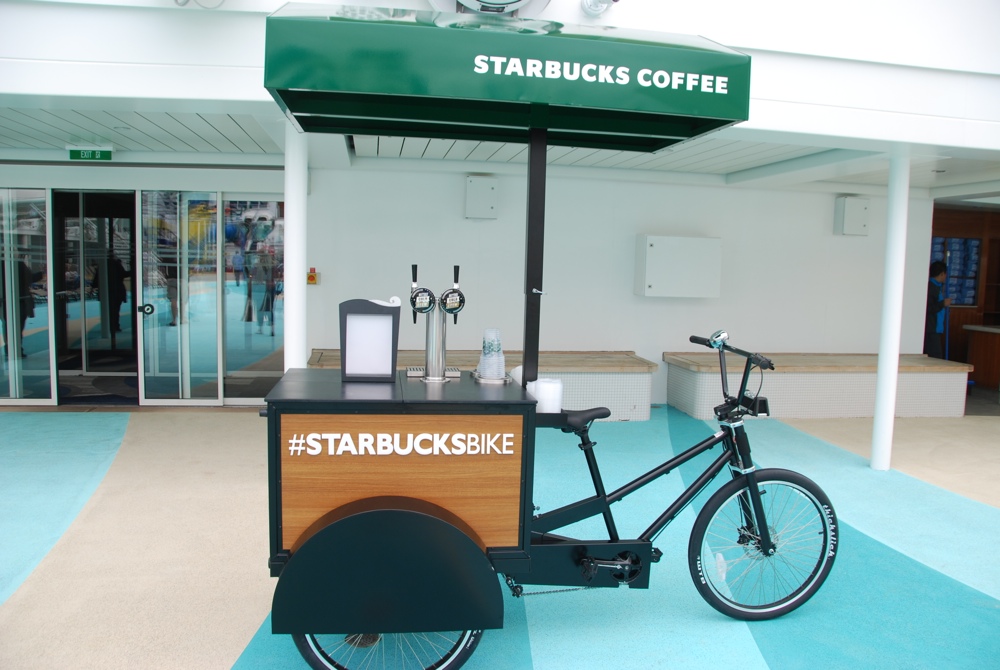 2. The front of the ship is covered in glass. The Observation Lounge is a stunning 180-degree panorama of glass and ocean. It's beautifully designed and I love the way it has been furnished in classy pieces that are inviting, relaxing, comfortable and stylish. And there's a full bar located right next to the aforementioned Starbucks.
We hung out in the Observation Lounge on the last (and only) morning. While waiting to disembark, I saw one lady sipping a Bloody Mary from the bar. She then walked five steps to the Starbucks counter, asked for a plastic Starbucks cup with a lid, and poured her Bloody Mary right in. Her partner ordered a shot of Baileys from the bar, walked over to Starbucks and poured the Baileys right in his Starbucks coffee. Clever, I guess. When something is free some people will milk it to the very end. I hope they were planning to Uber or taxi home after those cocktails to go.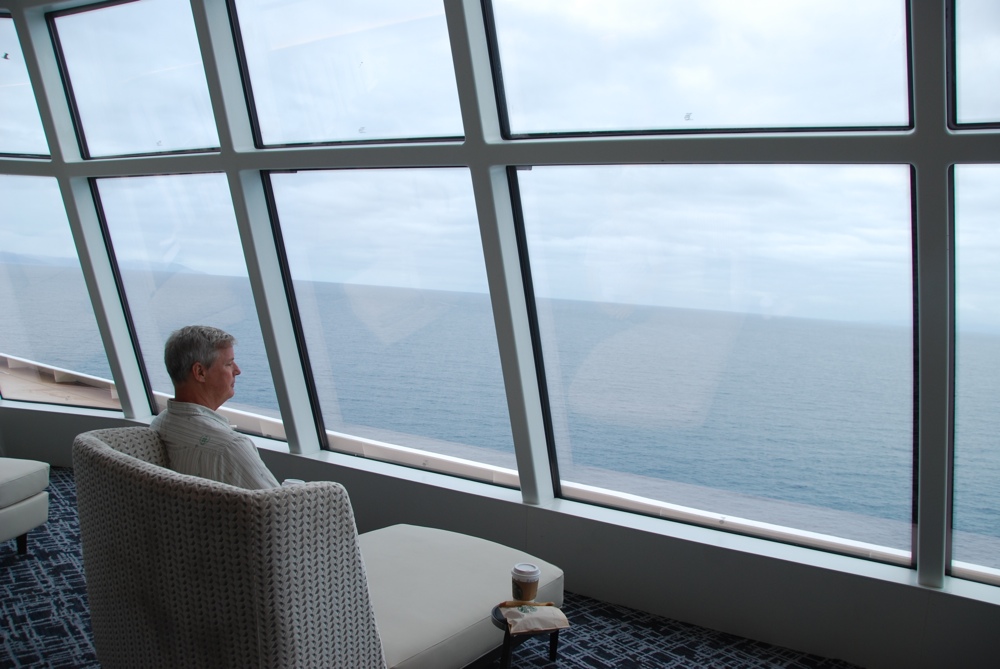 3. There is a "Speedway" race track on the top level of the ship, along with two massive water slides and a relatively big laser tag arena. The go kart speeders were super fun but a bit annoying because it really wasn't wide enough to pass anyone. They instructed slow drivers to stay to the right but it wasn't too efficient for passing on most of the track. The reservations were completely booked but we stood in line anyway and it wasn't long before we got to drive. It's tight and twisty to take advantage of every inch of available space on deck.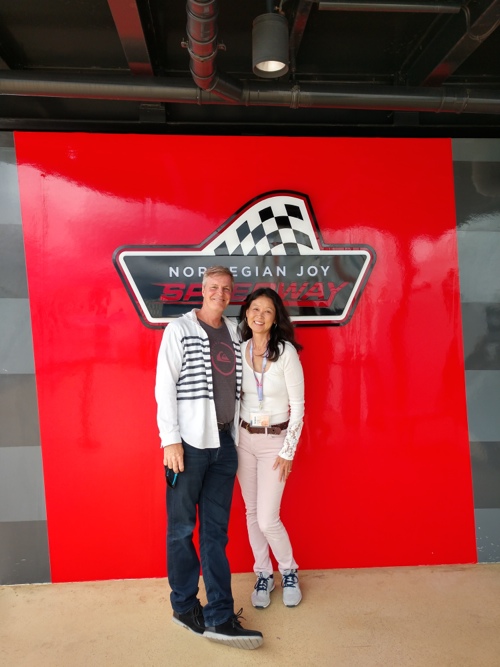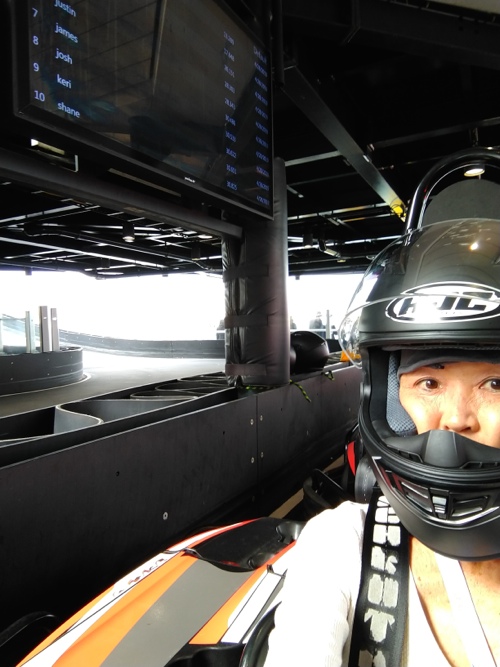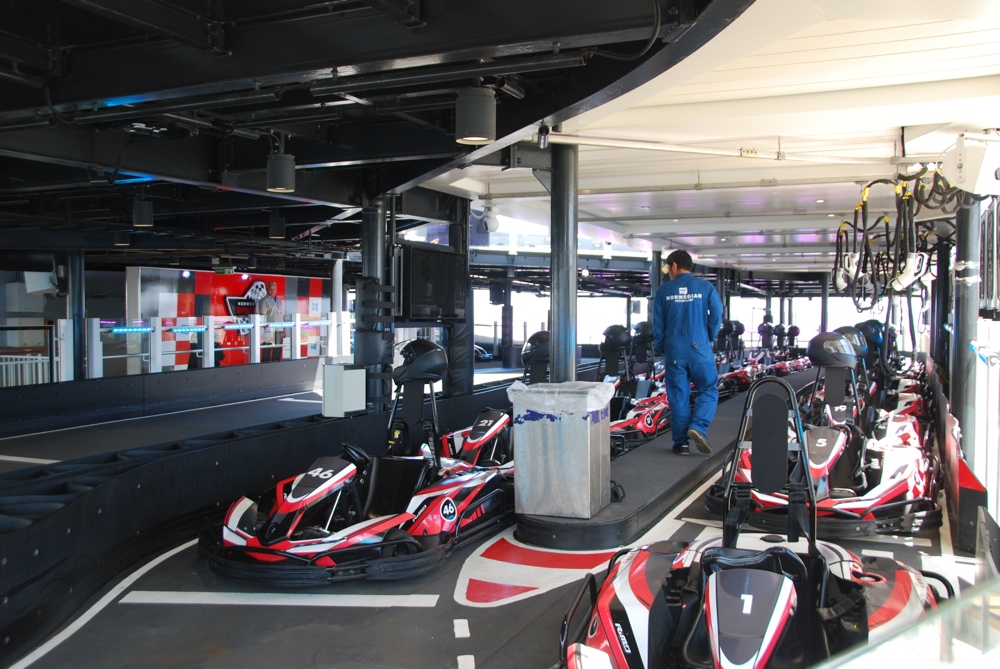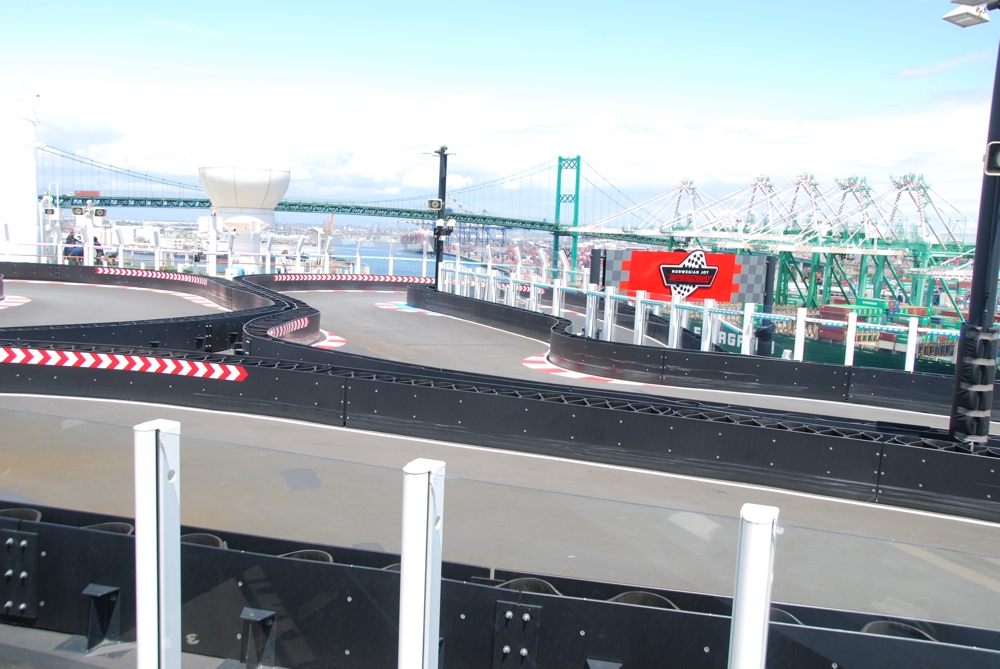 I was most disappointed that the water slides were not open for business. One slide literally hangs off the edge of the ship. It is designed to defy gravity. I assume when you shoot down into the slide your momentum is supposed to carry you up and over all of the subsequent curves that go up rather high and steep. I wanted to try it, namely because I wondered what happens if someone gets stuck in a curve. I would be the person to get stuck. Now, I know it's carefully designed to avoid people getting stuck inside the tube. But this really did happen to me at Waterbom in Bali (they say they are the #1 waterpark in Asia). I panicked for a minute and I can't even remember now how the heck I got out of there. I do remember there was an opening in the slide and I popped my head up like a gopher out of its hole and looked around. But the water slide tube on the JOY didn't appear to have any little openings to pop out of. No escape!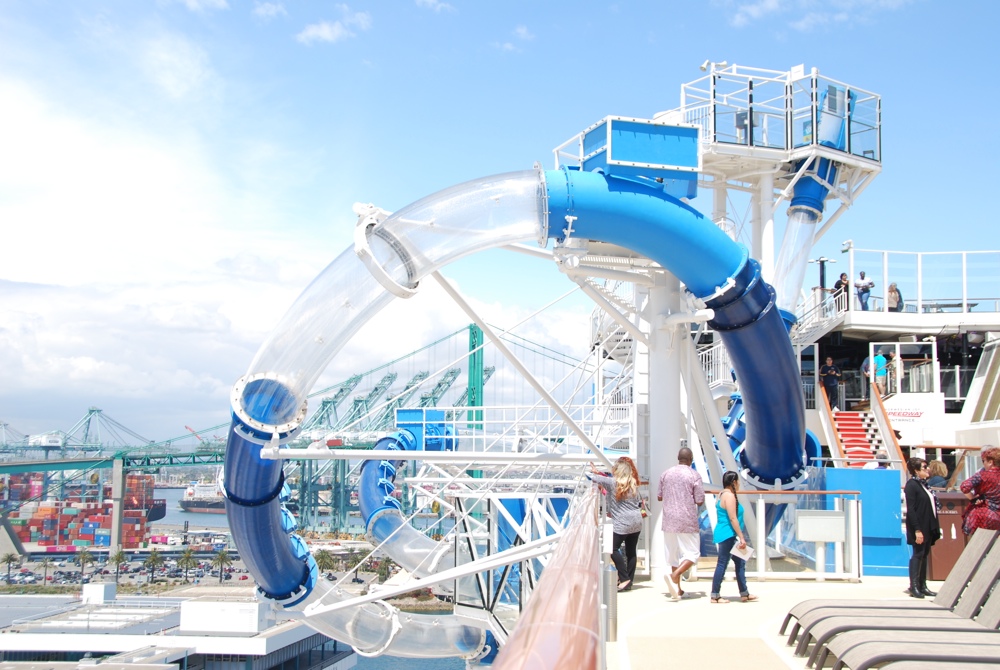 4. I've now gotten the hang of sampling the food and drinks while on board a ship. I can order ANYTHING I want. Two of each if I want. I don't really like eating till I'm stuffed, but sometimes you have to sample a lot! I feel lucky that in the beginning, when I was tasting the menus I liked the least (MSC was blah and Princess was so-so), I didn't realize that yet. But I think each cruise ship has gotten better and better as far as food is concerned. In the Manhattan Room, the main dining room, I was served a delicious bowl of carrot and ginger soup and twin lobster tails with a side pool of decadent butter.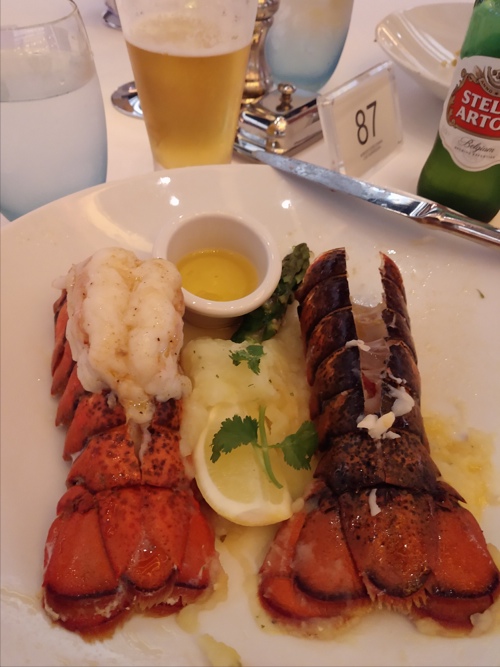 At the restaurants SAVOR and TASTE (two separate dining areas right across from each other) I ordered two eggs sunny side up with country potatoes and they were also delicious. I sampled a lot of food from various regions of the world up in the Garden Cafe buffet. But, across the board, in all dining venues, the desserts were a real letdown. I'd rather eat dessert for dinner so that was a bummer. My husband remarked that they looked and tasted right out of the Sara Lee box. I love ice cream and you really can't go wrong with that. But it certainly wasn't rich and creamy Haagen-Dazs. More like an icy creamy mix. The cinnamon rolls at breakfast definitely could have come from a box at the grocery store.
5. The Haven is heaven. To all of my high roller friends, you need to book an Alaskan cruise in Norwegian JOY's Haven enclave. This is the exclusive, luxurious, ship within a ship area that requires a private key card to enter. The suites are large. Some have big bathrooms with tubs that sit next to a big picture window of the ocean. They have showers that are bigger than the glass test tubes you get on the other levels. The biggest, top notch Haven suite, had a roaring fake fireplace so you can feel right at home with your book and blanket and glass of wine beside a cozy looking fire. I think you might even be able to do a full cartwheel plus a round-off in this suite.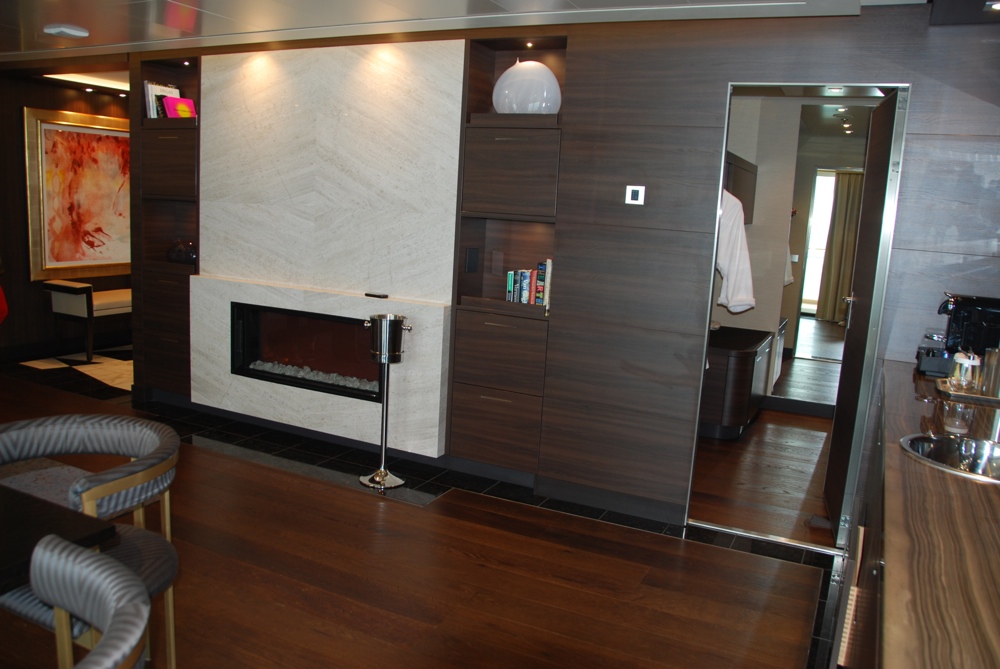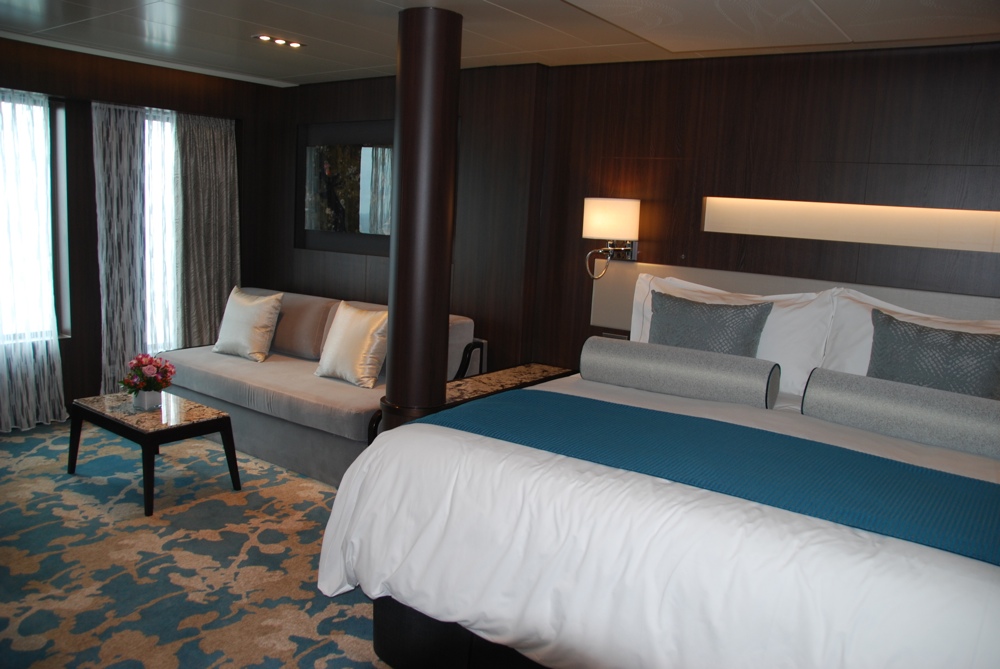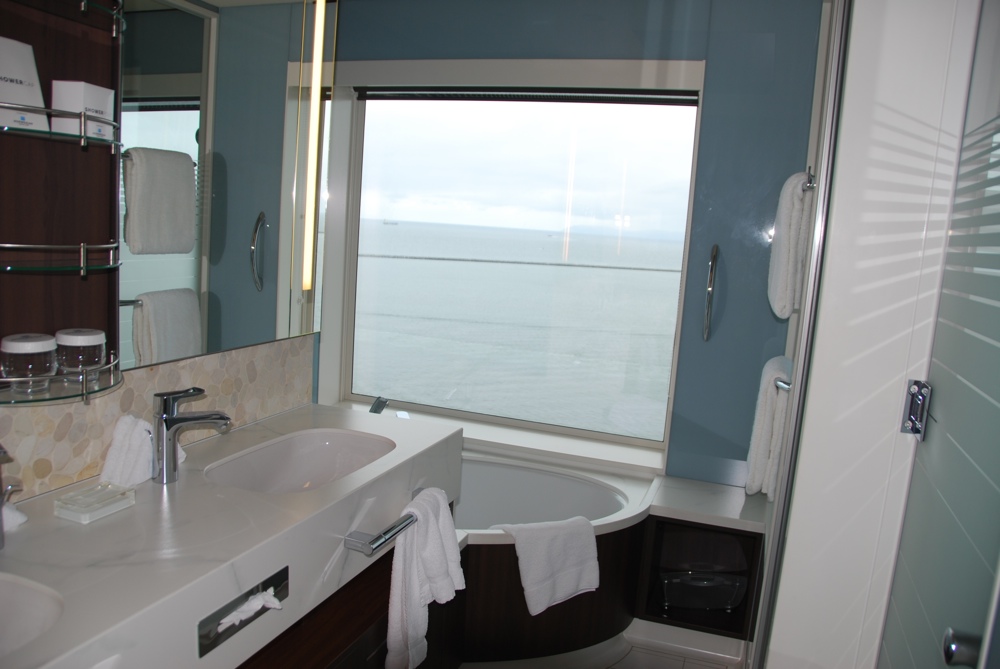 Some of the perks inside the Haven include a private restaurant, a private bar, a library, and a private pool, jacuzzi and lounge chairs that sit under a retractable roof. All of the common areas inside the Haven that are reserved exclusively for these guests are designed in classic colors with a very tasteful decor. It is the picture of simple luxury. I loved it.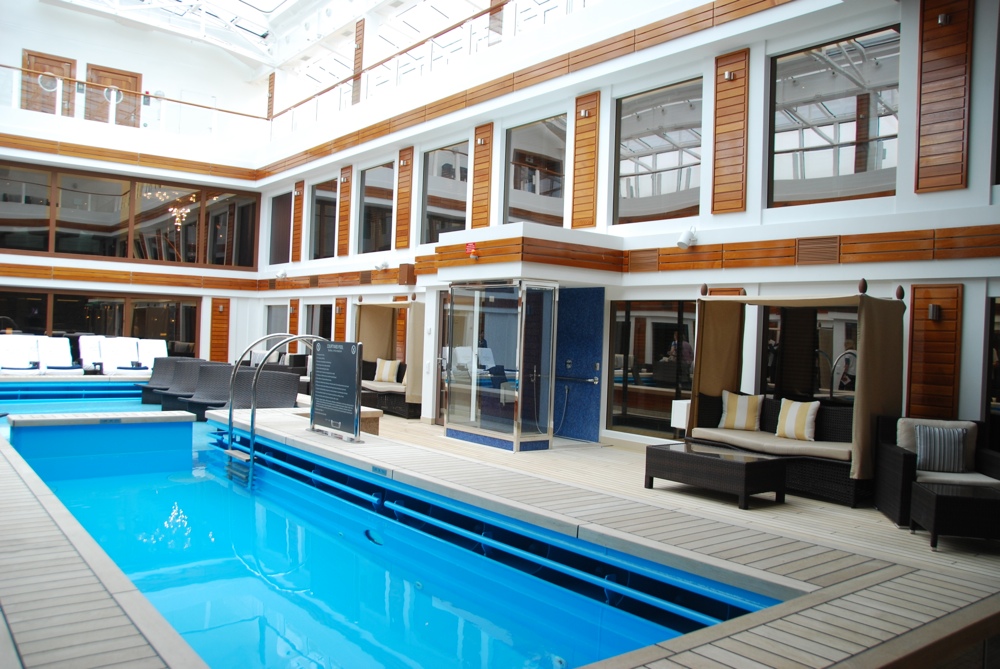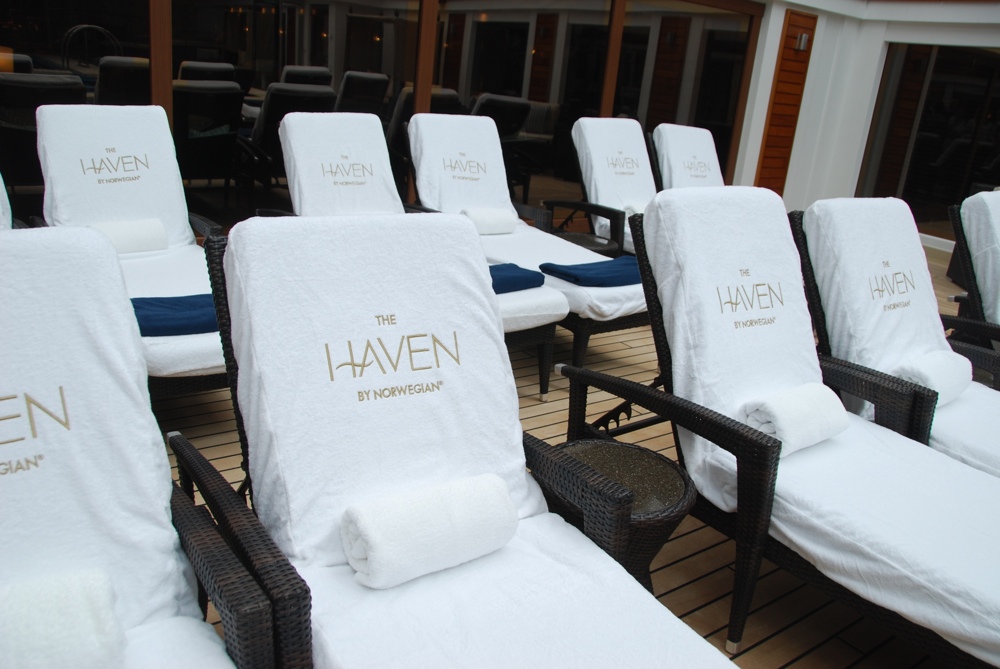 We talked to a business manager gal about the cost of getting that special Haven key card. You can actually stay in a few suites outside of the Haven that are still technically Haven suites. So you aren't inside the enclave, but still have the important private key card to get in. Those start around $2000 per person, which doesn't sound too bad (depending on the trip of course). The high end suites can get up to $10,000 per person or more. I think if I was celebrating a special occasion, or if I had saved up to take one special vacation, any Haven suite would be worth it. Especially if I did not have my kids with me!
This is a big ship. It accommodates up to 3,804 guests. It's easy to get turned around. When you are in a narrow hall, which way is the front of the ship? Often I had to consult the ship map to figure out, where am I? Where am I going? Oh look! The fish on the carpet swim FORWARD. When I step out of my cabin I know which way to the front of the ship. GENIUS!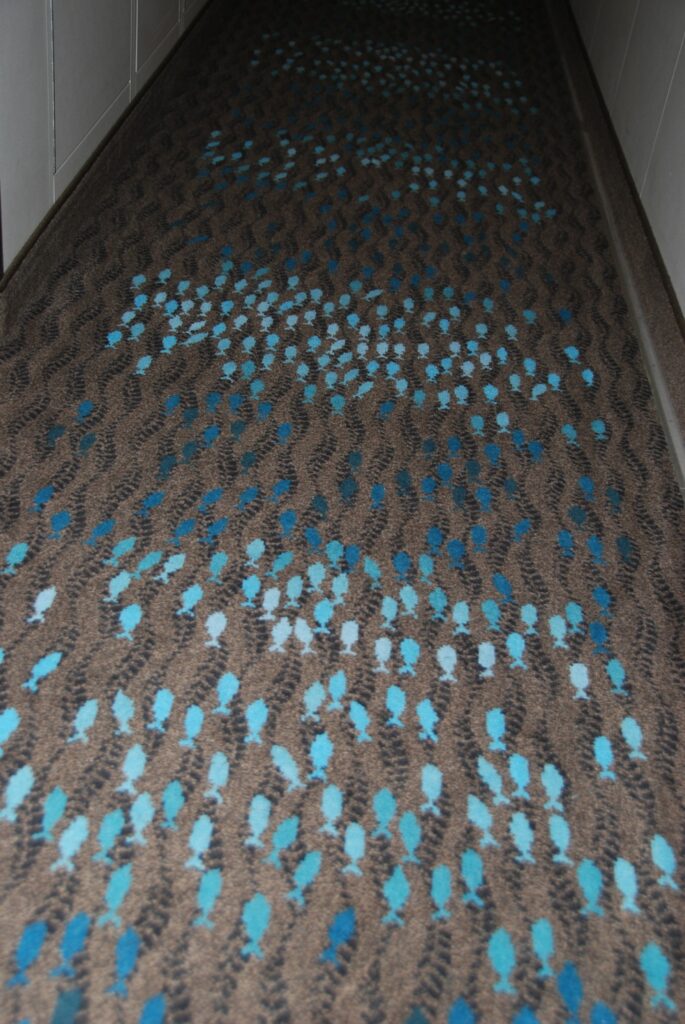 The staff aboard Norwegian JOY were super friendly and helpful. And they made strong drinks. The mojitos from the Sugarcane Mojito Bar were a solid 10. The casino did NOT smell like cigarette smoke as I walked through. The smokers were quarantined inside a glass enclosed casino area and it really worked to keep the secondhand smoke and smell out. I was impressed. I could hear the Beatles cover band that was playing inside The Cavern as loud as day while standing on my room balcony.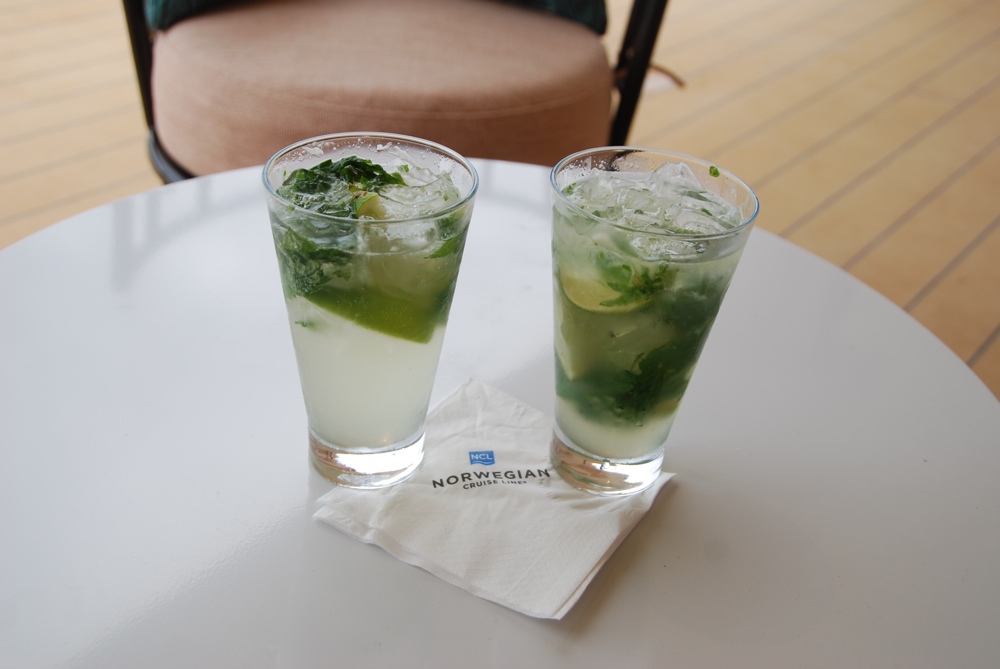 The Galaxy Pavilion, the virtual reality gaming area was a hoot. Again, the reservations were fully booked but we stood in line to enter and it wasn't long before they let us in. This would be a fun place for my teenagers to hang out. I thought there was enough variety here to keep them occupied.
While we stood in line to get on a VR roller coaster simulator, the lady in front of us was SCREAMING and practically hyperventilating when it was her turn. She had her foot up and was bracing herself on the front of the ride's enclosure. Oh this is going to be GOOD. Her reaction was priceless. Her husband wasn't screaming but he was pretty animated too. But when we got on, the roller coaster seemed so slow and predictable. I kept thinking, any minute now this thing is really going to speed up and I'm going to be screaming too. But no. She had us fooled. She probably would have had a stroke if she'd gone and done the Zombie 7-D shooting game we did later on. Now that was cool.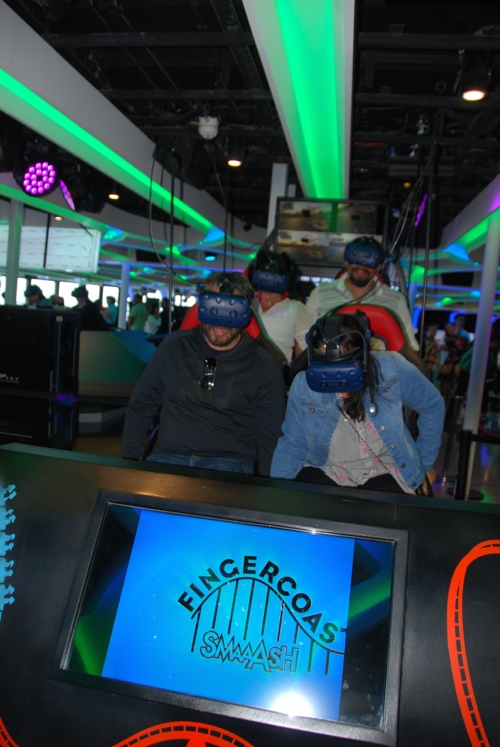 I love learning new stuff. I already know that the Norwegian Pride of America ship flies an American flag and can dock in Hawaii and stay there for an entire itinerary without leaving the coastline. But I didn't know that the reason we couldn't stay tethered to the Port of LA dock overnight, which was originally planned, is that because Norwegian JOY flies a foreign flag, in order to sell booze, gamble and sell duty free products, the ship needed to enter foreign waters and dock in a foreign port. So we could have stayed in LA all night, but then we couldn't drink past a certain hour (whatever the city of LA allows), Norwegian couldn't rake in money from the casino and they wouldn't be able to sell their high priced goods to travel advisors needing their Norwegian JOY emblazoned products. And though there was supposed to be another Norwegian JOY sleepover event in San Francisco, that one got cancelled because they couldn't get to any foreign port, and back, in time.
Norwegian JOY is sailing the wildly popular Alaska circuit. I highly recommend a trip to Alaska to see the Last Frontier. Whether you go by ship, car or plane, get there. It's still unspoiled nature. It's a land of heritage and native people, some of whom still survive by subsistence living. I used to work for the US Congressman from Alaska, and he is a tireless advocate for the Alaskan people, the land and its customs. He is a controversial character, but his goal is to uplift every Alaskan living in the state. I hope that Alaska will not succumb to negative overtourism, but at the same time, we can better appreciate the things we need to preserve if we see them first hand for ourselves. In this way we develop a personal connection that can ultimately save our limited resources and threatened wildlife.
Contact me. I'll help you get there.
Epic Away Travel
(949) 246-6865
#NorwegianJOY #epicawaytravel #epicaway #epictravel #utcadvisorsrock