This is a summary of INCREDIBLE ICELAND told in photos. This post is for my brother and anyone else who would rather see more pictures and read less writing.
First photo is Fjallsárlón glacial lagoon. It is located to the south of the larger and more famous, Jökulsárlón glacial lagoon. The glassy surface is a perfect mirror for icebergs and glaciers. At this time the lagoon was frozen solid. We picked up rocks and flung them forward. They hit the frozen surface like thick glass and made a sound like a musical instrument. It was a hollow, clear sound and it had a twang. I can't even put it into words. When someone threw a rock it skimmed across the surface or landed with a thud, but everytime it made this amazing, musical sound.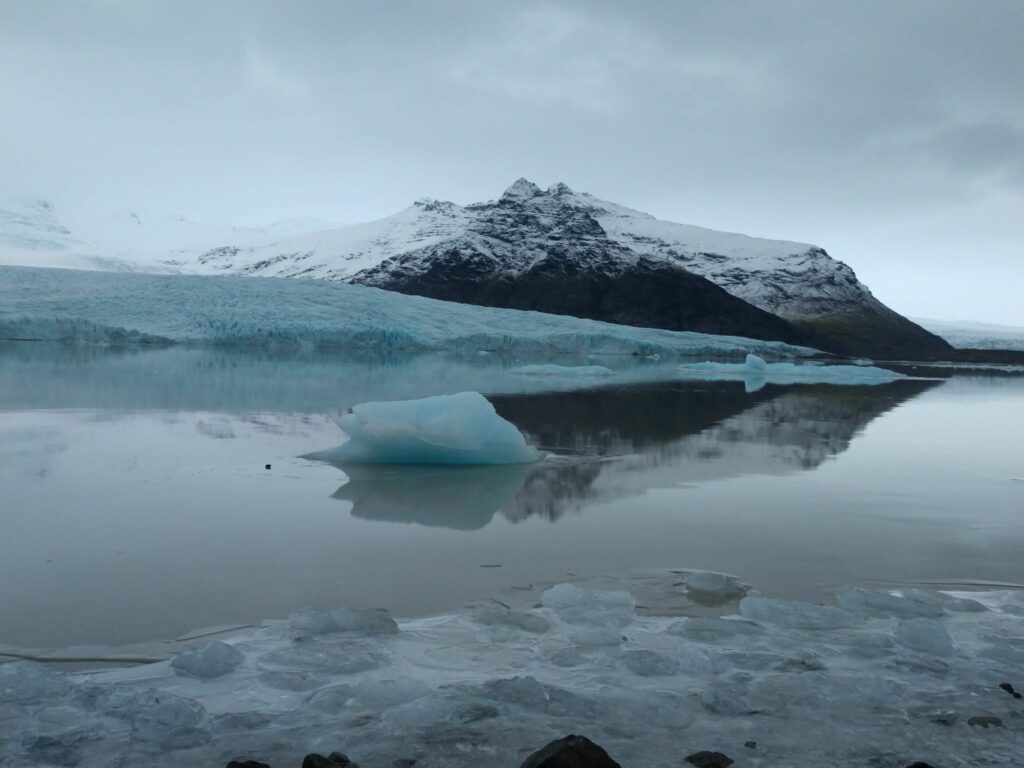 This warning sign is from the crowded, Jökulsárlón glacial lagoon. I love these rules which seem obvious but also obivously necessary I suppose. A lot of people probably try to step and walk on icebergs, but do they realize "you only survive few minutes" in "freezing water?" People lose their minds when trying to take the perfect selfie.
Justin Bieber came to Iceland and filmed a music video. This photo is Fjaðrárgljúfur Canyon which gained instant fame after being prominately featured in Bieber's video. Unfortuntely he and the masses that subsequently flocked to this site caused the Environmental Agency of Iceland to temporarily close the paths to the canyon after the fragile landscape became trampled by inconsiderate visitors. Do not walk on the Iceland moss! It can take hundreds of years to fully grow. Also, please do not swim in Fjallsárlón Lagoon in your underwear. Luckily this canyon was open again when we went and politely stayed to the path.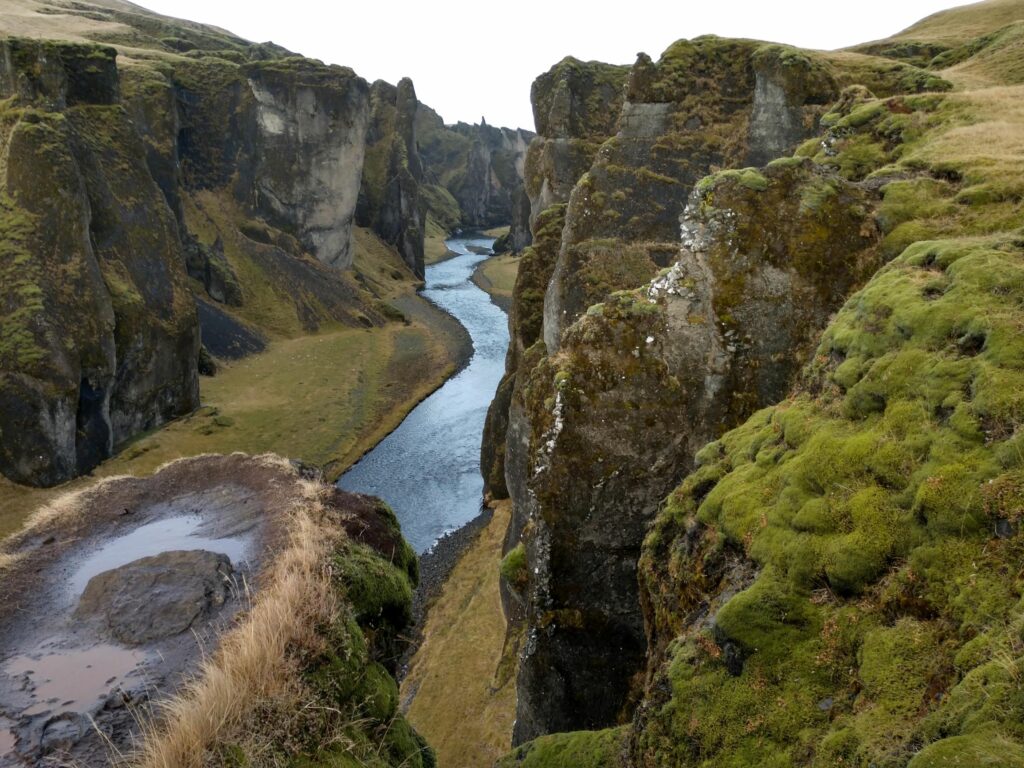 Before I left, I read a lot of hotel reviews describing breakfast in Iceland. Some guests loved it and some complained about how sparse it was. These next photos are typical breakfast spreads. One breakfast staple was pickled herring, which I just couldn't bring myself to sample at 8:00 in the morning. The other bowl is tuna fish AND egg salad mixed together. Why together? Pâté and smoked salmon and sweet cakes could also be found at breakfast.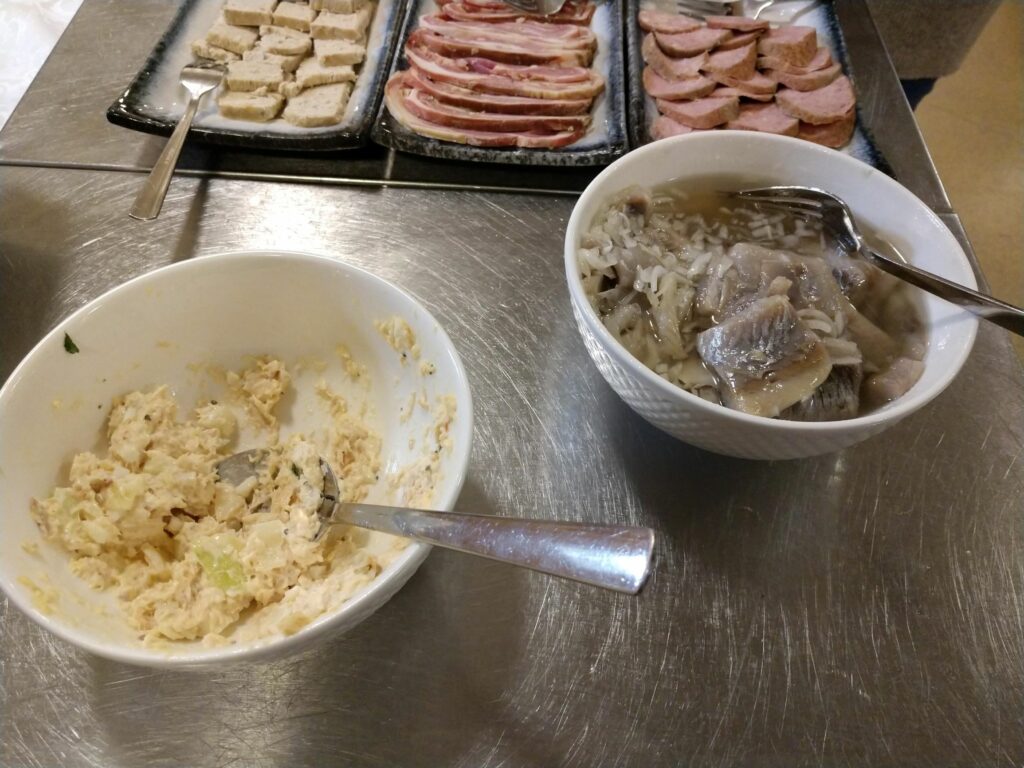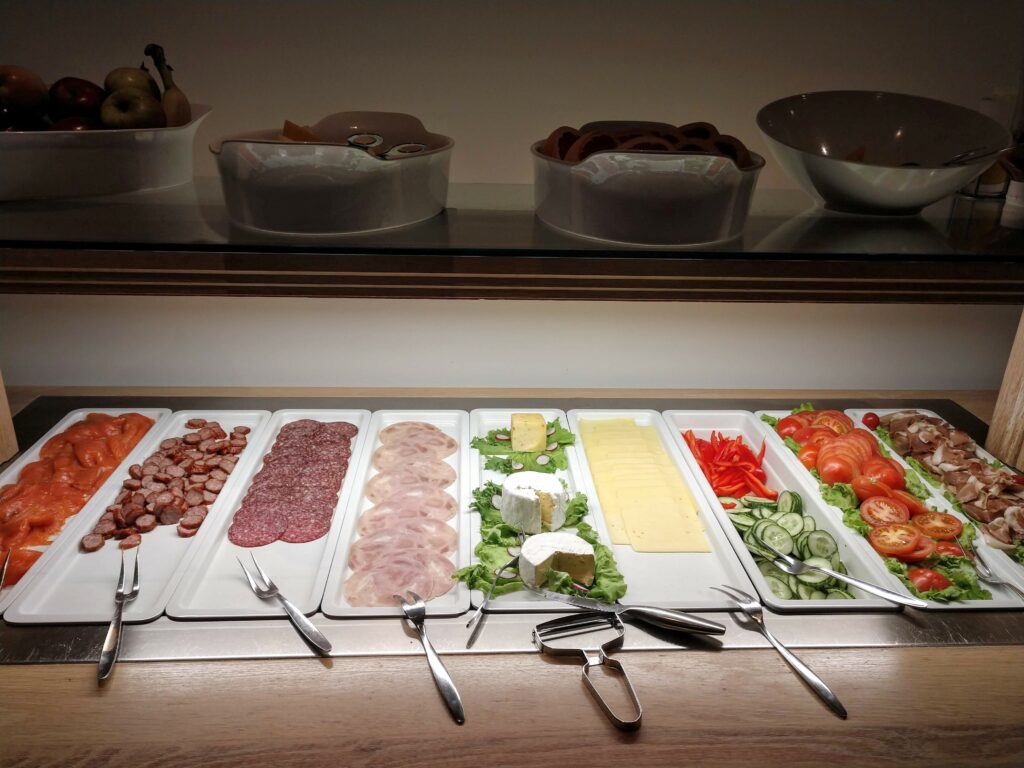 Harpa is downtown Reykjavik's beautiful concert hall and gathering place.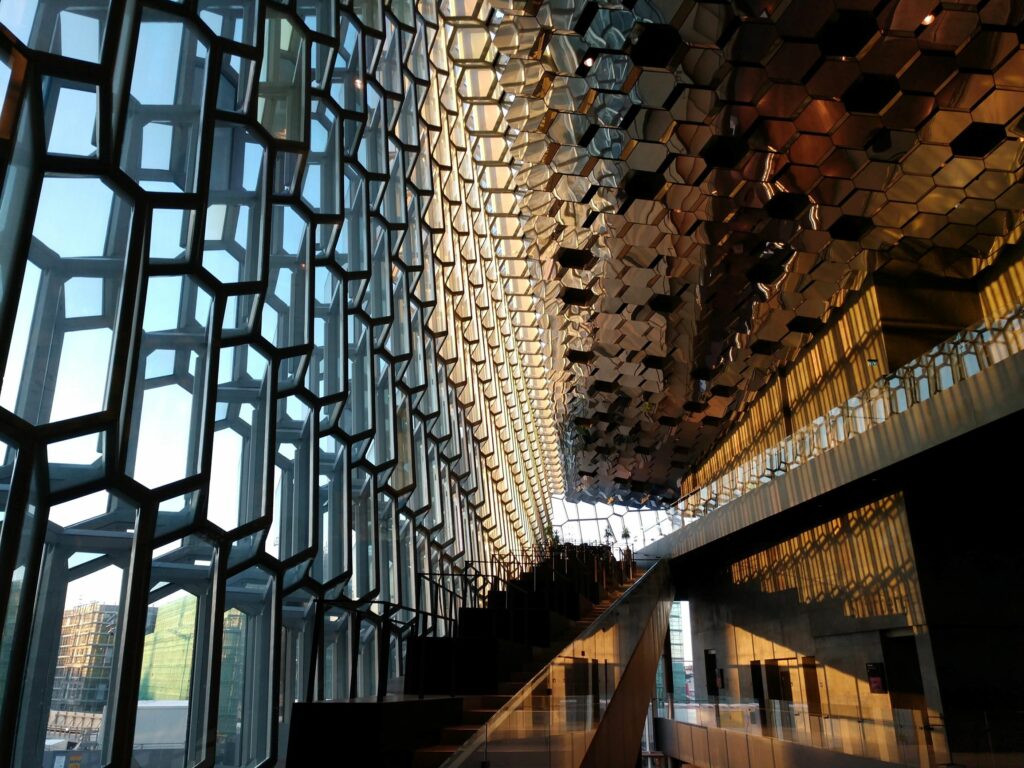 This is Barnafoss, which is next to Hraunfossar, the next photo. Barnafoss is also known as Children's Waterfall because of the Icelandic folk tale that tells of two young siblings who went out exploring and disappeared while their parents were out. Their little tracks led to a natural stone arch bridge here and the mother concluded that the children must have fallen in. Legend says she either had the stone arch destroyed, or after she put a curse on it, an earthquake destroyed it.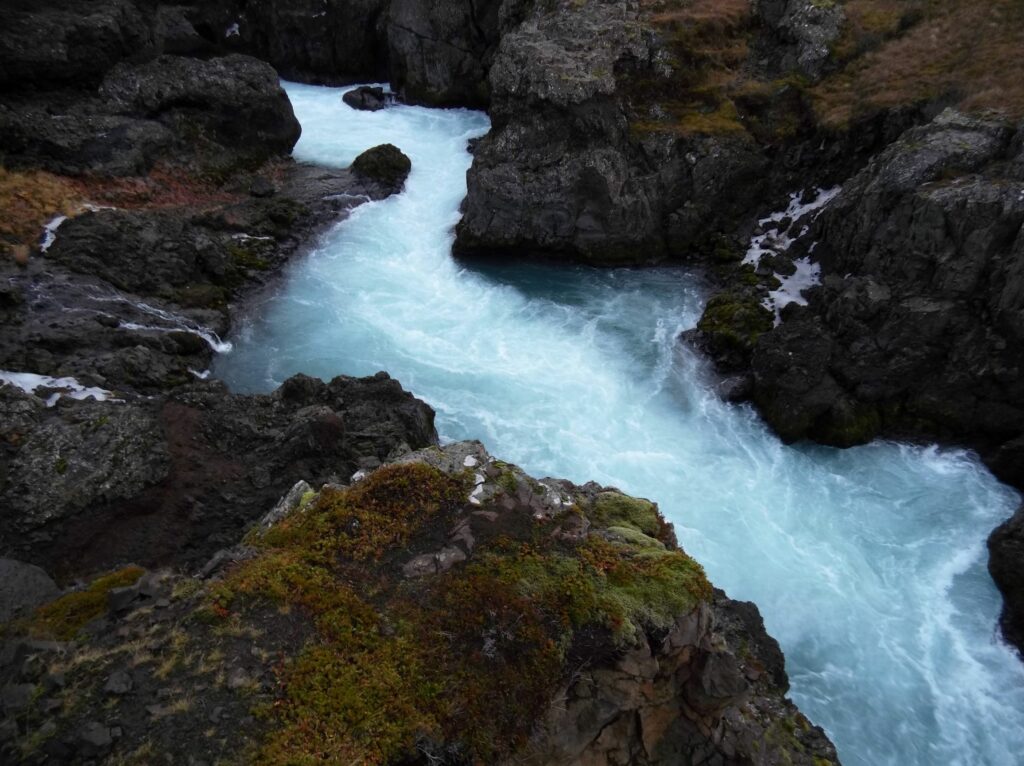 Look how the water flows magically out of the lava landscape here at Hraunfossar. Incredible. Mystical.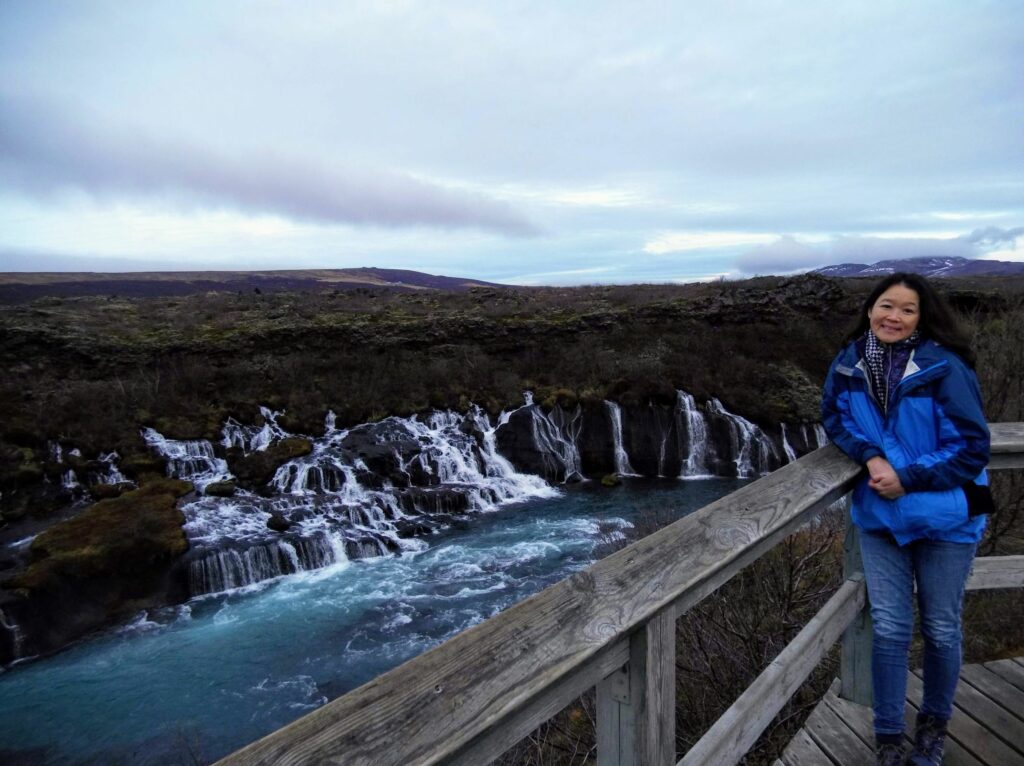 Skyr is a traditional food from Iceland. High in protein, low in fat. It's like a greek yogurt but more dense and very creamy. This Skyr parfait has raspberry jam on the bottom, almond milk mixed in making it lighter, and honey glazed granola topping it off. This was delicious, but straight Skyr is an acquired taste I think.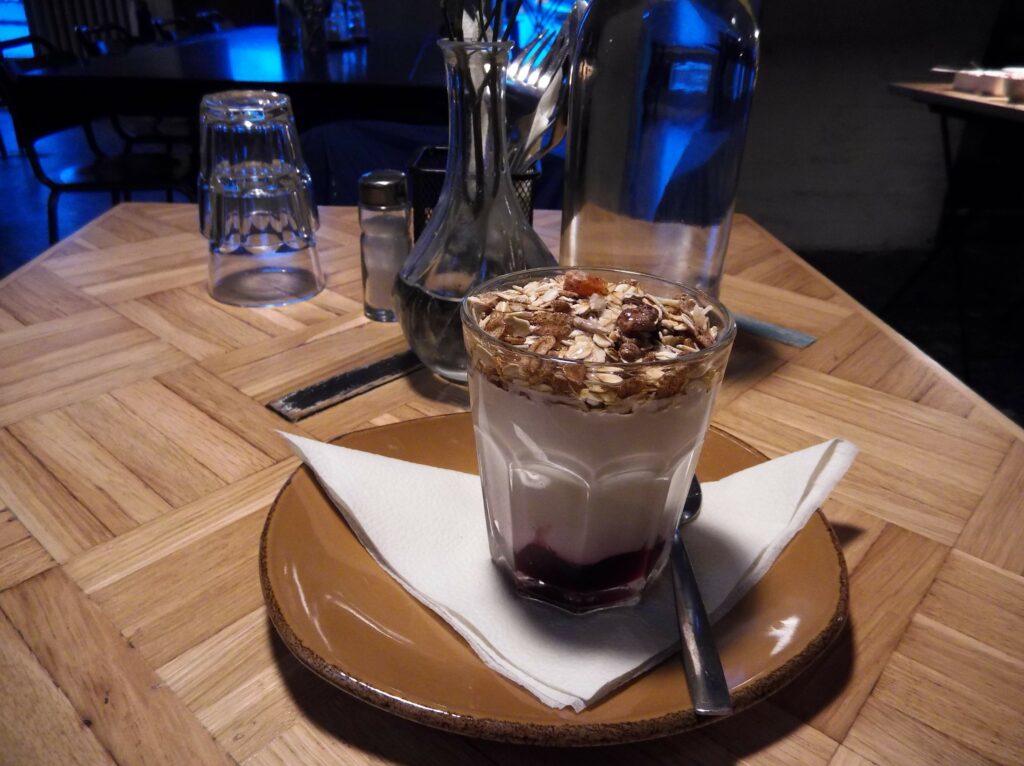 Kirkjufell is one of Iceland's most photographed mountains. It sits near the sea in West Iceland, and in summer it is brightened by a beautiful green landscape. My photo is so dark, which I think is a reflection of the scarce daylight hours in winter. On this day I needed to fill my water bottle so our guide said I should fill it with waterfall runoff at the water's edge. Cold, crisp, clear water. Mmmm. Fresh!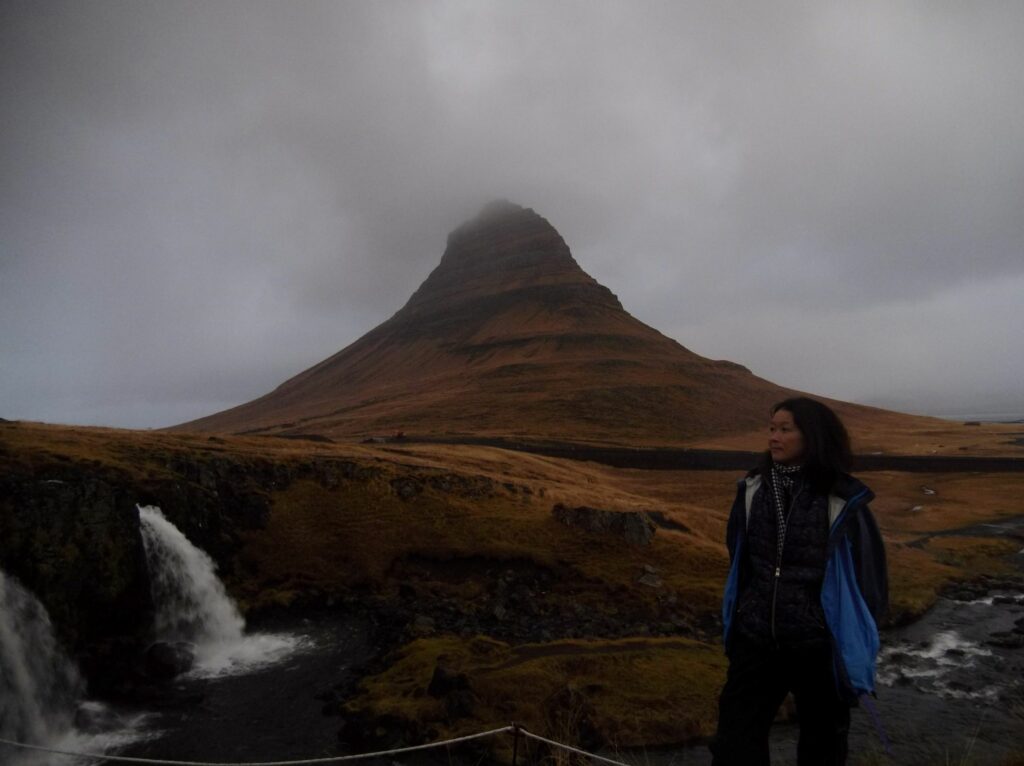 Next is a wild looking path at Snæfellsjökull National Park on the Snæfellsnes Peninsula. I loved the vibrant colors here. This path leads to pebbly Djúpalónssandur beach. This black pebble beach is wide and long. 3 heavy lifting stones were left behind that were once used to test the strength of fishermen (only the strongest got hired), and now tourists can try to pick them up without tweaking their backs in the process. I could barely lift the smallest stone up to my waist.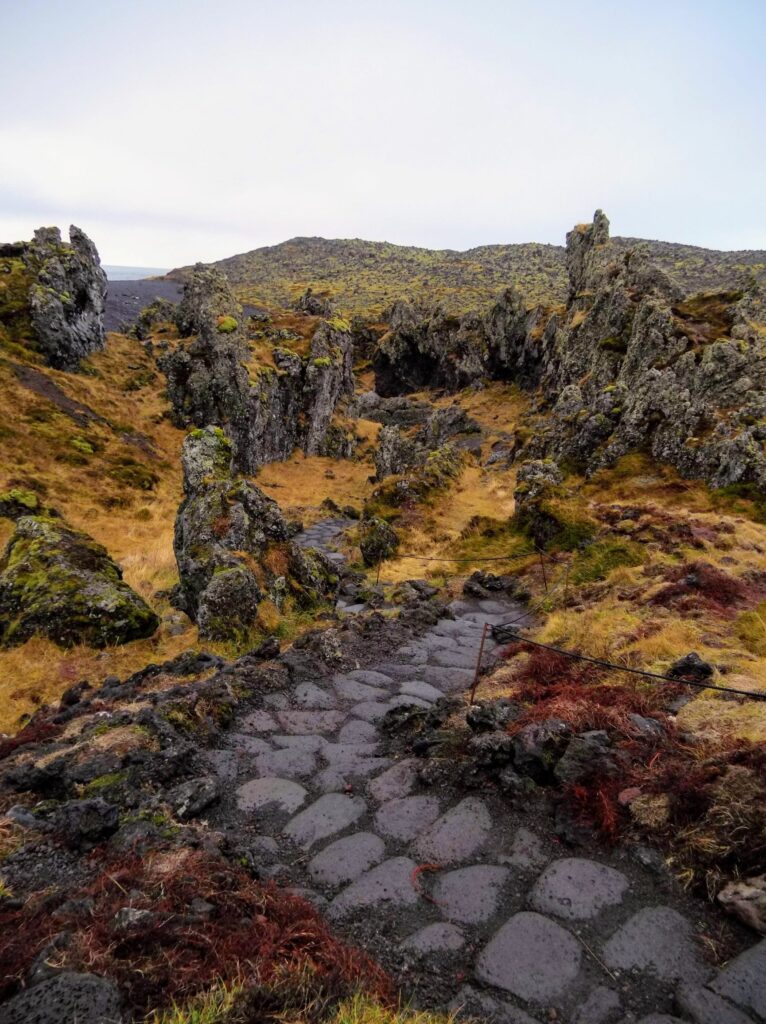 If you get past the 3 lifting stones without injuring yourself, you'll be treated to this view at the shoreline. It's all black lava and rolling seas. Stunning. The sun can't decide whether to keep going up or go back down.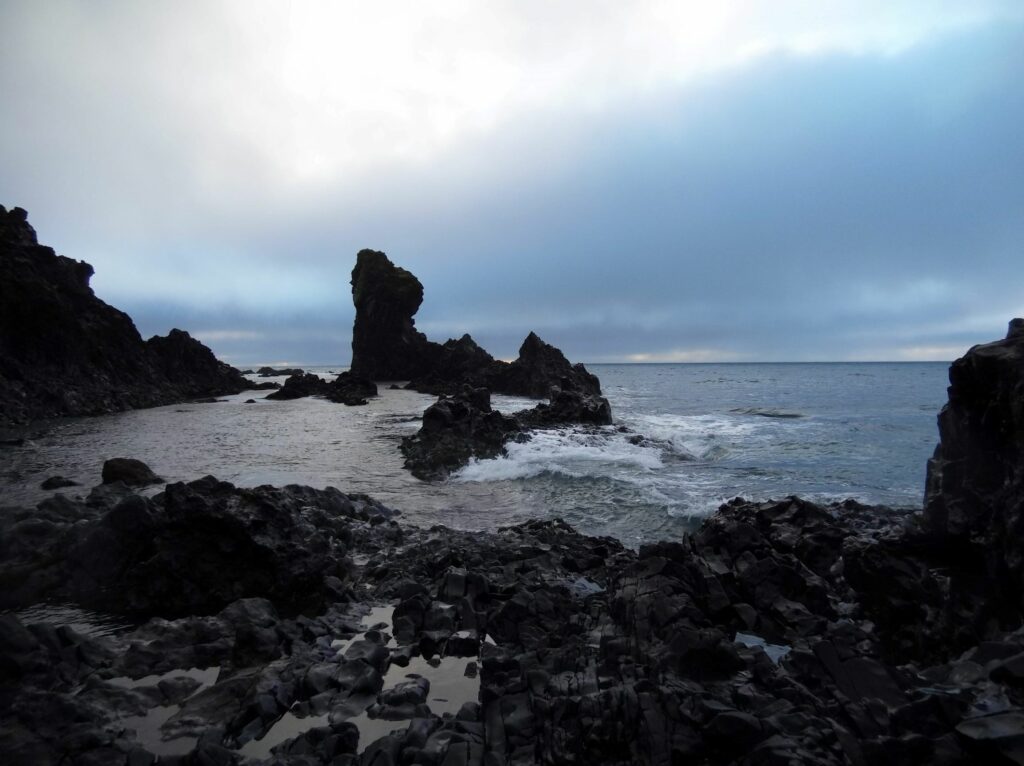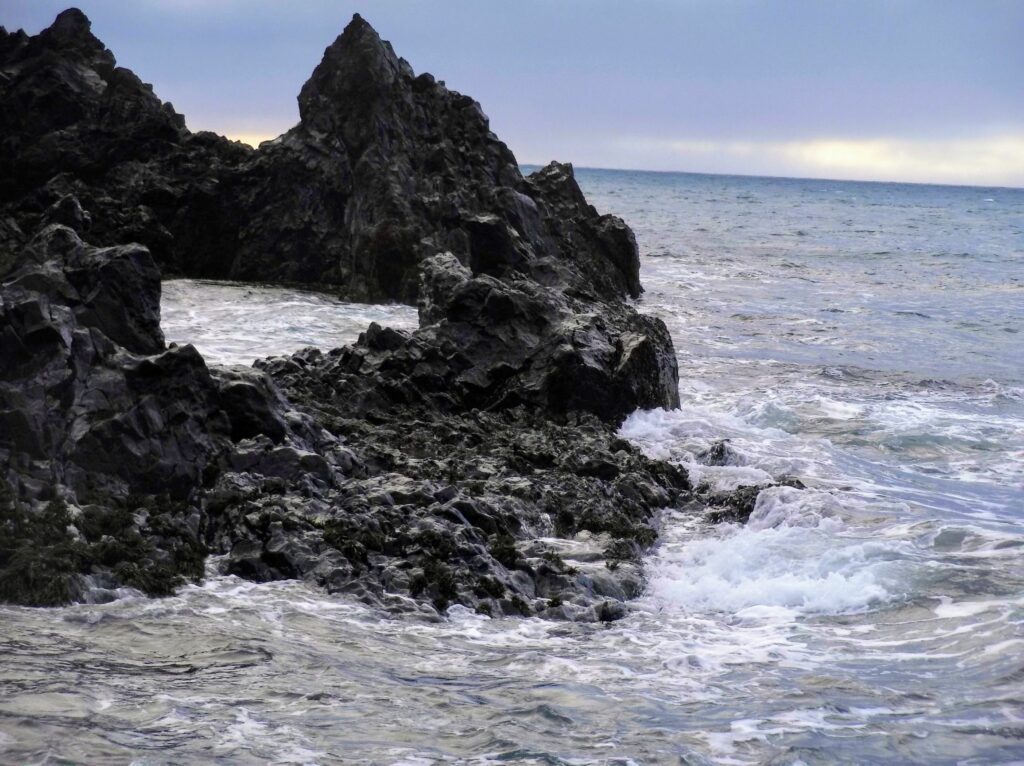 One of the best walking streets in downtown Reykjavik is this one. Laugavegur. Small shops with Icelandic wool sweaters and hats and trinkets. Expensive art stores with exquisite window displays. Bars with craft beers and local soup + bread. There's a Bonus grocery mart on this street. Plus the Icelandic Phallological Museum is next door to the Red Cross second hand shop. Cafes are very popular in Iceland. And guess what. NO Starbucks in Iceland. No green mermaid lady beckoning you in like a siren. No peppermint mocha, one shot, extra hot, no whip in a reusable container. Real coffee roasted for individuals, not herds (like sheep). I don't even drink coffee. But I like ranting about Starbucks.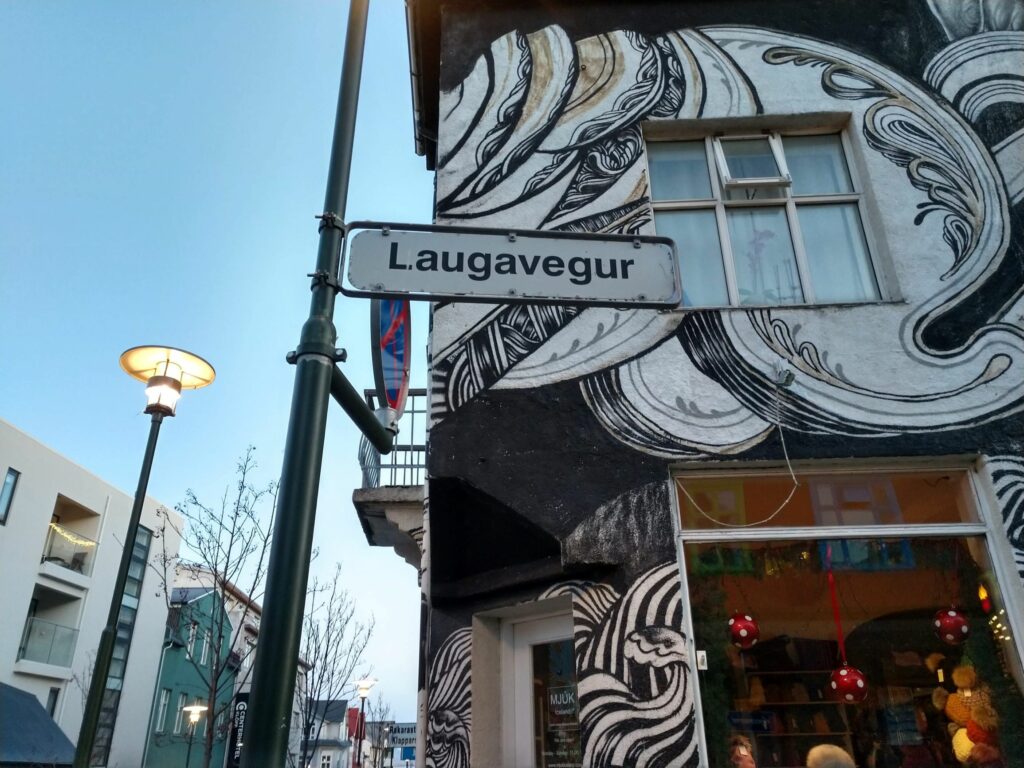 The Londrangar Basalt stacks rise up on Snæfellsnes Peninsula on a cliff overlooking the water's edge. Londrangar is what remains of a volcanic crater, which has been eroded to its present form by the sea. The golden hay that grows on the landscape here is richly thick, yellow with green highlights. The nearby farmers never harvest this hay here, because it is said to belong to the elves living in the area. And Icelandic lore is nothing to be messed with.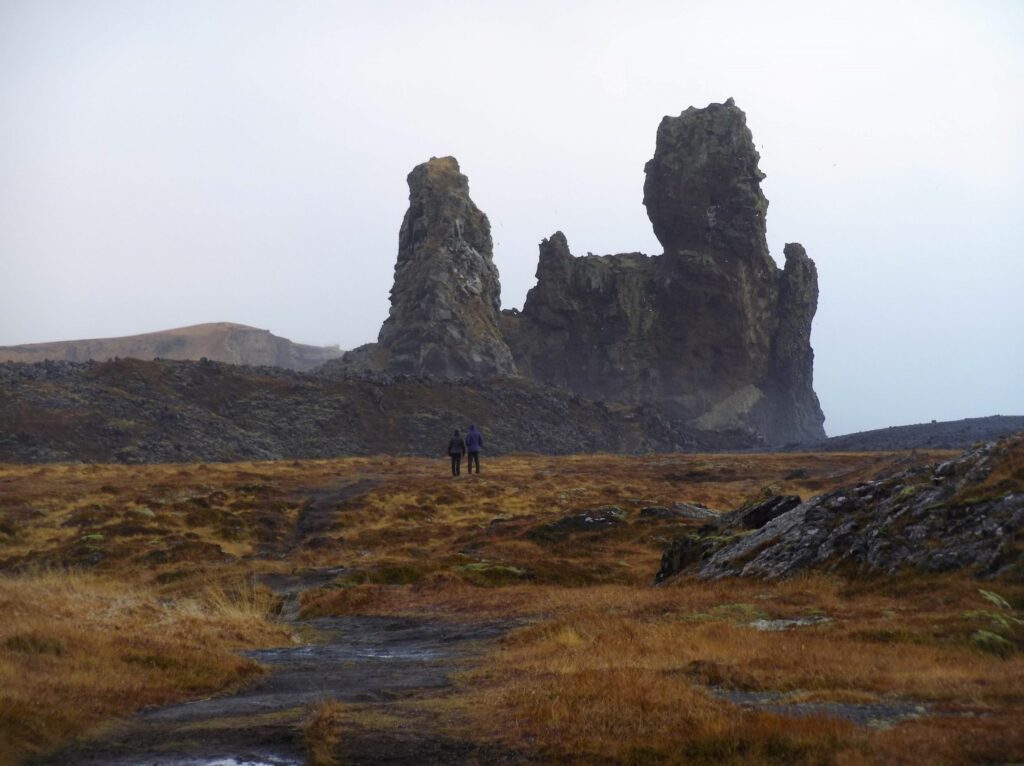 This is plokkfiskur. Traditional Icelandic stew. My last meal in Iceland. Served with fresh baked rye bread, probably imported vegetables and rice, plus a big, local beer. According to Iceland Magazine: "Every family has its own recipe for plokkfiskur, and there is no one correct way to prepare this dish: Icelandic mothers and grandmothers have thrown these ingredients together to feed their families without precisely measuring the different ingredients, adjusting the recipe based on how much fish or potatoes there are in the fridge that day."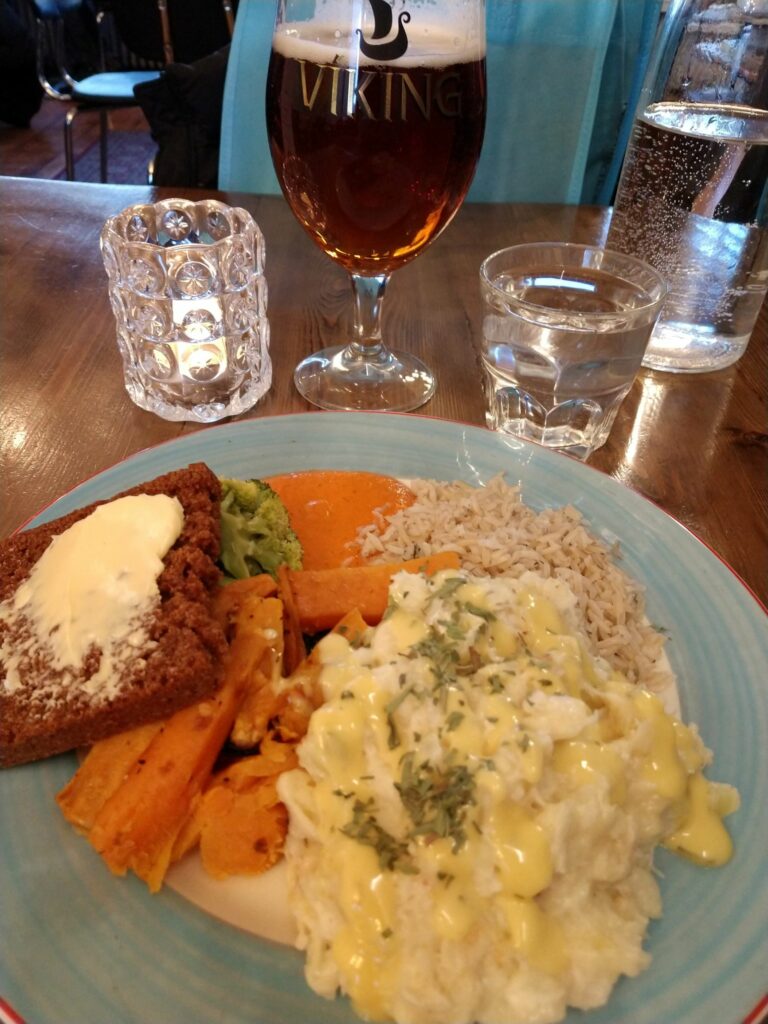 We went to the Eldfjallasafn Volcano Museum, courtesy of our National Geographic itinerary. It was a fantastic journey through time, learning about the creation of Iceland and how volcanos have shaped the landscape of this country. This large, vibrant, fire engine red, volcano art featured on the wall here was created by Andy Warhol.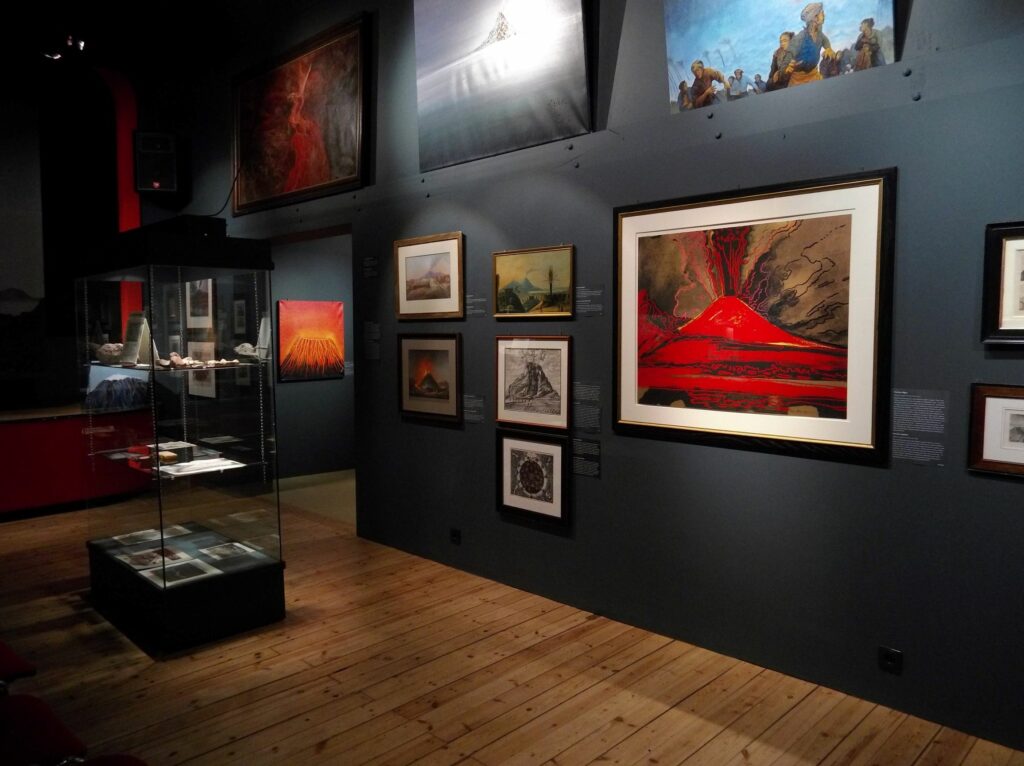 Back on the Snæfellsnes Peninsula, we walked around this beautiful area called Arnarstapi. Look what the waves made! This gorgeous arch is called Gatklettur. There's also another arch that you can walk across, but Iceland's fierce wind might blow you down.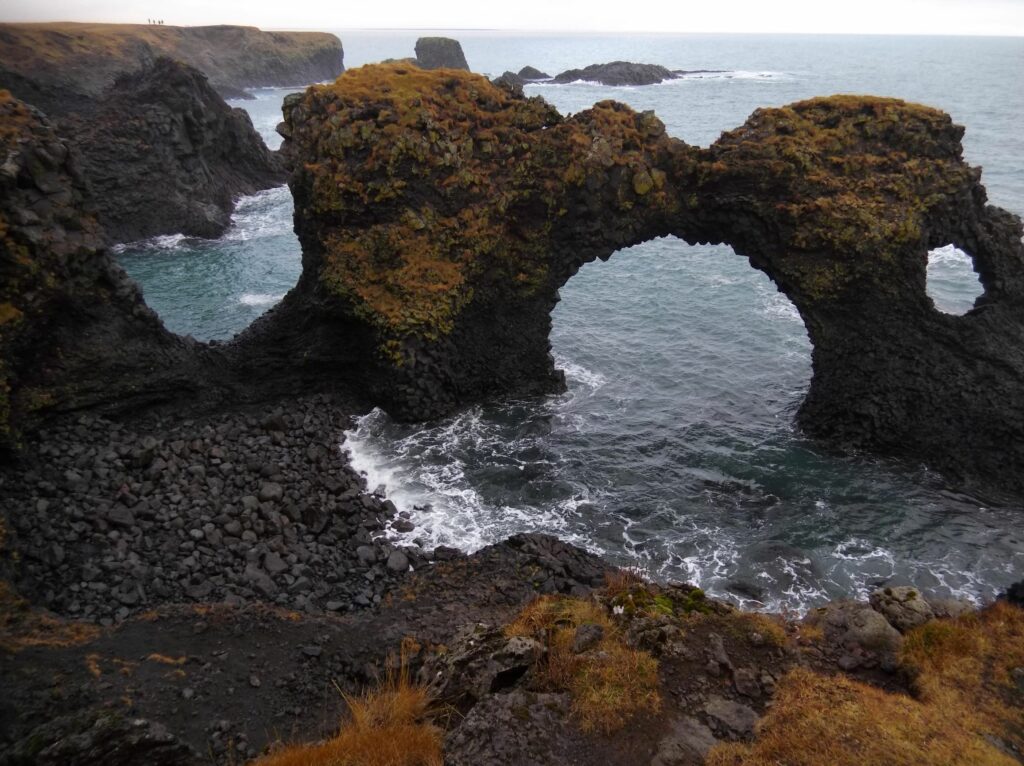 Further along the path there's this deep well of basalt columns. You can just imagine the hot lava that created this amazing sight.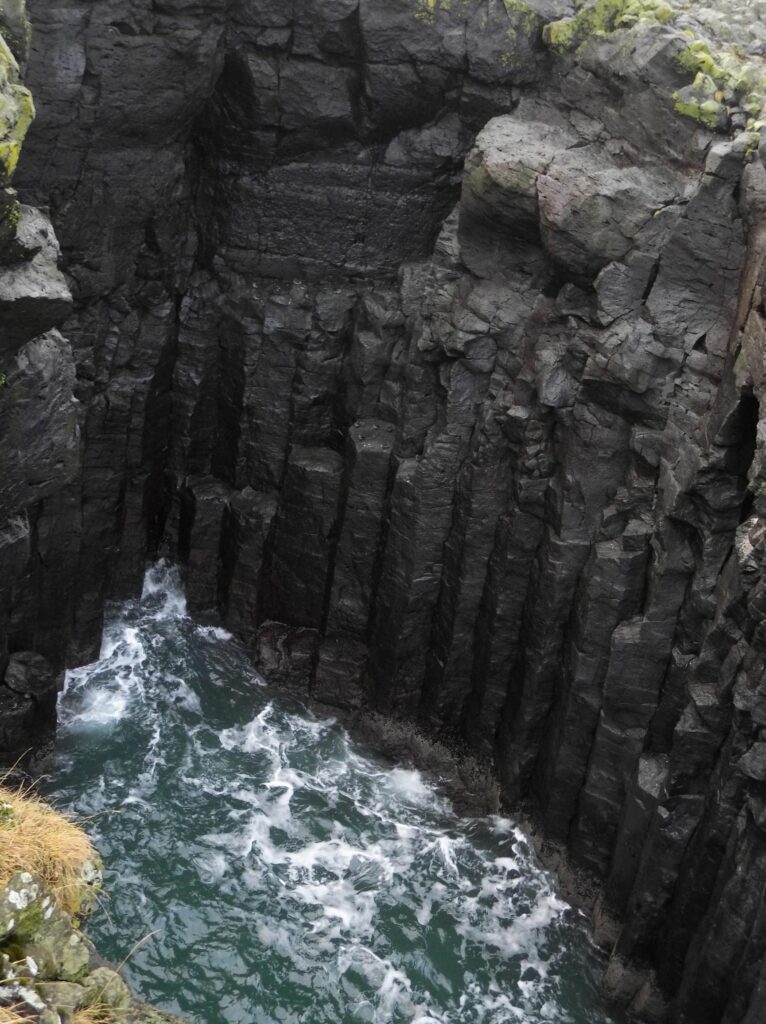 White chocolate Skyr dessert with some colorful and interesting plating. Someone had to look up the name of the yellow thing in the middle of my plate and for the life of me I can't remember what it is. Gooseberry?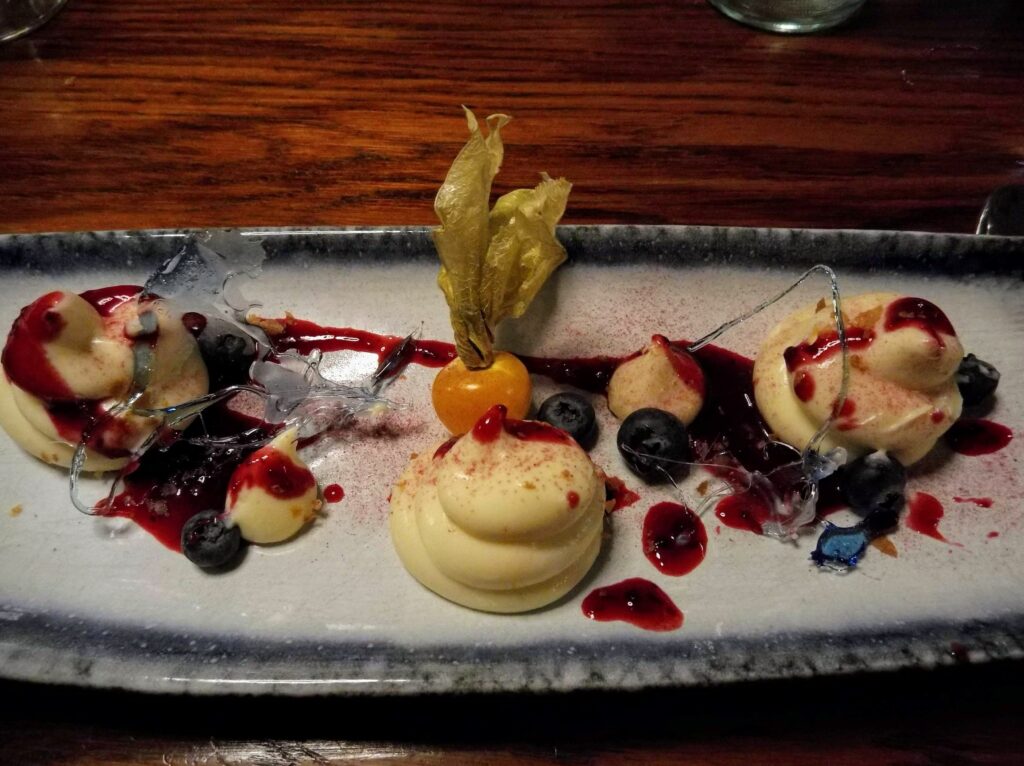 Finally, Salka Valka – Fish & More, a cafe near the towering Hallgrímskirkja church, which is a city landmark. This is where I ate my last meal in Iceland, the aforementioned plokkfiskur. Inside this cute place is an art installation of sorts. One hundred, give or take 20-30, little plastic bags of Iceland tap water hanging from the ceiling. When I asked what they were for the hostess told me they're meant to represent the crystal clear quality of Iceland's tap water. That even after 3 years of hanging there, not a grain of sediment or trace of discoloration can be found.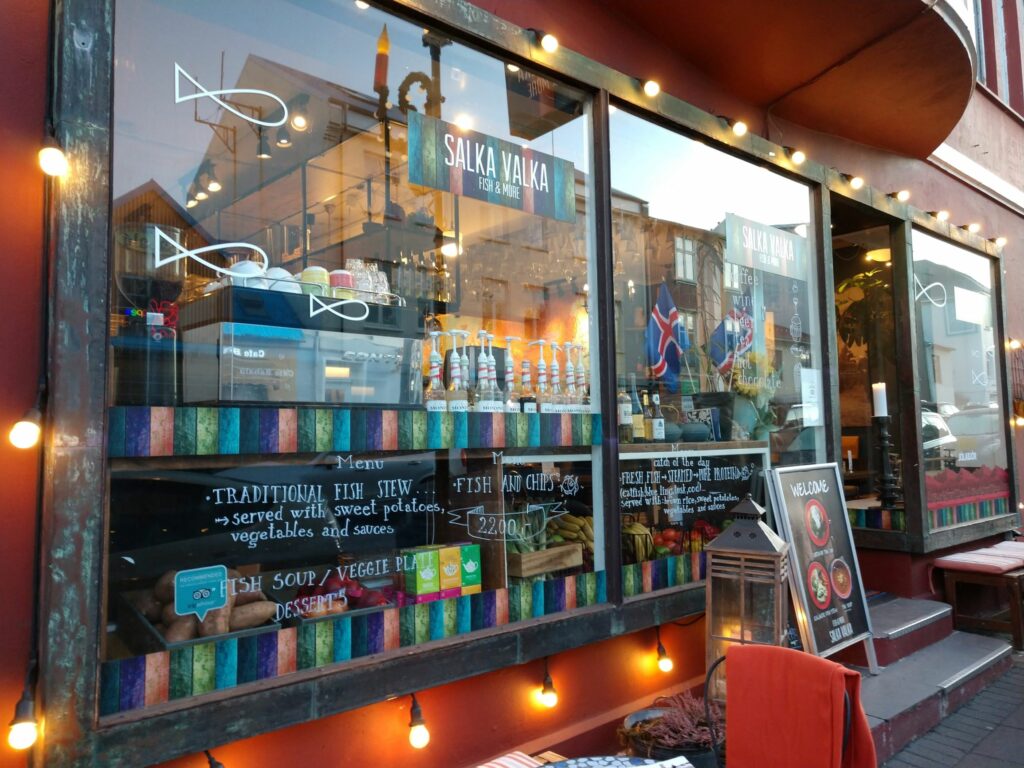 If you never had a dream to visit Iceland, I hope you do now. It is a magical adventure that only the likes of Walter Mitty can imagine in his secret life. If you'd like in on the secret too, contact me so we can plan it together. I pretty much had to narrow down this photo summary from 100+ photos. I didn't include the places I've already blogged about. You have to see the country with your own eyes.
If you've always had a dream to visit Iceland, to see the Aurora Borealis, or the lunar landscape, or to soak in the Blue Lagoon, or walk behind a waterfall, or hike on a glacier, or any of the many amazing things to do there, then don't wait another day. Contact me now.  I can help make the magic happen. My trip to Iceland was memorable in every way.  My itinerary, a partnership between G Adventures and National Geographic, was simply amazing.
#exploreiceland #epicaway #epicawaytravel #epictravel #gadventures #planeterra #ambassadorofchange #auroraborealis #northernlights #bluelagoon #glacierlagoon #iceland #bucketlistdreams #waltermitty #secretlife #myadventureabroad @epicaway @gadventures @planeterracares