The following day after our long walk across the Great Wall we tooled around Beijing with our guide Michael. On Wednesday, March 28 he took us to Tiananmen Square and the Forbidden City.  We saw Chairman Mao's mausoleum from the outside.  There was a long line to go inside and see him.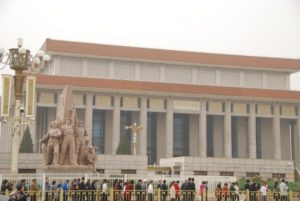 Michael said the Chinese government brought in the same team that preserved Lenin and erected his mausoleum, which is in Moscow's Red Square.  But I read that Moscow wouldn't talk to Beijing about how to embalm Mao, and neither would Hanoi (Ho Chi Minh also suffered the same fate).  I also saw Lenin's final resting place in Red Square but didn't go inside.  It's kind of freaky that it's really them, embalmed with formaldehyde for eternal public viewing.  What is it with Communist countries embalming their leaders?  I also read that Chavez wants the same thing when he dies in Venezuela.  Mao actually wanted to be cremated, but the Politburo and his widow overruled his wishes.
Michael thought it was especially important that we take a family photo in Tiananmen Square, but the photo looks like a generic travel shot (anywhere with terrible pollution that is).  Okay, I guess Mao is in our photo.  We could only be in China.  After that we went inside the Forbidden City, which is behind us in this photo.  The Palace Museum is a massive complex of buildings which makes up the Forbidden City.  It takes a while to wander around.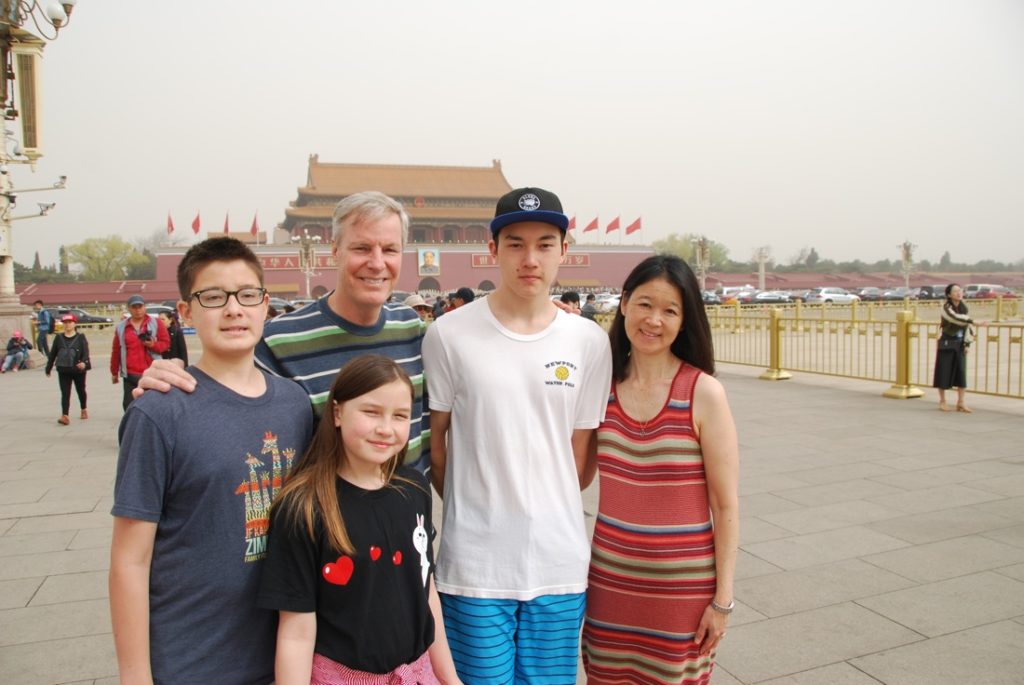 The tour around Beijing was interesting, and Michael was very knowledgeable, but the best part of the day might have been re-creating ancient art out of stone tablets with relief designs.  It took over an hour to make them, but it was a great way to rest our feet in the middle of our tour around the Palace Museum.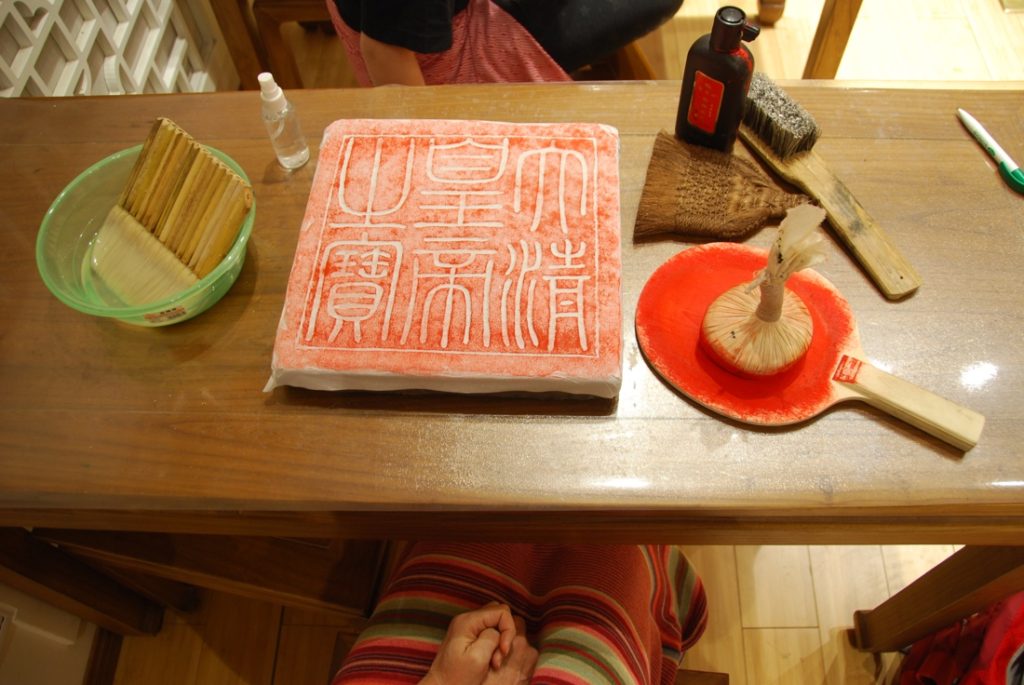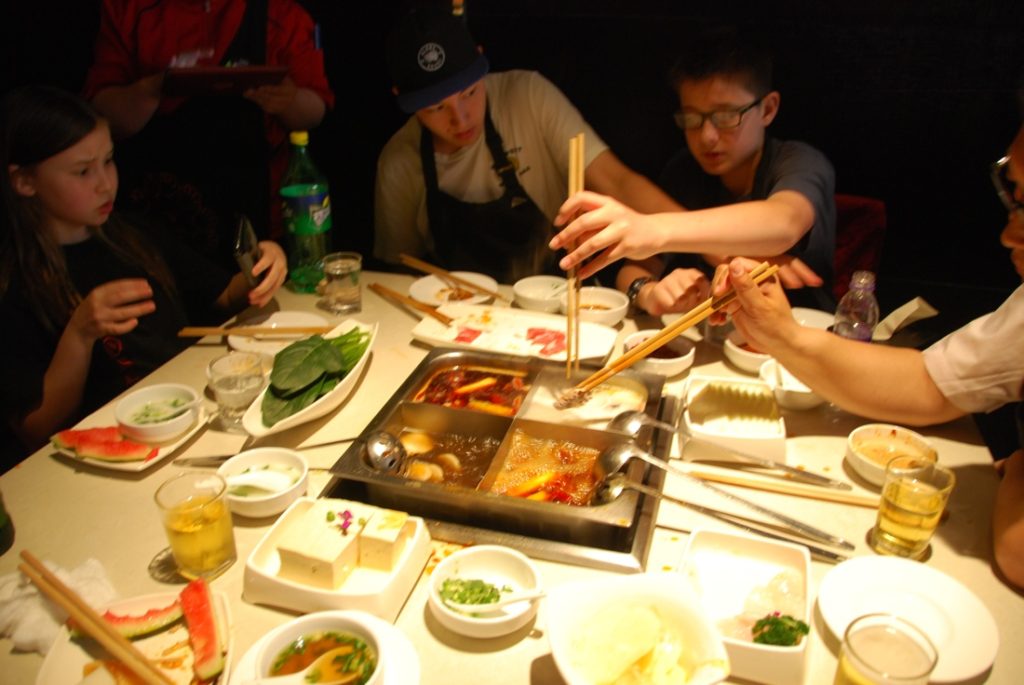 After we finished with the Forbidden City it was time for lunch.  Chinese hot pot!  Haidilao is a famous hot pot restaurant chain and lucky for us there's a location in Los Angeles.  So later, if we want to recreate one afternoon lunch in China, we can go to LA and get our fix.  The whole hot pot experience took about 2 hours.  I love how in Asia there is no pressure to eat and get out.  Every meal is very relaxed and leisurely.  There's an all you can eat fruit and salad area at Haidilao where you can cool off your mouth if things get too spicy.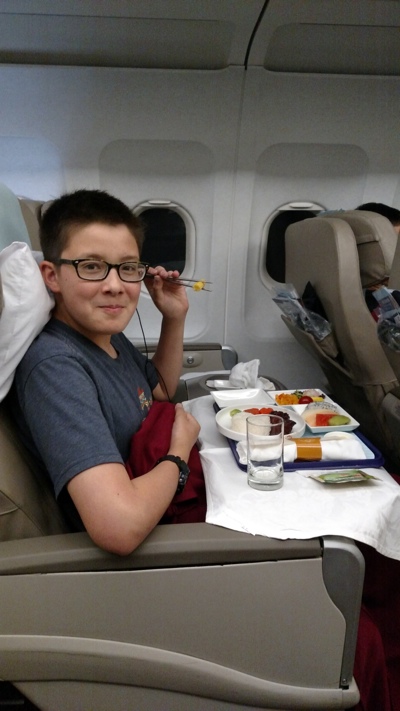 Soon it was time to say good-bye to Beijing and hello to Xi'an (pronounced She-Ahn).  Michael took us to the airport, stood in line with us for check-in and assisted us to the very end.  At the airport the nice folks at China Eastern Airlines told us that they had oversold the flight and they needed to book us into First Class seats.  Michael was so impressed with our first class status and we were too.  China Eastern is a lower end airline in the chain of things, but we still got extra legroom, extra wide seats, and a nice meal complete with a tablecloth and bottomless drinks.  We were exhausted by our day and it was the perfect dinner on our way out of Beijing.  A harmless meal without anything strange is always welcome in China.  Cheers!
When we landed in Xi'an we were met by our next guide, a super nice lady named Helen.  She spoke English with some kind of accent that I was unsure about, but maybe British English.  Helen took us to our next hotel, the Grand Noble Hotel Xi'an.  We decided to change our itinerary slightly to take a break and rest for one day in Xi'an.  No problem, our tour organizer Vanessa said, when I called her locally in China!  On Thursday, March 29 we took it easy.
We woke up around 8, so that we could take advantage of the big hotel breakfast.  It was just like our Beijing hotel, complete with several dim sum options, made-to-order noodle soup, pate and other meat, lots of bread, eggs, fried rice, sautéed vegetables, fruit, sweet breads, potatoes, cereal, rice porridge, etc.  Plus several kinds of juice, milk, coffee and tea.  Yum!
Here's a rundown in photos of our free day in Xi'an.
John is always happy when his day can start at Starbucks.  I like the Chinese characters.  Halyard said he could read the character for "star."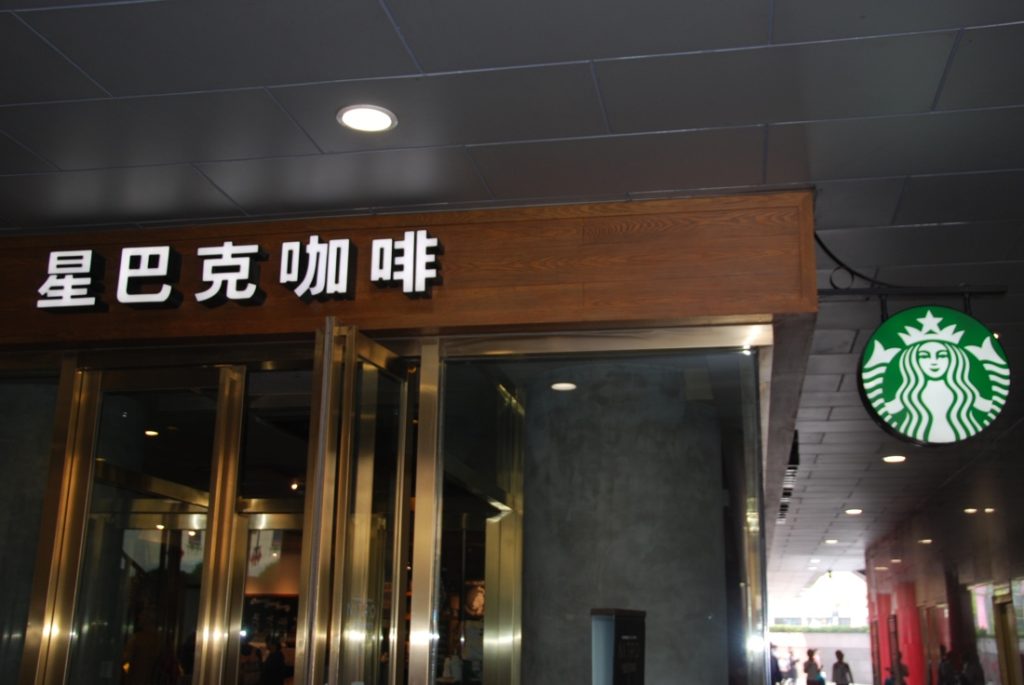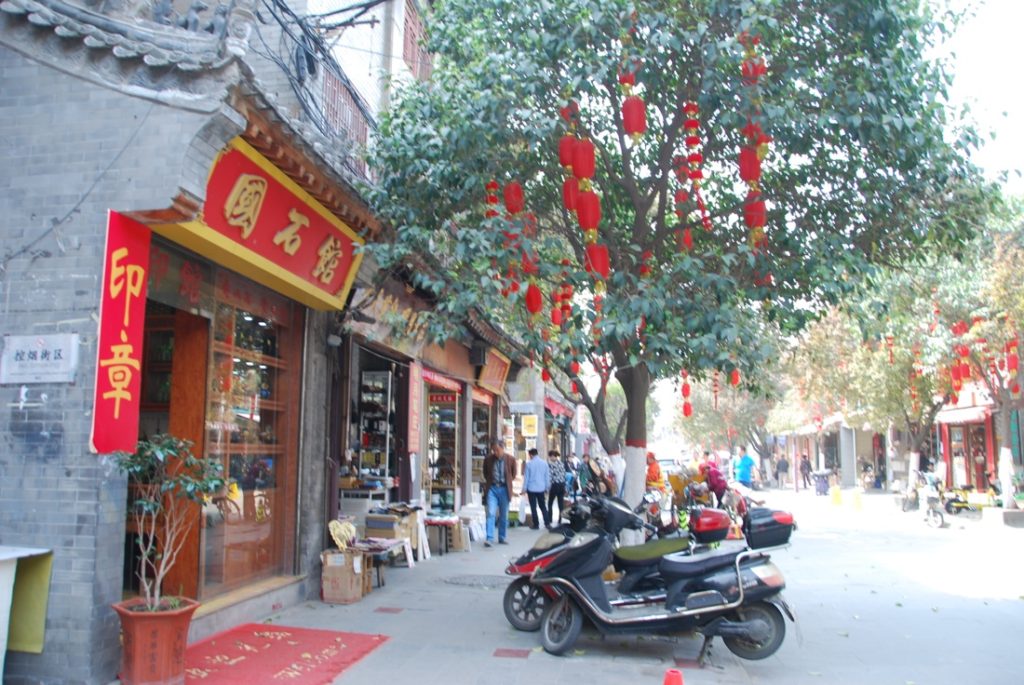 We found a big mall in Xi'an and on the top floor was an ice rink.  John, Avalon and Kaiyo rented skates and got on the ice.  Halyard and I went out in search of boba milk tea instead.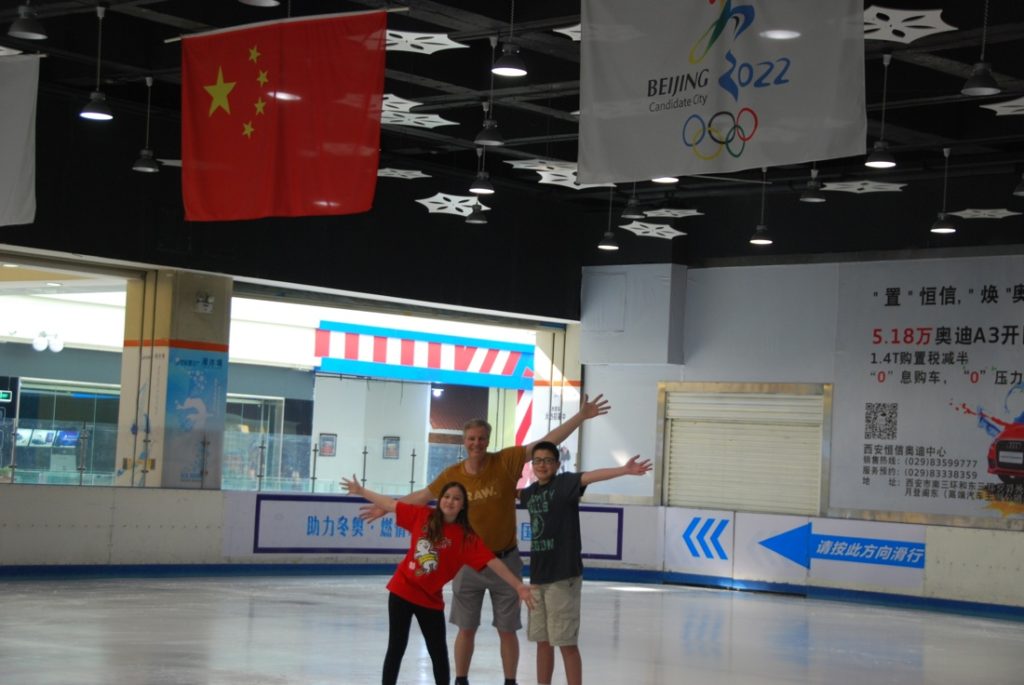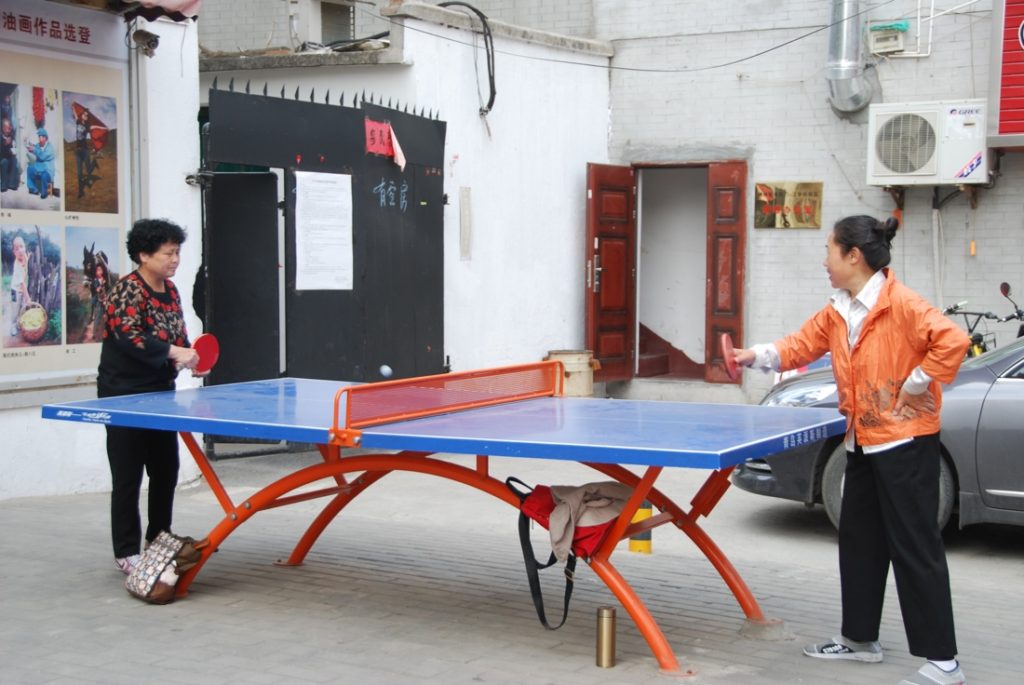 There are ping pong tables set up all around Xi'an.  It's fun.  People just come out and play whenever.  There's also exercise equipment set up around the city.  I guess Xi'an has a very active lifestyle.  Unfortunately it also suffers from unhealthy pollution and sand storms.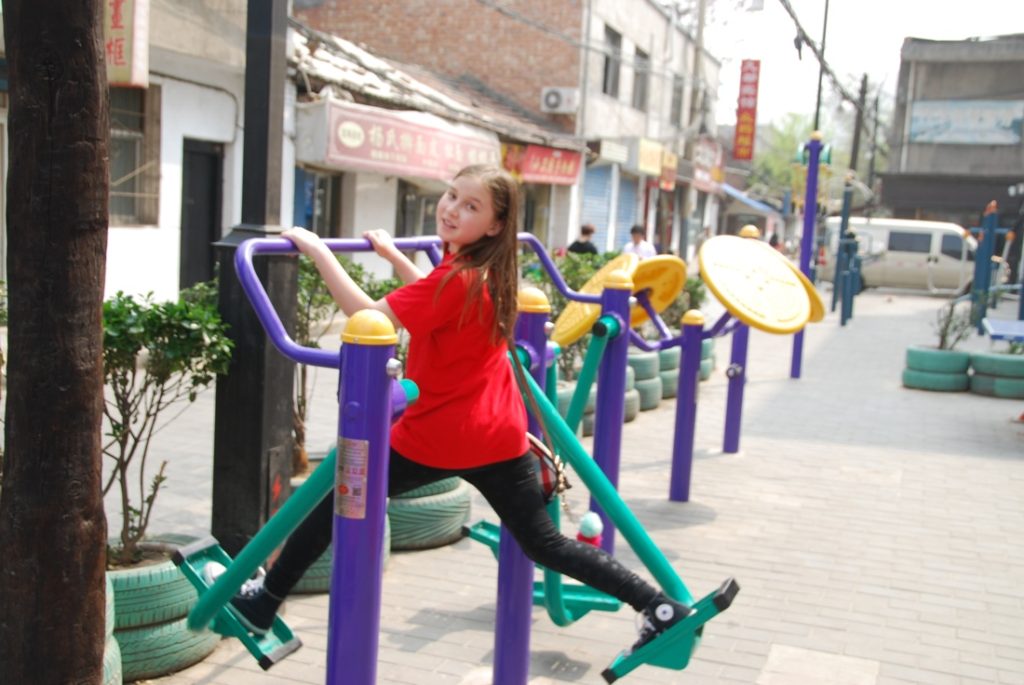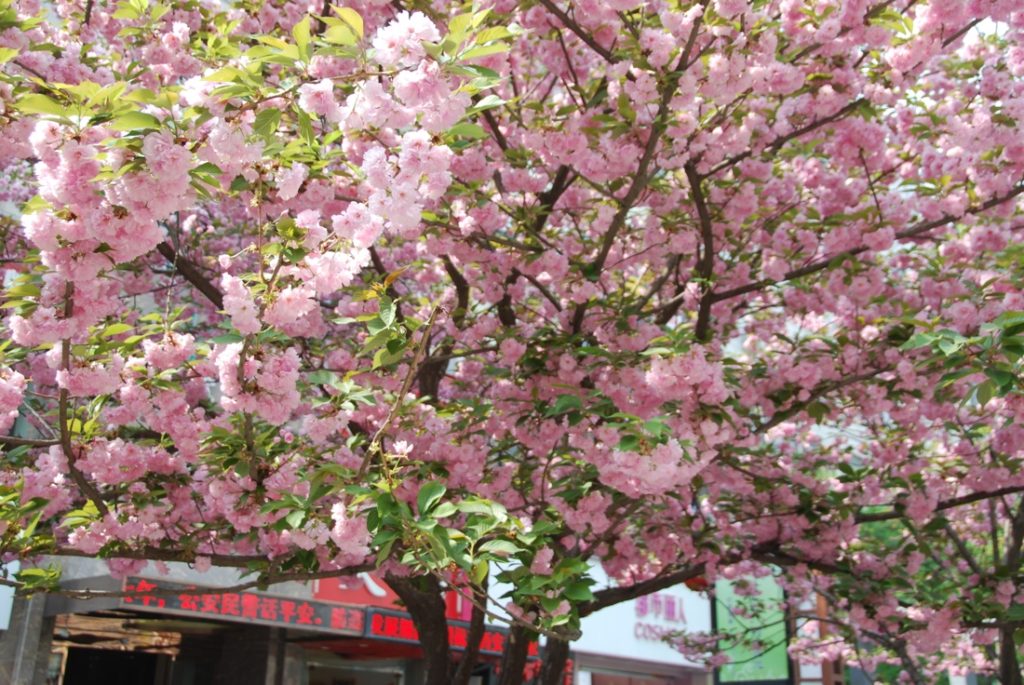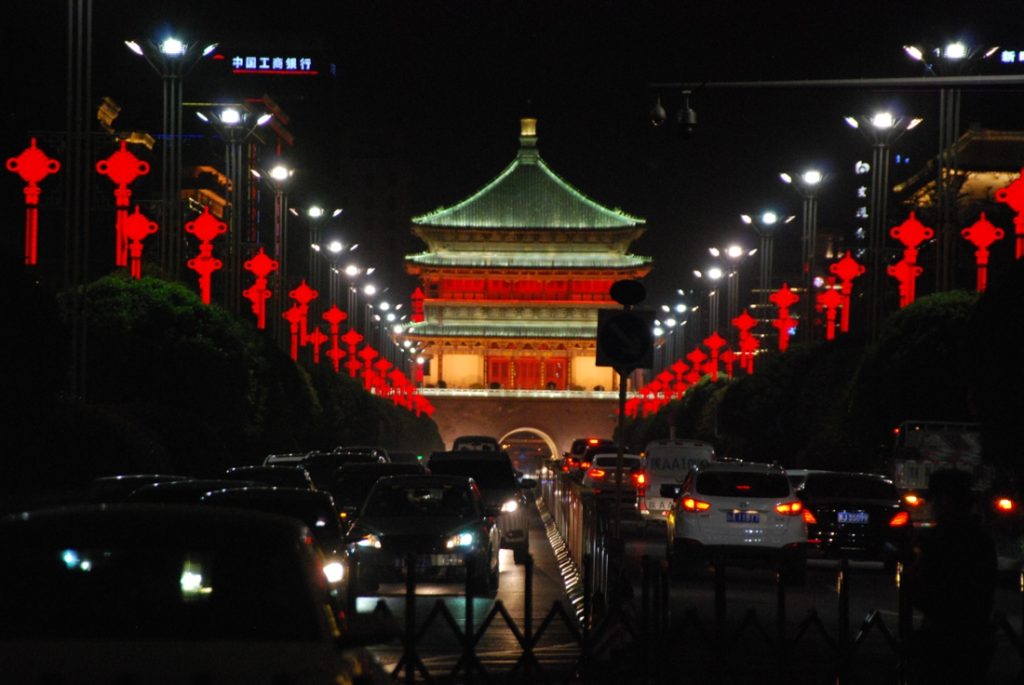 This is the Xi'an Bell Tower at night.  Below, in the distance, also lit up, is the Drum Tower.  We didn't go inside them but they are famous landmarks in Xi'an.  The last photo is the South Gate of the Xi'an Ancient City Wall.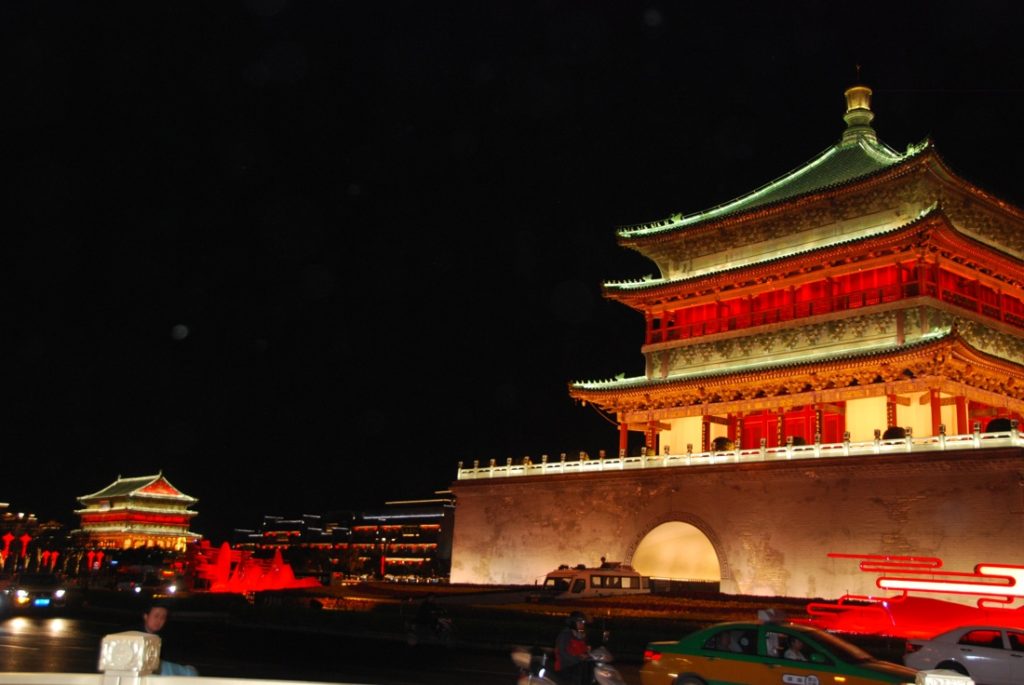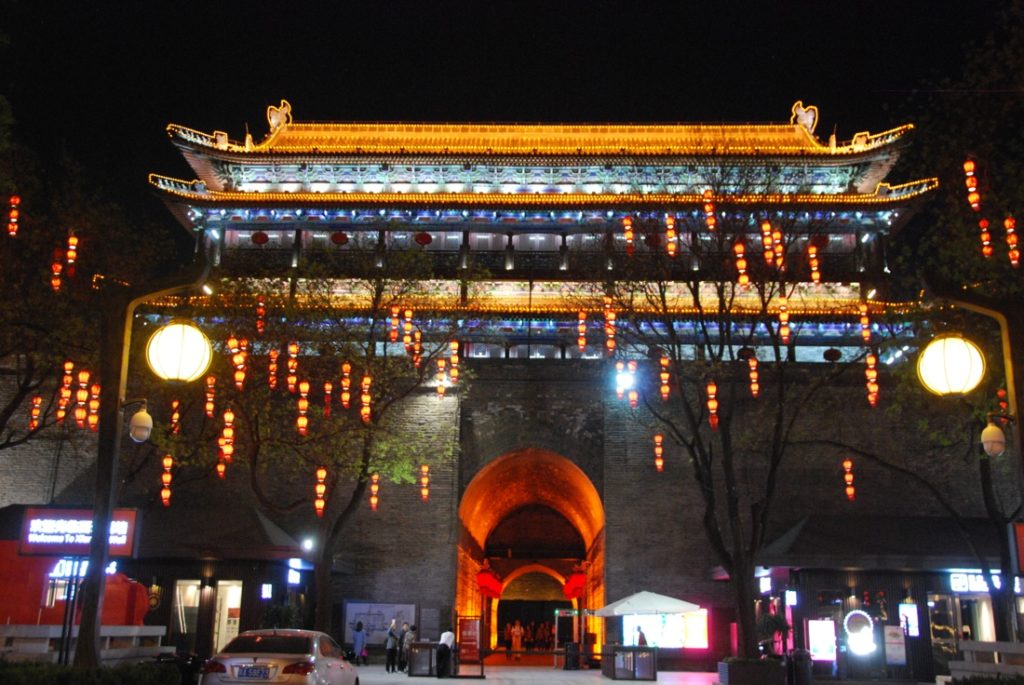 Next up: Xi'an's Ancient City Wall is towering and immense.  It would take a long time to walk all the way around.  So we rented bikes and biked on it.  We actually biked on top of the wall!