On Monday, March 20 we set off for Nagano, the site of the 1998 Winter Olympics.  The kids are on spring break for about 2 and a half weeks.  I looked at how to get from Osaka to Nagano about a half dozen different ways.  We settled on taking the Shinkansen (bullet train) from Osaka to Nagoya, which took only 50 minutes.  We barely made it though because John and Halyard had to take the cats back to the pet hotel in the morning and then they caught a taxi to the station.  I was driving the poor Japanese ticket lady crazy because I couldn't decide which train to buy tickets for.  I wasn't sure if John and Halyard were going to make it or not.  We got on the train with 2 minutes to spare!  After the Shinkansen we changed to the Limited Express Shinano train from Nagoya to Nagano.  This part took 175 minutes but it was a very beautiful ride through interesting countryside.
For the next leg of our trip we had only 10 minutes to get from the train to the express bus when we arrived at Nagano Station.  Unfortunately, the Shinano train stopped in the middle of nowhere twice, thus delaying our journey.  We couldn't understand the explanation over the PA system so we just had to be patient.  We arrived at Nagano Station exactly 10 minutes late!  We ran, with our luggage, to the east exit to try and catch the bus.  I'm pretty sure I saw our bus pulling away from the curb and driving off.
Some very nice young women in bright pink ski jackets and name badges helped us find the local train headed to Yudanaka Station.  They told us this local train would get us close, and then we could catch a bus to our hotel.  One of the young ladies even escorted us down to the train station and helped us buy our tickets from the machine.  I read somewhere that Japanese people would rather escort a person to their destination (if they can) than give them directions and set them off on their own.  This has been true with us on a number of occasions.
I love this Nagano manhole cover!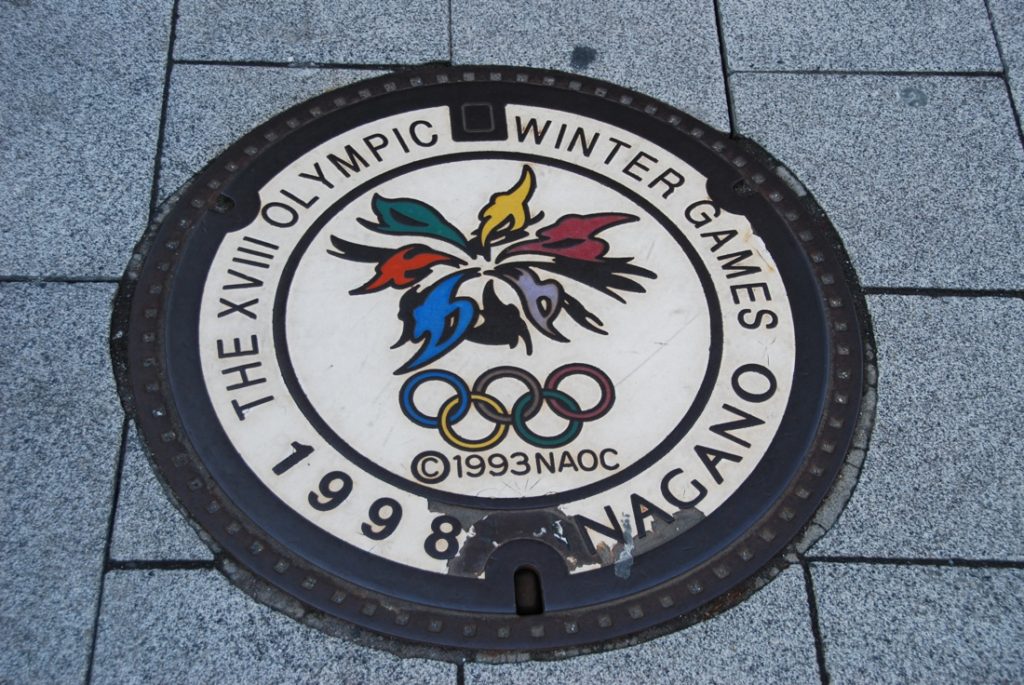 The train from Nagano to Yudanaka took about 50 minutes.  When we arrived at Yudanaka Station it was 16:45pm (4:45pm).  Our hotel's big dinner buffet begins nightly at 17:30pm sharp and all along my only goal was to make it to the hotel by dinner.  The next local bus was not arriving for another half an hour.  The price of the bus fare was 1100 yen.  Multiply times 5 and that made the bus fare 5500 yen for us.  The price of a taxi for 5 of us was 6900 yen.  Only 1400 yen difference!  We hailed a taxi and made it to our hotel by 5:10pm.  Yahoo!  We had missed lunch completely with all the train hopping so we were hungry for dinner.  Here is one of the hotel dinners (shabu shabu).  They were always plentiful and beautiful.  The dinner staff even made John and I special seafood only meals.
I researched a lot of ski resorts before settling on Hotel Khuls.  This hotel was perfect for us.  It has a ski-in & ski-out convenience.  The ski slope for the Ichinose ski run is just outside the hotel's back door and the ski ticket window is just a few minutes away.  The hotel offered us free basic ski rental (including helmets and goggles) with our reservation.  A big breakfast buffet and an even bigger dinner buffet was included in our stay.  After I discovered this awesome hotel some of our friends said they wanted to join us.  The more the merrier!  We ended up with 3 families together totaling 17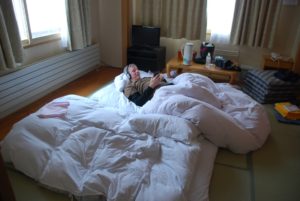 people.  Each family booked 2 rooms so we had 6 rooms total.  3 adult rooms and 3 kid rooms.  One room for big boys (3 kids), younger boys (5 kids), and a girls' (3 kids) room.  The rooms were Japanese style with tatami mat floors and futons and blankets set up on the floor.  The hotel has an onsen (hot springs bath) on the 5th floor where you can shower and have a soak or sit in the crazy, steaming hot sauna.  We absolutely loved our stay here.
We had only been at the hotel for a few minutes when the kids discovered that the ski runs outside the hotel's back door offered night skiing.  Night skiing is from 6:30 to 9pm.  The kids all begged to go after dinner.  We bought them tickets and watched them come down the slope from right outside the hotel door.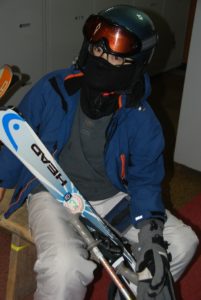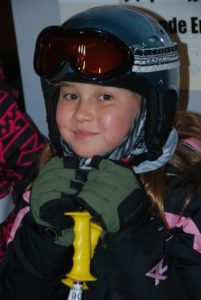 Our second day in Nagano, Tuesday, March 21, was all about skiing.  We stayed in the Shiga Kogen resort area.  The website www.powderhounds.com says: "Shiga Kogen is made up of 19 different ski resorts that are largely interlinked via the slopes and a comprehensive lift system that can be accessed off the one lift pass.  The ability to explore the many villages on skis or a snowboard feels a little European.  With 980 metres of vertical, approximately 600 hectares of terrain, and 80+ kilometres of trails, Shiga Kogen is cited to be the largest ski area in Honshu."  The terrain here is largely suited for intermediate skiers.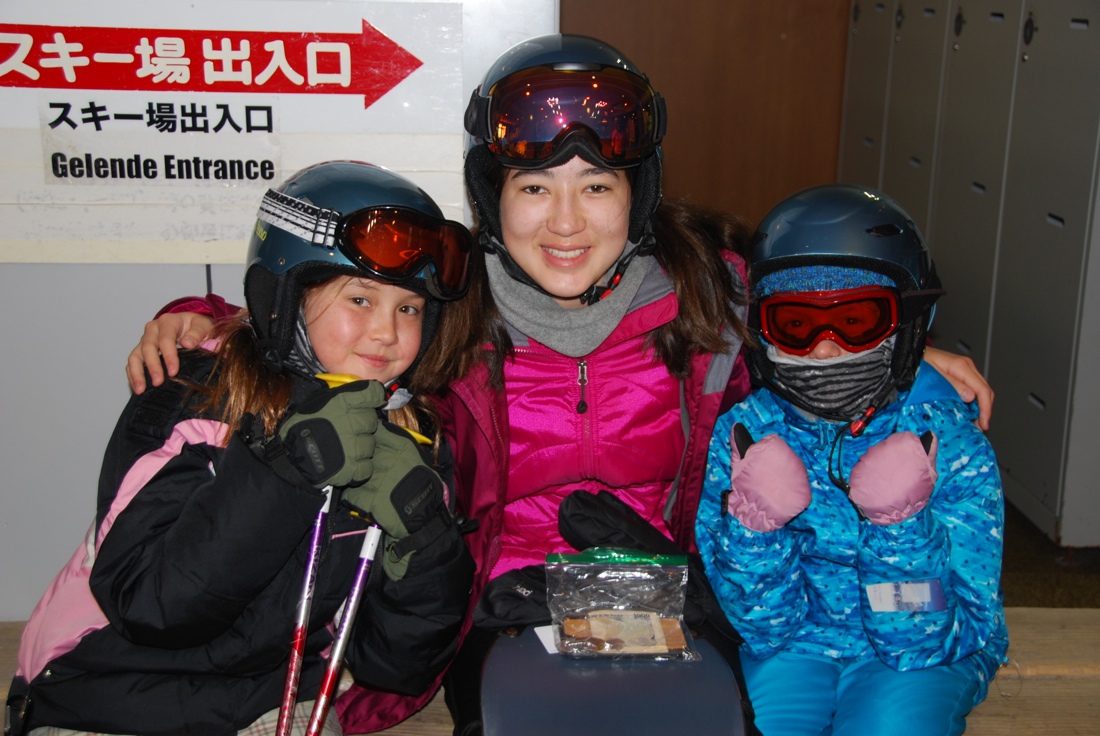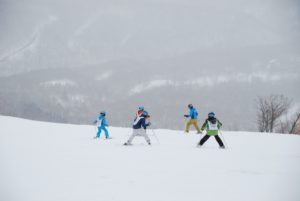 We set up the younger kids with a private instructor from Shiga International Ski School.  They came at 9am and picked up our group and took us to Okushigakogen, one of the highest elevation ski resorts in the area.  The kids had fun and my friend and I were able to get in some skiing without any kids.  At lunchtime the kids ate and played cards and chess with their ski instructors.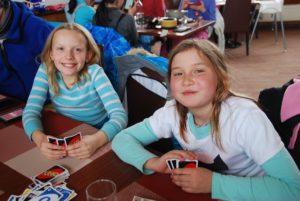 After their lessons we all skied together.  We knew the last shuttle bus was leaving Okushigakogen at 4:50pm.  The kids kept begging to go on "one more run."  One more run, and then one more run.  We finally quit and went inside.  My friend was thinking about finding the bathroom.  I looked at the clock.  It was 4:48!  I said, we have to go!  We all ran outside.  The kids were carrying their equipment in a haphazard way.  We scampered down the stairs as fast as our ski boots would take us.  Poles and skis going everywhere and barely hanging on.  One boy dropped his pole outside the bus door.  We barely made it.  The door closed behind us and the bus took off.  Phew!  Back to the hotel just in time for our dinner buffet feast.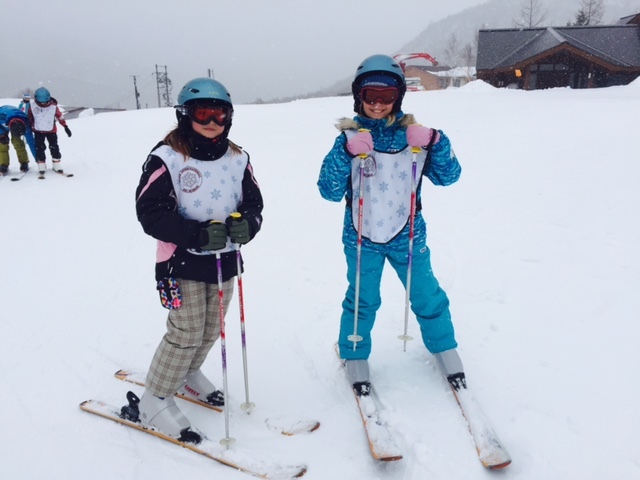 On our third day, Wednesday March 22, some of us split up on the slopes.  Avalon and her friend had another lesson with Shiga International Ski School.  Kaiyo wanted to ski with his friends.  John, Halyard and I took off for another area called Yakebitaiyama.  It had snowed a lot during the night and there was a lot of fresh powder.  It was amazing snow.  I am sure that I have never skied in so much powder before.  I tried to remember prior trips to Tahoe, Mammoth and Colorado where there might have been fresh powder but I think this trip beat them all.
Early in the day John fell into powder and all I could see was his head and the tips of his skis.  I was laughing so hard I was doubled over.  He struggled to get up from his snowy bed.  It was hilarious!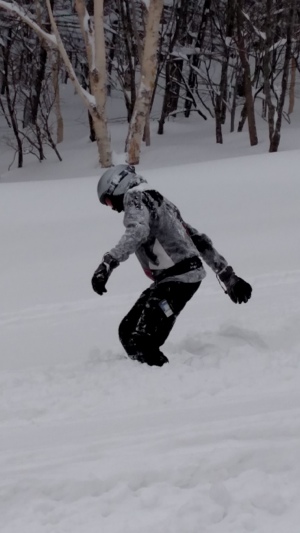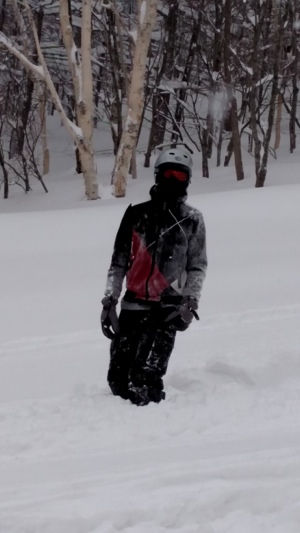 Later on Halyard also got stuck in the snow.  His snowboard completely disappeared and he was knee deep in powder.  It was hard work to get out!  One time he arrived at the gondola entrance looking like a white yeti.  He had fallen in the powder and was completely covered in a white snow blanket.
When the wind kicked up we rode the gondola that's connected to the Shiga Kogen Prince Hotel for the rest of the morning.  After lunch we went back to find the rest of our gang.  Everyone was happily skiing with friends.  It was another terrific day on the slopes.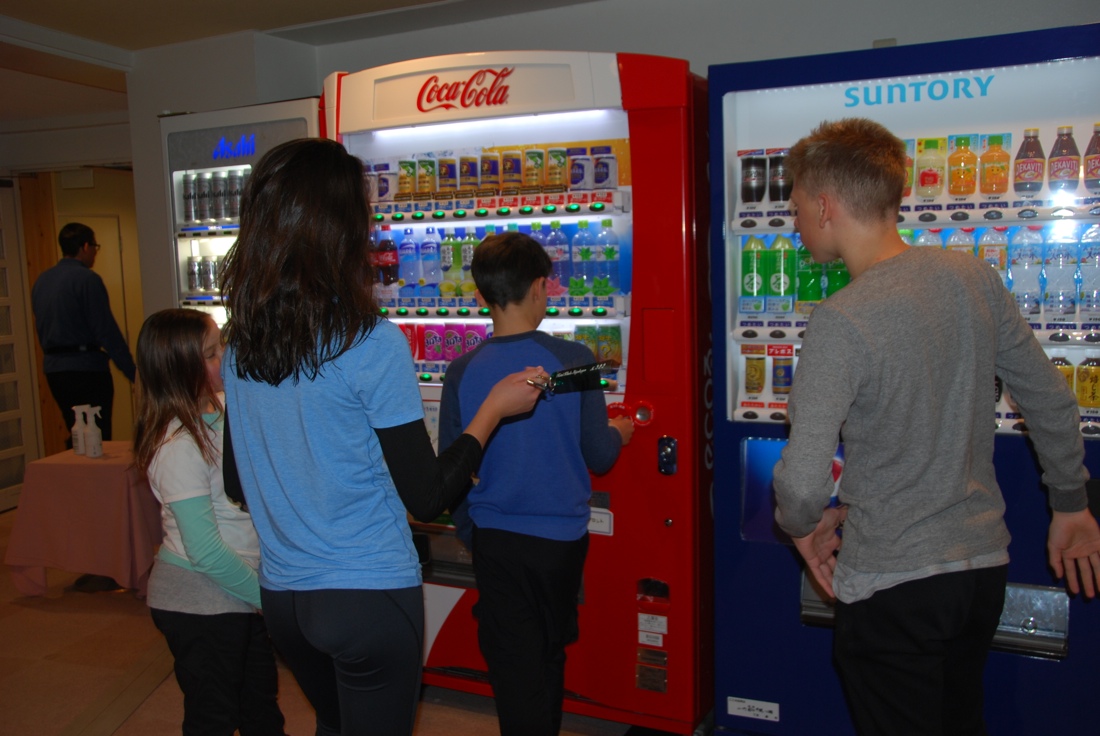 Each evening after skiing we all met in the dining room at 5:30pm sharp for dinner.  Then all of the kids and some adults went to the onsen for a shower and soak.  After that the kids gathered in the lobby or someone's room to play electronics or card games.  Usually it's no problem telling them to head to bed because they are tired out from a full day on the slopes.  And breakfast is at 7:30am sharp!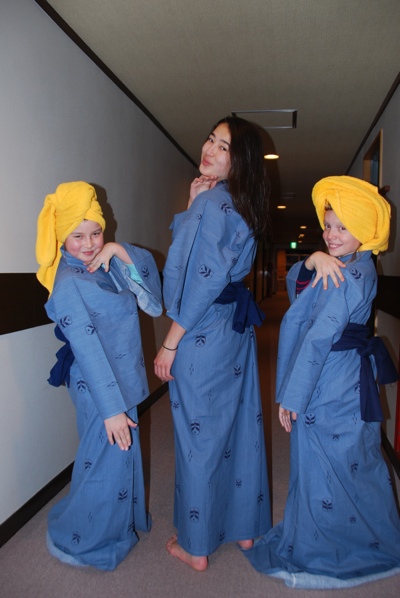 These three are so KAWAII!