The boys are so lucky to have this year at Osaka International School.  The school organizes spring camps for the middle school and upper school grades.  They get to go with their classmates on field trips to fun places that would be on anyone's tourist agenda.  This year, Kaiyo and his grade 8 classmates rode the Shinkansen (bullet train) to Hiroshima.  The trip cost 45,000 yen ($400) for 2 nights and 3 days, all inclusive except lunches.  They spent the first day at the atomic bomb museum and peace park.  In the evening they had a talk with a survivor of the atom bomb blast at their hotel.  They spent the second day on Miyajima Island, hiking, exploring and eating.  They spent the third morning at the Mazda factory watching cars on the assembly line before heading home.  What an amazing trip.
Halyard and his grade 10 class, along with some 7th graders and 9th graders, got to go snowboarding in the mountains above Hakuba in the Nagano area.  His trip cost 66,000 yen ($595) and included everything except dinner on the way up and on the way home, plus extra options.  They left on a school bus immediately following the end of the school day and the bus rolled in to the resort at 11:30 pm.  He was away for 3 nights and 4 days.  Halyard said he got to snowboard and received free lessons for 3 days.  How lucky is that!
[The 11th grade class went on their annual community service trip for one week.  Every year they go to a different location.  Last year the class went to Bali and this year they went to Cambodia.  The 12th graders went somewhere too, but I'm not sure where.]
The elementary school had some fun activities planned since they had the whole campus to themselves.  All of the upper graders were away.  Even so, we decided to take Avalon on a special trip while her brothers were gone.  Where to go?  I researched Hong Kong, Okinawa, Shanghai.  I settled on Seoul, South Korea.  Why Seoul?  Because the airfares were cheap, the sights looked interesting and the flight time was less than 2 hours.  And Avalon loves shopping, too.  Along with Kuala Lumpur, I'd heard that Seoul has great shopping.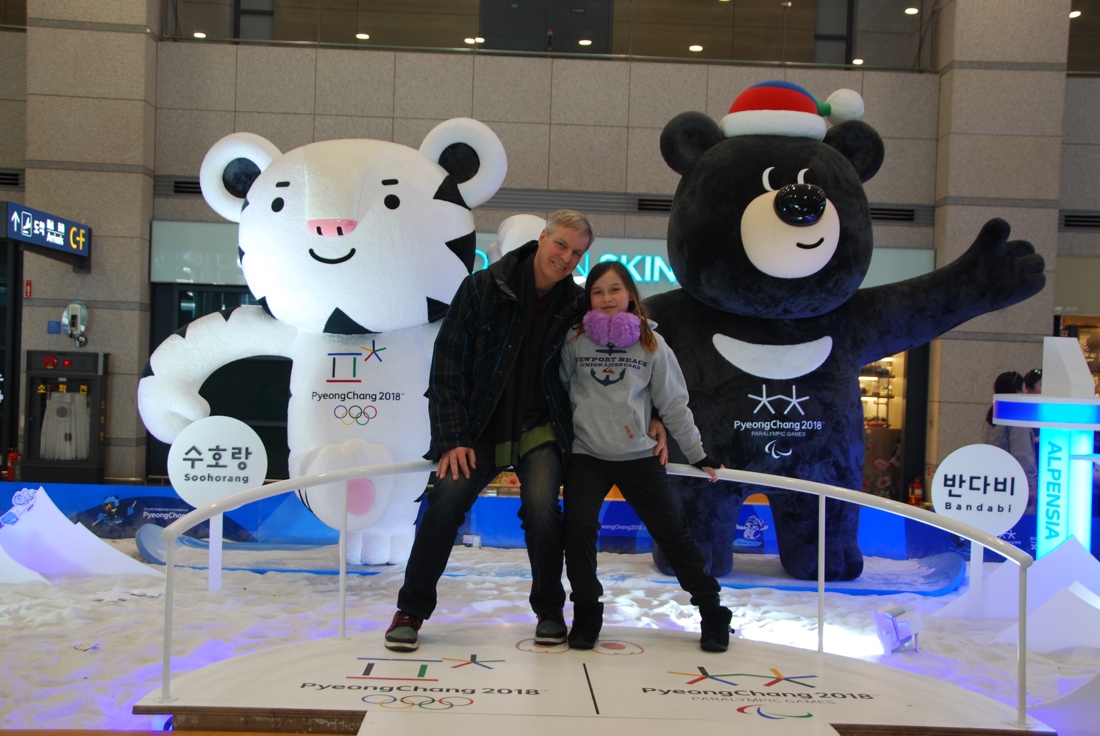 So instead of going to school, Avalon went to Kansai International Airport and we took off for Seoul's Incheon Airport (pictured here).  Of course that also meant the cats had to go back to the pet hotel.  At this point Maneki has been sneezing a lot so we took him to a vet just in case he has a head cold!  The vet gave him antibiotics to help with any infection and the pet hotel folks had to give it to him.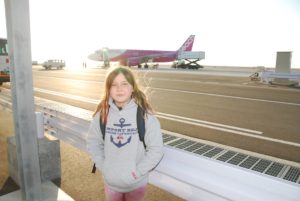 Our first day in Seoul was Wednesday, March 15.  The flight was 1 hour and 45 minutes.  We flew Peach Airlines, and – special treat for Avalon – we boarded the plane from stairs on the tarmac!  No jetway.  It was fun to march across the tarmac and climb stairs to the airplane like a VIP.
After we arrived in Seoul we checked in to Bibimbap Guesthouse.  This is a funny name because bibimbap is actually a type of Korean rice bowl.  It literally means mixed rice.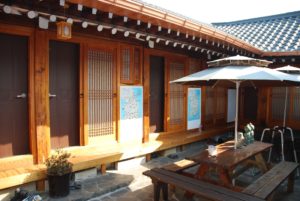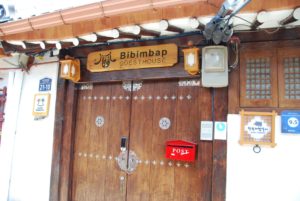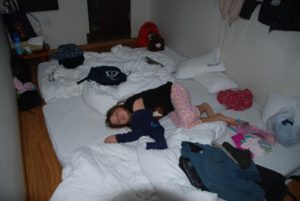 Bibimbap Guesthouse is a hanok, an old traditional Korean house.  Leo our host says his house is 100 years old.  But it has been refurbished and updated.  Our room is teeny tiny!  It only has space for 3 futons and the ability to walk a narrow line around the futons.  John says the space is just like being on a sailboat.  The terrific thing is that this guesthouse is in a perfect location.  It is literally 2 minutes from the subway stop and about 15 minutes from several famous Seoul sites.
On our first afternoon we went to Insadong.  This is a neighborhood with a very local feel and lots of little shops, cafes, juice bars, restaurants and street vendors.  One thing I noticed about Seoul is that there's coffee, tea, and dessert shops about every 3 stores or less!  We ate a hot, gooey fried snack from a street vendor.  It was a large, flat circle and had the texture of a donut on the outside and inside was a melted sugar, nuts, cinnamon, sesame mixture.  Avalon burned her tongue.  One blogger wrote, "Our favorite is the cavity-inducing kkul hotteok, especially when the honey filling includes a generous helping of crunchy brown sugar."  I'm pretty sure that's what we were eating.
We had lunch at a terrific restaurant near our place.  Avalon ordered Bulgogi hot pot, I ordered soon tubu, and John ordered oyster soup.  The meal came with the typical 4 or 5 little pickled and spicy veggie side dishes.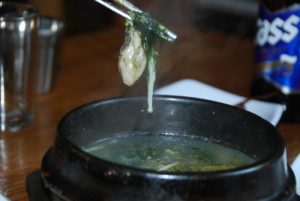 My soon tubu was delicious.  One of the best things I had in Seoul.  Avalon loved her bulgogi hot pot because it was full of Korean beef and not spicy in the least.  But John's oyster soup looked and tasted like someone had put a ladle in the sea and scooped out the eel grass, kelp and little bits of stringy seaweed.  It was salty and tasted "seaweedy," John said.  Both of our pots are pictured here. Guess which one is soon tubu and which is seaweedy oyster soup.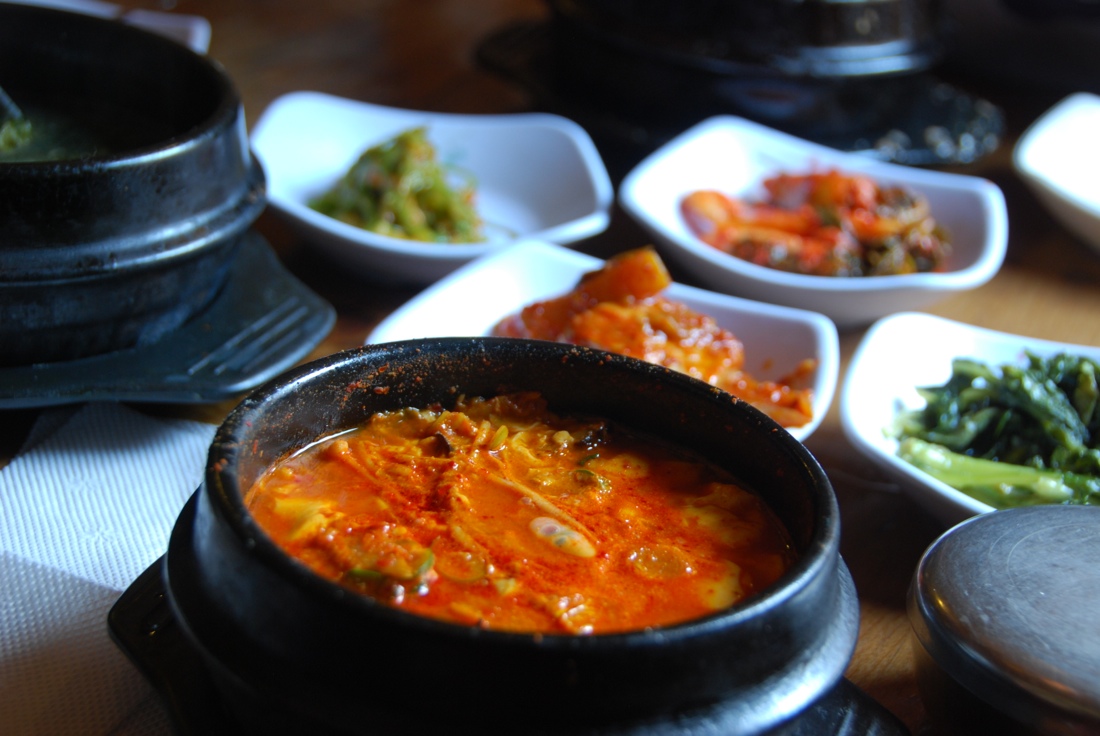 In the evening we walked from our guesthouse to the Cheonggyecheon Stream.  This is a man-made stream that runs along the center of the city for 5.8 km/3.6 miles.  It was a nice walk and you could hear several other languages being spoken along the way.
Leo said he serves breakfast from 8-10am in his guesthouse kitchen/eating area.  I had read in online reviews that it is a traditional Korean meal and that it is tasty.  So in the morning we went to the kitchen to see what was being served.  Well Leo made us bibimbap of course!  He said it's not traditionally breakfast fare but he wants all of his guests to experience bibimbap so he makes it every morning.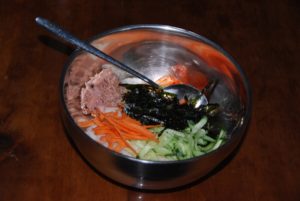 Bibimbap is essentially a bowl of rice with various toppings.  Then you put bibimbap sauce on it and maybe sesame oil and seeds or soy paste and then you mix it all together and eat it.  Even though you put whatever you want in it, kimchi is an essential ingredient I think.  Here's my bowl before I put sesame oil and sauce in and stirred it up.  It was pretty darn surprisingly good!  Even Avalon ate her own version of it with just a few toppings (kimchi included) and no sauce.
After breakfast we hopped on the Seoul City Tour Bus.  This bus takes you around the city and you can get off and on wherever the bus stops.  There are 22 stops along the Downtown Palace route.  It was great.  Avalon and John even got to take naps on the bus!  They obviously needed the downtime so the bus was the way to go.  We got off at Namdaemun Market, Dongdaemun Design Plaza, Namsangol Hanok Village and we ended at Changdeokgung Palace, but it had already closed for the day.  While they slept on the bus I got to see a lot of Seoul from the bus windows.  I highly recommend the city bus tour for a first time trip to Seoul.  Especially with young children (or Dads) who might need a nap.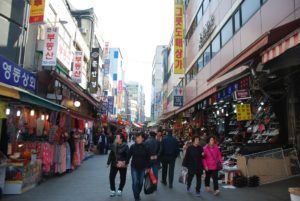 Here is Nandaemun Market.  It is bursting with people even on a Thursday late morning when we were there.  John wondered where and when everyone works if so many people are out shopping in the middle of the day.  We can't imagine how all of this merchandise can possibly get sold.  The amount of shoes, trinkets, fake label products and so on here is unbelievable.  We walked down a narrow food aisle and every shopkeeper tried to lure us in with their "English Menus."
Outside of the Namsangol Hanok Village (photos also pictured here) we ate lunch at a Spanish restaurant.  It was on the second floor of a busy street corner and the walls were glass.  So we had a great view of the downtown street while we ate.  John had octopus mac-and-cheese, I ate gambas al ajillo and Avalon ordered chicken with parmesan.  Delicious!  Seoul has been nothing but one delicious meal after another (except John's soup from the sea perhaps).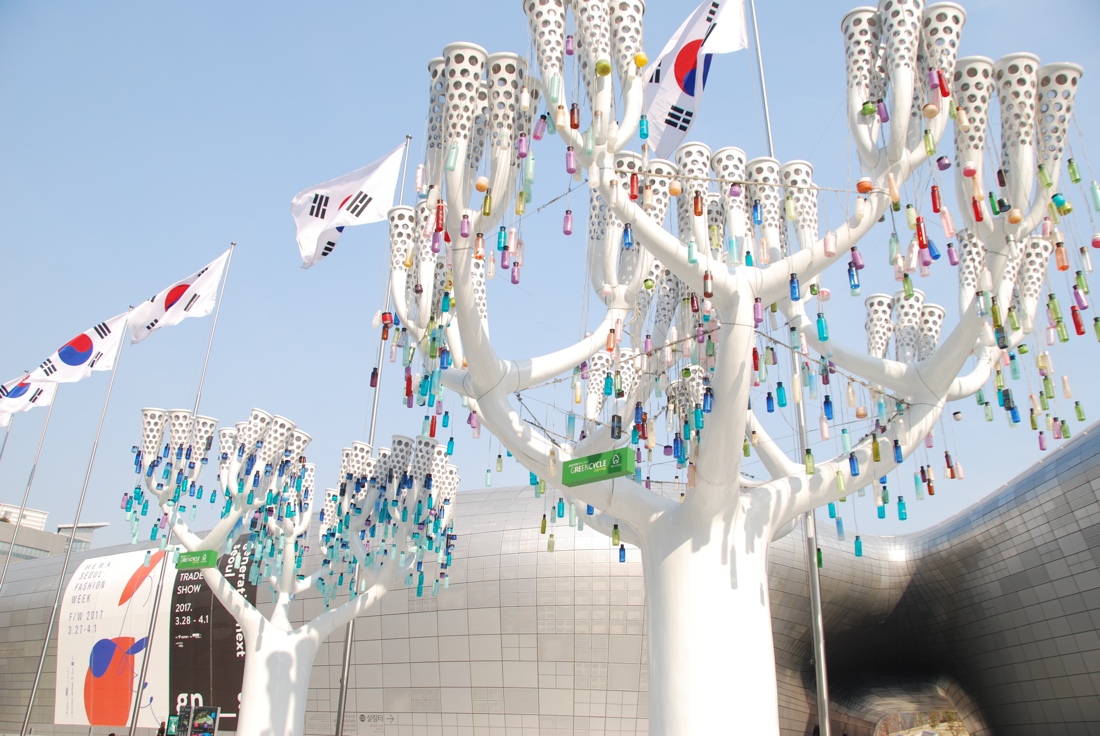 This is in Dongdaemun Design Plaza.  I love this tree art.  Those are colorful recycled plastic bottles hanging from the tree.  When we came by again near sunset we saw that the bottles light up inside!  This area is a fashion mecca.  There are a lot of shopping malls in a close area and a lot of upscale Korean fashion can be found here.  Dongdaemun caters to the young and hip crowd as well as lots of tourists.  However, at a large department store here, the sales staff hovered over me.  It was claustrophobic.  One salesman even pushed the hangers for me as I browsed through some shirts.  I asked a lady if I could try on a shirt.  She said no.  There was no trying clothes on.  What?  How can I buy something if I can't try it on?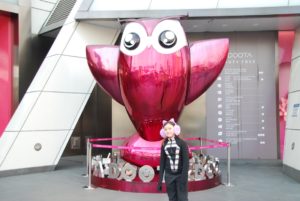 Here is Avalon in front of one of the department stores.
After the eating and the bus riding Avalon wanted to go back to Insadong for more shopping.  She bought gifts for her brothers and gifts for her class friends.  And one big memento for herself.  We saw at least a hundred mother-of-pearl inlaid lacquer boxes.  She inspected many of them.  In the end she bought herself a dark red one that opens to reveal 4 small drawers.
John was getting tired of shopping so I told him to go a traditional tea and dessert cafe that I'd seen to have a cup of tea.  We could catch up with him later.  The cafe was cozy.  It had wooden benches with cushions and lots of plants and art on the walls and unique light fixtures and old wood floors.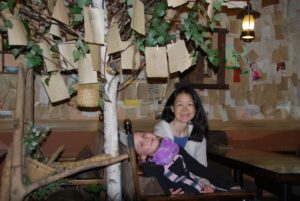 Every table had a glass table top and there was a pad of paper on each.  You could write a message on the pad and rip it out and attach it to the walls or place it under the glass table top.  There must have been thousands of papers stuck everywhere!  Even hanging from the trees.  John's ginger tea was delicious.  He asked to buy some to take home.  We told them we had to take it on the plane so we had to be careful.  He put our tea in two glass jars and wrapped them up in bubble wrap and paper and off we went.
We found a nice restaurant for dinner.  John and I shared grilled udon and vegetables.  Avalon ate fried chicken.  But the most memorable thing about this restaurant, for me anyway, was the menu item "pupa soup."  When I looked at the photo on the menu I thought, that can't be what I think it is.  I asked a young man on staff, what exactly is pupa soup?  He said he didn't know how to describe it in English and said he would bring me back some photos.  He came back a few minutes later with his phone.  It's called beondegi.  It's worms… silkworms to be exact… in the pupae stage.  All boiled up and waiting to be eaten in this soup.  His phone had lots of pictures on the screen.  One picture was of the cover of The Very Hungry Caterpillar for goodness sake!  This young man also said he does not like beondegi soup.  He says it smells very bad and he would not recommend it to foreigners.  Sound advice!  I'd post a photo of it here but the image is still giving me nightmares.
Later, after returning home I looked up beondegi and discovered it's also a popular street food.  It does not look appetizing to me.  Steamed or boiled, I just can't imagine eating pupae.
Here are some more seriously wacky food things we saw on the streets of Seoul.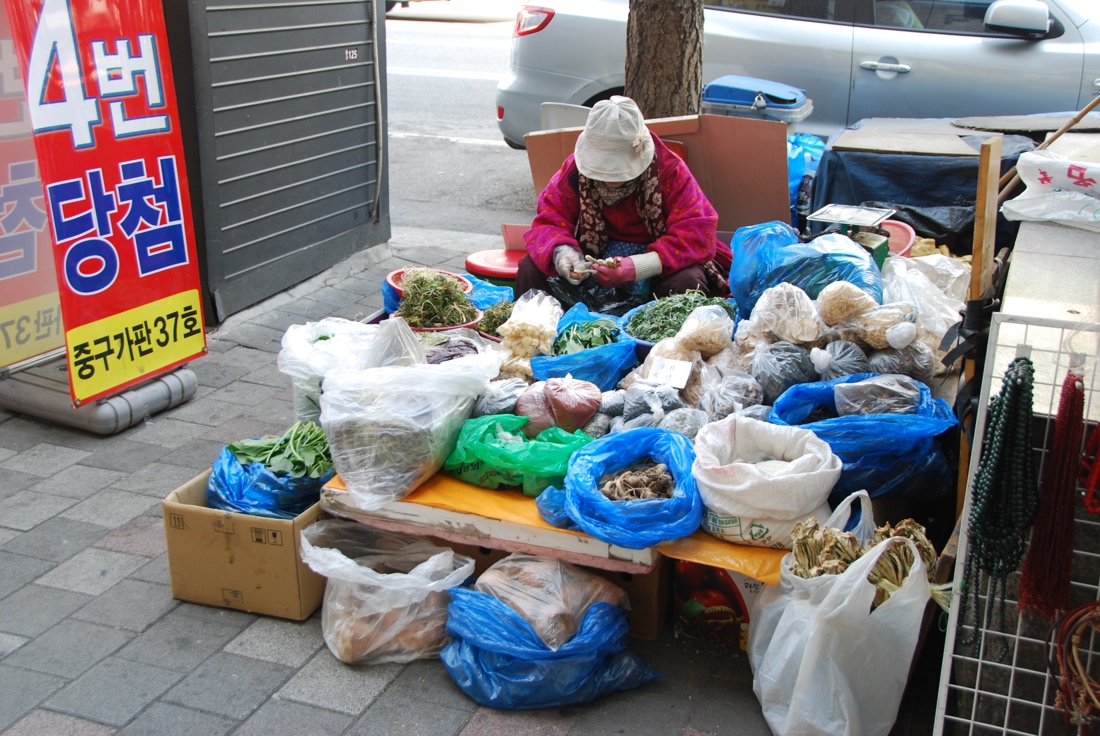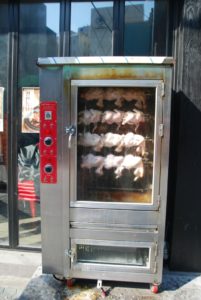 What we have here is whole chicken being roasted on the sidewalk.  Every time we walked by we could monitor the progress of the chicken.  Eels are very popular and there are many, many tanks outside on the sidewalks.
If you can't tell, the other photo is live baby octopuses.  I find this very creepy.  Octopus is used in so many Korean dishes.  In particular, some people like to eat a dish called san-nakji.  This is the eating of live octopus that has a been cut into small pieces while still alive and the pieces are still squirming on the plate when served.  You have to chew it very carefully and completely.  From Wikipedia, "Because the suction cups on the arm pieces are still active when the dish is served, special care should be taken when eating san-nakji. The active suction cups can cause swallowed pieces of arm to stick to the mouth or throat.  This can also present a choking hazard for some people, particularly if they are intoxicated."  Adding on to that, here's a quote from the website munchies.vice.com.  They've interviewed an octopus expert on the pain that the octopus might be feeling when eaten alive.
"If you've got pieces of arm, because there's so much local control, they might react to the painful stimuli that they get, but they're probably not exactly "feeling pain," because they're disconnected from the brain. But the octopus, which you've been chopping to pieces, is feeling pain every time you do it."  Boiled pupae and live octopus!  Oh my.
On our last day, Friday, March 17, we got up early because I really wanted to see Changdeokgung but it had been closed when we went earlier.  I wanted to see the palace's famous "Secret Garden."  After a breakfast of Leo's homemade bibimbap, and Avalon's leftover chicken, we set out.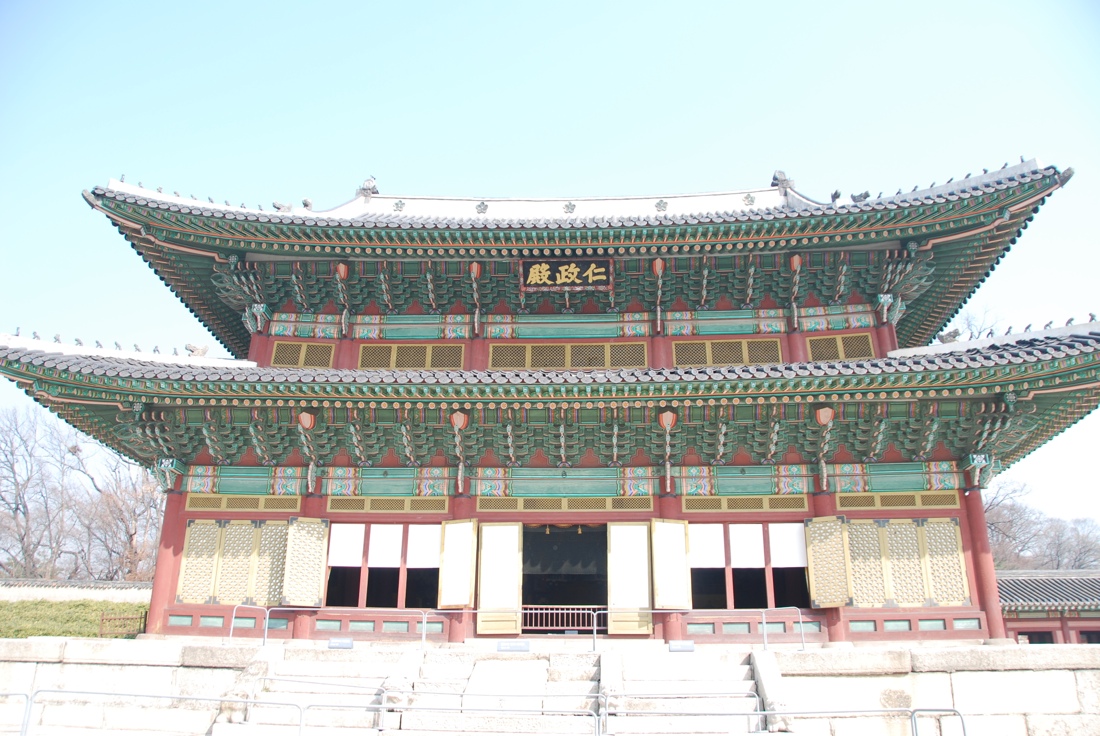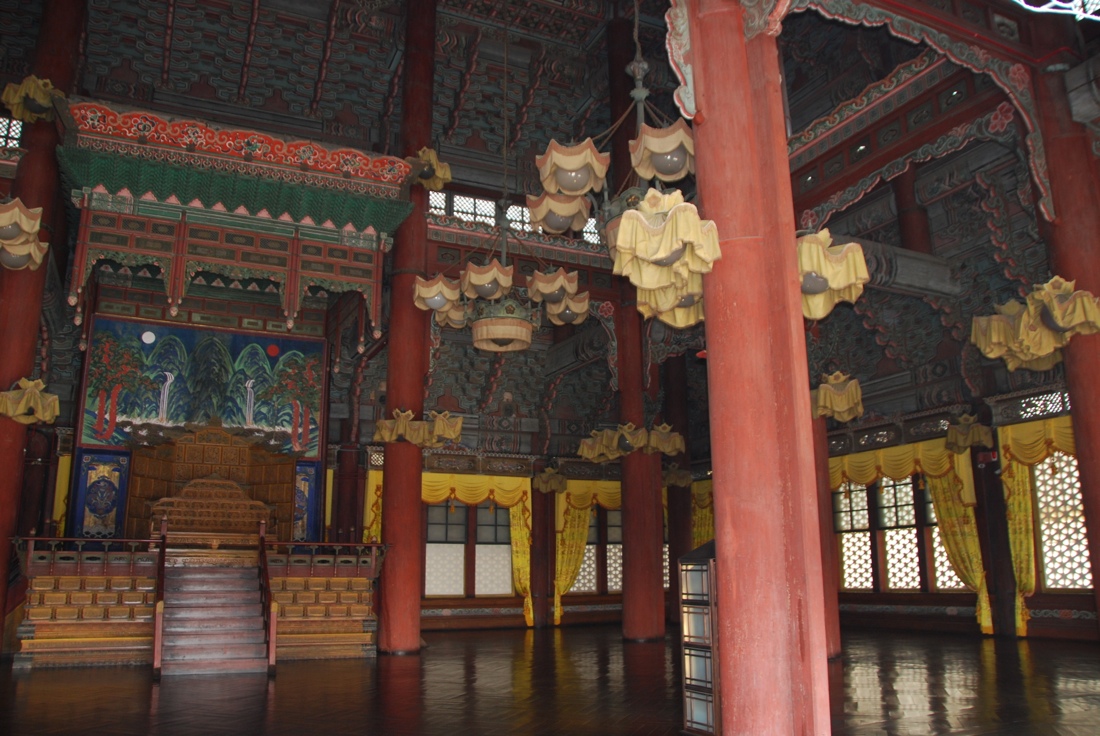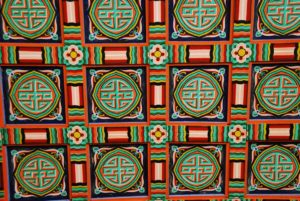 Changdeokgung is walking distance from our guesthouse.  We absolutely loved our location.  Unfortunately, the Secret Garden could only be seen with a guided tour and we didn't have time to go on a 90-minute tour and catch the airport bus on time.  But the palace was very interesting and huge in itself.  I'm trying to limit the photos of this palace but there were just so many cool areas and things to explore.  We walked around for an hour and saw all of the grounds.  Along the way Avalon lost her tooth!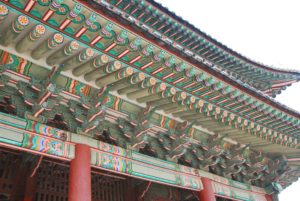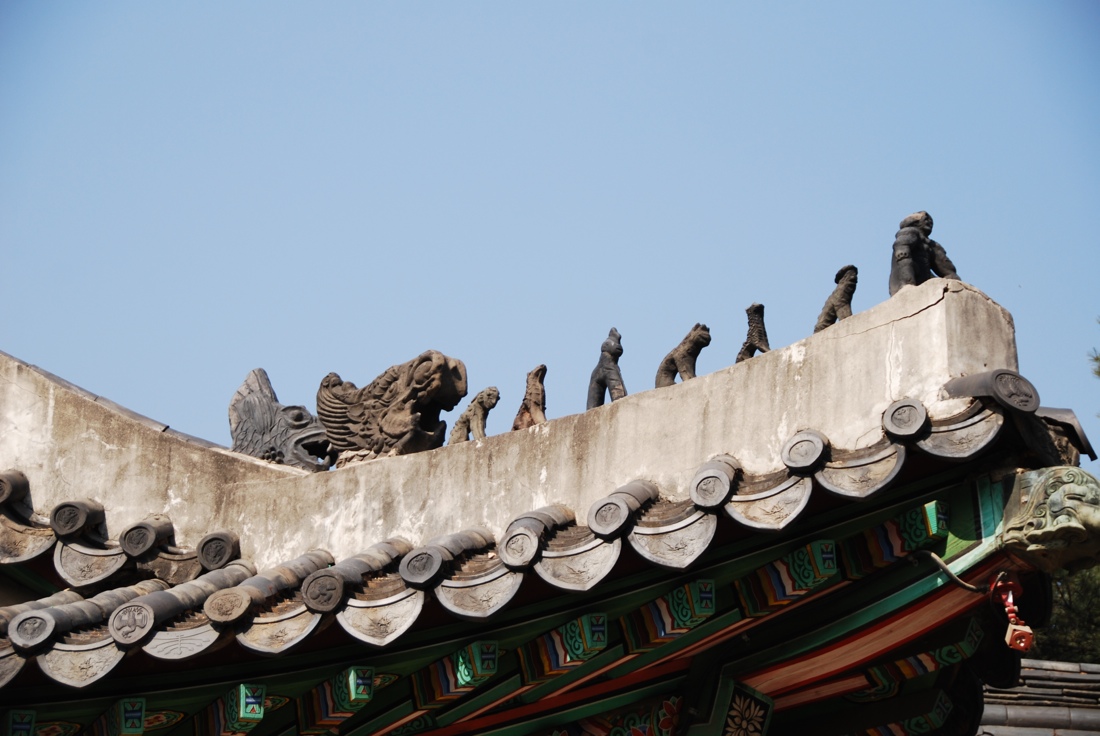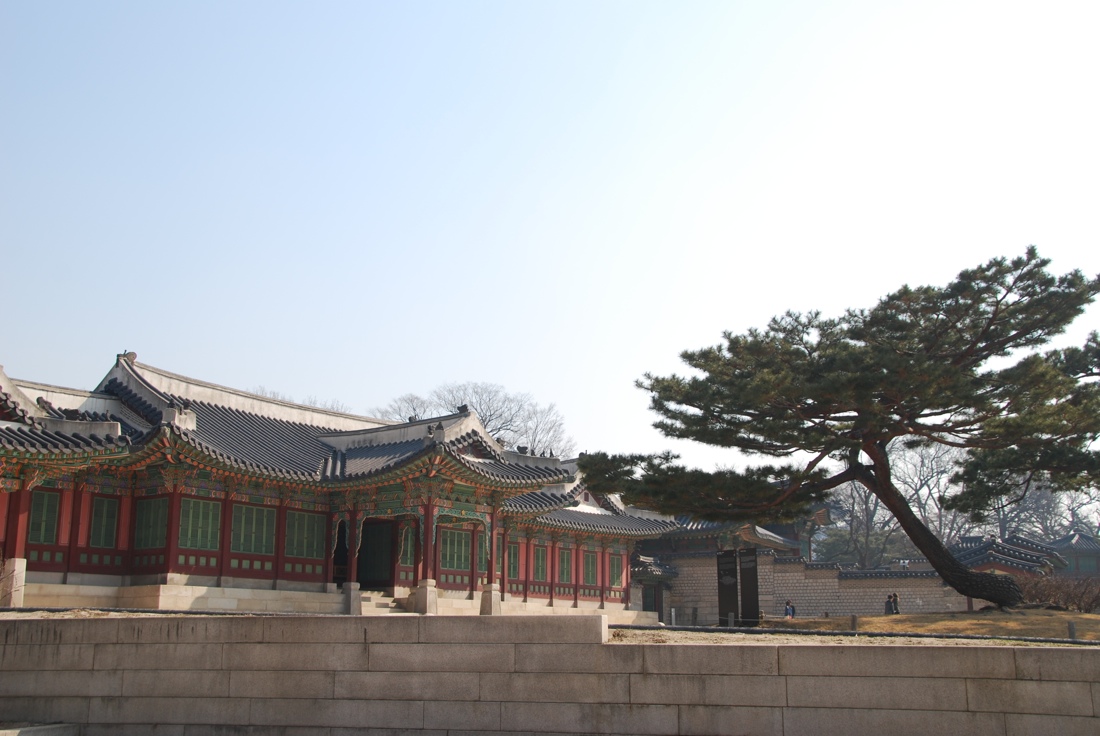 Afterwards we walked back to Bibimbap Guesthouse and said good-bye to Leo.  Before we left Leo let us try on his traditional hanbok Korean clothes.  It was fun playing dress up in his fancy dresses.  By the way, Leo is in his 20's and he bought this guesthouse and runs it pretty much on his own from what I could tell.  I admire his entrepreneurial spirit.
Despite the fact that Avalon didn't get the required hours of sleep that she needs (We often heard, "This is why I hate to travel with you!" and she even said, "This is like Hell!" at one point!) we all had a great time in Seoul.
What I learned about this corner of the world is that the food is awesome.  The people are very friendly and helpful, but not as polite as in Japan.  I got jostled and bumped a lot on the street and in the train station and it seems pretty much normal for people to run into you without so much as a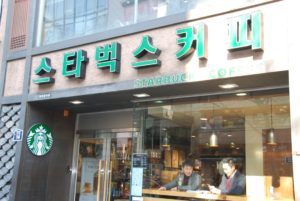 glance.  The subway was really clean.  But the streets outside were not clean.  Lots of muck and cigarettes and trash and stickiness about.  There is either a coffee shop, tea house, sweets cafe or beauty and skin care store everywhere you look.  Starbucks can be found quite possibly as easily as in the US.  This unique Starbucks is located in Insadong.  I read that there's a bylaw in Insadong that all business signs must be written in Hangul, the name for Korean script.  There's some debate on the internet over the enforcement of this bylaw, but at any rate seeing Starbucks in non-Roman script is fun.
I hadn't had a lot of previous experience with Korean food so this trip really expanded my culinary knowledge and tastebuds.  We loved the food we ate here.  Turns out their food is actually a lot more than just kimchi and Korean BBQ.  We also sampled Korean "pancakes" with leeks and seafood.  And we found a small local handmade ice cream shop run by a young man in his 20s.  He said he makes new flavors everyday.  And his store was only 8 months old.  My favorite flavor was the white chocolate that he made especially for White Day (March 14).  Again, impressive entrepreneurial spirit.  But I just can't get the pupae and live baby octopuses out of my head.
No K-Pop though.  Bummer.  We will have to experience that next time.  We asked Leo about trying to find a concert or live venue somewhere but he said there was nothing that he knew of and maybe it's not the K-Pop live concert season.
And, I also learned that airport security is still getting the best of me and from me.  When we were at KIX leaving Osaka, airport security took away my brand new tube of AMERICAN CREST TOOTHPASTE!  I looked at her with sad eyes and made teeth brushing motions with my hand.  She wasn't swayed.  She also took a nice tube of lotion that I had bought in Sapporo.  On the way back home, at the airport in Seoul, our two jars of awesome tea that we'd bought at the Korean traditional tea house got taken too.  We didn't know that they had put liquid in the jars before they wrapped it.  We thought it was dry tea that we had bought.  The security personnel probably thought we were trying to pull a fast one on them.  What???  There's liquid in my tea?  You're kidding!