Tuesday, July 11.  Another early morning wake up call.  We are getting picked up by our transport van at 7:30am so we have to be down for breakfast at 7am.  It's an hour ride to Patara so we can have another sleep in the van, if I can take the phones away from the kids they can rest, too.  John isn't feeling well today so he has decided to stay behind and relax at the hotel.  Our van has another couple of girls from Mexico who are traveling around Asia.  After Thailand they'll go to Cambodia and Singapore and then return to Japan before going home to Mexico.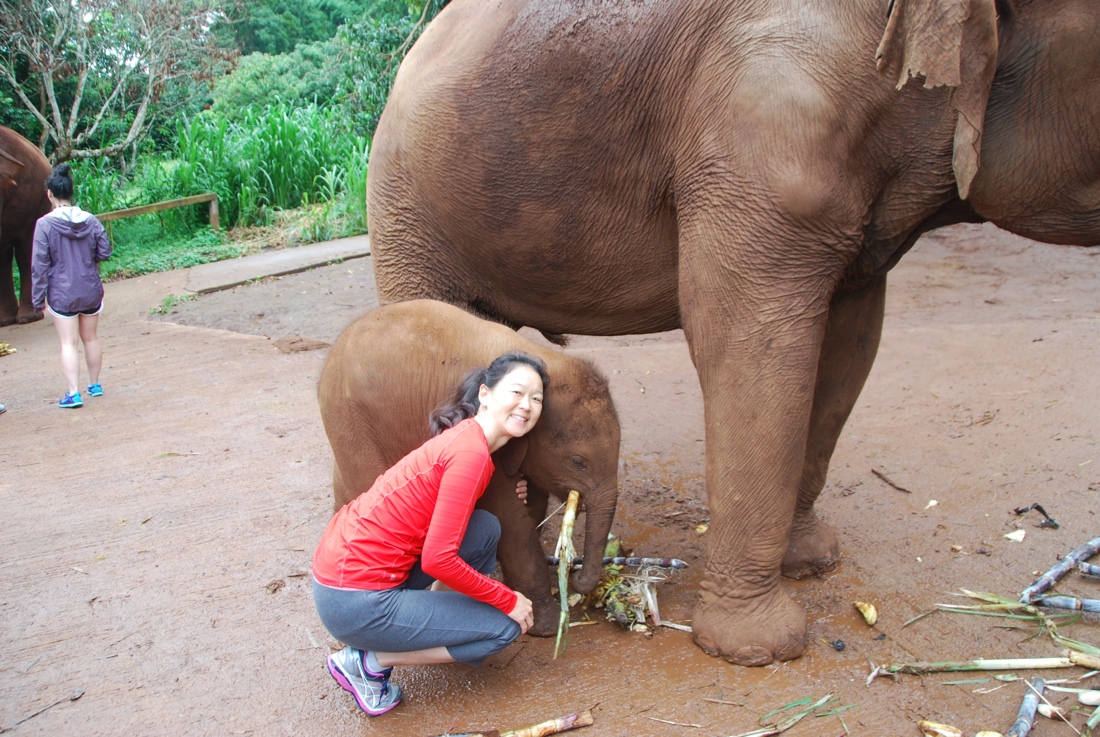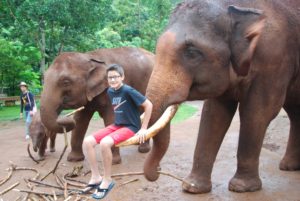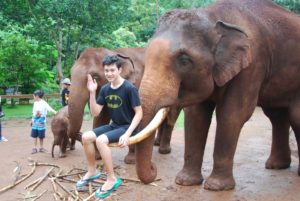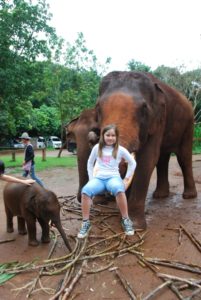 When we arrive at Patara there is an elephant family there to greet us.  It's a mother, father and 4-month old baby.  The staff are encouraging everyone to play with the baby.  Avalon is taller than the baby elephant!  It's so cute.  The elephants are friendly and the baby wants to play. They are munching on large stalks of something.  A Spanish guest takes a stalk, breaks it in half, squeezes it into his mouth and announces it is sugar cane.  After we all play and take photos we take a short hike down a dirt path to a pool of water.  There we are all assigned to our very own elephant which we will take care of for the afternoon.
In the orientation after we arrived, Patara explained their mission and the role of the guests in great detail.  I know there's a lot of discussion around the treatment of elephants, how to preserve them, how to let tourists interact with them and so on.  Frankly, one of the reasons I chose Patara is because my childhood friend Karen recommended them to me but after I did research on this group I feel that they really have the elephants interests as their number one concern.  Their motto is "Extinction is forever.  We're not letting it happen."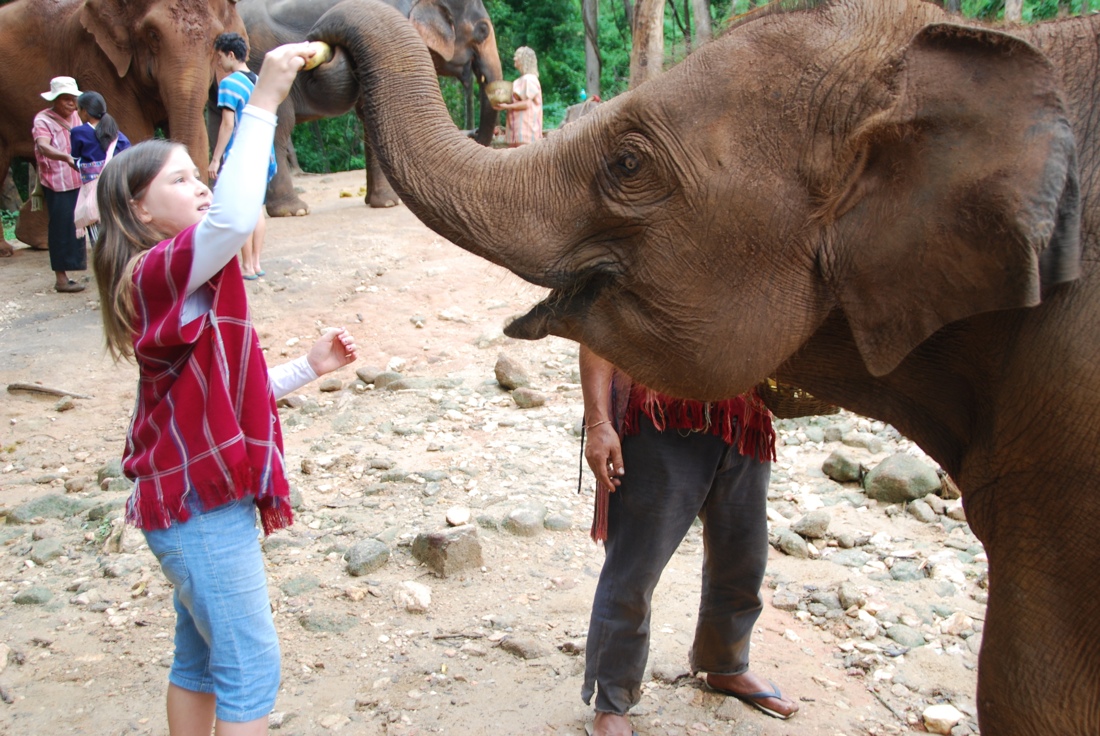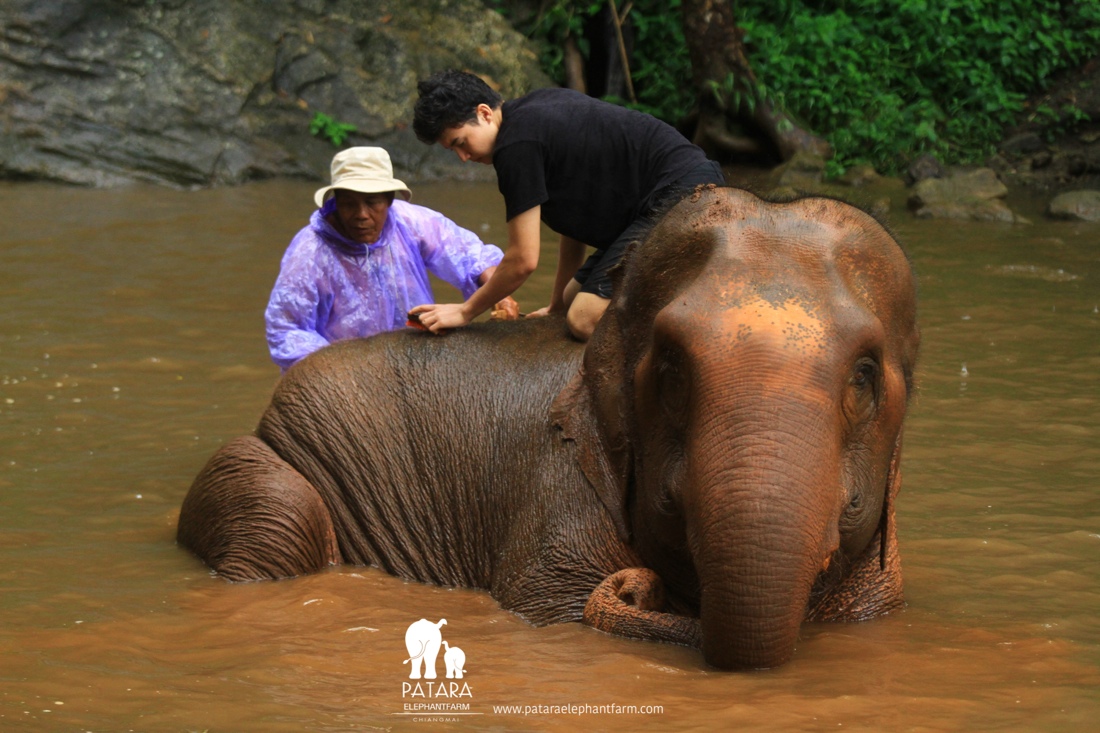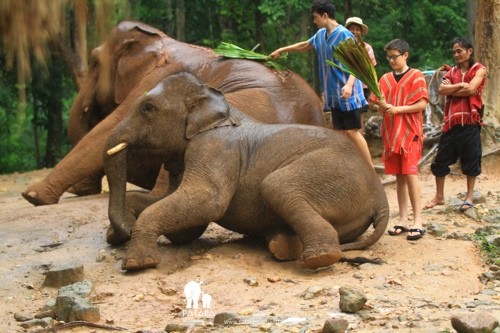 I've read a lot of commentary on the internet about how tourists should not participate in tours that allow elephant riding.  From what I've read, some places employ cruelty to train their elephants to give people rides.  There are so many elephant farms in Chiang Mai and Thailand that you really do have to do some research to make sure you are joining an ethical program.  Many tours advertise "No Riding" up front.  They emphasize taking care of elephants and playing with them only.  Patara's program is "elephant owner for a day."  At Patara, each person is assigned their own elephant and trainer.  It's not a cattle herd kind of operation like at other places.  Instead, it's a very personal experience, with a price tag to match.  I'd like to believe the high cost of this program is supporting their mission to prevent extinction.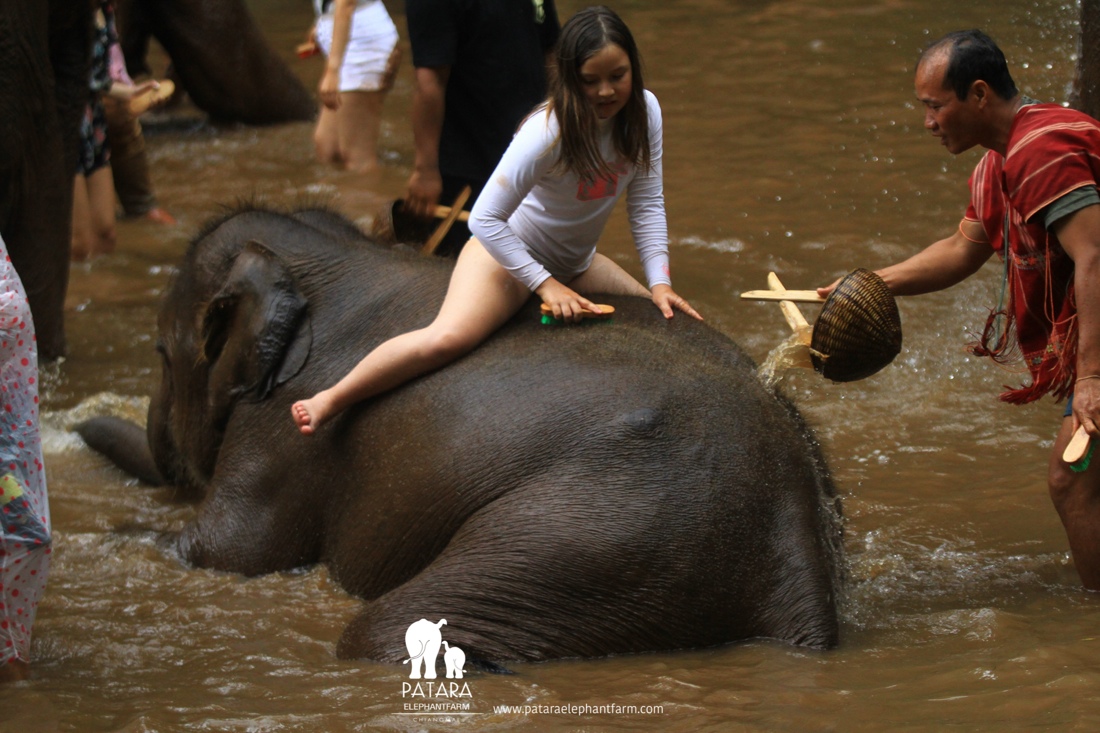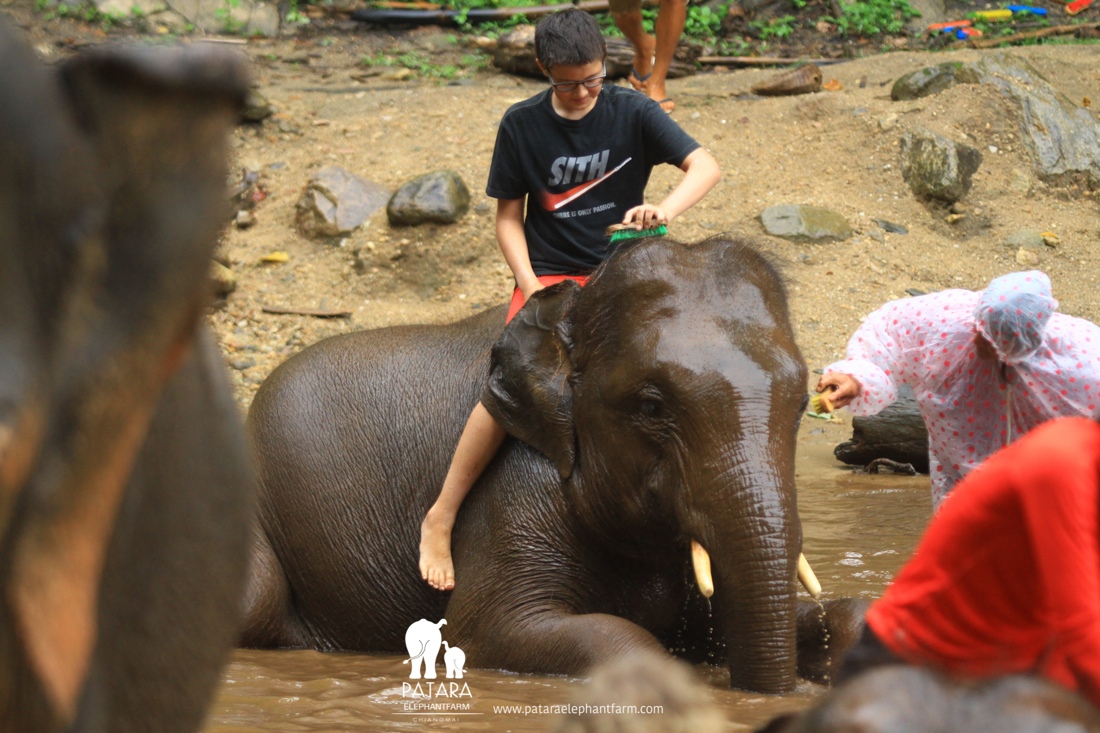 They give you the opportunity to play, bathe and scrub, feed, exercise and ride and love these gentle giants.  We also learned how to check their daily health: inspect and smell their elephant poop!  It is basically a big ball of grassy poop so it's really dry.  The trainers broke the poop apart, looked in the middle and gave it to each of us to smell!  Yep, smelled like grass and a sweet smell of sugar cane.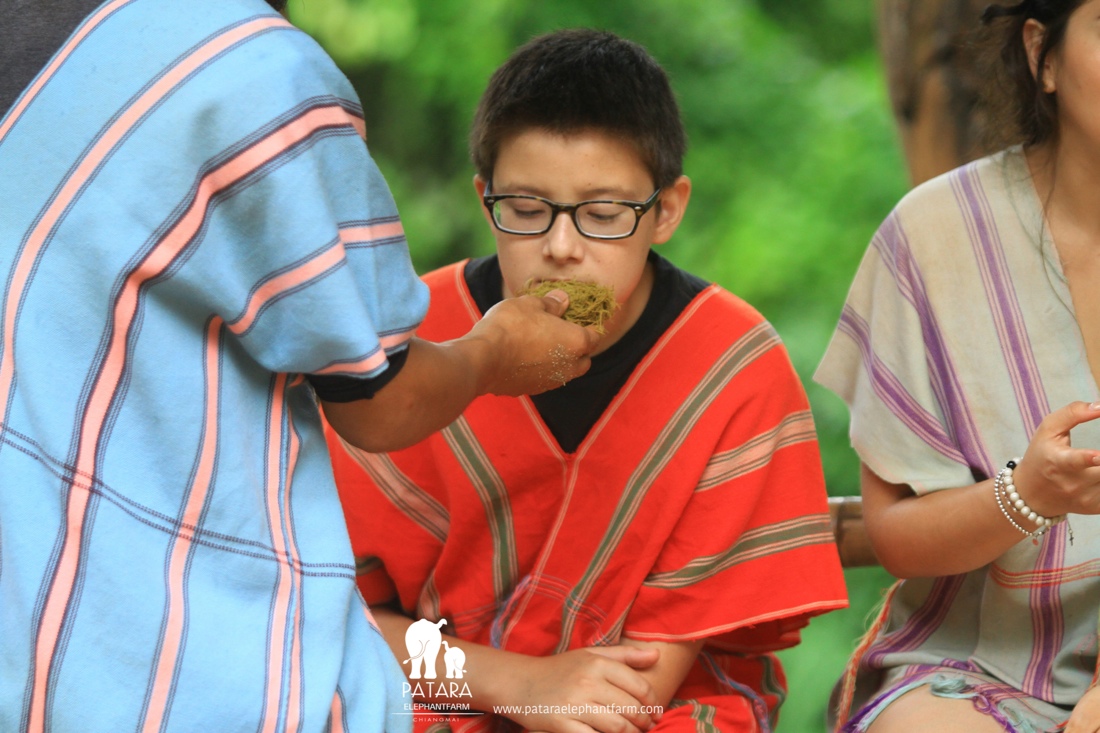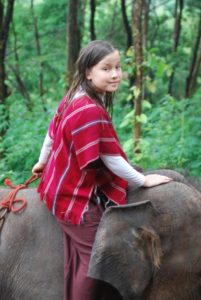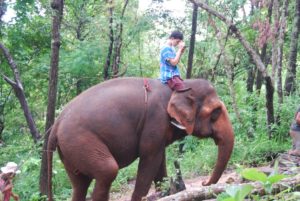 You also learn to ride them bareback on their neck like a mahout.  You learn basic elephant commands like go and stop in the Thai language.  And everyone has to wear special riding clothes that the elephants recognize.  There's an actual purpose connected to riding them, and not just for the fun of it.  Plus, these close encounters allow people to develop a relationship with the elephants and make a connection that will help create advocates and preserve the species.  We rode them uphill, in the forest over a great distance actually.  It was kind of exhausting.
I believe Halyard might be checking his phone while riding his elephant.  Insert emoji with eye roll.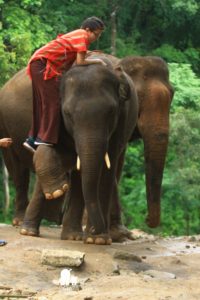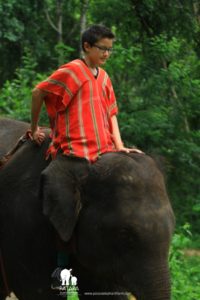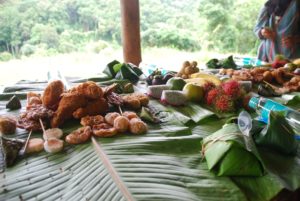 Notice how the elephant is helping Kaiyo climb up.  He lifts his front leg up as a step so that Kaiyo can step up onto his neck.  The elephants are very clever.
When we arrived at the end of our journey there was a large feast spread out on banana leaves.  I had ordered a vegetarian meal so I got a cute, surprisingly compact and full, vegetarian fried rice packet wrapped in a banana leaf.  It was delicious.  Everyone else ate fried chicken, pork and other meaty items.  There was a fried banana with coconut treat which was amazing.  And something for dessert that basically looked like donuts.  Plus a lot of colorful fresh fruit.  White flesh dragon fruit, mangosteens, bananas, lychee, guava, something else that had to be peeled and looked exactly like clear mangosteen inside.  I love the fruit in this part of the world!  It's so exotic and different.
After lunch we got back on the elephants to return them to the place where we started.  It was an amazing experience!  Kaiyo and Avalon said they loved feeding the elephants the best.  Their big tongues were huge and slippery.  As you stuck the bananas and sugar cane in their mouth you had to set it on their tongue, not throw it in their mouth!  At first Avalon and Kaiyo were tossing the food at them, and it kept dropping back out.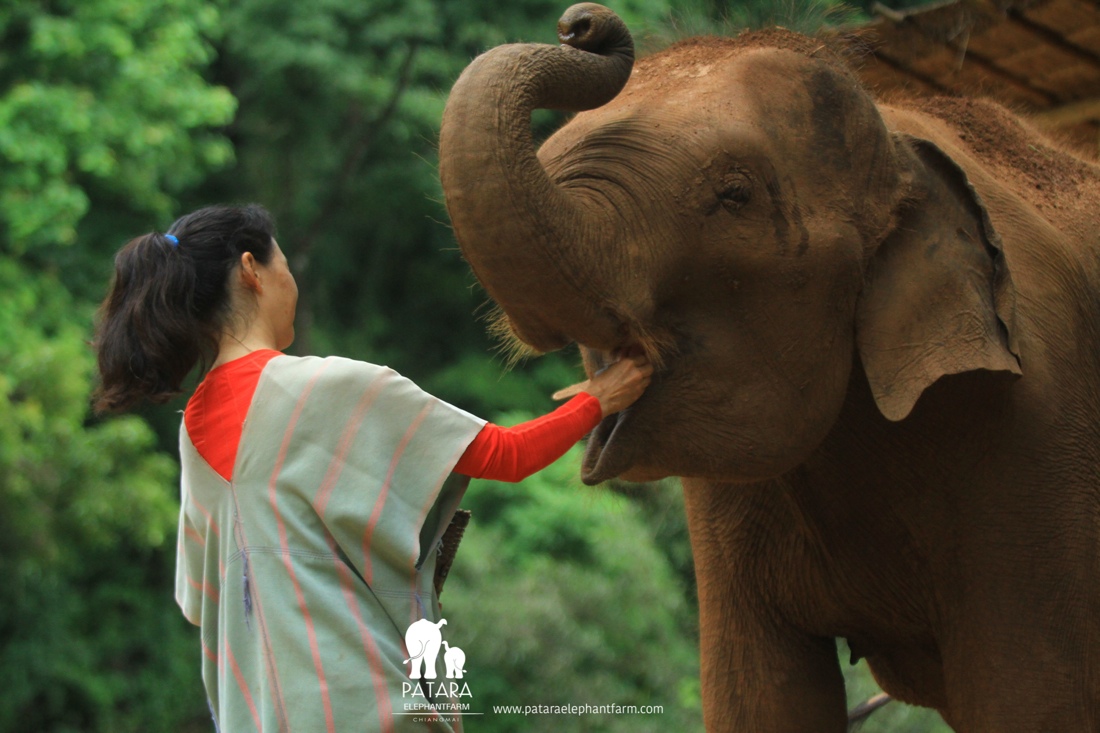 Halyard said riding the elephants through the forest was fun.  I liked giving them a bath, even though it was a dirty job!  When we were done bathing them it was photo op time.  We stood in the muddy water and the trainers made the elephants spray us with their trunks for a funny action shot.
Side note: Later on our trip took us to Cambodia where our guide told us that there are only 40 elephants left in Cambodia.  He said this as we watched a few elephants give rides to tourists.  The elephants were "dressed up" in fancy blankets and head gear (like at the circus) and they were just pacing back and forth around a temple in the hot heat.  We all agreed that the elephants looked sad.  Our guide said an elephant died last year with a tourist on its back.  He said it had been overworked.  I asked him why there were so few elephants in Cambodia left and he said it was because during the war too many were killed by bombs and mines.  There are still thousands of mines hidden in Cambodia.  (He also said currently three people in Cambodia are still killed by mines everyday.)  But more on Cambodia in a later post.
I appreciate that Patara focuses on elephant rehabilitation and reproduction.  Their mission is to bring all of their elephants to perfect health because they say only healthy elephants will reproduce.  It was a very educational day.  I hope my kids made a connection that they'll always remember.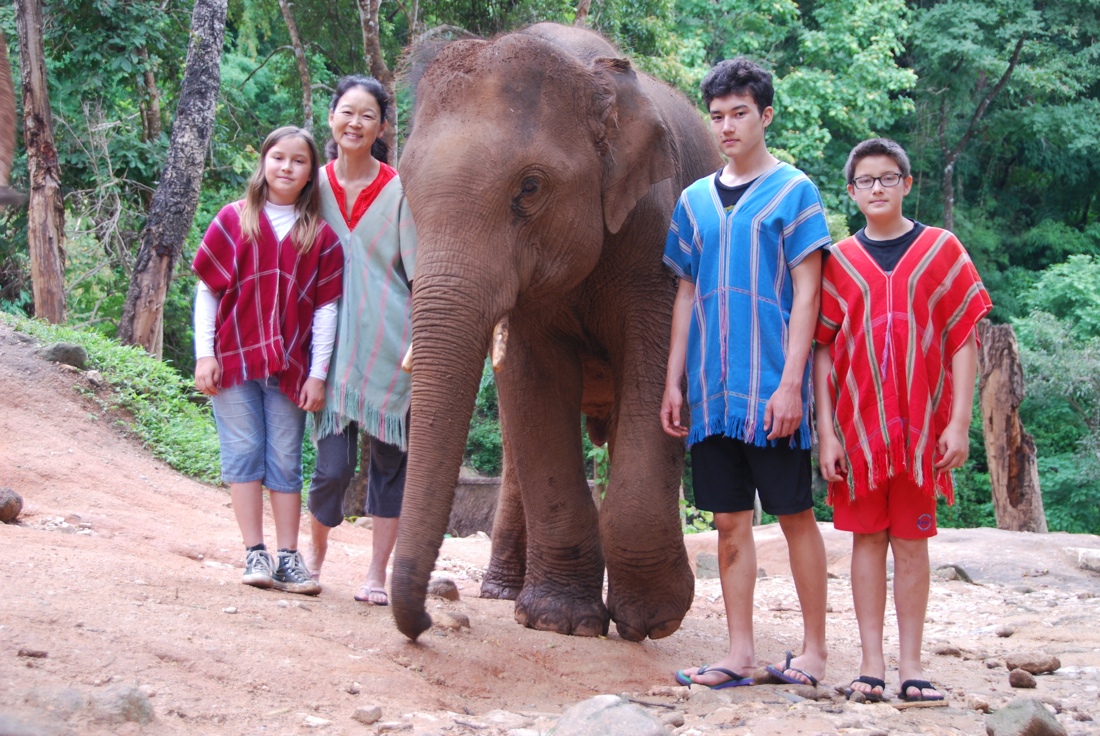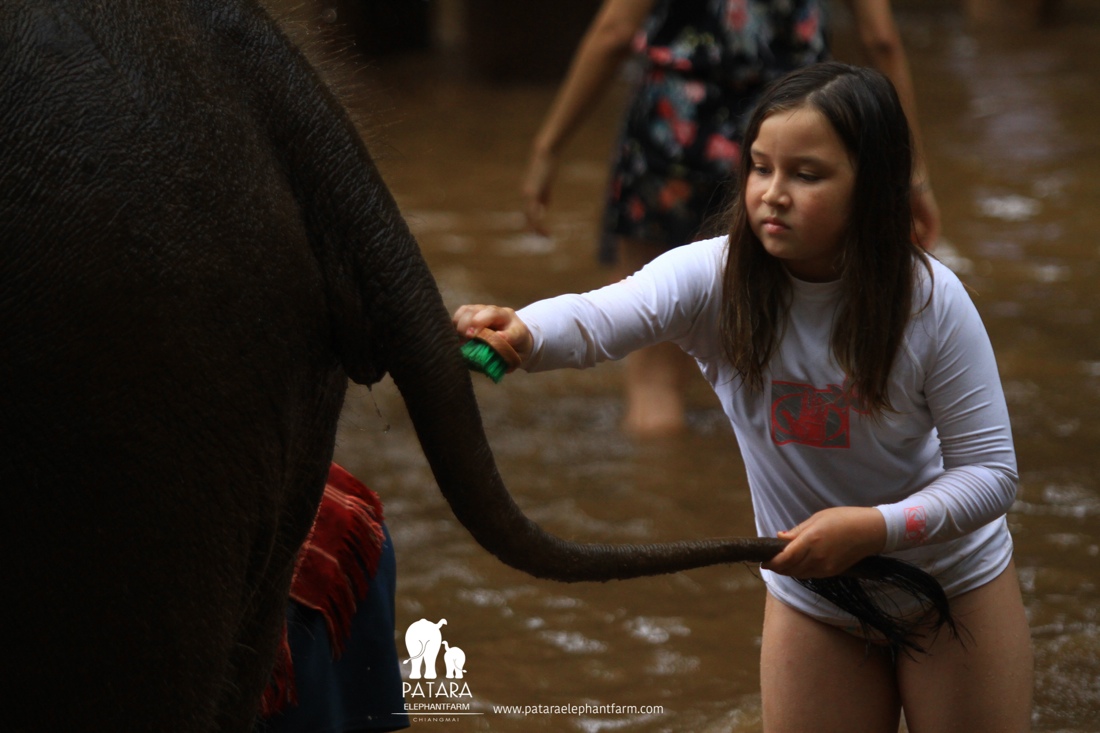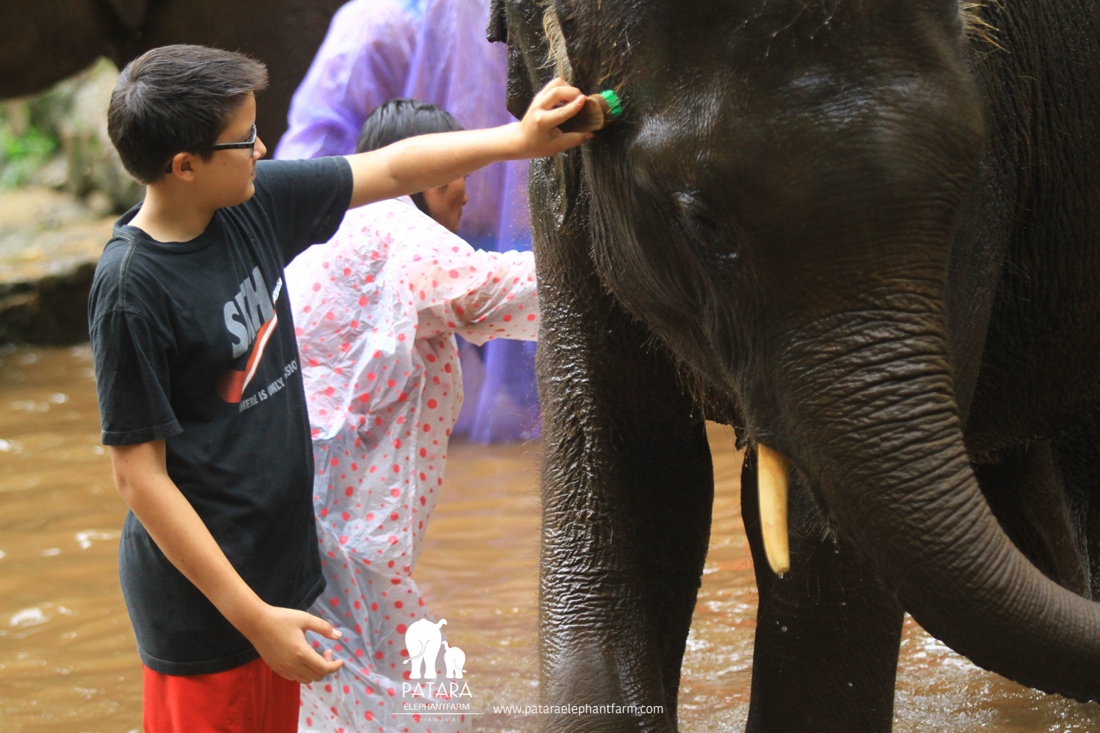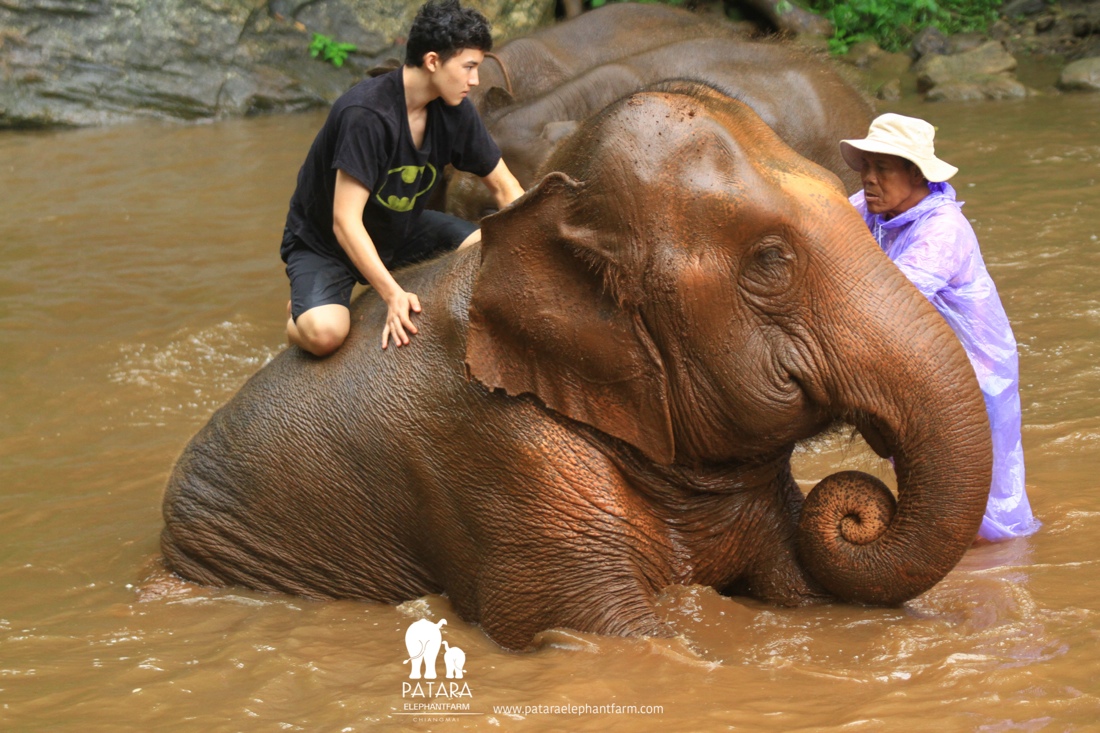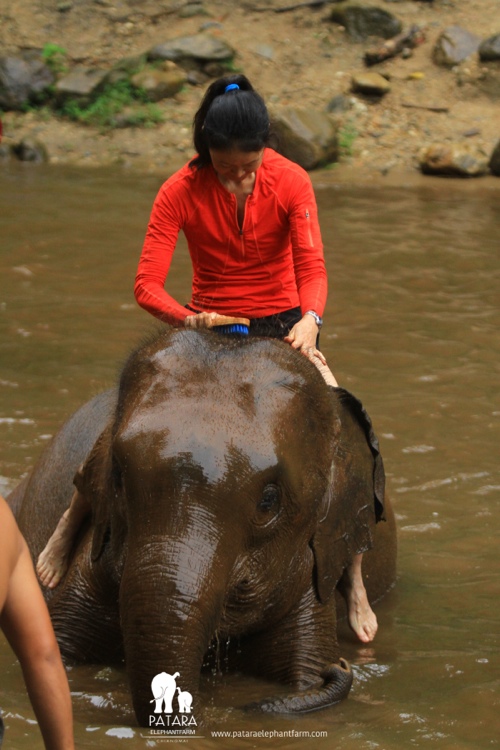 www.pataraelephantfarm.com:
"With conservation philosophy 'Extinction is Forever,' Patara Elephant Farm (is) honored to encourage people to try, at least once in their lives, to experience this very special and sacred animal that should be treasured. Give yourself an opportunity to share (a) once-in-a-lifetime experience with the elephants; you will be touched by their beautiful hearts and will be brought closer to their special world."