Our last day in Zhangjiajie (which I will now call ZJJ) is Monday, April 2.  Our flight out isn't leaving until the evening so we have some time for one last adventure in China.  We decided to see Tianmen Shan.  It means Heaven's Gate (Tianmen) Mountain (Shan).  Our hosts at the guesthouse encouraged us to go see it so we packed up our things and prepared to walk down their 500 steps for the last time.  They gave us a ride to the town of ZJJ after one last breakfast at their house.
The summit of Tianmenshan is connected to the town of ZJJ below by a super-duper, incredibly long cable car.  There's a luggage storage area at the cable car ticket and loading area so we checked our luggage in.  It was about $5 USD per piece of luggage, including paper shopping bags!  I had read that the waiting time for the cable car is often between 1-2 hours on average.  You can tell the waiting line structure is designed for a large crowd, with the bars going around and around like at a popular Disneyland ride.  But when we went we practically walked right on.  I think we waited around 15 minutes to load.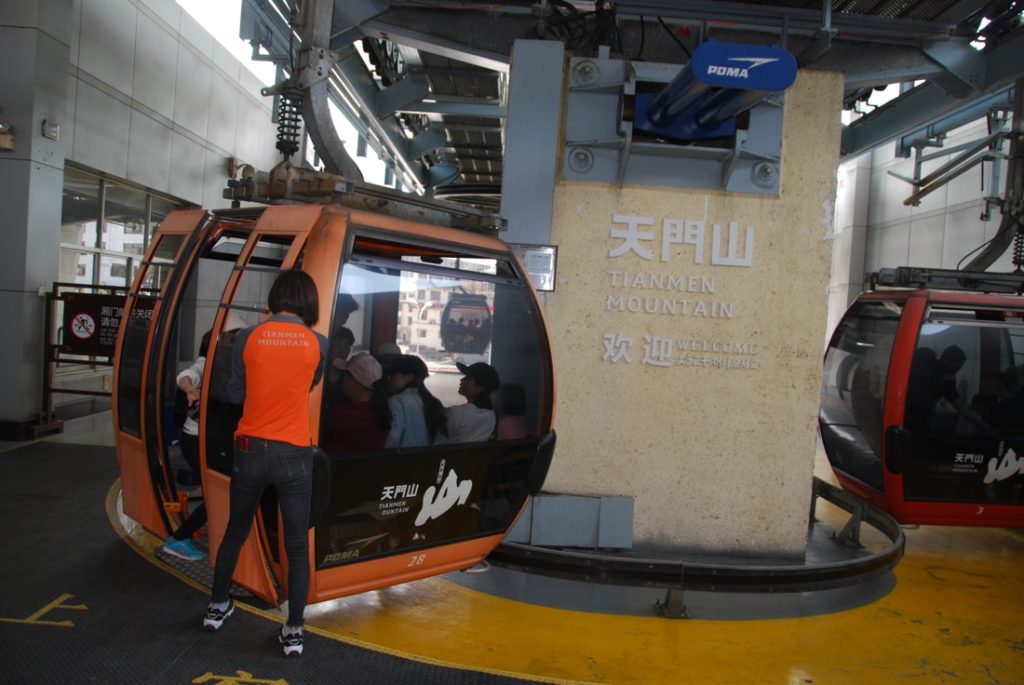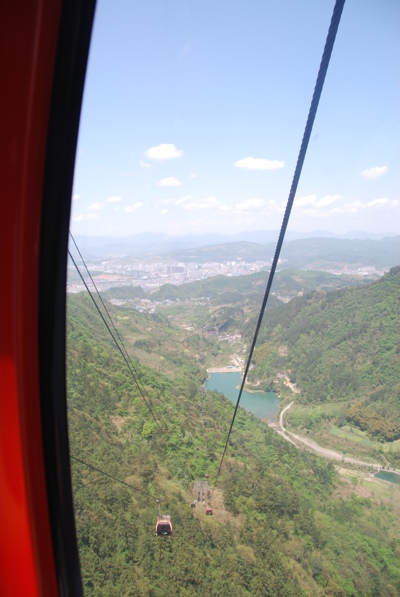 According to Wikipedia:  "Tianmen Mountain Cableway is claimed in tourist publications as the 'longest passenger cableway of high mountains in the world,' with 98 cars and a total length of 7,455 m (24,459 ft) and ascent of 1,279 m (4,196 ft).  The highest gradient is 37 degrees. Tourists can walk on paths built onto the cliff face at the top, including sections with glass floors. An 11 km (7 mi) road with 99 bends also reaches the top of the mountain and takes visitors to Tianmen cave, a natural hole in the mountain of a height of 131.5 m (431.4 ft)."
That's a lot of statistics.  In summary, the cable car is not only long but extremely steep, the mountain is very high, the paths along the cliffside are not for those with a fear of heights, the glass walkways are amazing, and the road going along the mountain from half way consists of 99 bends that look like a child's maze.  John was very nervous about the whole endeavor.
This cable car seriously covers a lot of ground!  Over the valley, over the mountaintops, and up and over the edge of the cliff.  It takes a half an hour to make the whole journey up.  So if you can't wait to get to the top, or you have your eyes closed, you're going to be waiting for quite a while.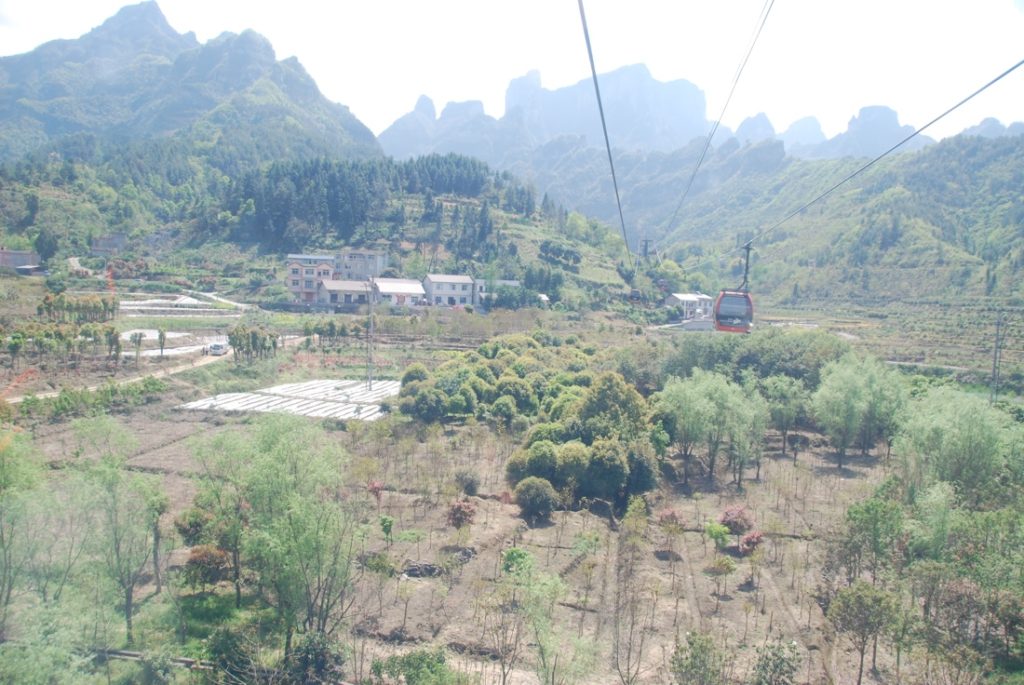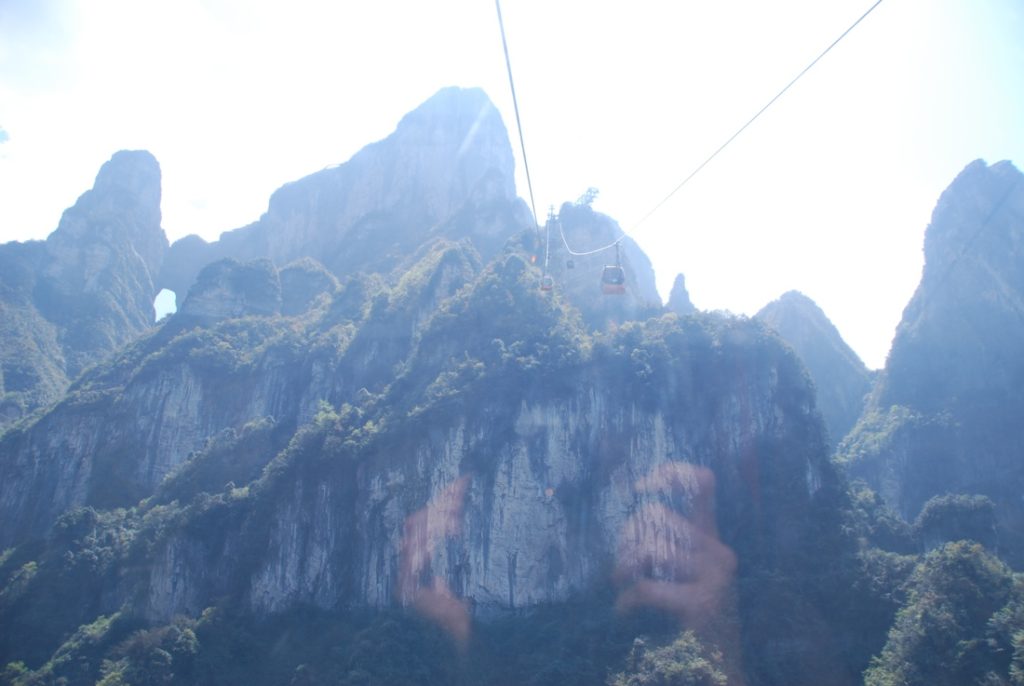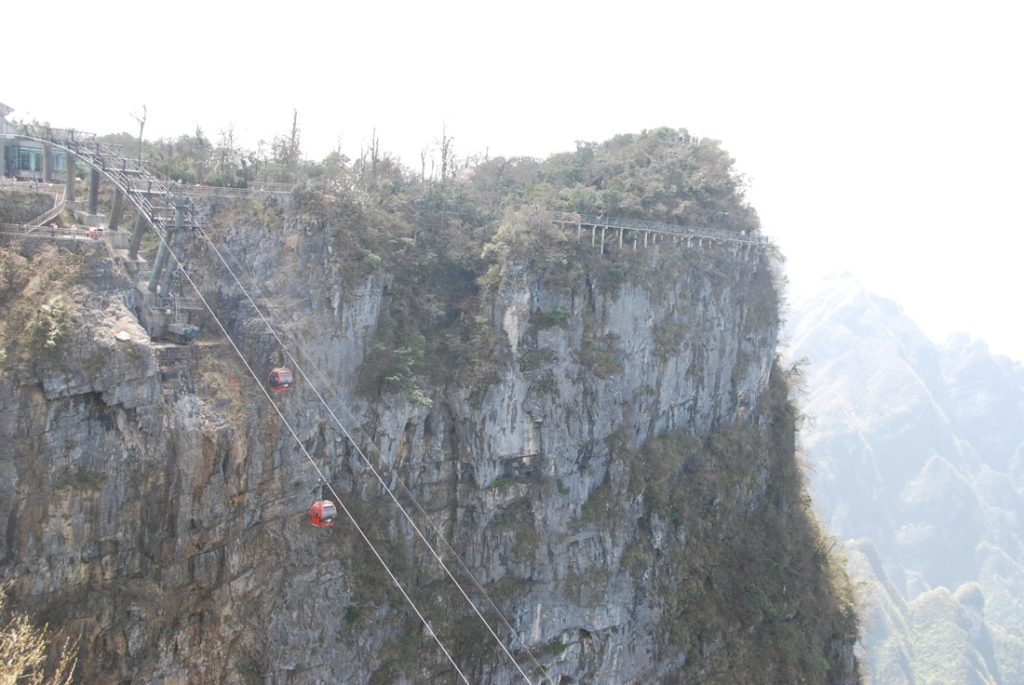 After we got off the cable car it was time to explore the mountain.  This is the part that made John nervous.  We started on a path that snaked around the side of the mountain.  It wasn't very wide, but enough for two lanes of pedestrian traffic if you squeezed past.  John made sure to keep his hands touching the side of the mountain at all times.  And he didn't look over the edge.  We tried to give him a hard time about it but he snapped at us!  At least he was game to do it.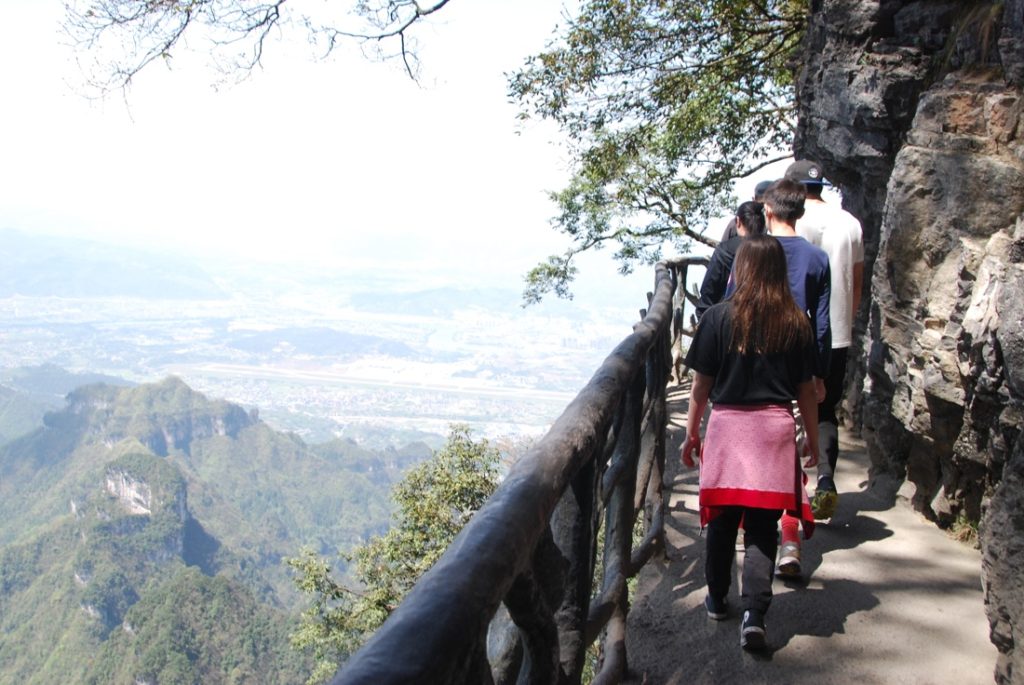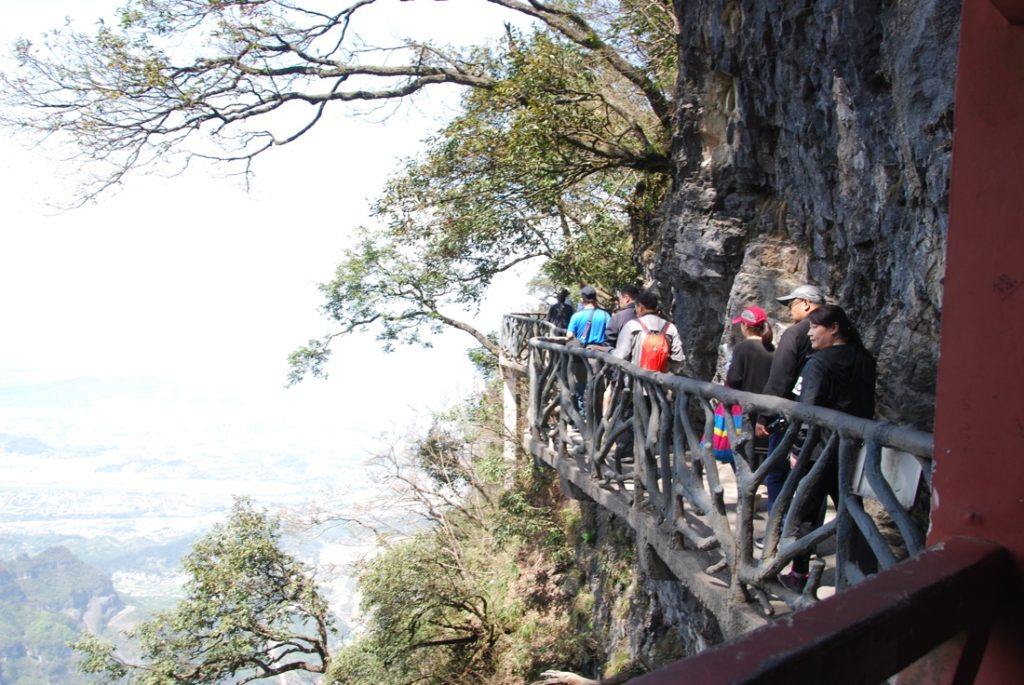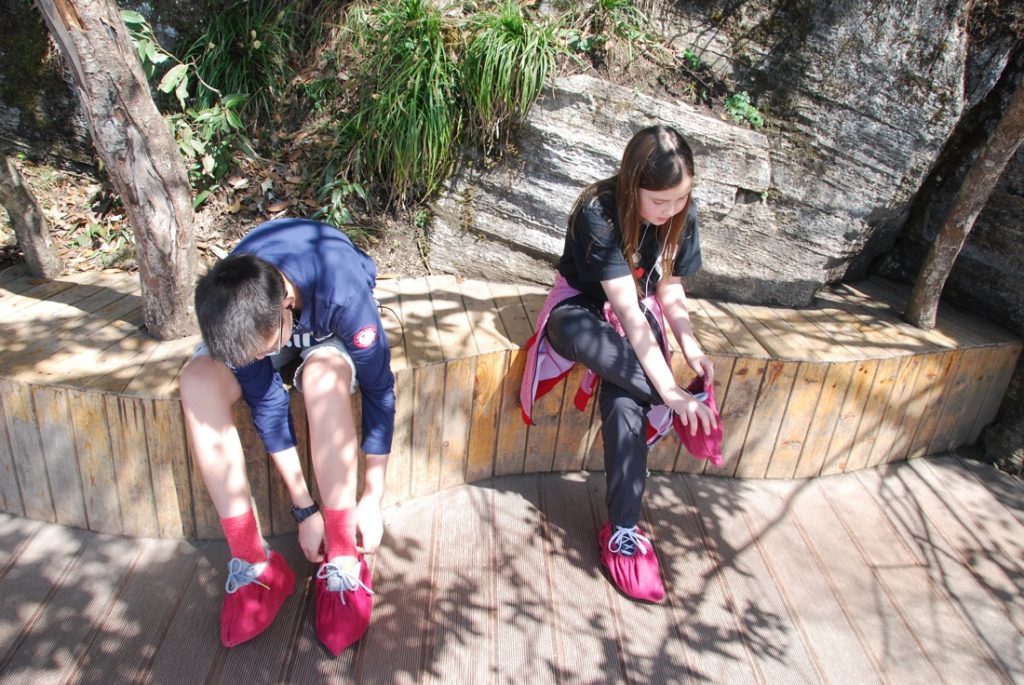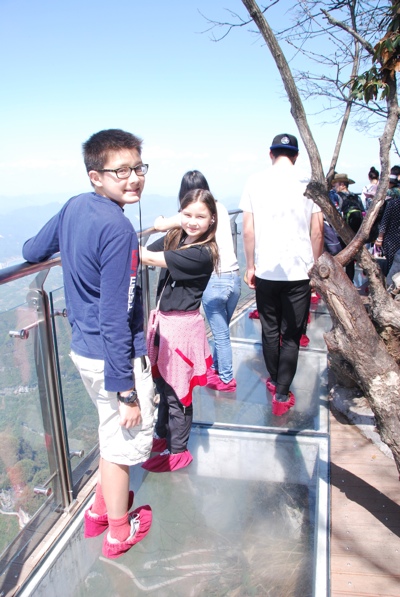 We reached a "safe area" for John where he could sit down away from any mountain edge.  The kids and I left him there to find one of the three glass walkways that wind its way around the mountain.  We found the one called Coiled Dragon Cliff.  It just opened in August 2016 so I have to hope it's the most structurally sound.  You had to put on these red cloth booties in order to walk on the glass.
When you look down through the glass you can see straight down to the mountain valley below.  It is very, very far down.  Sometimes there is a lot of fog here so I'm happy it was a clear day.  We got a nice view of the ground far below.
This photo shows the overhead view of the 99 Bends road that is pretty incredible.  There's no way to get the whole view of the road in one camera shot.  At least not from that viewpoint.  This is just a slice of the whole road.  It's what we're taking on the way back down!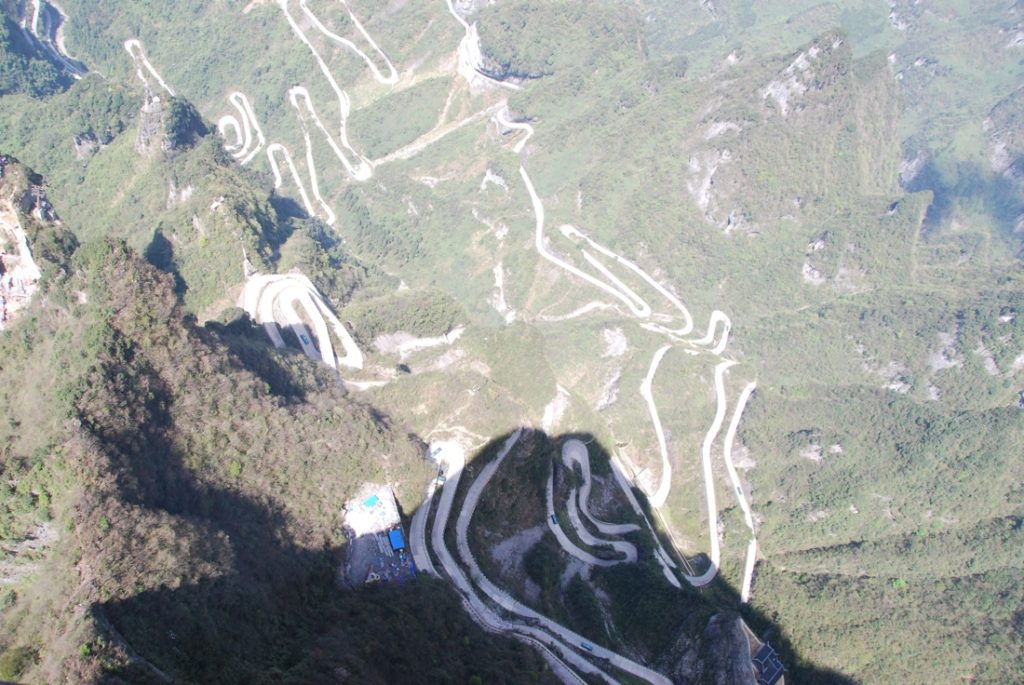 The flowers in spring time in China.  These magnolias were beautiful.  We were here at the perfect time.  We had beautiful weather, spring flowers and best of all, no crowds and no long lines.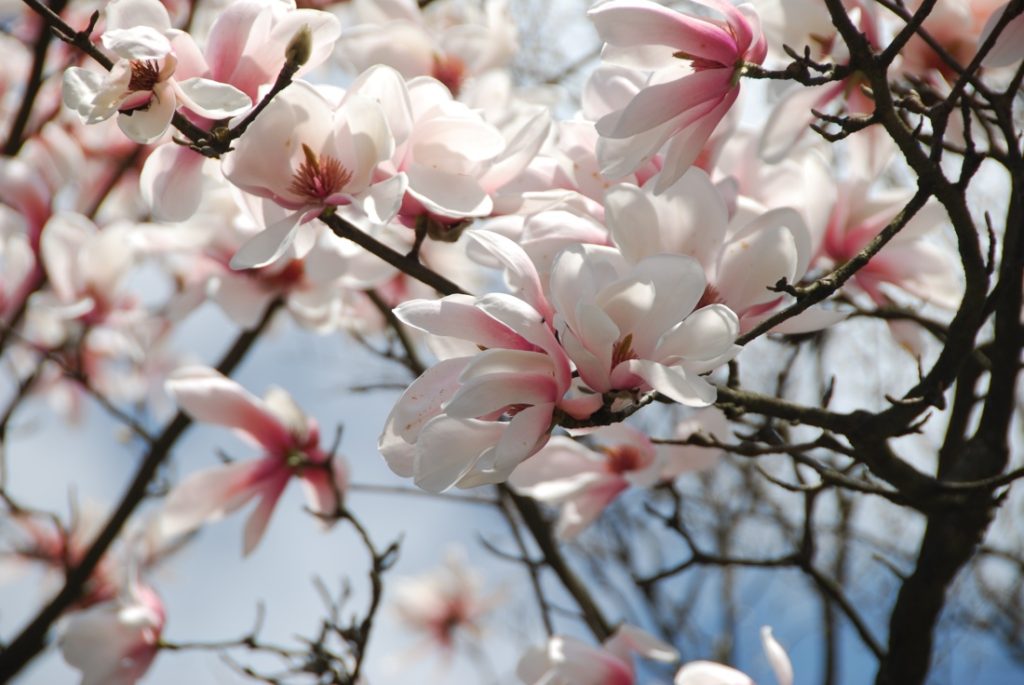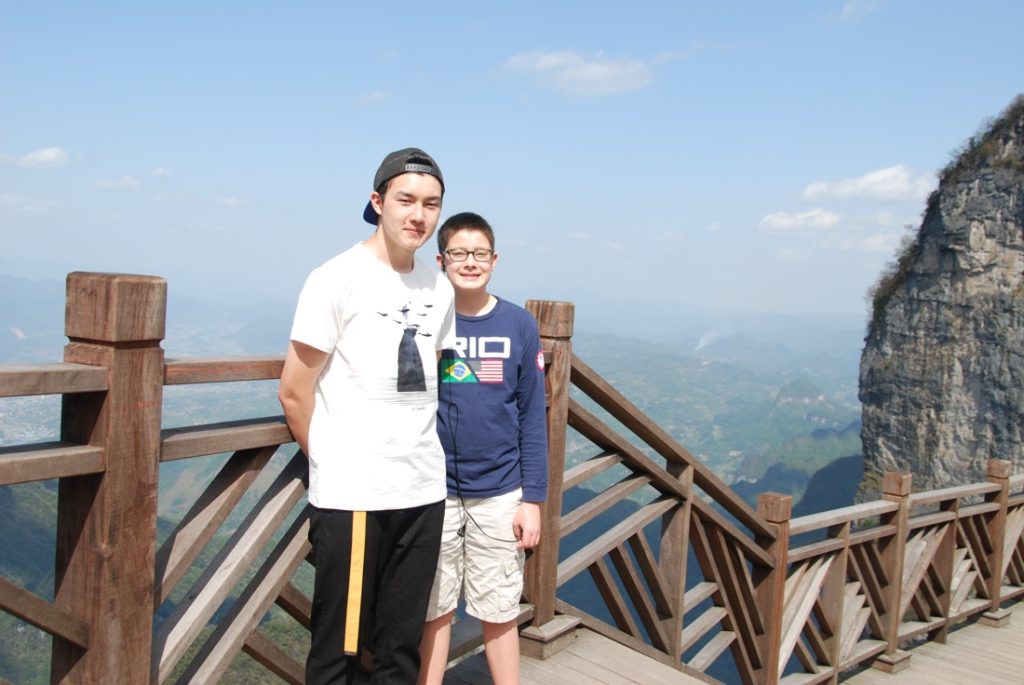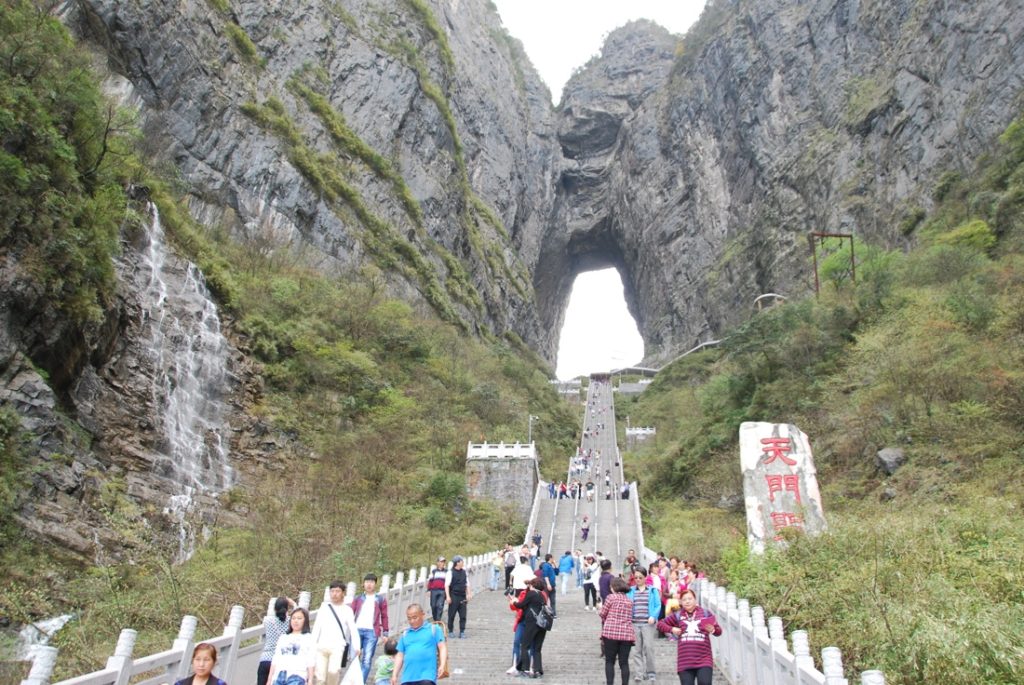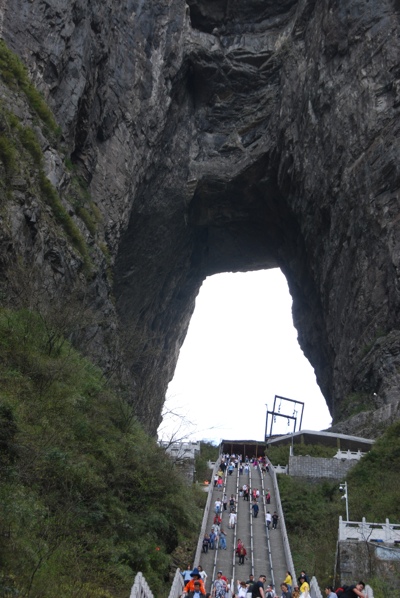 After the next walkway over the landscape, we came to a large clearing with a cafe and scenic viewpoints and the entrance to the escalator.  What?  An escalator on a mountain?  No.  This escalator was IN the mountain.  And it took us down.  I do not know what explosives, machinery and manpower were needed to make a series of escalators inside this mountain but it really is incredible.  This photo shows Tianmen Cave.  It's a gigantic natural hole.
In the photo with the boys above, we are all at the very top of the mountain (even John).  Way up above Tianmen Cave.  The escalators took us down from the plateau to the cave which looks like a tall trapezoid opening.  You need x-ray vision to see them inside the mountain.  It's a series of about 3 or 4 fairly steep escalators.  After you exit the escalators, you wind your way around to the top of these steps that are below the cave.  It's a very steep walk up or down these steps.  And I read that there's 999 steps.  Yikes!  Some people were walking up the steps and I wondered who in the world would do that!
Later I realized when you are at the cable car ticket office you have a choice to ride the cable car up and take the bus down, or take the bus up and ride the cable car down.  I didn't know the difference so I chose the former option.  But if I had chosen the latter, the buses only go up half way (the 99 Bends road stops here) so you have to climb UP the 999 steps to the cave.  Oh that would have been torturous.  I'm so lucky.  Please take note of this if you ever go to Tianmen Shan!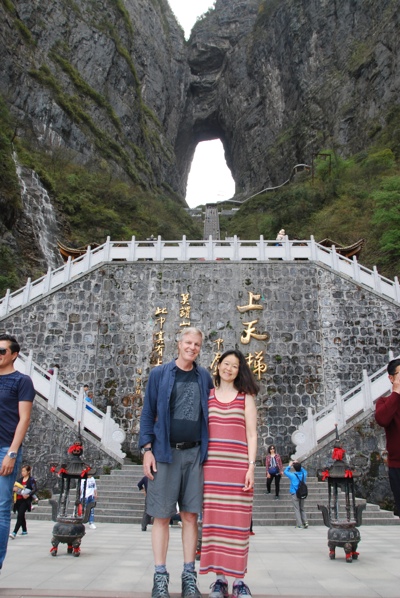 China was so interesting and we met really nice people here.
The Chinese ingenuity and engineering that encompassed everything we saw at Tianmen Shan was mind boggling.  How did they build that infrastructure for the cable car from town to the top of a huge mountain?  How did they build glass walkways jutting out from the side of sheer cliffs?  And several flights of escalators inside a mountain still doesn't make rational sense to me.
But it was a little bit alarming at the same time.  I heard from friends who came just before the 2008 Beijing Olympics that the government cracked down on sanitation and rules regarding spitting and defecating in public.  But it's been ten years since the Olympics so people don't seem to bat an eye at spitting and defecating now.  While we walked along the path toward the opening of Tianmen Cave, we saw two young girls just pull their pants down and pee on the walkway.  And it was a narrow, sloping path so I thought I should run to get away from the river of pee coming down the way.  Their parents just stood and watched.  No one said anything so I guess it's business as usual.  But I felt it was disturbing and unsanitary.  It's not like there are no public restrooms here.
Anyway, China has a different mentality, and it must be so interesting to live in a country of billions.  It can be very much, "each man for himself."  It doesn't matter where you are, you're almost always in a crowd.  I learned a lot about this country.  And I had a revelation.  "American Chinese" food is pretty much an American invention.  I actually enjoyed authentic Chinese cooking more than I thought I would.