Today, Monday June 18, our house shook at 7:58 am.  It was quite a jolt.  The kids were getting ready for school and Avalon was finishing up some last minute homework at the table when the ground starting rumbling and the house started shaking and I started panicking.  It was the strongest, scariest earthquake I have ever felt.  That's saying something because I'm from California and I've felt my share of earthquakes.  But as it turned out, we were one of three cities that felt it the strongest.  We live right next to the center!  That's never happened.
The epicenter was in Takatsuki where I work every Tuesday.  The neighboring city, Ibaraki, also got a lot of damage and that's where I work every Thursday.  And the next city over is my city, Minoh.  The Japan Meteorological Agency says it was a 5.9 (revised to 6.1) on the Japanese scale and it was centered 13 km down in the earth, which is pretty shallow.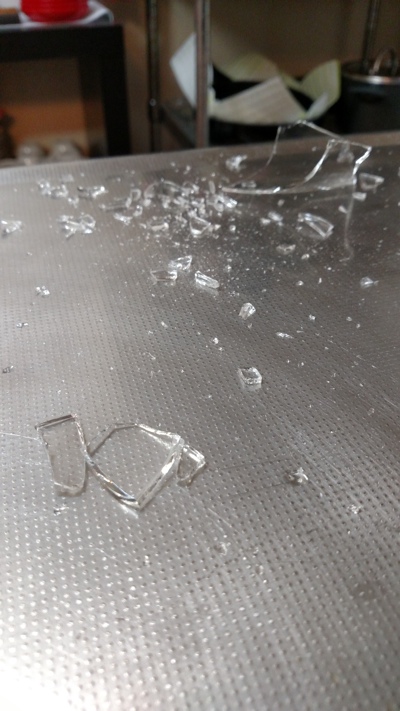 While the house was shaking I called Avalon over and we hugged and stood in the doorway of the kitchen.  That doorway is pretty narrow so I didn't think it was a good place but I didn't want to run around looking for the best doorway.  I called to Halyard who shouted back from the bathroom that he was standing in a doorway too.  I've heard people say that it sounds like a freight train and it really did sound something like that.  I'm not sure how long it lasted but it felt like a good minute.  Our damage was minimal.  That's the benefit of having very little.  There's not much to break in a 5.9 earthquake centered by your house.
I sent Avalon and Halyard off to school anyway.  I figured the school might be a safer structure than our house.  Who knows when or how this house was constructed?  School is a gigantic concrete block.  It is new enough that it must have been built with earthquake specifications.  Here is the first of three messages from Osaka International School that I received by e-mail about 10 minutes after the start of school.
*****
Earthquake update
7:58に発生した地震により学校では現在安全確認をしています。学校の建物は無事です。登校した生徒は全員フィールドに集まり点呼確認をしています。本日学校の授業は行いません。現在登校途中の生徒は安全を確認し可能であればそのまま自宅へ戻ってください。学校で待機中の生徒については下校手段の安全確保が取れ次第、順次下校させますが、詳細については追ってご連絡いたします。
Following the 07:58 earthquake this morning, we are now in the process of checking the safety of the building. At this stage the school appears to be structurally unaffected. All students are currently on the field where we are taking attendance. Lessons will not take place today. Students who are on the way to school may return home if it is safe to do so. Students who are already in school will be allowed to return home once safe routes have been established. We will send out more details in due course.
And the final update included this:
Happily, there were no injuries, but inside of the building some areas including library and classroom bookshelves, and science lab equipment were thrown into disarray and suffered damage. Some maintenance and repairs will need to take place and as a result of this, there will be no school tomorrow, Tuesday 19 June. We are hoping to resume lessons on Wednesday and will send out a further update tomorrow in this regard.
*****
Halyard thought he'd gone to heaven.  He was supposed to have an Economics final exam today.  He'd been studying over the weekend, trying to make up for a lot of lost time.  Now he has an extra day.
I had to go to the school myself to collect the kids.  They weren't being released without parent permission.
About 30 minutes after the shaking was over my friend Hiroko called me to ask if we were alright.  Hiroko lives in Takatsuki, the epicenter, so she felt it very strongly.  She said she had a lot of broken glass in her home and things were a mess.  I hope she didn't lose anything valuable.  Hiroko has a lot of very nice things.  She also told me all the trains stopped running and people were stranded on them, even between stations.  And she told me her husband was waiting at the train station in Takatsuki and it was so strong that he couldn't stand up during the quake.  How scary!
Today I had planned to go to Bikram yoga.  But alas, yoga was also cancelled.
*****
June 18th only   Notice of canceling all day lesson
To all members.
Thank you very much for your continued patronage. Today, due to the occurrence of traffic disruption etc due to the influence of the earthquake, we have decided to stop today's lesson with consideration of customers' safety and so on. Date: June 18, 2018 (Monday) We are sorry for the inconvenience to everyone, but we appreciate your kindness. Bikram Yoga Osaka Honmachi Store
*****
I was sad about yoga, but Avalon was very happy that her swim practice was also cancelled.  She called  Renaissance Club where she swims and talked to them in Japanese!  I was so impressed.  She found out that swim is "oyasumi" (literally having a rest or taking a break) both today and tomorrow due to the earthquake.  I was a little skeptical if she was making it up so that she wouldn't have to go.  But later on a man from the club called and I talked to him, again in Japanese so I was impressed with myself too, and he said "oyasumi" for today, tomorrow and Wednesday.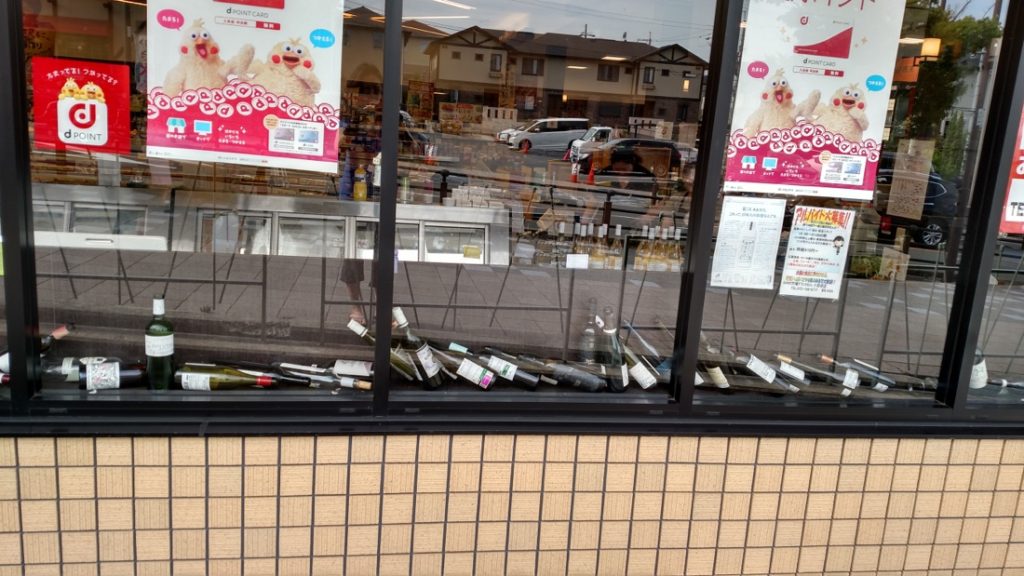 All in all the earthquake was not too terrible for us here in Minoh, but still the city and its surrounding areas shut down out of precaution.  A lot of stores were closed in the morning to clean up broken glass and fallen items.  Later on I went for a bike ride and saw some places cleaning up.  On the street by my house I could smell wine and other liquor very, very strongly for about a block.  So many broken bottles at the gourmet grocer and the restaurant a few shops down.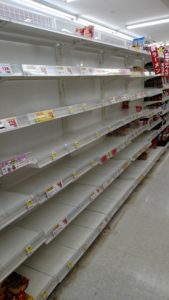 Around 6 pm tonight I went to Welcia to buy toilet paper.  Welcia is like Walgreens or CVS in the US.  There was such a long line inside the store.  I couldn't believe it.  And people were buying completely random items.  I needed toilet paper so I stood in the long line too.  Bottled water was already completely out.  Nothing left in the instant noodle section at Welcia but a bunch of empty shelves.
(Incidentally, needing toilet paper during a time of disaster reminds me that we also made an emergency run to the store in Washington, DC for toilet paper, right after the Pentagon was hit on 9/11.)
Now it's nighttime and my water has been shut off until tomorrow sometime.  My gas was off for most of the day.  I couldn't cook anything on the stove.  Luckily the electricity was still on.  I went to several grocery stores around but they were all closed in the morning.  I tried again in the afternoon and Gyomu Supa (market) was open but super crowded.  They had plenty of fresh and prepared food to sell so it was fine by me to wait in line.
My friends here tell me my water might be shut off until tomorrow sometime.  I've heard it will be off all day tomorrow and I've also heard it will start flowing again at 6 am.  I don't know which is correct.  But one friend suggested that I fill my bathtub with water so that if I need water for the toilet later I will have it.  So I filled the tub at 8 pm.  I heard that my water would be shut off at 9 pm.  We all hurried to take showers before the 9 pm deadline.  Halyard was last.  After he finished his shower he absent-mindedly drained the water from the tub!  I was like, what the heck are you doing?  Luckily my water was still on at 9:30 pm so I was able to fill it back up.  Just in case!  What if the water is off all day tomorrow… (It finally came back at 4pm!)
*****
Avalon, who never has time for this blog, sat down to type up her thoughts on today's earthquake.  It must have made a real impression on her!  Here's Avalon's earthquake story:
On June 18, at 7:58, my first (big) earthquake 'struck.' I was just about to leave for school then the whole house shook, a lot. I thought that after the earthquake was over it was pretty cool, but during the earthquake, which lasted around 20-30 seconds (I thought it was more like 15-20 though), I was so confused I wasn't scared. Once the earthquake was over, we didn't really know what to do, so I just ended up going to school. (Also because my mom thought that it would be safer.)
I had to bike to school only to see teachers at the front of the school and all the students that arrived at school were being told to head to the field. I was also told this, so to the field I went. At the field, I found only some of my classmates in line, but very soon things got explained to me. (Mainly from my group chat that has the entire class in it, it turned out that a lot of kids didn't come to school because their parents thought that is was too dangerous. From pictures on the group chat it looked like we were extremely lucky that a lot of things didn't break.) After I got sent home from school, we found out that the center of the earthquake was in Takatsuki.  After I arrived home my mom broke a wine glass straight after trying to open a cupboard. But that was the only thing that broke.
BUT THEN we remembered that I had swim later in the day. I told my mom that we should call to see if I still had swim. She told me to call them later because they could have fixed up a lot of things between the time that we called and the time that I needed to go to swim. A bit later we got an update from the school that school was canceled for tomorrow and that they were hoping to get the students back to school on Wednesday. I did some homework, weaving and reading, then my mom told me that we could probably call my swim place now to ask if we still had swim. Turns out that I didn't have swim and that Tuesday and Wednesday are going to be canceled due to the earthquake. Oh, then later the city said to take showers now, because they were going to turn off the water at 21:00. 
So that was my first big earthquake experience!
*****
I wanted to take some photos inside our neighborhood grocery market, Kohyo, but it had a sign that said "temporary closed."  I heard later that the pipes might have burst inside, or the sprinklers went off, something happened and a lot of water was in the store.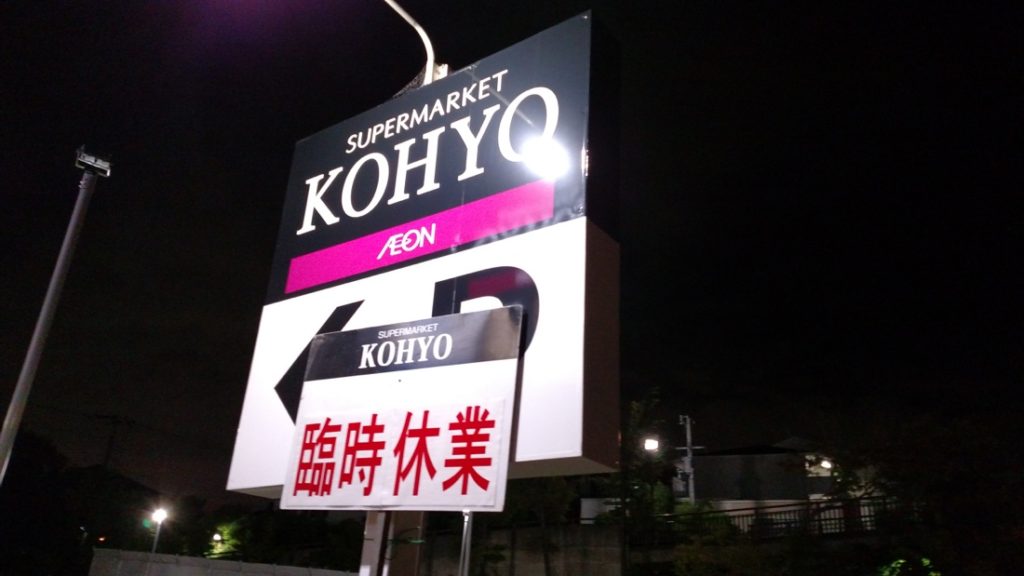 Sadly there were some fatalities, including a 9-year old girl who died at school when a wall fell down on her.  I'm so thankful we didn't have any injuries at our school.
John and Kaiyo are in Kuala Lumpur, Malaysia now for the World Scholars Cup so they missed all the excitement.  I told Halyard and Avalon now they'll have had two days of no school due to two different natural disasters.  Once for a typhoon and now for an earthquake.  Wow!