Friday, February 10 and Sunday, February 12 we went to arguably the two best restaurants in Sapporo.  Maybe in all of Japan!  It's just my opinion of course, but Sapporo cuisine is very famous and there's a good reason for that.  And anyway, I think John agrees with me.  We had been really looking forward to having some amazing food.  Mayumi warned us ahead of time that our waistlines might expand during our stay there.  Sapporo is famous for several things, among them are: BEER of course, ramen, seafood, especially snow crab, cheese and soft serve ice cream, which is called soft cream here.  A signature cooking style on Hokkaido is called Jingisukan.  You kind of have to stretch your imagination, but this can be read as "Genghis Khan."  Jingisukan = Jeeeeng-geeee-sue-kan.  Get it?  Emphasis on those "eeeee's," as in Eeeek!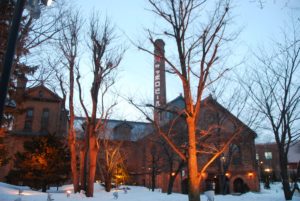 Anyway, Mayumi and her daughter took us to the Sapporo Beer Garden for lunch where we had jingisukan.  This dish is usually made with lamb, mutton and vegetables and you cook it yourself on a convex metal skillet which is supposed to resemble a Mongolian soldier's helmet.  The restaurant itself is in the Genghis Khan Hall.
The restaurant's official website says, "Sapporo Beer Garden, a place where the 'delicious' and 'beautiful' are gathered."  Funny.  Delicious people and beautiful food?  The website also says, "The Genghis Khan is Hokkaido's representative dish usually made with lamb and mutton that you eat after grilling on a metal skillet which is dome shaped at the center.  The Genghis Khan pot has ridges going from center to outer part that drain off the excess of fat and marinade allowing to grill ingredients in a delicious way.  In addition, what remains indispensable for enjoying the Genghis Khan is the 'sauce'.  Sapporo Beer Garden special sauce is prepared by paying particular attention to take advantage of the flavors of apple and lemon.  The salt and pepper, allowing you to enjoy the natural delicious savor of meat, are also original just like the sauce."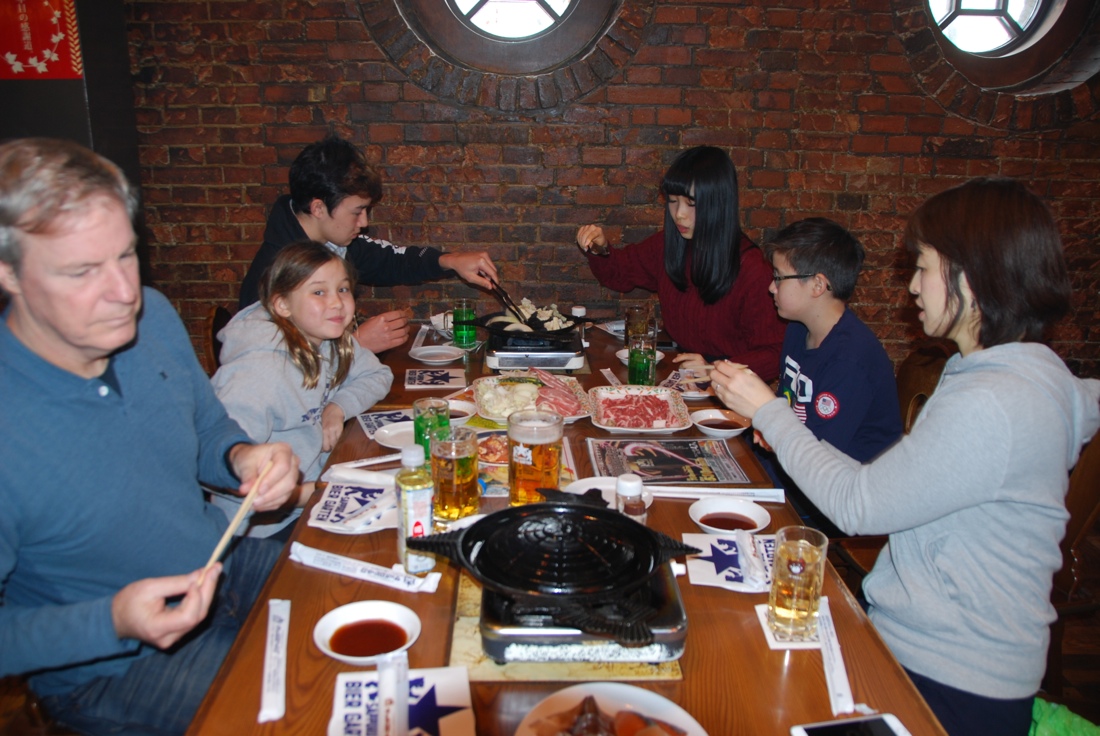 Mouth watering for meat eaters, right?  First off, when you walk up to your table, the wait staff hands out several very large plastic bags to everyone.  They are meant for you to put your things in them so that your outerwear like coats, scarves, hats and gloves, plus handbags, do not smell like a crazy, smokey, meaty BBQ when you leave.  How thoughtful!  (There is some online forum discussion as to how effective this is.  I tied my bag up tight and my things didn't smell when I left).
Next, at everyone's place setting there is a very large bib.  This is an essential fashion accessory so that you will not get grease all over yourself as you are cooking.  No matter how hard you might try, the grease still spits up out of that jingisukan over a remarkable distance.  And it's also good for when you drip sauce all over yourself.
When Mayumi called the Sapporo Beer Garden to make reservations she asked the person on the phone about John and I not eating meat.  Genghis Khan was not a vegetarian after all.  They let her know that seafood is available to grill on the jingisukan.  Phew.  Mayumi said they even called her back to advise her that the chunk of lard used to grease up the metal skillet is cow fat.  Mayumi kindly brought a small bottle of vegetable oil with her!  Best cousin award right there.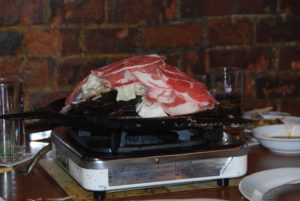 The menu has basically two parts.  The first option is all-you-can-eat or all-you-can-eat-and-drink in 90 minutes.  The second option is ala carte.  Halyard, Kaiyo, Mayumi and her daughter ordered all-you-can-eat.  John, Avalon and I ordered ala carte.  The seafood platter came with salmon, squid, scallops, shrimp and a lot of vegetables.  Avalon ordered a side plate of chicken to grill.  She thought she wasn't going to like the lamb but she was wrong.  She loved it!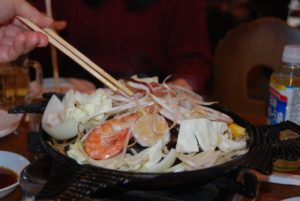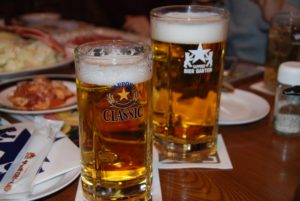 After we greased up our jingisukan we were ready to cook!  All-you-can-eat lamb and mutton means there's no reason to be a pig about eating.  Everyone had their fair share.  The vegetables that came on the platter included onions, cabbage, kabocha (Japanese squash, like pumpkin), bean sprouts.  It was great fun to cook our food and eat it.  John and I ordered a side of garlic seafood fried rice and onion rings.  Oishikatta desu!  (It was delicious!)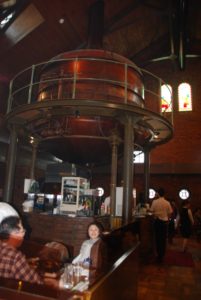 We sat next to this giant beer brewing cauldron.  There are several areas in the Sapporo Beer Garden and they have a different atmosphere in each one.  About this area, the website says:  "The giant beer-brewing cauldron/kessel which was made in 1912 is very eye-catching and the hall design evokes a sense of spaciousness.  A beer hall where you can fully enjoy yourself while feeling history and tradition in a royal way…"
A local Sapporo resident might argue that there are better places to eat jingisukan and that the Sapporo Beer Garden is a bit touristy, which I can understand.  However, for an overall historic location, a terrific meal and the best beer direct from the brewery, I think this place has to be top of the list.  John said it was the best dining experience he's had in Japan thus far.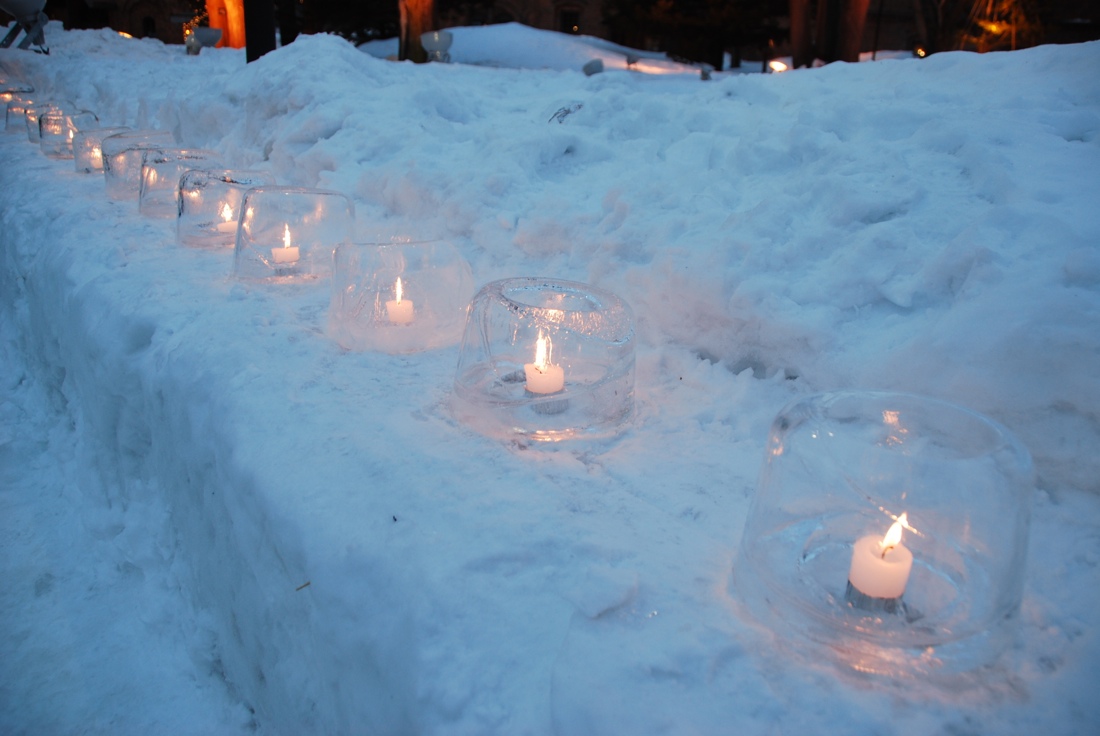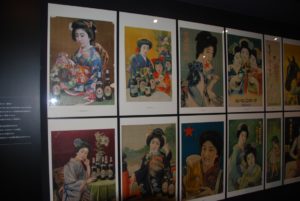 After we had stuffed ourselves full we went outside for a walk.  Some men had set up candle holders made of ice along the walkway.  They were beautiful.  We went inside the Sapporo Beer Museum for a look around.  You can ask for a tour but it's all in Japanese so we skipped it.  The tour comes with beer tastings but our large mugs of Sapporo Classic during lunch were enough.  The display explaining the history of Sapporo Beer comes with English, Chinese and Korean explanations.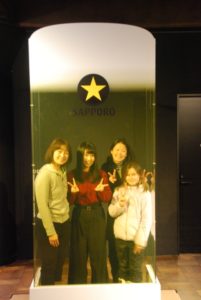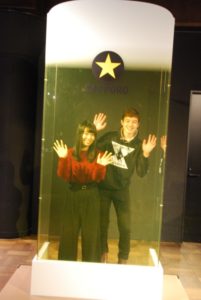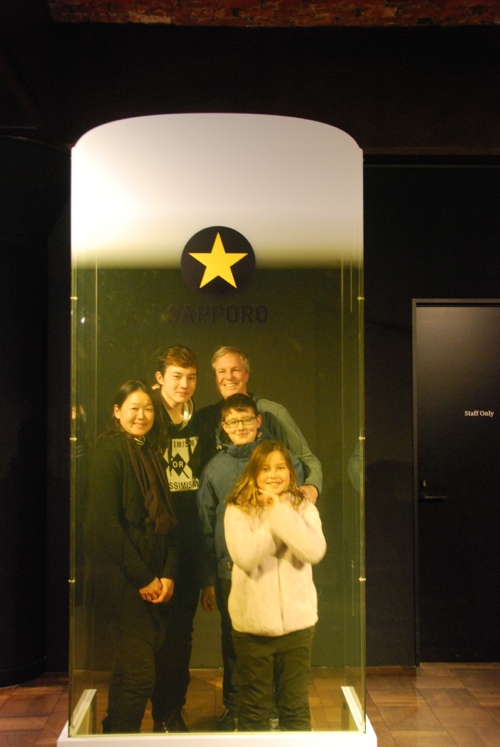 After walking around we decided to finish it all off with Hokkaido soft cream.  Next door is an extension of the beer garden with a gift shop selling Hokkaido gifts and a soft cream counter.  The difference with Hokkaido soft cream must have something to do with the generous amount of milk fat and pure fresh cream that it is made with.  It is super creamy and thick.  It's almost a meal in itself.  I'd like to eat that for lunch every day.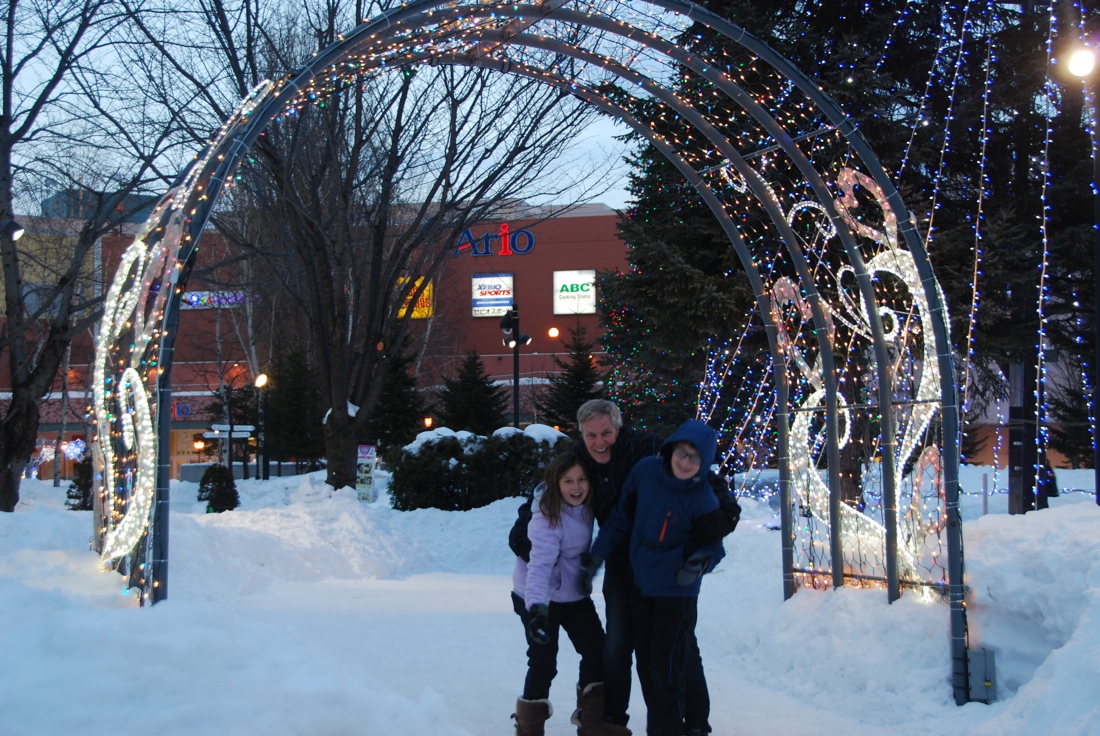 Hi!  This is Avalon!  And my mom just went to do something, she has been… oh, she was looking for the recycle can collector person. Oh well, I feel bad for her we now have this huge pile of cans, and even worse timing that the can collector just left!  Oh!  My mom is now coming back to type! #interception!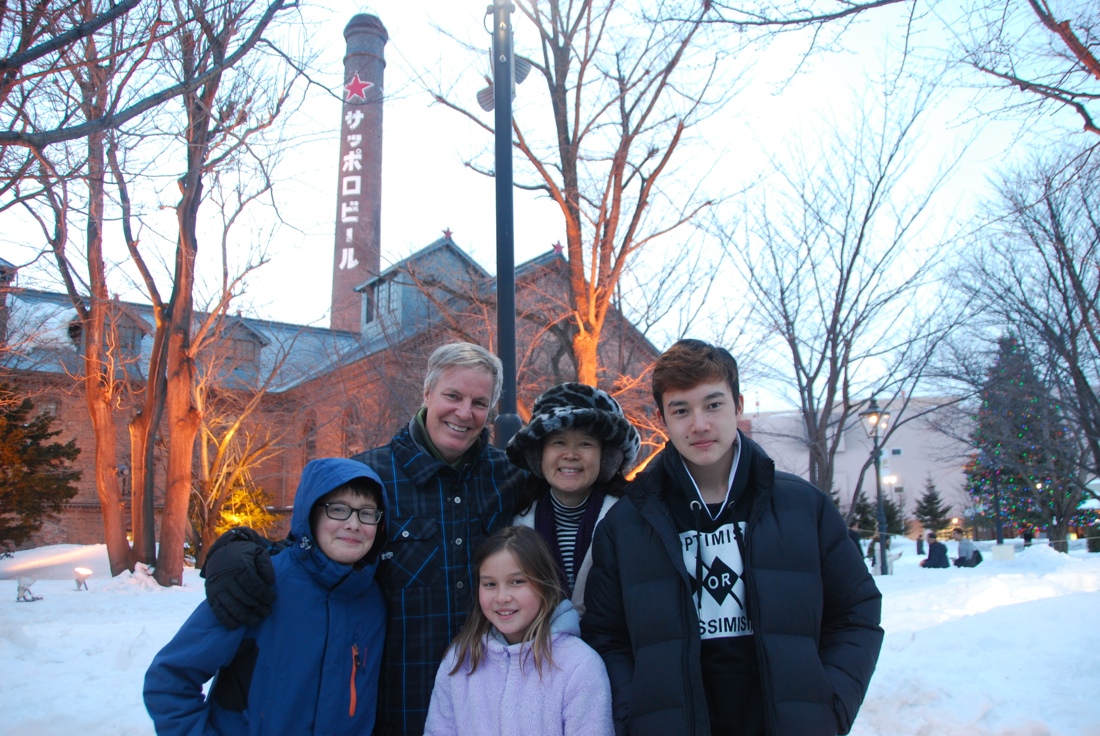 Next up:  Kaiten-sushi Nemuro Hanamaru!
Sunday, February 12.  I didn't want to leave Sapporo without having some of its famed sushi.  This far northern part of Japan is famed for having the freshest, tastiest seafood in Japan.  We conducted some research and found that Nemuro Hanamaru is one of the most popular places for sushi and its location at the JR Sapporo Station made it very convenient for us on our last day before heading to the airport.  The website said it could get very crowded and that it opens at 11am.  We decided to check out of our hotel, head to the station, store our luggage in a coin locker and go to the restaurant for lunch.
First we stuffed ourselves with bread rolls and croissants one last time in the hotel breakfast room.  Yum!  Then we packed our bags and said sayonara to Hotel Yayoi and its wonderful staff.  Our hotel was in a perfect location and if only we had a few more days we would have taken full advantage of the sento (public bath) next door.
We had an incredibly hard time finding a free locker for our bags at the station.  I think everyone checked out of their hotel on Sunday morning and had the same idea as us.  It was a lot like looking for an open parking space at the mall at Christmastime.  You just had to walk around and around and follow people that you thought might be leaving.  There were a lot of people rolling their luggage around doing the same thing as us.  Finally we were able to score two lockers and get rid of our bags.
When we got to Hanamaru at exactly 11:40am at the 6th Floor Dining Area of JR Tower Stellar Place there was quite a crowd already there.  We were instructed to take a number from the computer machine.  Our number was 157.  We asked how long the wait would be.  The woman at the counter said 2 hours.  They were on number 45.  The only reason we were able to take on this long wait is that we were in a large mall.  Kaiyo went off to the arcade, John and Halyard took laptops to Starbucks, and Avalon and I went to find the Sanrio store.  We checked in after an hour.  The woman at Hanamaru said it would still be another hour.  We all came back to wait at the restaurant around 1pm.  Here we are waiting and waiting…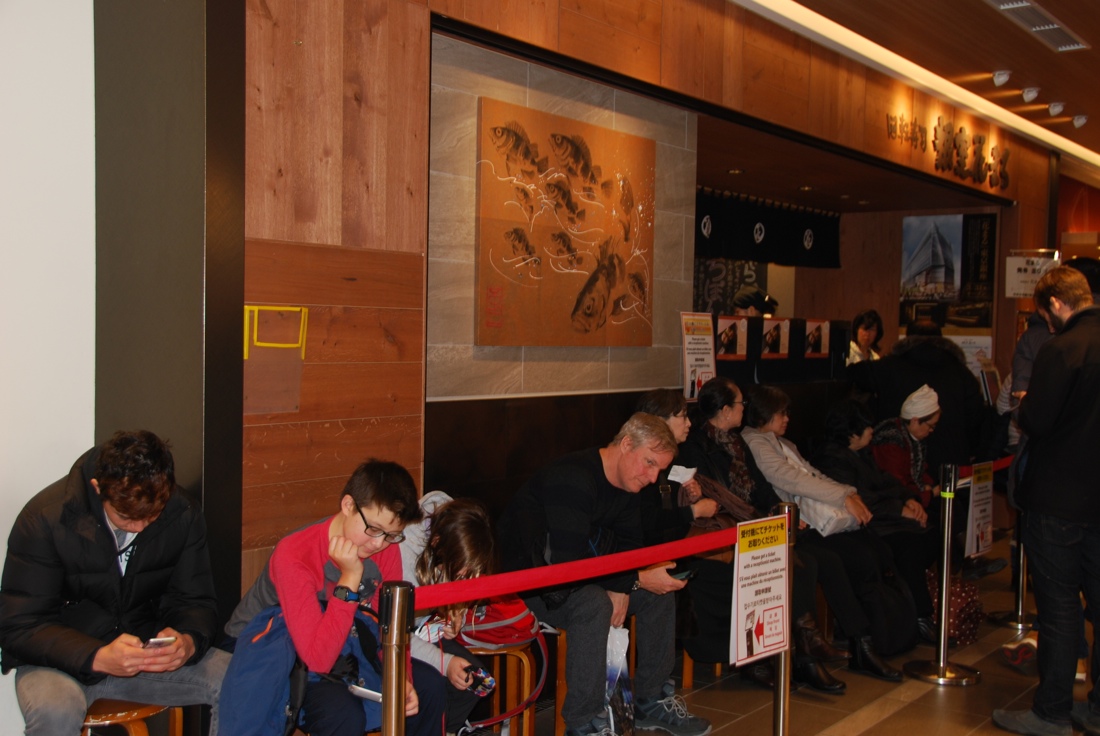 This place is called Nemuro Hanamaru because Nemuro is the place on Hokkaido where it originated and it's a coastal town with fresh seafood.  We were able to get in around 1:50pm.  Just over 2 hours to wait for a seat at this restaurant!  I had high expectations.  Hanamaru is kaiten-sushi.  This is the conveyor belt system where the plates go around the counter and you pick up whatever you want as it passes by.  At the end you pay by the plate and each plate is color coded according to cost.  This restaurant had some unique choices.  Besides sushi, you could also pick up juice boxes, udon or soba noodles, cucumber salad and chocolate cake!  You could also order specific items off the menu and the sushi chefs would make it for you and deliver it.  Halyard asked the chef to make this one below and then dared John to eat it.  It's tuna, green onions, shiso leaf and raw quail egg.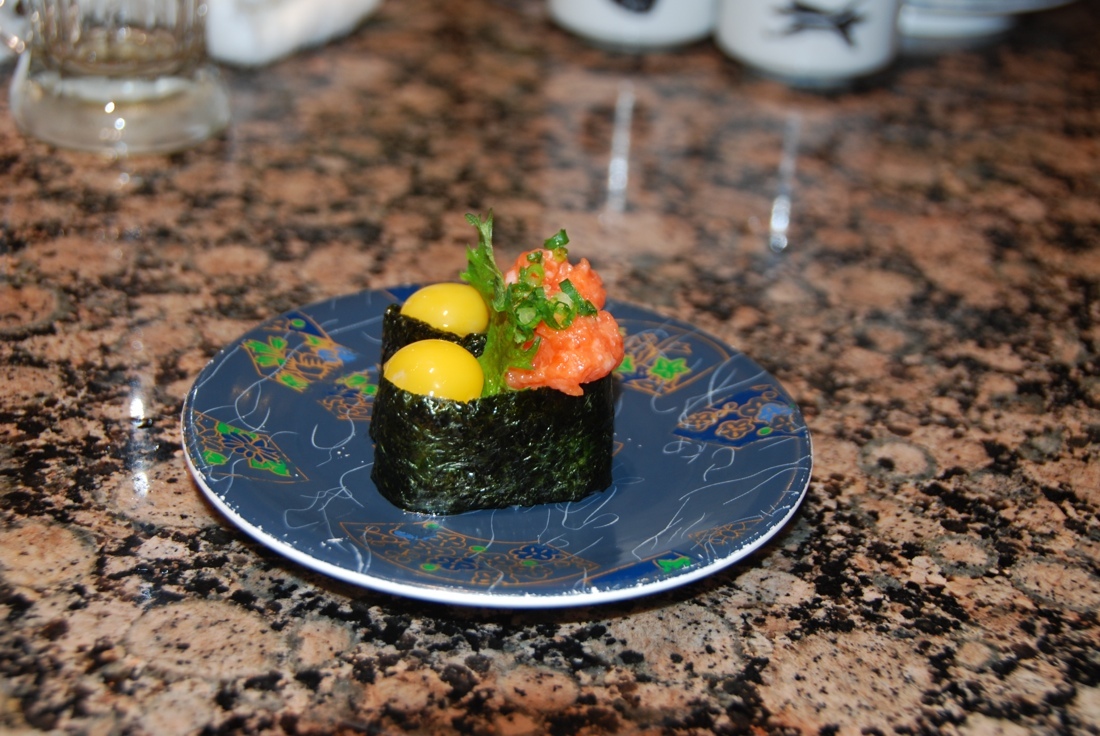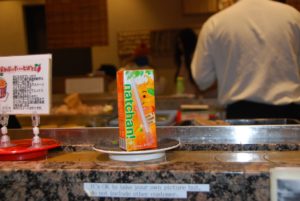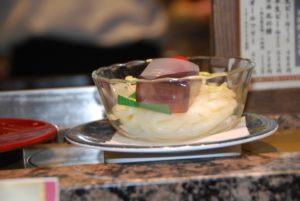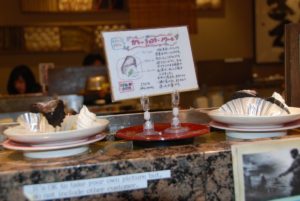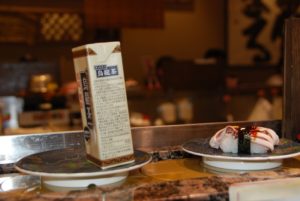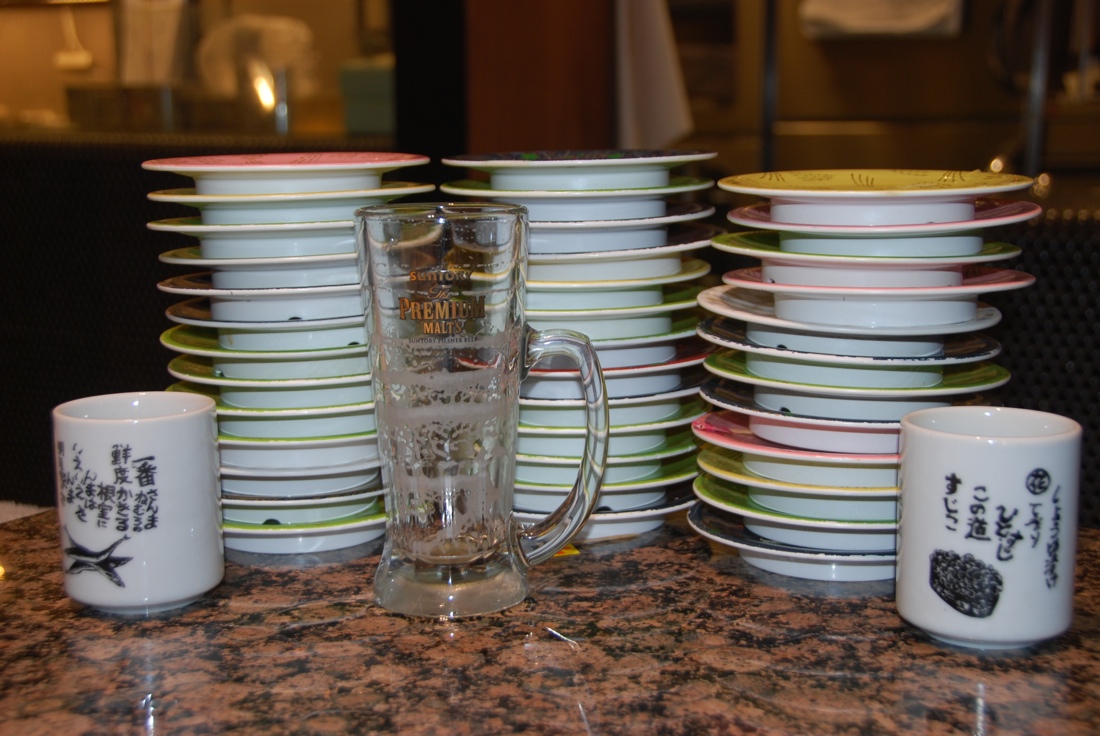 We loved it here.  I've never seen such variety at kaiten-sushi before!  And the food really was super fresh and delicious.  The most expensive thing we ate was an order of premium tuna belly.  When the chefs cut it up they put all the plates on a big tray and they rang a bell a lot of times and shouted a lot in Japanese.  When the chefs stopped shouting, the patrons in the restaurant started shouting for the tuna.  So we did too.  Guess what, it came on two plates stacked on top of each other.  That means you pay double since you're paying by the plate.  I'd never seen that before either.
Above is our plate tally.  I can't remember what the yen total was, but our credit card charge came in at $88 USD for this meal.  Wow!  For the five of us, including beer and tea, that's an amazing bargain.