Saturday, August 20
We're taking the bikes out for a spin.  Andrew, the homeowner, left us 5 bikes to use.  There are 3 "regular" bikes of various sizes, 1 mountain bike, and 1 electric bike.  An electric bike sounds like a luxury, but a lot of people are riding around on electric bikes so it turns out pretty common.  Our next door neighbor at home, Greg, has an electric bike that he gerry-rigged himself that works great.  He uses it to go to Trader Joe's for groceries and to tool around town.  Val says she's going to use the electric bike as a quick escape method for any tsunamis at the ocean.  Just throw Gary the cat in the basket and go!
Much later in the year I discovered that the electric bikes here are very expensive.  They appear to start at $1000 (USD) and can come with all sorts of extras like bike baskets in the front and back, child bike seats in the front and back, covers on the bike handles to protect your hands from the sun, fancy built in bike locks and probably more.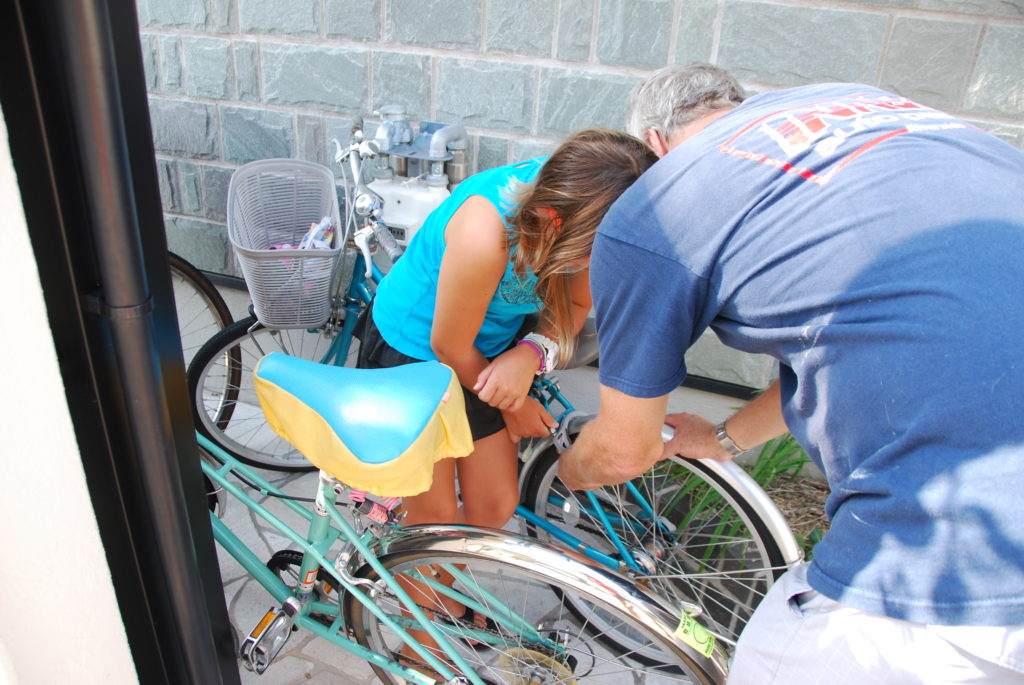 We set out around 8:30am to try to find the kids' school.  It was a slightly hilly ride that was very fun downhill and not so uphill.  At one point Kaiyo saw a truck coming on the narrow road and he got nervous and stopped right in the middle of the incline!  Ugh.  We were all stuck behind him with no momentum.   I should mention that it was as hot as Hades and we were sweating buckets from the moment we walked out the front door.  By the time we got to school Avalon was crying because I had forgotten to bring water!  Double ugh!  It was probably a 20 minute bike ride that felt like an hour due to the heat.
Just a short walk from the school is a Hawaiian themed restaurant with very serious air conditioning.  We had to check it out.  We ordered kakigori (ka-key-go-ri), this is shaved ice and will probably be a recurrent theme during our entire year here.  We made a gaijin (foreigner) blunder though.  The kakigori here turned out to be huge – which we should have noticed because they were the equivalent of $10 each!  It was essentially a huge mound of shaved ice, ice cream, whipped cream and fresh fruit.  We ordered three of them!  We could have all split one.  John left us early because he had to scoot back to the house to meet our new friend Art.  So essentially it was four of us splitting 3 huge treats.
We booked it back with Halyard leading the way.  Could he find the way back?  We cheered when he successfully got us home!  Art was already there waiting with John to take us to Costco.