Thurs-Sat, July 13-15. Ha Long Bay and Bai Tu Long Bay – natural wonder of the world.  We're in the middle of our cruise through Vietnam's Ha Long Bay area.  We've opted for the 2 night, 3 day cruise and out of 50 guests we are the only ones left on the boat.  Everyone else is leaving after only one night.  We have a private dining area for breakfast and a private daytime cruise aboard a small junk (boat) today.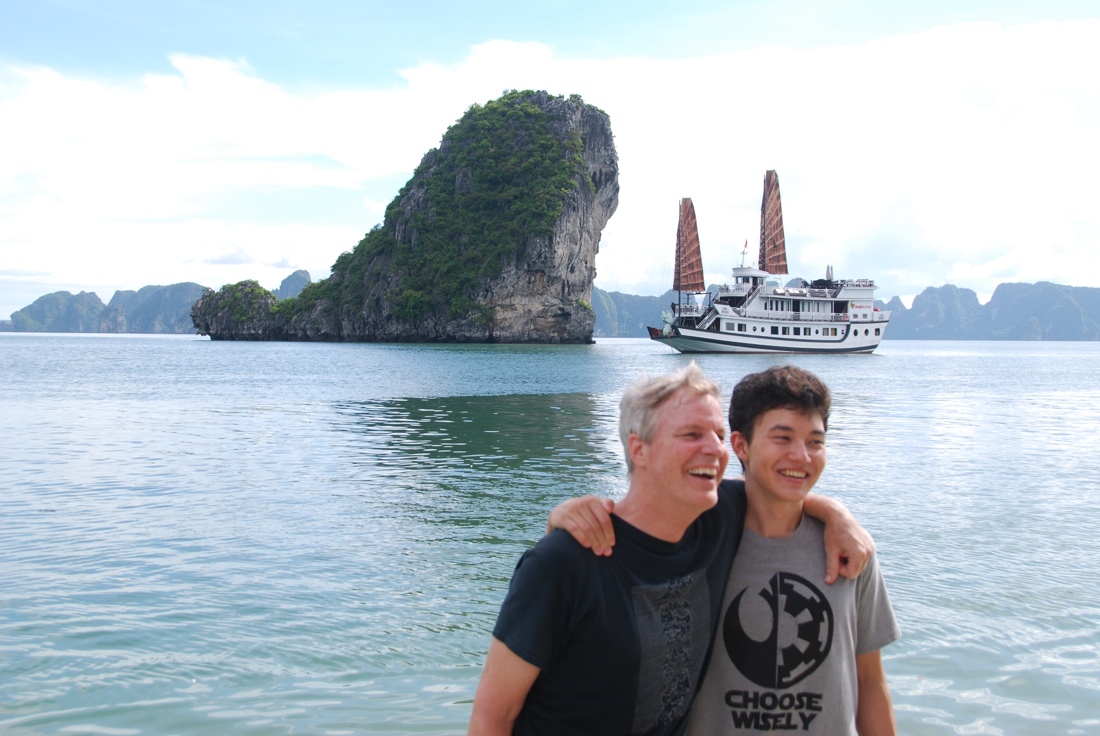 First there's Tai Chi on the sun deck at 6:15 am for anyone who wants to get up early and have a morning stretch.  John went to check it out, but I stayed in bed.  We had our private breakfast at 7:30.  Michael is our personal and private guide for this day.  He is outgoing and friendly and funny.  It's a typical Vietnamese personality I've found.  Vietnamese people in the US are also friendly and funny.  He speaks English well but it's a bit hard to understand his pronunciation sometimes with his thick accent.  Last night after dinner the staff put on an entertaining show with singing and dancing and Michael headlined the program with an outrageously funny dance routine to electronica music accompanied by his loud gregarious singing.  The other staff members were waving their arms and jumping around.  It was hilarious.  Our tour manager, a short man named Jackie Pham, not to be confused with Jackie Chan he says, is especially outgoing and likes making jokes.
After breakfast we boarded the small junk that took us out to the far reaches of Bai Tu Long Bay, away from the big boats and people.  Bai Tu Long Bay is a bay within the larger Ha Long Bay area that's only been opened recently to a small number of cruise companies.  It is located to the northeast.  We probably cruised for an hour.  It is a stunning landscape here.  I keep taking photos of the imposing limestone rock formations but every one of my photos looks the same as the last one.  But to my eyes, every sight looks more beautiful and amazing than the last.  The water is a different color of blue, the trees are a different shade of green and the sun is reflecting a different look on the landscape.  It's hard to capture on film the stunning beauty and color of this bay.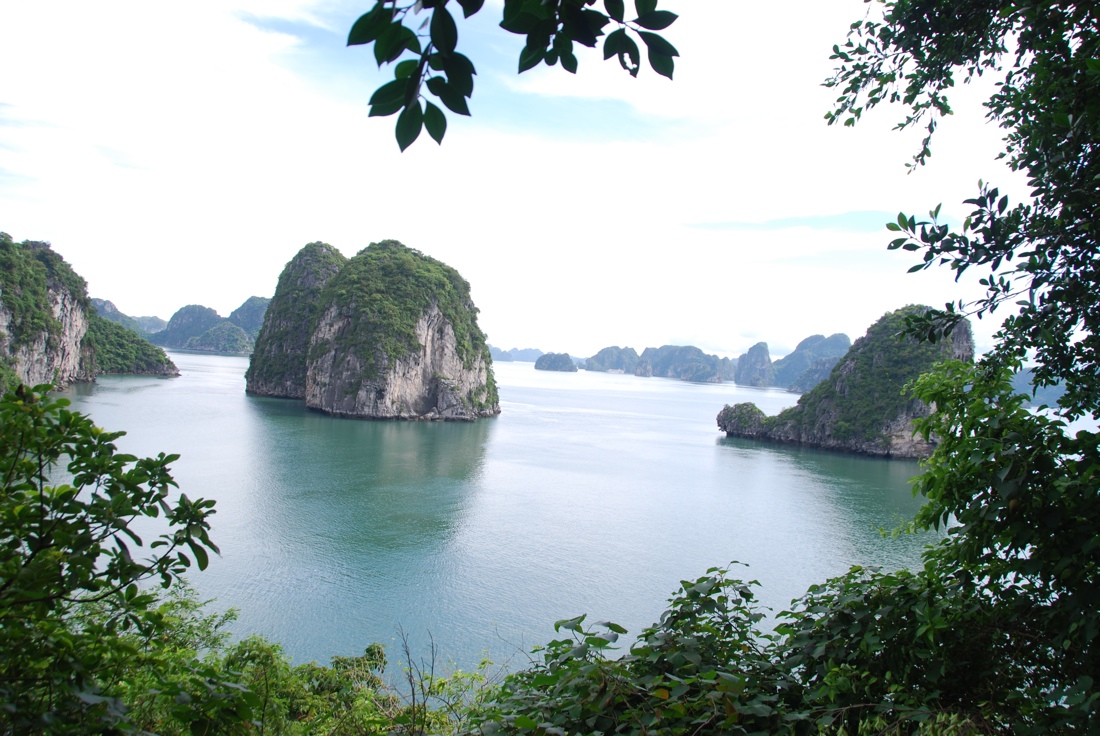 Jackie Pham told us the whole legend behind this bay, but here's Wikipedia's version:  According to local legend, when Vietnam had just started to develop into a country, they had to fight against invaders.  To assist the Vietnamese in defending their country, the gods sent a family of dragons as protectors.  This family of dragons began spitting out jewels and jade.  These jewels turned into the islands and islets dotting the bay, linking together to form a great wall against the invaders.  Under magics, numerous rock mountains abruptly appeared on the sea, ahead of invaders' ships; the forward ships struck the rocks and each other.  After winning the battle, the dragons were interested in peaceful sightseeing of the Earth, and then decided to live in this bay.  The place where the mother dragon descended was named Hạ Long, the place where the dragon's children attended upon their mother was called Bái Tử Long island (Bái: attend upon, Tử: children, Long: dragon).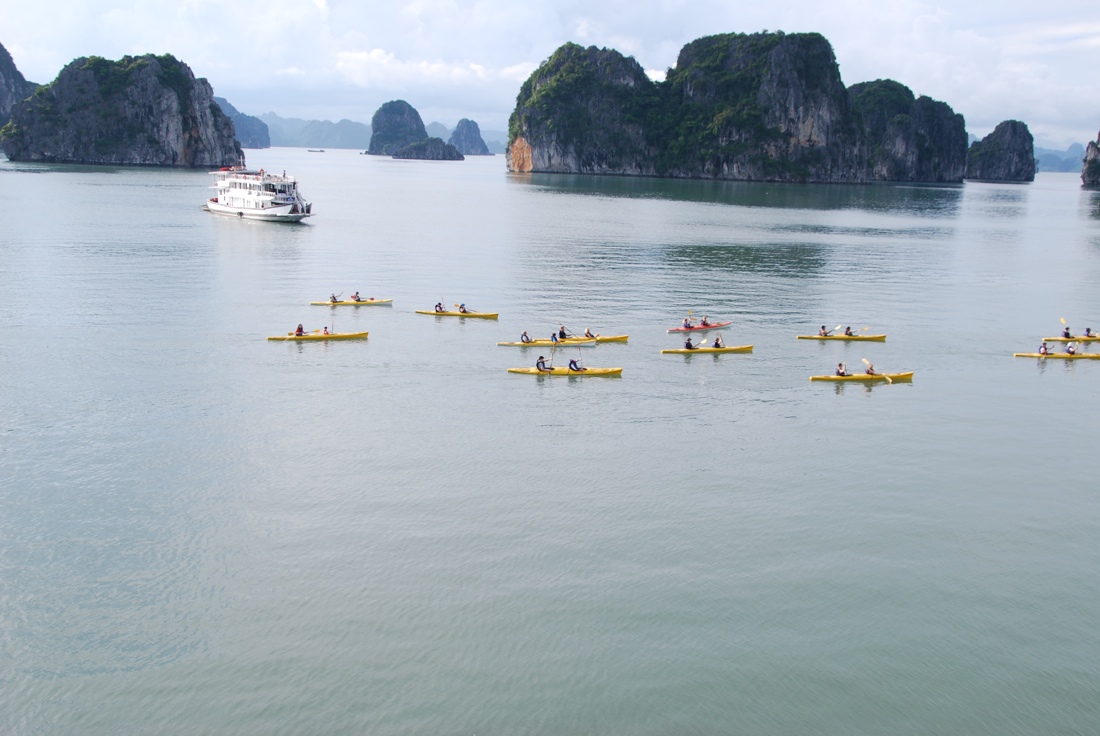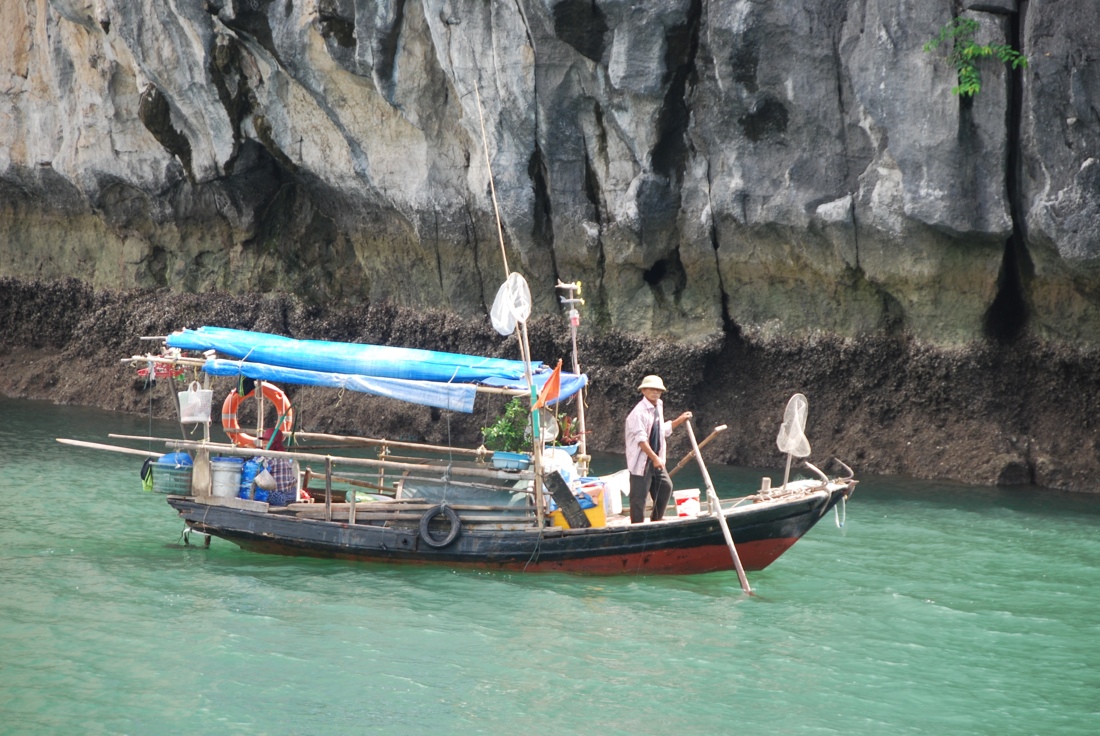 The landscape here is very different from when we sailed around the San Blas Islands in Panama, but it's the same feel in that we are in an incredibly remote area of the sea, where the islands are largely untouched and the only local people are fishermen in their fishing boats, throwing their nets out in hopes of a good catch.  In Ha Long Bay they live in floating villages and they never really leave the water.  In Panama they've made huts on the islands.  They both trade their day's catch for fruit, vegetables and rice from people on the mainland who come out to barter with them.  Unfortunately both places still have their share of trash piles collecting and floating by.  I see styrofoam and plastic bottles in the current, like someone's portable cooler has broken apart.  But a lot of cool, giant moon jellyfish float by in Ha Long Bay, too.
When our small junk finally stopped we hopped into two person kayaks for a kayak ride around the limestone formations and an up close look at the scenery.  After a half an hour Michael led us to a small secluded cove and we pulled our kayaks on the sand.  This little cove is far, far out and tucked away.  We stayed here for about an hour, looking at shells, the rock coves, and playing in the water.  At the water's edge the bottom is sandy and full of crushed shells.  Then farther out, about waist deep, the bottom is mucky mud, slimy, like mud and moss mixed together.  I tried to explain the word "squishy" to Michael but he didn't grasp it.  The water was so warm.  It was incredibly refreshing.  I felt so lucky to play in the water in Ha Long Bay.  The tide was between low and high and you could see on the rock outcropping where the water line from high tide was.  Barnacles filled the rocks below the water line and little black crabs ran around on them.  There are big leafy trees growing from the rocks.  In some places the trees cover the towering rocks, and it seems amazing that they can grow out of such a place.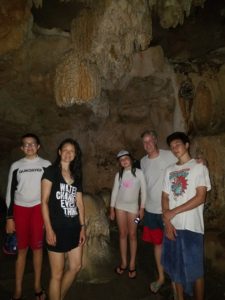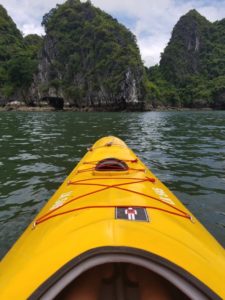 After we were done playing we got back in our kayaks and went on to a secret, secluded cave.  Michael had told us to bring the flashlights from our cabin room because the cave would be very large and dark.  It was so cool, literally and figuratively.  The cave was filled with stalagmites and stalactites and some that had joined together so that they formed a column.  There were pools of cool water under our feet and water dripping all about.  And little bats hanging and flying overhead in the dark.  Halyard, ever the teenager said, now I can cross off spelunking in Vietnam.
As we exited the cave, you could see the outside from the mouth of the cave with the water and limestone rock beyond.  It was beautiful.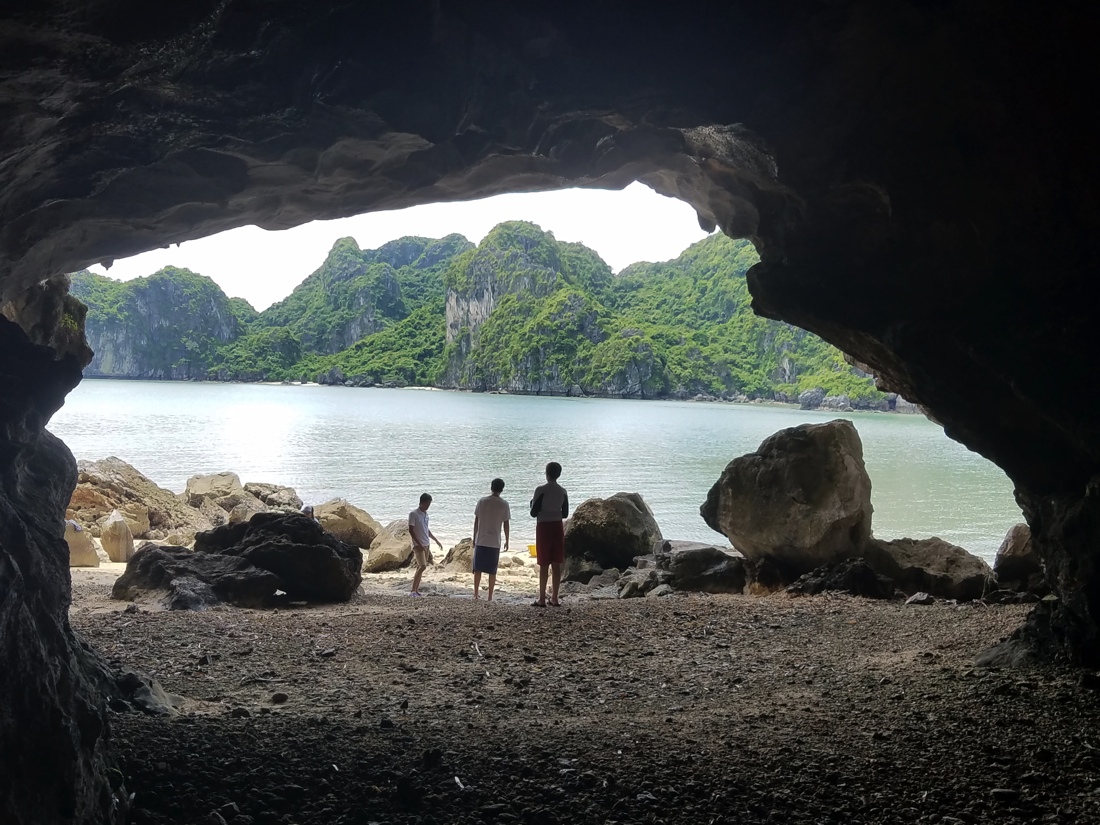 Then we hopped back into our kayaks and went back to the small junk.  We were served yet another delicious lunch of egg omelette, raw and cooked veggies, little clams, a delicious tomato and cilantro based shrimp stew, steamed calamari with vegetables, rice and fresh fruit.  Halyard says he's never had so much dragon fruit as he's had in Vietnam.  Well, I just saw the inside of a dragon fruit for the first time in my life in Bali last December so I guess the same can be said for me, too.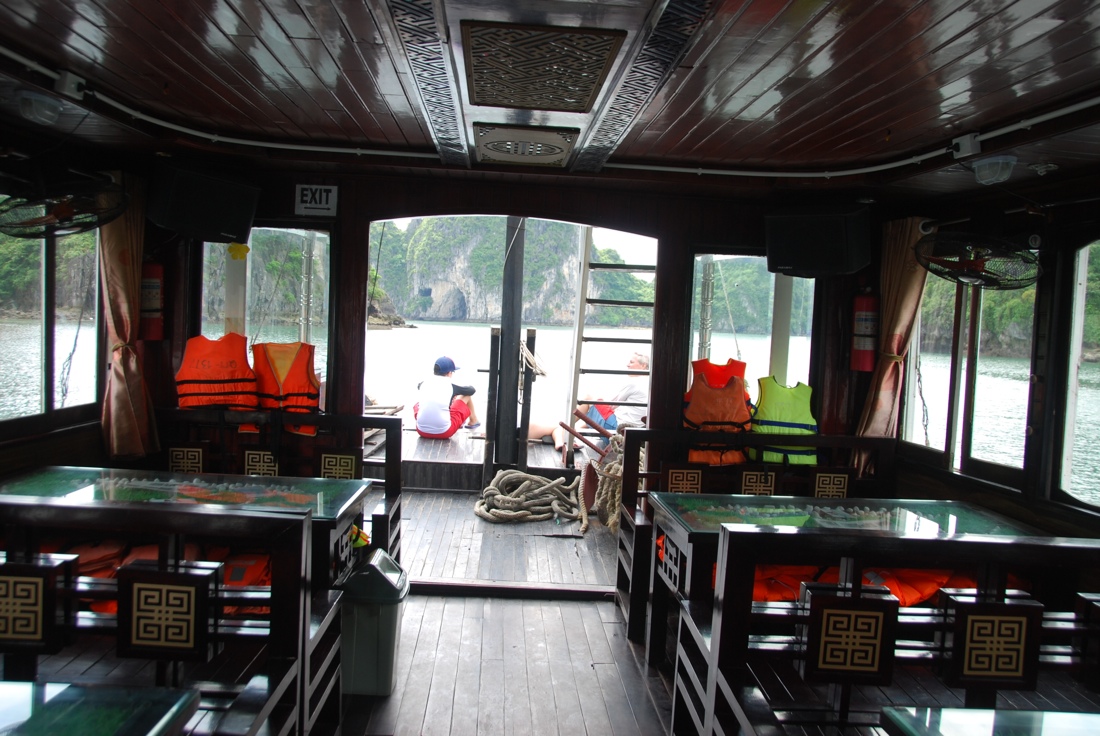 After lunch the crew all had a nap and we sat around or napped too while the boat rocked around the water.  It has been so nice here in this remote corner of Vietnam, with limited electronic access (I let the kids bring their phones and iPad on the cruise but I left the chargers back in the hotel in Hanoi so they have to be selective about when to use them) and no WiFi.  Soon this small junk will take us back to the big cruise boat.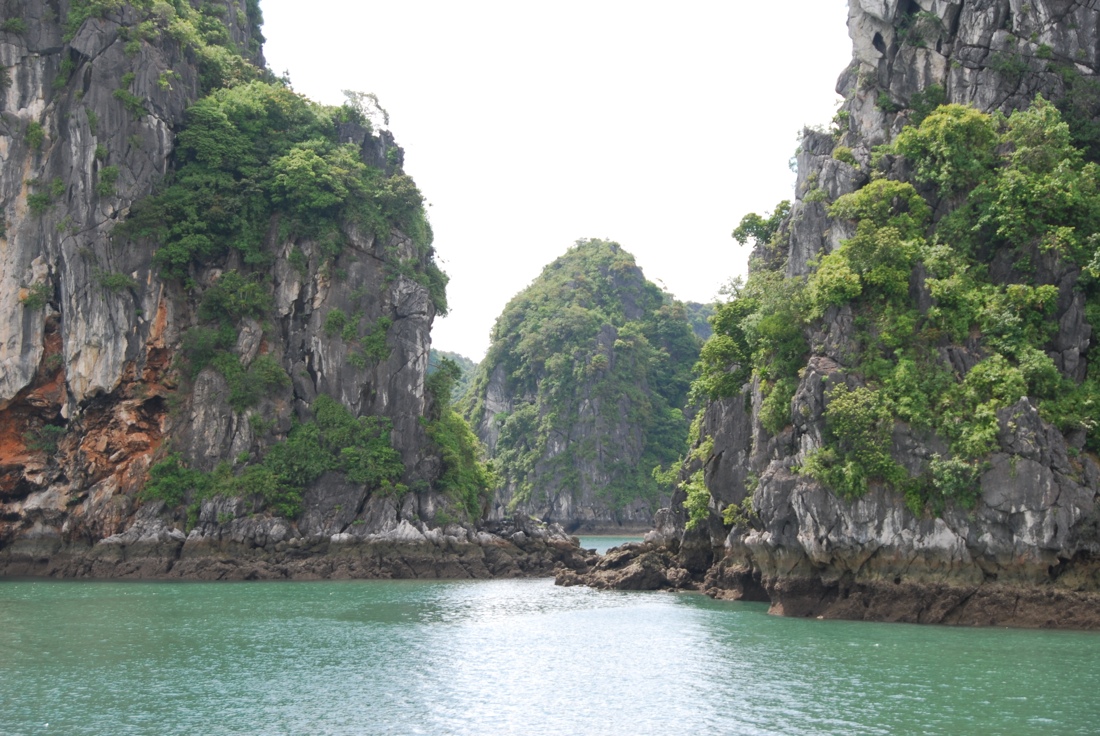 While we have been away today, the big boat took the other passengers back to the harbor for their van ride back to Hanoi.  Then it picked up a whole new set of guests.  So when we get back to the boat again it will be full of new people.  One of the nice aspects of traveling is the new people from around the world that you get to meet and talk to.  We met an incredibly nice couple on our van ride here.  The man is from Limerick, Ireland and the woman is from Petra, Jordan.  They are now living in Dubai and teaching there.  They have a travel blog too and they've been to 44 countries, and counting!  I hope to keep in touch with them through their blog.  Petra is definitely on my bucket list and Ireland is definitely on John's bucket list.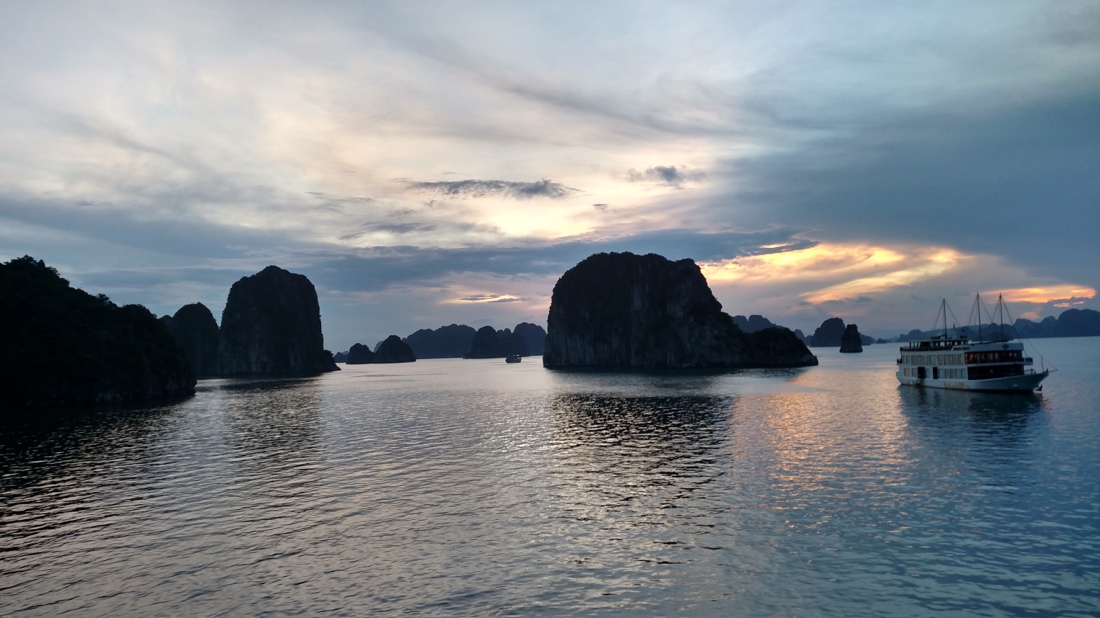 At 6 pm every night during sunset, Michael leads a hands on cooking demonstration up on the outdoor top deck.  After the demo is over we all get to sample our food skills.  The first night we made fried spring rolls with fish sauce and on the second night we made fried rice cakes.  At every point in this trip the crew has been wonderfully cognizant of our vegetarian diet and they always make special plates for John and I if meat is in the dish.  Michael even made separate vegetarian spring rolls for us to sample during the cooking demo.
The nighttime entertainment was a hit again.  Someone played a traditional instrument like a flute, a Vietnamese girl named Sunny belted out current pop hits and invited Halyard and Avalon to come sing with her.  Halyard and Sunny sang Sugar by Maroon 5 but Avalon was too shy to sing.  Then Michael sang an outrageous version of Love Potion Number 9 and jumped around to electronic music again.  It's like an entertaining Vietnamese variety show.
The next morning we're having a light breakfast on the boat, going on a tour of Vung Vieng, a local floating fishing village, taking a bamboo boat ride around the craggy limestone cliffs and then having a final brunch on the ship before heading back to the harbor to disembark.  It's a rainy morning so the staff handed everyone a very stylish colored garbage bag that was meant to be a rain poncho.  This selfie isn't very flattering but pretty much tells it all.
This cruise has been a highlight of our trip so far.  Our amazing Golden Sun Suites Hotel in Hanoi arranged this tour for us.  When I search online I never see this cruise company at the top of my Google search, but I highly recommend it.  It's Huong Hai Sealife Cruise.  They're a relatively new operation and I believe their ships are more modern than the big junks, I'm told their aircon is better and the cabins are more spacious and every one of them have private balconies.  The crew is so fantastic too.  This is what sets Huong Hai apart from the other Ha Long Bay cruise options.  At under $400 (USD) per person, most things included, for 3 days and 2 nights, this seems like a real bargain to me.  http://huonghaisealifecruise.com/en/