We have now been in Japan a solid 3 months.  We arrived on August 14 and today is Wednesday, November 23. (Okay it's actually Nov. 30 now.  I'm so behind.)  I am typing this on the airplane to Kuala Lumpur, Malaysia.  The kids have a Fall break before the next trimester begins.  They are off school from today, Wednesday, and do not return until Tuesday, November 29.  This coincides with Thanksgiving break back in the US.  I was hoping someone from abroad would come visit during this time since the Fall tree colors are so beautiful but no one could make it.  So we are flying out instead.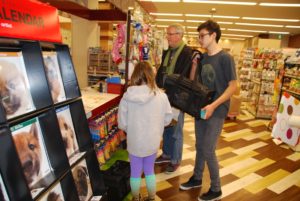 We took the cats to a pet hotel (in Japanese it's peh-toe hoe-teh-rue) last night.  It was kind of sad leaving them there.  Basically a small room with a large cage.  They came from the shelter initially so I don't know if that will give them nightmares or give them comfort, having been in a cage before.  We were able to drop off the bed that John made for them and also their cat scratching post and toys.  And their expensive, vet prescribed, sensitive stomach food!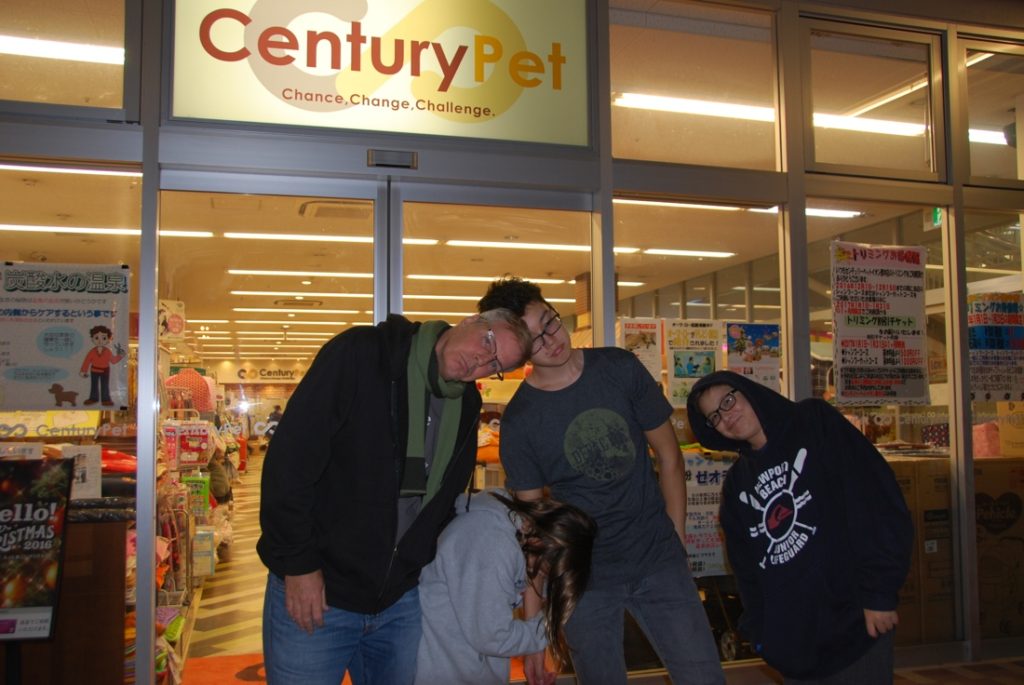 Everyone is sad to leave the cats behind.  Actually Kaiyo has a funny happy look on his face… Avalon might be laughing under her hair too.  I'm not sure…
More Kuala Lumpur in its own post later…
GETTING AROUND JAPAN
As of October 24, Avalon is now riding her bike to school on her own.  When we first arrived I thought we'd never be able to get around independently.  There's so many winding roads and back ways.  But we're all doing great.  Avalon really remembers John's "secret, scenic, shortcut" paths.  I still feel nervous when she leaves the house but she wants to go on her own.  There's one major, Pacific Coast Highway-like street that is very busy that the kids must cross.  It is called 171.  But Japanese drivers seem to be very polite and they give bikers the right of way in a crosswalk.  Even if you aren't in the crosswalk yet, they'll see you coming and wait for you to bike across.  So polite!  When John drives he's really had to train himself to look for bicyclists before making any moves into a crosswalk.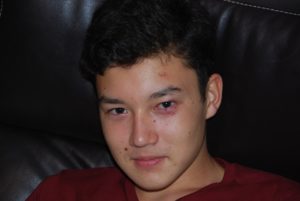 Halyard leaves on his bike in the morning and we don't know when we'll see him again.  One time he came home looking like a disaster after trying to make an off road move down a steep hill in a park at night.  Apparently there were some bumps and holes in the dirt. He was all banged up but he said it was fun.
If Kaiyo doesn't appear at home after school then it means he has probably made a pit stop at the arcade Namcoland.  He's using his Namco app to get free games and his buddy Euan is a master at getting loads of virtual coins.  I just found out that
Kaiyo has a virtual coin account at Namcoland.  He uses his handprint to unlock his vault and the system recognizes him.  He can then go around spending and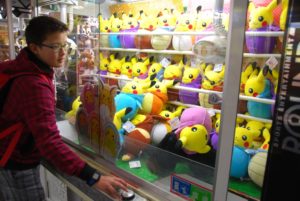 earning more coins.  Euan won 21,000 coins the other day, which Kaiyo estimates to be about $200 USD if he were to buy them in the arcade.  Euan often wins jackpots – he studies the games on Youtube I'm told – so no wonder Kaiyo likes to meet him there.  And Euan is very kind about sharing his winnings.
John and I don't ride to school in the afternoon to pick up Avalon as much as we did before.  Now she has several school friends that live around school and it seems like a few times a week we might ride to school to get her and she'll want to go to her friend's house instead.  So it turns out we rode to school for nothing but exercise.  Everyone is feeling more confident about being here and it's not as foreign anymore.
In fact, Kaiyo rode the bus all by himself to a Halloween party that his classmates organzied.  The girls in his class actually rented a room somewhere and threw a party.  Kaiyo needed to contribute something like $5 USD.  He had to go to the Senri Chuo train station via bus and back home again after it was over and I wasn't sure if he could find his way back alone.  He got on the proper bus and got off at the right stop!  Hooray!
Speaking of transportation, John is also getting more confident about driving.  My car-related posts are not as amusing as they were in the beginning because we are getting used to how things work in Japan.  However…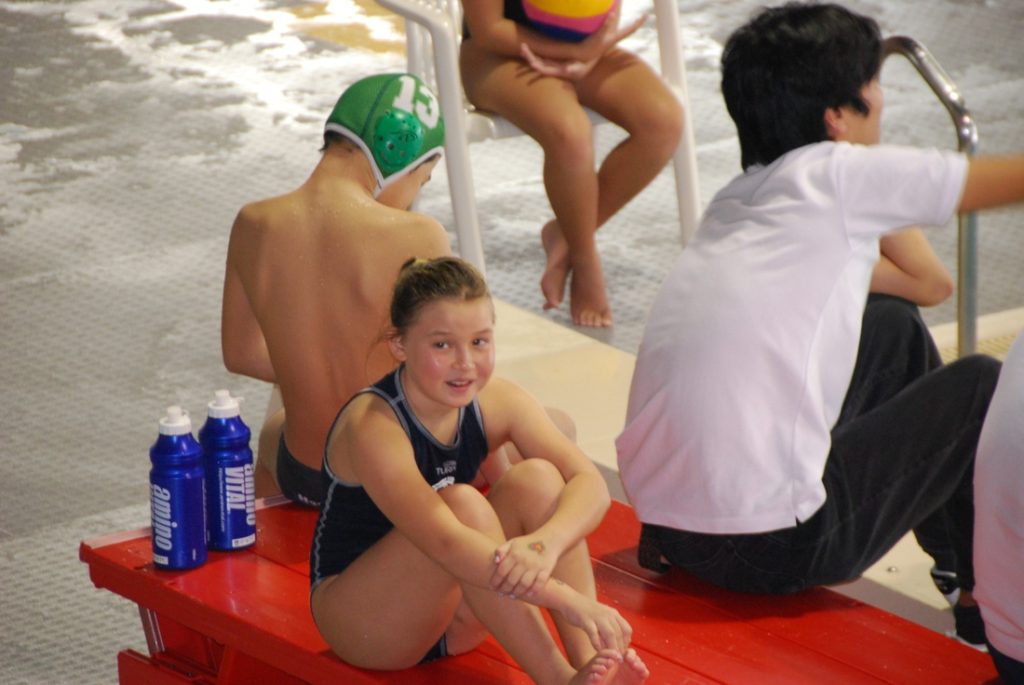 Recently Avalon joined a one day water polo tournament in a place called Amagasaki in Kobe.  We needed to be there by 8am and it was a 45-minute drive.  So we dragged ourselves and a slightly grumpy, bleary-eyed Avalon out of bed.  She didn't even get dressed.  She got in the car with pajamas on and lots of blankets and a pillow.  On the way Google Maps kept changing things up on me and I'm not good enough to know when to ignore it and when change with it.  So I kept getting confused.  John was becoming more animated because he cannot drive AND interpret the phone while driving on the wrong side and navigating traffic in Japan.
As a result of my Google confusion, we got on two toll roads that were 930 yen each (about $9).  We accidentally got on a big red bridge to Kobe (wrong bridge!) and we had to U-turn at the end of the bridge and come back across.  A 930 yen toll!  We got on the Osaka Loop downtown, and we knew weren't supposed to but what can you do when you're in the lane and it's too late.  A 930 yen toll!  And we even got right off.  Just an $18 driving lesson!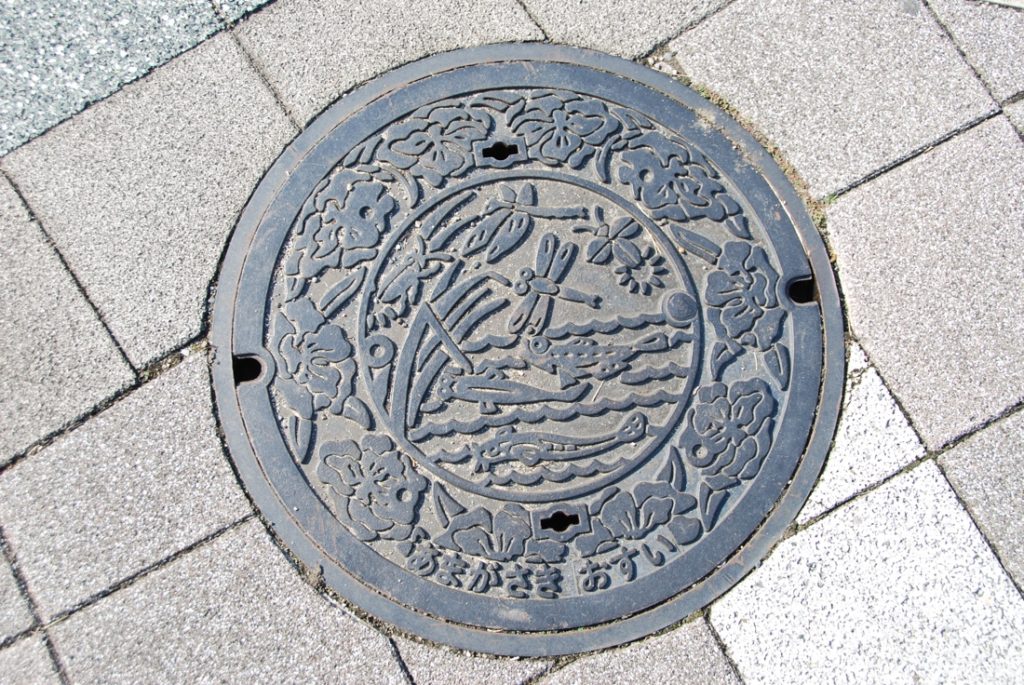 We arrived at exactly 8:03am (it took us a full hour!) and Avalon threw on her bathing suit and went inside.  Again, take off the shoes.  The tournament took place at the Amagasaki Sports Forest.  It is a huge sports complex with an Olympic sized swimming pool, a baseball diamond, maybe a soccer field and… and an indoor ice rink!  Some guys were playing a game of pick up hockey.  John wanted to join them.  Cute Amagasaki manhole cover above!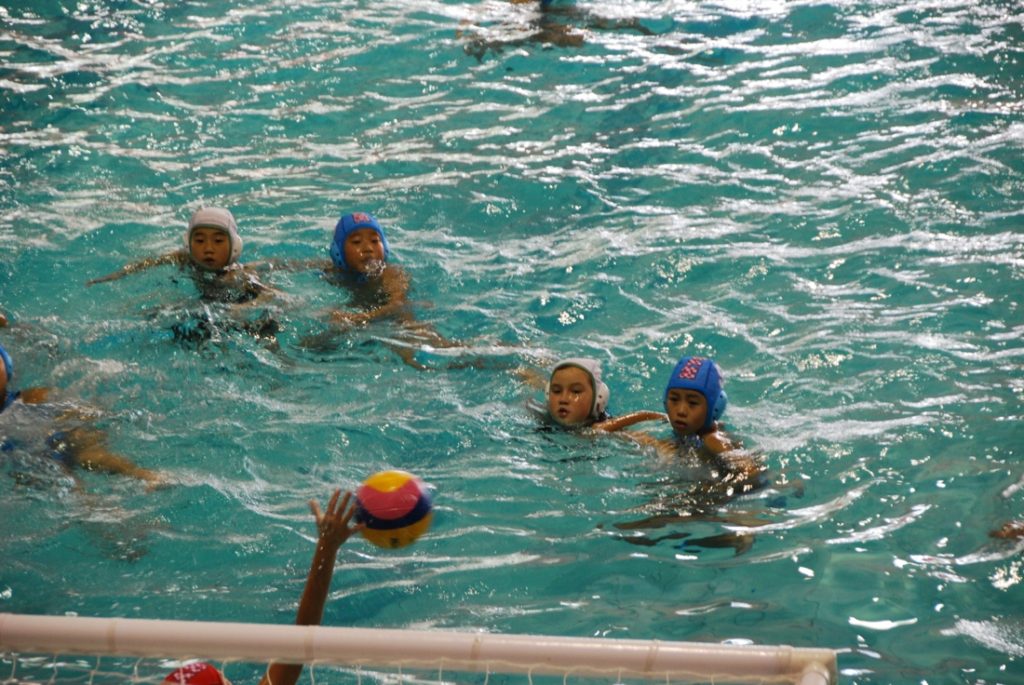 MEISHI EXCHANGE
Recently John was invited by our friend Art to a career networking event hosted by a company called Robert Walters.  It was an evening event in downtown Osaka.  Earlier that same day John realized, Oh!  He needed meishi to bring along.  Meishi are Japanese business cards and they are seriously important.  They are the starting point of a Japanese business relationship.  When meeting a fellow businessman for the first time there is whole ritual to the meishi exchange.  To make meishi on the same day that you need it is really negligent!
If you can believe it, John found a Kinko's in downtown Osaka.  He called them and managed to get across that he need to have them made right away.  Kinko's said okay bring us your card on a USB drive and it will be 3 hours.  John paid $80 for 50 cards!  And it wasn't even premium card stock.  Oh well.  That's what happens when you are desperate.  And another thing, a meishi card holder is also required.  So after John had his cards made he needed to buy a holder to keep them in.  Keeping them in your pocket or in your wallet is considered rude!
John looked up some videos to view a proper meishi exchange.  Oh my goodness, were they funny!  There are a lot of rules to exchanging meishi.  First you face the person you are exchanging with.  Then you must bow at the waist at a 45 degree angle.  We watched several different videos on this process and they were all very specific about not bowing too low and not just bobbing your neck and head.   Then you must extend your card with two hands, being very careful not to cover your name or your company's name.  You must make sure the the information on the card is facing toward the person you are handing it to.  If you are receiving the card, you must take the card with two hands and then study it.  You must give proper respect by admiring his or her card before putting it away.  Also, you need to have your feet a certain way too!  Your heels should be together and the toes apart.  Like a 45 degree angle again.
John and I practiced the meishi card exchange first.  We both held cards and tried not to bonk heads as we bowed at 45 degrees.  We offered our cards to each other with both hands, carefully not covering any important text on the card.  We studied each card intently.  John said I did not make eye contact with him and I said his feet were not at a proper angle.  We tried again.  But this time I tried to bonk his head with mine.
10-MINUTE HAIRCUT
I've already chronicled John's adventure at the barber.  Since then both Halyard and Kaiyo have also had haircuts.  I wasn't with Halyard when he got his but I was with Kaiyo.  Kaiyo was desperate for a haircut and we just didn't seem to have enough time to get over to a barber.  I promised him that before his Halloween party we would get him a haircut.  We were down to the wire.  So I took him to a quick cut barber where you buy a ticket from a machine, you sit down and wait for the next available stylist and then get your hair cut.  Just like the ramen ticket machine!  This place is called QB House and it is in the mall near us.  It is a 10-minute haircut for 1000 yen ($10) and it was perfect for Kaiyo!
He came out in 10 minutes looking and feeling like a new person!
OMIYAGE
Omiyage (oh-mee-yah-gay) is the custom of gift giving.  Omiyage is practiced at all ages and for all occasions.  On a regular basis the kids in the sports clubs will bring omiyage in the form of candies and cookies to share with their teammates.  Avalon's gymnastics' buddies will bring little candy and gum to practice to share afterwards.  On Avalon's second day of practice she got matcha-flavored gum and some strange tasting candy.  She spit them both out!  On another day a boy gave her little cheesecake cookies at water polo practice.  Those were tasty.  Avalon sometimes brings little omiyage to share with her teammates.  I asked Kaiyo if he wants to bring treats to tennis but there's only a few girls in his class and he's too shy to pass out presents I guess.
Another occasion for omiyage is hosting kids for playdates and sleepovers.  Once, when we had Avalon's classmate and her younger brother over for a playdate, her mother brought a box of beignets when she came to pick the kids up.  On another day we had Kaiyo's classmate over for a sleepover and his mom sent a wrapped gift along.  They turned out to be super fancy, individually wrapped, shrimp flavored, rice crackers!  So I have to step up my gift giving game here.  I've sent expensive fruit and special cookies from the nearby temple as omiyage on my kids' playdates.  But Halyard's friends don't bring gifts.  It's a parent-thing and their parents probably don't even know where they are!
I already mentioned this, but on one of Kaiyo's first days at school a girl in his class brought Godiva chocolate bars as omiyage for the entire class.  She had just returned from an overseas trip and I suppose Godiva is duty free in the airport's international area.
When my cousin Mayumi and her family came to stay with us from Sapporo they brought little presents for all of us.  Face wash for me, little toys and fizzing bath balls for the kids, a game for John and the best dessert sake ever.  I want to find it again but it seems to be specially from Hokkaido.  Plus they also brought famous manju meat buns and ice candy from the restaurant Horai 55 that I've already written about.
Next month we've been invited to a new friend's house for a dinner party.  It happens to be his wife's birthday too.  I will have to come up with a good omiyage.
But first, this coming Sunday we are headed to see my host family that took me in 25 years ago as an exchange student between the University of CA, Riverside and Fukuyama University.  I am so excited.  I need to find more omiyage!
BLACK FRIDAY
One last thing:  Black Friday in Japan?  One thing I've noticed, this country takes every opportunity to adopt a Western marketing tactic.  It's Black Friday without the hype, crowds, or early mornings!