The agenda on Wednesday, December 21 is Waterbom.  This is a large water park that claims to be the largest (or best?) in Asia and #2 in the world.  I'm not sure according to whose rating system this is measured but it was a good one.  Waterbom is in Kuta, the happening area with the shopping, eating, nightlife and all around lively end of town.  I would say Kuta is the "Waikiki" of Bali.  After another morning visit to Cafe Moonlight we asked Yoga to drive us to Waterbom.  It is pretty pricey to go to this water park, so it is really aimed at tourists.  When we asked Yoga, who is in his early-mid 20's, if he'd ever been there he said no, it's too expensive for him.  Thus, we stayed all day to get our money's worth.  We were literally the last people to leave the park.
Here we are in our own cabana.  Living large!  Avalon loves the safe deposit box in the back.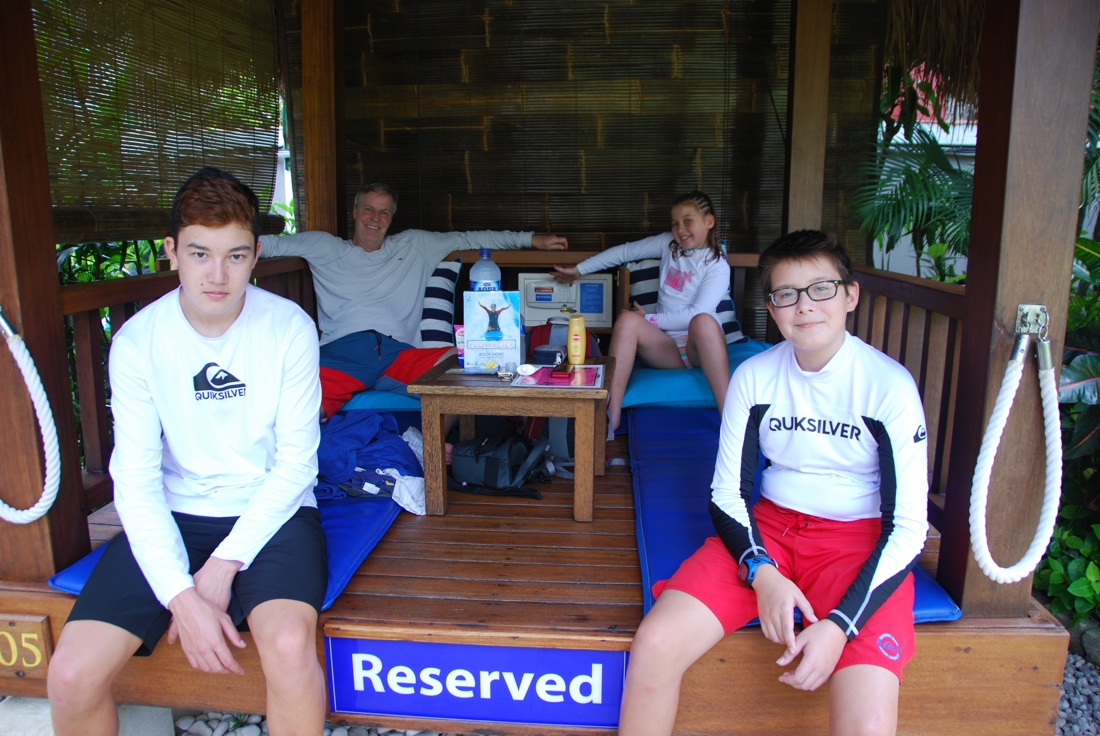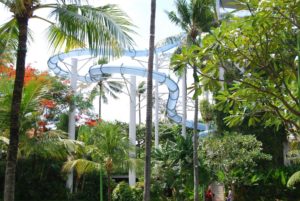 There were a lot of slides of various types and fright levels so even Halyard was entertained during the day.  At left is a waterslide called Pipeline.  This was one of Kaiyo's favorites.  It was a long, fast slide down.  They told John he had to turn his swim shorts inside out to get on this one because he had a metal button on his back pocket.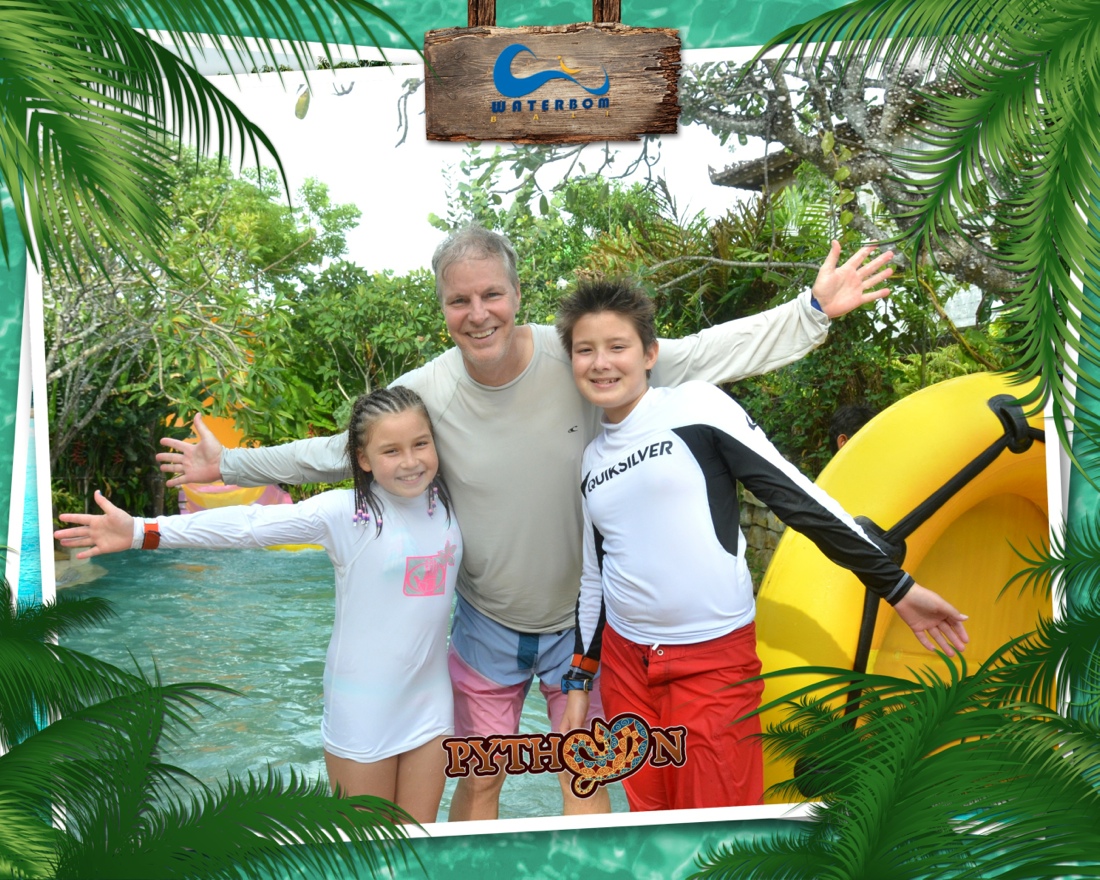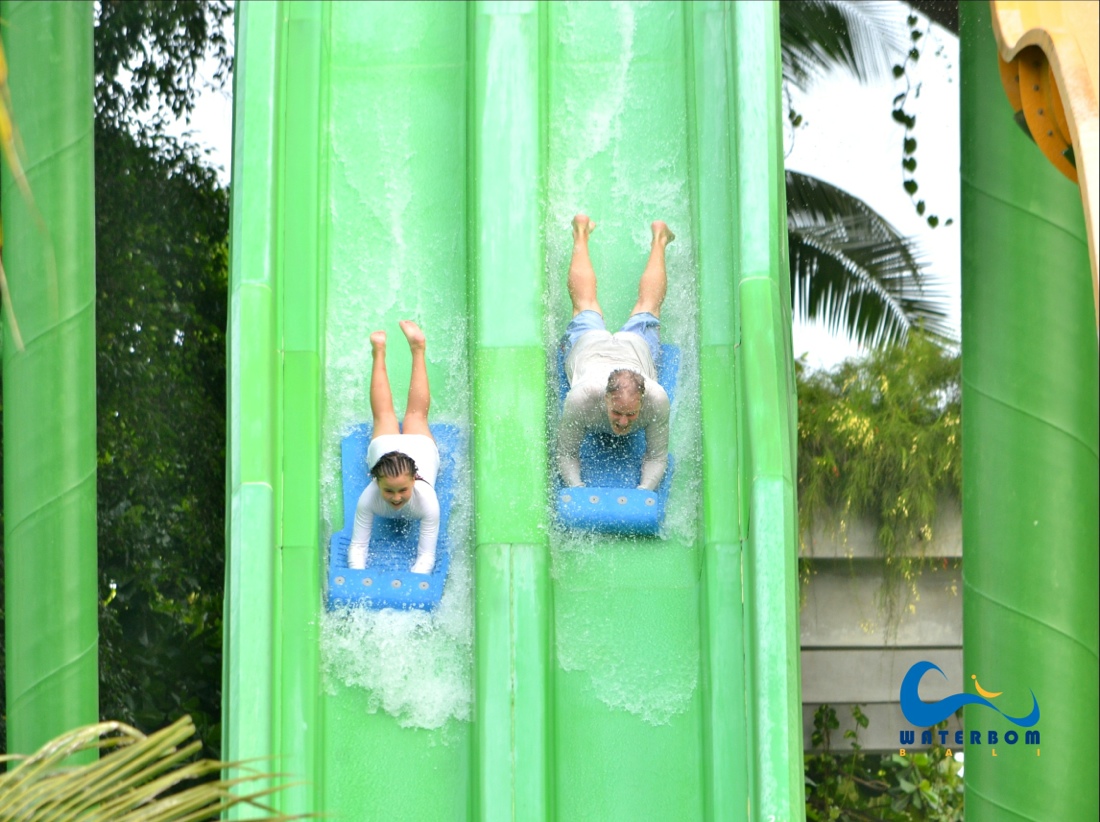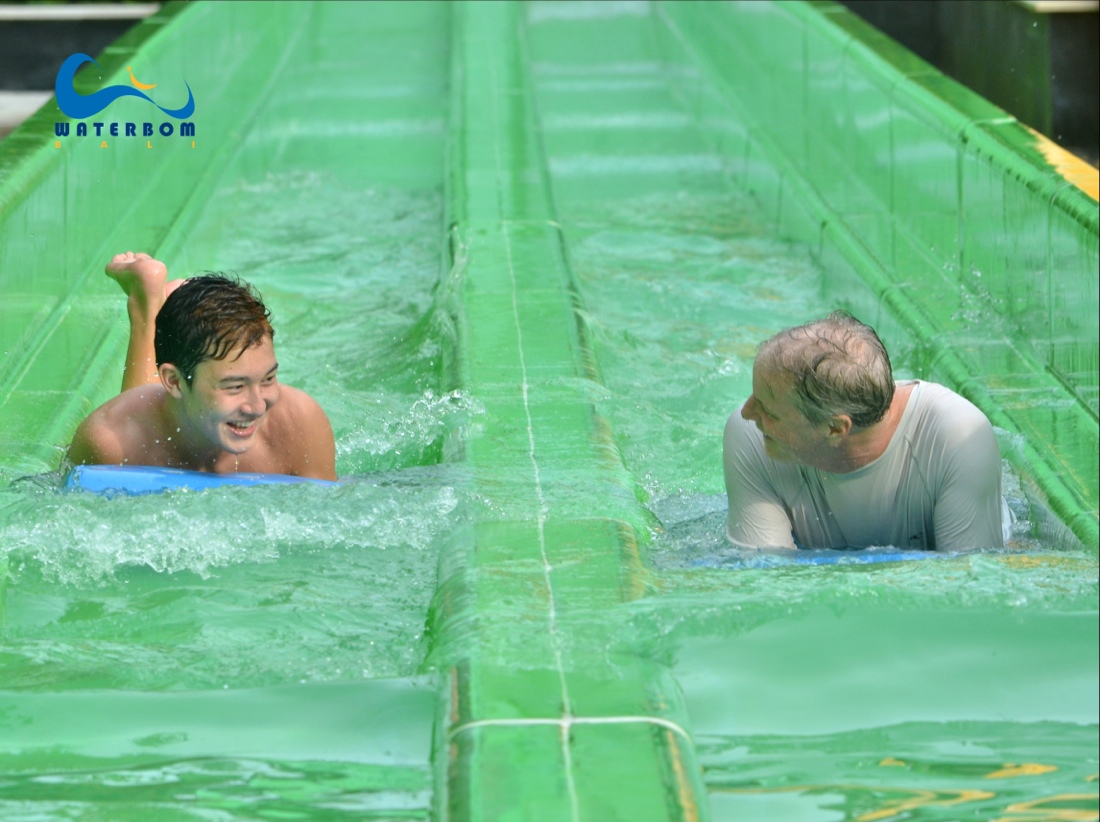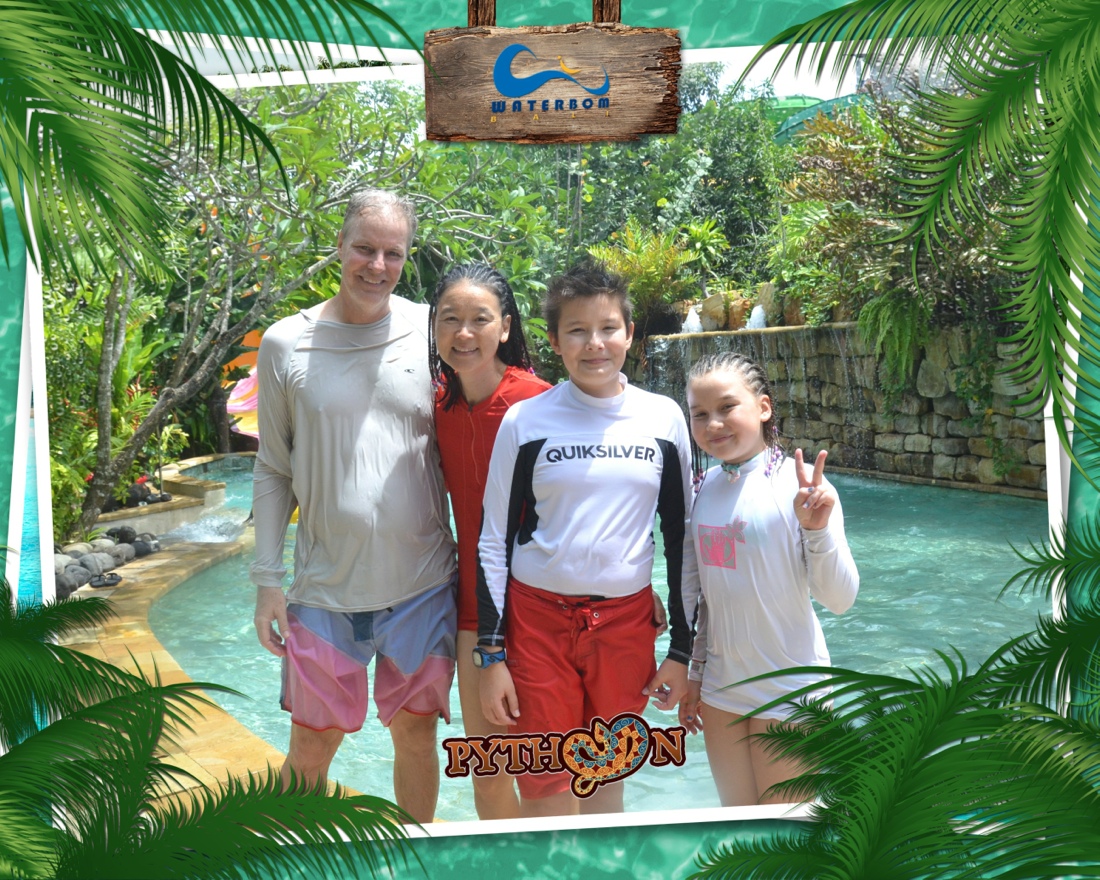 A few were the type that drop you straight down because the bottom that you are standing on suddenly drops out from under you.  Scary!  Even Avalon loved those.  She's a self described thrill seeker!
We took a break for lunch and got a wristband so that we could leave and come back.  There was a mall across the street and from the platform of a super high water slide Kaiyo could see a sign for A&W outside of the park.  He was on a mission to get there!  Now, Kaiyo loves A&W for some reason.  Once, we were on a road trip to the (Northern California) Bay Area on his birthday and we told him we could stop for lunch anywhere that he wanted to go.  He chose A&W of all places.  He got his wish – on his birthday road trip and in Bali.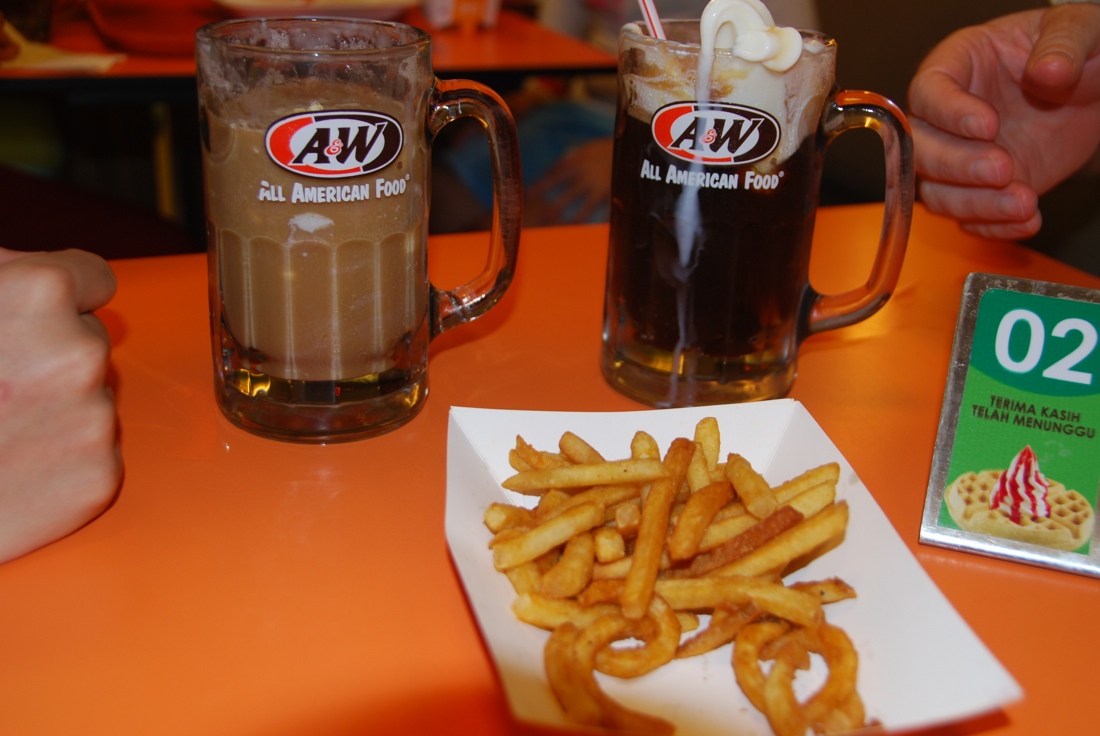 MMMMMMM.  Root beer floats!  Haven't seen or had one in ages!  We haven't seen root beer in Japan so I can understand why Kaiyo wanted to go here.  (Instead, Japan has a drink called a melon cream soda which is green Fanta melon soda and vanilla ice cream.)  Kaiyo and Avalon ate lunch here.  We all ordered root beer floats of course.  As Kaiyo was eating his burger he declared that it was "In-N-Out quality."  Wow.  What a stamp of approval for a hamburger in Bali!   Can't ask for more than that.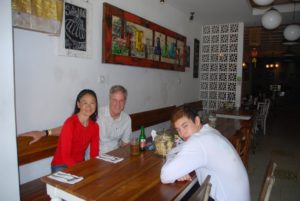 Halyard, John and I ate at a local warung called Telagas just across the street from the mall.  Finally, I get to eat at a local warung!  We ordered Balinese cuisine and it was delicious.  Here is a photo of Halyard's interesting lunch.  I'm not sure what it is but it looks very foreign to me.  (I recognize the lime and the rice.)  Halyard ate everything and said it was tasty.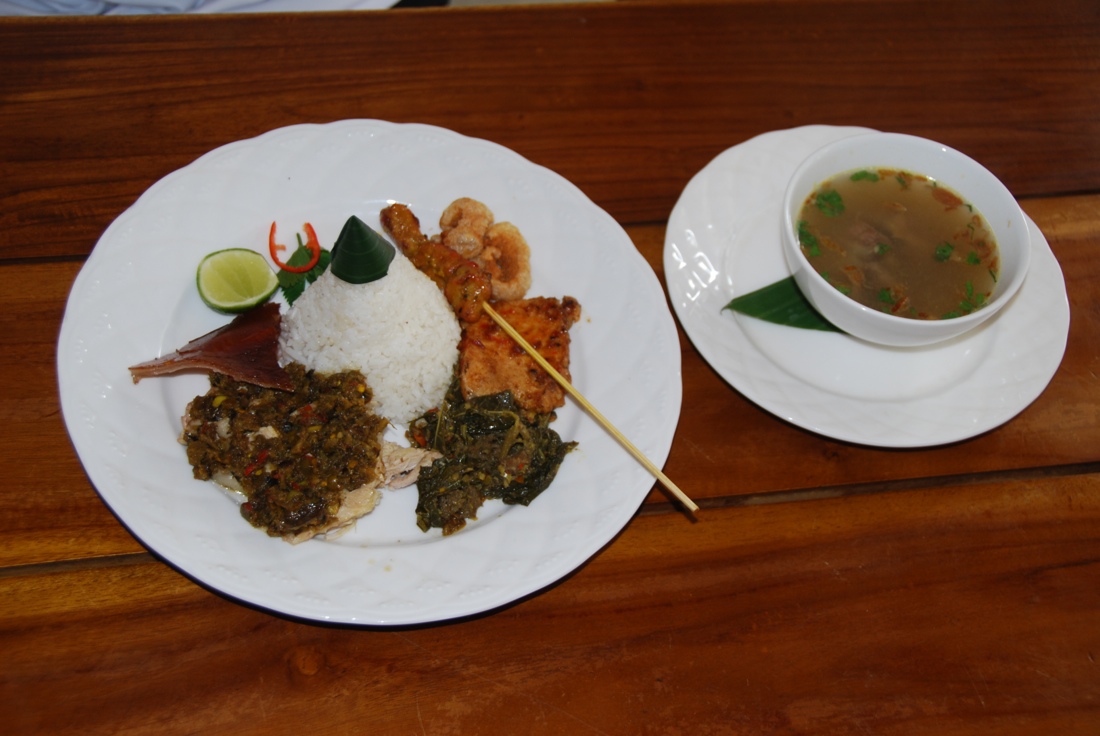 After lunch we all went back to Waterbom for more slides.  It was a long day in the sun.  We think it was well worth the extra splurge.  The smiles tell it all.