Thursday, July 20, we are leaving Cambodia today.  It was a quick stop in this country but the short time we spent here was educational and interesting.  Now we are going back to Thailand to come full circle and close out our trip.  We are finishing up in Phuket (Poo-khet) and Phi Phi (Pee Pee) Island, locally known as Ko Phi Phi.  I scheduled our flight so that we could spend a little extra time in Siem Reap and now we won't arrive in Phuket until after 8pm.  By the time we get off the plane, find a driver and check in to our hotel it's probably going to be well past 10.  Update:  Our plane was super delayed and we didn't get to our hotel until midnight!  The cab driver drove like a maniac and we made it from the airport to the hotel in less than an hour.  Luckily I wasn't in the front seat to witness the reckless drive up close.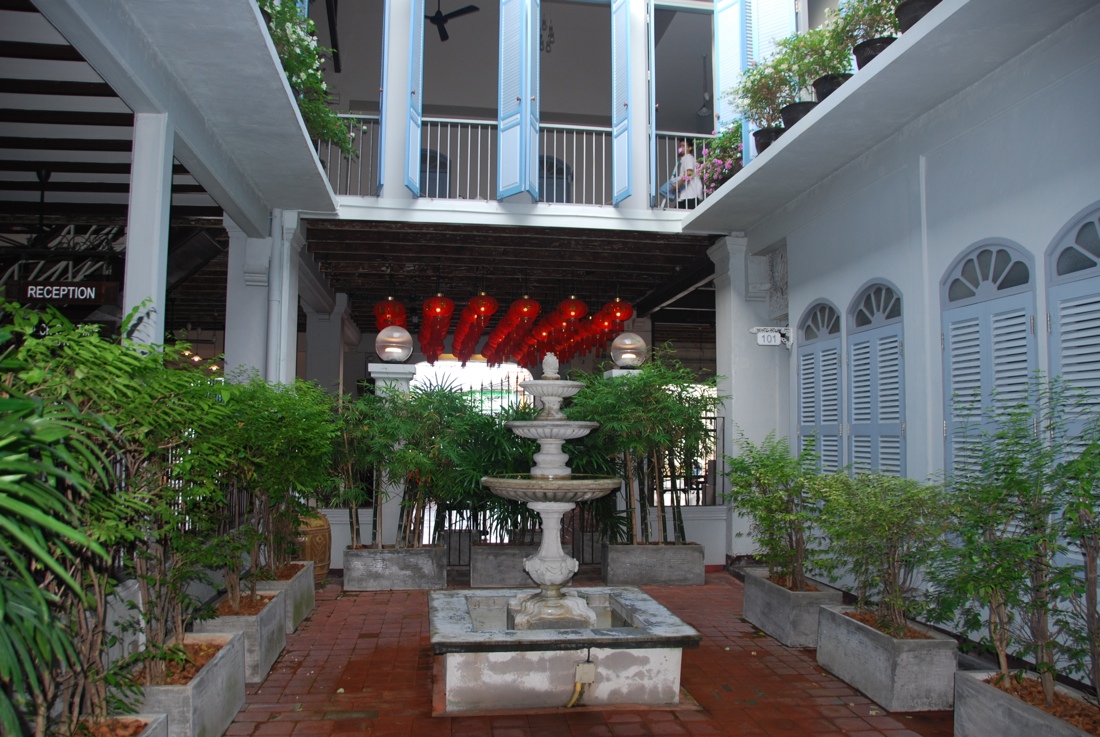 Our hotel in Phuket is called The Memory at On On.  I want to know what this name means.  Several people just referred to it as "The Memory Hotel" but I wonder what On On means.  The entrance and lobby area was so beautiful I wished we could stay longer to experience it.  The breakfast was all made to order instead of buffet.  Of course it was one of those mornings where we were in a big fat rush and wished we didn't have to wait for a hot morning meal.
On Friday, July 21 we are planning to meet the son (Chris) of John's cousin (Michael).  Chris lives in Phuket with his wife Pattra.  Chris will meet us at Rassada Pier and we are going to catch the ferry to Ko Phi Phi with him.  Unfortunately Pattra has to work so she cannot join us on the island.  The ferry was uneventful and long.  It was similar to riding the ferry to Catalina Island back home in Southern California, but a lot longer.  Finally we reached Phi Phi.  When we arrived we were issued a 50 cent per person fee for island beautification.  We couldn't get off the pier without paying it.  It's interesting that this location was one of the hardest hit areas during the massive tsunami that arrived the day after Christmas in 2004.  Afterwards I read survivors' stories about how terrifying it was and how the wave just rushed in and swallowed everything in its path.  The island is built back up and it beckons tourists once more.  It still retains a laid back, beach vibe.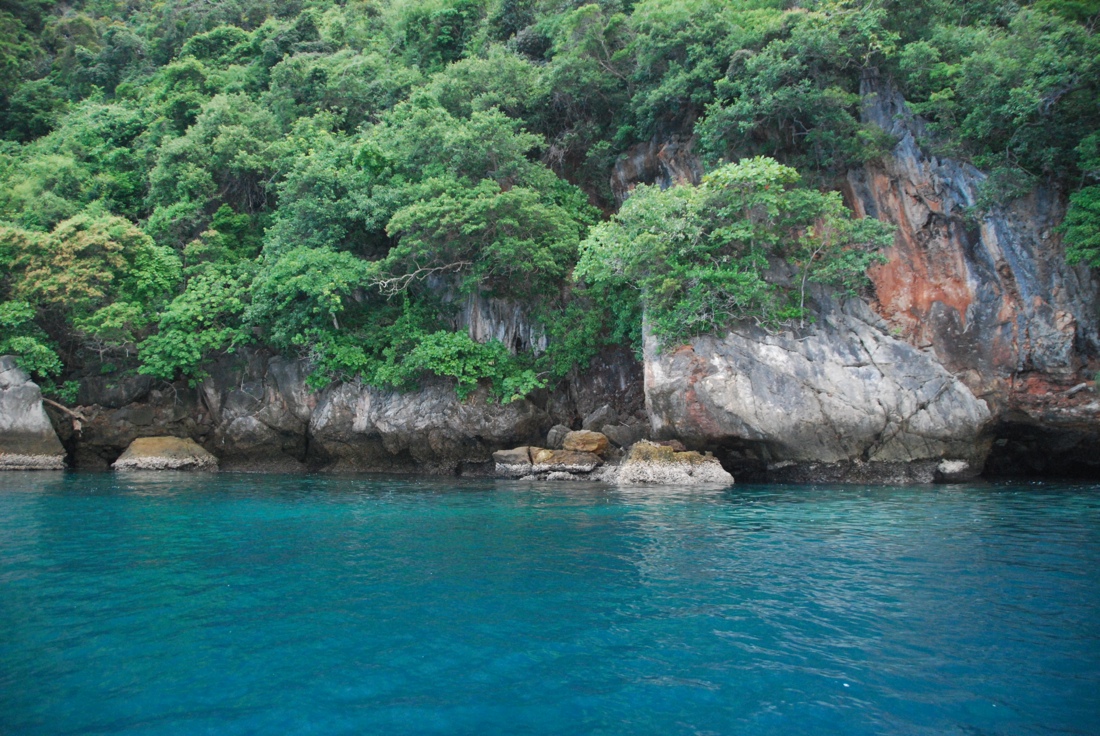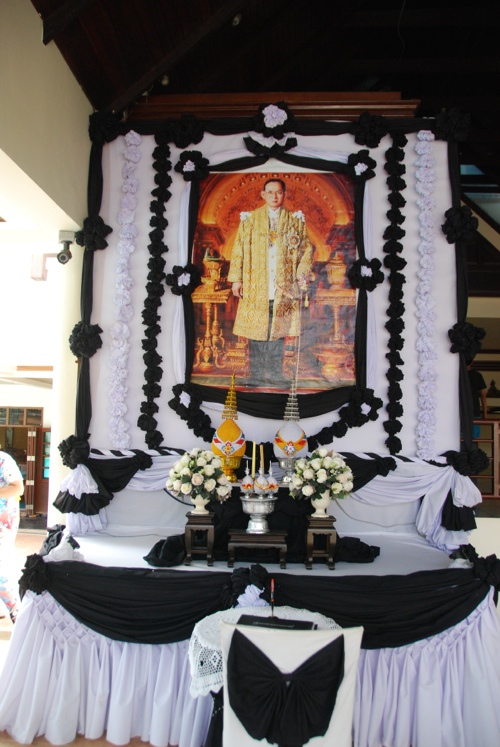 Our hotel this time is the Phi Phi Hotel.  It is very close to the pier.  A super easy walk with our luggage and easy to find.  At the hotel is a memorial to the recently (October 2016) deceased King of Thailand.  It was one of many, many elaborate displays, billboards, paintings, signs, tributes to King Bhumibol Adulyadej.  These memorials are at temples, hotels, restaurants, cafes, on streets and in stores.  Even at Suvarnabhumi Airport (BKK) Airport, there is a huge memorial picture on the entire wall of windows at the airport.  It is transparent so you can still see through to the inside of the airport, yet you can also see the photo of the king and words to describe their loss.  It is absolutely incredible, this kind of homage to the king is everywhere you look in Thailand.
I signed us up for a late afternoon and nighttime adventure snorkel trip.  As soon as we arrived and checked into our hotel we went to the Adventure Club office to see about getting equipment fitted and to sign paperwork.  Finally we hopped on board a long tail boat – so named because the engine is not only out of the water, but it also has an extremely long steering handle, like a long tail.
Our guide is Mariela and she is from Brazil.  She told us that when she lived in Brazil she longed for adventure.  She traveled around but loved Thailand and Southeast Asia.  So she decided to stay and get her scuba diving certification.  She planned to take us to her favorite spots to snorkel and we're on the search for black tip reef sharks.  Unfortunately she said it was too busy on that day and they were probably all scared away.  We did see a large moray eel so that was cool.  The eel's head was just poking out of the coral cave that it was floating in.  It had bright round eyes and super sharp teeth.  Mariela kept pointing at it and John was afraid it might try to snatch a bite of her finger.  Later she said she thought it might have been six feet long!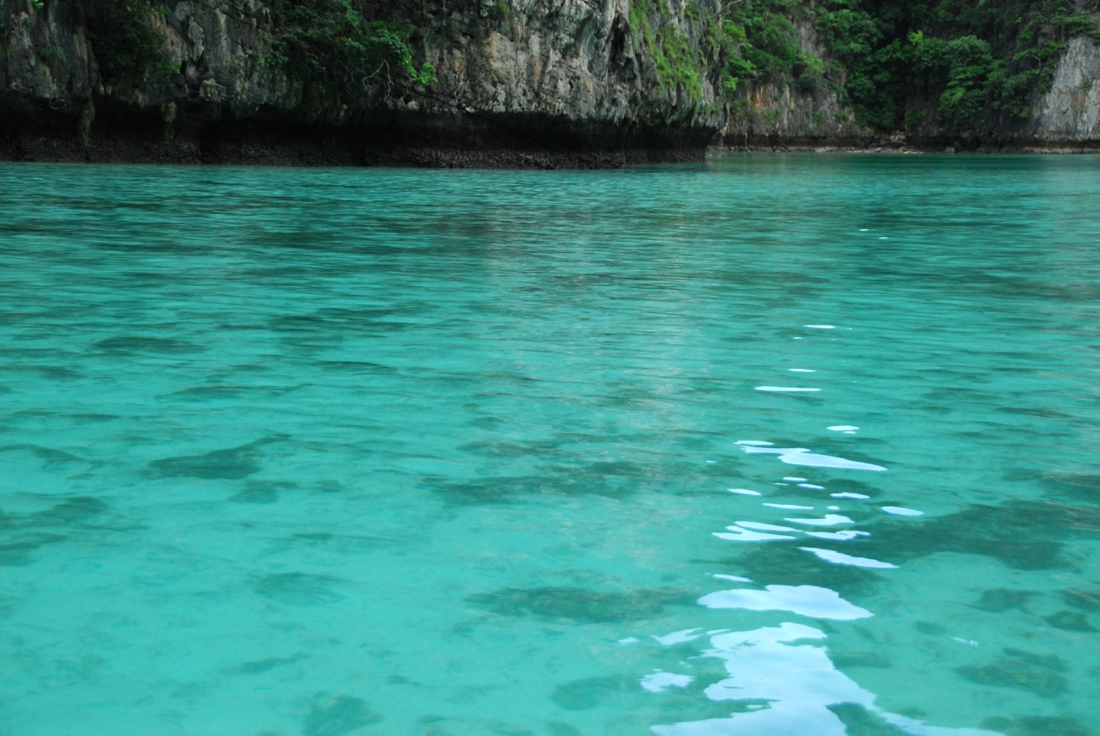 The color of the water here is incredible.  The water is nice and warm but the Adventure Club gave us shorty summer wet suits to wear for buoyancy and warmth anyway.  We saw a lot of beautiful coral and colorful reef fish.  Nemo and Dory were there as well as a lot of their reef friends.  The spiny sea urchins that Avalon fears kept their distance so she didn't have to worry.  I felt like we snorkeled for a very long time.  We went to two different locations and the second one involved an outcropping in the rocks that we could swim around, under and through.  The waves knocked us around and Chris actually got a little cut from the sharp coral, that's how tight the swim through the rocks was.  We took breaks and swam for fun in the warm Thai water.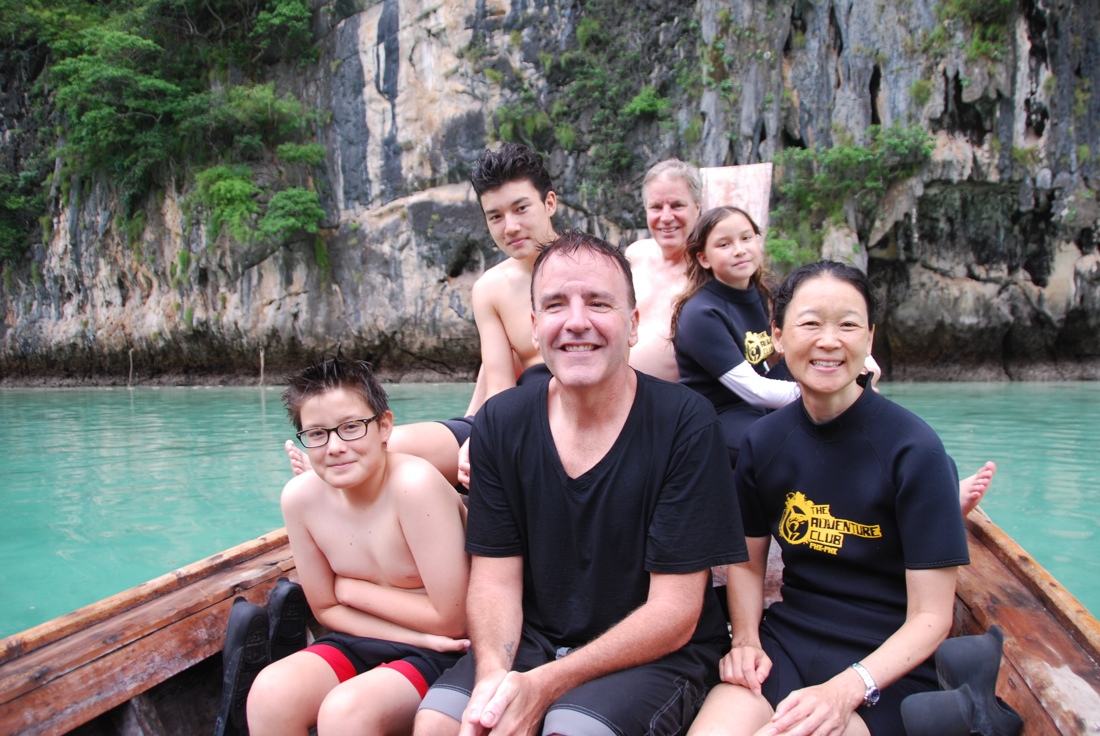 After sunset we rode in the long tail boat to a dark area near the port.  It was night and the water was black.  We put on our snorkels and masks and jumped in the dark water.  Ooooooo.  Bioluminescent plankton swirled around us and it was like floating in a dream.  Like tiny fireflies in the water or a thousand stars floating in front of our eyes.  We waved our hands and kicked our feet while treading water and watched the glowing lights dance around us.  It's too dark to see any kind of sea life so you're just swimming around in the black water watching a trail of lights move around you.  John had thought the kids might be too nervous to jump in the dark water at night, but everyone was more than eager to jump right off the boat.  I guess he forgot they already jumped off a boat at night in Panama when we sailed around the San Blas Islands.  Anyway, the bioluminescent plankton were a top highlight of our whole trip.  Soon Mariela said we had to go but it seemed too quick.
We finished our night with dinner in a small local Thai restaurant and we watched a man dance with fire on the beach.  He was quite good and his performance looked dangerous.  Avalon was exhausted so she and John went back to the hotel.  Chris and I walked with the boys to get Monster ice cream rolls that Kaiyo had seen.  They spread a thin layer of ice cream on an ice cold metal plate, let it freeze there and then rolled it up with fillings like nuts, candy and sauces.  It was like a twist on Cold Stone Creamery.  They were huge bowls.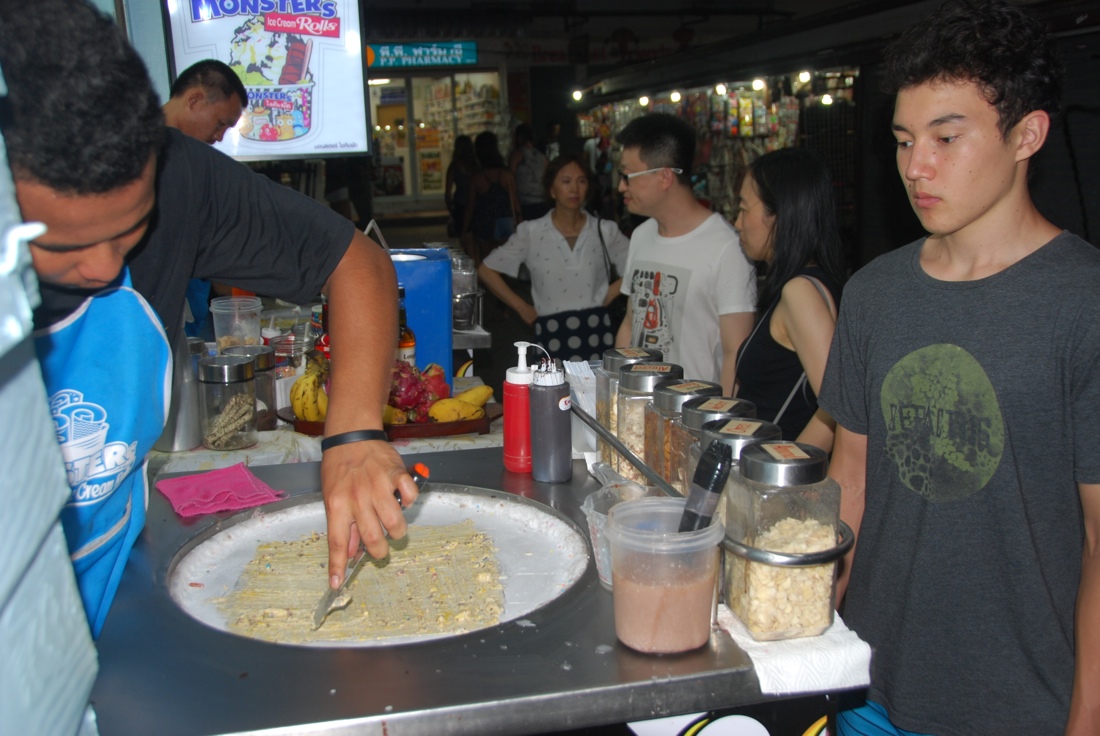 In the morning we ate breakfast at the Phi Phi Hotel and caught the morning ferry back to Phuket.  After our long boat ride back we caught a taxi to Old Town Phuket and met Pattra for lunch.  Our taxi driver asked us if we were headed to the airport later and we said yes.  He offered to take us for a great price.  It was cheaper than when we arranged the airport taxi to downtown.  A lot of taxi trips were like that.  One fare was significantly cheaper than another, depending on how we got the cab, even if the distances were exactly the same.  Old Town Phuket is very colorful!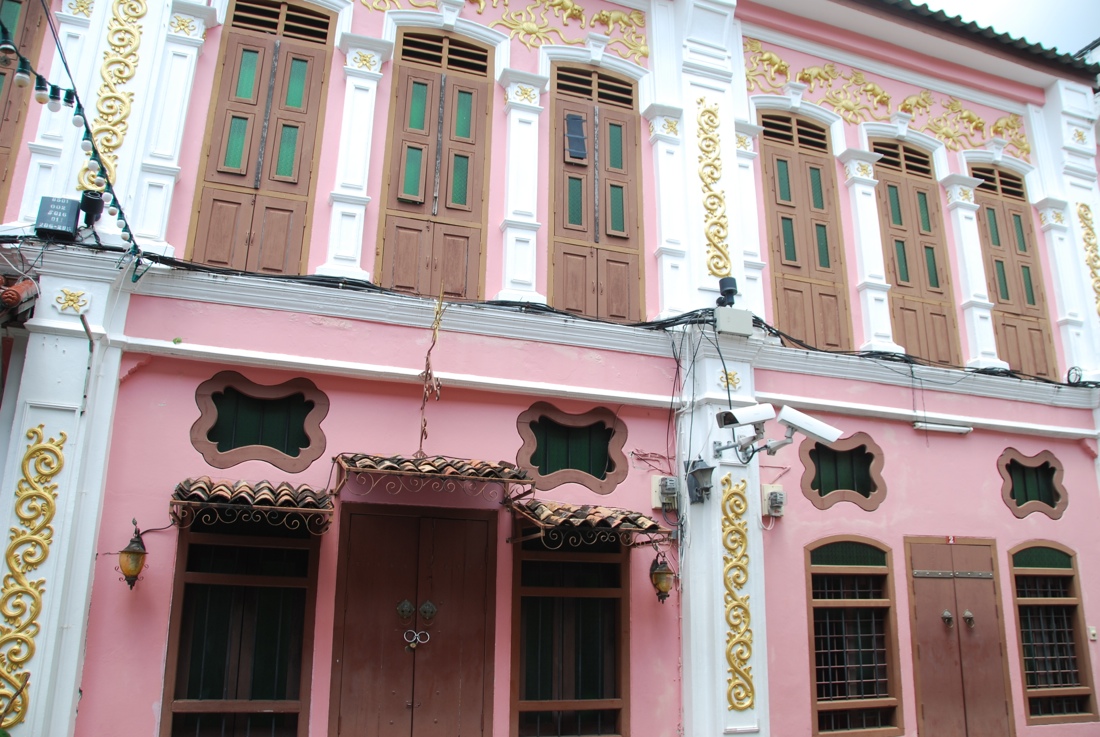 We stepped inside an old looking Chinese owned shop with wonderful spices on display.  It smelled very strong in there of a mix of many scents.  Here you can see the whole spices are labeled in English.  I've never seen such a display before!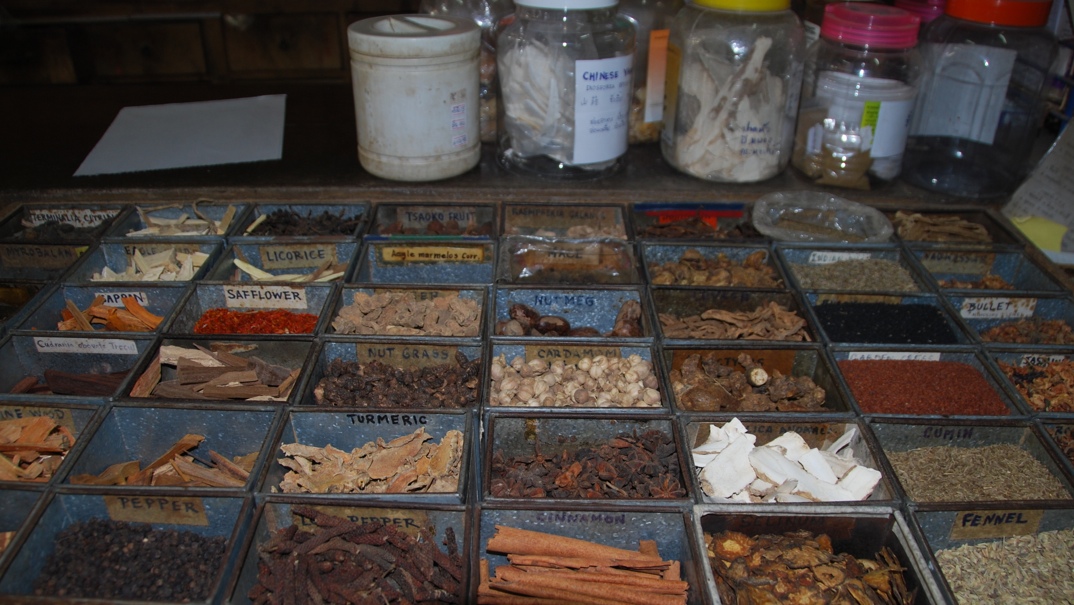 Chris and Pattra took us to a delicious restaurant for lunch.  It was the best meal we ate in Thailand.  Pattra is Thai and it just goes to show what a difference having a local person with you makes.  After lunch we walked around Old Town and bought some trinkets and the guys went to have coffee and the rest of us went for ice cream.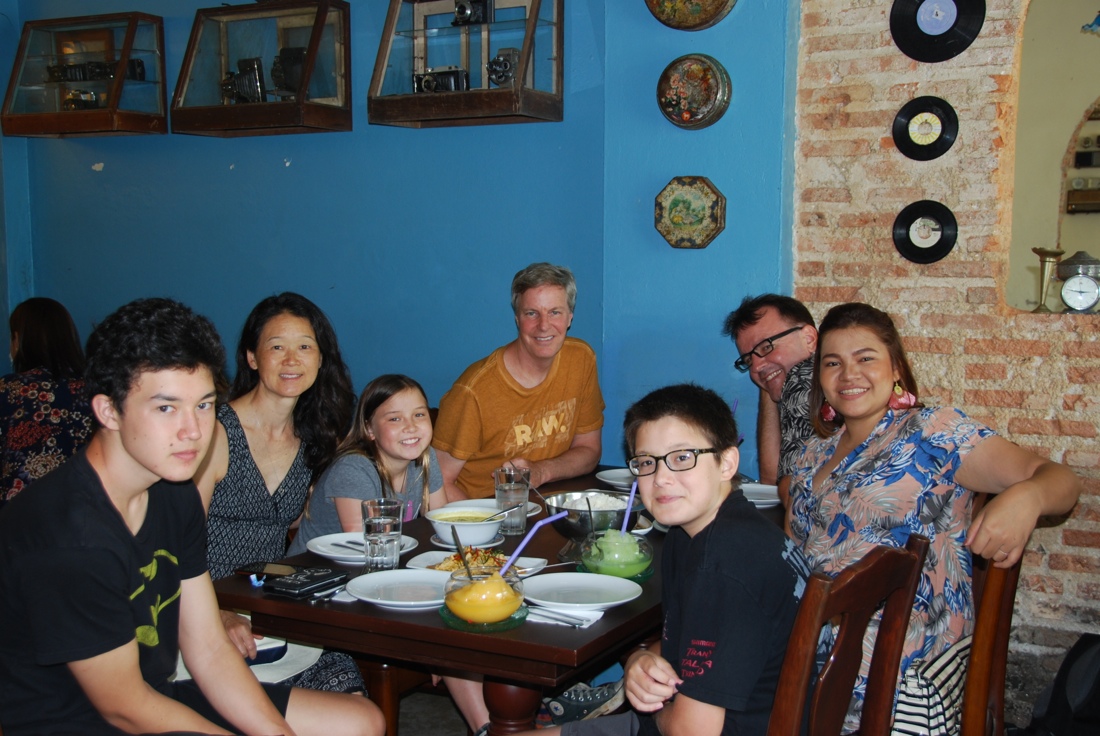 When it was time to say goodbye we met back up with our cab driver again.  He had moved all of our luggage over to his wife's car.  While we ate lunch he had enlisted her to take us to the airport so that he could keep getting fares and she could collect our fare!  Very industrious.  So a lady and her young son took us to the airport.  She went the locals route though the hills and we got to see a lot of rural scenery.  Terrific.  Good-bye Chris and Pattra!  We hope to see you in Japan.
We flew from Phuket back to Bangkok and checked back into the same hotel where we started our  journey.  Jean Marc and his family greeted us at the door and asked about our adventure across Southeast Asia.  It was a great way to end our trip by coming full circle to say goodbye to the same people who welcomed us to Thailand 14 days ago.  They asked what we wanted for dinner and said they had our room ready for us.  At 4:30 am Jean Marc drove us to the Bangkok Airport for our 6:50 am flight back to Japan.  We are looking forward to seeing our cats, sleeping in and getting ready for our next round of guests from America.
Here we are on our final leg home.  A quick hop from Tokyo Narita to Osaka Itami Airport.  Brent, our travel agent extraordinaire, upgraded us to business class and the kids were surprised.  Now they're going to be spoiled.