For at least 20 years now, one of the top items on my bucket list is to travel on El Camino de Santiago, to Santiago de Compostela, in the very northwest corner of Spain.  This is a pilgrimage with a thousand year history and such a pilgrimage still exists today.  I have books about it and I've studied it.  In the early 90s I met two people who were from Santiago de Compostela and it's probably where this dream was born.
Some history from www.americanpilgrims.org/history:
"El Camino de Santiago, in English "The Way of Saint James," is the pilgrimage to the Cathedral of Santiago de Compostela in northwestern Spain, where legend has it that the remains of Jesus's apostle Saint James the Elder lie. The Camino has existed as a Christian pilgrimage for well over 1,000 years, and there is evidence of a pre-Christian route as well. Throughout the medieval period it was one of the three most important Christian pilgrimages undertaken. Indeed, it was only these pilgrimages—to Jerusalem, to Rome, and to Santiago de Compostela—which could result in a plenary indulgence, which frees a person from the penance due for sins."
As luck would have it, there's a pilgrimage in Japan with a similar spiritual connection.  It's the Kumano Kodo Pilgrimage Route and it crosses Wakayama and Mie Prefectures, plus some of Nara Prefecture.  The Kumano Kodo Pilgrimage connects three grand shrines (taisha) which are: the Kumano Hongu Taisha, Kumano Nachi Taisha, and the Kumano Hayatama Taisha.  Collectively these three are known as the Kumano Sanzan.  Along the way are many small shrines, small monuments, amazing landscape and hilly terrain.  Kumano Kodo Pilgrimage Route was declared a UNESCO World Heritage site on July 7, 2004.  I read later that the Kumano Kodo and Camino de Santiago actually have a connection and if you've traveled the minimum distance on each you are granted Dual Pilgrim status.  It's hard to express how excited I was when I learned of this.  All these years I've been wanting to walk on the Camino de Santiago and now I'm here in Japan, only a four hour drive from the one pilgrim route in the world that is connected to it.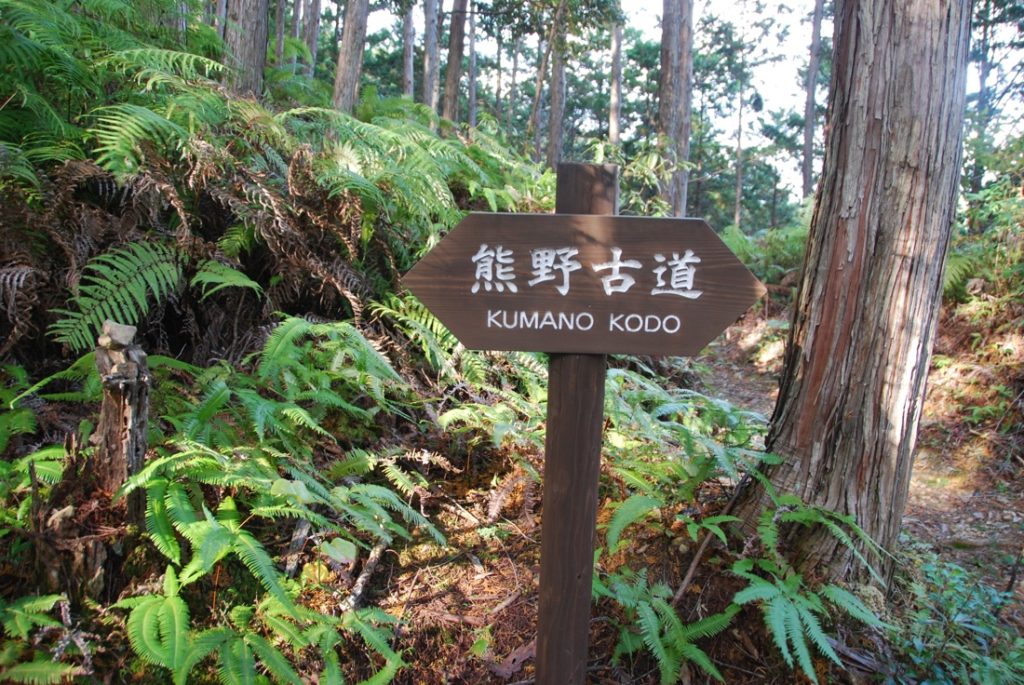 Naturally, I put this at the top of my list of things to do during our upcoming vacation.  I'm not sure if my kids were excited about that, but I told our friend from school about it and he was all on board.  So our family and his family planned a joint adventure on the Kumano Kodo.  Our two families rented a very, very old traditional farmhouse in the middle of nowhere to begin our journey.  The house has a name, it's called OMOYA and it's closest to the Kumano Hongu Taisha.  I found it on Airbnb!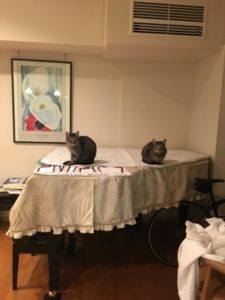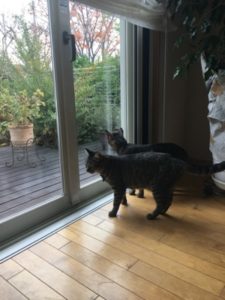 Our friends Mari and Jay were kind/brave enough to take care of our cats while we were away.  They even transported them to their house with their kitty carriers, cat litter box, scratching post, food, bowls… everything a kitty could need.  They have a beautiful home with heated floors and two teenage boys, so I'm sure Maneki and Pickles were very comfortable.
On Wednesday, November 22, we rented a car and took off as soon as our Fall break/Thanksgiving holiday began.  Halyard was grumpy about leaving on a "boring" trip with his family, Avalon wasn't thrilled about hiking, and Kaiyo was complaining about "too much homework" that he claimed he should be doing.  So the ride started out with fights about candy and cramped spaces and so on.  Soon though, everyone settled into their electronics and all was quiet.  We arrived at Omoya in the afternoon.  This was very good because I don't think there's any way we could have found it in the dark.  The house was up a steep, winding and very narrow road.
First, the story of the house.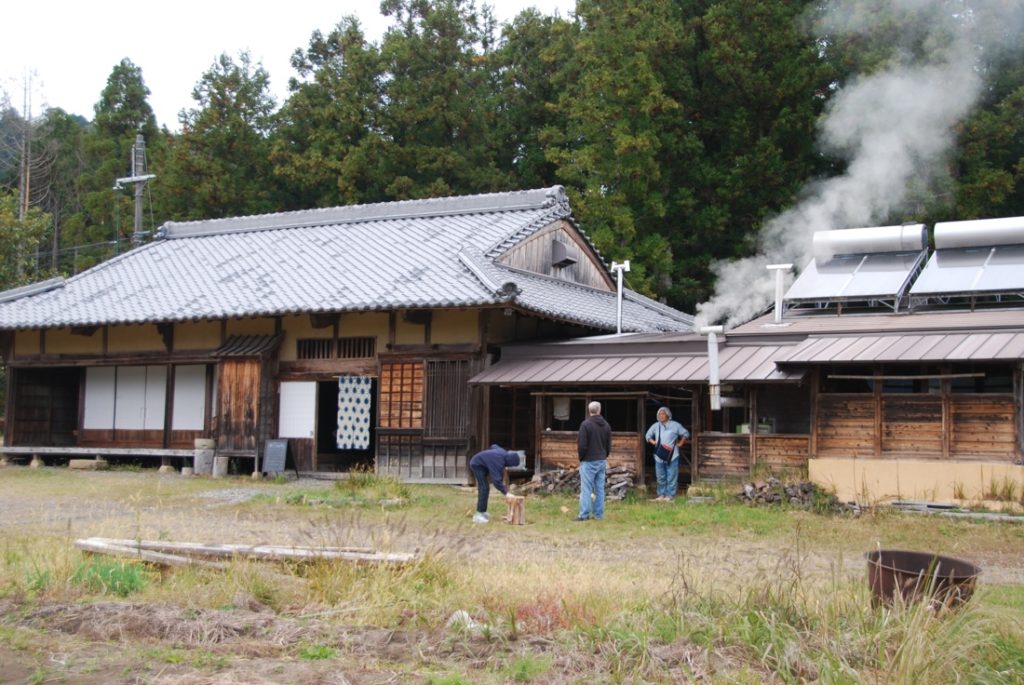 Omoya is over one hundred years old.  It's pretty much in the middle of nothing, but there's a beautiful view from the house.  The people that own this house decided to have it transported to this current location, fix it up, and offer it as a vacation rental.  They had a carpenter come and put the house back together after it was transported here, and also modernize it a bit.  It has electric outlets, gas heating hook ups, modern plumbing and very nice fixtures inside.  It also has an old fashioned bath, which is only heated by a wood fire, an indoor fire cooking pit, and no heating or air conditioning (except space heaters and hot water bottles).
In this photo above, you can see our host Jun, the house caretaker, talking with John.  She has just started the wood fire to heat the bath for us.  The smoke billowing up from the house is from the fire.  The bathtub, next photo, (ofuro in Japanese) is huge.  It takes about a half hour to fill up and about 2 hours to heat completely.  Jun said the water for the bath comes from the Kumano River and it is very special water (so we should not waste it she said).  Like all ofuro in Japan, it's a soaking tub.  We have to bathe on the stools to the right of the tub, using the buckets to pour the water over our heads.  There is no shower here.  This is a very traditional and old ofuro.  The tub itself is made of beautiful cedar planks.  The fire heats the water up to around 44 degrees Celsius, which is about 111 degrees Fahrenheit!  Oucheeee mama that's hot!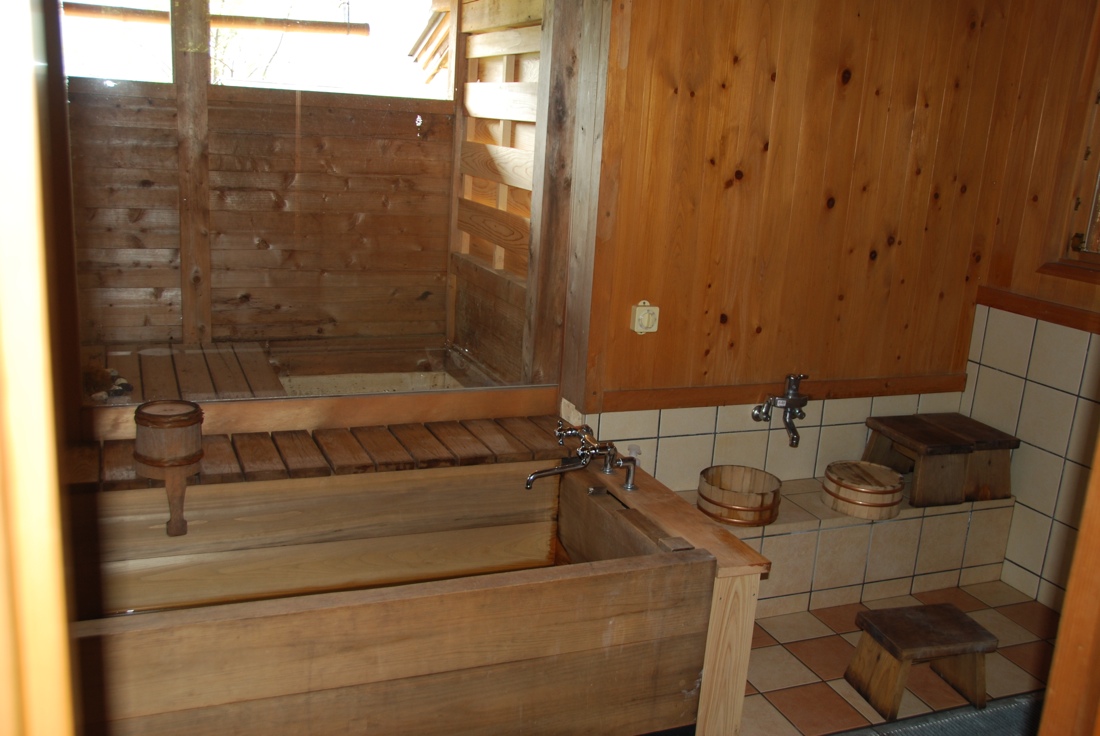 The kids all had a great time learning to chop wood.  We needed a lot of fire wood for the ofuro.  Kaiyo and our friend's son Oliver got quite good at it.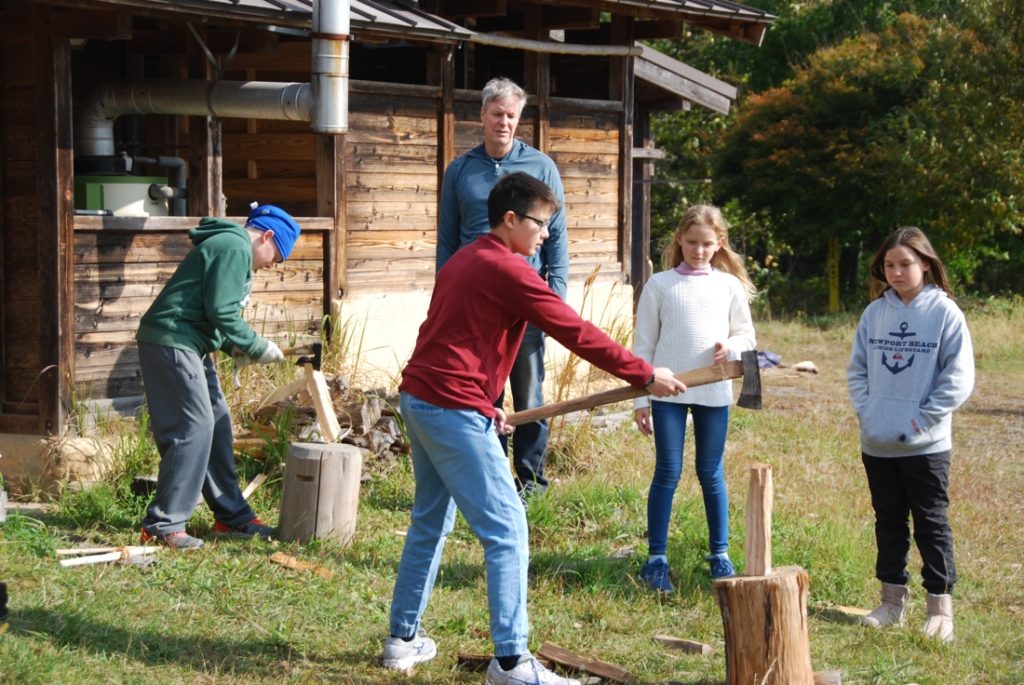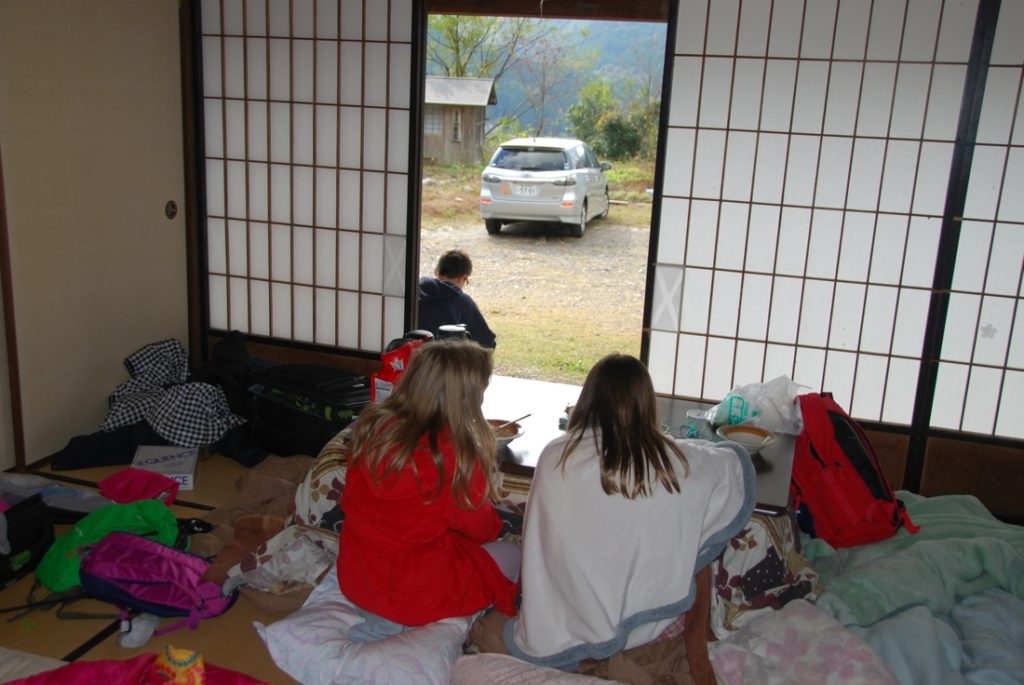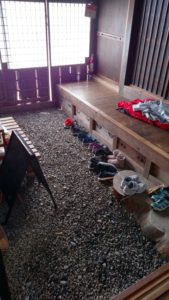 In Omoya there are inner walls, actually sliding rice paper screens called shoji, and there are outer walls made of wood that open in the morning and close around the house at night.  There is a wooden landing that runs all along the house between the shoji screens and the sliding wood doors.  John exclaimed it was just like in The Last Samurai.  The genkan is this huge outside area with pebbles that's just about big enough to hold all of our shoes.
At some point during our stay John was throwing a frisbee around with the boys and his crazy, off-target throw made the frisbee hit the shoji screen.  It tore a hole in the paper, and cracked a wooden slat.  So John literally broke the wall in this rice paper house.  Jun wasn't very happy about it and she thought the kids did it.  John didn't confess.  Jun said they would have to call a carpenter to repair it even.  She'll send us the bill.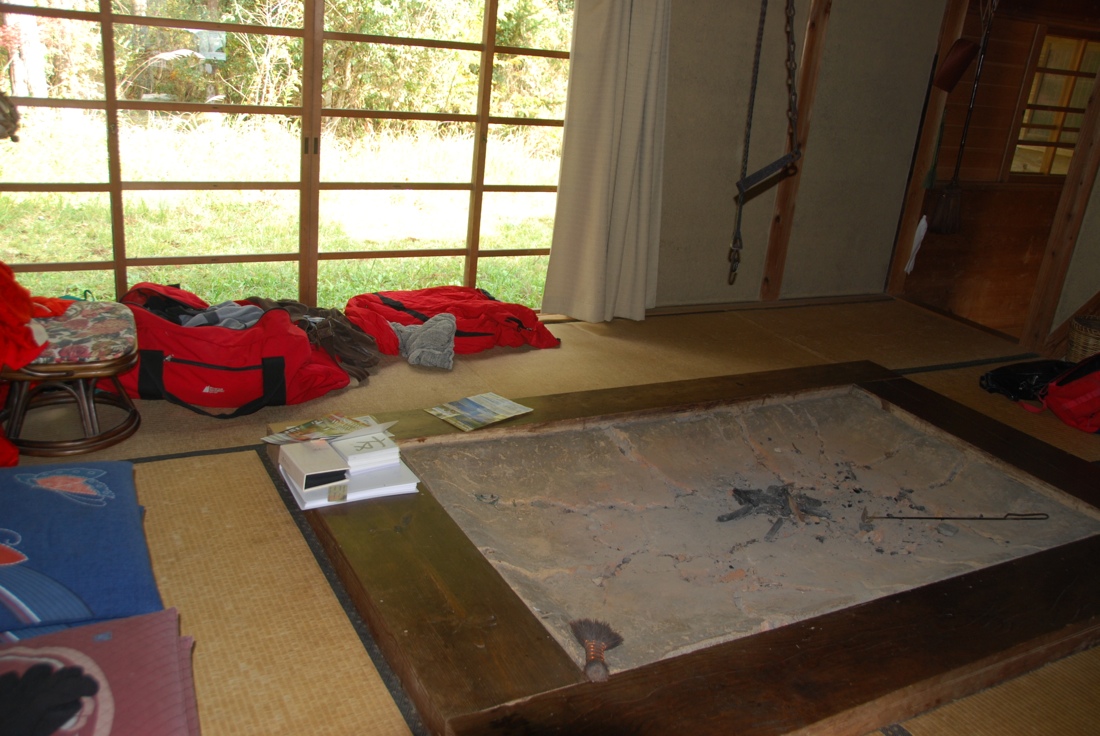 Inside the house is an iori, a Japanese sunken cooking hearth.  This is a square, stone-lined pit in the floor, equipped with an adjustable pothook called a jizaikagi hanging over it.  We didn't use it because I've heard it can make the house very smoky, but it looks so cool.  You can hang a pot from the hook and make nabe (Japanese soup).  The house has all tatami floors except the kitchen and bath areas.  We all slept on thin futons with heavy duvets.  There were some small electric heaters and a few gas heaters here, but the thing we discovered that warmed us up the most were Japanese water bottles called yutanpo.  Jun showed us how to use them.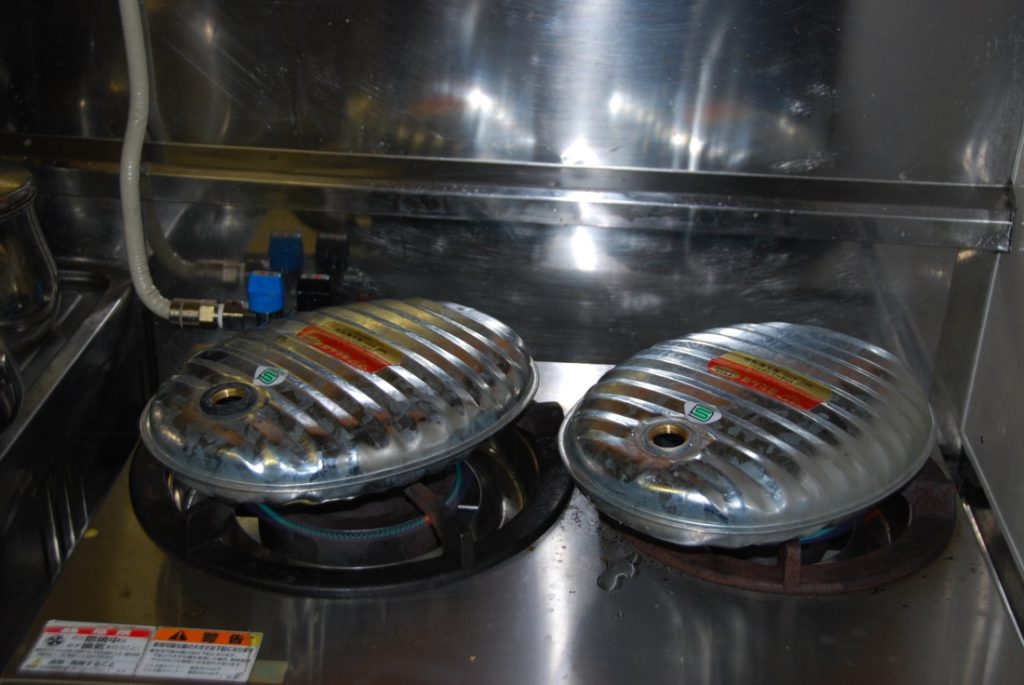 These are metal but they can also be made of ceramic or other materials.  These metal ones you heat up over a stove or heater and when the water boils inside it makes the whole thing burning hot.  You can't pick it up by your bare hands.  You tuck them into thick fabric pouches and stick them in your bed.  Incredible!  They were so warm and toasty.  We put them in the bed by our feet and they kept us snuggly warm.  In the morning they were still very hot.  Everyone declared that we should buy some for ourselves back home.
Here are where the boys slept and one of the rooms where the adults slept.  It was a very cozy house despite the cold weather.  When you open the wood sliding doors to let in the morning sun the house warms up nicely.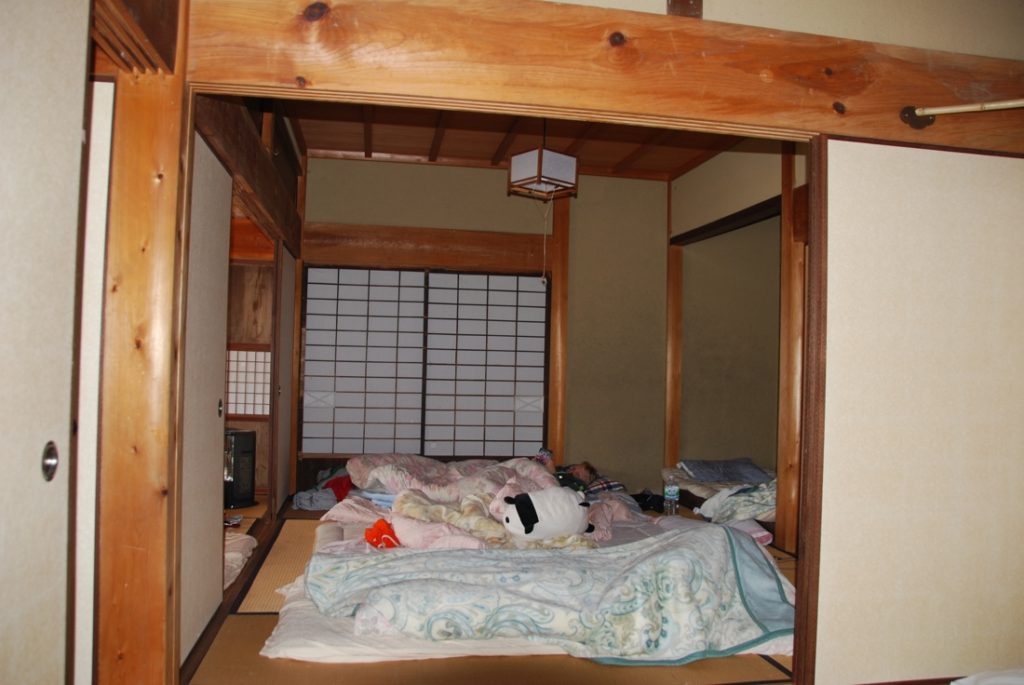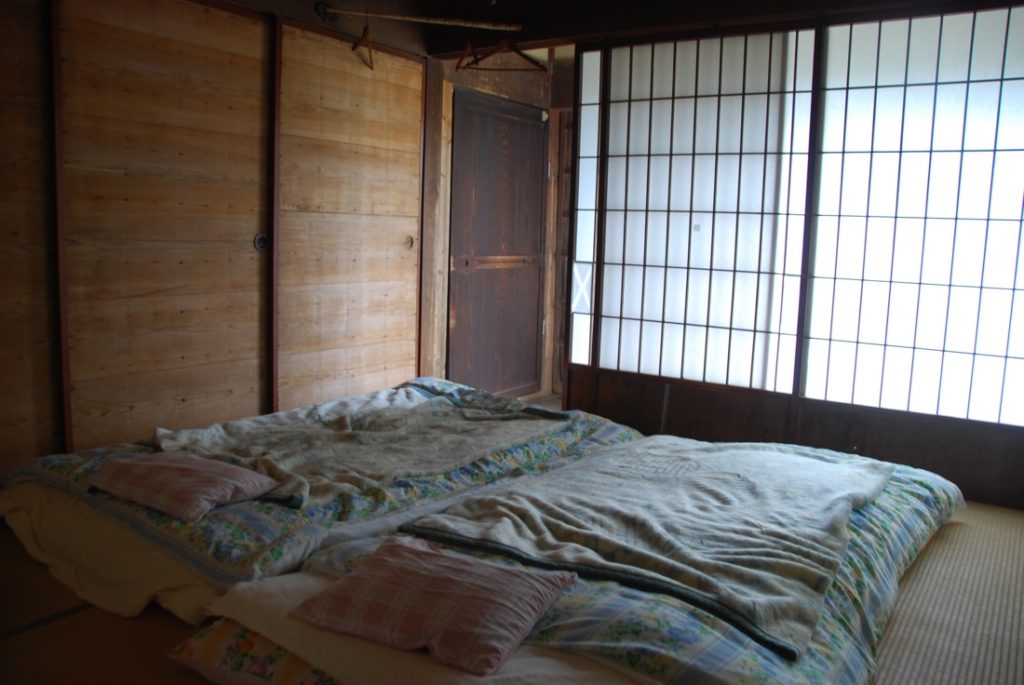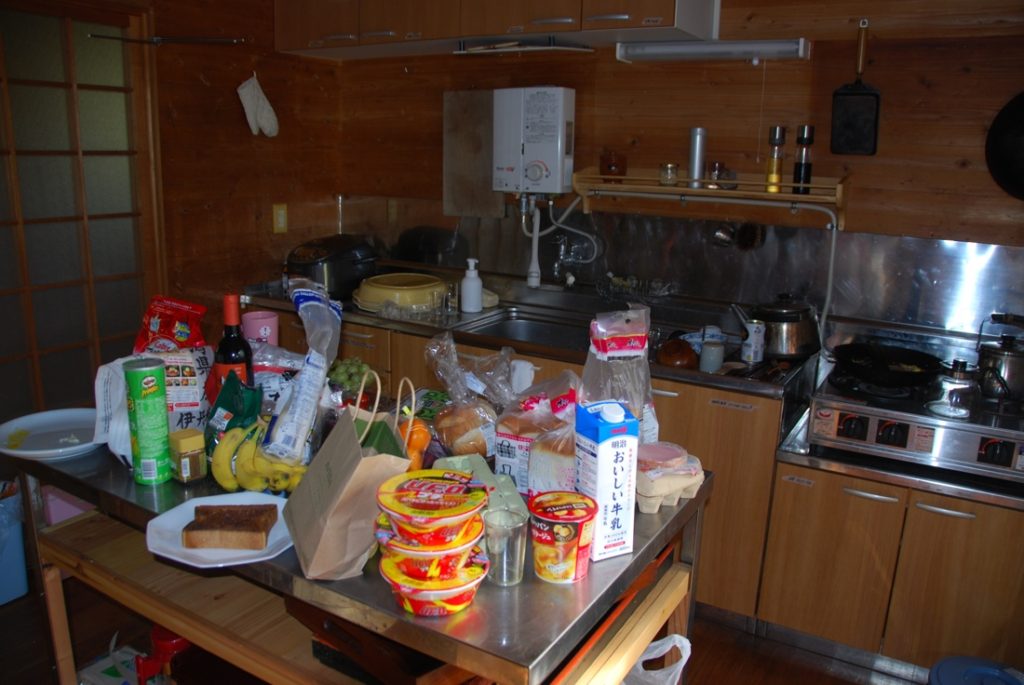 The kitchen is updated but still looks pretty old fashioned.  There are hot water and gas levers that need to be turned on before you can use the heat.  Still, we managed to cook a lot of meals here including a big barbecue one night, complete with s'mores.  YUM!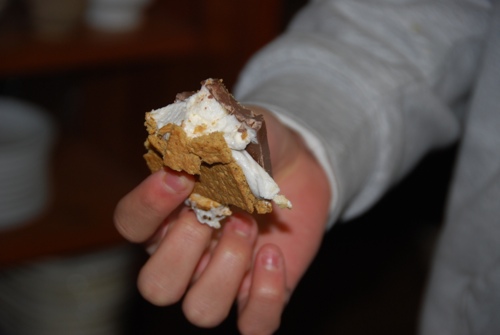 Next up is more about our hike on the Kumano Kodo trail.  And some more fun and beautiful photos.