The last month.  The last week.  Where to start?  This has been a crazy month and even nuttier week to say the least.  Let's start at Monday, August 1.  Avalon is trying to finish up her gymnastics classes plus make up a few that she's going to miss because we are moving.  The plan is for her to go to junior lifeguards in the morning from 9-12, then bike home and later go to a double set of classes from 3:20-4:15 and 4:15-5:10.  After Kaiyo comes home from junior lifeguards with Avalon he will finish his last round of volunteering at Mariners library from 4:30-5:30.  I am recruiting Halyard to head back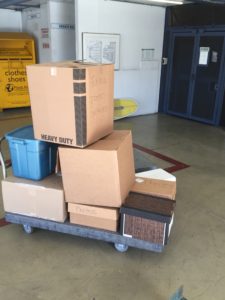 to the storage unit to drop off more boxes of stuff and then on the way home we will stop off at the post office to send another box to Japan.  This box turned out to be 35 pounds.  It was mostly clothes I guess.  I actually have no idea.  I'm sure it was all important whatever it was.  Oh, kids games I think were in there.  Anyway it was about $150, just like the first box.
Yay, after all the running around with Halyard I still had time to jet over to Bikram yoga.  I still have a fantasy that I'm going to finish out my 30-class card that John bought me for Christmas before we leave.  After today I have 3 classes left.  While I was at yoga John took Halyard to the Verizon store to buy him a new phone at last.  His social isolation and misery comes to an end today.  He is back online with his own phone that he no longer has to share and whose texts, e-mails and pictures will no longer be pre-screened by his parents.  Woo Hoo.
There are still a few weeks left so I feel like we're still on track.  But the more I clean up and box up the more there seems to be laying around and hidden in closets and drawers.  After all the afternoon business Halyard went off to jump around at a trampoline place with his Orange Coast Gakkuen senior friends and Jake and Conner came over to hang out.
Today my calendar list of things to do says:  Yoga.  Apple phone.  Verizon.  Storage.  Checked it all!
On Tuesday August 2 Halyard had a junior lifeguard field trip to Catalina Island.  I drove him to the JG trailer at 8am.  When we drove up I saw boys carrying lunch sacks with their sneakers hanging from their backpacks.  I told Halyard to look at the website and find out what he needed to bring!  So he has no lunch, no shoes for hiking, and no snorkel or mask because he didn't tell me about that either.  We were just at the storage unit yesterday so we could have taken that out of there for him.  Kaiyo had a JG field trip to Orange Street.  Finally a lucky break!  Orange Street is where we live so Kaiyo walked across the street carrying his Boogie Board with him.  Avalon rode her bike and John roller bladed down to the Balboa Pier this morning.
While they were all doing that I went to AAA to renew the BMW registration.  It actually expired around July 16 so I'd really hoped to sell this car by now.  I was hoping we wouldn't have to renew the registration but I've finally come to the realization that this car isn't going to sell with expired tags.  So I really could have saved myself $64 in late fees by renewing on time.  Also, the DMV lady at AAA was sort of condescending which wasn't very pleasant.  I thought AAA was supposed to be a better experience than the DMV.  At least I was able to get more information on selling our Toyota Sienna and how to transfer title and such.  I also found out that we can keep our vanity plates!  Turns out the plates belong to the owner and not to the car.  I never knew that.  Probably because I never wanted to pay extra for vanity plates so these were my first.
John has a call with Jeff and Mark, his old bosses and new owners of John's former company.  If they would just hold up even some of their end on John's end of contract payout then we'll have so much more room to breathe financially.  It's been a little stressful as we continue to add on significant costs to this year long adventure.  I am prepared for the former bosses to bail out and tell John that they have no money to pay and won't have money to pay until they get more financial backing.  And who knows when that will be.  They've been looking for capital for two years at this point.
It was a positive call!  They said they're going to pay out a monthly sum and stretch it out over a period of time.  That means we can possibly stop worrying about what's going to finance this adventure if John doesn't find work in Japan and/or if I don't find a teaching position.  I decided to celebrate with some take out from Santa Monica Seafood.  We haven't been there in ages and I know everyone is going to be excited!  Add rice and a veggie to Indian Candy, Smoked Mussels, Cole Slaw and Seaweed Salad and it's a feast.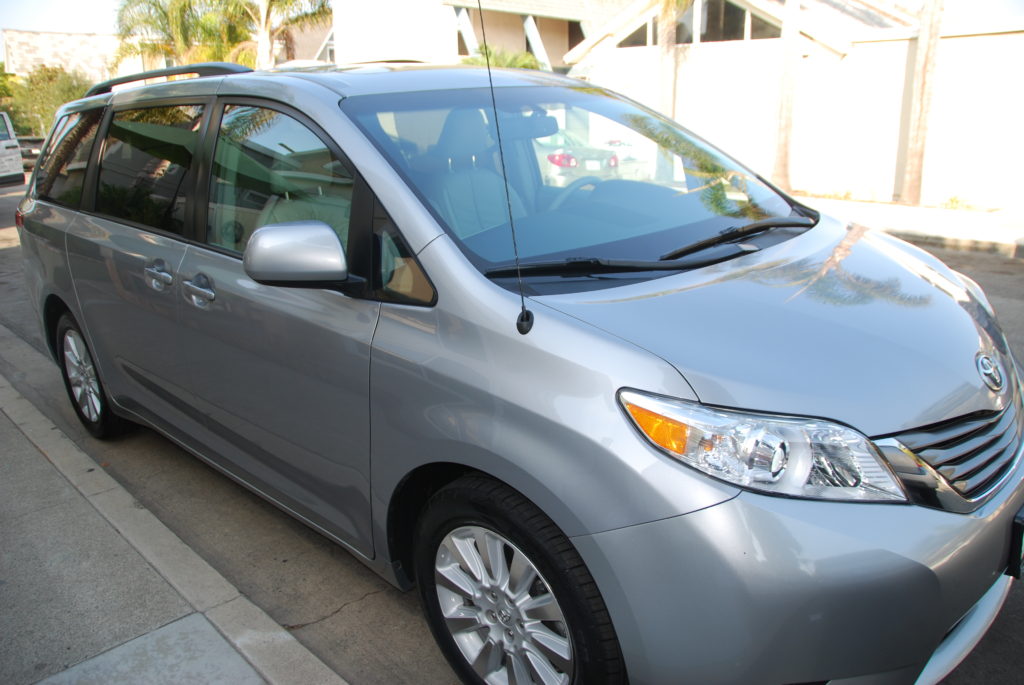 Today is Wednesday, August 3 and we're selling the Sienna today!  I love this family we're selling to and I think they're really going to appreciate the minivan since they have three young kids.  The husband is NBFD which is great.  I'm pretty sure they aren't going to turn around and try to sell it for a higher price right after they buy it.  I have learned a lot about selling cars from selling the minivan and convertible.  It turns out that successfully making lowball offers and re-selling immediately after is a cottage industry via Craigslist.  I did not know that!  Another surprising thing I learned is that there is a very high demand for Toyota Siennas and a relatively low demand for 6-series BMW convertibles.  Only hours after I posted the ad on Craigslist for the Sienna I probably got about 4 calls that night.  In total I might have had over a dozen calls and texts asking about the Sienna.
The sale was really smooth.  We met at Wells Fargo on PCH, which is next door/across the parking lot from a Starbucks.  The wife went in the bank first to start everything and I walked in later with the husband.  He was leading the way and he started to walk right into Starbucks.  I said, Oh?  Are we going to Starbucks now?  He realized he was mindlessly following his pattern and not thinking about where he was going.  Those firemen!  They love their routine and the places they frequent.  Other firemen I know are just like that.  They just go to the same places over and over.  So the minivan sold in 6 days from when I posted it for free on Craigslist.  The BMW still has to move and I've posted it on 3 sites and spent about $300 to do so.
Yay, I was able to squeeze in one last yoga practice and say good bye to everyone… and make a last ditch sales pitch for the BMW.  Some interest but I think the timing isn't right for anyone.  I'll be missing Bikram Yoga Huntington Beach but I've read that there's a Bikram studio in Osaka somewhere so I'm going to bring my Lululemon yoga mat and Manduka yoga towel and my Hydroflask water bottle to Japan.  I hope to find it somewhere!
Tori says Mr. B wants to come look at our house now.  He's the one with the severe cat allergy.  It sounds like the B family is having a hard time finding the exact perfect house for them (big house, yard, near the beach, not to expensive, etc).  So we spent the afternoon seriously cleaning our house.  Oh correction:  John spent time completely cleaning the house.  I had to pick Halyard up early from junior guards and drive him to see Dr. Aguilar for his final dental cleaning for a year.  I knew that John would do a fantastic job cleaning so I kind of enjoyed sitting at the dentist office and reading e-mails and salacious internet news.  The internet is full of wacky, racy and downright unbelievable stories thanks to Trump and Clinton.
We have to get out of the house by 5:30 Tori says.  That's kind of a tall order since we need to clean extra well.  But I know John will get it done.  He dusted, swept, vacuumed and opened the windows to cycle in fresh non-cat air.  He also threw the cats out between our house and Val and Greg's and Val said they cried the whole time they were out there.  That's kind of unbelievable since they'll cry all afternoon just to go outside there.  John, Halyard, Avalon and I headed over to Alessa for happy hour apps.  Kaiyo was off at Jake and Conner's house.  The house appointment lasted about a half hour and Tori said Mr. B really liked it.  He thinks he can work with the cat situation if we can get it cleaned up really well.  We will look into changing the carpet and painting the walls.
As if this day wasn't packed enough, it's still not over.  Now we are scheduled to have a final farewell dinner with the Griffins.  I would like to postpone, except that they are now surprisingly leaving for Colorado first thing in the morning and we won't see them again!  OOOOOOhh.  So we all pack in for a rendezvous at the Old Spaghetti Factory at 7.  Except that the line to get into the parking lot at OSF is about a million yards long and it doesn't look like even valet will be able to help us.  We must bail out on spaghetti.  We make a quick detour to El Ranchito on the peninsula and order Mexican instead.  Good choice as I do believe I'll be able to find decent spaghetti in Japan but I have my doubts about decent Mexican there.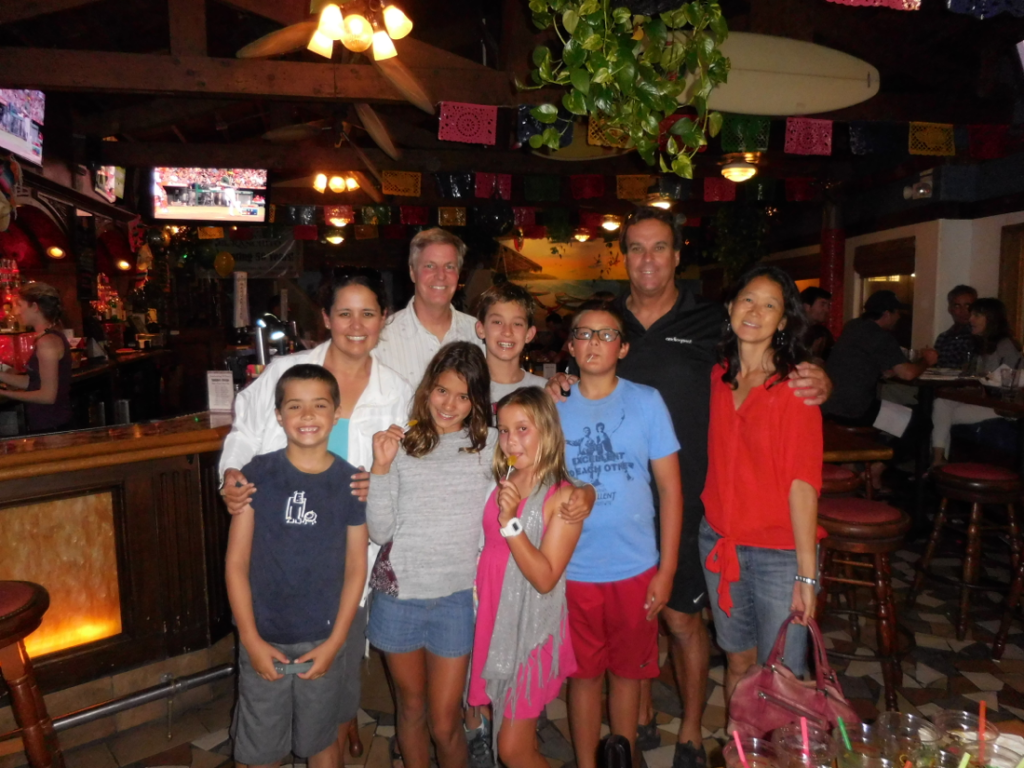 On the way to the restaurant Halyard starts asking me a lot of questions about needing insurance for his new iPhone 6.  He wants to know how insurance works, how long you have to get it, can you get it after your phone breaks, how much does it cost and on like that.  I said, Halyard what happened.  Did you break your phone or are you planning to break your phone?  I didn't get insurance on his phone because I was certain that he could hold on to it for the 12 days that we will continue to be on our Verizon plan.  Maybe I should mention here that Halyard really wanted to take his new phone on the JG trip to Catalina Island but I was against it.  I said it's a brand new phone, and you don't need it there.  Phones aren't even supposed to be allowed at JG.  He said he wanted it to take pictures.  I must have said over a dozen times, don't take your phone.  It's not worth the risk.  Despite his insurance questions he insisted nothing bad had happened to his phone.  He said he "felt like something bad was going to happen."
Finally we get home at 9 and it's off to bed.  Tomorrow is the JG Monster Mile!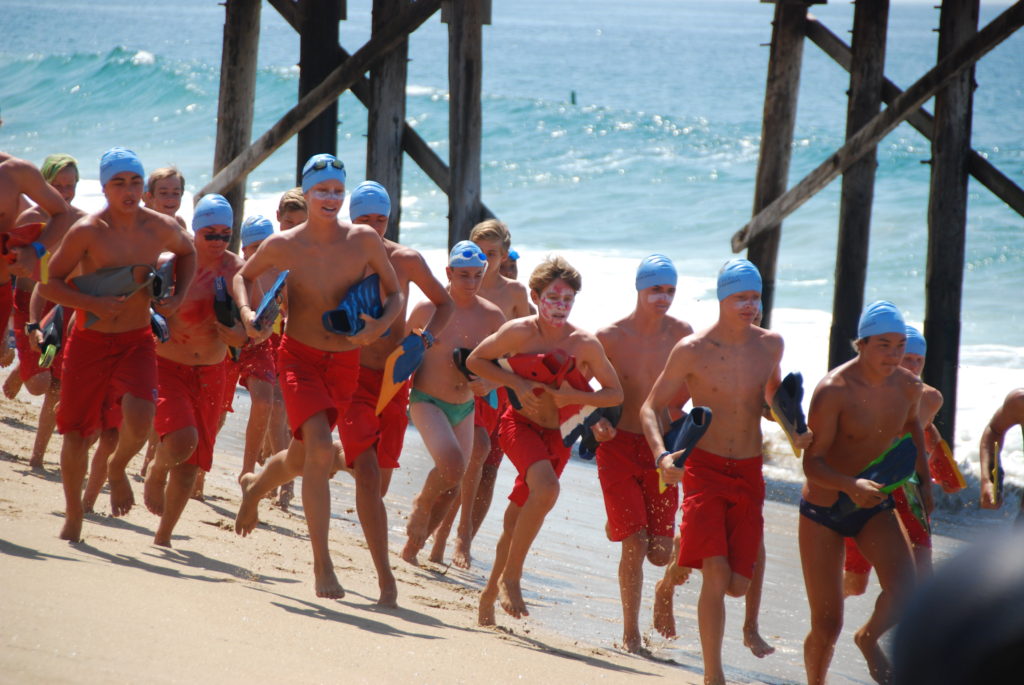 Now it's Thursday, August 4 and today is the big day at the beach.  It's the JG Monster Mile which means that all of the kids run down the beach for a mile (from the Balboa Pier to 10th Street) and then they jump in the water, swim past the breakers and swim back to the pier the mile back.  We have high hopes for all three kids.  You can do the thing in a run-swim or, if you don't want to swim for a mile, you can run-run, which is a 2 mile round trip run in the sand.  Halyard aims to finish with a decent time, Kaiyo will hopefully run-swim for the first time in 4 years of JG (instead of run-run) and Avalon is doing it for the first time and if she does the run-swim she will be our first "first year D Group" JG to complete the run-swim instead of settling for the opt-out run-run.
First there's a costume parade and this year's theme is Zombies.  I'm feeling bitter because just 2 days before Kaiyo told me it's Zombies this year I decided to throw away our really cool and quite expensive Halloween Zombie costume.  John bought it in San Francisco when he needed a Halloween costume in a pinch while up there with my brother.  I had decided that we got about 5 uses out of it, which is really good for a costume I think, and I couldn't see another use for it in the next 2 weeks so I tossed it.  Of course when I threw it out it was trash day, so 2 days later when Kaiyo dropped that bomb on me it was long gone.
Avalon worked on her Zombie Bride costume with other girls from the neighborhood down at the clubhouse.  Halyard decided to go as a "21st Century Zombie" which in his interpretation is a young adult addicted to their handheld device.  When John found out about Halyard's "creativity" on the morning of the event he was unhappy by Halyard's laziness and obvious lack of planning.  Kaiyo decided to be a Zombie Hunter.  We came up with a few options and ripped and cut up some old clothes.  We all walked down to the Froghouse (surf shop) early in the morning to buy colored Zinc for Zombie decor, only to discover that the Froghouse doesn't open until 9.  So they all got ready and John went back down to the Froghouse at 9.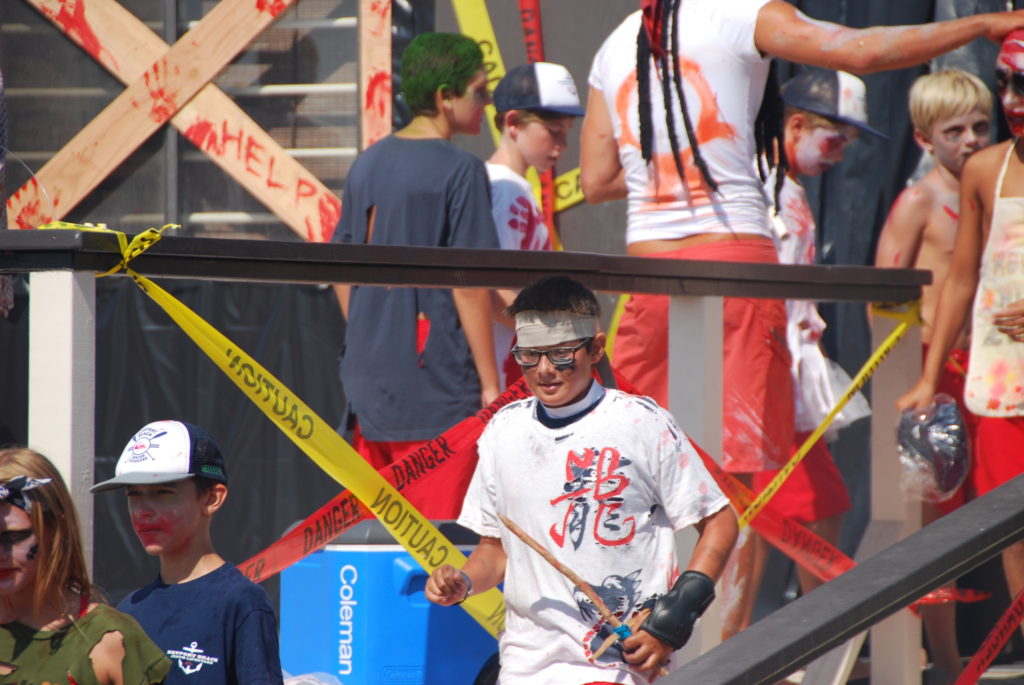 We dropped them all off and went to park.  Avalon's red zinc got all over the back seat tan leather of the BMW.  It was as horrifying as if there were real zombies in our car.  It's an unhappy situation for someone that just spent $160 for a complete detail and now trying to sell the car.  We watched them all take off running from under the pier and then made our way to the finish area.  John went to check out the action from on top of the pier for a while first.  We stood by the checkered flag at the finish and watched Halyard's friend Nick come in first (as always!).  Then more boys.  My friend Jill's son came in 4th.  More boys.  Finally Halyard somewhere in the top 25.  He did great.  We waited and waited for Kaiyo.  At last Avalon came swimming in.  She did fantastic.  But where was Kaiyo?  He's one of only a handful of kids wearing their white JG rash guard so he's easy to spot.  The instructors started to swim in and the paddle boarders brought their boards in.  No Kaiyo.  Soon the Monster Mile had concluded.  What happened to Kaiyo?  OH… he did the run-run again.  He couldn't muster the courage to get past the breakers.  He insists that the actual swim doesn't bother him, it's the swimming past the waves that he can't get beyond.  Last year was going to be his big run-swim year, but just days before the Monster Mile he skidded on his bike and cut his head open.  He had to get stitches so he couldn't go in the water.  So he got off the hook last year.  And this year he bailed out.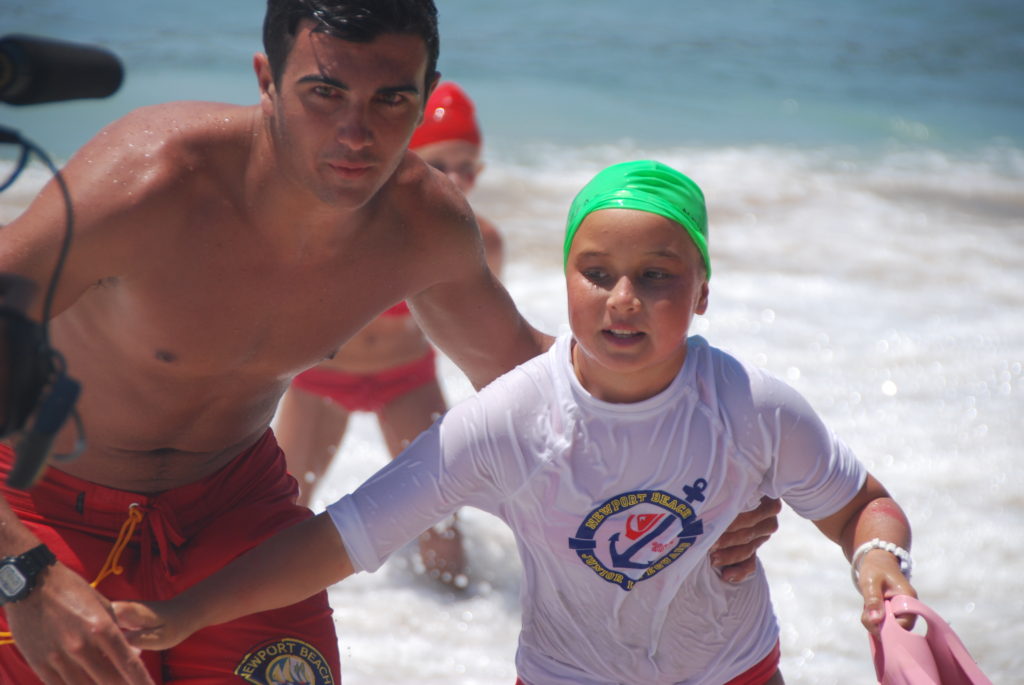 Out to the end of the Balboa Pier for lunch at Ruby's.  It was crowded with JG families, both at the to-go order window and at the tables inside.  We put our name in and later on Kaiyo went to check.  He came back and said they've been calling our names.  So we walked on over to the hostess stand but she said it took so long for us to arrive that she'd given away our table.  I said to Kaiyo, didn't you even tell her that's your family and you'll go get them?  He said, no.  Why would he do that?
In the evening Avalon had plans for a sleepover with her little twin friends from school.  And John and I had plans to take Kaiyo and Halyard to the Pacific Amphitheater to see the comedian Jim Gaffigan for Kaiyo's birthday present.  That meant another trip to the OC Fair.  Jim Gaffigan was hilarious!  He had this whole routine about Jesus multiplying loaves and exactly what type of bread it was and wishing it was pretzel bread and so on.  And jokes about fishes and how awful it was to have to give up meat for fish during lent and how eating fish was the worst kind of torture that could be imagined and that's why it's a sacrifice worse than fasting.  It reminded me of my friend Sandi when she was served fish in Israel at the Ambassador's residence and she had to pretend to like it and just pushed it around her plate.
Sometime before the concert, Halyard decided to confess that he had indeed dropped his phone in the water at Catalina Island and that he had tried to put it in a bag of rice but it would not turn on.  John pointed out that 1) He didn't come clean from the start, 2) You are never supposed to try to turn it on after dropping it in water and 3) Too much time had passed since he decided not to tell us right away.  I did not say I told you so since John was super mad and I figured that was enough.  John always lets Halyard off the hook!  Well we didn't have Apple Care and we didn't get Verizon insurance so it looks like Halyard's brand new $650 iPhone 6 only lasted one day.  At least Kaiyo held on to his brand new iPhone 6 for about 5 weeks before dropping it in the Naples canal in Long Beach.  That phone was never to be seen from again, though I knew with certainty that Kaiyo needed insurance and I was right.
Now it's Friday, August 5 and first thing at 9 this morning Kaiyo is off for his well check appointment with Dr. Mike.  I need to remember to ask about Kaiyo's propensity to get terrible heat rash in hot humid tropical climate.  Poor guy it makes him miserable and he's going to suffer in Japan in August.  It's inevitable that I'll be writing about that later.  Kaiyo is now 61 inches and 111 pounds.  This puts him in the 70th% for both categories.  John is at home waiting for Big Al who is going to come over and check out why the ignitors on our stove keep clicking incessantly.  At noon I have a hair appointment for the first time in about 8 months.
After I get back home I have to clean off all of the red zinc from the leather seats.  I really did a great job if I do say so myself.  But it wasn't easy.  At 1:30 a man named David is going to drive down from Pasadena to spend about 20 minutes checking out the BMW.  During the test drive John was explaining how to drive the car fast with the sport tiptronic option.  He told John that when he wants to drive fast he just drives his Porsche.  Later on he'll tell us he only wants to pay $15K.  John is certain he just wants to resell the car.  After David leaves we hop in the car for a drive to Anaheim to check out the options for replacing our flooring in case Mr. B and his family want to rent the house.  The flooring place was recommended to me by the guy who redid our stairs, which I loved.  This place turns out to be on the edge of Anaheim that's furthest from where we live.  On the way home we need to pick up Avalon from the twins' house.  But she is still in the swimming pool and doesn't look ready to go.  So we said we're going to the Apple store for a half hour and coming back to get you.  The Apple store is literally walking distance from the twins' house so it's no big deal.  We need to talk to the Apple Geniuses about my broken Mac outlet connector piece and Halyard's saltwater logged iPhone.  A truly sympathetic Apple employee took generous pity on us and let us sign up for Apple Care right there.  It was a miracle.  THEN, after that we drove back to get Avalon and back home.  Oh, but it's not over yet!  Now it's time to get ready to go to our friends' house for a big multi-family going away dinner.  The day just will not end!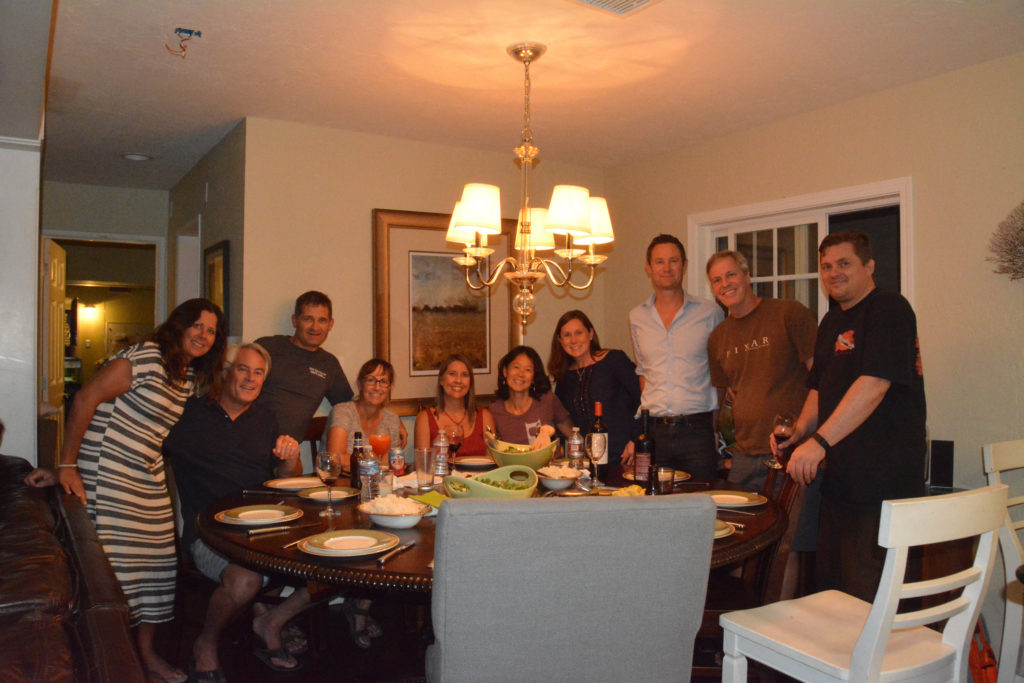 The Bulgins went all out as usual.  There were a total of 5 families including us and you can't imagine how hard it was to schedule this dinner between 5 families' schedules.  It was a terrific night.  We've all been friends since our oldest kids were young and there's someone for everyone which is the best.  I have no idea what time we got home but I'm sure it was getting on to midnight.