The ORIGINAL Din Tai Fung on Xinyi Road.  Did we really need to go there for dumplings and fried rice?  (Just a 45 minute wait the lady said.)  Read on.
On Friday, March 16 we decided to stay in Taipei.  First: Our cash is almost gone.  We didn't bring enough.  All over Asia, cash is king.  By now we've traveled to many countries so you would think we'd have figured that out.  I called AmEx early in the morning from John's handy Skype phone number.  He pays a few cents a minute to have a California phone number and so it's very easy for us to call the US.  The AmEx man said he could assign John's AmEx card a temporary PIN that would be good for one time only with a cash withdrawal maximum of $1000 USD.  It seemed we were set.
We found a beautiful bakery.  The bakeries in Asia could rival any Parisian cafe.  The croissants are light and flaky with delicious chocolate or crunchy almonds.  The bread is soft and fresh.  Fresh squeezed juice is so easy to find in this part of the world, too.  And the prices are not bad.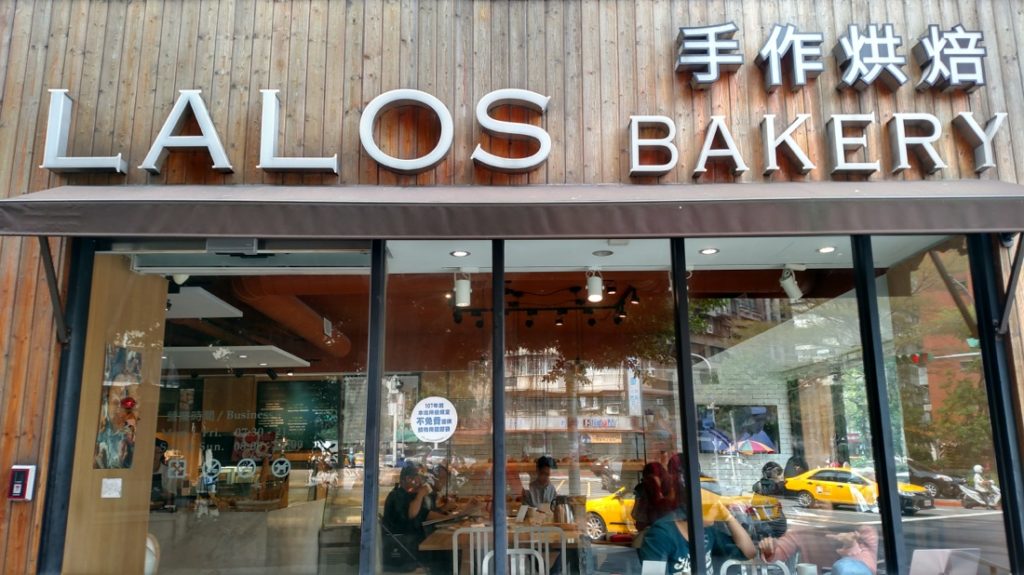 I said, let's go to see the Chiang Kai-shek Memorial Hall.  Avalon said, how far do I have to walk.  Taipei's famous Eslite Bookstore is nearby, so I figure we can pop in there on our way.  I thought the bookstore was famous partly because it is open 24/7, but when we got there it was closed and not opening until 11am.  It was 10:30 and already there was a line of about a dozen people waiting at the door.  Later, I read that there's a department store section to it and that's what doesn't open until 11.  So I guess we were at the wrong entrance.  We moved on and tried to find the CKS memorial.  We had Google maps working for us (or against us) so we followed its path to the pin.
On the way we passed Taipei's telephone company office which had these fun murals painted on the wall outside their corporate office.  There are about 10 different murals with various icons holding out phones and some sample ideas on how to pose for photos.  Very fun.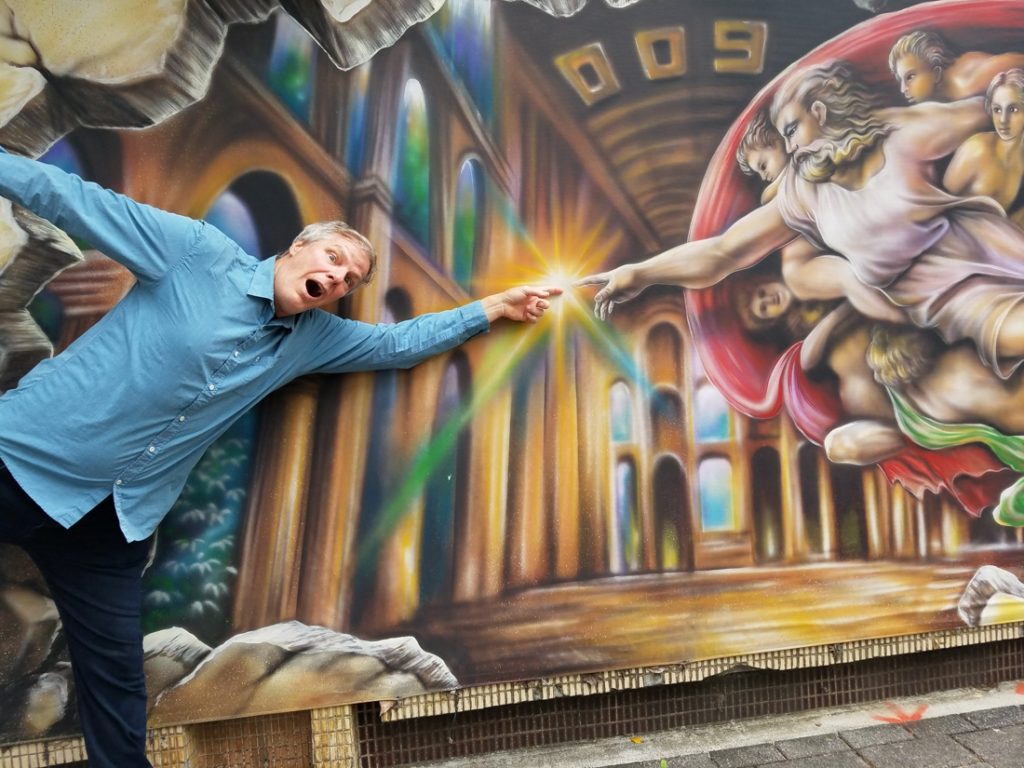 The Google maps pin unfortunately led us to the National Taipei University of Technology, commonly called Taipei Tech.  We wandered around the campus and sat down on some steps to figure out our next move.  A young man dressed in sweatpants and a dirty t-shirt carrying a plastic sack with take-out food came up to talk to us.  He asked us where we were from.  He wanted to practice his English I think.  At the end of our chat he told John that he is very handsome.  It was hilarious.  Then some English speaking Jehovah's Witnesses came up to talk to us.  We moved on.
We finally found the Chiang Kai-shek Memorial Hall.  We were just in time for the changing of the guard ceremony.  The grounds of this memorial are very beautiful.  Avalon wasn't impressed because by this time we had walked too much she said.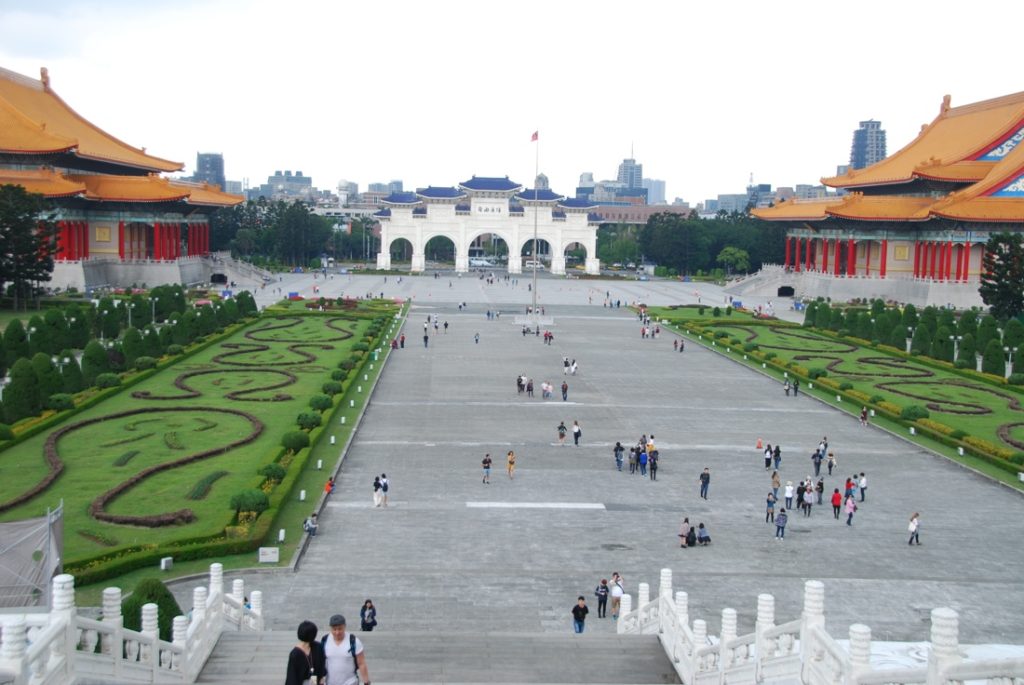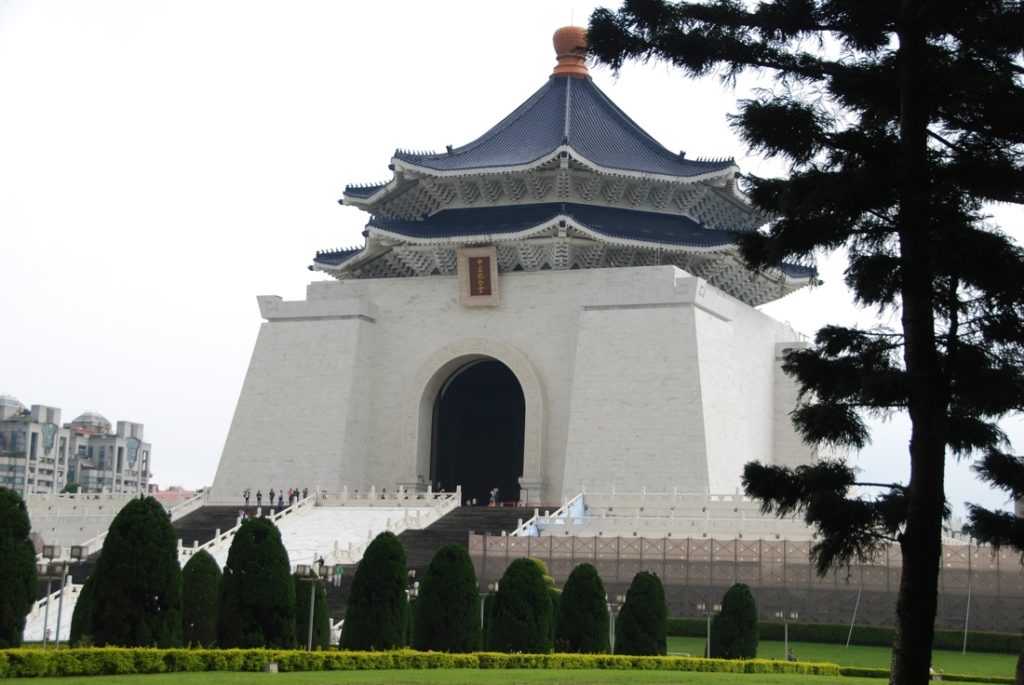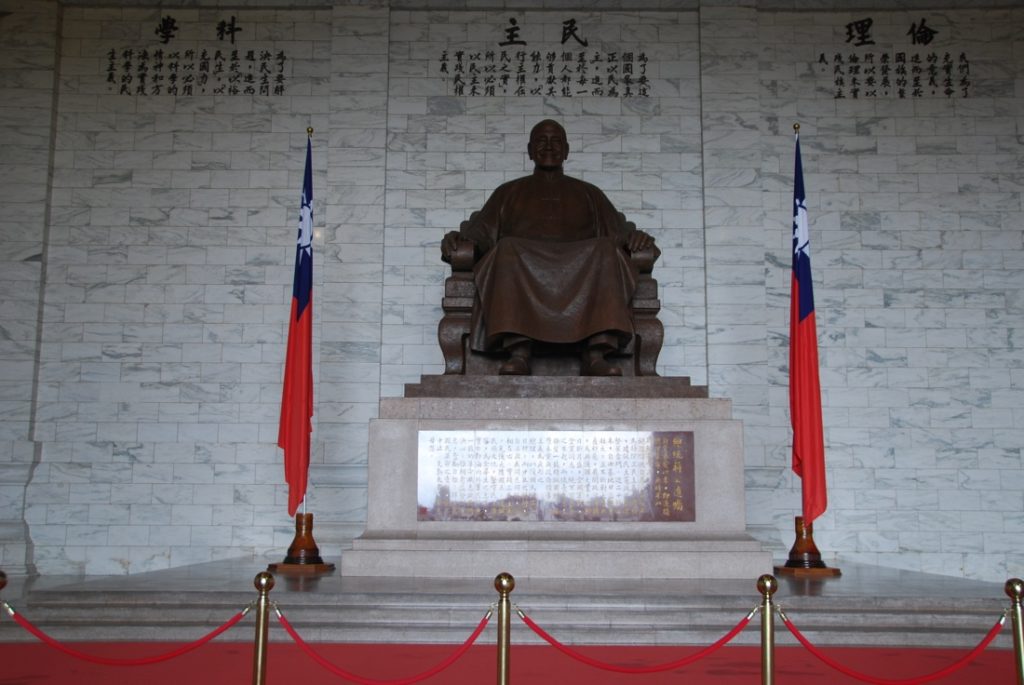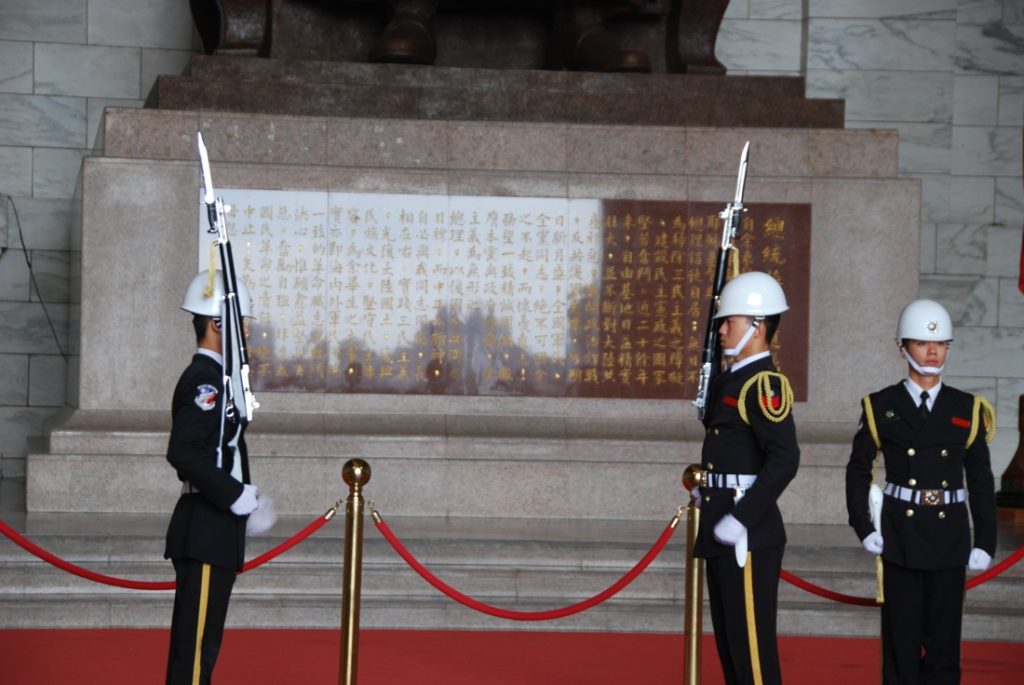 It was time to find lunch.  Before we left the apartment I grabbed a little bit more Japanese yen and we had some New Taiwan dollars.  We took the MRT local train to the popular area of Yongkang Street.  This area is really nice and it's fun to walk around and look at little cafes, street stands, shops, restaurants.  We went to a natural soap store that my friend recommended called Yuan.  It smelled really nice in there.  It was filled with a lot of natural products.  They accepted Visa!
The girl in the store recommended that we go to Din Tai Fung for lunch.  Everyone said we had to go there.  Every online guide, every review, every person says, "Go to Din Tai Fung."  I asked my friends, do I REALLY have to go to Din Tai Fung?  Because if it's just a tourist thing I want to skip it.  And they said, yes, I have to go to Din Tai Fung.  And not only that, but I must go to the original Din Tai Fung.  At that point your expectations are so high, how can they possibly be met?  Here's Avalon and the cute dumpling guy outside of the original Din Tai Fung on Xinyi Road, near Yongkang Street.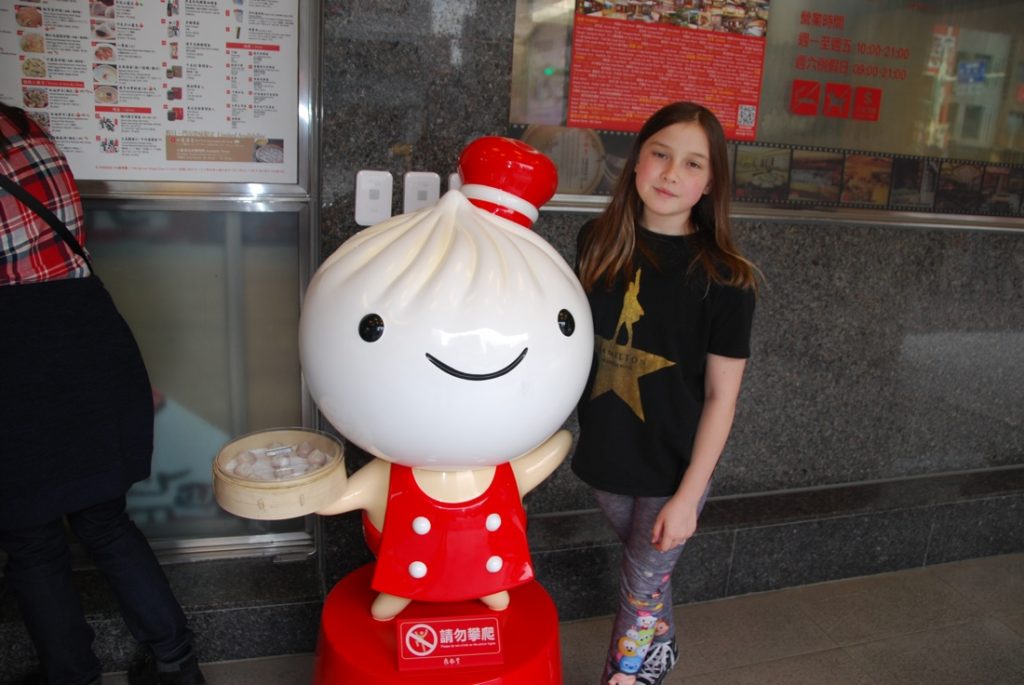 Word to the wise:  The original Din Tai Fung is CASH ONLY.  John went off to try his luck at several ATM machines while we waited in line.  So far, the ATM machines we had tried didn't take an AmEx card or the temporary PIN wasn't working.  Unfortunately he came back empty handed.
The verdict is: Din Tai Fung really is delicious.  We calculated how many dumplings we could order and how much cash we had to spare.  Ten shrimp and vegetable dumplings and five mushroom dumplings and Avalon ordered pork fried rice.  The meal included hot tea.  It was terrific.  Wish we had more cash to sample more dumplings.  We set aside enough cash to get a famous mango snowflake ice and to buy tickets on the MRT train to get back to our apartment.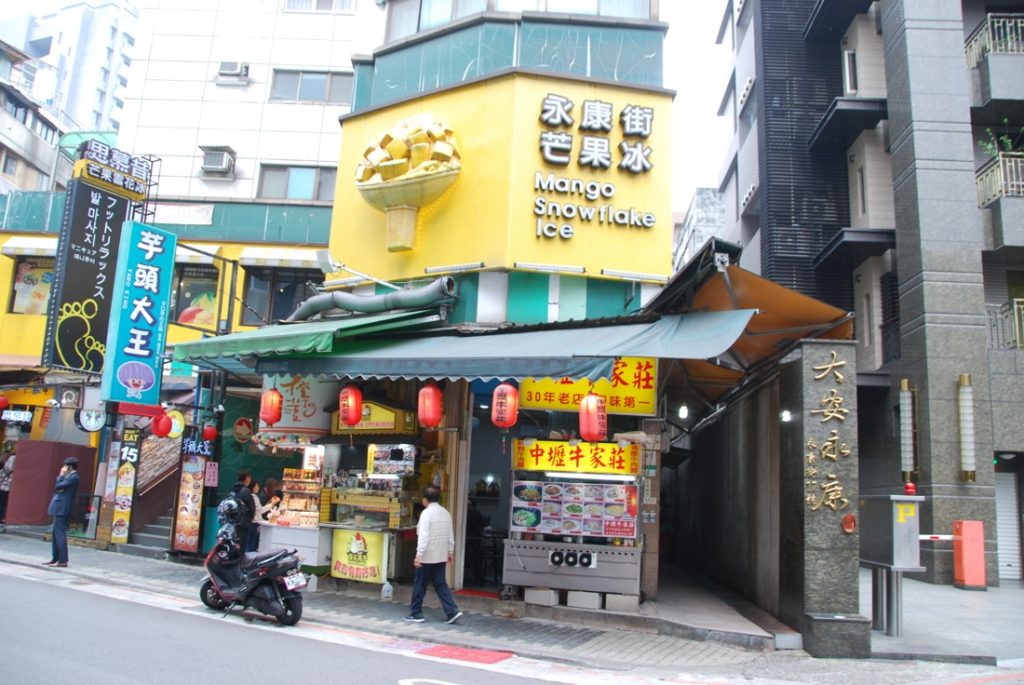 Deluxe mango snowflake ice with a scoop of mango ice cream on top.  Mmmmm.  Yummy.  Worth the 210 NTD (about $7 USD).  It's like sheets of tissue paper thin milky ice with sweet mango cubes and mango syrup and mango ice cream.  Mango heaven.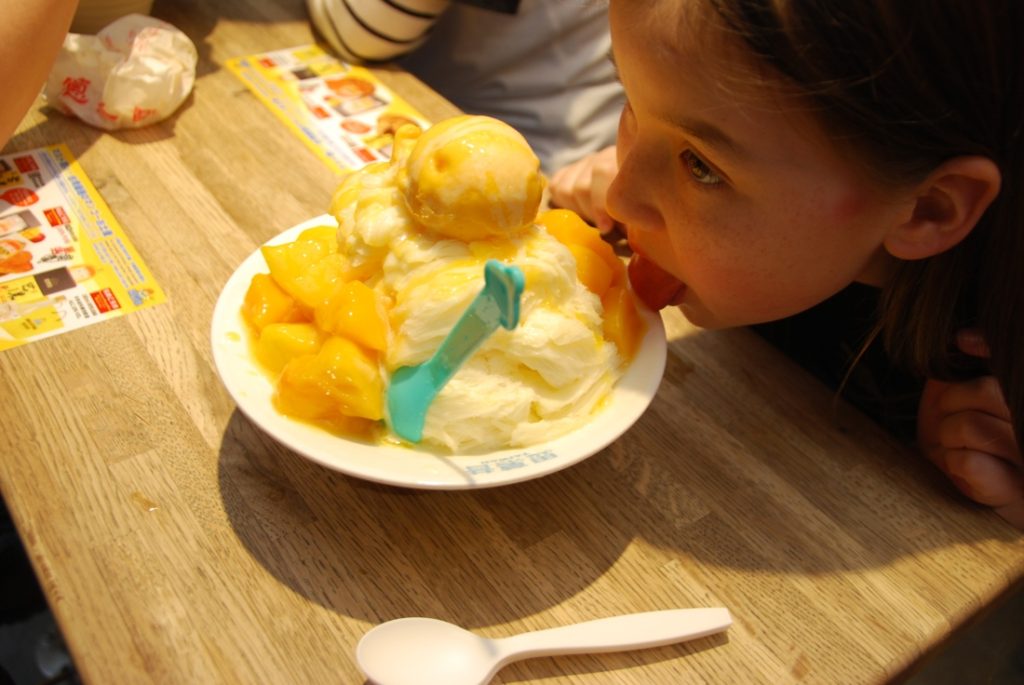 We had no luck finding an ATM that would either accept our American Express card or the temporary PIN that we got this morning.  I had the bright idea to go down to the actual AmEx office on North Fuxing Road to get some cash off of our card directly.  Twenty years ago I had my wallet stolen in Madrid and when I went to the American Express office there they advanced me cash because I had nothing.  John says a lot has happened in 20 years and it seems American Express doesn't operate this way anymore.  After wasting 2 hours in their office, on the phone with a lady in their emergency services department, it seemed there was going to be no cash for us from American Express.
I was bitterly disappointed.  The bottom line is, I was told by the emergency services lady that we should not have been told that we could get a temporary PIN for John's AmEx card because he isn't the primary card holder.  I'm the primary card holder, but my card was back in Japan.  They could have sent us cash via Western Union but it would cost us a fee of about $30 USD and they would have to find a local Western Union in Taipei to send it to.  Since I was told in the morning about getting a temporary PIN I wasn't worried about it and by that time it was too late to find any Western Union still open.  So we left the AmEx office with no cash.
I'm canceling my AmEx card when we return to America.  All this time, I've remembered my awesome experience and how AmEx saved me when I was traveling in Spain and it's the only reason I've paid the annual fee all these years.  How dumb!
After that we went back to the Taipei 101 building with the currency exchange counter on the basement level.  We made sure to bring our passports with us this time.  We exchanged the last of our yen, which really wasn't much.  We even asked Avalon to fork over the yen that she had with her.  This was the money we needed to pay our driver to take us back to the airport early in the morning.
Here is a photo of Taipei 101.  You can see it for miles around Taipei.  I read that the design and structure is such that it can sway in the case of an earthquake.  There are fancy upscale stores inside and it is bright and modern.  There's a food court down on the lower level and it is connected to the MRT train.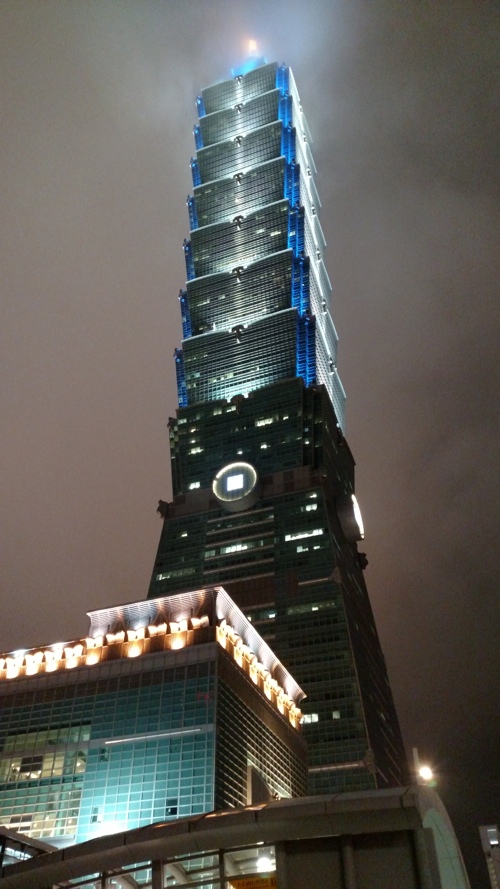 Wow!  I saw a colorful manhole cover with Taipei 101 on it!  It was beautiful!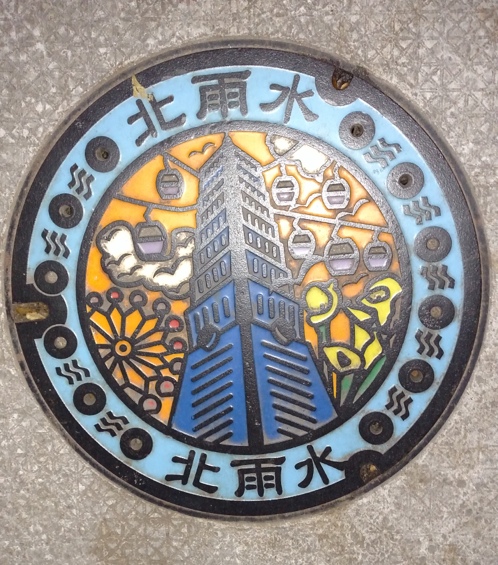 The end of our story is that we went to the Shinkong Mitsukoshi Mall to eat dinner at a restaurant called Shanghai Shanghai that was recommended to us.  The mall is next to Taipei 101 so we were able to walk there.  It's a massive complex of many buildings.  Before we sat down I made sure that they accepted Visa.  We had a nice dinner and walked around afterwards.  We even breezed through a night market near our apartment.  In the morning we got up at 5am to get to the airport for our early 6am check in and 8am flight.  No Hello Kitty airplane on the way home.  Hello Kitty doesn't want to fly that early.  We paid our driver in cash and got on the plane.  I think we arrived home with around 400 NTD ($13 USD) in our wallet!