Tuesday-Thursday, July 18-20  Siem Reap, Cambodia.
We are leaving Vietnam and moving on to Siem Reap, Cambodia today.  A visa to Vietnam costs $25 USD person, cash only, if obtained on arrival at the airport.  A visa to Cambodia costs $36 USD per person and I somehow figured out how to do this one by e-visa online.  That's quite a lot of money, but it's only the first sign of how much more expensive Cambodia is going to be versus Thailand (no visa required!) and Vietnam.  A one day temple pass, required for anyone going to visit the temples in Siem Reap, costs $37 USD per adult, cash only.  Avalon was exempt by showing her passport to prove her age.  The US dollar based system (with no US coins that I saw) really jacks up prices here.   At the same time, a dollar is really valued by the local people.
There was a huge thunderstorm in progress at the Da Nang Airport in Vietnam.  While we were waiting for our flight to board, the sky just opened up and a torrential storm of epic proportions began.  The deluge only lasted for about 15 minutes but it was incredible.  After we boarded our flight we had to wait on the plane until it was safe to take off.  Then, upon nearing Siem Reap our captain announced that a major thunderstorm was in progress and we would have to circle in the air for an extra 30 minutes.  Finally he began the descent to the runway.  We could see him getting closer to touch down.  The runway was just below us, it looked like a Hollywood stuntman could jump down on it, when all of a sudden he pulled up in a tight and abrupt ascent and we lifted back up into the sky.  An aborted landing!  But why.  Most of the information was announced in Thai and what little English was coming across was unhelpful.  The captain came back on and announced that we would have to circle around for another 10 minutes due to weather.  When he finally landed the plane we all clapped for him.  That's the first time I've ever experienced a landing like that.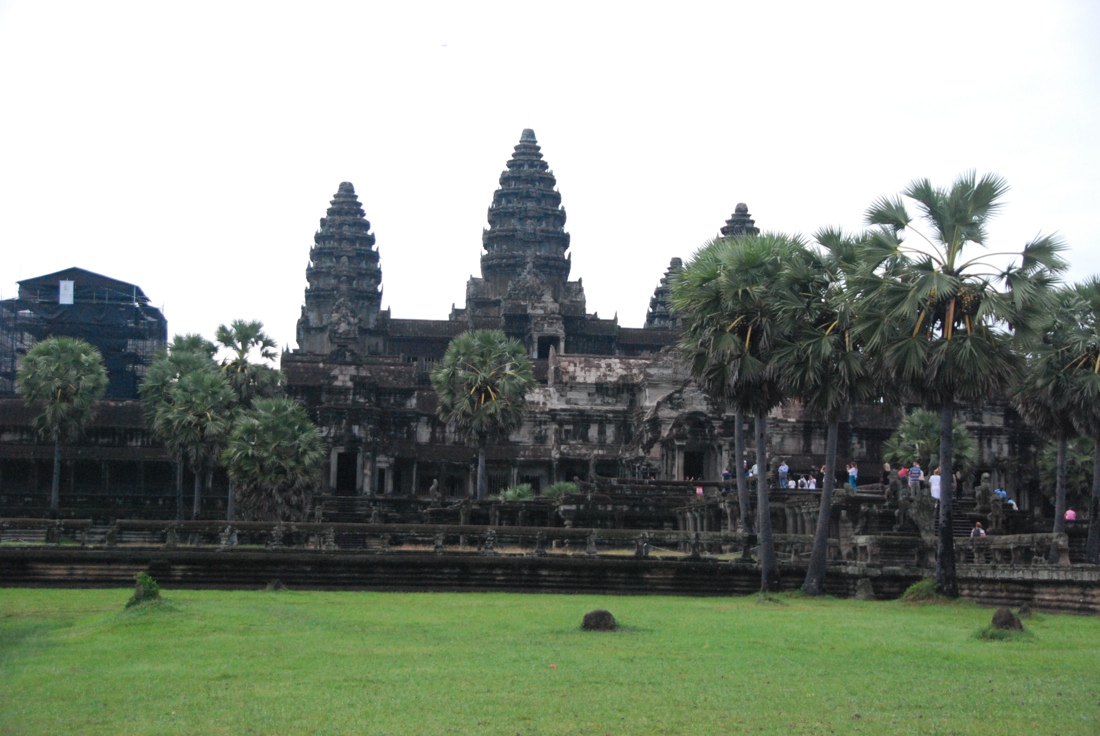 Wednesday, July 19, I had signed us up for a one day temple tour around Angkor.  It was to start before sunrise so that we could see the sun come up over Angkor Wat.  This is something I asked the tour guide to arrange, but it was anticlimactic in the end because July is not the best season for the sun's position over the temple.  See photo at the top.  The lighting was still beautiful.  We all hauled ourselves out of bed for a 4:45am call time and much to my chagrin, this did throw the kids out of whack for the rest of the morning.  For one, the hotel was kind enough to pack breakfasts to go for us to take with us.  But Halyard didn't eat any of it and Kaiyo refused to eat anything except the chocolate croissant.  So around 6am Kaiyo declared himself famished and weak.  Around 7am I made him eat a hard boiled egg and a bite of banana and after he ate it he thanked me for force feeding him an egg.  Uh-huh.  Halyard on the other hand remained tired and hungry.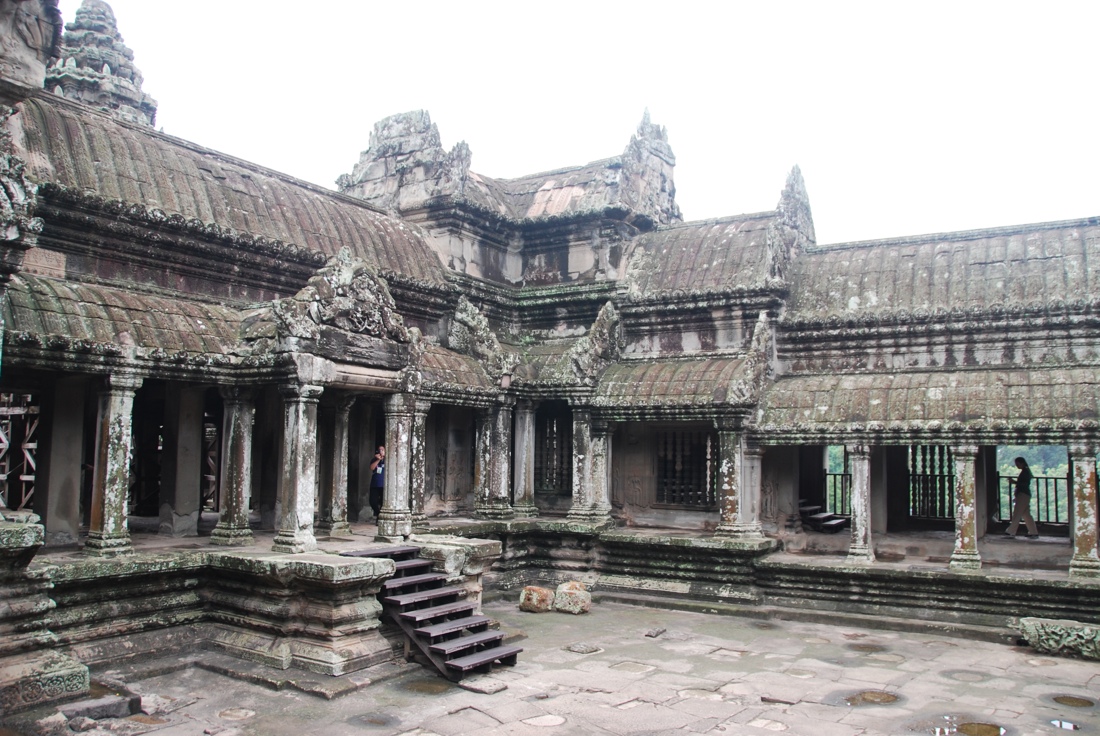 On our way to Angkor Wat we stopped at the place where we needed to buy our temple passes.  This is very serious business.  You have to take a photo which is printed on your pass.  And I showed the lady Avalon's passport, which she scrutinized.  Then I forked over $148 USD in cash.  Our guide said in high season the parking lot is jammed by 5am with vans, motorbikes and tuk-tuks.  Even though it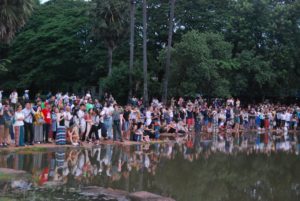 wasn't the best sunrise, there were still hundreds of people lined up along the reflecting pond, waiting for the sun.  Our guide said it can be 10 times more people jostling for position.  Luckily, because it was low season we were able to climb to the top tower at Angkor Wat with only a very minimal wait.  Our guide told us that in high season there can be a 2-hour wait to get to the top.  And to reduce crowds, only those 12 and older with temple passes can climb up and guides are also not allowed up to the top.  So Avalon waited with our guide for us to return.  You can see how steep and narrow the stairs are to the top tower.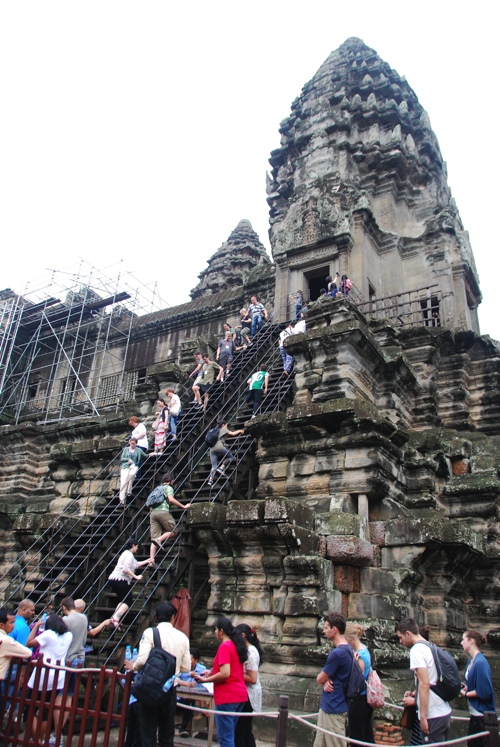 Angkor Wat is beautiful, but what impressed John the most was its scale.  The place is massive.  According to the Guinness Book of World Records, at 401 acres, it's the largest religious structure ever built.  It's made out of millions of huge blocks of stone, some weighing up to 1.5 tons each.  Our guide told us the stones were brought to the location from a great distance by drilling holes in the stones and tying ropes from the stones to an elephant's neck.  The elephant then dragged the stone along a sandy path where he said the stone would glide easily.  In some ways it's like the Egyptian pyramids because of its complexity, engineering, longevity, ingenuity, and intricate bas relief carvings.  Whole walls are covered by very detailed scenes telling epic stories of Ramayana and other Hindu tales.  However, the Angkor temples make up a much larger complex than the pyramids and their quarry was far, far away, whereas the Egyptians used limestone quarried from less than a mile away.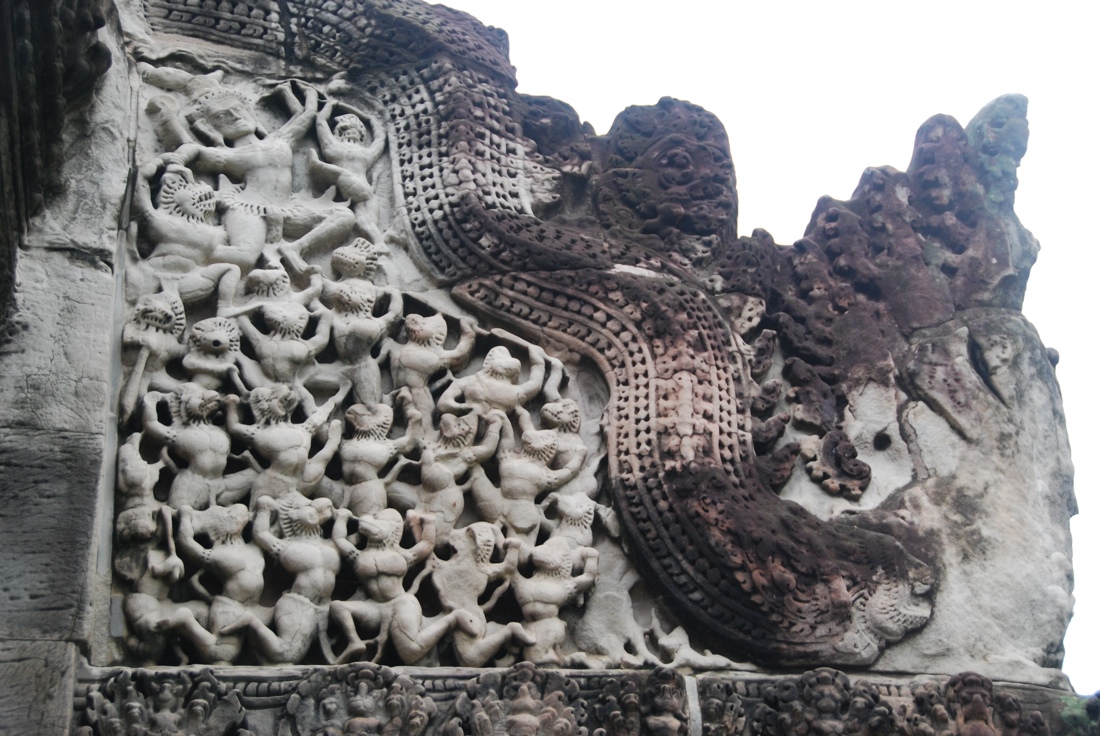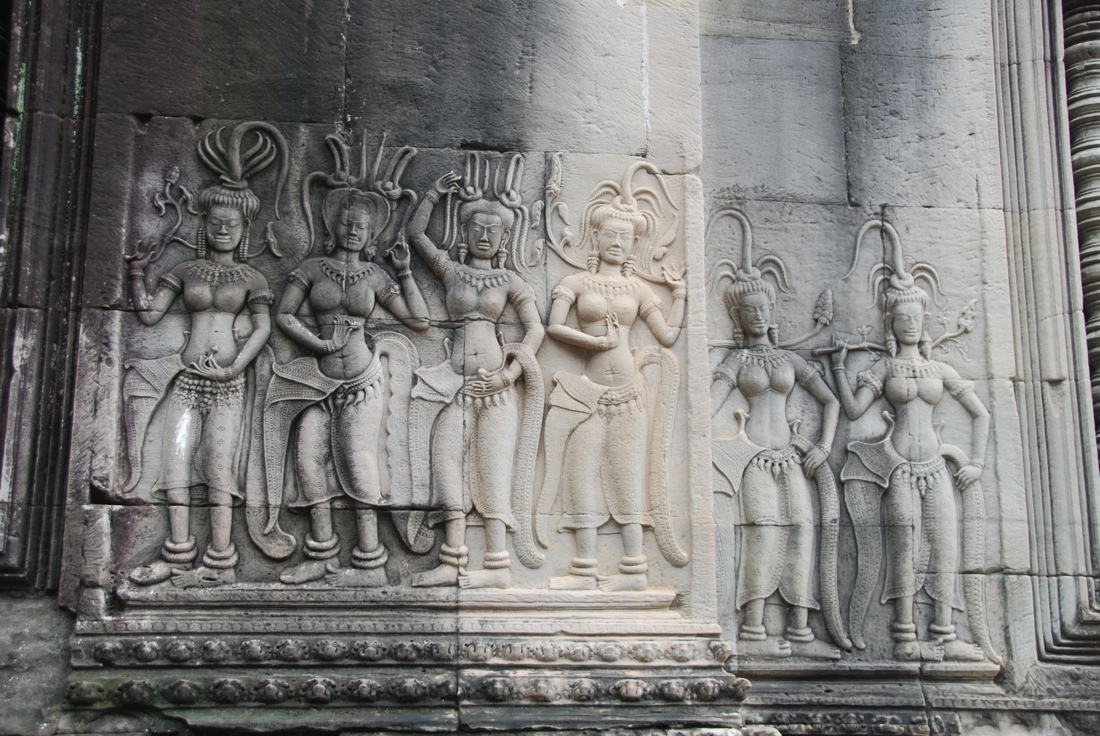 One constant theme at all of the temples that we visited, which was most interesting to me, is the push and pull between Hindu and Buddhism here.  A lot of temples have been altered to suit the beliefs of the ruling king at the time.  You can see the places on the walls where a relief of Buddha had been scraped off.  Or in several instances there was a main statue of Buddha or Vishnu that had been removed and either taken away or put down in a corner on a low level.  Some originally Buddha carvings had altered eyes so that they were open instead of closed (or closed instead of open?), or a third Hindu eye carved in the forehead was added to convert them to Vishnu.  The famous temple Bayon, with 216 large faces carved throughout its walls have this Buddha/Vishnu combo face.  Our guide was a funny guy.  He laughed as he told us about it.
After Angkor Wat we went to Angkor Thom to see Ta Prohm, where I think all of the guides start off by telling you that this is the site where Angelina Jolie came to film her Tomb Raider movie.  Then he launched into a talk about how she came to Cambodia and adopted a son and donated a lot of money to the country and built schools for children.  She is obviously revered here.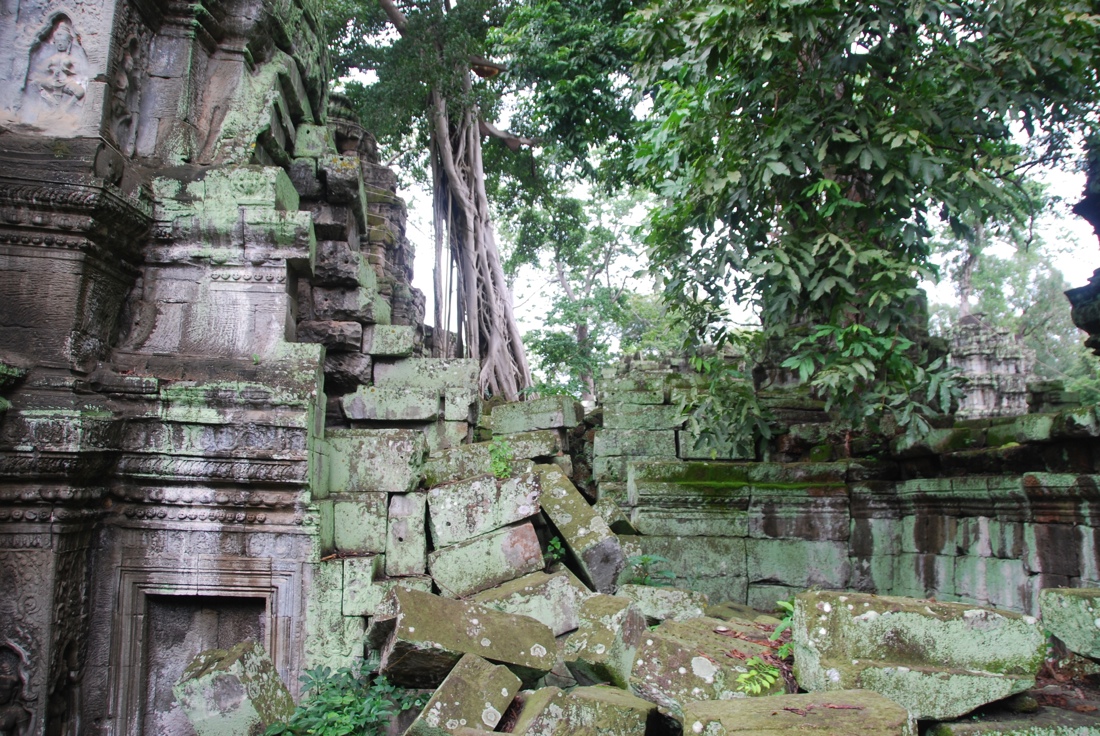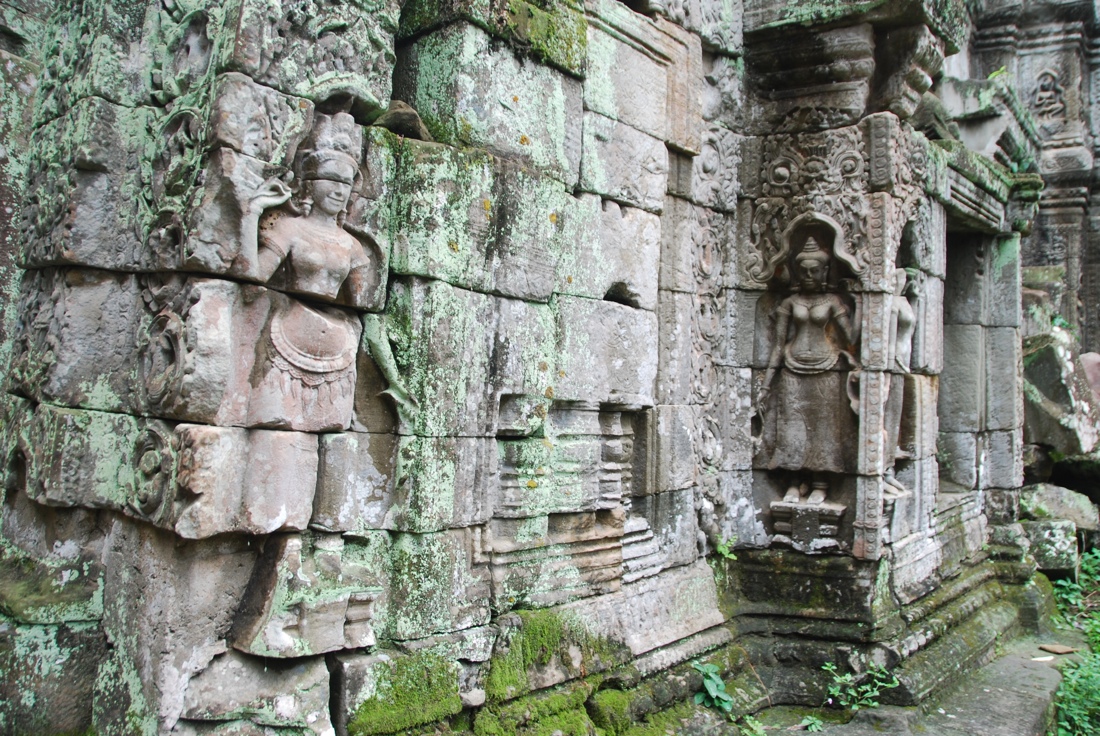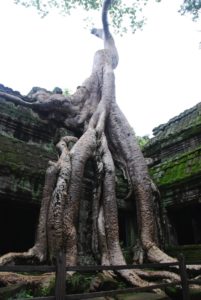 Ta Prohm was a favorite temple for everyone.  I had read at an exhibit at the Discovery Center back home that this is also a place that served as inspiration for some Indiana Jones movies.  The temple has remained in a largely unrestored state.  Gigantic trees and massive tree roots are grabbing on to temple buildings like huge octopus tentacles.  It reminded me of Jules Verne's giant squid clutching the submarine.  Everything was green and mossy, crumpled and abandoned.  It was fascinating to explore this untouched temple.
After that Kaiyo and Avalon checked out to sit in the van and wait for us to return from the next temple visit.  I can't remember the name of it, but this next temple had some very steep climbing.  Our guide told us that before they built wooden steps over the narrow stone steps some visitors slipped and died.  (I don't know if this is true, but the internet says the vertical path up the steps to the top of Angkor Wat is a 70 percent incline.)  These are steep steps indeed.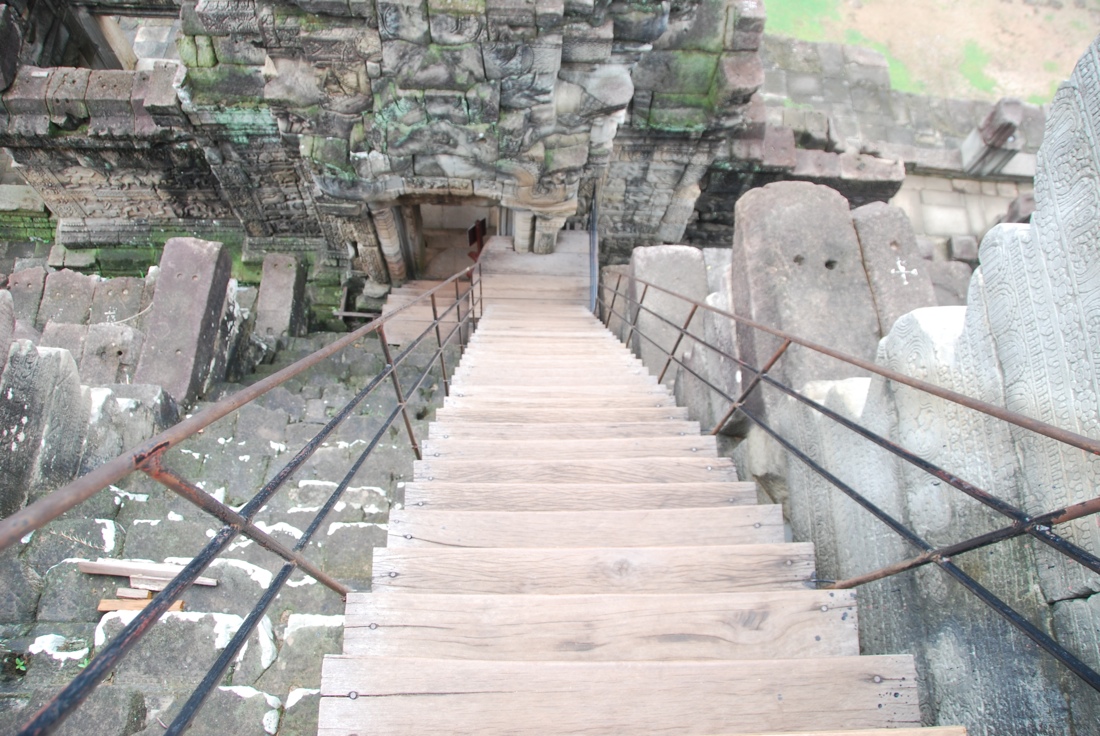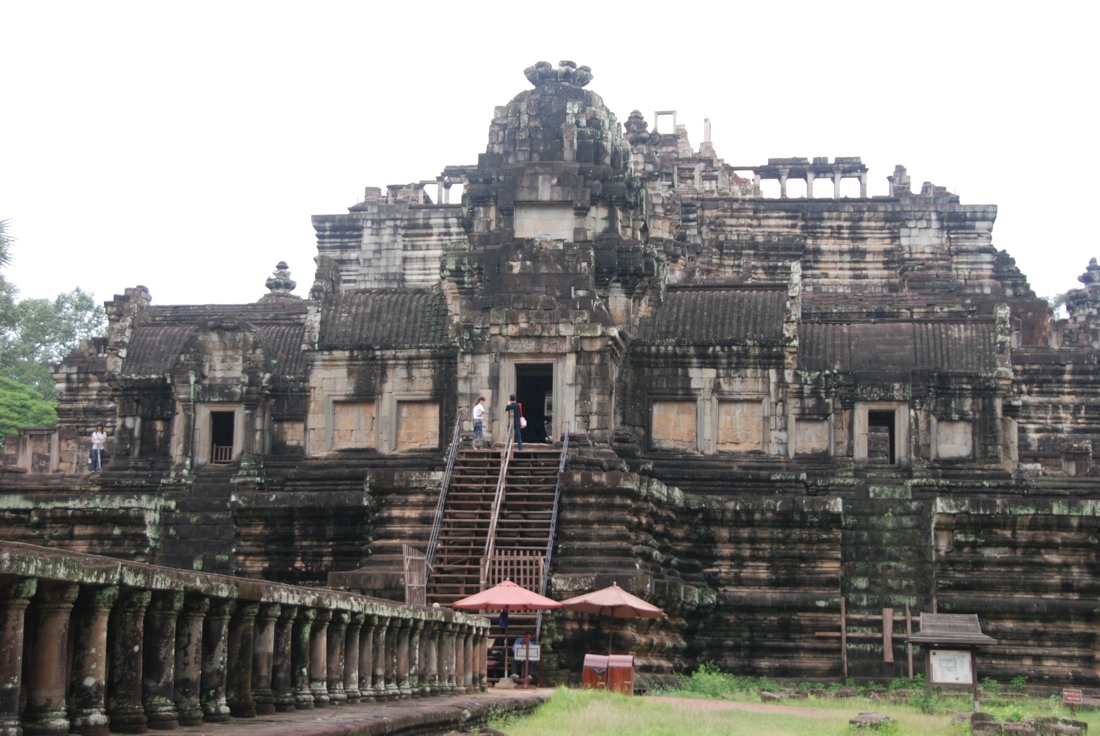 He said this temple has levels dedicated to hell, earth and heaven.  And then he said he would stay in hell while we climbed up to heaven.  Next to this temple was a place called Elephant Terrace where elephants and other animals were pitted against each other in battles like gladiators at the Coliseum.
Finally we all went to Bayon, the temple with 216 faces.  It was crowded here by the time we arrived.  I can't imagine touring temples in Siem Reap in high season, though the weather must be so much better.  Our guide painted a picture in my head of shoulder to shoulder tourists, long lines, photo ops and selfies with massive crowds.  Bayon isn't a wide, spacious temple.  The faces follow you around everywhere… with their calm Buddha face and third Vishnu eye and Mona Lisa smiles.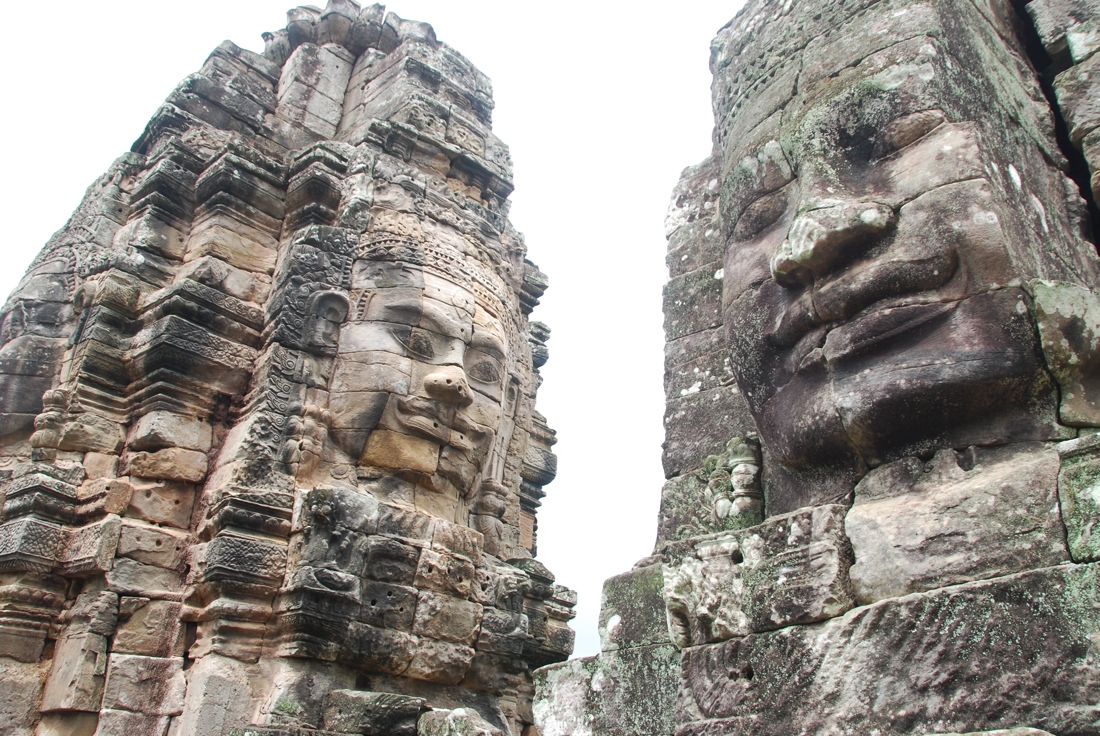 At the time of the temple's foundation, a large statue of Buddha stood at the center of the temple, but later the statue was smashed to pieces when Hindu accompanied the throne.  We all agreed this was one of our favorite temples, even though it was hot and very humid and we were eager to get back to the air conditioned van.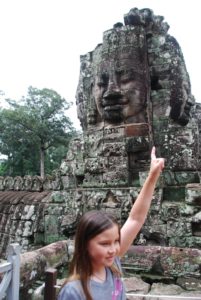 Our guide said we got to see a lot because we had signed up for a private tour and also because it's low season.  I was happy to hear that.  We stopped by a Cambodian boutique to see a program for disabled Cambodian artisans learning to work a trade and then we bought a few things.  We all went back to our hotel and our guide joined us for lunch provided by our tour package.  At this point it was only 1pm but we'd been out for 7 hours!
Next up: more photos of Angkor Temples and Phare the Cambodian Circus, one of the best nights of our entire trip.