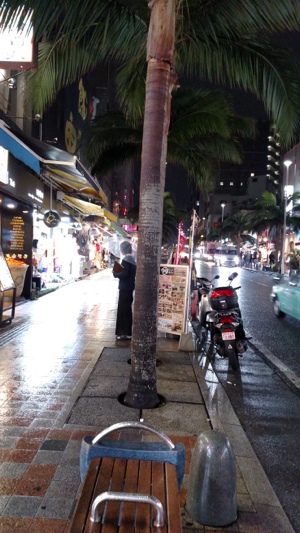 My prior post detailing my trip to Okinawa started to get a bit long and wordy so I had to cut it off.  Here are more sights and stories from Japan's famous island to the south.
I landed at Naha Airport in the early evening.  By the time I traveled from the airport to my Airbnb apartment and got settled in, it was dark.  On the main street, Kokusai-dori, brightly lit stores were crowded with high school students, marathon runners and foreign tourists.  It was raining lightly so everyone was trying to duck out of the drizzle.  Locals were everywhere, luring visitors to their stores, hawking t-shirts, keychains, Okinawa treats, restaurants menus, drinks and even two Owl Cafes along the main street had owls outside posing for photos.
And Okinawa has palm trees.  Lots of palm trees.  This is a rare sight in the rest of Japan, but it feels like home in California, seeing them popping out of the sidewalk.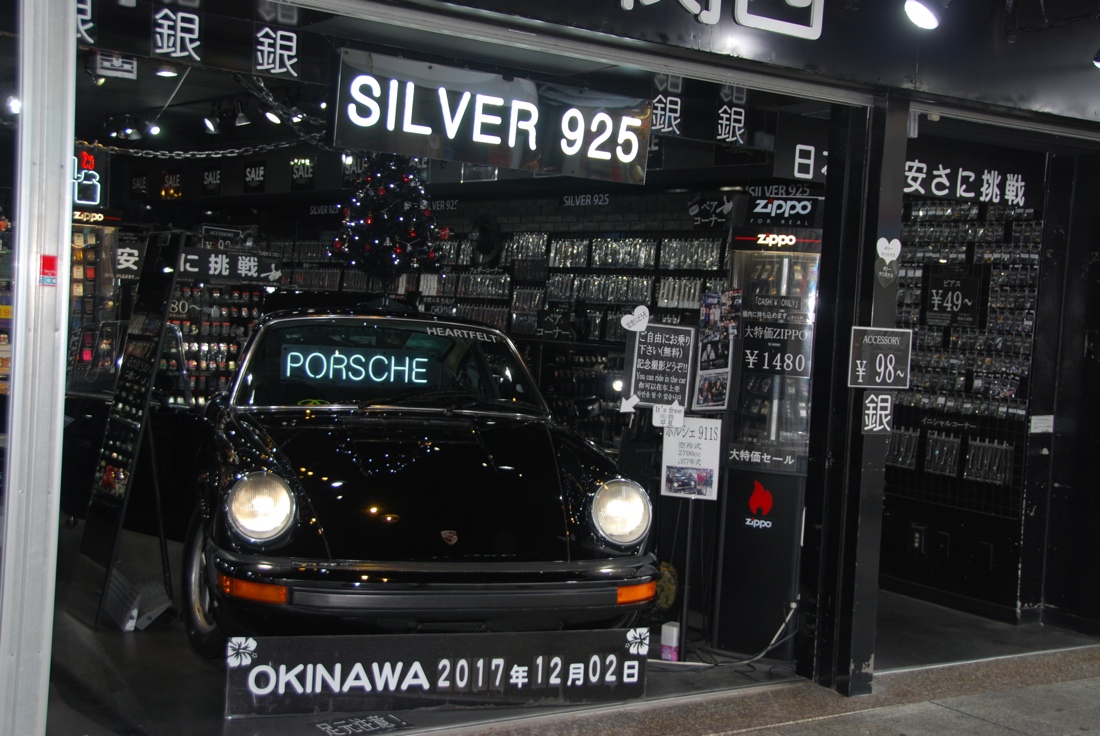 This is a store that sells silver products.  This is the kind of kitschy stores found on Kokusai-dori.  It's mostly jewelry, but also Zippo lighters, keychains and other random silver items.  I'm not sure the point of having a 911 Porsche in the store, but it certainly does grab your attention.  At night especially, the headlights are lit up and the light bounces off the car and beckons curious people in.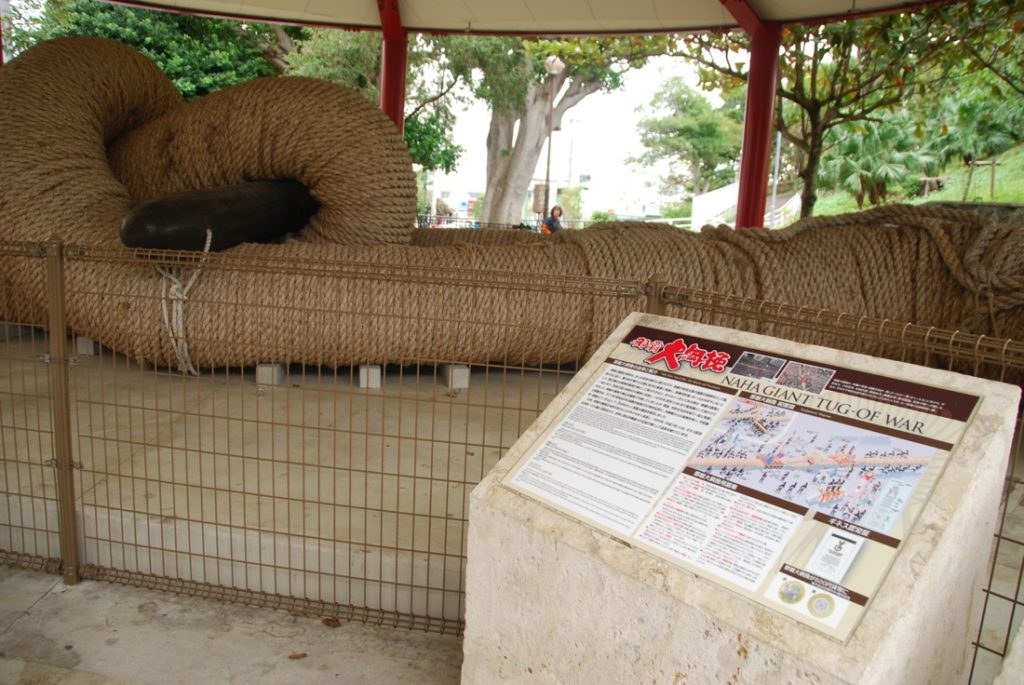 Here's a gigantic tug-of-war rope that's on display in a pavilion.  The information plaque says Naha had a huge tug-of-war in the main street that thousands of people came out for.  It's listed in the Guinness Book of World's Records as the largest tug-of-war.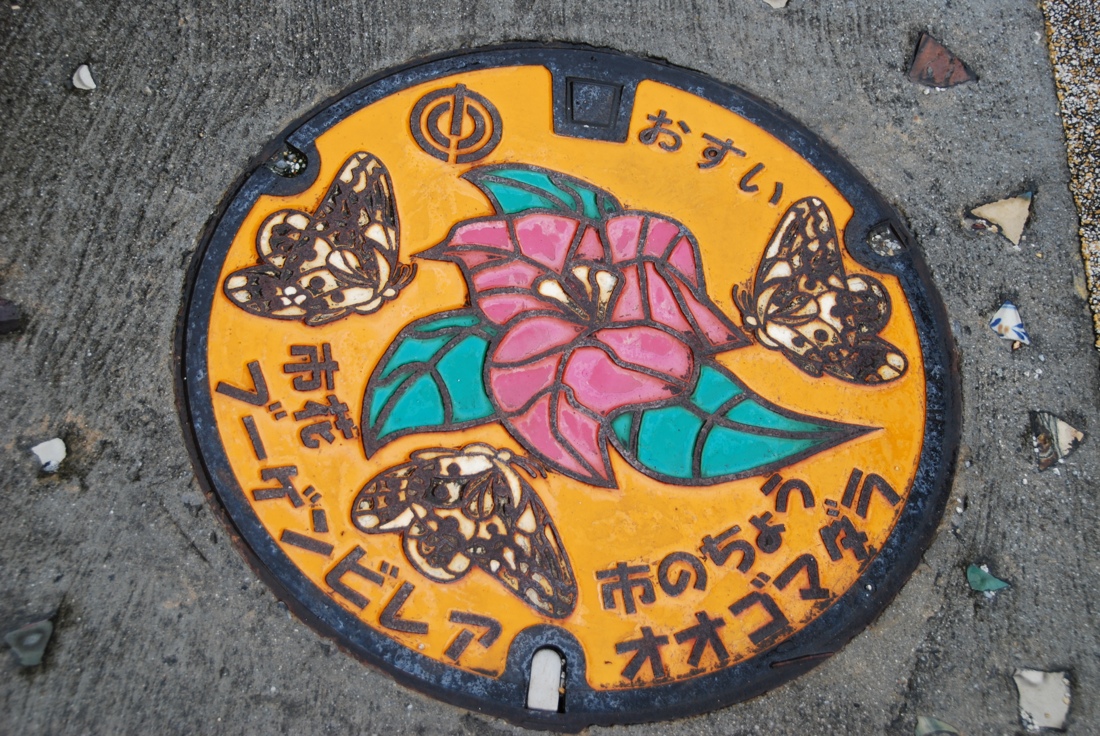 I already posted a photo of a manhole cover with an Okinawa Shisa lion dog on it.  Here's one with a bougainvillea featured in the center.  I saw seven (7!!!) different, awesome manhole covers in Naha.  One blogger wrote that this plain fish theme manhole cover was one of the first specialty covers made in Japan, but I have yet to find confirmation of that in my research.  See my manhole cover blog post for all of the Okinawa manhole covers I found.  https://myadventureabroad.com/japans-manhoru-art/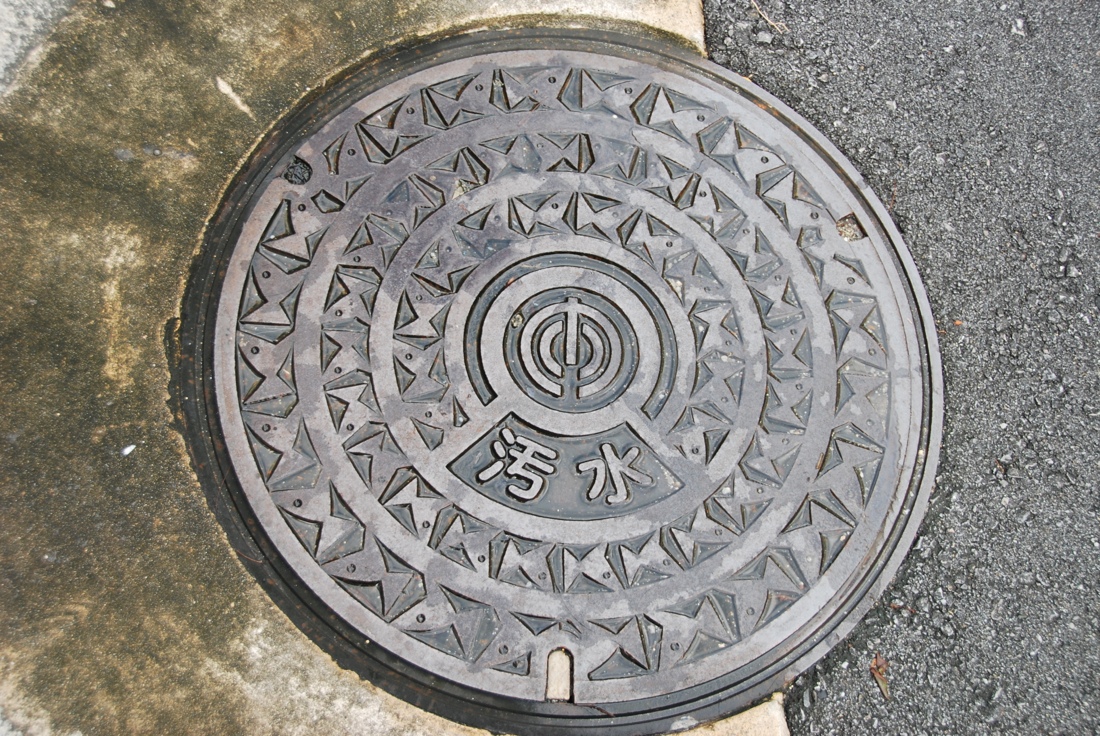 The next four photos are related to the island's war history or they were taken from the location around the peace memorial.  First is this memorial to the casualties of war.  It is called the Cornerstone of Peace.  There are 116 granite stones inscribed with the names of over 240,000 people who died in the Battle of Okinawa.  The victims are included regardless of nationality, civilian or military status.  These stones with names seem to go on forever.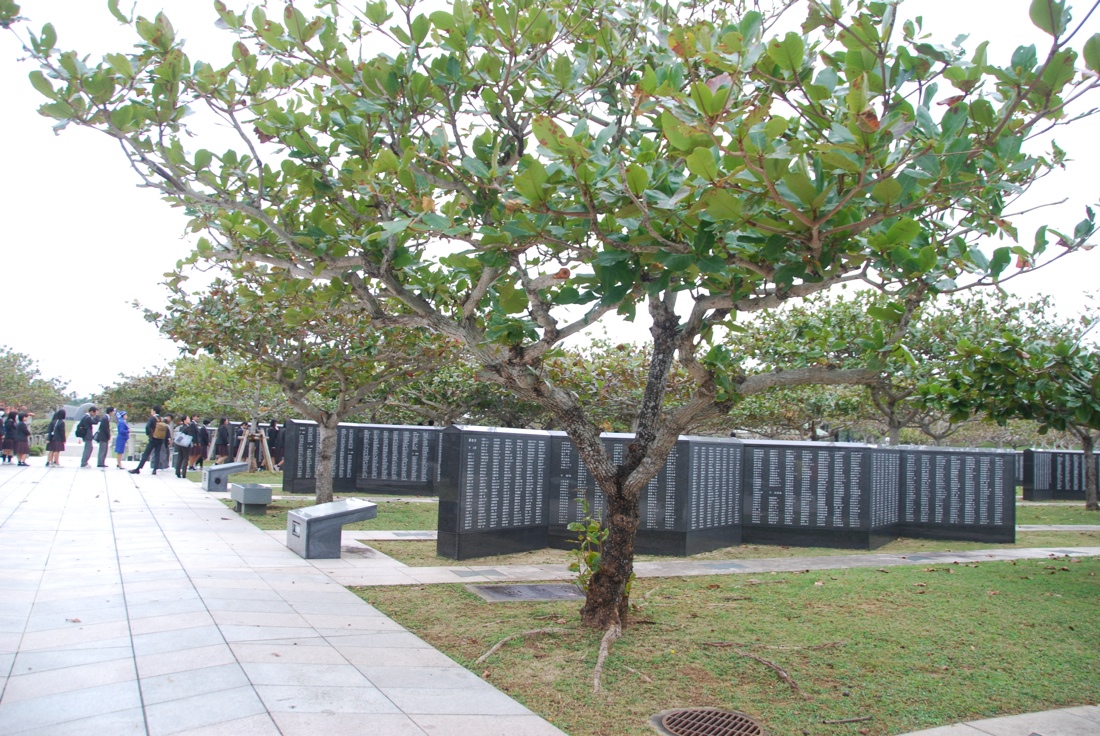 We went on a tour of the former Japanese Navy underground headquarters.  Japan's Navy Corp of Engineers dug this tunnel complex using hoes and picks in 1944.  These tunnels provided cover for 4,000 soldiers during the war.  There was a galley area, officers' room, generator rooms, sleeping quarters and more. The tunnels are open to the pubic and remain in their original condition.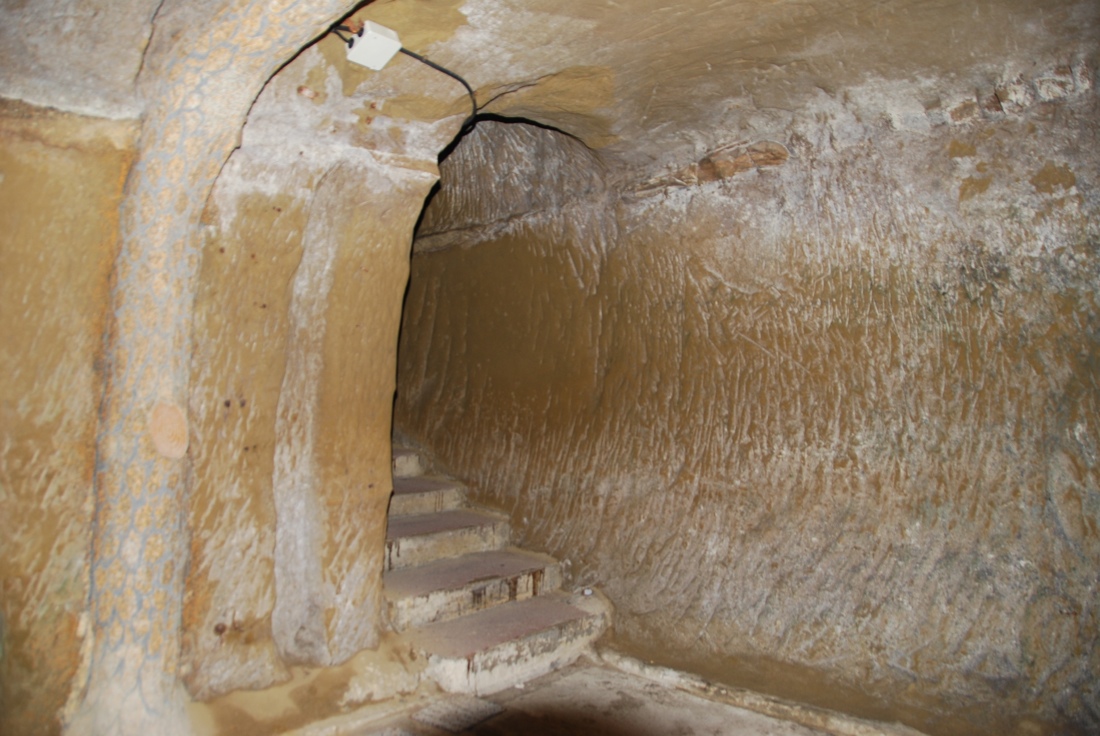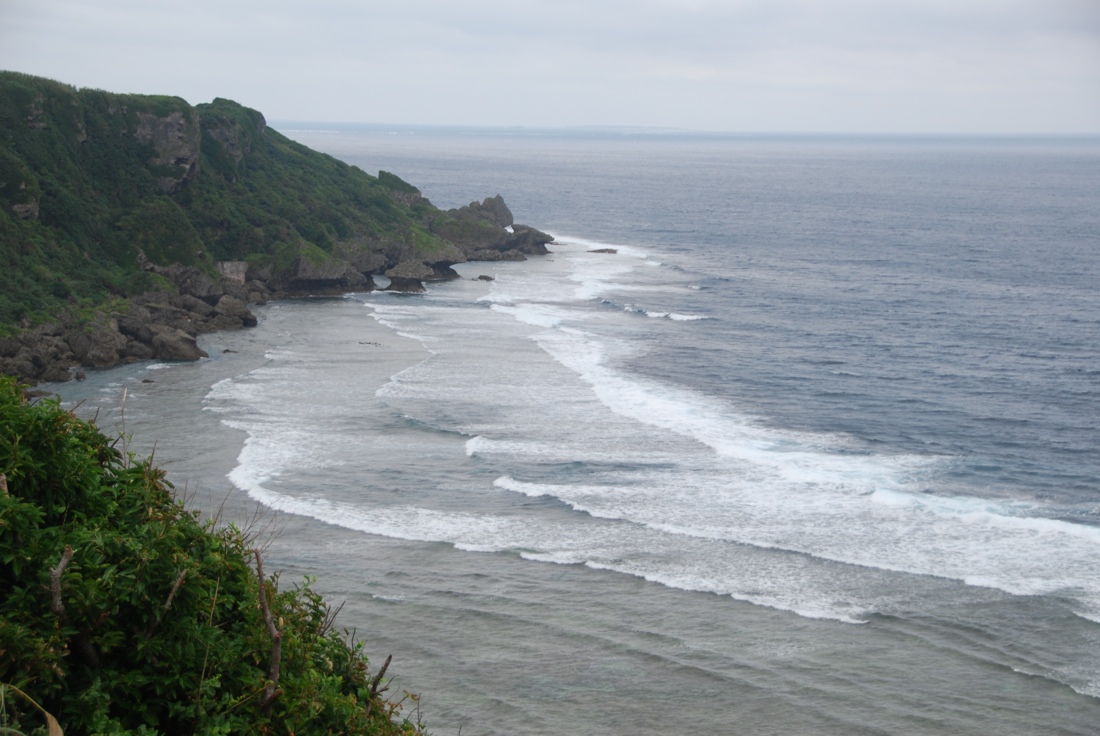 This place is known as suicide cliffs.  As American troops were closing in during the Battle of Okinawa, many soldiers and civilians jumped to their death to avoid capture by Americans.  Historical accounts say Japanese soldiers urged or even ordered people to commit suicide, claiming rampaging American troops would torture and rape them if they were captured.  Many women jumped holding their babies and children.  The big glass walls of the Peace Memorial Park Museum overlook these cliffs.  It's a very solemn sight.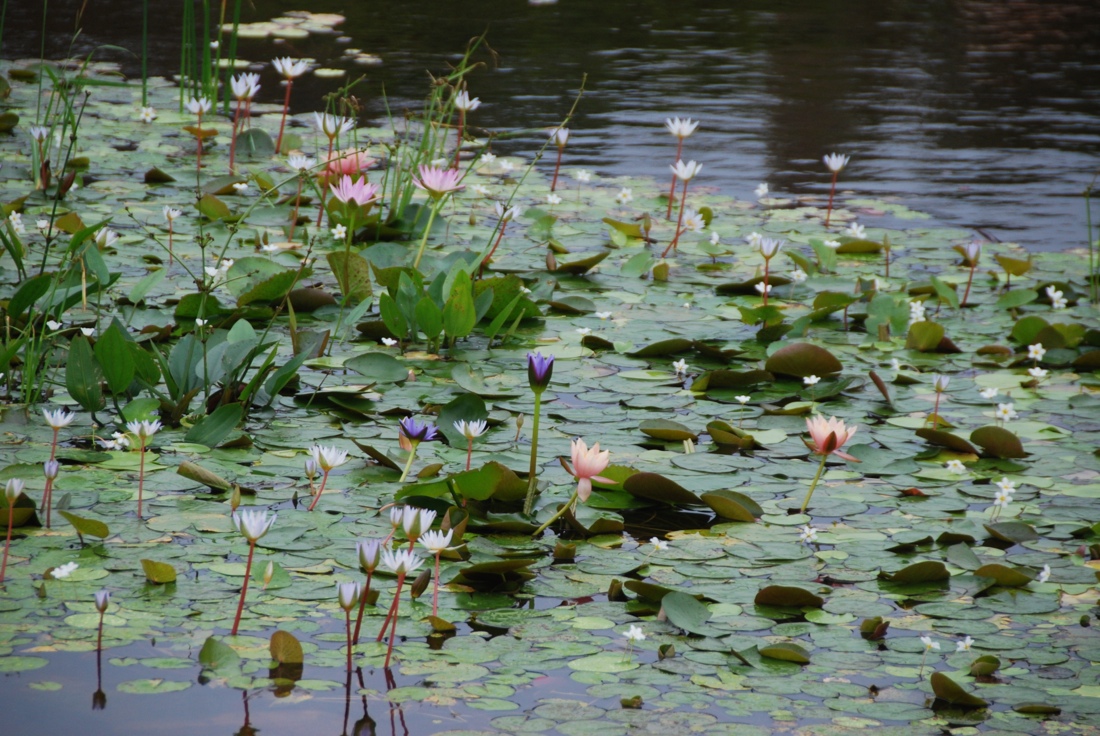 Simply stunning water lilies.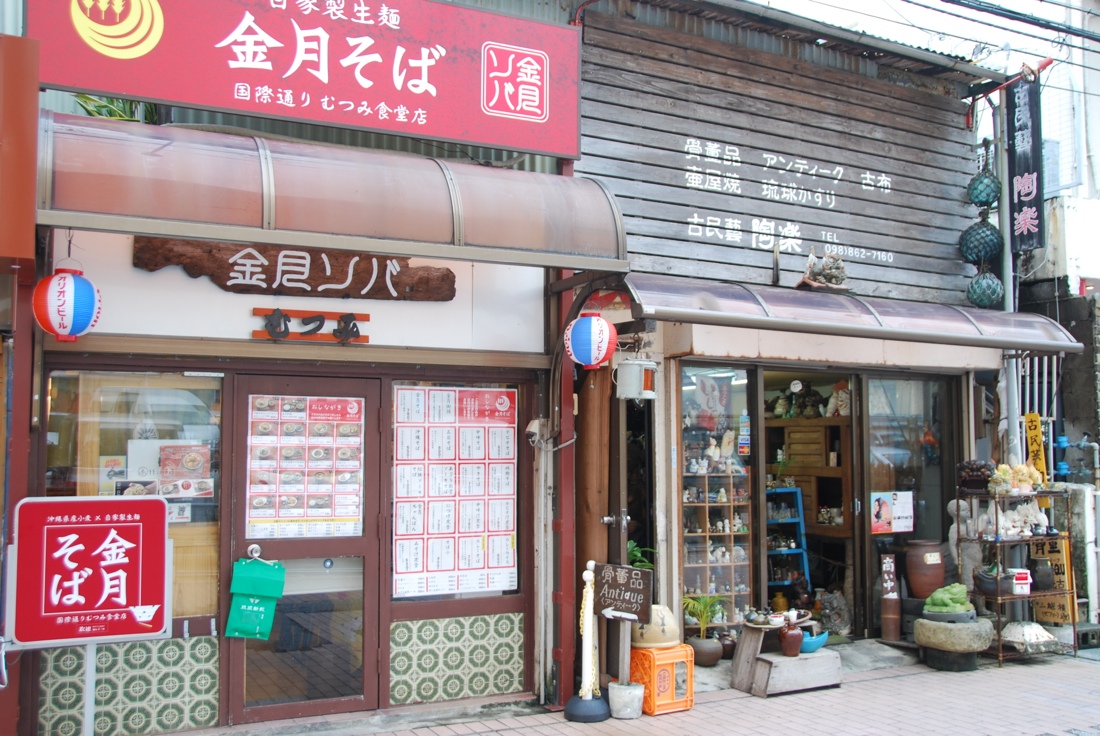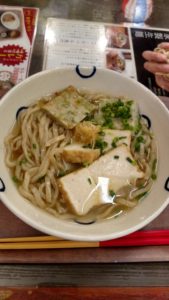 This is the restaurant where I found pork bone-free broth for my taste test of Okinawa soba.  It wasn't easy to find such a thing!  Even the gentlemen running the vegan restaurant I went to had a hard time thinking of a place that would serve this popular dish without pork.  My bowl has a seafood broth and tofu and fish cakes instead of pork.  The restaurant was next to an antique shop so I browsed around while I waited.  It looked like an American garage sale in there. ___________________________________________________
I guess this bar about sums up Naha and the downtown party scene.  "Need a Drink?"  Rehab International Bar has everything to quench your thirst I'm sure.  Think it's aimed at tourists?  I love how it's all in English.  And it doesn't open until 7pm.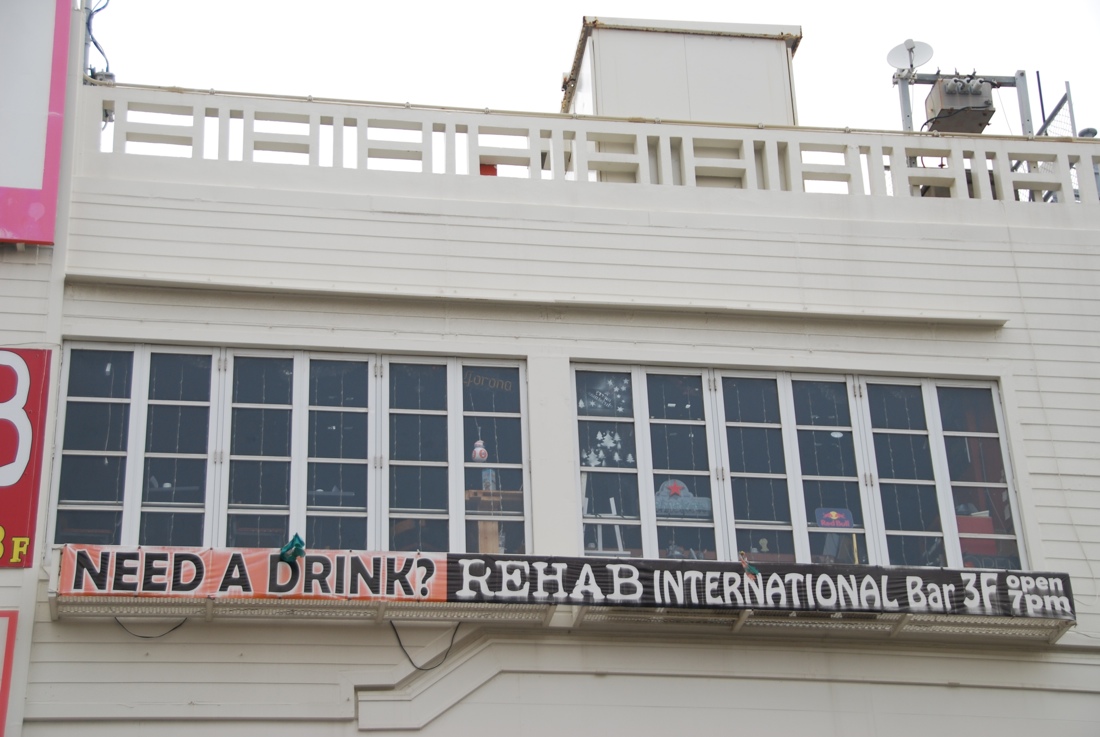 It was lucky for me that I was invited to two dinners with friends because otherwise I might have struck out on the food scene here.  I had a hard time finding meals without meat in Okinawa.  My friend initially invited me to a very fancy lunch at her favorite local dining spot, but the chef told her he could not eliminate the pork out of the meal.  And it's in a tiny, neighborhood place where they only serve ONE party per day!  But I managed to find a delicious breakfast cafe called C&C Breakfast where I ordered soufflé pancakes and an acai bowl.  I highly recommend it, but the line started forming before the doors opened and it's a small cafe so you have to get there early.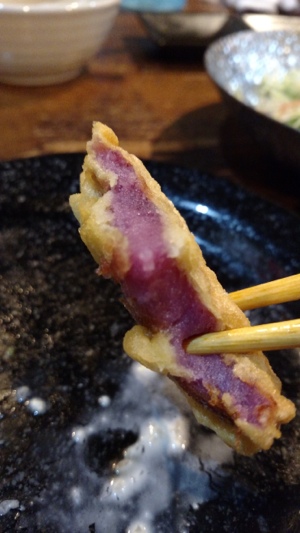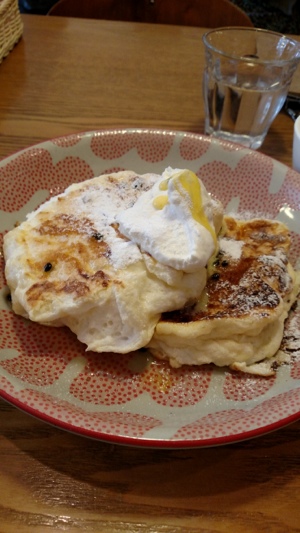 I also had a chance to sample beni imo, a local purple sweet potato that is so famous and loved that it can be found as an ice cream flavor or even as a KitKat.  I tried it in a tempura form and it was spongy and chewy like mochi rice!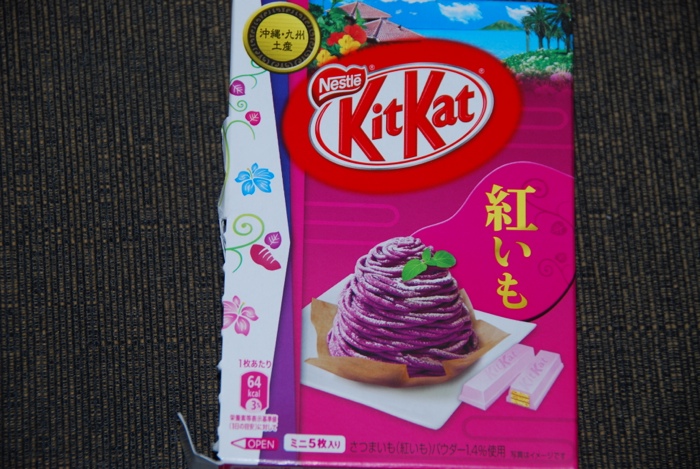 F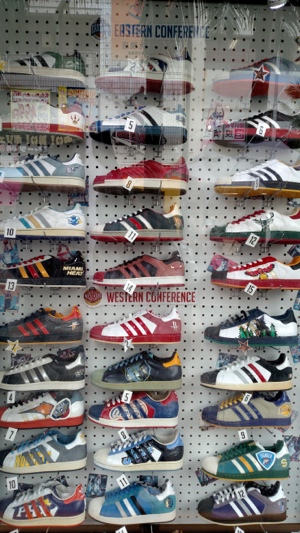 inally, this store is called Locker.  Guess what the theme of this store is.  The NBA.  When I first passed it I noticed a big, colorful men's leather jacket that had every NBA team logo all over it.  Now that I think about it, I didn't study it to see how dated it was.  I wonder if it had New Jersey Nets or Brooklyn Nets.  I seriously doubt it included the New Orleans Pelicans.  Alongside in the window was a leather Lakers letterman's jacket.  But this window display photo is the best.  Shoes for every NBA team, divided by Eastern and Western Conference.  If I were a shoe collector!  I didn't go inside so I don't know what the prices were like but I loved this store display.
Well that's the solemn, delicious and wacky side of Okinawa.  I hope to visit some of the outer Okinawa islands in the future.  Everyone says the other islands are even better.