Kuromon Ichiba Market is in downtown Osaka, off of the Namba station exit.  We found out by trial and error that this is a daytime market, not a nighttime street affair.  It is fascinating!  The narrow alleys are crowded with stalls and people and the sights and colors are all vibrant shades that pop out.  The smells wafting out from each stall let you know if something is being cooked for the crowd.  Fresh, premium fish can be found here.  Wagyu and Kobe beef are cut here in generous strips and grilled on the spot.  Thick pieces of fatty sushi sit atop little pieces of rice.  Huge crabs, whole or cut up, are on sale.  Fresh fruit and vegetables are arranged in an eye-catching, colorful display.  Check out the green grapes above and below… they're muscat grapes selling for 2380 yen above (about $23) and 1500 yen below (about $15) per package.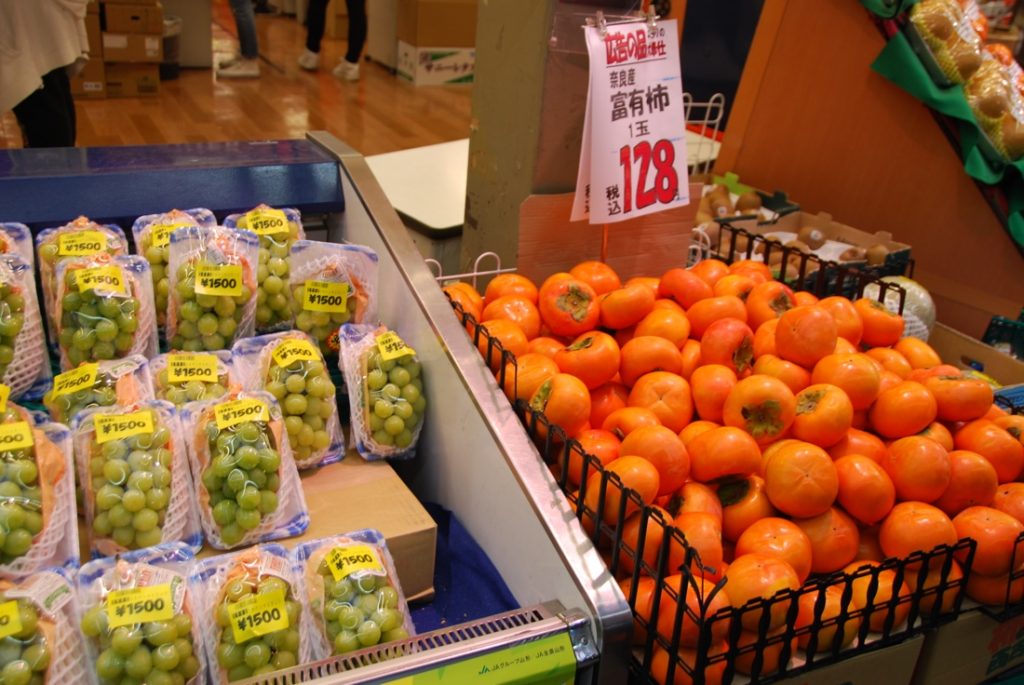 On Monday, November 14, we met my mother's cousin Clyde at the Shin-Osaka Train Station where he arrived by Shinkansen (the bullet train).  He is here in Japan for two weeks traveling around.  And he has kindly brought me a delivery from the states: Carroll Shelby Chili Mix!  Now I can make a big pot of chili this winter for the kids.  Clyde lives in Long Beach, California and he is interested in Japanese theater.  He organized a tour for himself of traditional Japanese Kabuki, Noh and Bunraku performances.  He didn't have a lot of time to go anywhere far so we decided to take him around Dotonbori and Kuromon Ichiba Market.  Of course John highjacked our tour at the start for a run into Starbucks.
We wandered around Dotonbori first.  While we were exploring we found the Dotonbori Hotel that I'd been looking for.  I'd seen pictures of it before and I wanted to take one myself.  Here it is!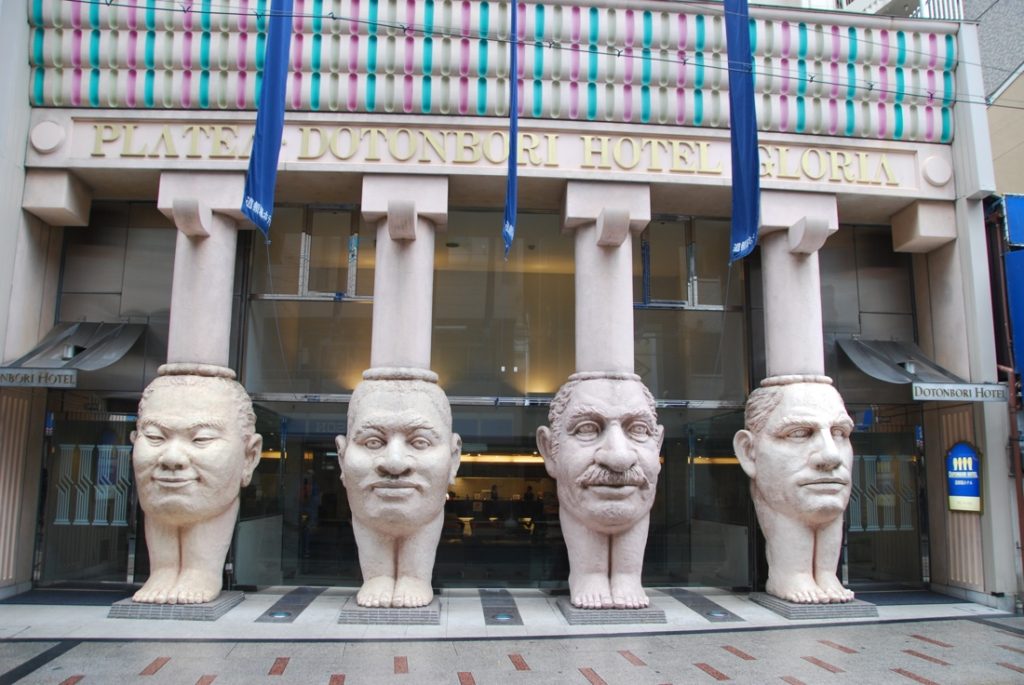 The story of the statues from the Dontonbori Hotel website:
"The '4 statues' was built in front of the entrance of Dotonbori Hotel in 1991.  Starting from left, they represent people of Asians, Africans, Arabs and Westerners, representing our goal to strive to offer the best hospitality services to people from all around the world."
Also from the website:
"Moreover, after 10:30PM, the all-you-can-eat ramen and draft beer service opens at our lobby, where lots of smiles from various nations can be seen."
I wonder if we can sneak in at 10pm and pretend to be hotel guests!  We need to tell our friend Angus about this.  He says he has never been to a Japanese restaurant and walked out feeling stuffed like after Thanksgiving Dinner.  I don't feel the same way, and I think that it may have to do with the fact that he's sharing his meals with his young daughter.
Then we wandered over to Kuromon Ichiba Market.  Kuro is black and mon is gate so Kuromon means black gate.  Originally, way back when, this was the site of a temple with big black gates at the entry, hence the name.  There are 180 vendor stalls in here, selling everything from fresh seafood, quality beef and wholesale produce to health and beauty supplies and cheap clothing.  We didn't sample the food this day.  We just walked around and took in the sights and smells.  We cataloged the things we want to try on our next visit.  Next time we will bring our fat cash bundle for taste testing.  The prices here reflect the quality of the products and I think it's probably a great place to taste test a lot of premium items by only buying a little bit at a time.  Here is our journey through Kuromon Ichiba, part 1.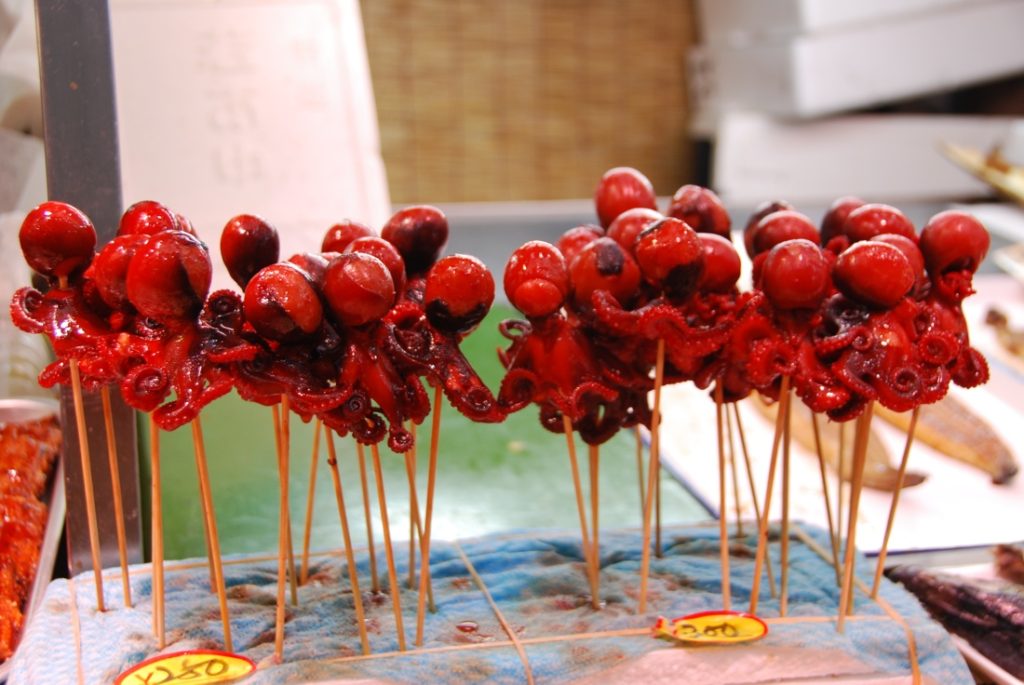 These creepy, mesmerizing, miniature octopus-on-a-stick things are really cool.  But I don't want to eat one.  We're going to have to bring Halyard along to try it.  He is our go-to-person for eating the weird things.  I read that the heads are stuffed with quail eggs.  I wonder if they are juicy or chewy or soft or creamy… I suppose they are tasty.  A lot of people buy them and bite their heads off!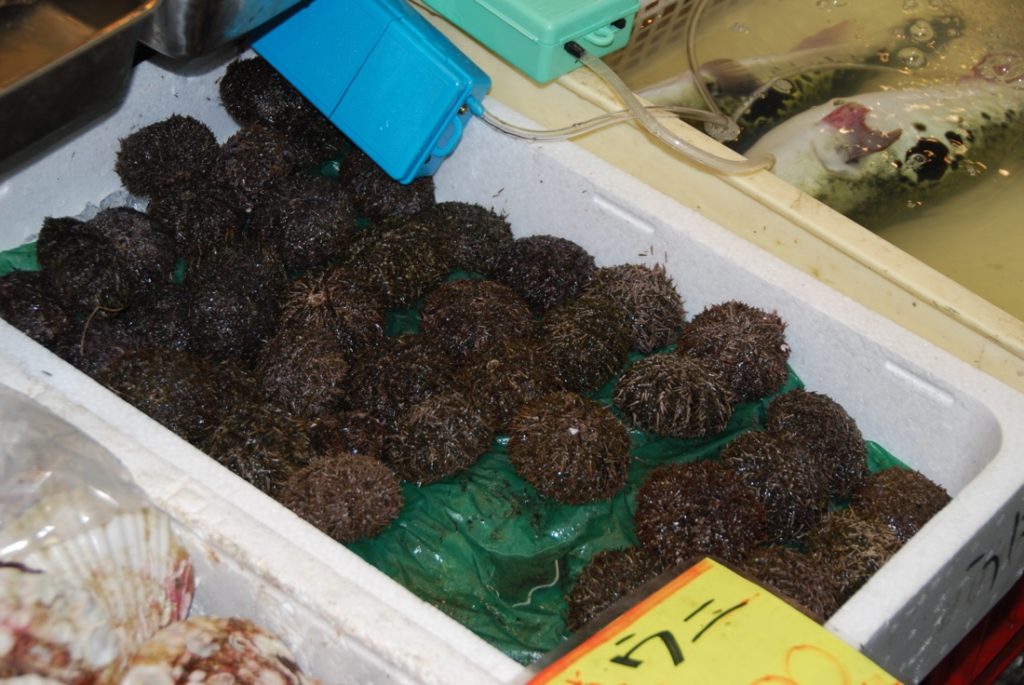 These spiny balls are uni, also known as sea urchins.  When you snorkel or dive in the ocean you can see these sitting around the ocean floor.  Uni is a delicacy, but I don't know why.  It is often more expensive than the regular sushi options.  Uni might be the only type of food that John and I both spit out when we tried it.  We were in a sushi restaurant in San Francisco and I just could not swallow it.  We tried it again in a hotel thinking it might taste better in a fancy preparation, but no, still gross.  It's neat to look at though.  Inside the shell Uni is orange and squishy and slimy.  They cut them open and serve it on the half shell.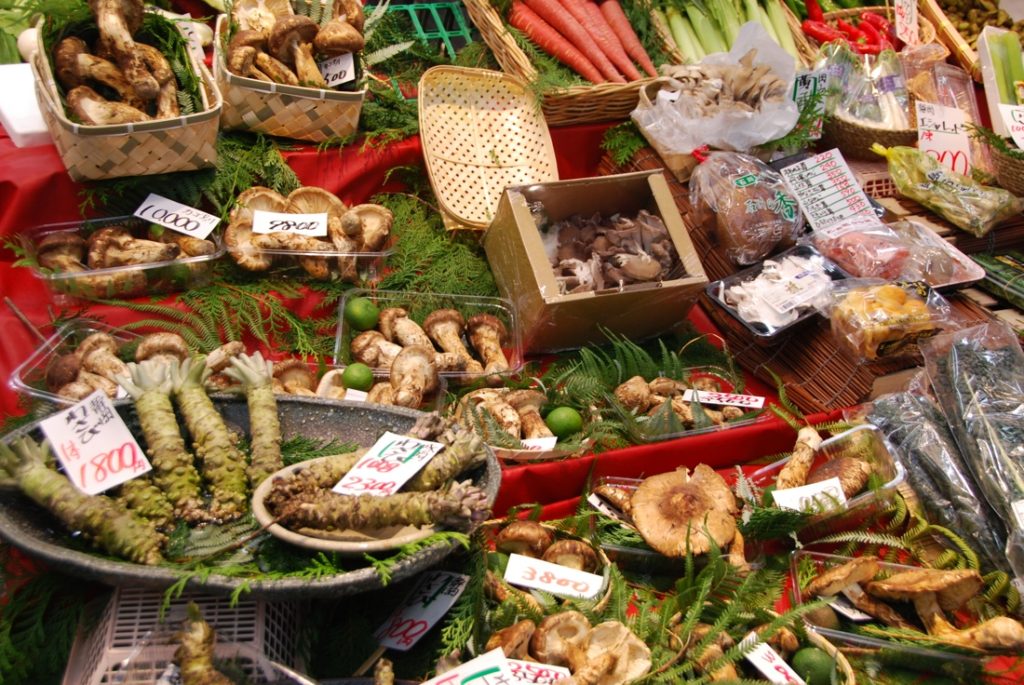 This beautiful display looks like root vegetables and mushrooms.  I love how the brown products are displayed with greenery underneath.  And the red covering underneath it all gives a nice contrast to the green and brown colors.
Below, at top left, are displays of seafood, including the popular whole fish on a stick and grilled unagi (eel) on a stick.  At top right are super long sausages and different types of burgers being grilled on the spot.  Bottom photos are crab of course.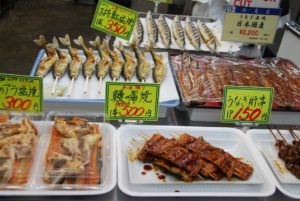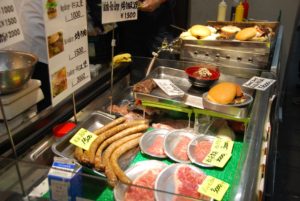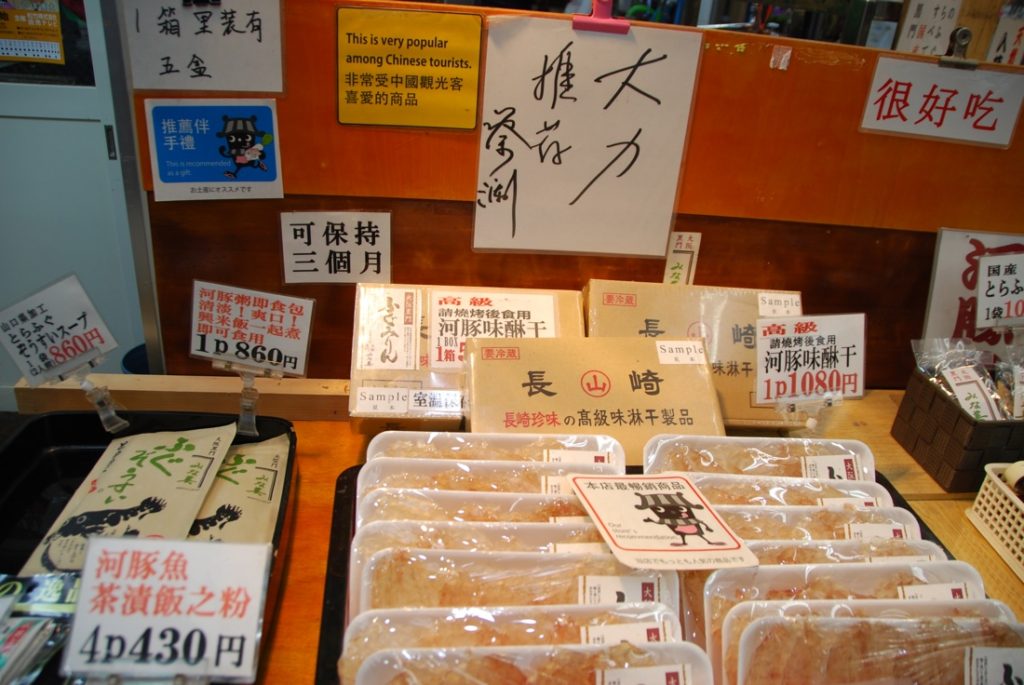 Check it out.  This is a blowfish display!  Here you can buy fugu, or blowfish, the famous Japanese delicacy that can kill you.  The person in the stall wasn't here to help us or I might have tried it.  The sign said you can try fresh tiger fugu which I've read is the best type.  Next time for sure!  Below are some facts I pulled from the internet:
– The fugu (from two Chinese characters meaning "river" and "pig") is also known as the pufferfish, blowfish or globefish, because it can puff itself up with water, to make it look better to its enemies in the sea.
– The fugu hardly needs to do the blowing up thing, because the fish also contains a deadly poison – another natural defence mechanism to ward off predators.  The poison, tetrododoxin, is found in the skin, skeleton, ovaries, intestines and particularly the liver.
– Preparation is strictly controlled by law; fugu chefs must go through rigorous training for years to gain the certification that allows them to prepare the fish for human consumption.  At the end of the training, there is a test in which the chef must prepare a fugu dish – and eat it!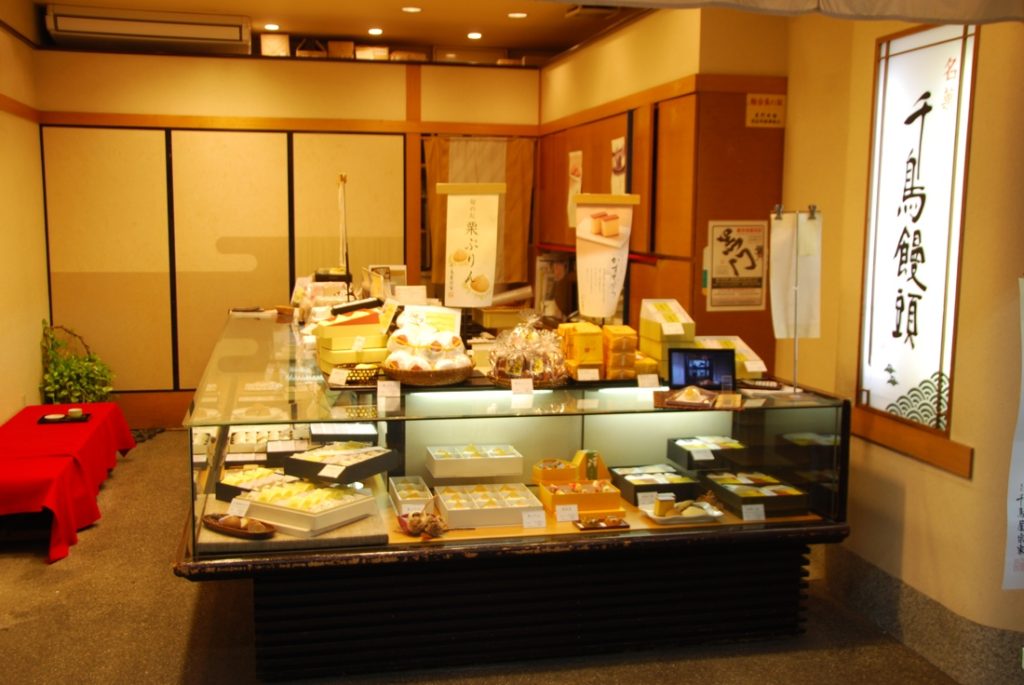 This is a fancy sweets stall with a beautiful array of treats on sale.  I just snapped this quick shot as we were rushing through to see more amazing food.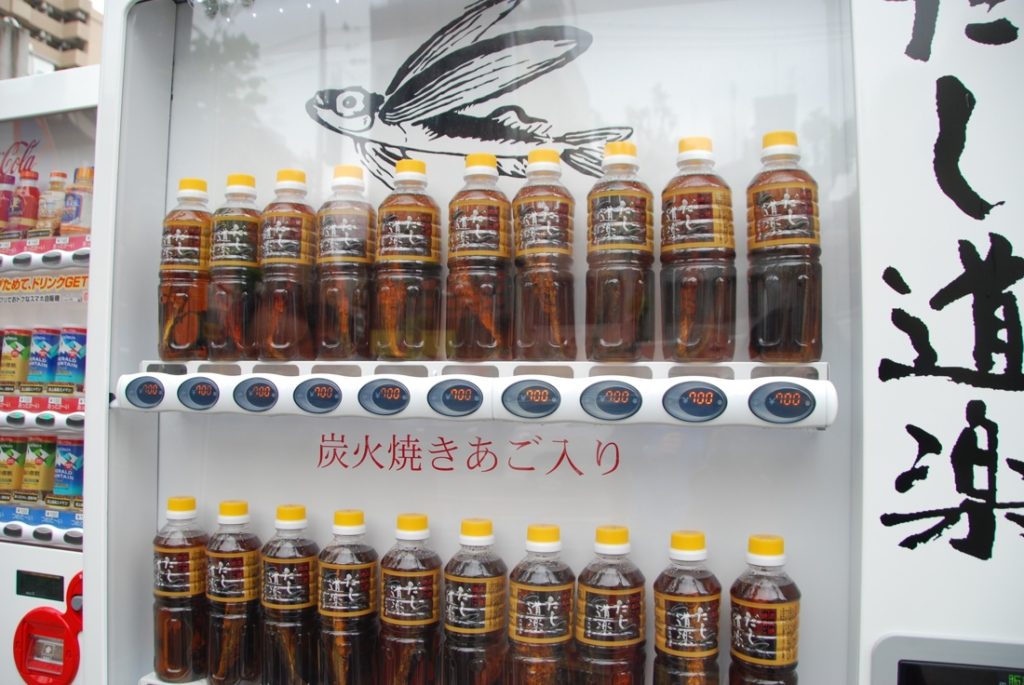 We had walked a little ways outside of the market when I saw this vending machine.  The bottles have a fish inside!  A long, skinny fish!  The picture on the machine gives me the idea that it's a flying fish.  The machine says each bottle is 700 yen (about $7.00 or a little less because the dollar to yen exchange is the best it has been since we've been here!).  Is this some kind of fishy drink?  Is it fish tea?  Do you eat the fish?  Is it like the worm at the bottom of the tequila bottle?  It's so interesting and strange!!!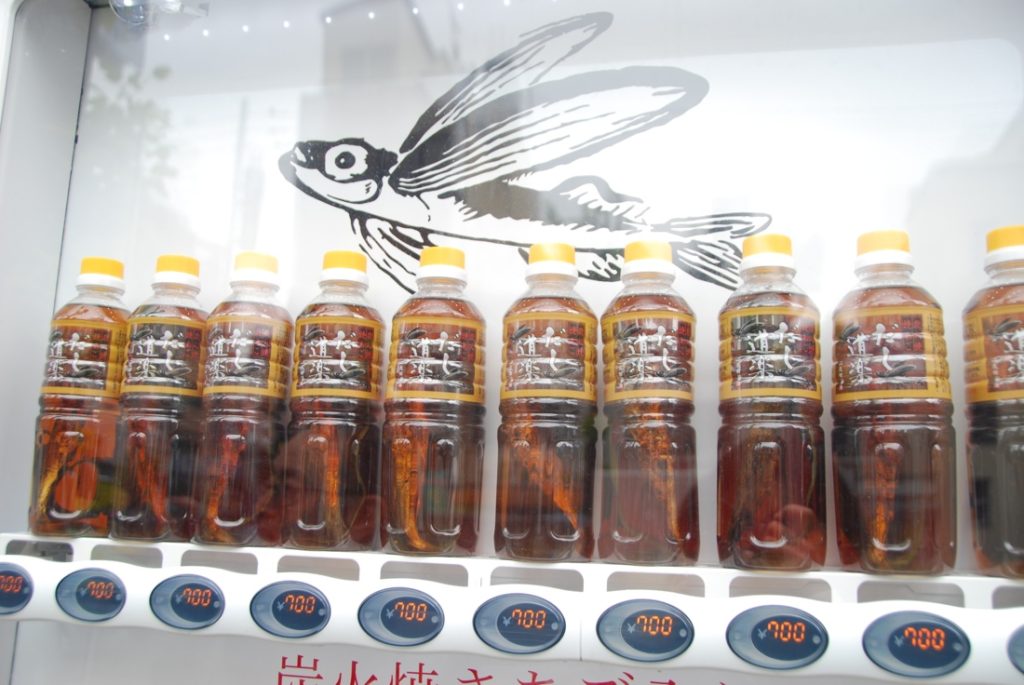 After leaving Kuromon Ichiba Market we accompanied Clyde back to the Shin-Osaka Train Station.  He made his reservation to get back on the Shinkansen bound for Tokyo.  Good-bye Clyde!  Safe travels back to Long Beach!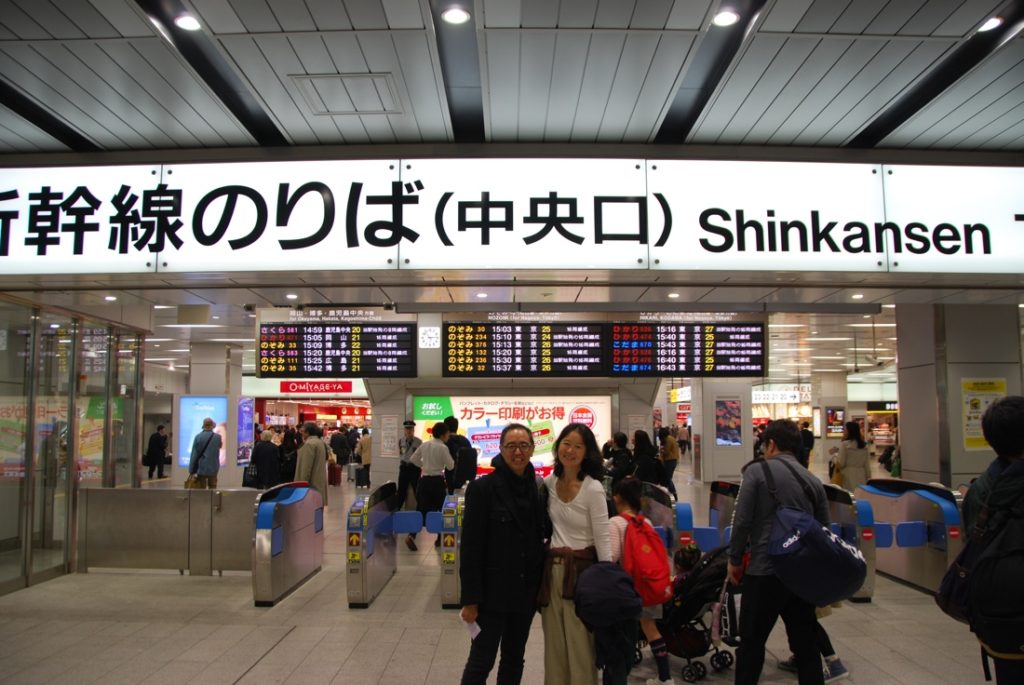 Stay tuned for the next installment of Kuromon Ichiba Market where we bring back the kids for a lot of food experimentation and more photos!