Here we are, cooling off IN the waterfall!
Our second day in Malaysia, Friday, November 25, was the best adventure ever.   While searching through Trip Advisor for off-the-beaten-path activities, I found Open Sky Unlimited (openskyunlimited.com), the outfit that we hired to take us into the Malay jungle.  Amos, our amazing guide, started this company when he realized that working in a bank was not for him.  Now he and his buddy lead guests on challenging hikes in the jungle.  But it's not just a hike.  He picked us up at our apartment lobby at 6am, drove us an hour to a small colonial town locally known as KKB (Kuala Kubu Baru), took us to a restaurant for an amazing breakfast before our hike, took us back to KKB for an amazing lunch after our hike, and then brought us back to our apartment.  All in all it was a nearly 11-hour round trip adventure.
Here is a photo of the restaurant that we went to for breakfast.  Talk about local!  Amos said they rarely have foreigners come to KKB and the ones that do are usually with him.

This places serves Indian-Malay cuisine.  We tried dosa filled with potatoes (possibly called masala dosa?).  Super delicious!  We ate several plates of roti canai (roe-tee cha-nigh) filled with sugar, eggs and onions, bananas, chocolate and plain with nothing inside.  My picky eater Kaiyo couldn't get enough dosa or roti canai, that's how good it was.  In fact, Avalon uses Kaiyo as her taste tester when she's not sure.  If he likes it she figures it's a sure bet.
We ordered fresh squeezed watermelon, mango, and orange juice and Kaiyo drank a special hot chocolate.  The juice tasted like liquid candy, in a good way.  Amos kept asking us if we wanted to order more food!  It felt like an eat till you're stuffed feast.  Exactly what we'd missed the night before by skipping Thanksgiving dinner.  After breakfast we popped into 7-11 to buy some Gatorade.  The idea that there is not only a 7-11 but also Gatorade in a small town in Malaysia is strange.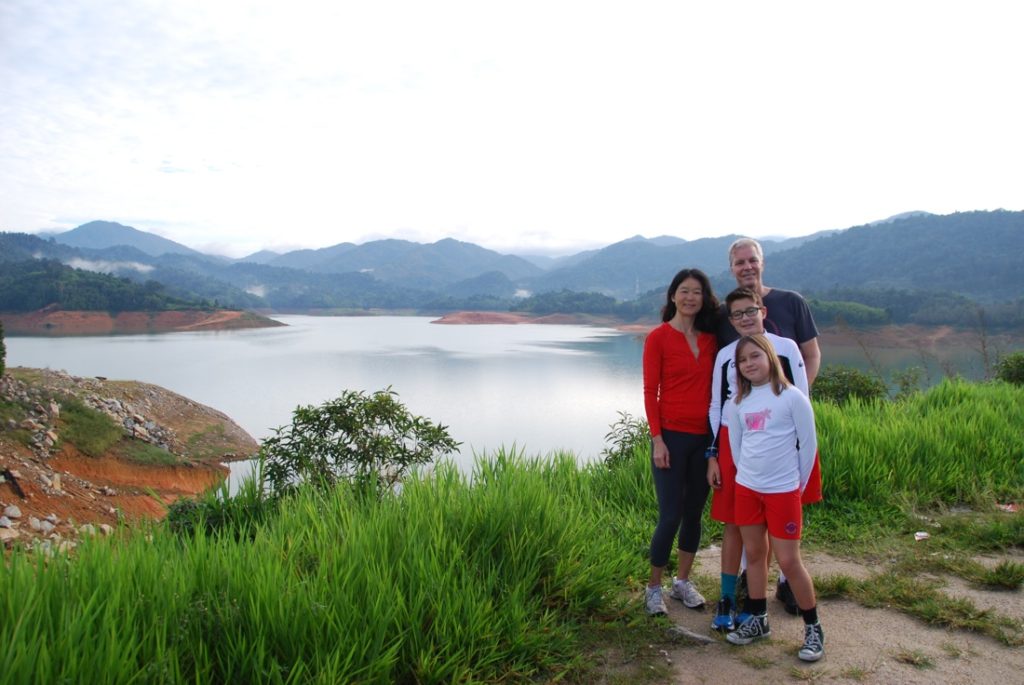 We stopped en route to KKB to admire the view.  Halyard admired the view from the car!
Once we got to the jungle Amos gave us the advance notice that it was mostly a level hike with three steep inclines, three moderate inclines and some slippery terrain.  Our destination was a huge waterfall about 2 hours away.  Here is Amos helping us across this collapsed bridge at the beginning of our hike.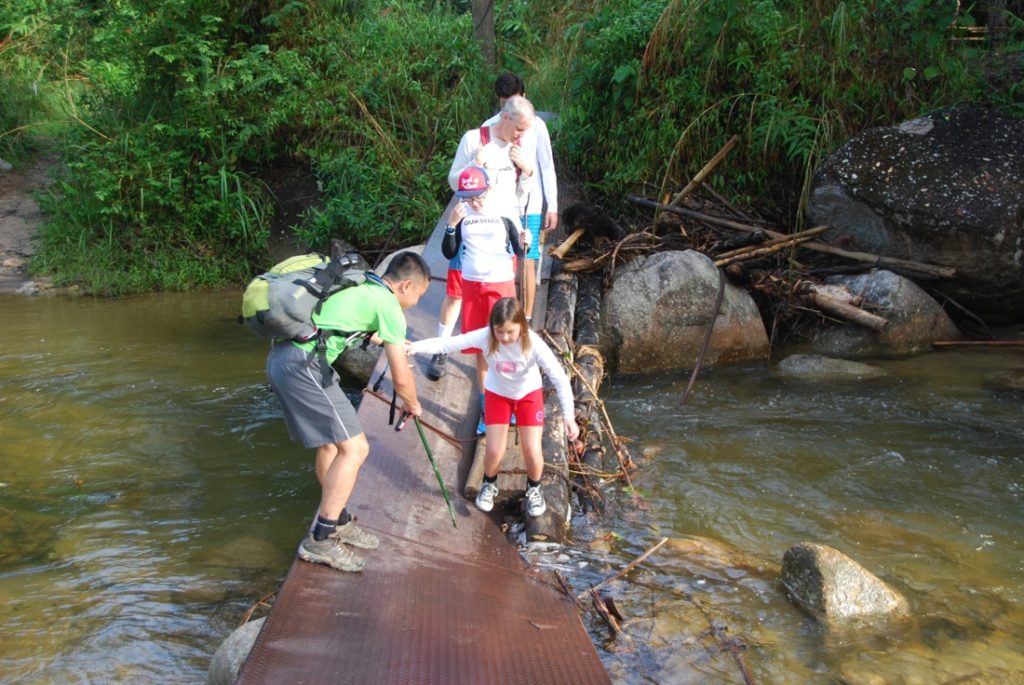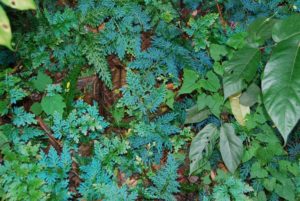 Along the way Amos explained the trees, flowers and history of the area.  Our favorite ground plant was called a mimosa which he called the "shy plant" because it curls up when you touch it. Another favorite was called a peacock fern (at left) because of its peacock feather-colored leaves that changed in the sunlight.  He showed us Malaysia's famous durian trees (no fruit in November though) and rubber trees and fallen chestnuts and local flowers.  He used his machete knife to show us the rubber inside the trunk of the rubber tree.  It looked and stretched like caulk that you'd use on tile in a bathroom.  And a bit like sap the way it oozed out of the bark.  So cool!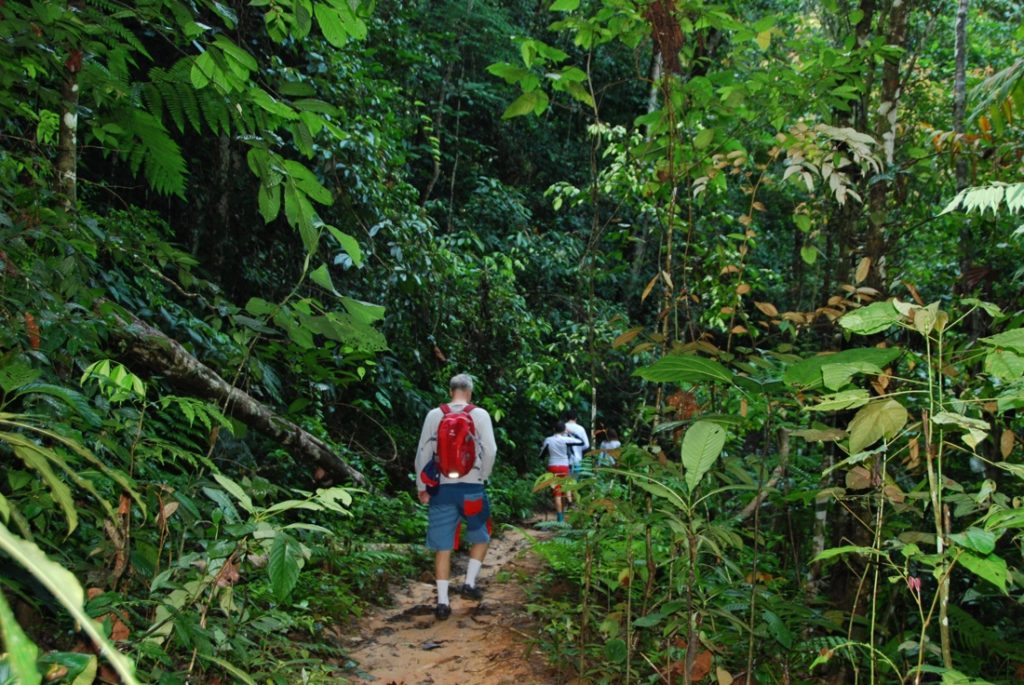 Amos told us about leeches in the jungle.  He said we should be sure to spray insect repellant on our ankles and socks so the leeches would stay away.  Leeches in this jungle are very small and if you get one on your ankles he said not to worry.  Often you can't even feel them apparently. Interestingly, he said that when the leeches are full and have sucked up your blood they just fall off.  But before they do they leave behind an anticoagulant to stop the bleeding.  So he said don't panic and rip it off if you see one.  If you rip it off your skin the leech can't leave the anticoagulant and you'll bleed for a long time.  Wow.  That's considerate of the leeches.  Mother Nature has figured it all out.  After we finished our hike John saw a round circle of blood on his sock.  He had picked up a leech and didn't even notice.  And it was long gone by then.
We heard a lot of wildlife but didn't see anything but cool insects.  Gigantic scout ants, a grasshopper with its head stuck in the dirt like an ostrich, kicking the air with its feet, and a big, dark millipede.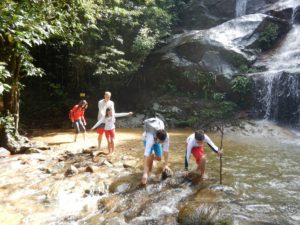 When we arrived at the waterfall it looked like a rushing river of great force.   We took off our shoes and socks and waded carefully to the side where we were going to swim.  It was refreshing but still a little chilly when in the shade of the trees.  Amos gave us instructions on getting in to the side and then we got to go behind the curtain of the waterfall.  It was amazing.  It was not a calm, gentle stream of water.  When we first got in it was a scary, fast moving, heavy curtain of strong rushing water.  The water felt cold and it took your breath away!  I got in first and it was a rush of adrenaline but alarming at the same time.  Amos led us across the rocks under the falls and told us where to put our hands and feet as we made our way along the ridge underneath.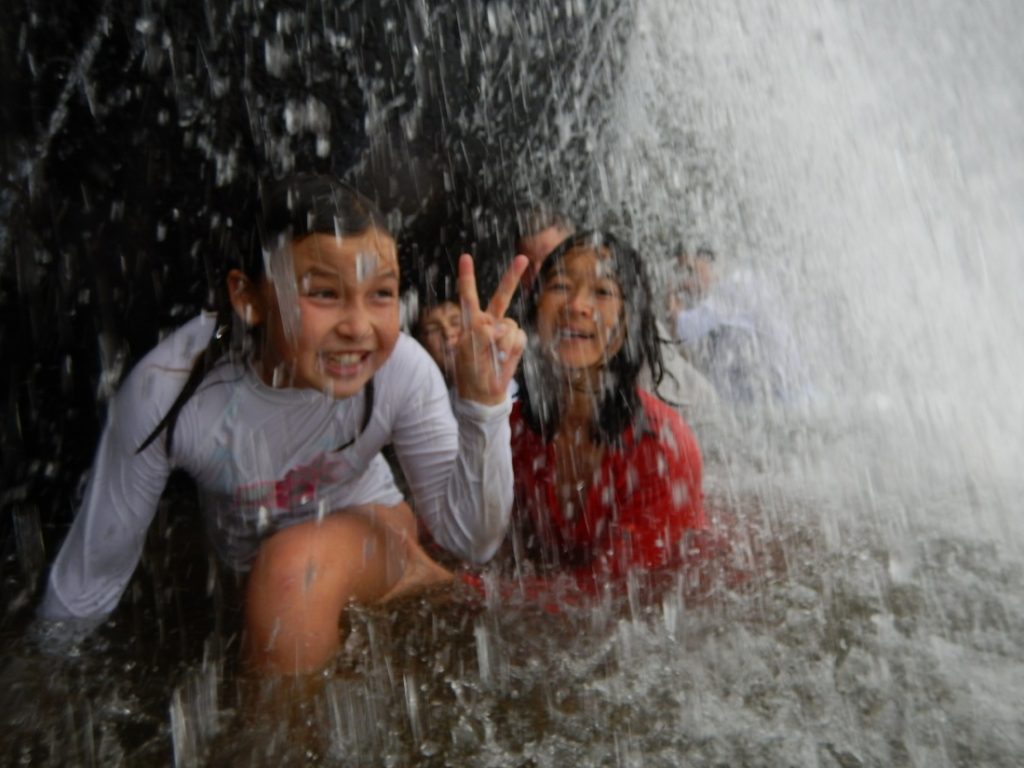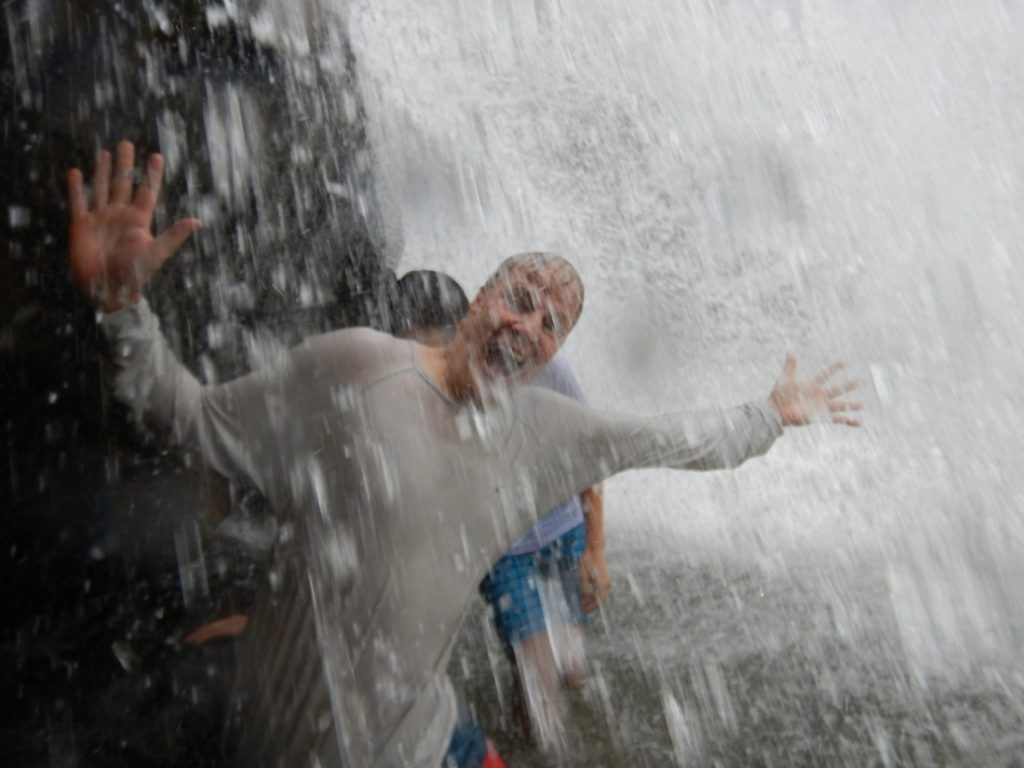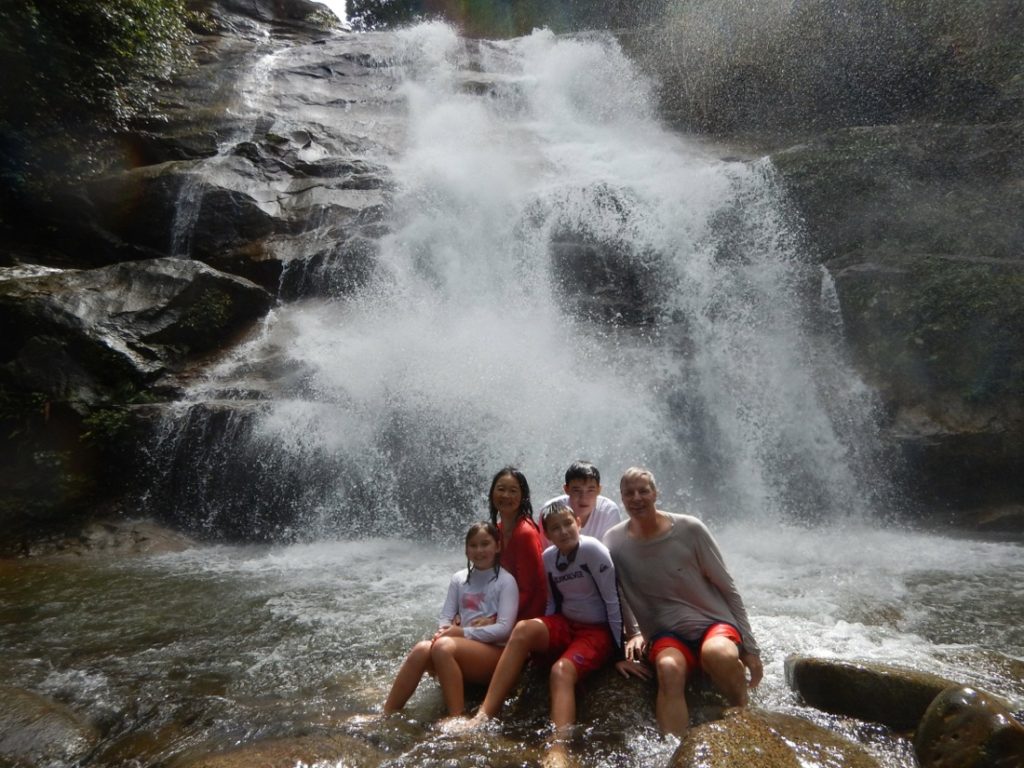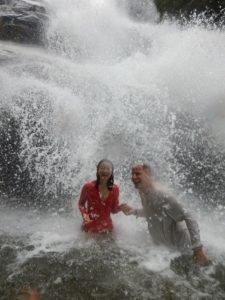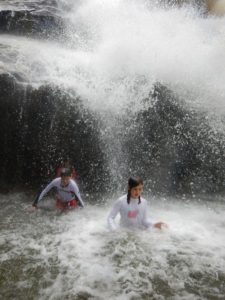 After we played around in the water Amos asked if we wanted to go behind the waterfall curtain again.  YES!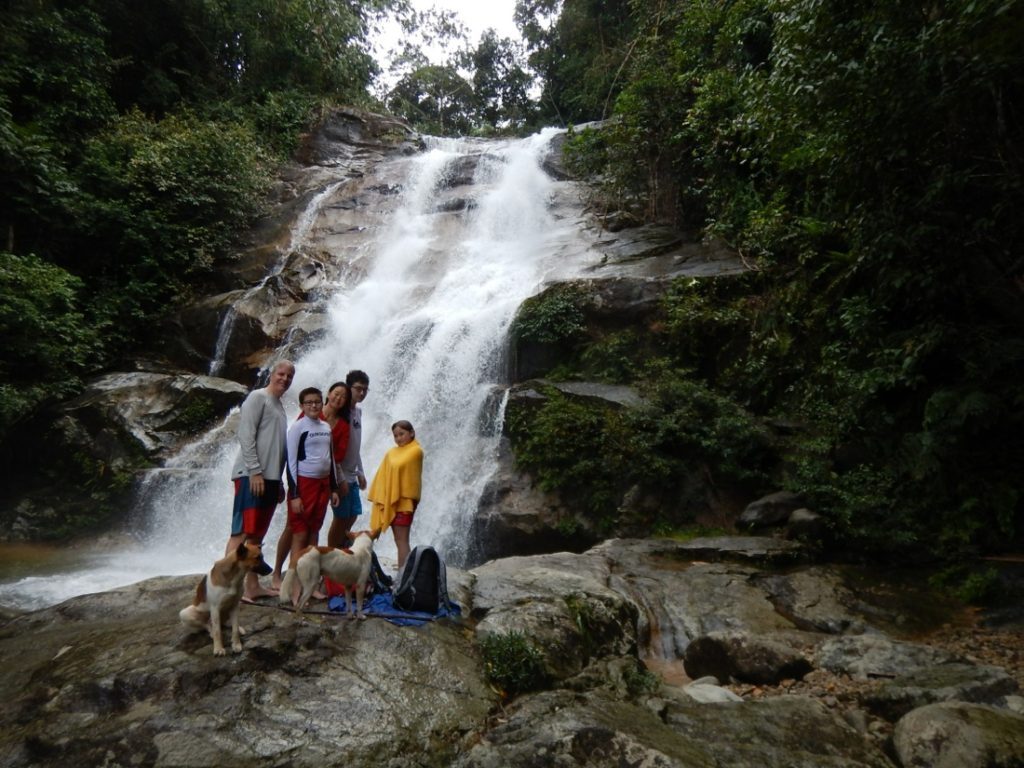 The hike back down was faster and easier but the steep parts that were hard work on the way up were steep and slippery on the way down.  Amos pointed out the foliage again.  The rubber tree sap was nice and stretchy on the tree now.  Last chance to play with the shy mimosa plant!  Avalon picked several branches of peacock fern to take with her.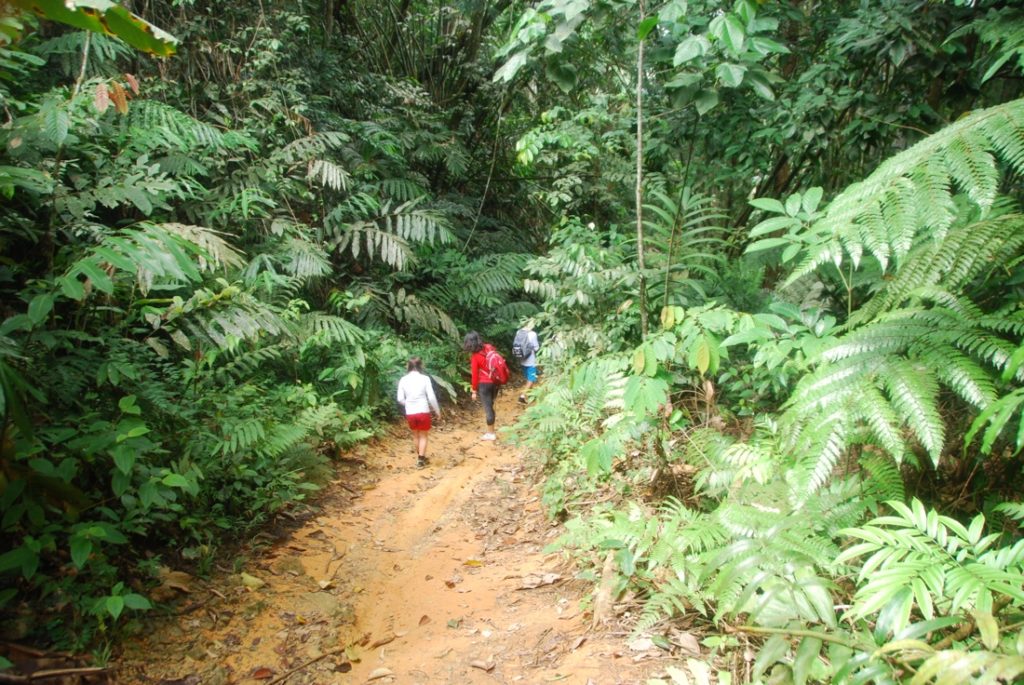 We changed clothes and drove back to KKB to a local Chinese-Malay restaurant for lunch.  Again Amos ordered a delicious array of food.  Seafood fried rice, a shrimp noodle dish, a grilled leafy green dish, fried chicken, fried calamari with egg floss.  For drinks we had fresh squeezed orange juice, soda and coconut water in a straw straight from the coconut.  He ordered food until we were full.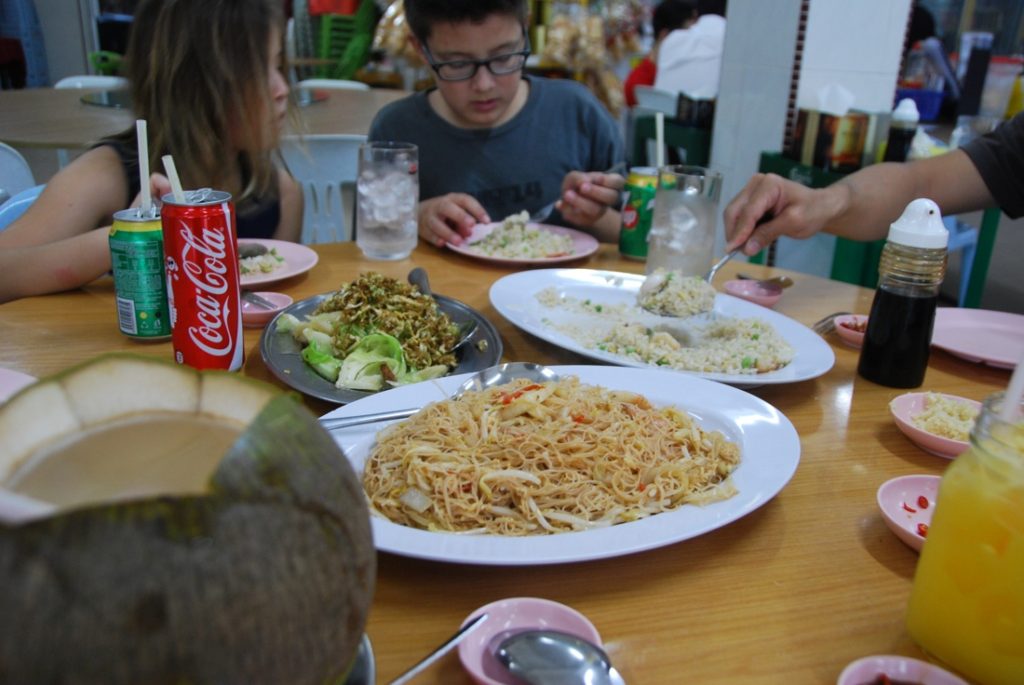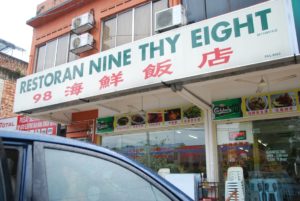 A hard rain poured down like cats and dogs while we were eating.  By the time we finished lunch the rain had stopped.  With our bodies exhausted and our stomachs full we all fell asleep on the way back.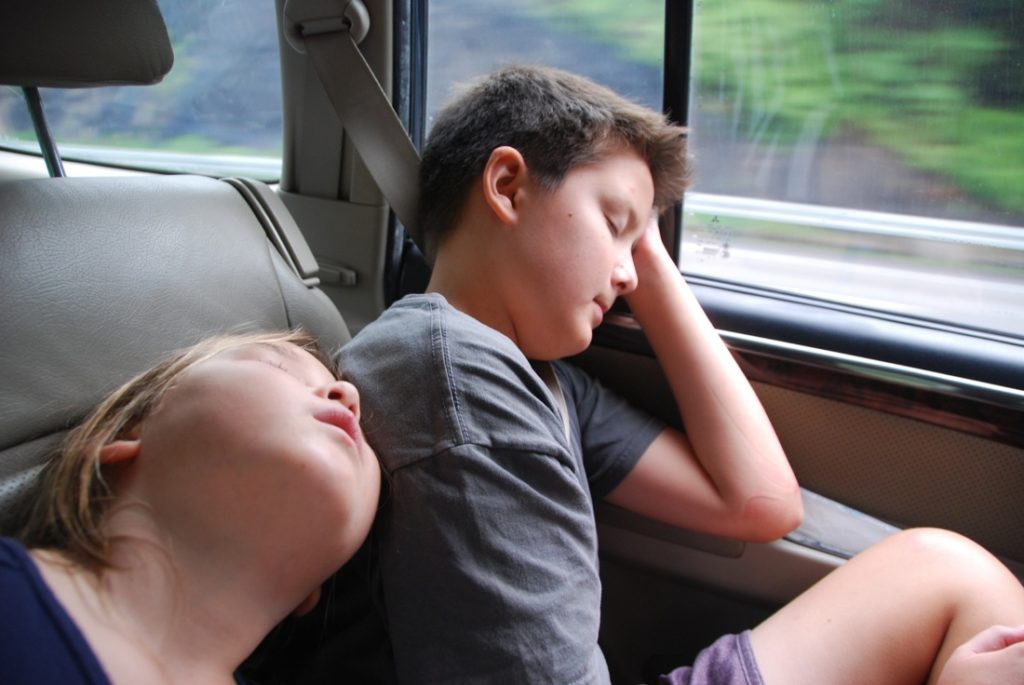 Amos gave us a little neighborhood tour of Bangsar Village on the way back to our apartment.  I think he was impressed that we were staying there and not in downtown KL.  When we got back it had been 11 hours since we had met Amos in our apartment lobby.
After a rest and showers we went back out for a walk to Bangsar Village.  I really wanted to have a banana leaf meal – where they serve your meal on a large banana leaf and you eat with your hands – but it was too soon for another huge meal and we weren't that hungry yet.  We settled on an Italian restaurant with pizza and pasta, which we shared.  Afterwards we went a few steps down the sidewalk to an ice cream shop called Inside Scoop.  Amos had told us about Inside Scoop so we figured it was going to be very good.
It turned out to be Inside Scoop's third anniversary and they were celebrating.  There must have been 50 or more people milling about in line and outside. They were having a super anniversary special.  One scoop for 3 ringgits, which is something like 75 cents (USD).
When we got to order we tried these flavors: valrhona chocolate, blood orange, salted caramel, peanut butter, onde onde, mango lassi, passionfruit cheesecake, mint chocolate, lemon curd and durian!  I was so keen to try durian but I thought it tasted awful.  And it smelled even worse.  Even though durian is a favorite Malaysian fruit of epic proportions I don't think I need to try it now.  The ice cream was enough.  Kaiyo said our apartment building even has a sign inside that says NO DURIAN.  Amos said that's because the durian fruit smells so badly.  John thought even the durian ice cream smelled like a sewer.
I would highly recommend Open Sky Unlimited to anyone planning a trip to Malaysia with a free day to explore.  This trip is something different from the very popular sport of bargain shopping in KL and it really takes you into the heart of nature.  Everyone agreed that it was the best thing we did in KL besides eat delicious food.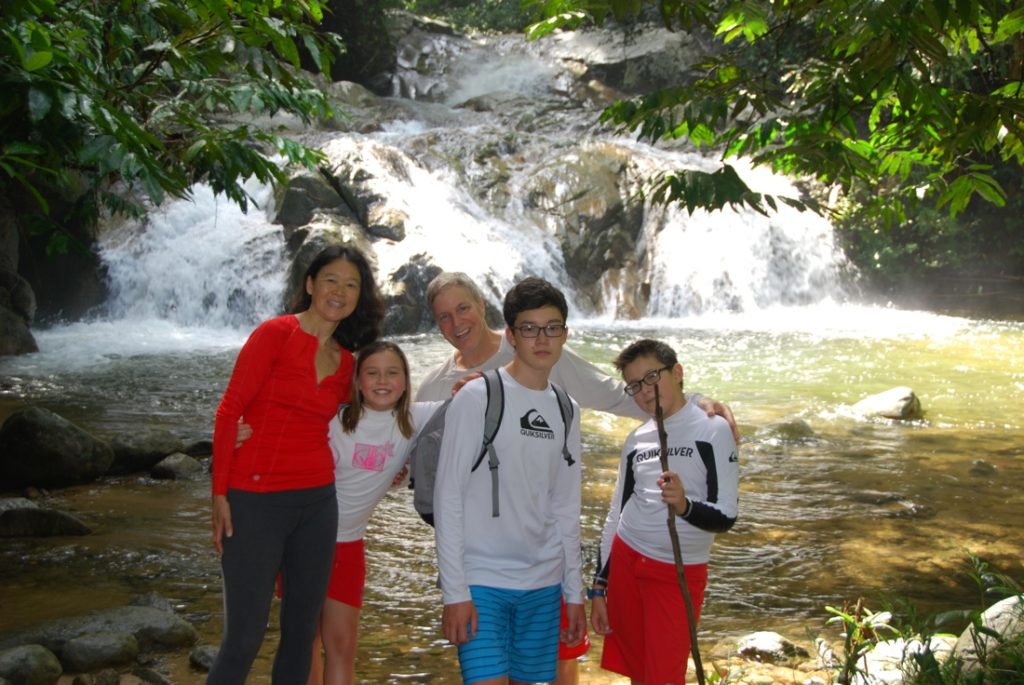 OSU has several trips that can be planned.  Besides the 4-hour waterfall trek that we took, there is a short and easy jungle trek with a small waterfall and sandy beach.  There is also a trip that takes you to the top of a high ridge with an expansive view at the end.  The short trek can be made in one morning and can be combined with a trip to the Batu Caves, which is where we went on day three, our last full day in Malaysia.  I hope we can return to KL someday and go on another hike with Amos.
Next up:  Our last day in KL!  We really packed in the activities…