On Saturday, December 17 we got up early in the morning and made the trek to Kansai International Airport.  John learned from our Thanksgiving trip to KL that he wasn't going to take any advice from me on what time we should leave for the airport.  He led the charge and we left an hour and a half earlier than before.  We had already dropped the cats off at the pet hotel on Friday night so we didn't have to worry about them.  We flew Garuda Indonesia Airlines and landed at Bali Ngurah Rai International Airport, the most beautiful airport I've ever seen, in the evening.
This was our first time flying on a nice Asian airline and I think it's true what I've heard:  They really do pamper you!  We were served the best vegetarian airline meal I can remember eating.  I think the kids even enjoyed their meal.  We had plenty of entertainment options for our 7.5 hour flight, the attendants were very friendly, blankets, pillows, earplugs, eye masks and socks were provided to everyone and the drink service came around often.  We will be flying home next Saturday at 1am in the morning and Kaiyo declared he wants to sleep all afternoon on Friday so that he can stay up for our entire red eye flight home.
We are staying in the area of Bali called Seminyak.  Here's our private villa that I booked via Airbnb.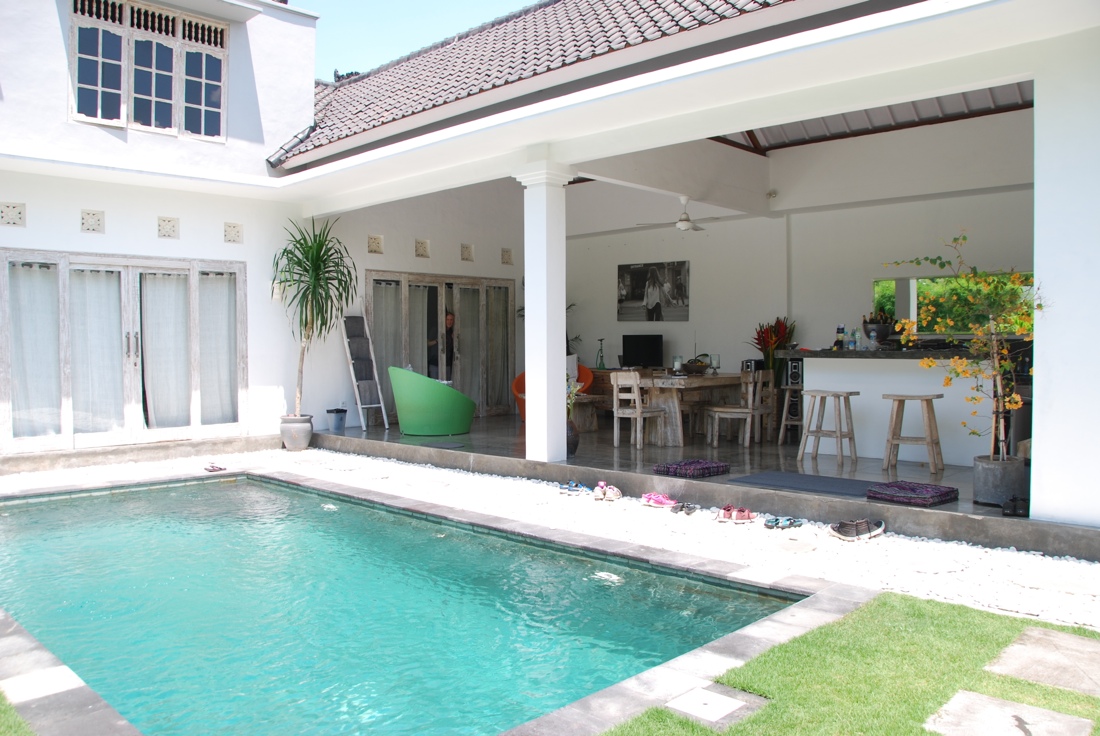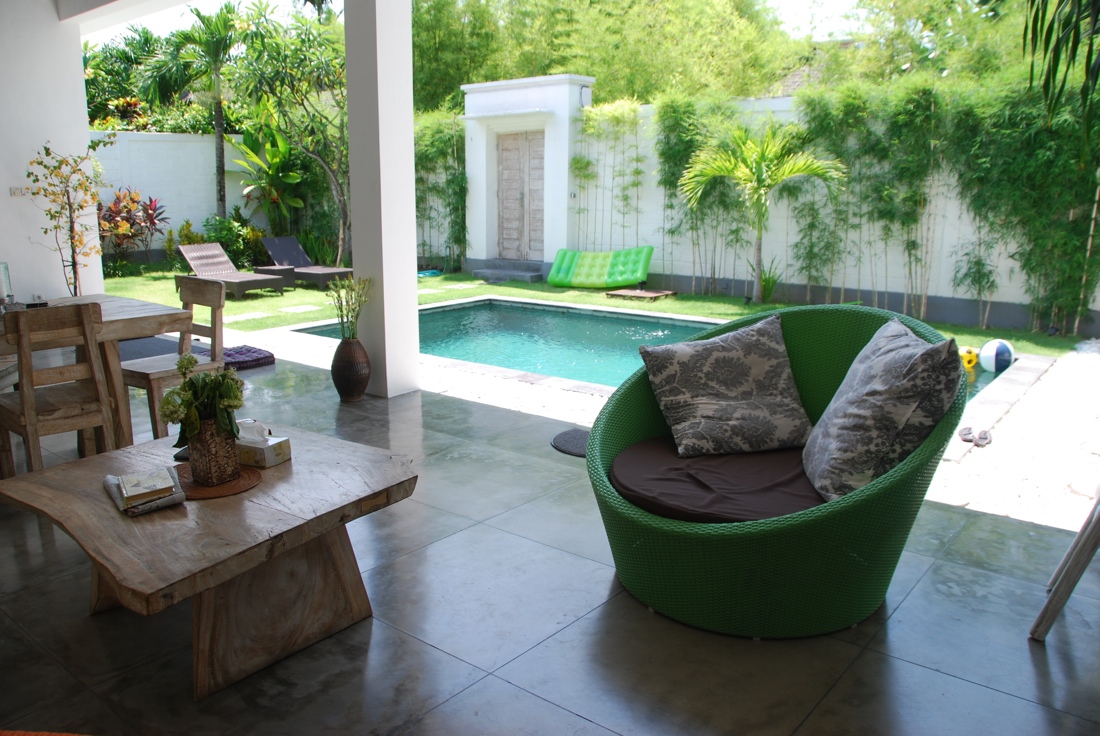 This is the second villa that I booked in Bali.  Unfortunately, our original villa was cancelled on me the night before we were to leave.  I was in a bit of a panic.  I had searched for hours and hours to come up with the perfect villa, with the right amount of space, location, swimming pool, great reviews and price point.  The week leading up to our vacation I sent repeated messages to the villa owner and did not get a reply.  I started to wonder if we were still going to have a place to stay.  But I paid for the entire week back in October and the woman did confirm that we were booked so I decided not to worry.  Then the night before I received a message saying:
Dear Amy,
I am so sorry but I have just found out whilst organising your arrival into the villa that the landowner has taken control of the villa and changed the locks. They have virtually stolen the villa from me. I have pleaded with them but to no avail.
I am so sorry…
Well what can you do about that!?  Poor gal.  She must have been in major stress mode.  But that also threw me into a tailspin as it can be hard to instant book the perfect place and I had already spent so much time looking at airbnb.  We were leaving in the morning to top it off!  Airbnb gave me credit plus a small bit of extra to come up with a new place.
This villa we ended up at is typical Balinese.  The kitchen, dining and living areas are all outside next to the swimming pool.  Even the bathrooms are outside.  The only place to escape the swarm of mosquitoes that are your constant companions is in the bedroom, where you can close the doors and blast the air conditioning.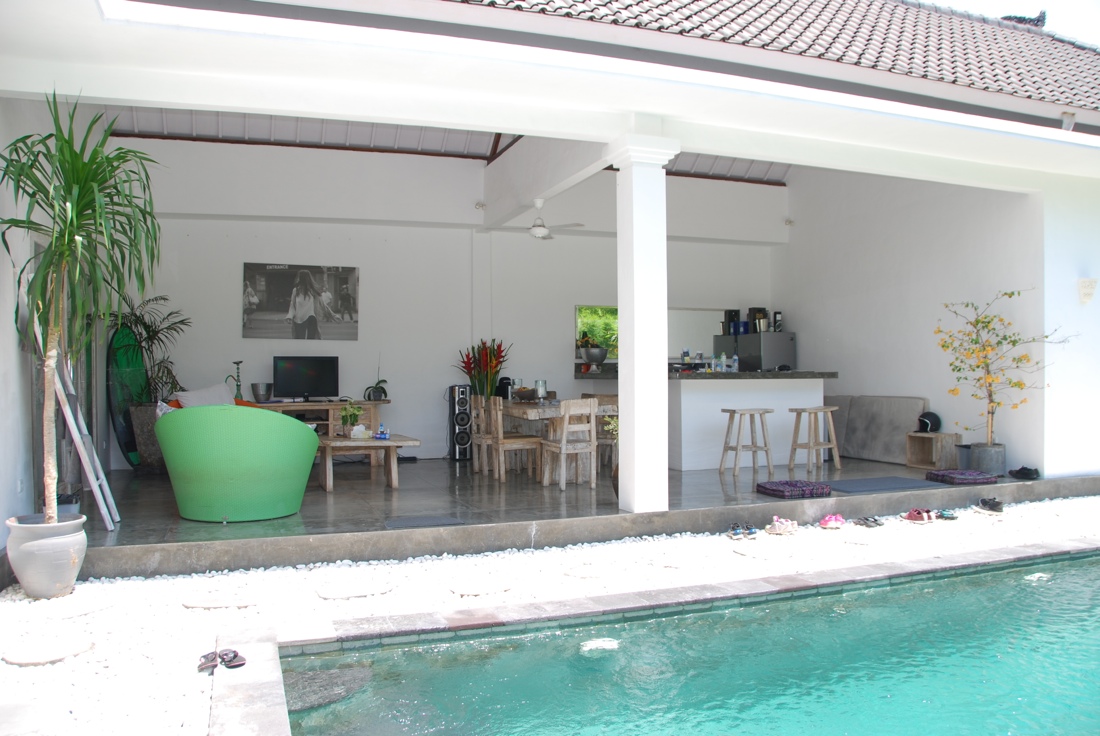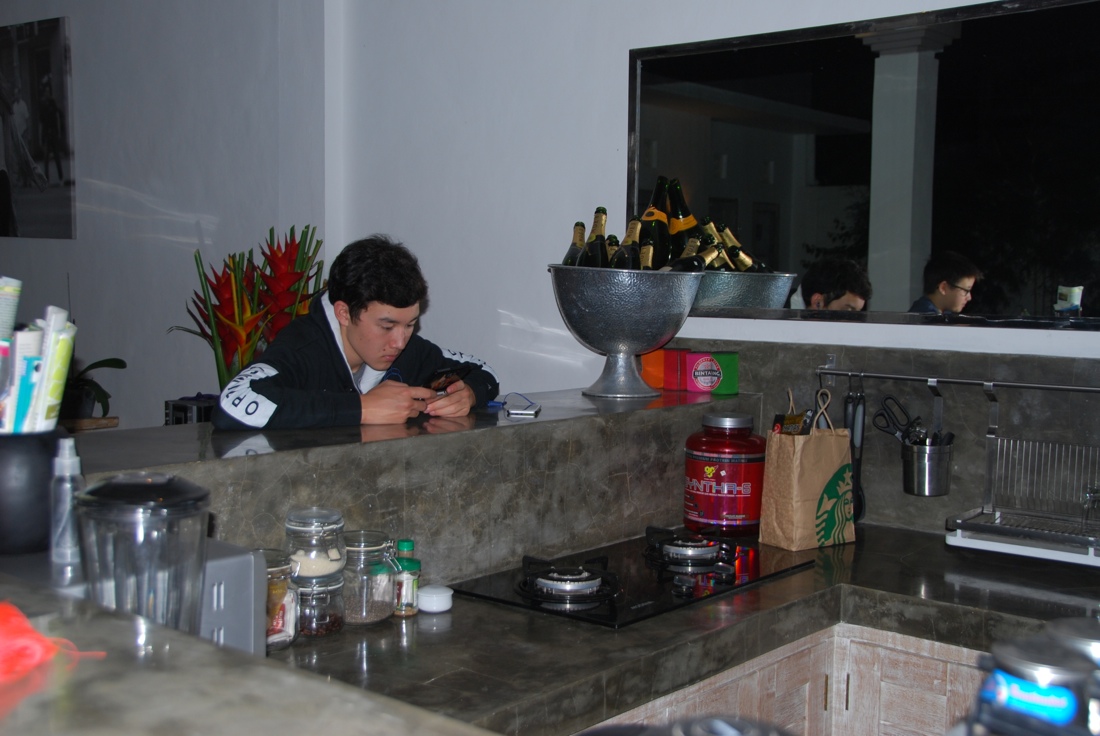 I was obsessed with mosquito spray/lotion when we arrived.  I even asked our driver at the airport to take us straight to the mini mart to buy the local mosquito spray that I had researched.  We did really well the first day and a half.  Then I let my guard down and our mosquito spray started to run out.  I didn't really know how to set up the mosquito coils at first so I figured that out later.  Anyway, about the middle of our trip we definitely were under attack.  The incessant mosquitoes and ridiculous gridlock traffic are our only complaints about Bali.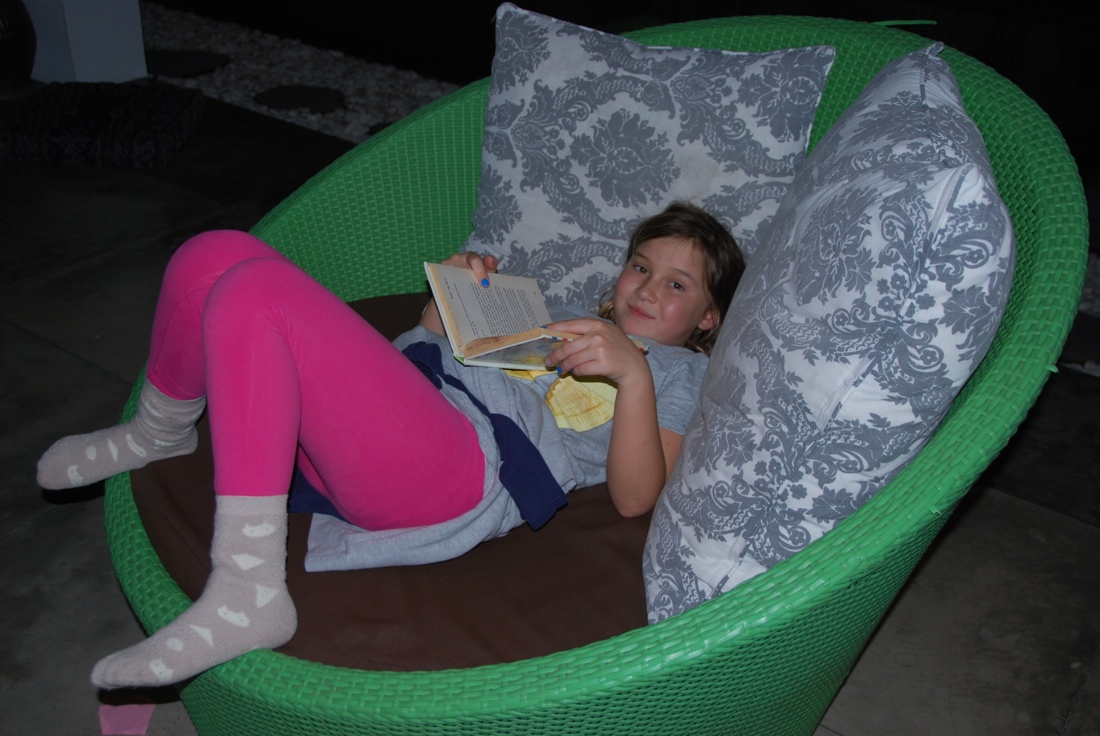 However, I realize that's what you get for traveling to Bali during the rainy season and during the crazy, popular Christmas to New Year holiday period.  The Aussies come to Bali in droves during their winter holiday and the amount of time it takes to get from one place to another in a car is outrageous.   To top it off, we did stay in popular, hip Seminyak which does mean more traffic.  Most people use scooters for transportation and it's no wonder why.  But if there are scooter rules to the road no one pays any attention to them.  The scooter drivers are crazy and nutty!
Adi, the caretaker that met us at the villa provided us with a bowl of tropical fruit when we arrived.  If mosquitoes were the worst part of Bali, this is hands down one of the best things about Bali.  This fresh, exotic fruit that is unique to this part of the world is delicious.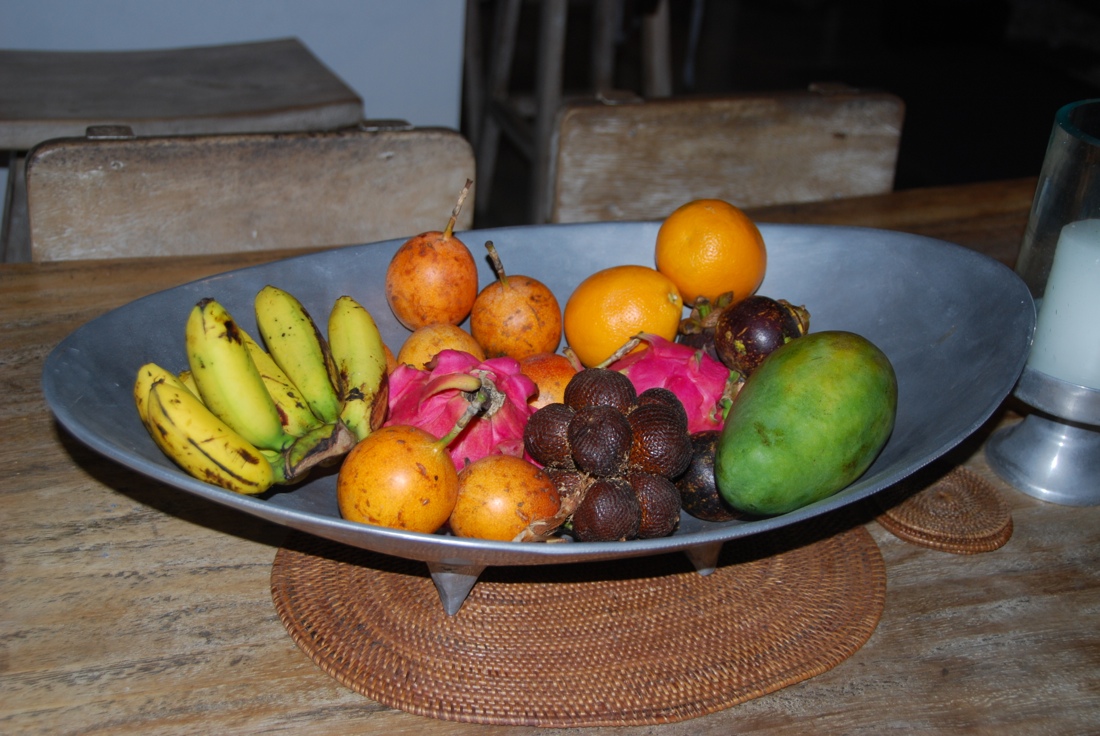 Of course mangoes can be found in a lot of places, but there are so many sweet mangoes here, of different varieties, that Halyard, Avalon and John ordered fresh mango juice, mango smoothies and mango lassi everyday at almost every meal.  And when it wasn't mango juice, we ordered fresh watermelon juice that tasted like drinking a watermelon Jolly Rancher in a glass.  One of my top favorite fruit has got to be passion fruit and here you can buy it on many street corners.  It looks absolutely disgusting on the inside but I love how it tastes and I love crunching on the seeds too.  I think many people know what passion fruit flavored products taste and smell like, but seeing the actual fruit all peeled is really interesting.  I should have taken a photo of the inside of one.
The three fruit I'd never seen before, which Adi had to explain how to eat, were snake fruit, dragon fruit and mangosteens, locally called manggis.  They were also delicious.  We had some incredible, bright pink dragon fruit smoothie bowls for breakfast on several mornings.  And we ate two different kinds of bananas, too.  These little mini bananas pictured in the bowl were not favorites.  But later we were offered larger green bananas that tasted as sweet as any ripe yellow banana.  I'm going to miss these healthy treats.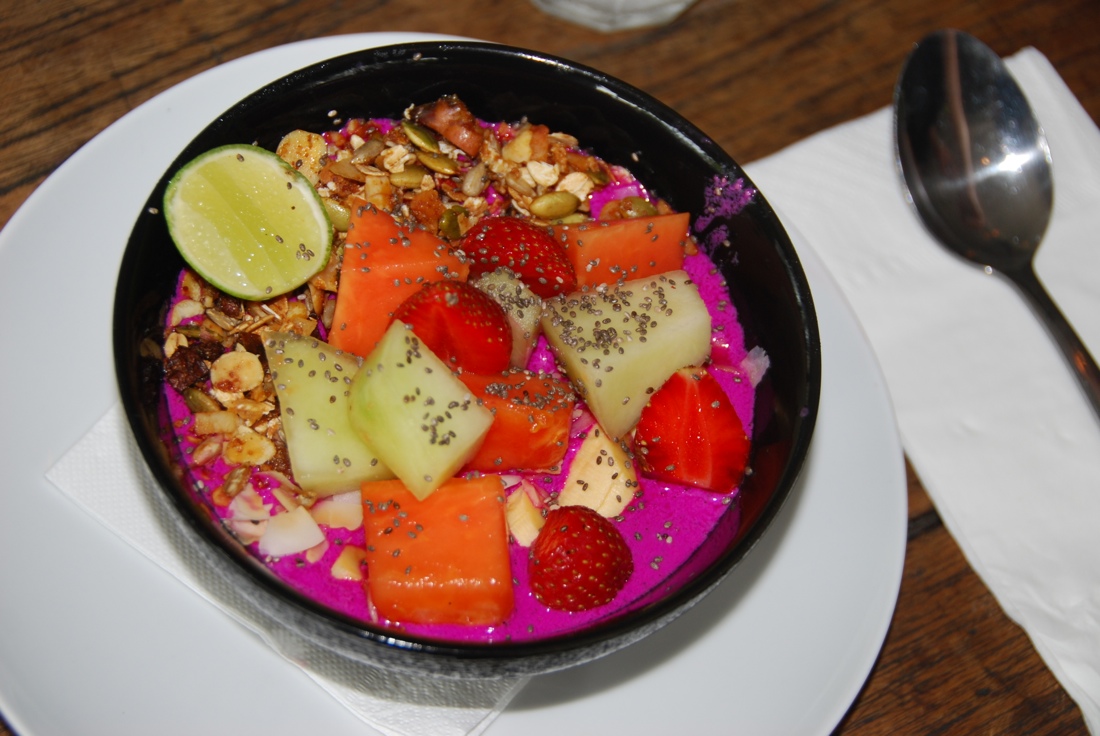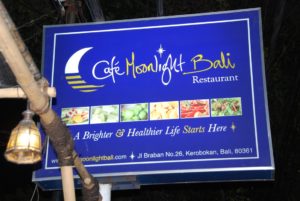 There's a cafe just steps away from our villa called Cafe Moonlight.  It's a mix of healthy and organic Western and Balinese fare.  How lucky for us!  And the owner is a Japanese man.  He told us he lived in downtown Osaka for a few years a while back.  We arrived late in the evening so we decided to check out Cafe Moonlight for our first dinner since it was so convenient.  Well, it was a delicious choice and we ended up going there for one meal or another (usually breakfast) just about every day.
Our villa owner arranged for his driver to pick us up at the airport.  Our driver's name is Made (mah-day, a name given to the second son of a Balinese family).  He's the one that took us straight away to load up on mosquito repellent.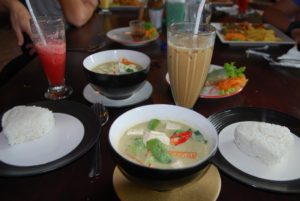 Sunday, December, 18, we planned a lazy first morning in Bali to sleep in and relax.  We arranged for Made to pick us up in the afternoon to take us to an area on the south tip of Bali called Uluwatu.  There's a famous temple called Uluwatu Temple there, as well as some of the famous surfing beaches nearby that plenty of Californians head to Bali for.  We didn't have time to see the beach on this day so we just ate lunch at a Thai restaurant and went on to Uluwatu Temple.  The rice (at left) served at the Thai restaurant is shaped like hearts!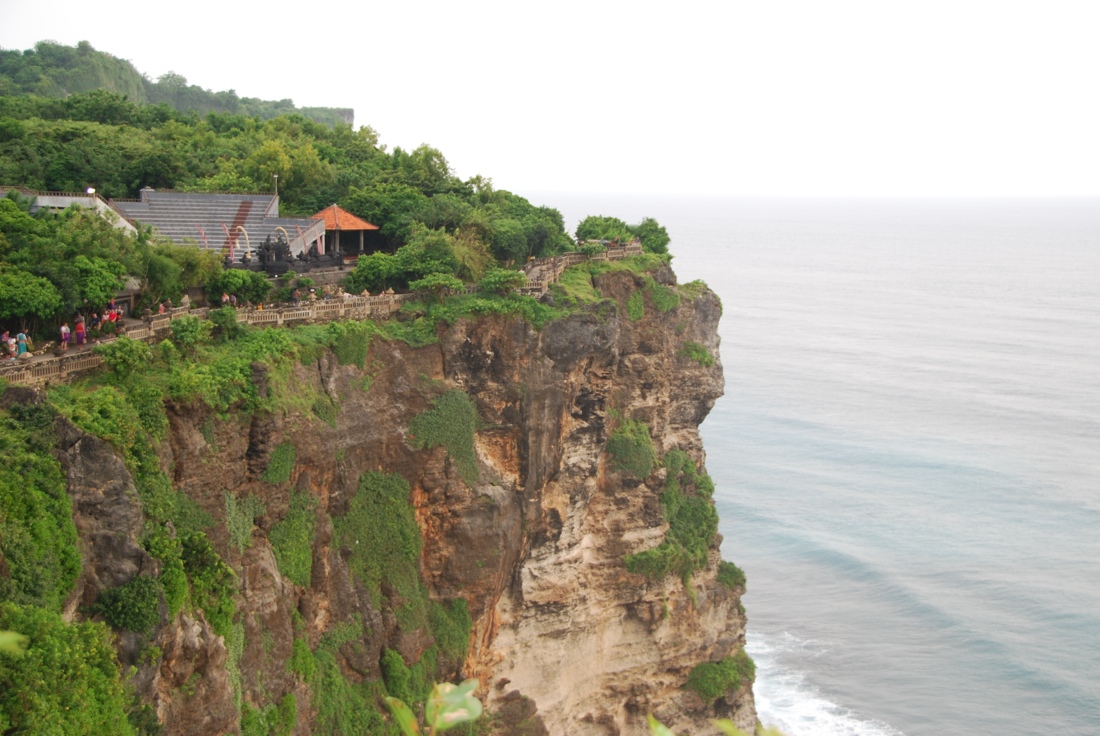 The following snippet of history is from www.bali-indonesia.com:
— Uluwatu Temple, or Pura Luhur Uluwatu, one of six key temples believed to be Bali's spiritual pillars, renowned for its magnificent location, perched on top of a steep cliff approximately 70 metres above sea level.
— 'Ulu' means the 'top' or the 'tip' and 'watu' means a 'stone' or a 'rock' in Balinese. Several archaeological remains found here prove the temple to be of megalithic origin, dating back to around the 10th century.
— The Balinese Hindus believe that the three divine powers of Brahma, Vishnu, and Siva become one here. That belief results in making Uluwatu Temple a place of worship of Siva Rudra, the Balinese Hindu deity of all elements and aspects of life in the universe. Pura Uluwatu is also dedicated to protect Bali from evil sea spirits.
We stayed at Uluwatu for the Kecak Ramayana & Fire Dance which is performed at sunset every night.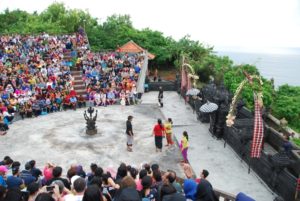 The performance is held in an open air amphitheater that overlooks the ocean.  It's an incredible view and the sunset just makes it better.  The story that they give you when you buy your tickets is an outline with Acts 1-5.  The story of Ramayana is an ancient Hindu epic about a prince named Rama and his wife Sita and brother Laksamana.  Sita is kidnapped by Rama's enemy, a demon king, and taken to the demon king's palace.  Along the way Rama enlists the help of a red monkey king and a white monkey with magical powers.  In the end, Rama faces the demon king Rhawana in a fierce battle.  The enemy is defeated and Rama is reunited with Sita.  This entire performance is accompanied by non-stop chanting from a group of 50+ Indonesian men.  It's like a spell over the performance.  Kecak is a phonetic sound for this chant and you just can't believe it can go on non-stop for an hour.  (It's like chak-chak-chak-chak-chak-chak-chak-chak and on and on).  After it was over we all discussed how they must use circular breathing to get through that!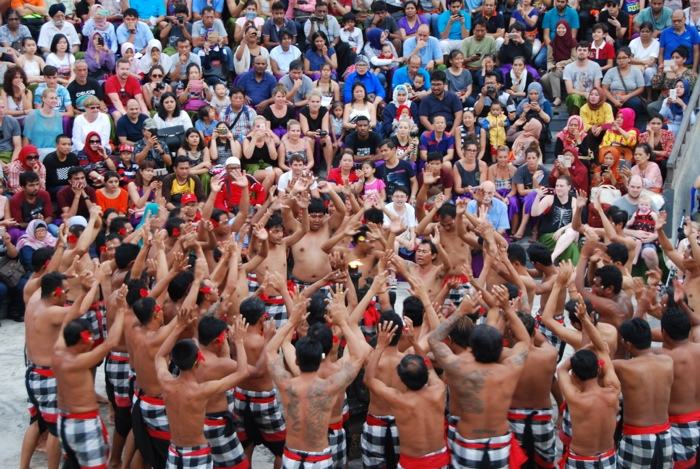 The costumes were intricate and beautiful.  The kids all enjoyed the performance.  I'd read some reviews that it can get boring but if you read about the story that is available in many languages then you'll understand what is going on.  We thoroughly explained the entire plot to Avalon beforehand and she enjoyed it.  The white monkey spent so much time running and climbing through the crowd that he provided a lot of comedy to the program.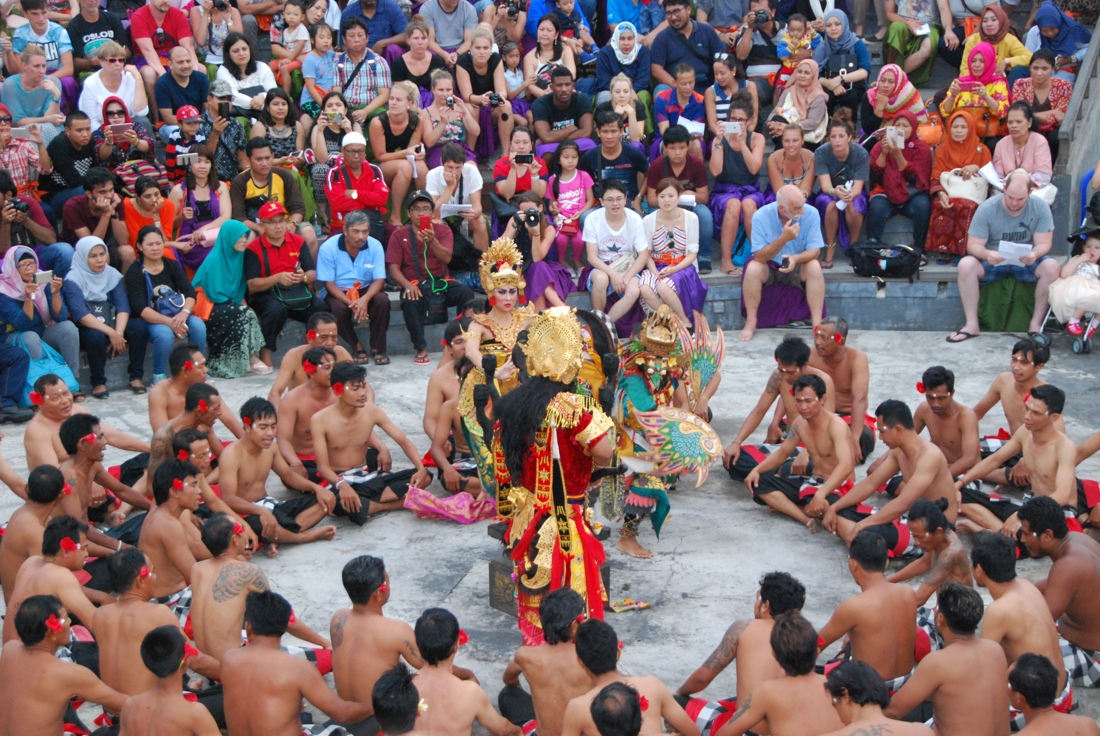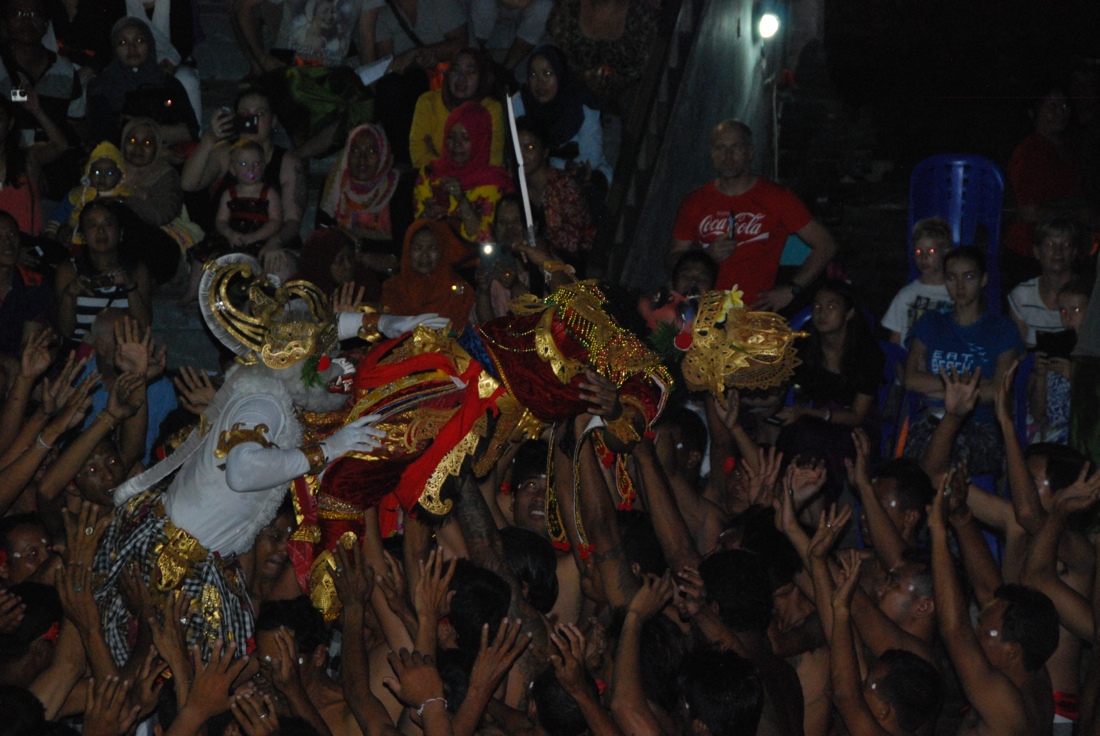 After the Kecak Fire Dance was over Made drove us to Jimbaran Beach for a seafood dinner on the beach.  This is a bit touristy, but all the websites said eating the best seafood in Bali at Jimbaran Beach is a must.  So we did it.
Kaiyo called it a "luxurious dinner" because we sat at tables on the sand while watching fully costumed Balinese dancers perform and traveling musicians serenaded us (What a Wonderful World by Louis Armstrong when they asked where we were from) during our meal.  We ordered prawns, snapper, calamari, clams and oysters.  The meal came with rice and veggies.  When you order your seafood you walk up to a fish market type counter where each type of sea creature is weighed and you pay by the kilogram.  So you point to the snapper and the lady picks up a fish and throws it on a scale.  Then she tells you the weight and you agree or do not agree to take that fish.  There's no way I'm calculating the price per kilo of 7 prawns in Indonesian Rupiah on the spot.  Because 100,000 IDR equals approximately $7.50 USD and I don't even know the conversion from kilograms to pounds.  We just agreed to everything she threw on the scale.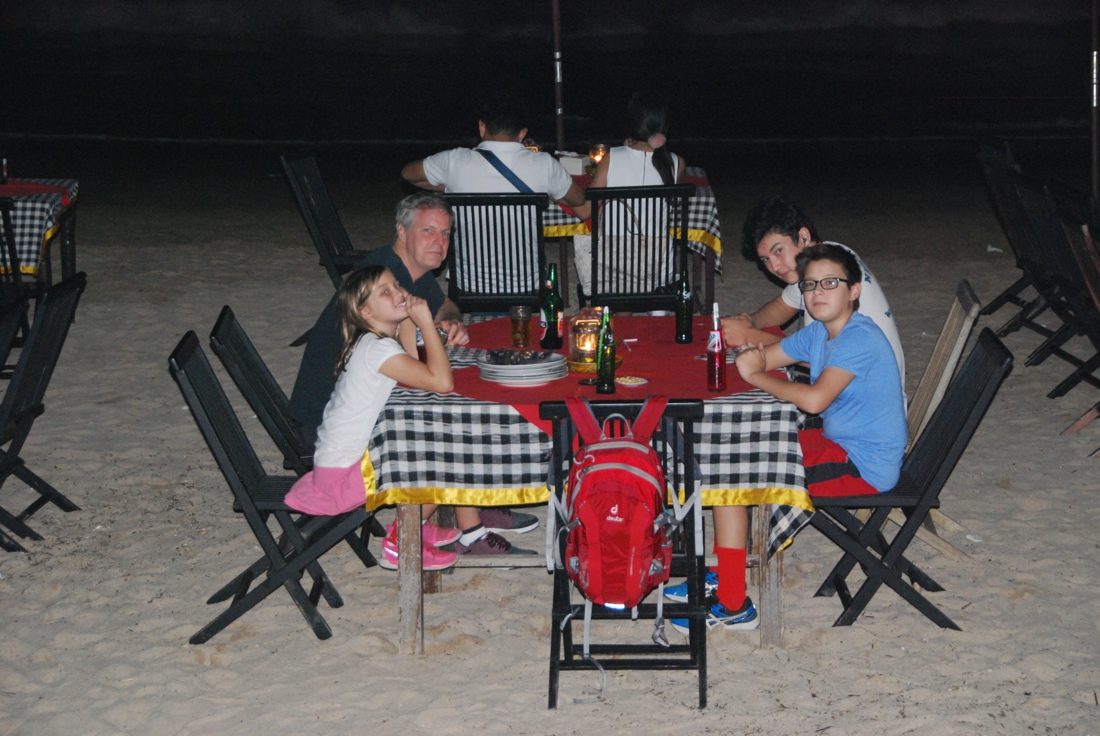 It was a fun experience.  Probably something I don't need to do again because I can eat terrific seafood caught fresh in California.  By Balinese standards our dinner was a bit expensive.  But certainly not more expensive than our last meal in Bali… which I'll write about later.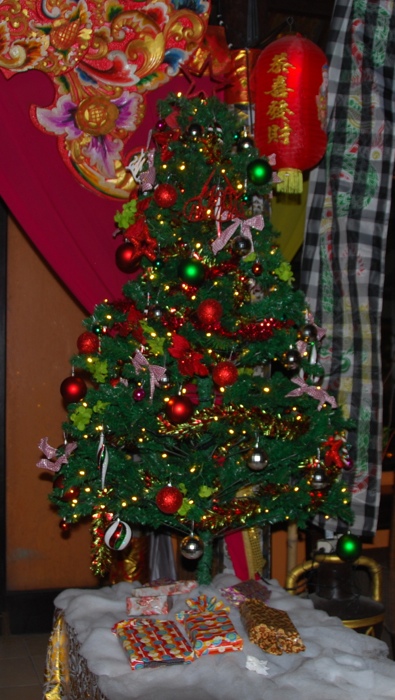 It's beginning to look a lot like Christmas in Bali… everywhere we go!