Fun times in Japan!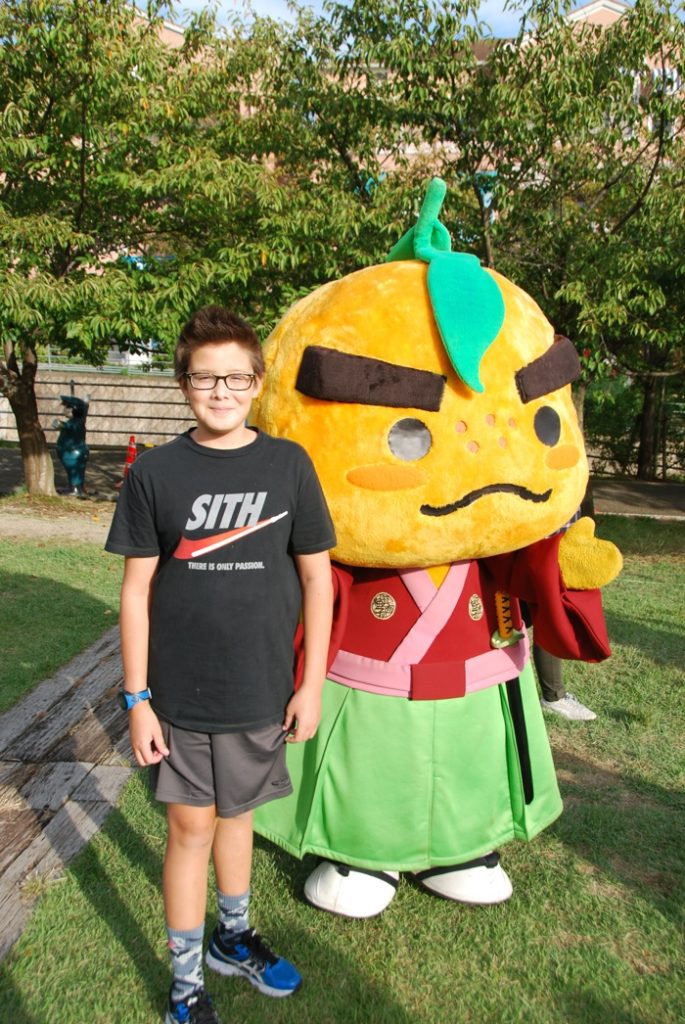 This guy is the mascot of our city, Minoh.  He is a yuzu, which is a citrus fruit that is very popular in Japan.  There's yuzu sauce and yuzu soda, alcoholic yuzu drinks and yuzu sweets…
From the City of Minoh's website:
"The city's mascot is a Samurai with a tender heart called "Takinomichi Yuzuru".  He goes everywhere in Japan to promote Yuzu and the Minoh city. If you can meet him, you are very lucky! Pat softly his eyebrows of the trademark and the happiness will come to you."
Oh shoot.  Kaiyo didn't know this and didn't pat his eyebrows!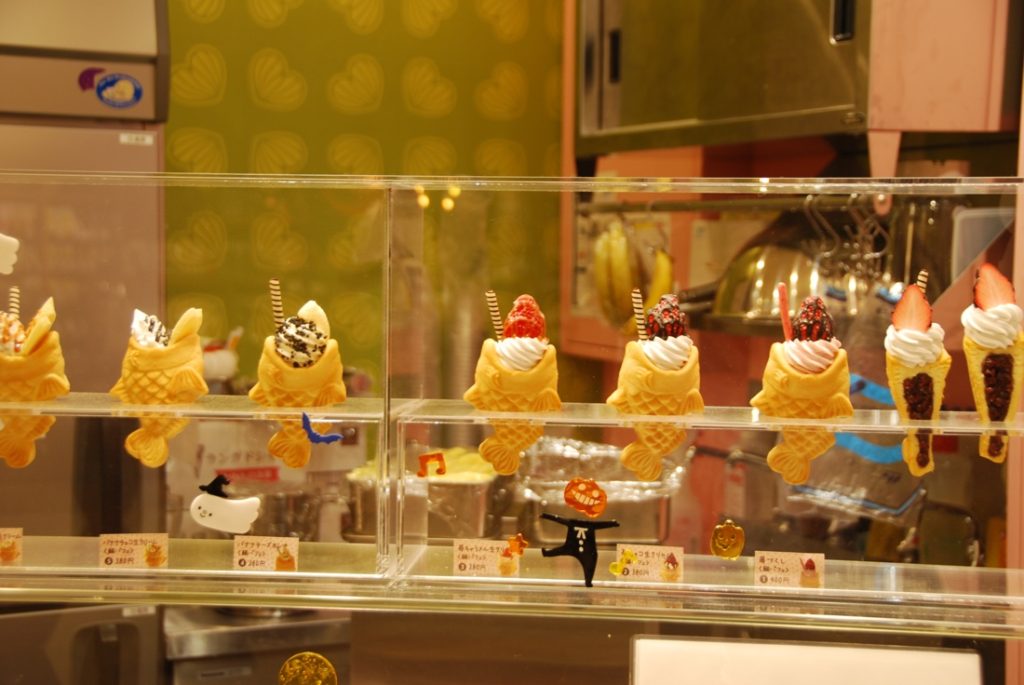 This sweet treat is called taiyaki.  It's a detailed fish shaped snack usually filled with sweet red azuki beans inside – you can see this in the two on the far right which are cut open for display.   Usually taiyaki are not so fancy as this (this was a fancy store in a Shinsaibashi mall).  They usually don't have whip cream or ice cream coming out of their mouths.  They're made with regular pancake batter and are very popular.  Taiyaki are often sold from street stands, steaming hot right off the fish mould press.   Oishii!  (Delicious!)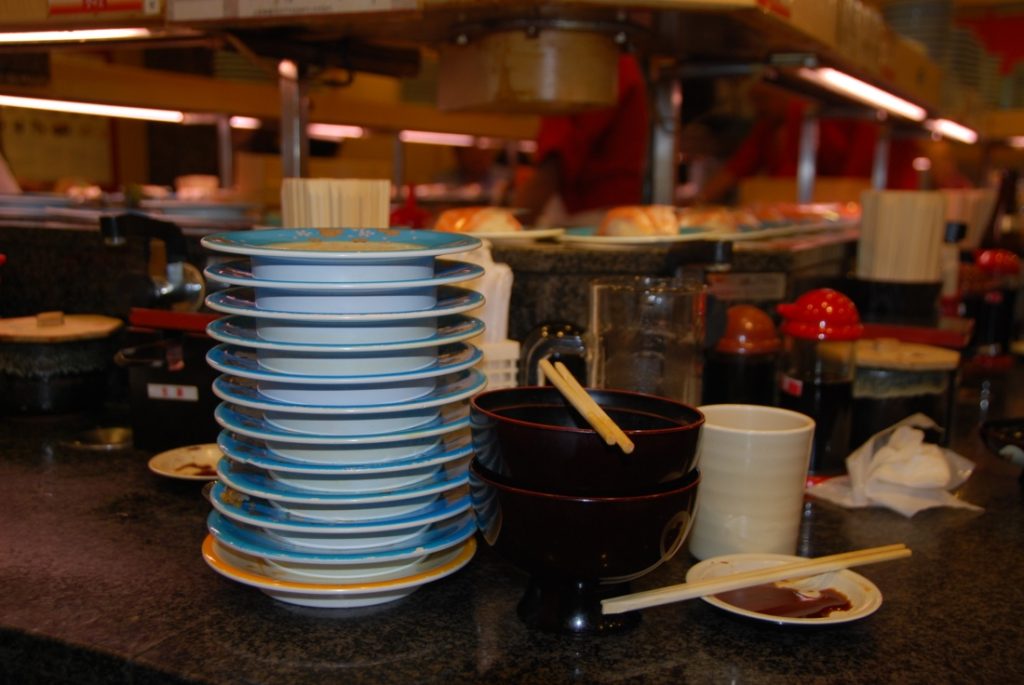 John and I went to lunch at a "conveyor belt sushi restaurant."  This is called kaiten-sushi in Japan.  The plates are placed on a rotating conveyor belt that goes around the restaurant and past all of the seats.  You just pick up whatever you want to eat as it passes you.  The bill is based on the number of plates you empty.  In some restaurants the plates are different colors and the plates of premium fish are more expensive.  We had a bowl of miso soup each, all these plates of delicious sushi, and John ordered a beer and I drank green tea and our bill was $19!!!!  One time we went to a kaiten-sushi place where the cheapest plates were 100 yen each ($1.00).  A young man next to us had about six 100 yen plates stacked up.  I thought what a great place for a student to come and have a cheap and delicious meal!  They always include miso soup and green tea.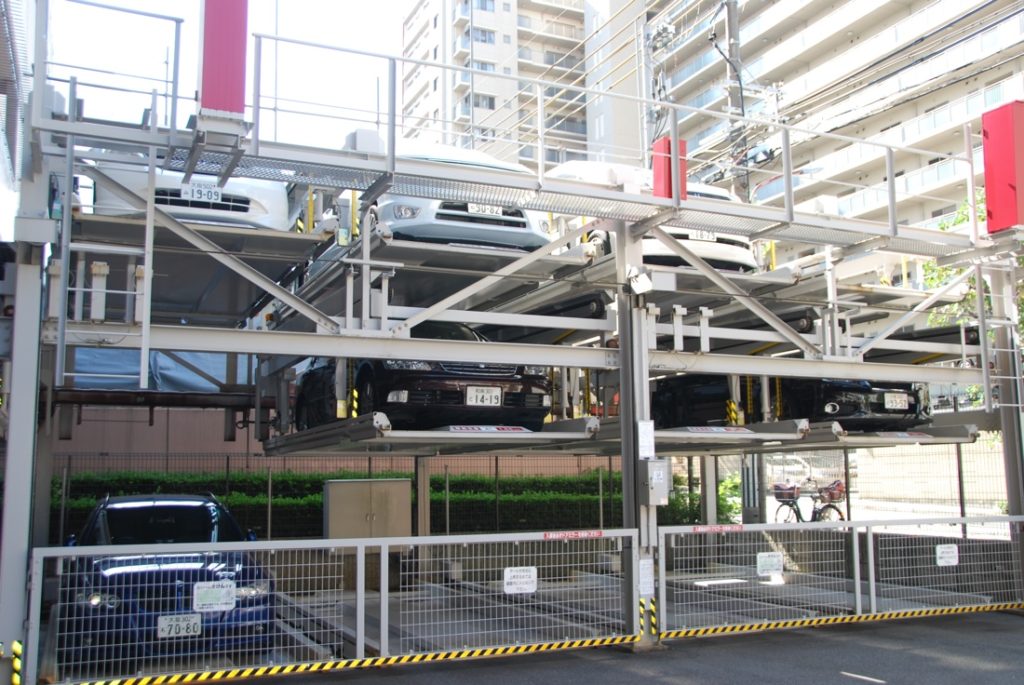 I love all of the parking solutions in Japan.  It's a small country and parking is a premium in the city.  This is a cool triple decker parking spot.  When I lived in San Francisco you always had to weigh how much you wanted to go out in your car versus how much trouble it was going to be to find parking.  Usually a cab seemed a lot more attractive.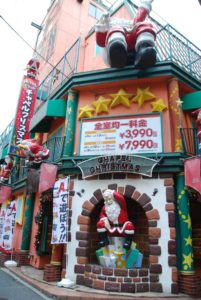 We found this place tucked away in Ishibashi when we were strolling around the streets.  It's called Hotel Chapel Christmas.  There's a large Santa on the roof and since it's a corner lot the Christmas decor goes back a ways on both sides of the street.   We didn't go inside so we're going to have to go back to see what it's like in there.  Maybe we'll take the kids back in December.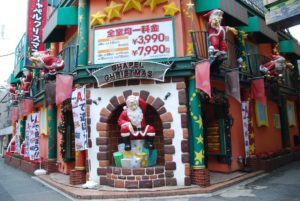 Our friend Makiko from Tokyo wrote to let us know that this Hotel Chapel Christmas is not for kids!  It's actually a Japanese "love hotel" that books by the hour!  The Christmas theme is carried on inside the rooms.  Maybe we'll skip that on our tourist map.  Or maybe it's a must visit.  I've never been inside a love hotel before.  And maybe it's a chain.  We saw another, smaller one by Dontonbori recently.
Trick or Treat!  Happy Halloween!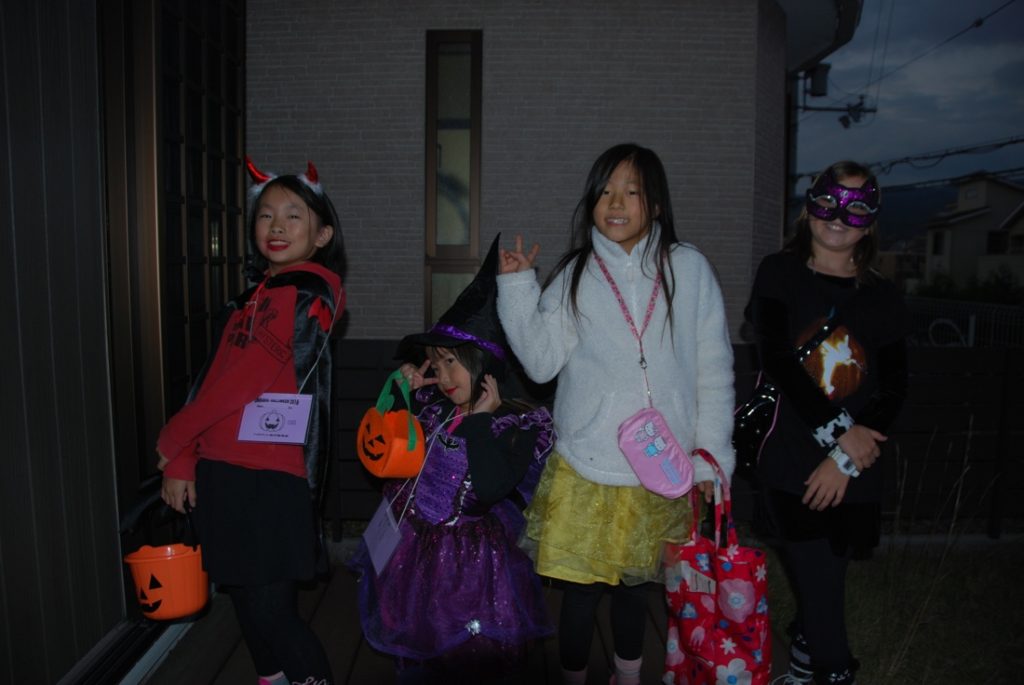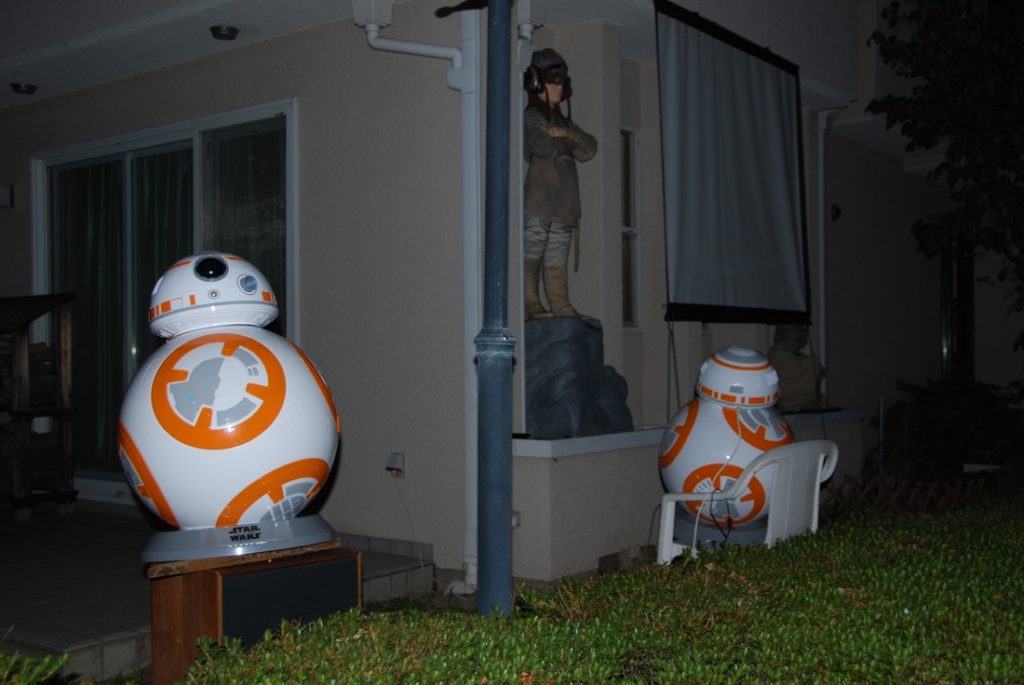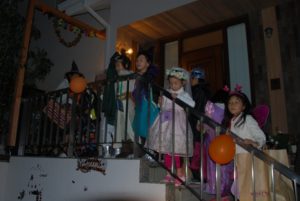 The neighborhood around our international school hosted a Halloween event with trick-or-treating at certain marked houses and a dance show featuring Michael Jackson imitators dancing to his songs exactly like in his videos.
These BB8 figures above are actually video projectors.  There were 3 of them and they're projecting three different Star Wars movies on the walls of this house and the house across the street.  This BB8 house also had other movie character figures around, including a huge Buzz Lightyear statue (it was at least 8 feet tall) and a gigantic (at least 5 feet tall and very fat) stuffed Garfield just inside their genkan.  It was really cool!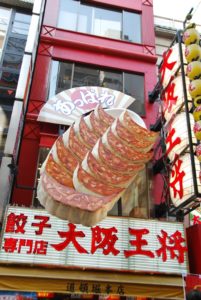 A lot of the downtown Osaka restaurants have these huge figures on their exterior walls.  There's pigs, crabs, people with funny faces, octopuses, gorillas, lanterns, puffer fish, whales and lots more.  This is giant gyoza at left!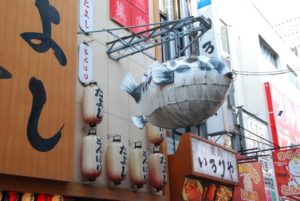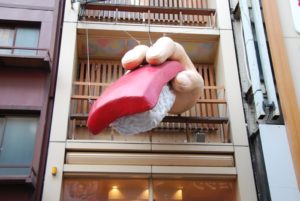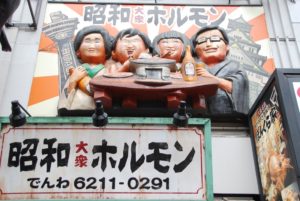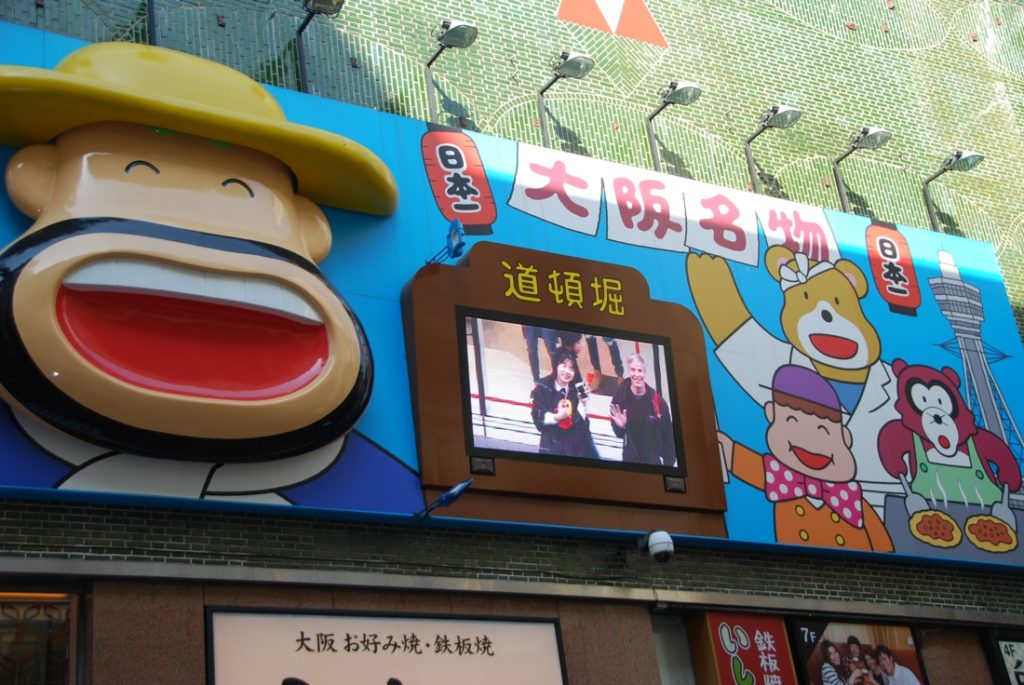 This is so awesome.  It's a cartoonish building facade with an ad for the company Meiji.  There's a television screen at top.  Here's John on camera on the building.  Below is a whole view of the front.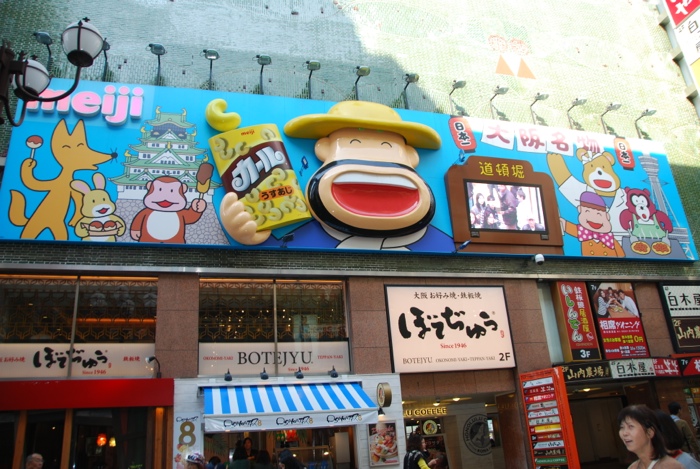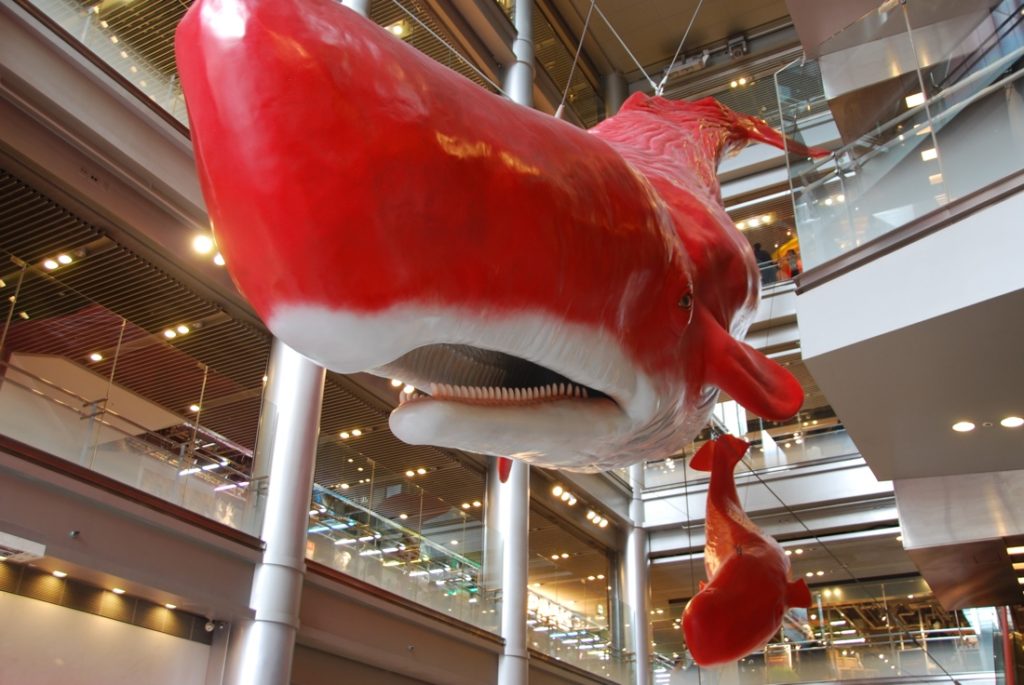 Speaking of huge, crazy figures, this red whale is 20 meters and hangs from several stories inside a fancy mall across from the Umeda train station.  This mall is called HEP FIVE and their website says the whale was painted by the famous musician Tatsuya Ishi.  There is also a gigantic red ferris wheel outside that can be accessed from the 7th floor.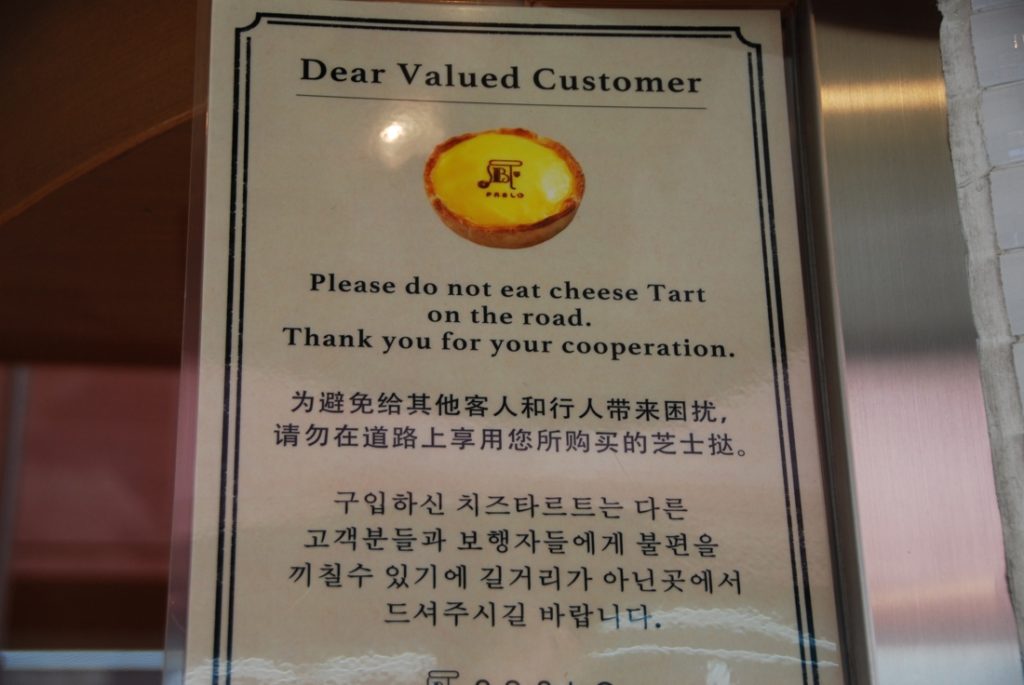 In Japan, so far it's been fairly rare to find eating establishments that let you take food to go.  The places that do have take out specifically say so from signs in the window.  It's funny when coffee places will have a picture of a to go coffee cup with a lid on and it will say something like "Take Out Okay."  You always have to assume that any food or drink cannot be taken outside to go.
This sign above is from a popular sweets chain called Pablo.  The store's roots are in Osaka and its name was inspired by Pablo Picasso.  They sell cheese tarts and other tiny cheese flavored desserts.  You can actually order your cheese tart rare or medium rare like a steak.  I love how it says not to eat on the road.  Japanese people do not eat while walking.  So I assume this notice is for gaijin (foreigners) who immediately start snacking from the bag.  Oh yes, I just found this quip from cnn.com confirming my suspicions:
"Today, Pablo has 25 stores in Japan, becoming a local favorite but also cultivating a cult following among foreigners. One out of four Pablo customers are said to be foreign tourists."  And I bet they want to eat on the road!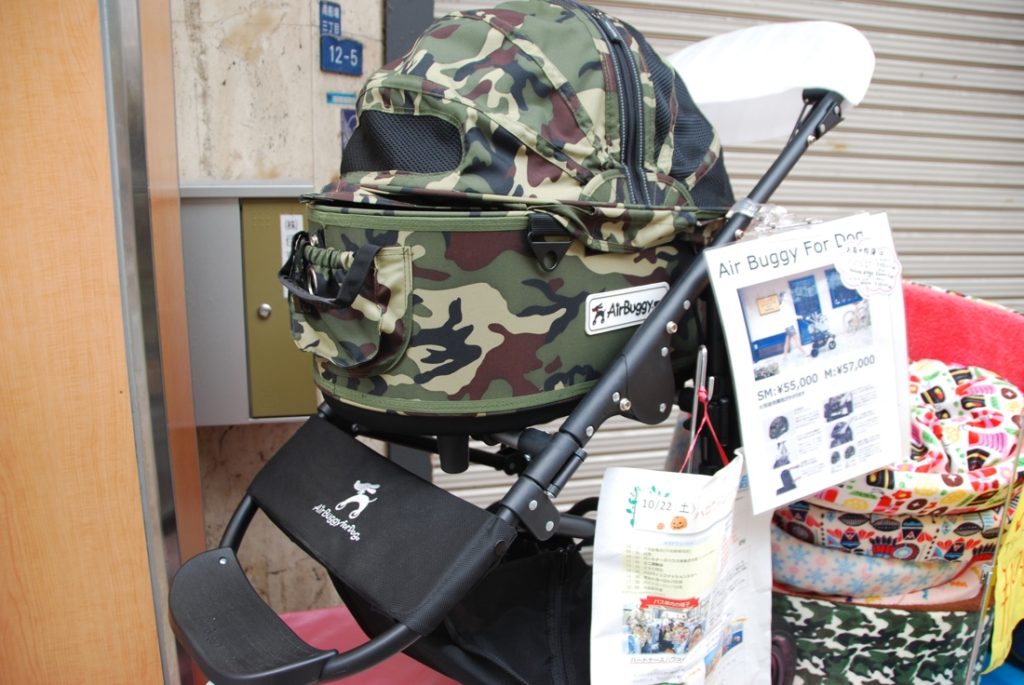 This stroller is hilarious and cute.  It's called an "AirBuggy for Dog."  It is a high class, state-of-the-art stroller to take your dog on a walk with you.  It has the dome over the top, handbrake, air vents, and can fold easily for quick storage in your tiny Japanese house.  This is truly for the dog that has everything.  This stroller is roughly $500 USD.  I saw it while walking among shopping stalls in downtown Osaka.
The AirBuggy for Dog website says when to use your stroller:
"When on busy streets with high traffic volumes, or to avoid hot asphalt in summer, place your dog in the stroller to reach your destination in safety. Customers are increasingly using the stroller to take their dog to the vet when it is sick or injured, or to prevent contact with other dogs."
And how it compares to other brands:
"The AirBuggy for Dog has three points in ground contact to minimize play and ensure stability, and the pneumatic tires absorb vibration and shocks to provide your pet with a comfortable ride.
The wheel bearings reduce running friction, to the extent that the stroller moves to the touch, rather than to the push, as if on an air cushion. This low-friction ride enhances the pleasure of pushing your dog."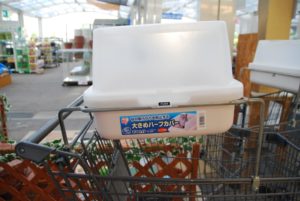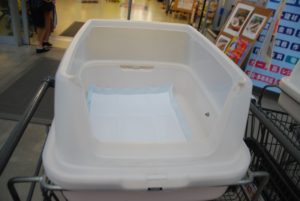 In case you cannot afford to buy an AirBuggy but you still want to take your pet to Konan (a large chain store that is similar to Home Depot, Pet Smart and the Dollar Store all rolled into one), here is a shopping cart outfitted with an attached plastic pet carrier.  The label on this thing at left shows a cat sitting in this shopping cart carrier.  But I cannot imagine a cat sitting peacefully in this thing, along for the ride.  The photo at right shows that it has an absorbable sheet for little accidents while shopping.  I have seen a few people pushing dogs in these but I have yet to see a cat in one.  I hope I have my camera with me if I do!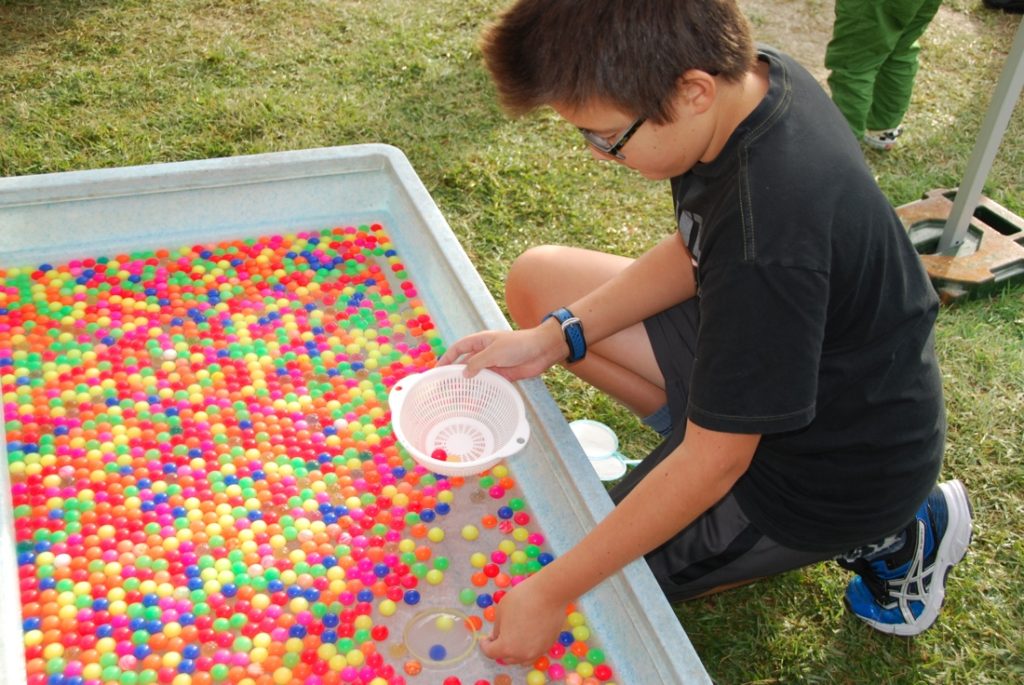 This is a classic Japanese festival game.  You pay 100 yen to play and you get a little scoop that is a plastic ring with paper inside the ring.  The object is to scoop up as many bouncy balls as you can before the paper breaks and you can't use it anymore.  The balls are floating in water so the paper gets wet and tears pretty quickly.  On this try Kaiyo scooped up about 6 balls before his paper got too wet.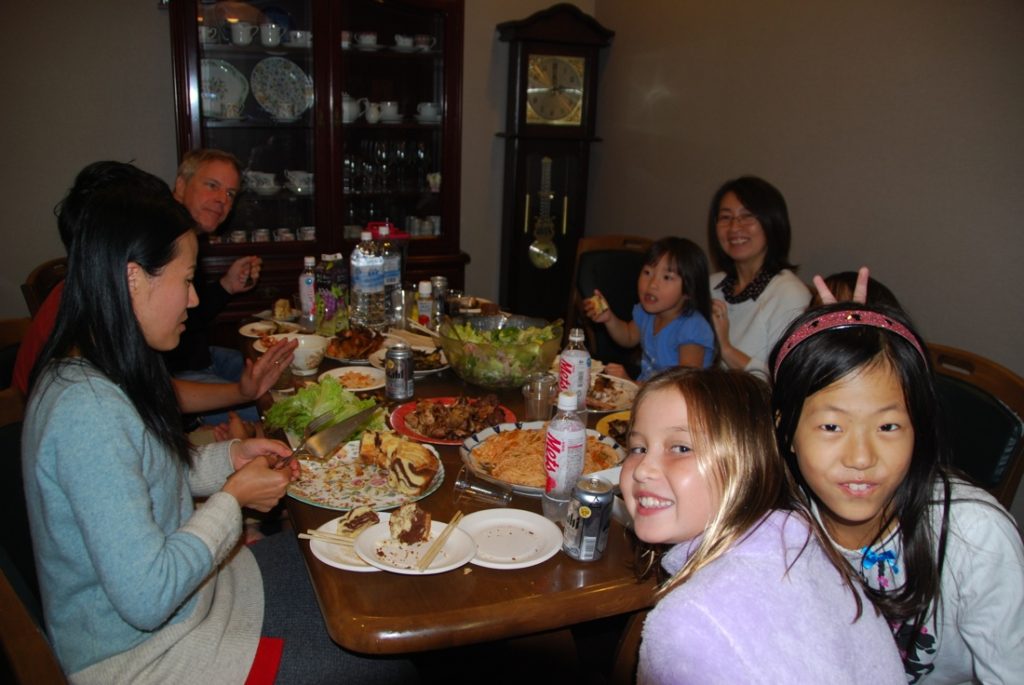 We recently were invited for a BBQ at Avalon's friend Yian's house.  Her house is nice, modern and unique.  Behind this dining table is an open air atrium where the family set up a BBQ to cook meat and vegetables.  The sliding doors to the atrium are very tall and open completely.  The 2-story house is a U-shape around this 2-story open atrium.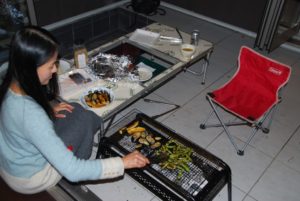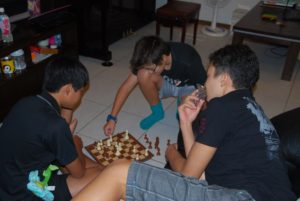 There were three families here and Yian's mom made a huge spread of food.  We all brought more food to contribute and it was a feast fit for royalty.  Haruna's mom made a cake from scratch (I think this is rather rare in Japan).  The drinks included lychee soda, juice and beer.  I ate fresh cut persimmon here for the first time and it was really tasty!  All these years my family always dried persimmons before eating them and I didn't like them because I think they're too sweet when dried – a lot like raisins which I don't like either.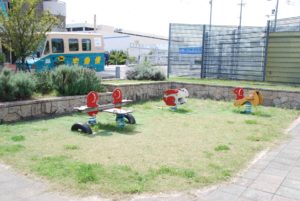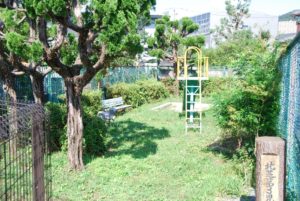 These are little play areas that can be found all over near our house.  It seems like any spare open space is turned into a mini playground with a few play toys and a bench for sitting.  These are just two examples but it's interesting how they can be found tucked away everywhere.  Any little space will do.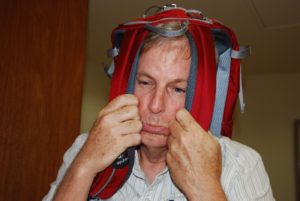 And last, this is John trying to trick me into going to Starbucks.  We didn't really have time on this day but he thought if he made a funny sad face that I wouldn't notice that he was pushing the elevator button to the floor with Starbucks.  Well it worked except that he pushed the wrong button on the elevator.  So he had to come clean and we went to Starbucks anyway.  I felt sorry for him and his desperate measures.