It's exactly 1:25 AM on Monday, May 1 in Japan.  But it is exactly 9:25 AM on Sunday, April 30 in California.  Tickets for the Broadway sensation HAMILTON at the Pantages Theater in Los Angeles go on sale at exactly 10 AM PDT (pacific daylight time)… that's in 35 minutes.  My chances of actually getting to buy online tickets is very slim, so it's likely a waste of a night to stay up like this, but I have to try.  I am a huge Broadway musical fan.  I've been wanting to see Hamilton on Broadway for a long time.  But I haven't been to New York City since Labor Day weekend 2001 (just a few days before 9/11 happened) when John and I went to see The Producers on Broadway, so it wasn't in the cards for me.
We already have tickets booked to fly to LA on August 13 and Hamilton will premiere in Los Angeles on August 11!  And in a further twist of fate, I just read yesterday that tickets go on sale in just a few hours from now.  I also read that thousands of fans were stuck in online limbo with Ticketmaster for hours when Hamilton went on sale in San Francisco, so I have to be realistic about my chances.  I've been trying to stay awake and my latest tactic is to see if typing helps keep my eyes open.
This is one of the drawbacks of being on the other side of the international date line.  Other negatives include John's early morning business calls and not being able to call friends at times when we are both mutually available.  On the flip side, John really likes the fact that Monday morning in Japan is still Sunday in the US, so he has an extra day to save him from any procrastination.
This past weekend, April 29-30, both boys participated in an event called World Scholar's Cup.  It's a contest that combines debate, writing and vast trivia to test high school and middle school students' skill in each category.  The kids team up in groups of three.  They study for hours in preparation.  There are three rounds: local round, global round and championship round.  We live in what's called the Kansai region of Japan.  So last weekend was the Kansai Round and our school, Osaka International School, hosted it.  John and I volunteered to be judges for the debate portion.  We got to judge the high school students on topics such as "Should we be able to bring dead people back to life?" and "Should Japan be the first to send a manned mission to Mars?"  The groups were assigned to be on the affirmative or negative side and debate their position.  The students were very persuasive on both sides.
I was very impressed by the skillful English of one Japanese boy with what I thought was an Australian accent.  He had a deep voice and it made him sound like a commanding speaker.  Later, his teammates told me that he had never lived outside of Japan and indeed, he'd learned all of his English from watching Formula One racing on television.  He told me he loved Formula One and he tried to imitate the voices of the announcers on the show.  The show he watches is from Britain so he said it's a cockney accent and that Australian has roots in that dialect so that's probably why I thought it was Australian.  I don't know, but that's what he told me.  I was pretty amazed.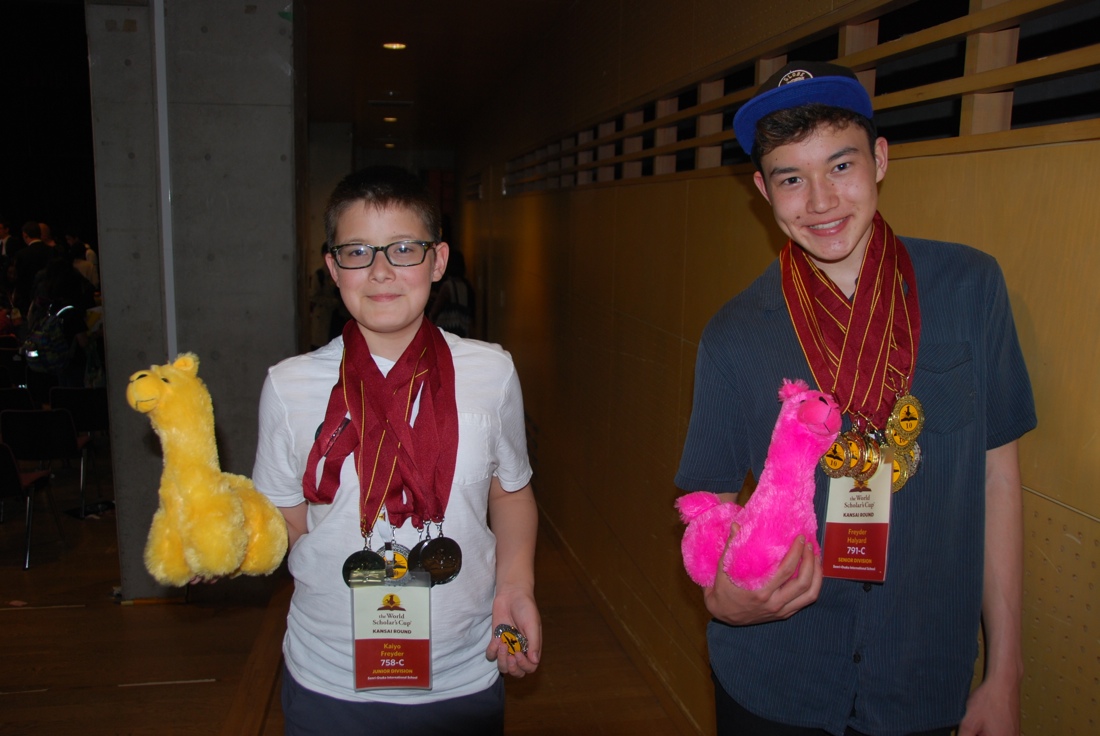 Halyard and Kaiyo performed well and earned a lot of medals.  They also had a great time.  Both of their teams made it to the global round so it looks like they'll be heading to Hanoi, Vietnam in late June.  The cute stuffed animals are alpacas, the World Scholar Cup mascot.  Here are photos of Halyard and his 10th grade classmates and Kaiyo with one of his teammates.
Lately we've been locked into our own family debate about whether to stay in Japan one more year or pack up and go home to our "real" life.  Japan isn't our real life, it's our pretend life.  And our pretend life is pretty sweet so why go home?  A lot of people dream about having a pretend life and escaping reality for a while.  But reality awaits us and we have to go back at some point.  The thing is, we're just getting used to how Japan works.  The customs, formalities and unspoken rules can be confusing here and the language and written text is so foreign that it really has taken a year just to get acclimated.  I am just beginning to recognize the stops on my bus route and how to order sushi from an electronic tablet!  And we've finally realized that Google translate can interpret text if you take a photo of it.  It does a poor job, but at least it gives us an idea.
In California, our Newport Beach house is waiting for us and our friends and neighbors are asking when will we be back.  Most importantly, Halyard will start 11th grade next year so how important is it for him to finish 11th and 12th grade in the same school?  We won't stay an extra two years so that's an important question.  The things we didn't take with us to Japan are in storage in Orange County and we're being charged by the minute so it would be nice to get them out of there.  Soon, we will forget what's in there, like just about everyone else with a storage space.  I wonder if the boys will still care about the many, many bins of Lego figures and bricks that we stored away.   One thing that pulls me home is the fact that I am way out of my fitness routine here and if I don't take drastic measures I'll be needing a new pants wardrobe.
Here in Japan a lot of friends both in and out of our school are urging us to stay another year.  And it does feel as if the year went by fast and there are so many more things to do and see.  I've also started to get more work here between teaching and tutoring English and helping a friend translate some website documents.  It's a debate that has many angles and neither the affirmative side nor the negative side is winning.
It's past 2:30 AM now.  I stayed awake but I was unsuccessful.  Insert very sad, crying face emoji here.  I tried for over an hour.  Ticketmaster made me prove I was not a robot by repeatedly asking to click on photos of street signs, street addresses, rivers and store fronts.  Then it would read something like:  You cannot proceed.  Try again later.  Over and over, clicking on "buy tickets," "5 people," not a robot photos, and then, try again later.
John woke up around 1:15 AM and came into the office to see why I was still up at such a crazy hour.  I think he came in to tell me to go to bed but then he ended up trying to help me on another computer.  We both had no luck.
In a last ditch effort, I sent my sister in California a text message via LINE saying, help!  Help me buy tickets to Hamilton in Los Angeles in August!  But she was also unsuccessful.  I knew it would be difficult but I really wanted to believe I could do it.  After I gave up I looked up the exact "try again message" online and some people commented that it was because I had tried too many times and the system had locked me out.  🙁  Oh phooey.  I'm going to bed.  I'm going to be a wreck later today!
I'm leaving this post with some fun photos of Avalon's 4th and 5th grade, parent & student dance.  It was organized by an American mom who said she didn't want her kids to miss out on school dances because they're attending school in Japan.  The kids all got to choose the music playlist and there was a big photo of a mirror ball on the projector screen.  Clever.  Avalon was so excited for this dance.  She bought clip on earrings from Claire's for the occasion and her friends all got together after school to get ready.
John really cut a rug on the dance floor and did his best to embarrass Avalon.  Many of the Japanese parents were standing off to the side so I think he achieved his goal.