Thursday, June 13, 2019
Originally, I had birthday dinner plans to celebrate a childhood friend. But when she started feeling ill we postponed till a later date and my evening opened up. Around 1pm I got a message. "I have an extra ticket for the TravelAge West Wave Awards tonight. It's a black tie event. Do you want to go? Leaving in three hours." Uh, yes I want to go. But could I arrange it on my end? The message was from Betsy who runs the Uniglobe Travel Center (UTC) office, my travel host agency. She and Rose, my mentor at Uniglobe, go to this event at the Ritz Carlton in Marina del Rey every year. This year they had a cancellation and as luck would have it, I live right between the two of them, making for very easy pick up logistics.
Well, I no longer had a birthday dinner to go to. But my daughter needed to get to water polo practice. My sons needed picking up from school, at different times of course, because neither of them had ridden their bikes today. John was not available to help. And Betsy said it's black tie so that means getting fancy. My friend Wendy stepped in and said she'd drive my daughter to practice. I picked up the boys from school. Found something to wear. Applied some Urban Decay. Ooo Lala. I even threw together some food for my family's dinner. I was ready by the 4pm pick up time.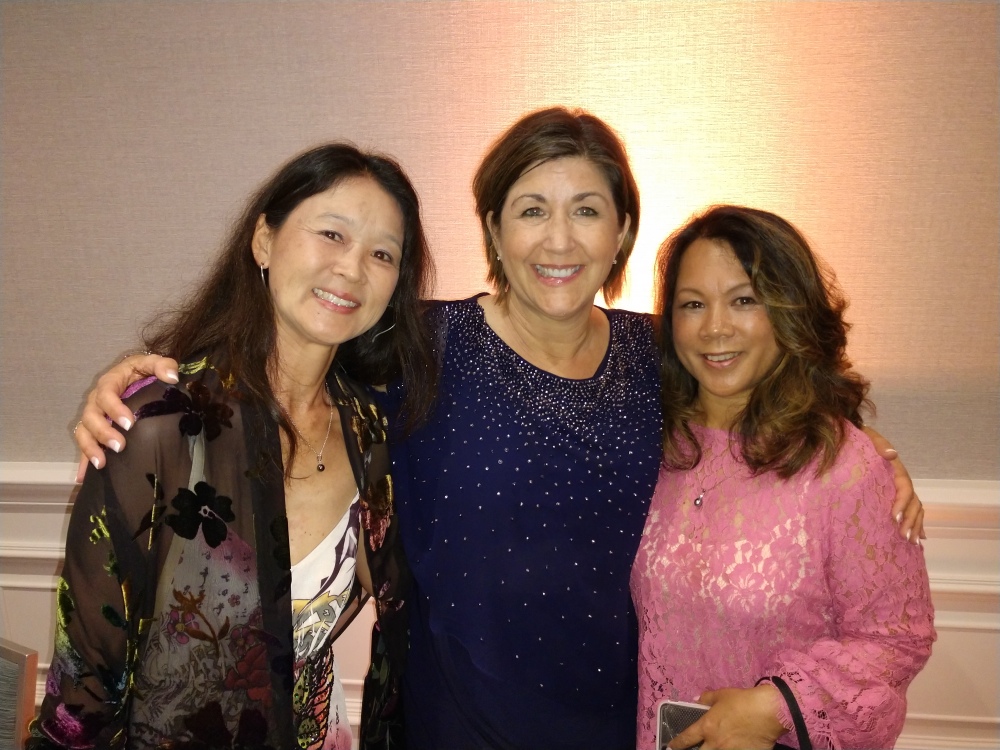 Traffic to LA was the usual crush. We got there in good time for cocktails. TravelAge West is a 50-year old publication for the Western US travel industry. Their website says this event, the Wave Awards, is a "star-studded gala." It's a chance for travel's heavy hitters, their staff, and their friends, to get together to congratulate themselves on a year well done. There's a similar TravelAge East Wave Awards to celebrate everyone on the east coast as well. A Wave Award is bragging rights for travel suppliers, but for me, it gave some insight into who is at the top of the game. As recognized by their fellow peers anyway.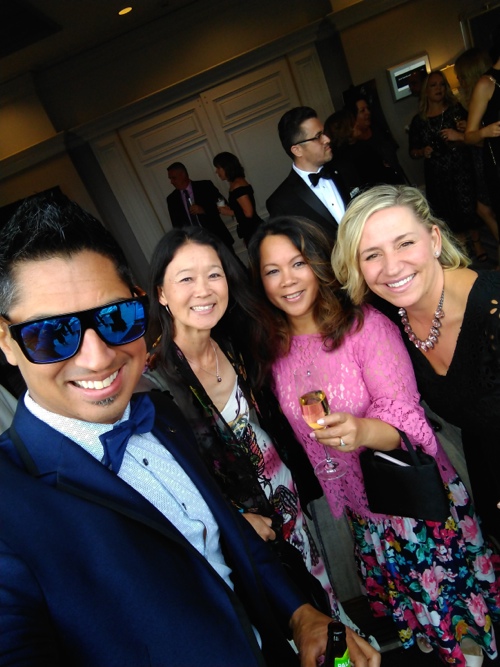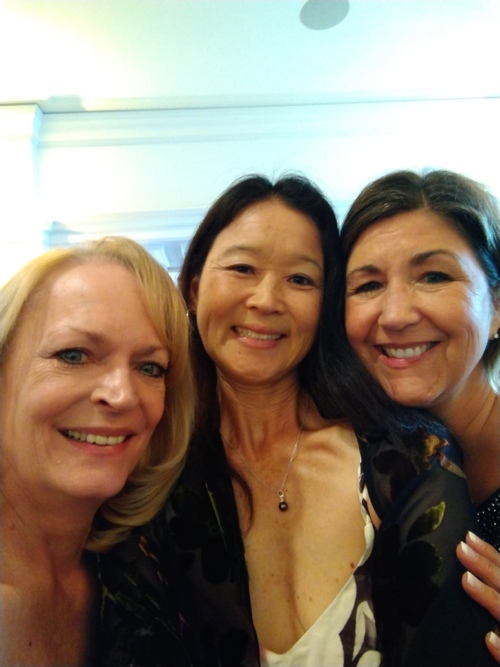 A very happy coincidence for me is that we just had a nice gathering of local UTC agents and our rock star supplier reps in the Irvine office on June 11. It was great to reinforce my presence to everyone that I had just seen. "Hello! Long time no see. Remember me, it's been 3 whole days." Betsy knows everyone so it was great to shadow her, back and forth to the bar mostly. Why there? Certainly not because drinks are free, but because that's where all the fun people are hanging out. I said hello again to our reps from Carnival, G Adventures, Virgin Voyages, Celebrity Cruises and Classic Vacations. I got to brag to Paula Hayes from the Globus Family about all the Globus trips I've been booking, and I chatted with Cheryl Hudak from Apple Leisure Group, who is possibly the tallest lady I've ever talked to in person. She towers over everyone.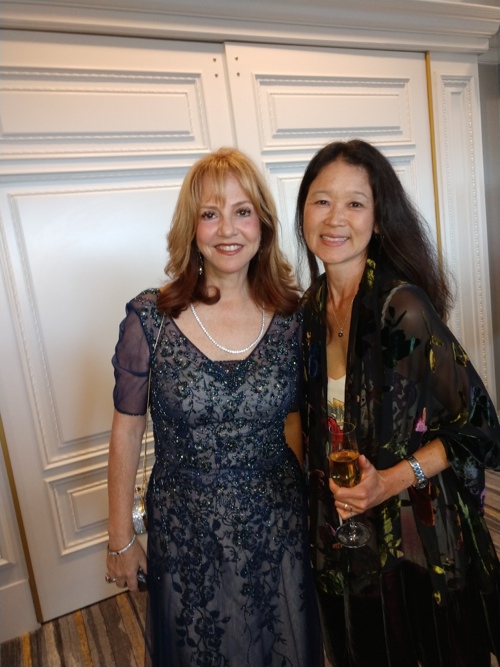 I had a chance to have a genuine conversation with Vicki Freed of Royal Caribbean. Someone told me once that she's "a big deal." She was standing around so Rose and I went to say hello. Every time we went to talk to someone new, Rose kindly and enthusiastically introduced me as a "superstar new agent" with Uniglobe. Vicki asked me why I was selling travel, what I had done before this and why my family moved to Japan. I told her how I'd been to an Ensemble travel conference last month and the keynote speaker there started off her speech asking everyone if they'd heard Vicki's popular "Be a Q" speech. Vicki was so surprised to hear that someone else was referencing her speech. After we finished chatting, she asked for my business card and then she wanted to take a photo of us with her camera. She said she likes to remember the people she talks to. Rose was impressed with our conversation. She said Vicki doesn't often take time out for conversations with her fans. Betsy said, oh you'll probably be getting a card from her. Vicki is known for the handwritten cards she likes to send. I know that from her "Q" speech.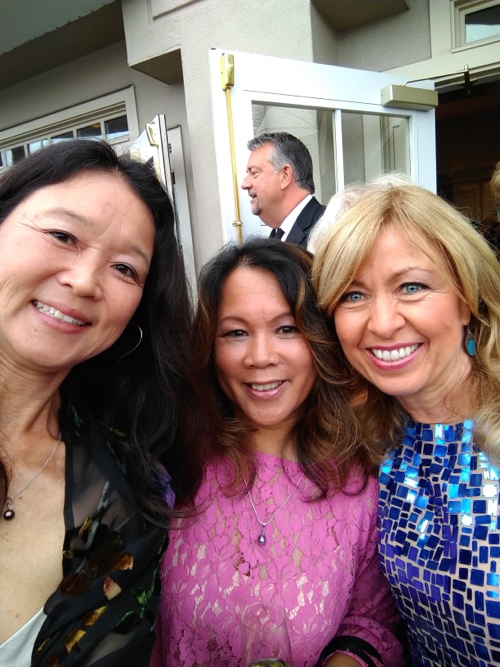 Rose's goal was to get a photo and have a chat with Kristin Karst, co-owner, co-founder, EVP of Ama Waterways, the luxury river cruise line. I took a photo of them together and Rose sent it off to her husband right away. They're definitely in Kristin Karst fandom. Ms. Karst is darling and she has the cutest German accent. She was wearing a shiny blue mosaic dress that made her look like a human votive candle holder. It matched her eyes perfectly and she totally owned it.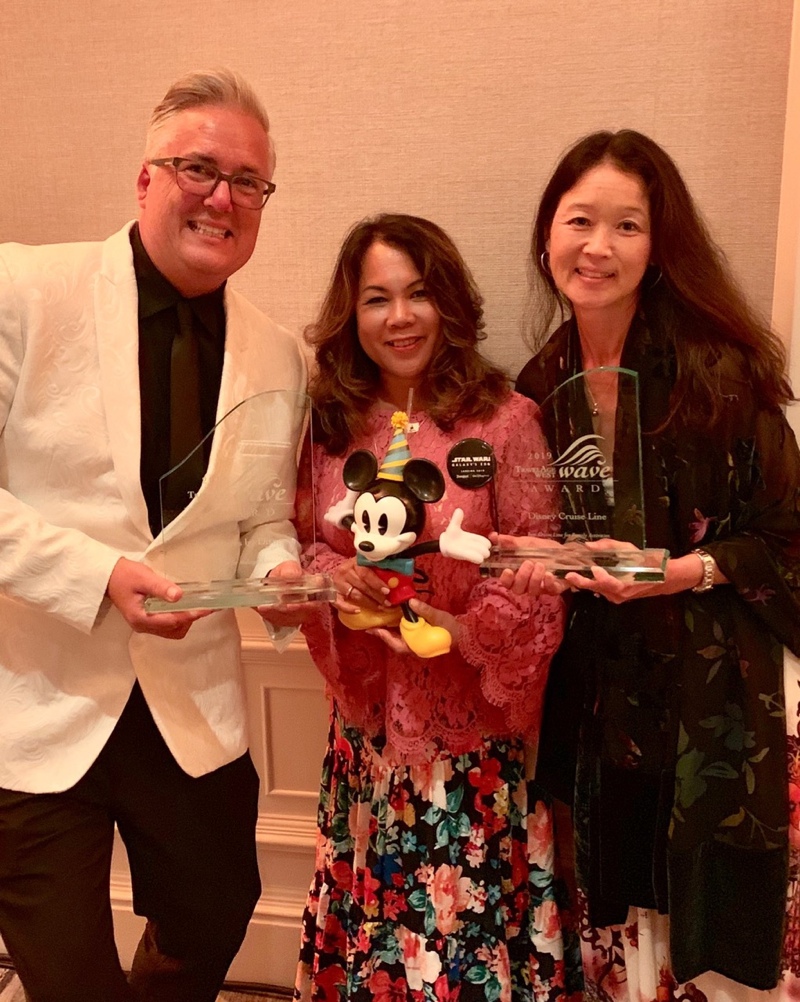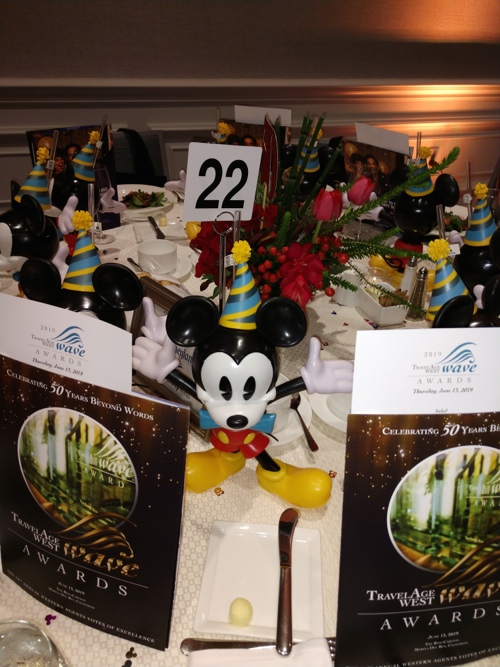 Rose and I were guests of Disney Destinations. Frank, our supplier extraordinaire, was our table host. He was killing the style with a black shirt and black tie and a white jacket with a rich brocade design all over it. I talked to some guests at the Disney table that sell strictly Disney. They must sell A LOT of Disney to be a special guest of Frank's. The lady next to me said she'd been in the travel business a long time and she's tried to retire a few times but apparently, she hasn't crossed the retirement finish line. Disney gave their fun Mickey "sippy cups" celebrating Mickey's birthday as cool swag. You take off his brain to pour the liquid inside. I thought, this is not a good cup for milk or Pepsi. Or worse, milk and Pepsi. The liquid goes all the way down to his feet. Impossible to clean. But my D23 friend Holly was impressed. Betsy was a guest of the Celebrity Cruises table. She got some awesome wireless earbuds.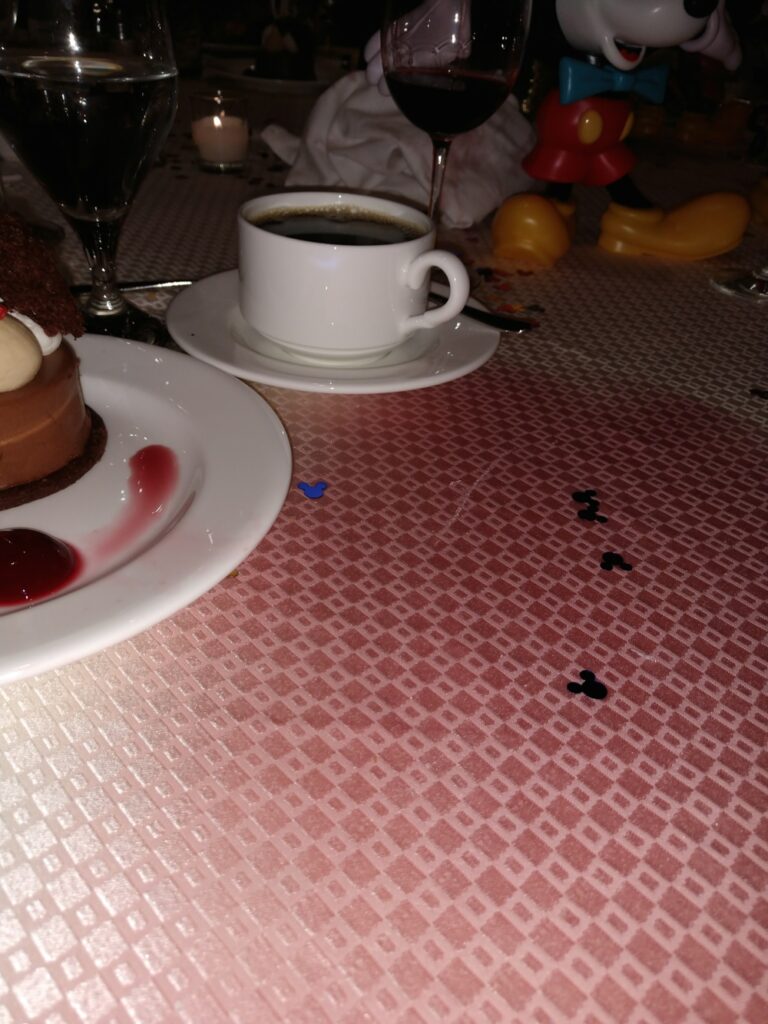 The sad, downside part to my evening… As the dinner plates were being cleared and the dessert plates were being brought out, the server at our table accidentally knocked over my FULL glass of red wine. Unfortunately the glass spilled in my direction, splashing the tablecloth and soaking me. My multicolored dress with a silky white fabric now had a lot of red added. My velvet shawl was soaked through. And the room was air conditioned so I had to sit there wet and freezing. Everyone at the table handed me their cloth napkins to help with the disaster management. There's no salvaging my dress. Maybe the shawl. On the way out I talked to Tony at the front desk but he said I needed to talk to the food and beverage manager. He said, I'll pass along the message. I also called and left her a message on voice mail explaining what happened but so far NO WORD from the Ritz. I expect at least a courtesy call. Doesn't the Ritz want to make sure its travel partner advisors are taken care of? I would think so. Update, it's been nearly a week: not a peep from the Ritz!
Update update: the Ritz will comp me one night in Marina del Rey so that I can go back and have a full glass of wine. With club access and valet parking. I'm going to risk another glass at the Ritz.
The happy, upside to my evening… was when they announced the category for "40 Under 40," meaning 40 agents under the age of 40 who are rising stars, and Rose said, "Amy this is something you can shoot for." And I said, "WOW Rose, thanks for the age compliment!" I might be closer to 50 than 40.
The travel industry takes this time to congratulate each other in endless fashion. Here's a shot with all the travel awards lined up. You can see that there are so many I can't fit them all in the frame.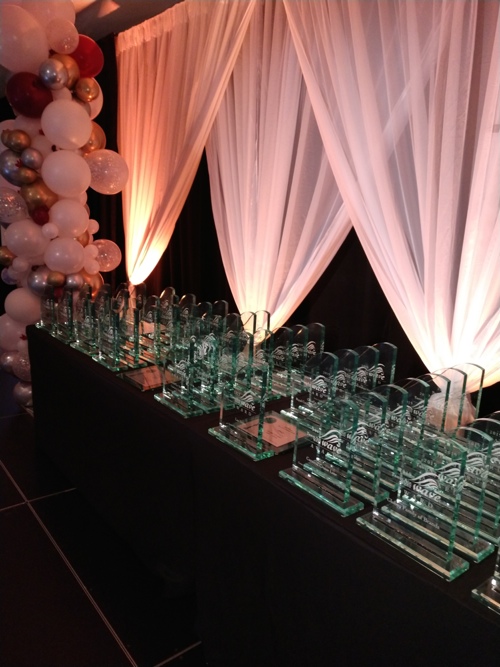 That's an idea of how long the evening went on. Here are some of the awards that got my attention.
Best Cruise for Family Activities: Disney Cruise Line
Best Onboard Dining (Ocean-Going, big ship): Celebrity Cruises
Best Onboard Dining (River Cruise): Ama Waterways
Best Domestic Airline: Delta Airlines
Best Tour for Adventure Travel: G Adventures
Destination with Highest Client Satisfaction in the Caribbean: Jamaica
Car Rental with Highest Client Satisfaction: Enterprise
Best Tour Operator in Asia: Avanti Destinations
Best Tour Operator for Multi-Gen Travel: Adventures by Disney
Best New Ship (Ocean): Celebrity Edge
Best Cruise Line for the Caribbean: Royal Caribbean
Best All-Inclusive in the Caribbean: Sandals Resorts
And So Many More!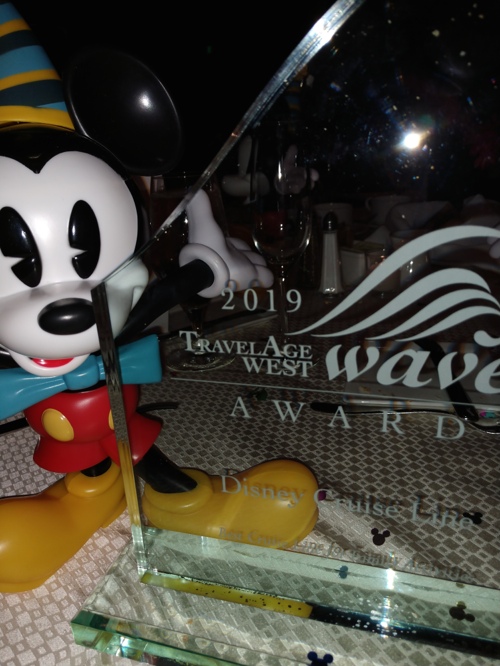 If you're looking for some travel help and advice, I can share all I know about the travel industry's best, award-winning products. And if you need any help booking a special Royal Caribbean vacation, I'm Vicki Freed's new friend. Contact me!
Epic Away Travel LLC
(949) 246-6865