Now we are literally down to the last week.  Sunday, August 7 and there's still a lot to do and a lot of people to see.  I told Sandi that we need to leave for extended periods more often.  Everyone wants to squeeze in time.
First off today I'm taking Kaiyo to Side Street Cafe so he can join up with his friend Ethan and the Lovin Family.  My plan was to go to the early service at church but we just didn't make it there.  But Halyard still wanted to go and say goodbye to his friends so we dropped him off.  I decided it was probably better to continue packing since I was feeling the pressure of the last week.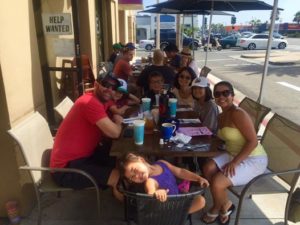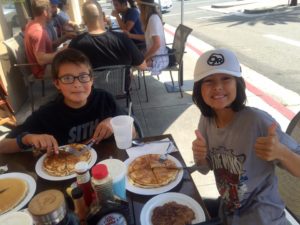 Halyard and Avalon and I took off in the afternoon and squeezed in several things.  We took Avalon to her BFF Ava's house for a last playdate.  We stopped by the Altshulers' house for a last goodbye with Carolyn and family.  We got to our appointment at the Apple store at Fashion Island in the nick of time.  Halyard got a new iPhone 6.  The Apple Genius helping us said it was rusted and corroded shut and completely unable to work ever again.  He also said, thankfully you have Apple Care and I said Amen to that!  Thank you to the angelic Apple employee who helped facilitate that for us.  Halyard is back online!
Then we stopped by the Hofers' house to drop off a bag of clothes for Sheridan and to say goodbye.  The Hofers generously gave all 5 of us yen as a going away gift.  Later Kaiyo begged to spend the night at Ethan's house, especially since his other buddies Heyward and Jackson were over.  I gave in even though the next day is a JG day.  John had his last ice hockey game with his buddies for a while.  They all had beers in the locker room after the game.  Finally, the day is over.
The countdown is on and everyday I'm feeling nervous because it's already Monday, August 8.  By now I've pretty much stopped eating breakfast because I just don't feel like eating anything in the morning and I feel like I don't have time anymore.  I have to get out the door early anyway to pick up Kaiyo at Ethan's house and come back home to pick up Avalon and get them both to JG.  I have no idea what Halyard is doing in the mornings these days, now that he has quit water polo.  I'm sure he's just sleeping, eating and gaming but I'm off and running long before he's out of bed.  Today Avalon has another double round of gymnastics but in the end she said she's too tired so she just went to one class.  At least she doesn't have water polo on top of everything else!
The man from the flooring store is coming over at 10:30 to measure our floors and bring the samples that we liked.  He needs to give us some estimates so we can decide whether or not to move forward with new floors.  I have no idea what's happening with our big pieces of furniture that we really don't want to store in the storage unit, so I finally put our leather couch, loveseat, desk with hutch and credenza on Craigslist for free.  The couches went in an instant!  I had no sooner clicked publish before several people contacted me about picking them up.
I had tried to sell our desk with the hutch combined with John's leather executive office chair.  No one called about buying them.  But as soon as I listed it for free everyone came out of the woodwork.  The desk also went right away.
John has plans to go out drinking with some buddies that are Davis Magnet School Dads.  I made cheese enchiladas for dinner because I have no idea if I'll find enchilada sauce for the next year but my guess is no, I won't.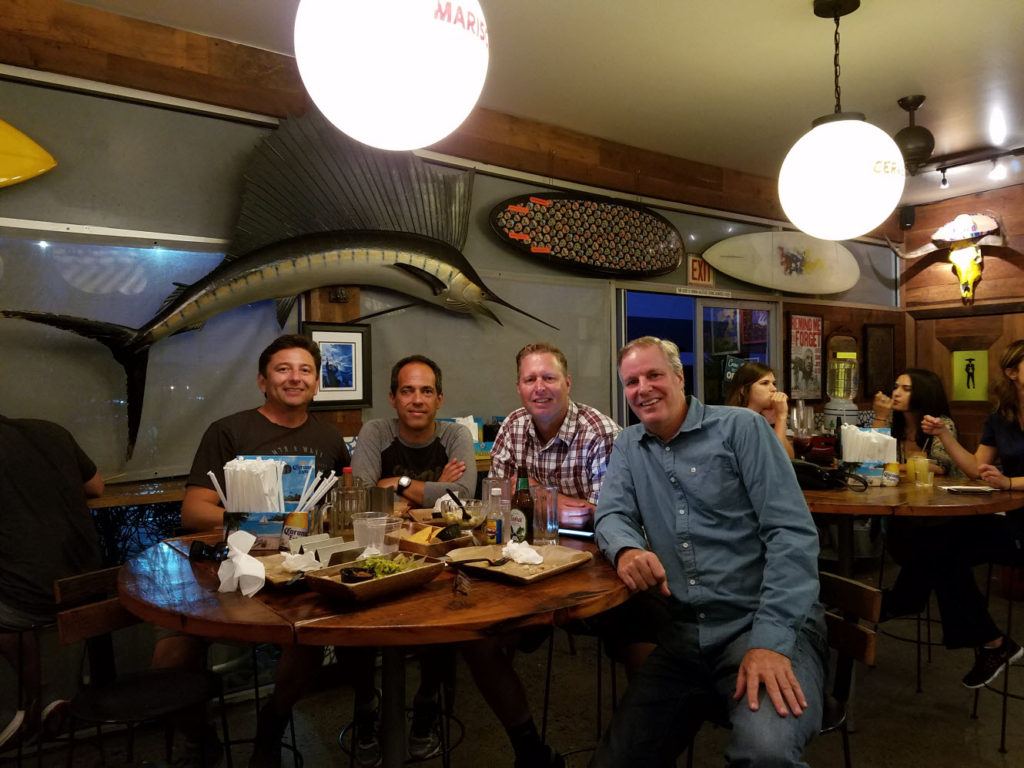 It's Tuesday, August 9 already!  John stayed out late with the guys and now he's going to be useless this morning.  Avalon went with the neighbors to JG and I took Kaiyo to Corona del Mar for his last JG field trip.  Then I rustled Halyard out of bed and we went to the post office to ship one last box.  This box turned out to be 48 pounds!  What was in there?  John's ice skates and a box of toiletries.  Maybe Avalon's pillow pet.  What weighed so much?  It cost $200 to send it priority mail via USPS.  I still can't believe priority mail is the cheapest way to send a box to Japan.  The US Post Office no longer sends anything to Japan via cargo.  On the way home Halyard got a hair cut.  He actually got all of his hairs cut and now he looks sharp.
After JG and more frantic packing (the movers are coming tomorrow!) I took Kaiyo and Avalon out for haircuts.  We got there early so we stopped for froyo at Yogurtland and Kaiyo got to use his gift card.  Thank you Zubieta family!  In the meantime John drove Halyard to Edwards Metro Point to see a movie called Nerve with his OCG friends.
It's moving day!  I am not ready at all.  Wednesday, August 10 and the movers are coming at 12 noon.  I told Luis, the foreman, please don't rush over!  My plan is to pack all morning and especially get the kitchen packed up.  But of course, guess what, Avalon's foot is hurting her.  Apparently something stung the bottom of her foot at the clubhouse on the night of the dinner party at the Bulgins and it's still hurting and getting worse.  So we take off for Dr. Mike's office at 9am to see about her foot.  While we were there waiting for the doctor to see us the power went out in the building.  We think a pregnant woman toting 3 young kids that we rode up in the elevator with might have been riding it down when the power went out.  What a nightmare that would be!  If I had all that packing going on, and then I was at the doctor's office with Avalon, and then to be stuck in a dark elevator and not know when I'd get out!  Ugh.  Things could be worse I guess.
Dr. Mike said her foot was taking a while to heal because it wasn't getting any rest.  I'm sure it didn't help that yesterday was the "Wedge Run" at JG, which is where they run from the Balboa Pier to the Wedge and I think it's about a 2.5 mile round trip run in the sand.  So he gave us a prescription for heavy duty Neosporin and sent us on our way.  Now it's 10 and the movers are coming in 2 hours.  Pack boxes like crazy.  I asked John and Halyard to strip the beds and make sure they are ready to move.  My plan is to still use the sheets and blankets so I don't want them to go.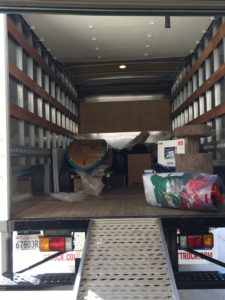 They spent about 3 hours at our house, mostly breaking down beds and carrying crazy heavy dressers downstairs.  Near the end we just started throwing everything but the kitchen sink at them to take to storage.  Then we all went there together.  I can't believe the number of storage places all around us and how many people have these units to store their excess things.  More than that, I can't believe how much people are paying every month!  We are only going to do this for a year and it's costing a fortune. We had to get two units in the end because originally we were trying not to store our furniture.  It was just too much trouble to get one larger space and move everything from the first unit to the other.  So that's kind of a waste but what can you do.
I'm glad the stuff is out of the house.  I'm doing a big purge and have been giving things away, selling on Craigslist, giving to Goodwill and throwing a lot of things out.  While we were packing and at the storage unit for 5 hours, I had given Kaiyo and Avalon money to take their friends Jake and Conner out for pizza.  I told them they could all be big guys and gals and go to the restaurant on their own.
Our original plan was to stay in Long Beach at the Griffins' downstairs unit for the last few days.  But it just seemed so monumental to drive back and forth between LB and NB, so Jerome (Jake and Conner's Dad) brought over 3 huge and very surprisingly comfortable air mattresses and we slept on those for the last few nights.  But where did our sheets and blankets go?  Most of them were nowhere to be found.  John, who was in charge of bed stripping and sheets and blankets, swears up and down he put them in the closet so that the movers wouldn't take them, but they have disappeared.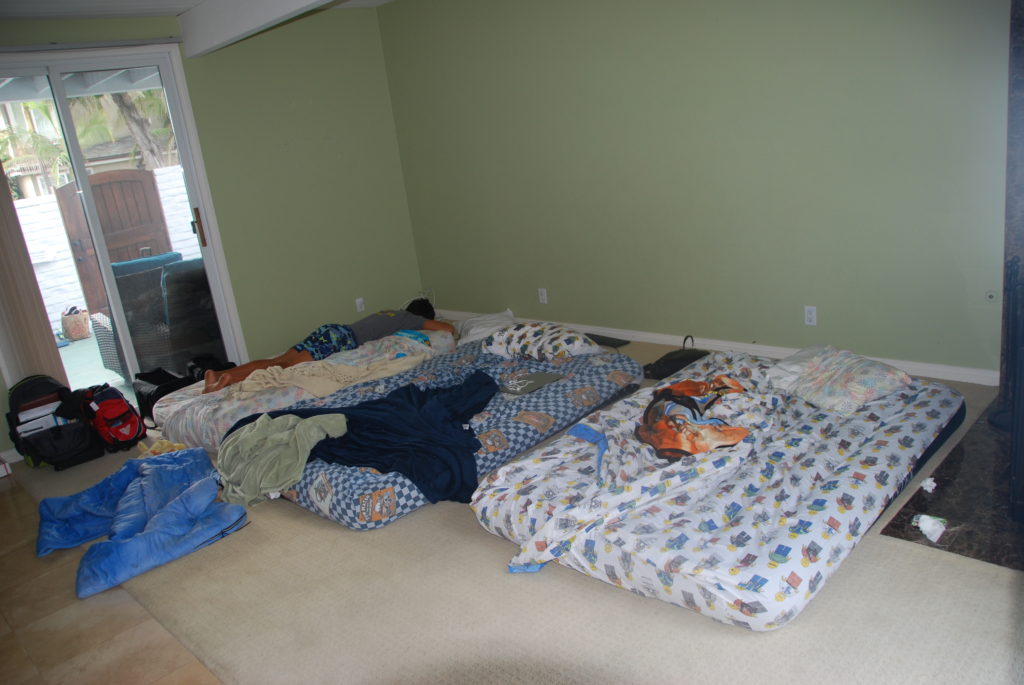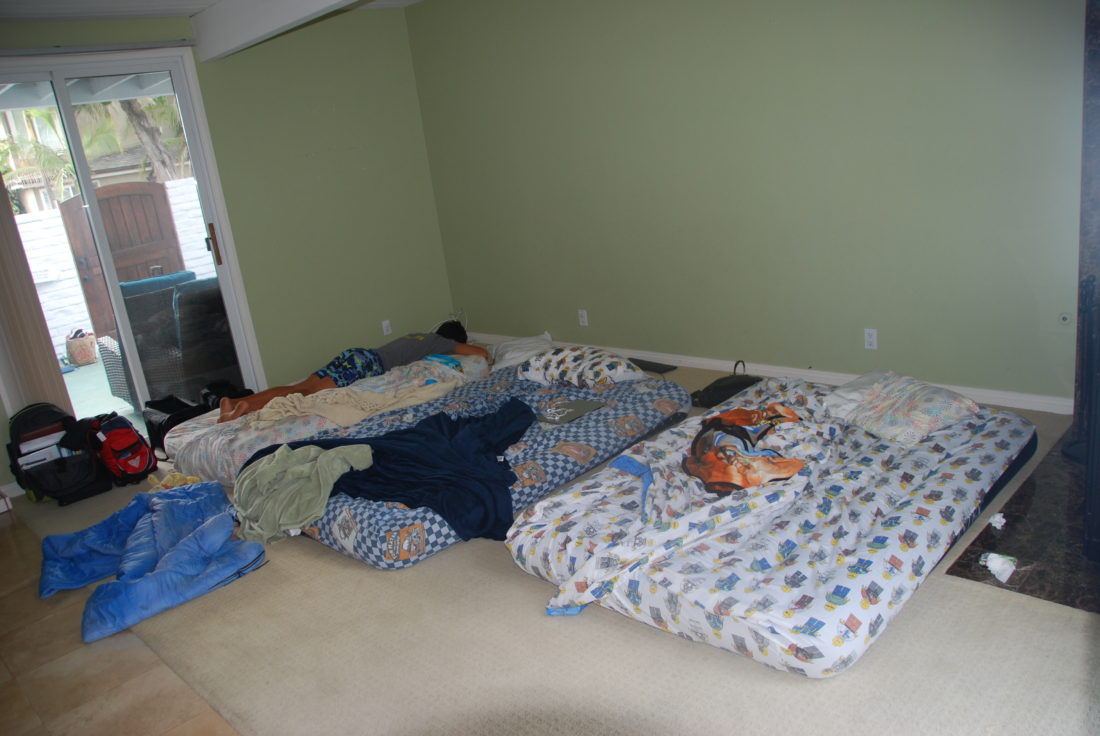 There's an issue over who will sleep on what air mattress and what sheets to use and Avalon is complaining that Halyard's sheets smell bad to her.  In the end, she and John went next door to Val and Greg's house to sleep.  I have to add in here that we have been spending a lot of time next door!  Later, after the Wi-Fi got disconnected, Halyard almost temporarily moved in next door.