This is a long saga that starts our whole story off in motion.  I'll be adding to this story over time until the whole thing is complete.  Basically it starts in February 2016 and goes until we step on the airplane with them on August 13, 2016.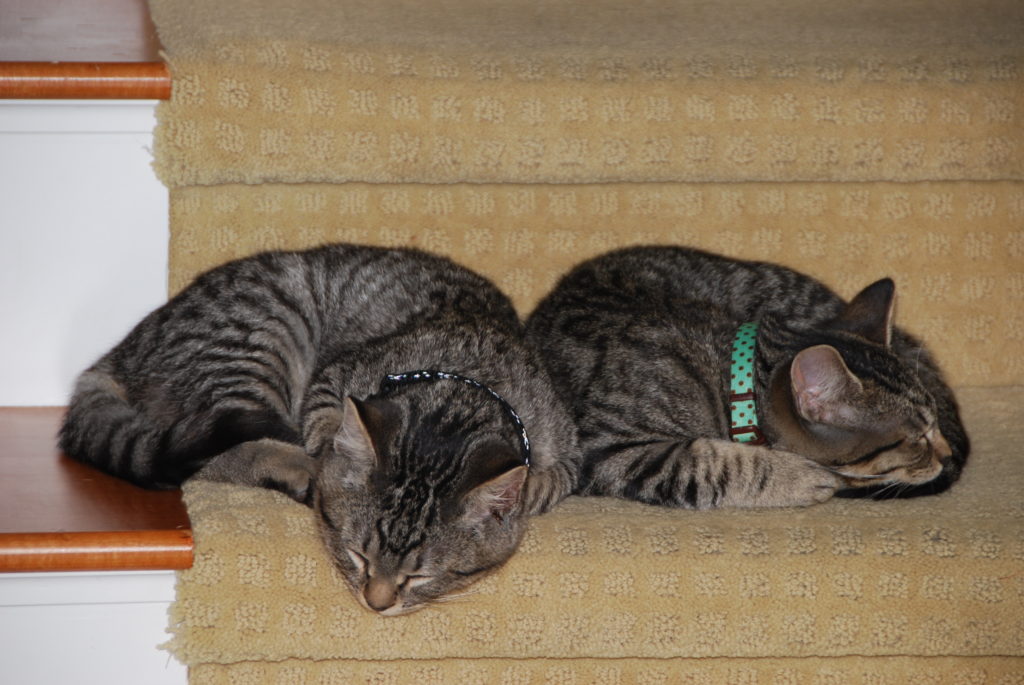 Here is one part of the story:
Yesterday (Tuesday, August 9) I found out, from the USDA, that because I used one form A and one form C for both cats that the forms would be invalid.  It didn't matter that Animal Quarantine Services (AQS) in Japan said it was okay to use one form for both cats.  The USDA requires 2 forms for 2 cats.  So I had to get up very early in the morning (before taking Avalon to Dr. Mike's office and before frantically packing) and re-do the forms.  But then I needed the vet to also sign them again.  It's very specific.  She must sign in blue ink.  It's the USDA rules!  So I had to make time to go back to the vet today.  My plan is to go to Los Angeles tomorrow morning because the USDA says I need to be there by 6:45 am if I have any hope of being there for a reasonable amount of time.  The vet doctor works today from 12-6.  At around 5:45 pm tonight I realized that I did not make it back to the animal hospital for the vet's signature because of the moving adventure.  So we called and said can we come on over.  They had the vet sign a blank form before she left work.  But of course, it was the wrong form.  So now I am panicking because I really need to leave for LA at around 5-6am and I don't have the paperwork.  I'm thinking I just can't leave this for Friday at the very last minute.  We went to the animal hospital and they said the vet doctor said she would drive back from her home in Irvine to sign the forms but that she couldn't get back there until 8:45pm which is 15 minutes before closing.  Hallelujah!  What kindness and mercy!  I was so appreciative.
Amongst this vet fiasco, our friends had asked us over to their party tonight but I just couldn't do it.  John hadn't seen Doug in ages, nor had he seen their new house so he took Halyard and Avalon and went.  Kaiyo and I stayed behind in our furniture-less house.  At 8:40 pm I trekked out to AAA Animal Hospital to get my forms.  They have been nothing but the most wonderful help in all of this process.  I can't say enough great things about them.  We adopted our kitties from the OC Humane Society next door, so it's made sense to stick with them since they've known our cats since they were first picked up off the mean streets of Huntington Beach.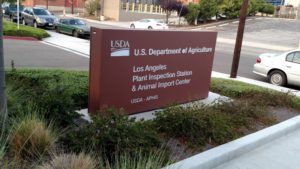 Thursday, August 11
USDA here I come.  I am determined to get there early so that I can get out early and get back.  It is only open from 7:30-11am so they said people line up early.  I got to the USDA at about 7:15am.  There was a lot of traffic getting there but overall it wasn't too bad.  There were 4 people in line in front of me.  Here are some of their stories.
The man that was first in line drove down from Bakersfield.  He had actually been there the day before but like me, he tried to use one form for 2 cats.  They refused to stamp his papers and he was forced to drive all the way back home to Bakersfield, re-do the papers, get new vet signatures (sounded familiar!) and drive back.  He said he left his house at 4am to ensure that he would be first in line because he had to get back to Bakersfield by 10am in order to meet his movers.  He also said that United Airlines would not let him take both of his cats in the cabin from LAX to Heathrow.  He got one cat designated as a service animal so it was allowed but the other cat had to go in cargo with the luggage.
The next couple in line were a bit stressed out.  At 8am they walked up to the window to say that they had a flight to Columbia at 10am and could the USDA hurry with their paperwork?  The man before me wasn't in a hurry, but he was going through all that trouble to take his dog abroad with him for 2 weeks because it had just had back surgery.  The couple after me said they missed their flight to China yesterday because the USDA told them they had a vet stamp that was not acceptable to the Chinese government.  They came back on this day but their new stamp wasn't acceptable either.  They said their new flight to China was that day at 2:30pm.  The lady at the USDA suggested they go to a nearby vet a few miles away and get another, approved stamp.
Their stories made me feel so way ahead of the curve!  I got out of there at 9:15am.  Exactly 2 hours from when I arrived.  I was home by 10:30.  I went straight to Bank of America to open a new account just for our house rental related items.  Thank goodness for the Montero!  Thank you again Val!