I'm not a big whiskey fan.  But maybe that's because I haven't had a lot of experience with it.  But Japan is famous for its whiskey.  According to its own propaganda, it is one of five major producers of fine whiskey in the world.  The five are Scotland, Ireland, America, Canada and Japan.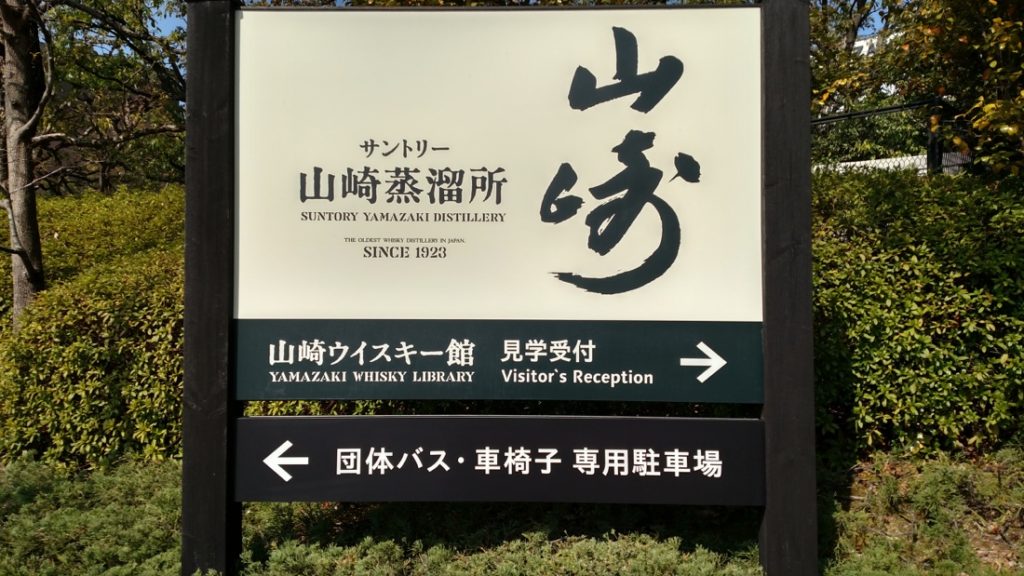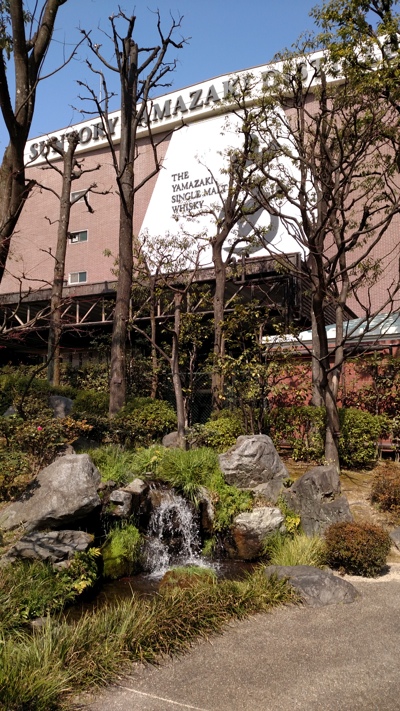 The Suntory Yamazaki Distillery is located in Shimamoto, in North Osaka, Japan.  It's just north of Takatsuki, only a few stops further on the JR line.  Since they produce nice whiskey and I know nothing about it, I thought it would be fun to check it out.  And anyway, John enjoys whiskey.  I think his Irish/Polish grandmother used to give it to him when he was sick.
You can book a tour in advance online.  In fact, it's probably advisable to go online and reserve because they get pretty booked up.  I had to make my reservation for several months ahead.  On Monday, March 12, John and I set out for Shimamoto.  It was a gorgeous day.
The whiskey production campus here is on beautiful grounds.  Since we went in the spring it seemed especially nice.  We had a tour time slot for 11:00 to 12:30 and the instructions said to arrive 15 minutes early.  We checked in, got our ID badges, and wandered into an information and history display.  The tour leaders speak only Japanese, but there is an audio guide for different languages.  So you just follow along according the numbered display and listen in your native language.  I learned a lot about whiskey.  Malting, mashing, fermenting.  Here are some photos from the process.  The gigantic wooden tubs are the washbacks.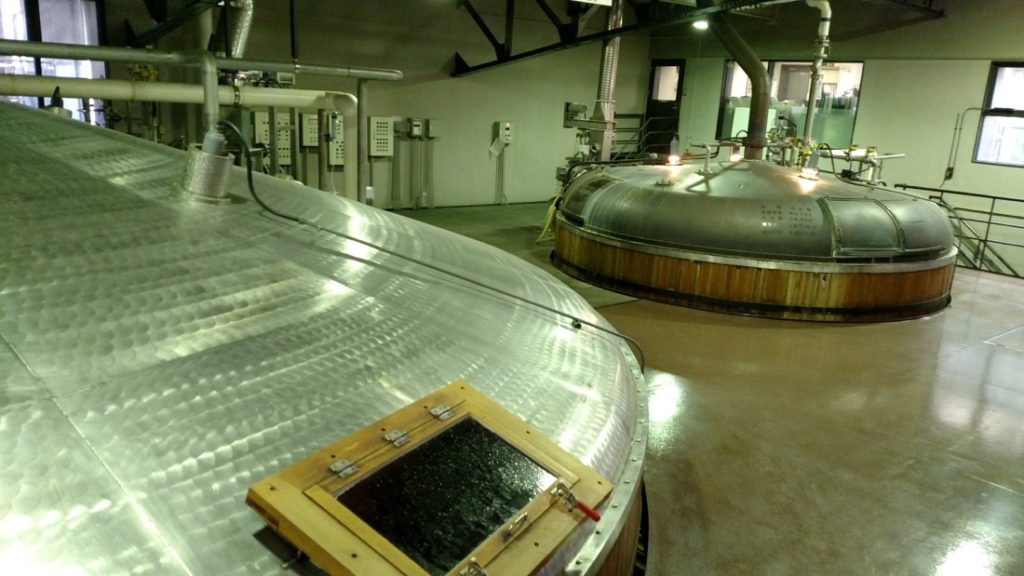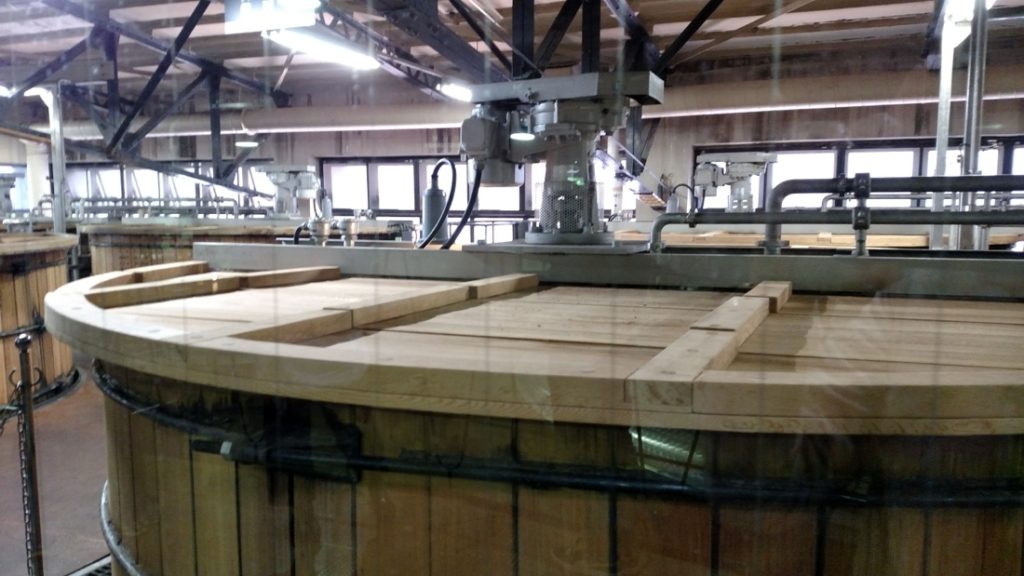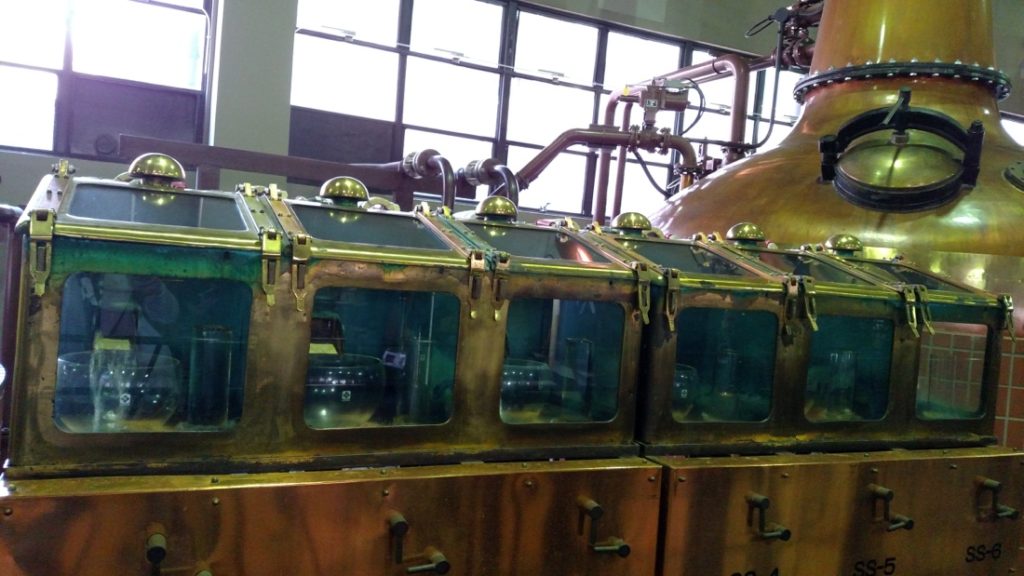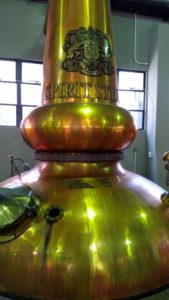 These big, golden, funny-shaped, brass trumpet looking, equipment things are the pot stills.  Apparently the shape of the pot stills has a lot to do with the taste of the final product and every distillery has uniquely shaped pot stills.  Suntory Yamazaki has several shapes as seen below.  I think this is where the distillation takes place.  Or at least starts.  The solid residue from this part is removed and can be used for animal feed.  I can't remember the whole whiskey making process, after all it was an hour long tour, but it was all very interesting.  After viewing the equipment and smelling strong scents and wandering around the grounds, we went to the building where the wooden casks are stored.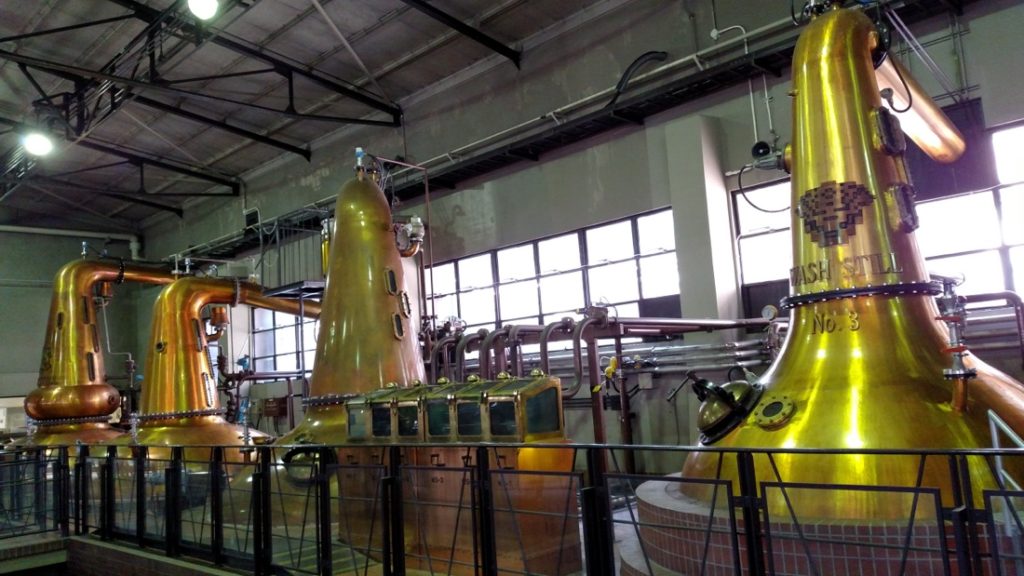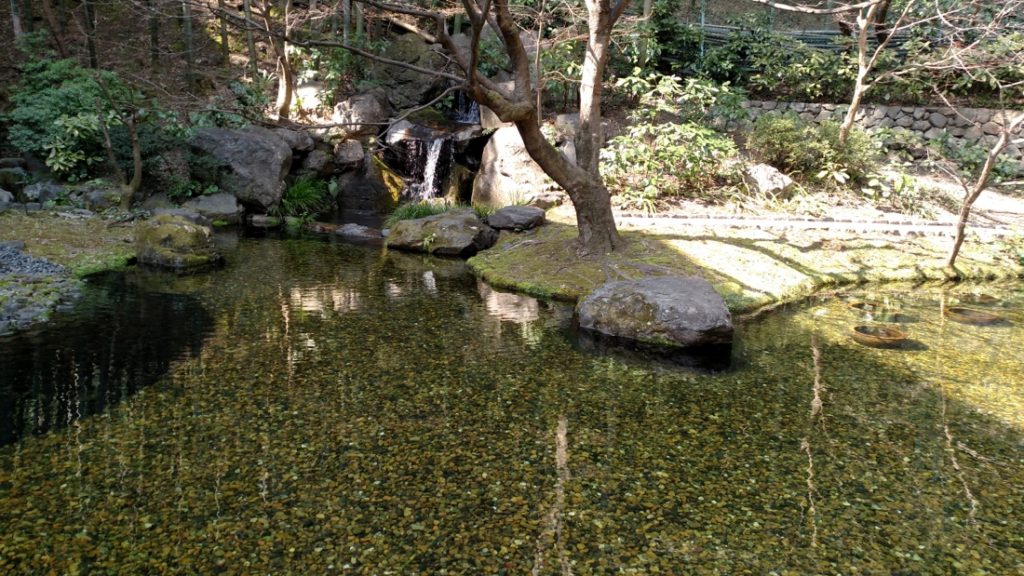 There's hundreds, if not thousands, of casks in here.  It's dark and it's cool and it smells like aged wood in here.  We could walk around these barrels forever.  They all have dates that mainly seem to range from the 1980's to 2000's.  There's also a special display for the first Japanese casks of whiskey dated 1924.  I love all the rows and rows of barrels.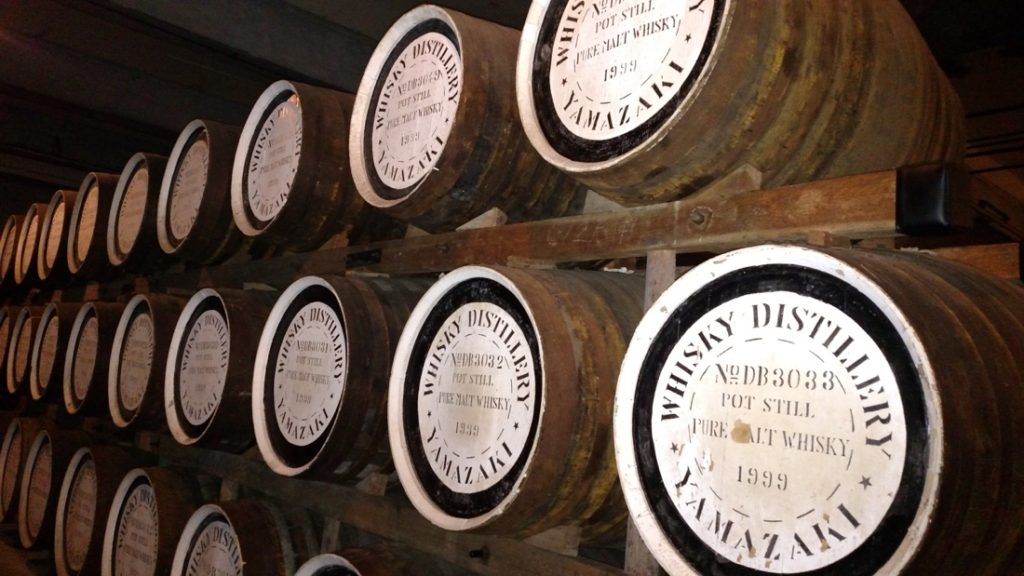 Now the tour is over and it's time for the tasting!  It sure looks like a generous tasting.  This tour cost 1,500 yen, which is roughly $14 USD and I feel that this tasting, plus the chocolate and cracker snacks they've also included, plus the tour itself, makes this an absolute bargain.  We got to try three different types of whiskey.  The first is labeled White Oak Cask Malt Whiskey.  This was my favorite.  The second is Wine Cask Malt Whiskey.  The third is Yamazaki Single Malt Whiskey.  The final, fourth tasting is another, larger glass of Yamazaki Single Malt Whiskey, and the instructions say to "Enjoy it the way you like (straight, on the rocks, with soda).  When we got to the fourth glass, the woman guiding us told us how to make a whiskey highball.  We all got a big bucket of ice and Premium Yamazaki Soda.  I liked the whiskey highball.  Diluted and fizzy whiskey is not bad.  But John enjoyed all of his tastings straight.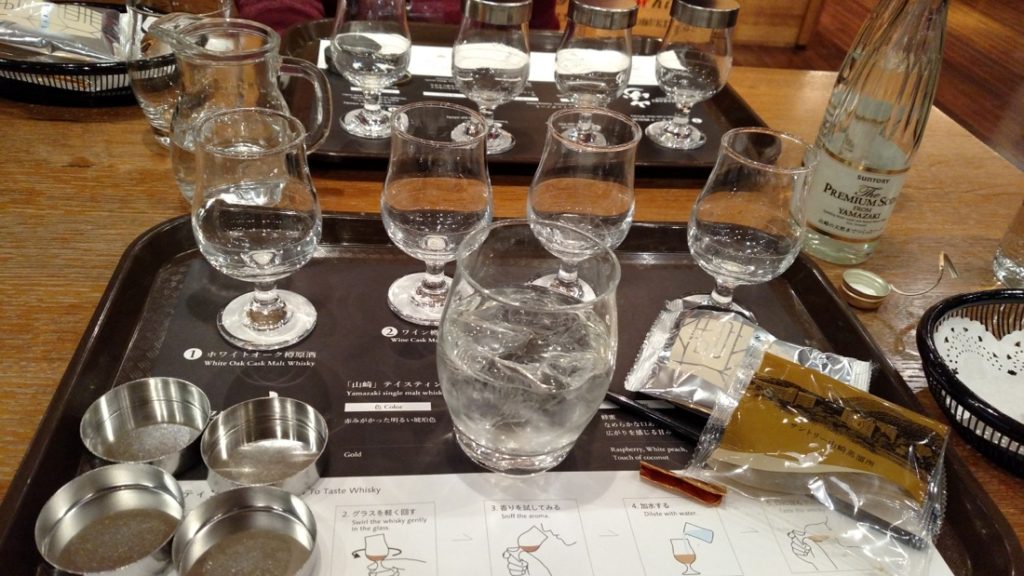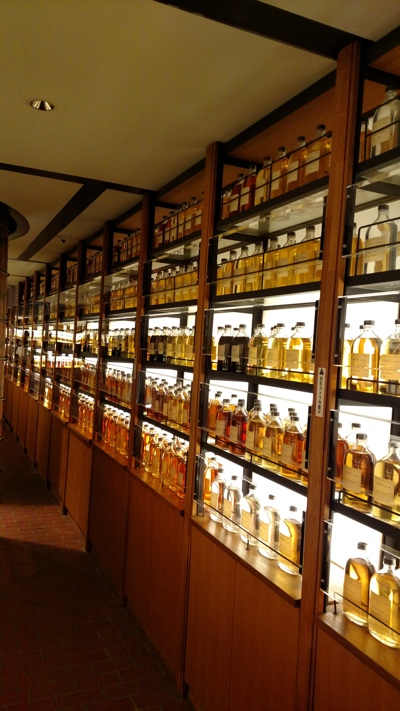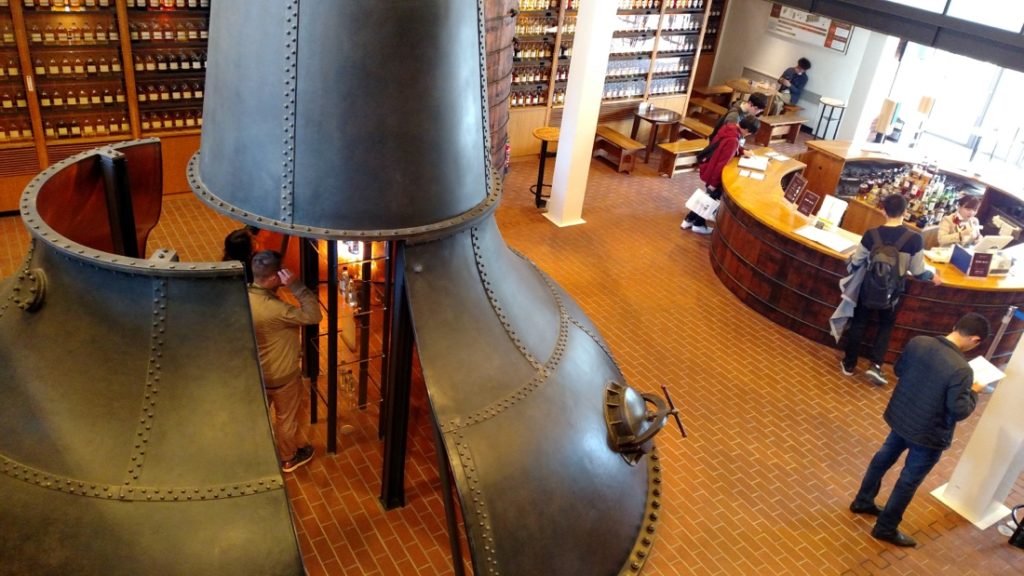 After it's all over the tour ends in the gift shop.  It was fun to look around at the whiskey bottles, coasters, books, glasses, knick knacks and whiskey themed food and snacks.  We bought some "adult" Pocky to give as gifts.  I guess it's laced with whiskey?  This last photo shows the tasting bar which is downstairs from the tour tasting room and where you can buy single shots of whiskey to try.  John was considering whether he should try a sample from a $1200 (USD) bottle.  The sample was $30 (USD).  Sure, why not?  When would you ever get that chance again?  He said it tasted rich like port and it was, "Oishii!"  (Delicious!)
Bonus for me.  Two manhole covers on this adventure!  The first one says SHIMAMOTO.  And I think the second one says OYAMAZAKI.