Now we're back from our 2-week adventure through Southeast Asia and immediately we must get ready for our next round of US guests.
First is meeting up with the son (Sean) of another of John's cousins (Peggy).  John often likes to talk about how as a kid he would spend his entire summers at Peggy and her sisters' house in a Chicago suburb.  So we're looking forward to meeting Peggy's son Sean since it's been about 15 years since we last saw him.  He's here on an internship with Mizuno, a famous Japanese sports apparel company.  We're going to show him some local sights since he said he's mostly done only touristy things so far.
Last night, Saturday, July 29, John and I went to the Minoh Natsu-matsuri (summer festival) over by Maple Hall.  The kids were all too tired or lazy to join us so we had a date night at the festival.  Tonight we'll go back with everyone and take Sean, too.  It's super crowded with people but it's a great local experience.  It's crazy hot and humid and the fire on the grills makes it feel ten degrees hotter.  Only in Japan in summer!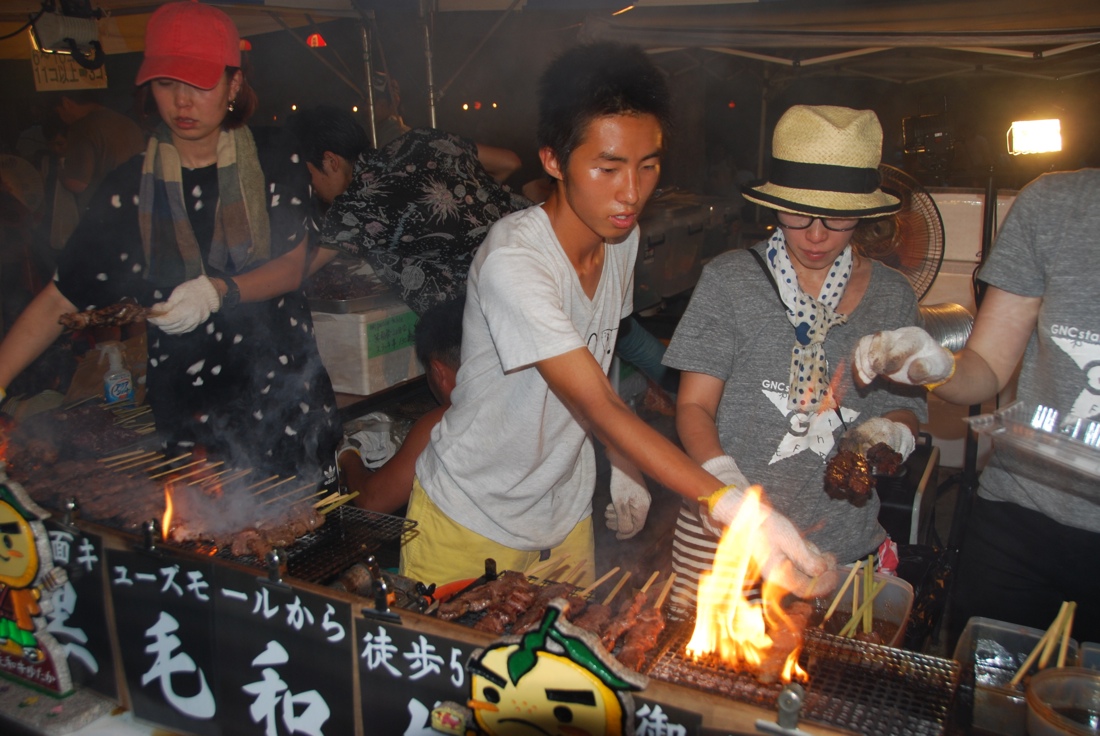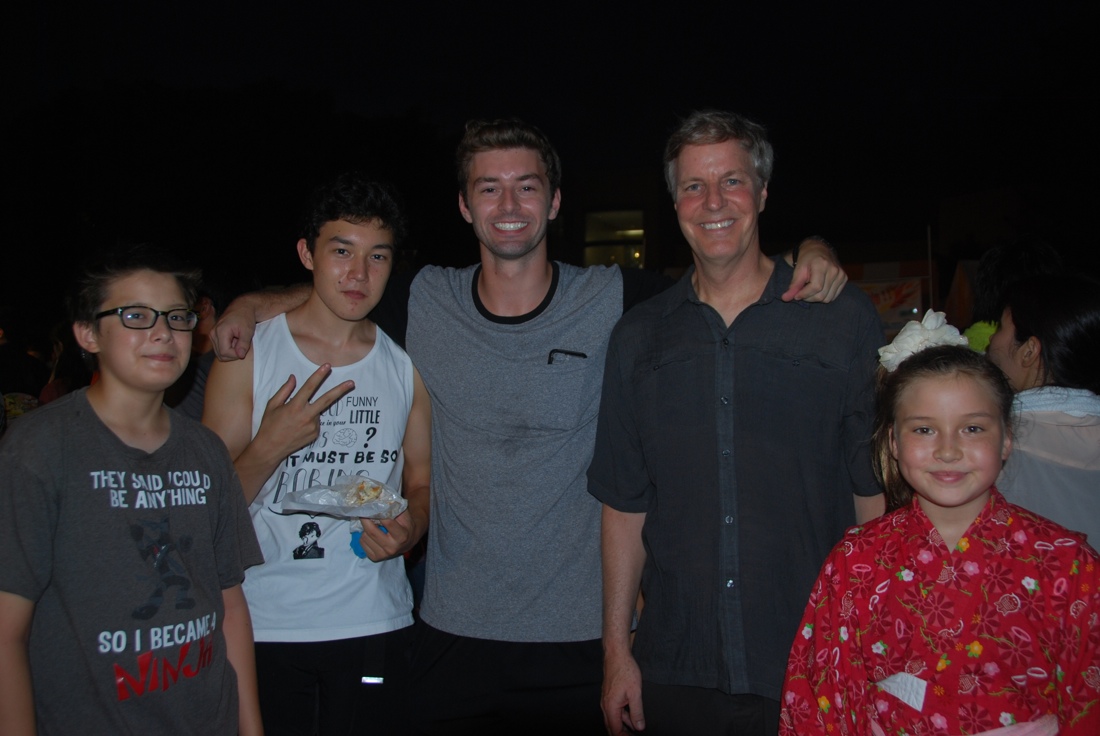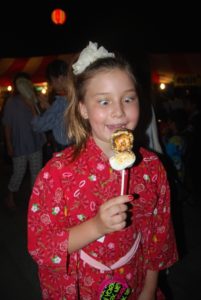 The crazy mess with eggs, patties and buns on the grill is actually being made into fat burgers.  It's ridiculously big and juicy and sloppy.  Kaiyo said he wanted to eat one so here he is trying not to make a mess on himself.  There were no napkins in sight.  He ate the whole thing.  Sean and Avalon sampled the premium beef on a stick and they said it was delicious.  There were 3 types of meat quality so we bought all 3 to have a taste test.  The 800 yen ($8) per stick of meat was the clear winner.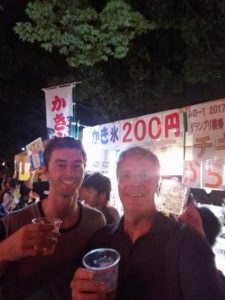 Avalon enjoyed a gigantic marshmallow on a stick, grilled to perfection.  We also introduced Sean to our favorite treat, kakigori, also known as shaved ice.  You have to search carefully, because numerous kakigori stands are all over festivals, but the quality varies.  We are experts now.
Later, just before we left for our trip to the US, we met up with Sean again.  By this time his two sisters and his girlfriend had arrived for a sightseeing adventure so they all came over to our place.  We went to a local kaiten sushi (conveyor belt sushi) restaurant and encouraged them to eat whatever looked interesting.  And they did!  We were impressed.  It was really great to get to know Peggy's kids and fun for them to meet our kids.
On Tuesday, August 1, we can start to move into our new house.  We have to move because Andrew, our Kiwi landlord, wants his house back when he returns to Japan with his family later this month!  So in between meeting and hosting guests this month, we have to pack, move and clean two houses.  Our deadline is August 12 because we're leaving for California on August 13.  It's a tight schedule.
Our next round of US friends arrive on Saturday, August 5 from Costa Mesa.  Since our USJ (Universal Studios Japan) passes are going to expire while we are in California the kids decide to go down to USJ on their own.  August 4 is one of their only free days so they collect a few friends and head out.  Meanwhile, John and I are packing and moving and cleaning like crazy.  Soon, we'll also need to make a run to Costco while we still have use of Andrew's car.  We have to stock up on our favorite Kirkland products, paper towels, pancake mix, Skippy peanut butter, marinated artichokes, bagels, almond milk, 100% lean ground beef and more.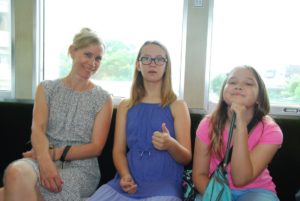 We're going to meet our Costa Mesa friends at the Shin-Osaka train station around 2pm on the 5th.  They flew into Tokyo and took a few days to recover from jet lag before heading down to Osaka.  Their son is Halyard's buddy since 3rd grade and their daughter and Avalon are pals.  They're staying with us for 3 nights.  I'm really excited they've made this trip to Japan because they really love anime, manga, Miyazaki, Japanese food and fashion.  Their kids even eat plain tofu because they've been eating it all their lives, according to their parents.  So I know that they're going to love Japan, even if they've arrived in August which is pretty much the worst weather of the year.  We're putting our move on hold for them so we can focus on entertaining and having fun.  We all went together to Dotonbori in downtown Osaka, Fushimi-Inari Shrine in Kyoto, and our favorite, the waterfall in Minoh.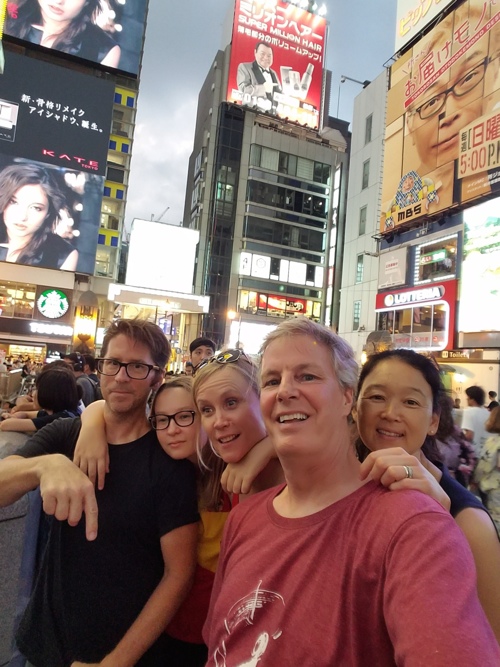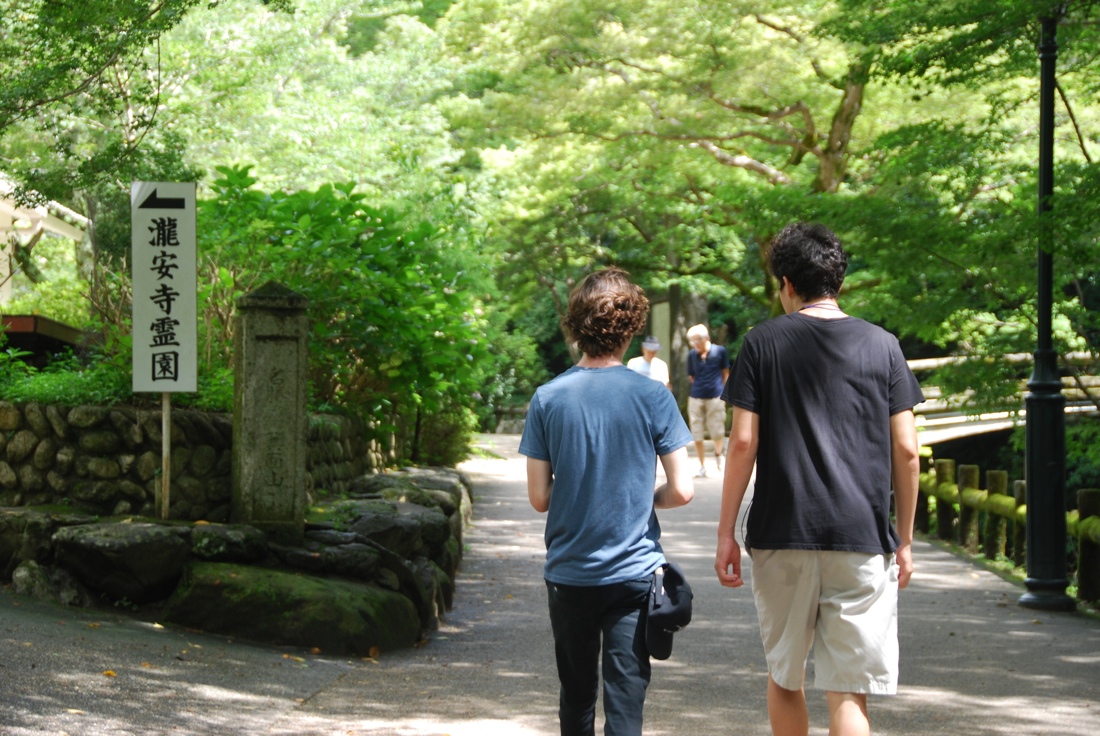 And we're super lucky we get to see the Biagi family again this summer.  They come to Osaka every summer (also from Costa Mesa).  Last year they were just finishing up their summer trip when we arrived in Japan.  Kaiyo and Christopher got to have a sleepover at our house in Minoh even though Kaiyo was feeling really jet lagged.  This year they've arrived for only 10 days and so it's awesome they're going to take a day to join us and our other Costa Mesa friends, too.
The day we all have free is Monday, August 7.  We're going to trek out to Himeji Castle together because it's the biggest and best castle in all of Japan and it's only 2.5 hours away from downtown Osaka by train.  A typhoon is forecast for today but in the morning the weather doesn't seem too bad.  We're thinking the typhoon isn't going to hit Osaka very hard because the center of it is down in Kyushu.  So we meet the Biagi's in Kobe and head out, 10 of us because John is busy, to Himeji.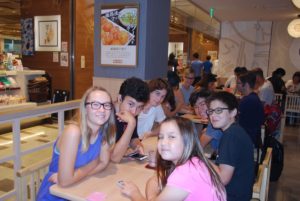 When we arrive it's almost noon and everyone is hungry.  We've heard that there aren't a lot of restaurant options around the castle itself so we opt to eat in the train station before walking there.  Everyone gets to order what they want in the food court.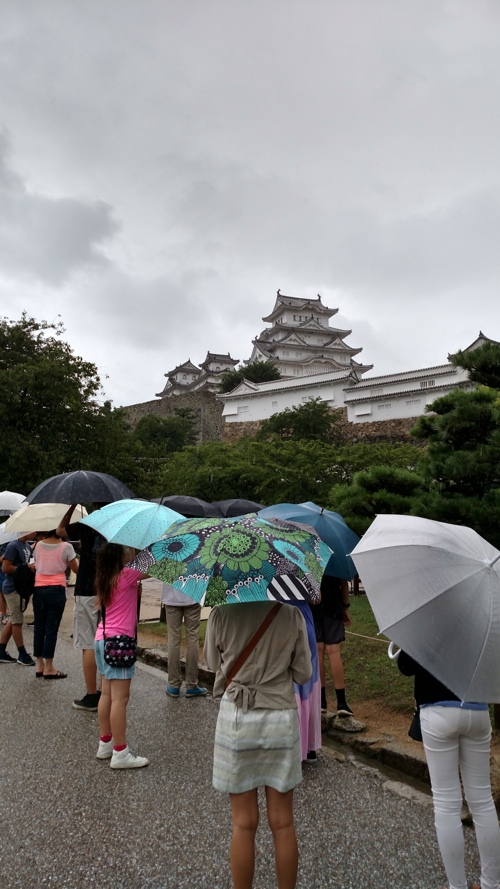 We head out to Himeji Castle about 45 minutes later.  It's raining a little bit, but not too bad.  Not bad enough for all of us to have our umbrellas out.  As we walk along, Avalon sees a sign in a window.  It's like an electronic billboard with a scrolling message in both Japanese and English.  It says, "Due to typhoon, Himeji Castle will close at 12 noon today."  Say what?  We look at our watches and it's 1pm.  We walked on to Himeji anyway.
Yep.  It closed about an hour before we arrived.  Probably sometime around when we were ordering lunch at the train station.  What a bummer after coming all this way and having only this one free day to explore Japan together.  Now it's raining harder but our friends decide they'd like to talk a walk around the castle so we splash through puddles and twirl our umbrellas in the rain.  It's a warm rain and other than the fact that we're getting quite wet it's fun.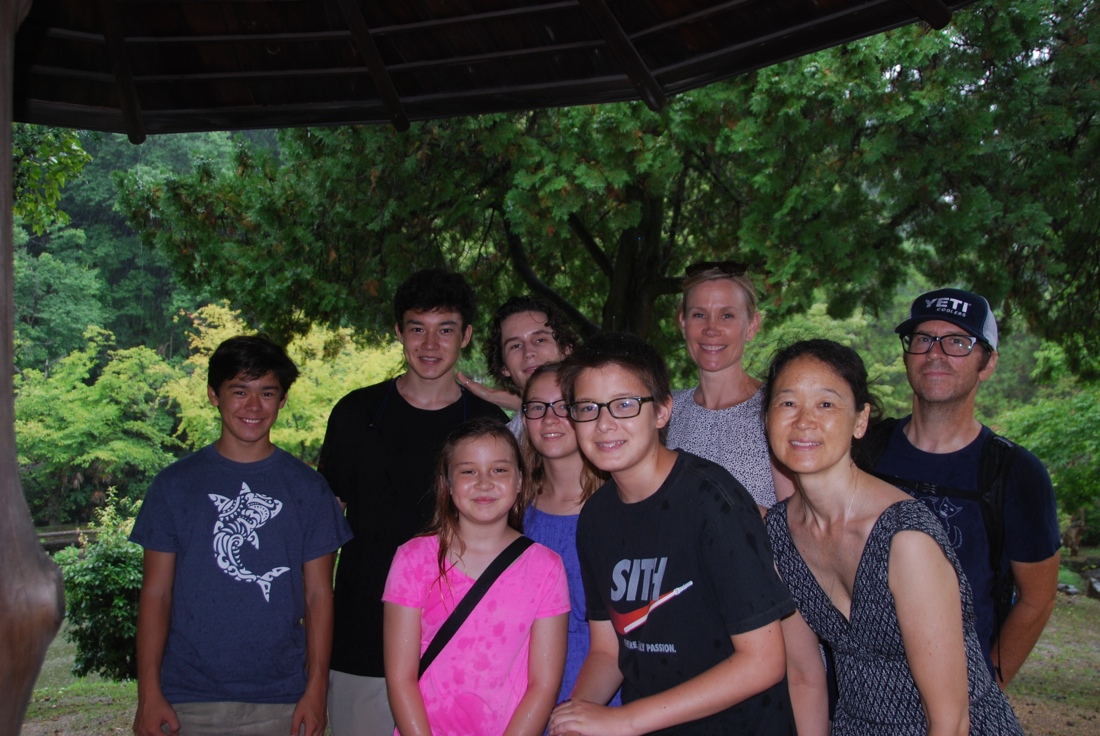 You can't really tell in this photo but we're all very wet.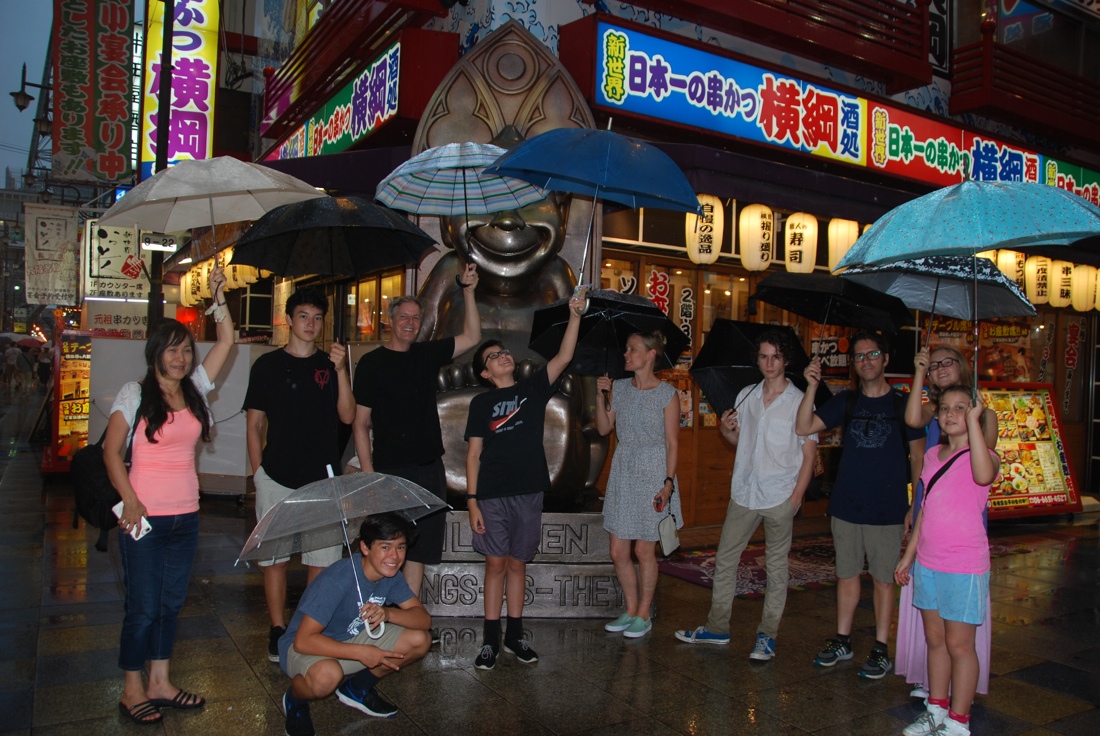 After we left Himeji we decided to move on to Shinsekai back in Osaka.  This area has been preserved (neglected?), thereby it retains the old, more traditional, feel of Japan in days past.  It has a seedy reputation at night but it's been getting more touristy now so there's a lot of foreigners walking around.  Shinsekai is also well known for its kushi-katsu cuisine.  Kushi-katsu is an assorted variety of delicately fried food on a stick.  There's a special kushi-katsu sauce on each table and strict rules for no double dipping in the sauce.  I'm surprised the food is so good because I don't normally eat a whole meal of fried food.  But it's light and crunchy and not very oily.  Oishii!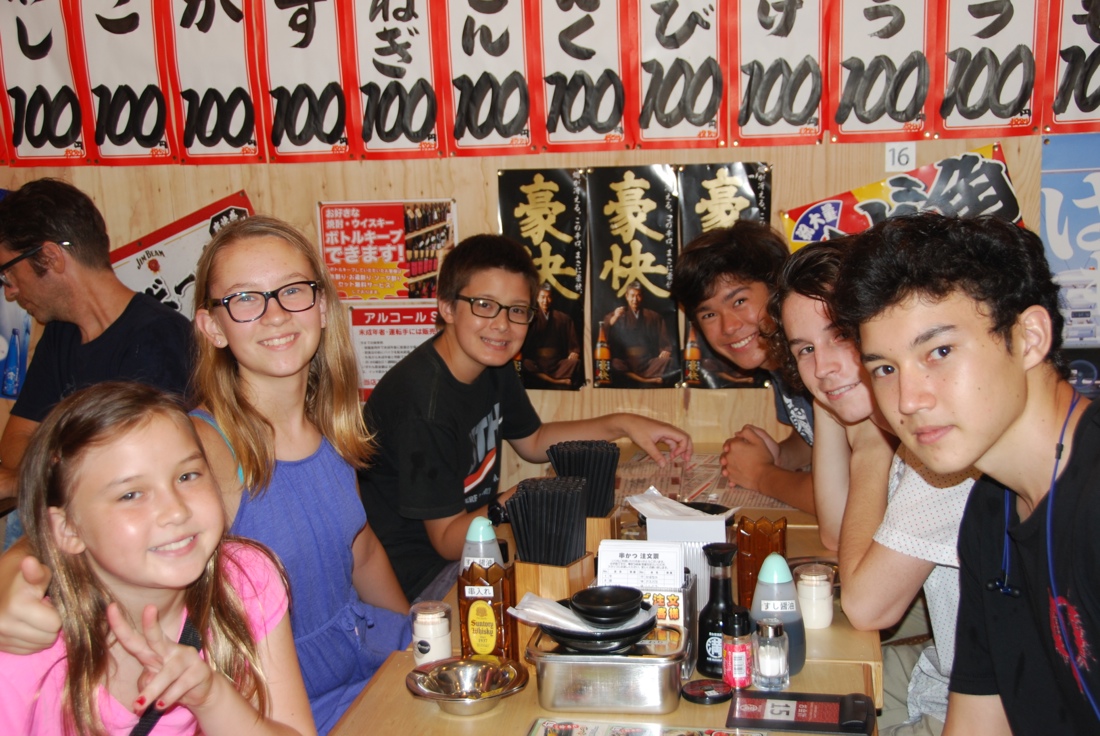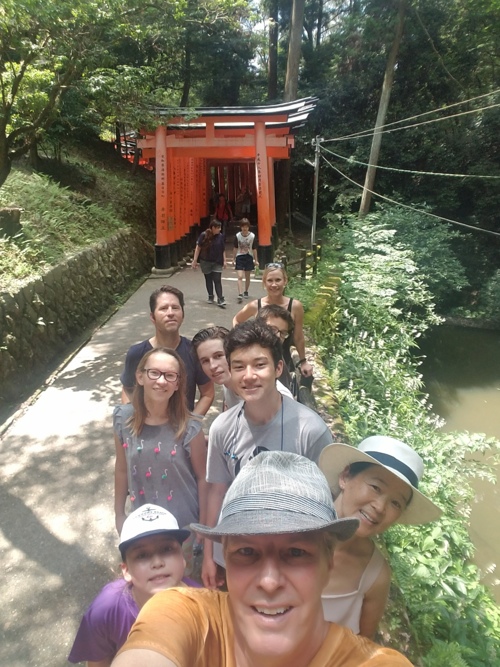 This is hilarious but just after this photo was taken Avalon dropped her wallet (which Kaiyo bought for her in Hanoi, Vietnam) in the water to the right of us here.  It wasn't too deep, but the water is about 8 feet down.  Super Dad John actually climbed down into the mucky water to retrieve it for her.