We're in the full swing of summer guests now.  It's Tuesday, June 27 and our Newport Beach friends are on their way home today.  Good-bye Luke, Tom and Sheridan.  We will see you again soon.  Thanks for letting us go temple hopping with you in Kyoto, coming to dinner at our house and going to USJ and the arcade with us!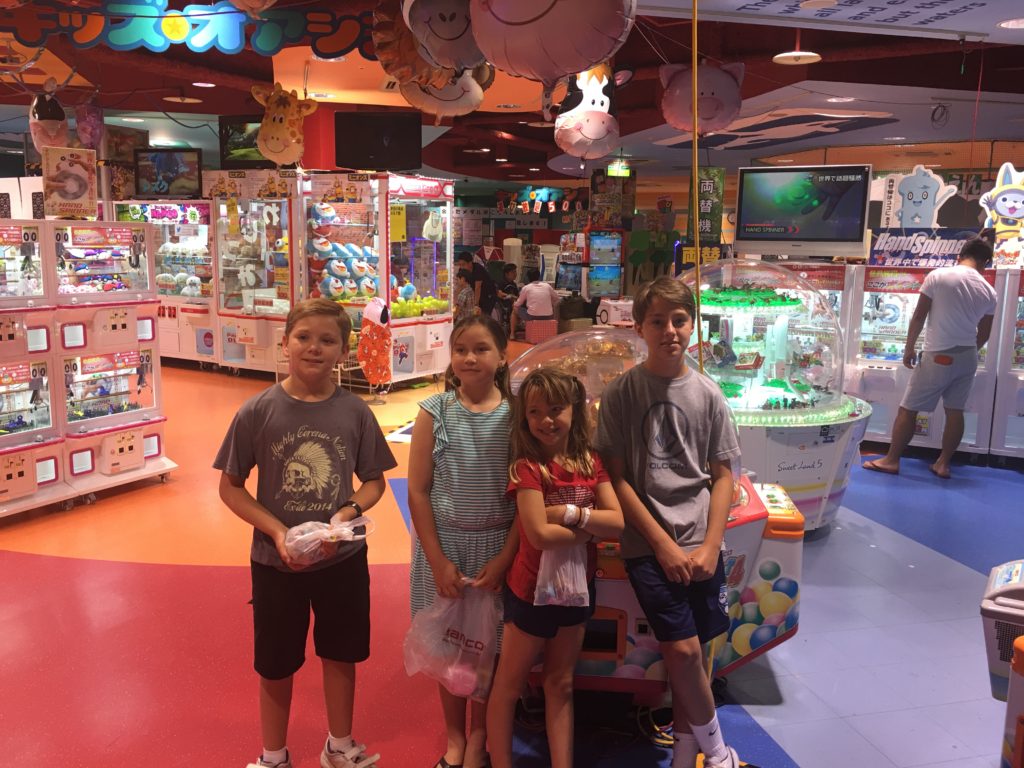 Our Long Beach friends arrive tonight.  Later on in July, two more sets of friends from Costa Mesa will arrive in Osaka at the same time.  I'm getting off work early today so I'm planning to go straight to Itami Airport to hook up with John and Avalon.  I want to be on time to see our friends when they get off the plane.  I manage to arrive just in the nick of time.  We position ourselves outside the exit doors so that we can wave and take photos and be silly as they come out of baggage claim.  The arrival board on the wall says that their plane has arrived but our friends are not exiting.  We wait and wait.  Something has happened because everyone is off the plane and out the door and we're looking lost.
We decide to wait for the next plane from Tokyo.  They made a connection at Tokyo Narita Airport to get to Osaka Itami so maybe they missed their connection.  No phone call, no e-mail, no text though.  If they're not on the next plane I'm going home and they can hail a cab!  The next plane from Narita finally arrives and they are on it.  Phew.  They missed their connecting flight in Tokyo.  By now we've been at the airport for over two hours so we make a quick exit.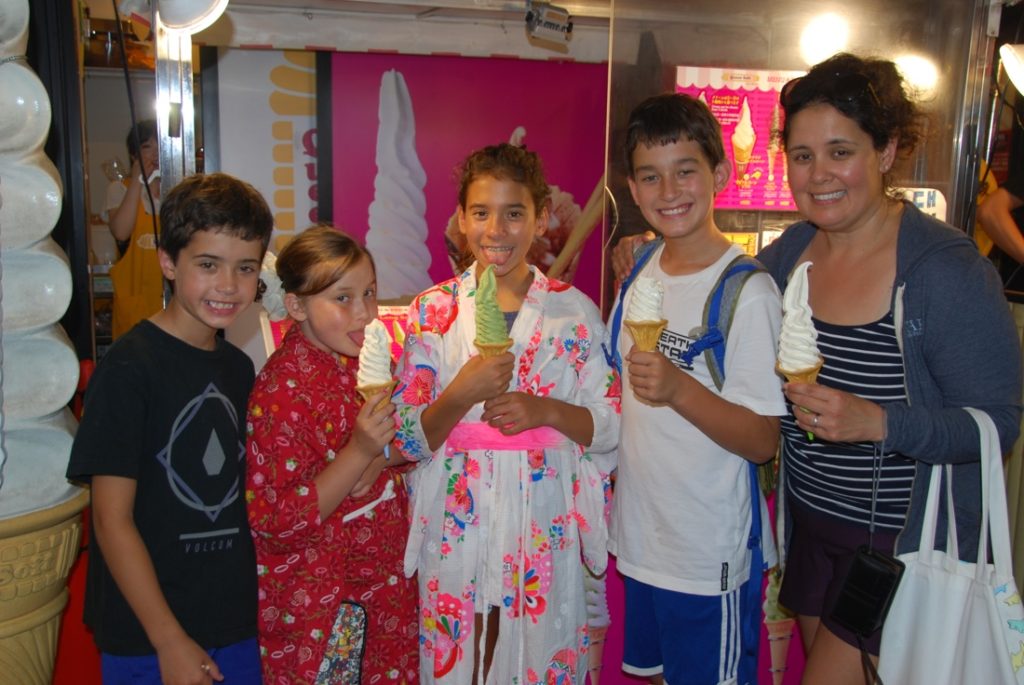 Our Long Beach friends are having an extended, six week vacation in Japan.  Of that, they'll be staying with us, in our tiny house, for several weeks.  They are a family of 5 like us, so it's going to be another tight squeeze in the house.  But right now, Halyard and Kaiyo are in Hanoi, Vietnam, competing in the global round of an academic competition called World Scholars Cup.  They won't be home for another 5 days so we have some room to spread out.  For the rest of this week Avalon is still in school so she's also not around much.
On their first full day in Osaka my friend says first order of business is to get her money converted to yen.  We all take the bus down to Senri Chuo to visit a bank.  Since they've just arrived, Japan is going to be an adjustment for them, just like it was for us.  Japanese people tend to be very quiet in public.  They don't talk much on the train, they wait quietly in endless lines for hours, they don't eat on public transportation or while walking down the street.  Their kids, between ages 9-13, are loud, they're arguing, and they're running around.  Plus they're probably tired and their body clocks are off.  It doesn't help that any trip to a Japanese bank involves a lot of waiting.
It's funny that we have come to assimilate into Japanese social norms, and seeing them run around like typical American kids is like turning back the clock.  They're laying on the seat benches, having loud discussions, and generally being bored in a bank like any kid.   Later, on another day, they were hanging and swinging from the rings on the train like gymnasts.  That's okay though, we remember those days!
Sometimes we are still loud Americans, and sometimes Halyard gets upset if we're getting phone calls on the train (not acceptable!) and John no longer feels comfortable eating food while walking down the street (not socially acceptable!), even if he's starving!  We also "can't" put our shoes up on seats or any furniture (socks and bare feet are okay, shoes are not acceptable) in public.  Even the homeless people take their shoes off when they sleep on a park bench.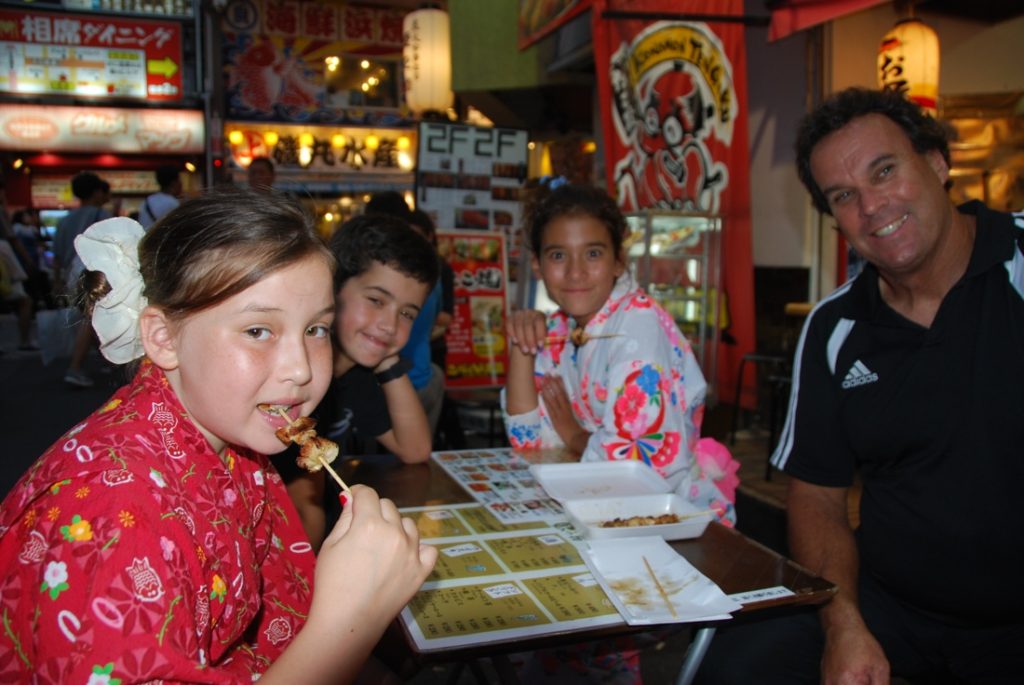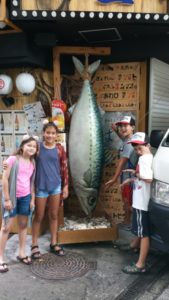 Our plan is to hang out, show them Minoh, show them Osaka, eat lots of Japanese food and go hiking in the mountains.  There are some final school activities to celebrate the last week of school so our friends are going to join us for some school events.  By day four, they've already spent yen on Gundam, Snoopy, Doraemon and Studio Ghibli goodies.  My friend's husband likes Costco, and since his first few meals in Japan consisted of pizza, spaghetti, a Wendy's burger and fries and grilled cheese, we figure we'd better get him out to Costco.  He enjoyed the Costco field trip and I was impressed by his self restraint to stick to items on his grocery list.  He did buy two large Costco pizzas, a chicken bake and three huge churros for take out.  These kind of menu items are priced exactly the same as in America, but they are an even bigger bargain in Japan because of how much they would cost in a restaurant here.
Our friends also made the trek out to Universal Studios Japan.  We all just went there two weeks prior with our Newport friends so I am officially USJ-ed out.  I've reached my USJ limit.  I may have possibly been there over 10 times in the last year.  I do believe we got our money's worth out of those annual passes!  I didn't go so my friend took my annual pass with her and tried to pass herself off as me.  But they've got face recognition cameras at the entrance so it didn't work.  The kids said she "got arrested."  They were kidding but the park security did take her away for a sit down!  It was pretty funny but my friend was stressed over it.  Her husband said he "ran for the hills" when they asked her to take off her sunglasses.  Way to stick by her side!  Anyway, the Japanese people were very polite  about the whole thing.  They were probably apologizing for the inconvenience of her having to buy her own ticket.  And I got my pass back so no big deal in the end, just a funny story.  My friend's husband came back early with Halyard.  He said if Christie Brinkley asked him to go to the park again he would say no.  He said he'd rather have a root canal than be there.  He said not even Julie Andrews could get him there (he's a big fan).  So he left with Halyard.  John doesn't love USJ either so I feel pretty lucky that I don't have to be Christie Brinkley to get him to USJ with us.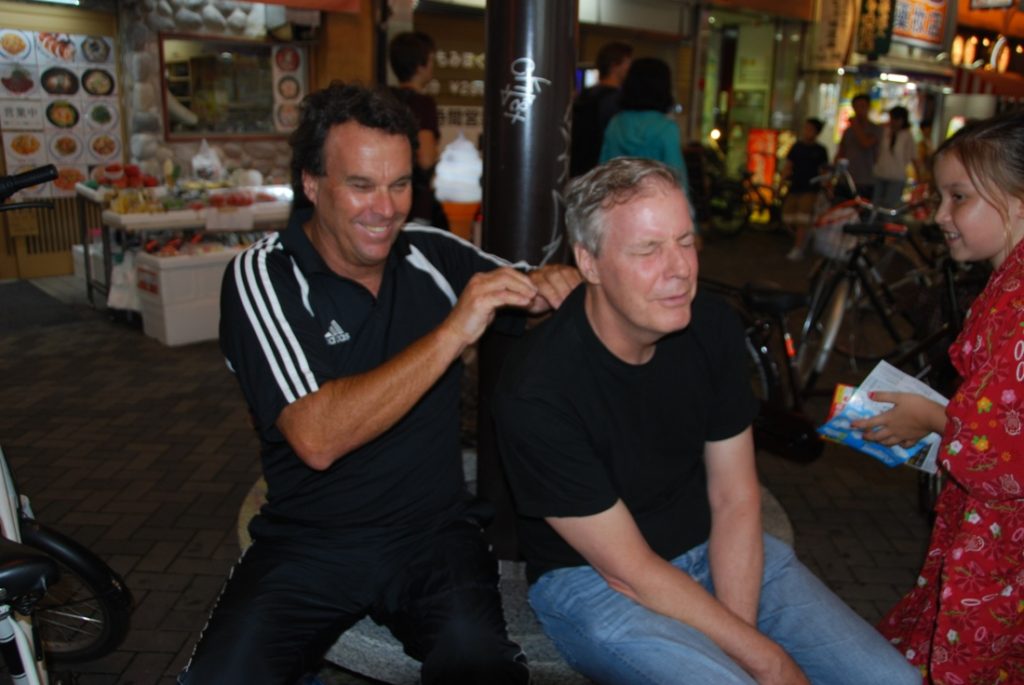 He and John had some "bromance" time later on.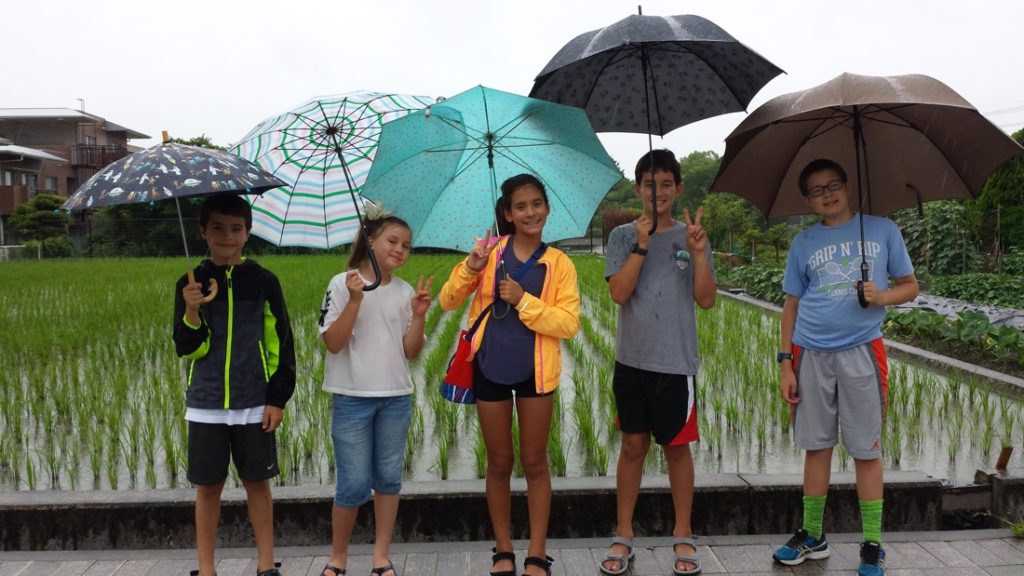 On another day we saw that the weather forecast was going to be rain.  But my friend's son really, really wanted to go out hiking.  John had already taken them on a few challenging hikes on Minoh Mountain and they loved it, especially their son.  So we decided to make a quick and easy hike up the paved path to the Minoh Waterfall.  We usually ride our bikes to Minoh Station, which is where the path begins, but since we don't have 10 bikes, we walked to the station.  By the time we arrived at the waterfall it was raining lightly.  But the waterfall was something to see.  It was pounding with gushing water!
I offered to a take a young couple's photo on a red bridge near the falls, and while I did a Japanese monkey practically ran over their feet!  It was amazing.  The Japanese saru (monkeys) are really large.  I don't know whose bright idea it was to keep going up behind the waterfall, but I thought we were going back down when suddenly we were walking uphill.  We crossed a bridge high over the falls and by that time it was raining pretty heavily.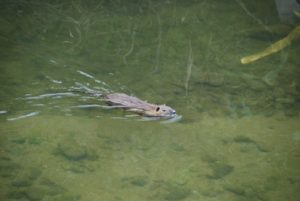 We walked back down in pouring rain.  I'm talking sopping wet.  The day before, I had been looking on the internet for "Things to do in Osaka on a rainy day."  I did not see hiking in the mountains in the pouring rain as an item in the top ten.  By the time we arrived back to the house, our shoes were muddy, our clothes were soaked and we looked like this wet rat.
We've had a great visit so far.  Lots of shopping to find the best Japanese souvenirs, and still the hunt continues.  We took them to Okkii, my favorite neighborhood restaurant which serves up authentic Korean soon tubu.  The 4th of July came and went without fireworks, a bummer indeed.  But Japan's Natsu Matsuri are filled with fireworks so we'll see some this summer.  About a week or so into their stay the kids had settled into a Japanese routine with us and the zaniness of their initial days had merged into building models, puzzles, hanging out in the arcades and a lot of outdoor walking, biking and hiking.  Avalon escorted them to the Instant Ramen Museum where the kids got to make their own custom Cup O' Noodles.  Kaiyo assisted them in buying several boxes of Gundam models at Labi/Yamada Denki.  We showed them how to ride the bus and buy train tickets.  Since they are staying with us they get the local and tourist viewpoints.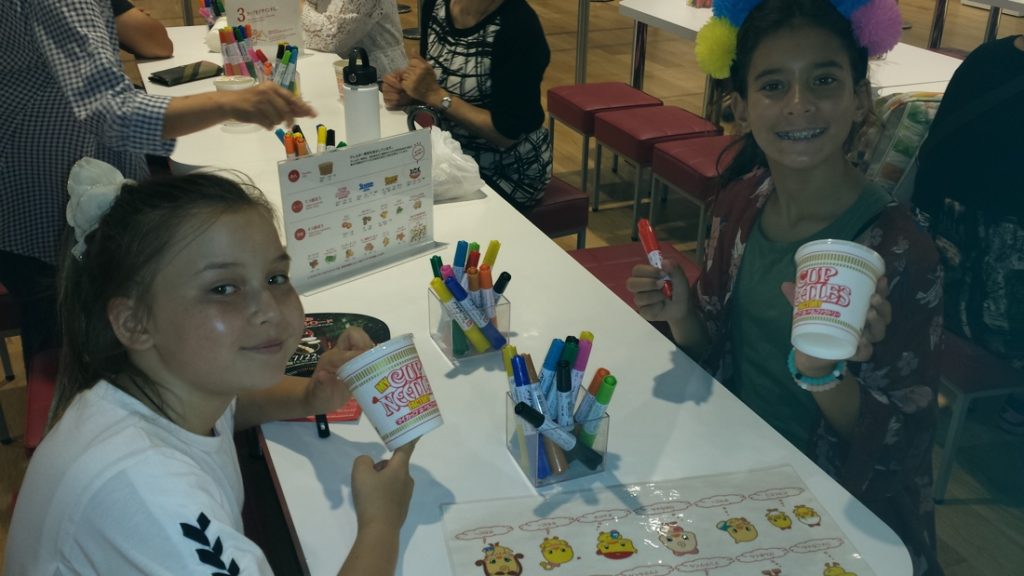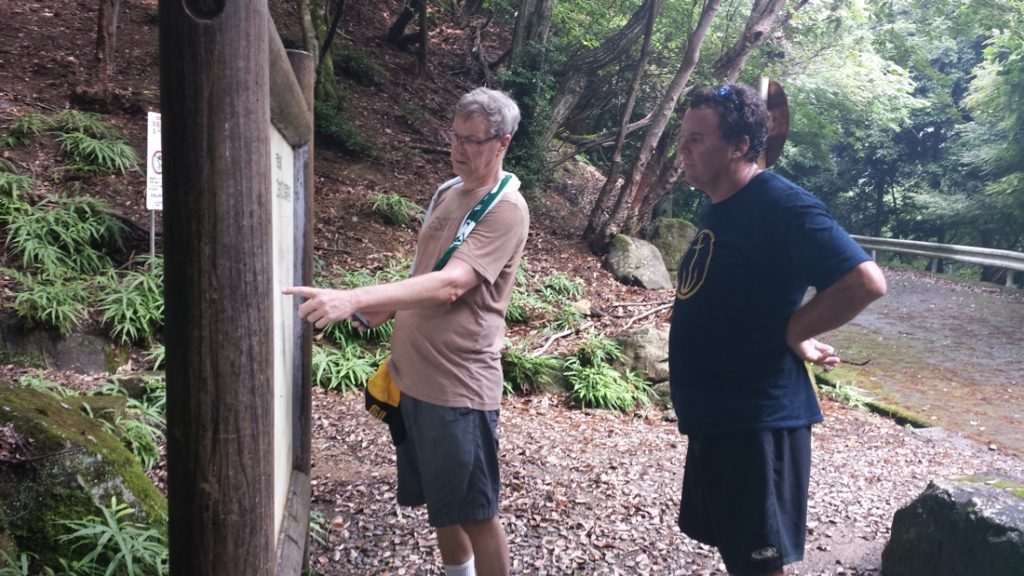 We're taking off for Southeast Asia soon so we have to say goodbye to our friends in a few days.  My kids love having friends from home to hang out with.
Part Two of Summer Guests is after we get back from our big trip!