It is Friday, September 16 and we are getting the house ready for special guests coming tonight.  My second cousin Mayumi is arriving this evening with her family from Sapporo.  Mayumi is a big reason why we were able to come to Japan for a year.  Without her help it might not have happened.  She spent many hours talking to the people at the Sapporo Immigration Bureau on our behalf.  They are planning to spend the night with us and we are super excited to see them.  Sapporo is a 2 hour flight from Osaka.  It's the main city on the northernmost island of Hokkaido and home of the Sapporo Brewery.
John and I spent the whole morning cleaning the house.  And, if you'll remember from a previous blog post, John is very good at cleaning the house.  I've assigned him the duties that I don't care to do!  I actually spent a lot of the morning washing clothes, towels and sheets to make sure everything was all clean and not hanging outside the house when they arrived.
At around noon we took the bus to Senri Chuo to check out the home goods at Hankyu department store.   Hankyu is probably on par with Nordstrom back at home.  I am looking for extra pillows and some more bath towels.  If I can't find more bath towels then we will have to use beach towels for our showers.  In retrospect, I wish I would have brought a few more towels but they were weighing us down enough as it was.  Our shopping trip was a success so we celebrated our good shopping skills at a ramen restaurant before heading home.
At 5:30pm (17:30) Mayumi and her family arrived.  She brought her husband and her two oldest children along.  Her 13-year old youngest son decided he'd rather stay home with his grandparents.  Her oldest is a daughter in the 10th grade and her middle son is in the 9th grade.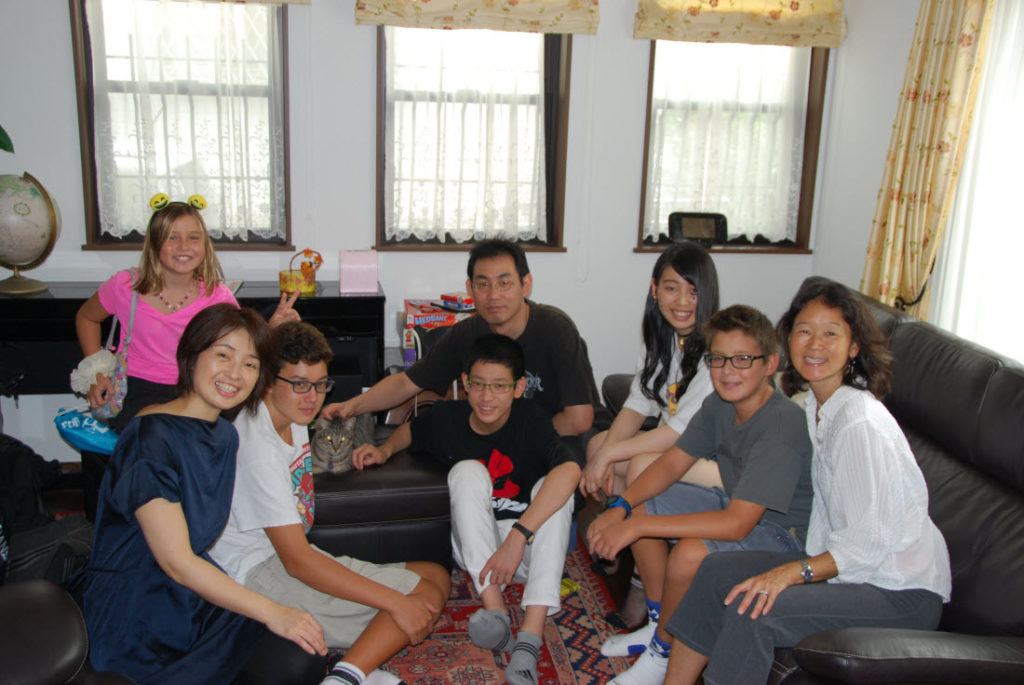 We planned an American/Mexican dinner of taco bar and salad.  I had flour tortillas still left from my last Costco shopping trip and I also found hard taco shells at the local grocery store!  We piled on meat with taco seasoning, cheese, avocado, tomatoes, lettuce and our Muerte hot sauce.  They brought a special food called manju from a popular Osaka restaurant which looked like really large meat buns that you'd find at a dim sum restaurant.  They had pork inside so I didn't try them.
For dessert they also brought ice candy.  We had never heard of ice candy before!  It turns out that ice candy are Popsicles.  They brought special ice candy from the same restaurant as the manju.  They looked like milky fruit bars but only two of them were fruit flavored.  There was also adzuki bean flavor, milk flavor, green tea, chocolate and pineapple.  Yummy and interesting!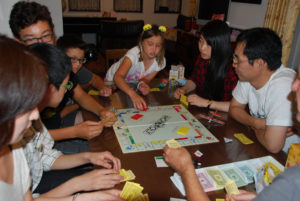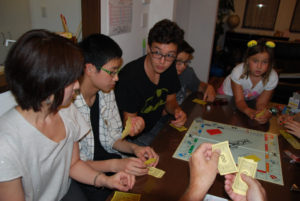 After dinner Avalon really wanted to play Monopoly.  Mayumi said that she'd played Monopoly years ago but the rest of her family had never played.  It's kind of a difficult game to explain with the language and culture differences, but at the same time the idea of buying up all the real estate you can is a simple concept.  So we got the board out and played until it was past everyone's bedtimes.
The next day, Saturday, September 17, we have a big day planned.  Mayumi's husband Kenjiro and her daughter Nanamichan are planning to go to Universal Studios Japan.  But Mayumi's son Keigo is a huge Hanshin Tigers baseball fan and the rest of us are going with him to see the Tigers play.  The Hanshin Tigers are Osaka's baseball club.  Just about everyone here is a Tigers fan.  Nanamichan doesn't like baseball but she loves USJ so she's skipping out.  Keigo has all the Tigers gear including a backpack, baseball hat, shirt and fancy Tigers Hapi coat.  He looks great.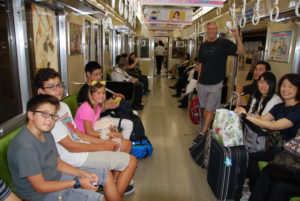 In the morning I made pancakes and bacon for breakfast and we heated up the leftover manju meat buns.  We all rode the bus and train together to Umeda Station and then we said good-bye to Mayumi's husband and daughter.  We traveled on to the Shinsaibashi Station where Mayumi planned to check into a hotel for the rest of her Osaka stay.  At the hotel we met up with her college friend, Yutaka, and his family.  Yutaka was born in the US and went to school there until age 17 when his family moved to Japan and stayed here.  I asked him where in the US had he lived and he said he was born in NY but grew up in CA.  Where in CA?  Irvine.  He attended Woodbridge High School!  And he was a big surfer, getting up every day before school to surf in Newport Beach.  Wow.  The world just got a lot smaller!
To recap our small world:  We were randomly connected by Tokyofreeguide.com with a Japanese woman, now our friend, whose in-laws live in a half hour radius from us in Newport Beach, a teacher at the kids' international school attended Carden Hall in Newport Beach, and now, this college friend of my cousin here went to school at Woodbridge and surfed the Newport Shoreline.  I just can't get over it.
Back to baseball.  Now we are a party of 12 because Yutaka and his family are joining us on our mission to Koshien Stadium to watch the Tigers.  It turns out Yutaka is also a huge Tigers fan and he and his family have traveled from Nagoya, an hour and a half away by train.
Photos from Koshien Stadium: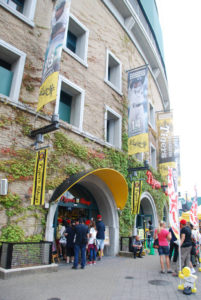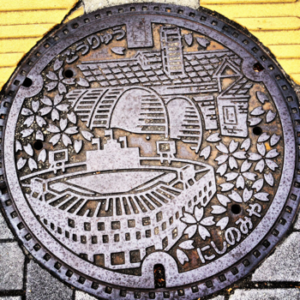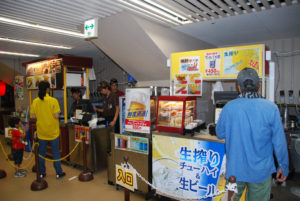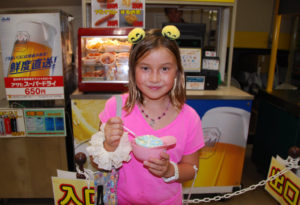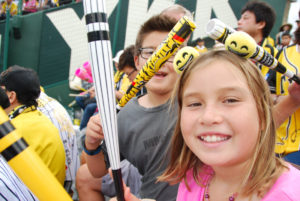 The game is super fun even though the Tigers lost to the Yokohama BayStars.  The fans sing a different chant for each Tigers batter when they come up to bat and they beat plastic baseball bats together to make a loud ruckus.   There are other songs, too.  Some for good luck and also a basic theme song.  Every time a new pitcher comes to the mound, he is driven on to the field by a little, yellow Smart Car.  This happened about six times during our game!  The stands are all yellow.  The other team has a small section reserved for them.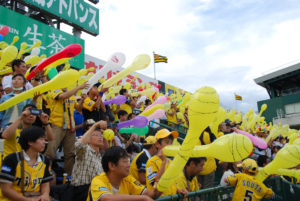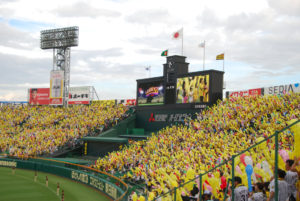 Between the top and bottom of the 7th inning the fans blow up big balloons and then let them go all at once.  The stadium fills with big, mostly yellow, floating balloons.  It's a sight.  Japanese baseball is the same as American baseball, but I think the fans are way more interesting.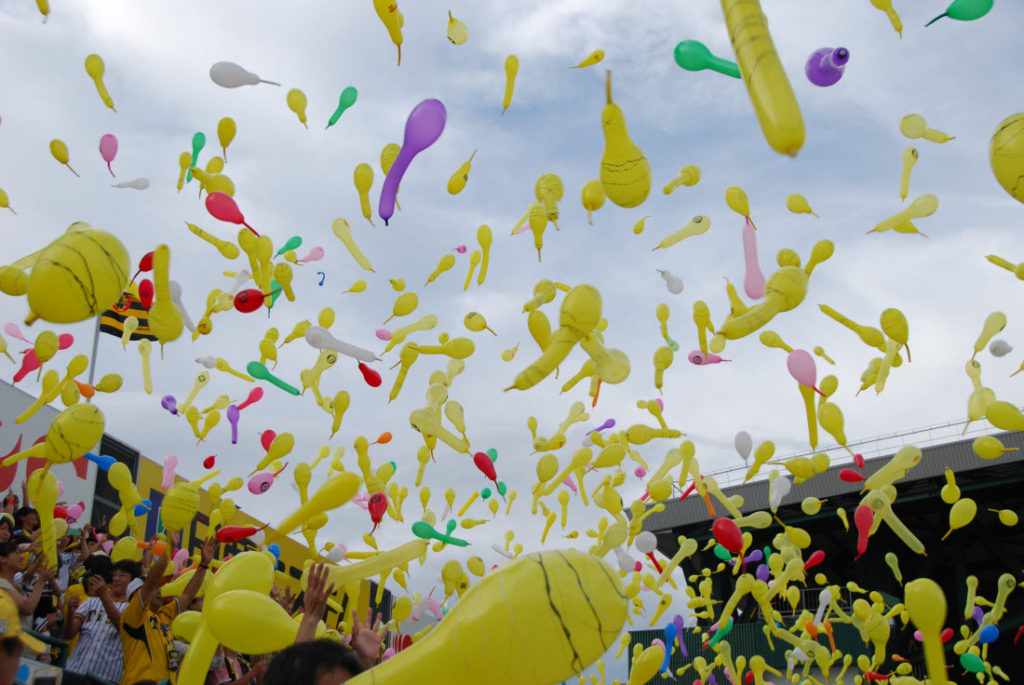 Here is a photo of one of the Asahi beer girls selling beer in the stands.  She has a very large refrigerated keg on her back and she is serving cold beer on tap to fans for 650 yen a cup.  She is very popular!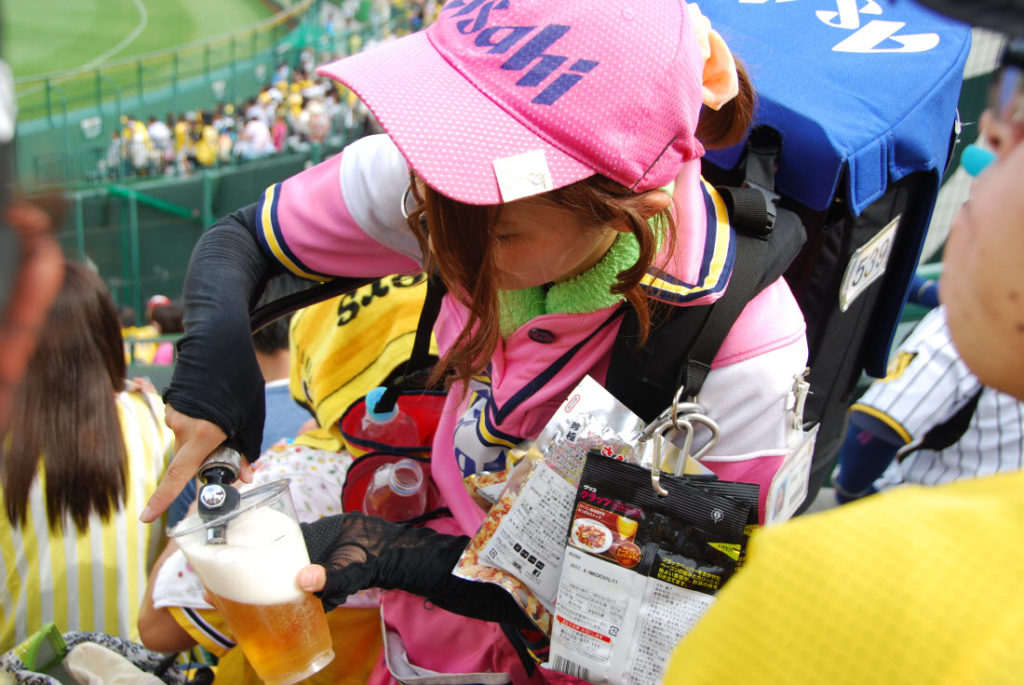 After the game ended, we met back up with Yutaka and his family, plus another friend and his family.  So now we are a party of 16.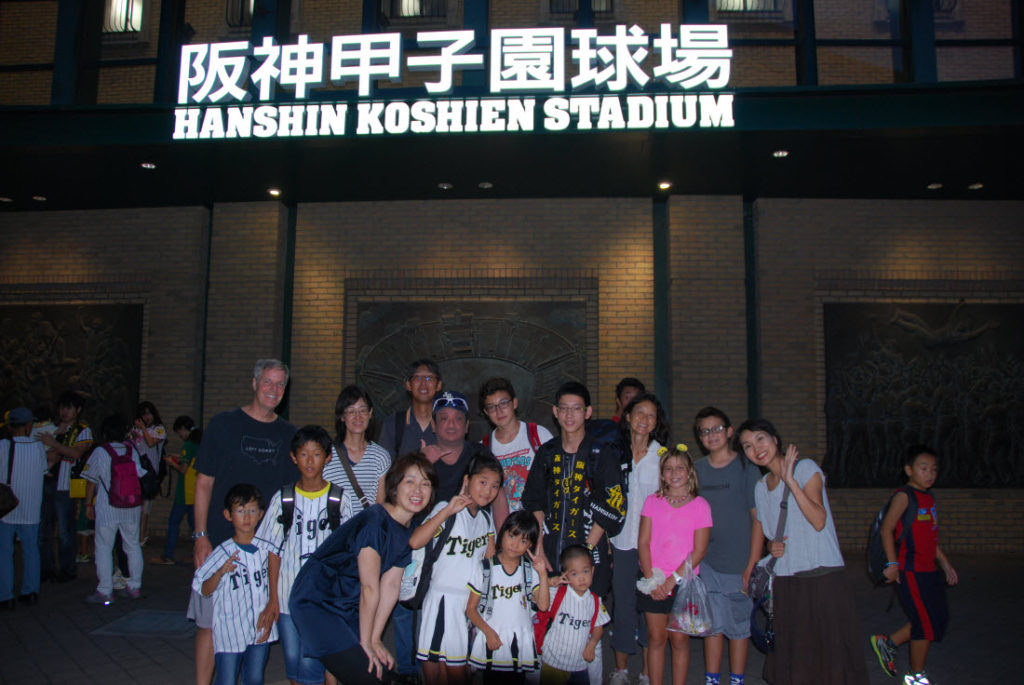 Now we are headed out to dinner.  Even though the game ended around 6pm (18:00), it feels like 9pm!  We'd love to go out for an authentic Japanese dinner but there are just too many of us.  Most Japanese restaurants are small and only have small tables for 2 or 4.  So what can fit a large party of 16?  An American chain restaurant of course.  We are taking the train back to the nighttime mecca of Shinsaibashi.  There's an all-you-can-eat and drink Shakey's Pizza which sounds like a good deal for our hungry crew.  The menu has some typical fare, but also "Japanese" spaghetti, bacon spaghetti, seafood pizza, miso sauce pizza with eggplant, corn pizza, beef curry and rice and several types of Japanese salads.  There are over 2 dozen drink options including melon soda, peach soda, apple soda, Calpis (a strange, milky-colored beverage with a lemon taste), ginger ale, Coke and a lot of alcoholic beverages.