On Saturday, February 11, we got to go skiing on Hokkaido.  This was a special treat for us.  As I've mentioned before, the snow coming down from Siberia is super light, fluffy and dry.  This special snow makes for some of the best snow conditions in the world.  However, either it's been a light season or they just haven't gotten their big snowfall yet, because the piles of powder I've heard about were nowhere in sight.  We met Mayumi and her family at the Sapporo station where the buses line up.  We got on a bus headed for Teine (tay-nay), a ski resort about an hour away from the city.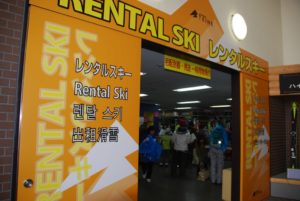 After we arrived, we rented our ski and snowboard equipment from the on-site rental place.  It wasn't crowded at all!  That's such a change for us.  After we got our lift tickets we realized they've got a different system in Japan.  The "ticket" is actually a card (like a credit card) and you carry it around with you in a clear pouch or some plastic sleeve hooked on a lanyard around your neck.  You have to pay a 500 yen deposit for each card so it's important that you don't lose it.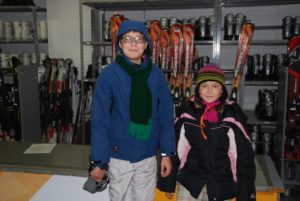 John and I decided to carry ours in our pockets but the kids needed something more secure.  We went to the gift shop to buy sunscreen and plastic carrying pouches.  Oh boy.  It was tortuous in there.  It was a small shop with only one cashier.  She was helping two ladies in front of us.  They were buying gloves and some little items.  First they needed scissors to cut tags off, very slowly.  Then the cashier wrapped each little thing they bought.  The money exchange took forever.  Then they needed receipts for their purchases – the receipts had to be hand written!  The whole process took so long.  While we stood there waiting John whispered, "This is what it's like in the deep south!"  After they were all done the ladies gathered their things up, looked at us and said, "Sumimasen!"  (Excuse me, sorry!)  John calls Japan "a country of waiting."  Long lines are pretty typical and if it takes an hour in line, well, that's really no big deal to them at all.  In fact, Mayumi's husband was with us to buy some wax and he didn't seem bothered at all.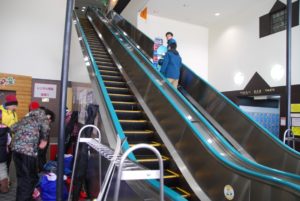 Then we were finally ready to hit the slopes.  From the ski rental area to the first lift area, you have to go up.  This is an automated, motion sensor escalator.  It's so cool!  The stairs start to move only after you approach the escalator and get on.  If no one else is with you it stops moving when you get off.  And here we are at lunchtime.  I think we might have gone down one run before it was time to eat!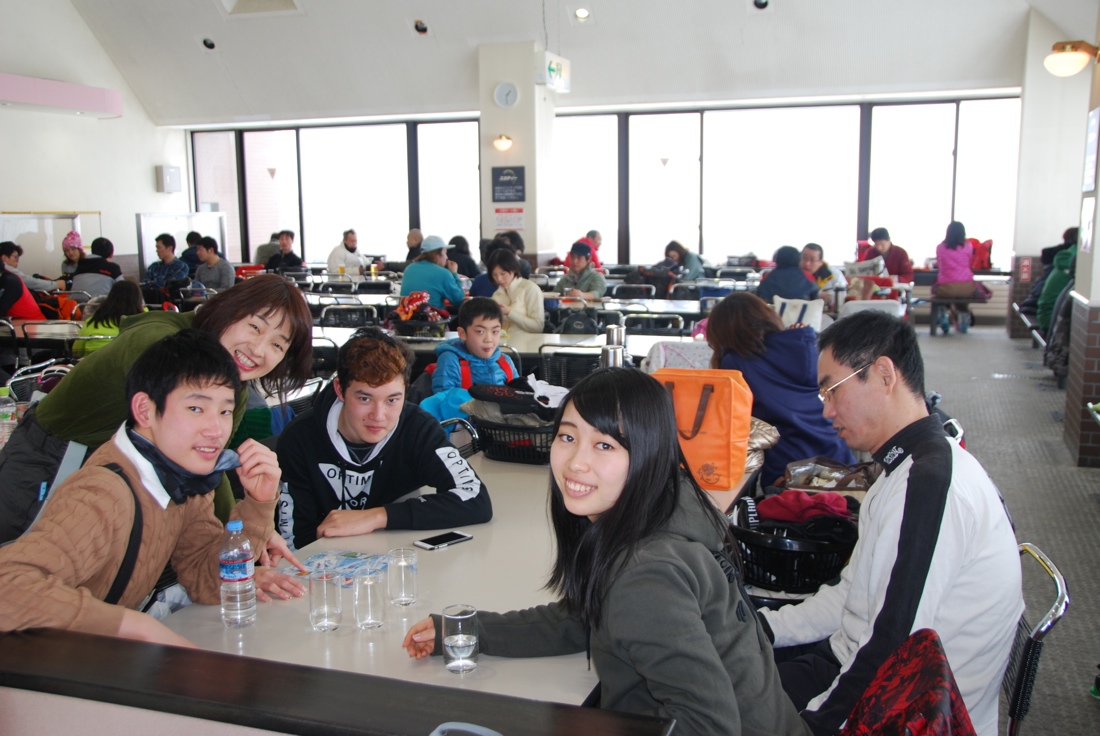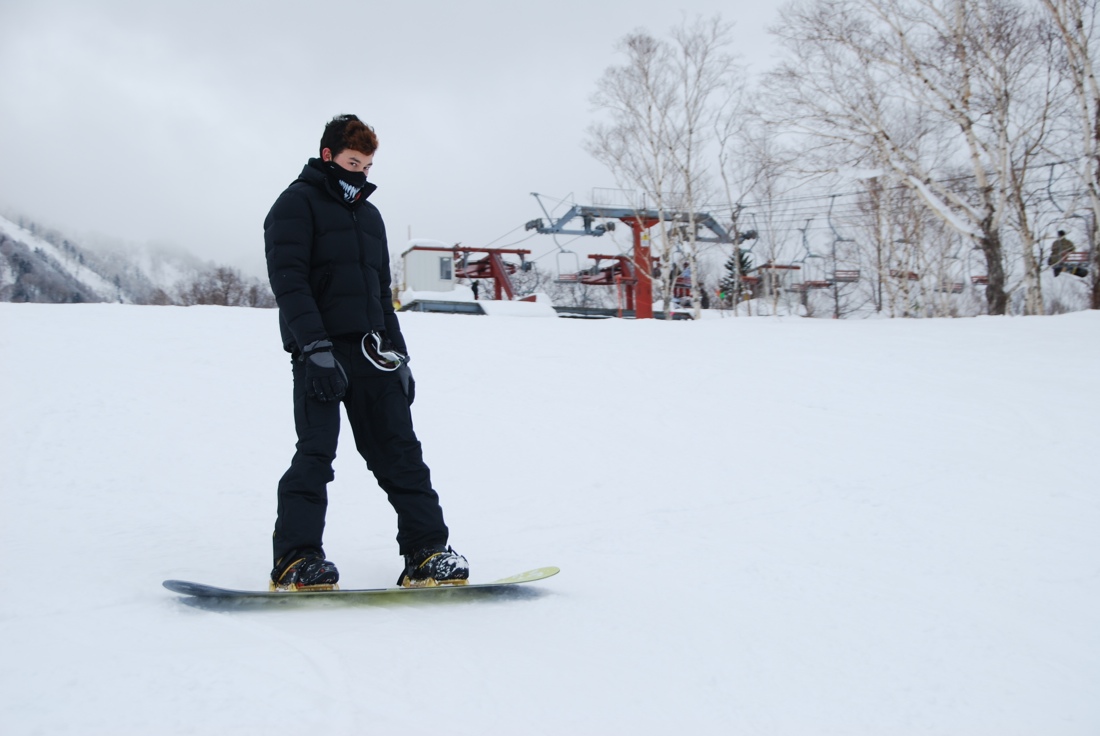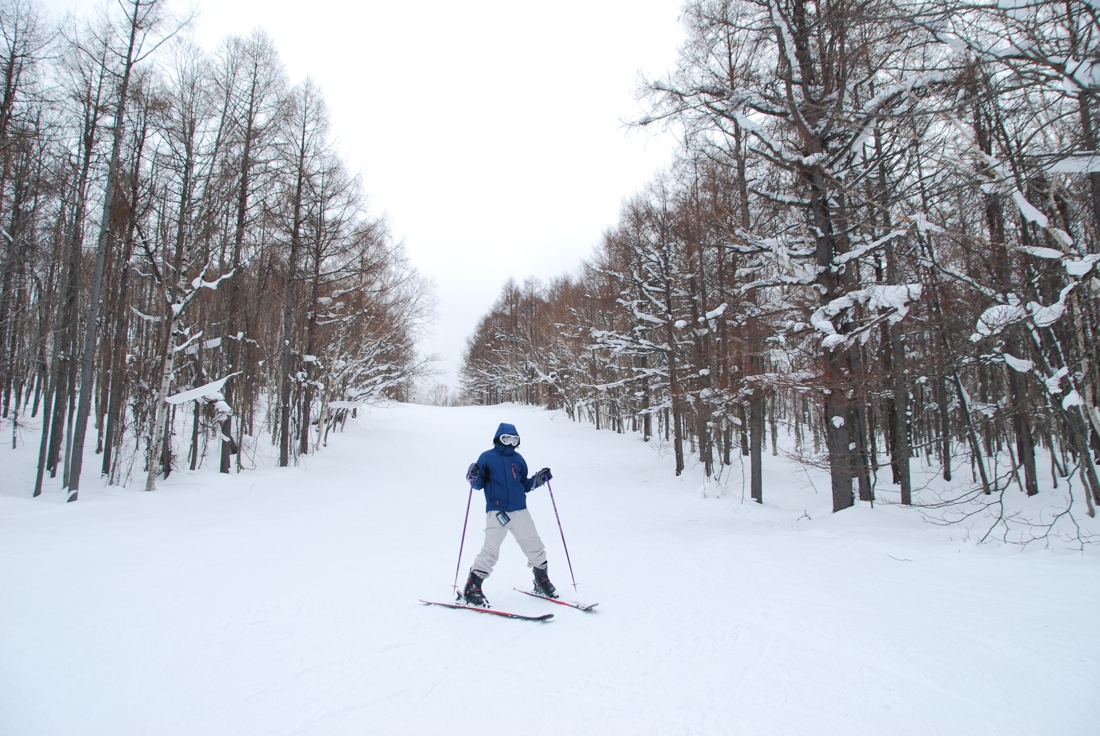 Kaiyo is looking fairly decent here.  He's got the right motion and he looks like he knows what's going on.  But when we went up the lift for the first time he was very nervous.  He got off the lift and started side stepping down the mountain!  I told him to stop messing around but he said he'd forgotten how to ski.  After a while he finally remembered what to do.  It was the darn drought in California that messed up our skiing skills.  Without decent snow for a few years we haven't been skiing much.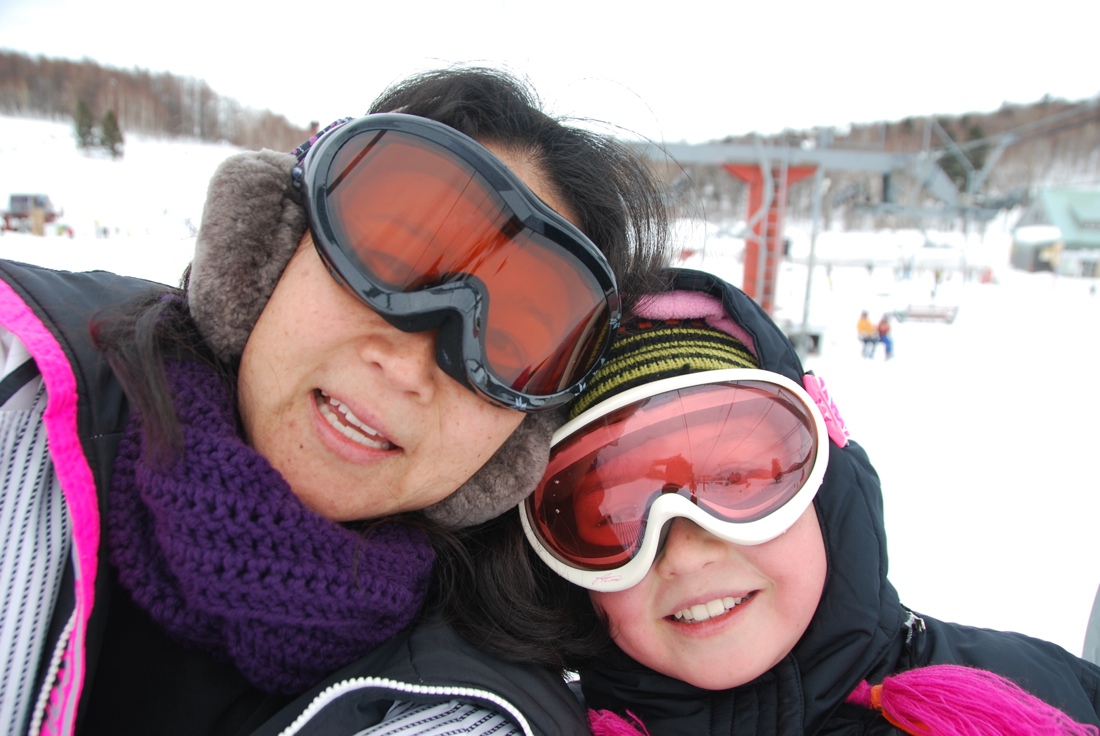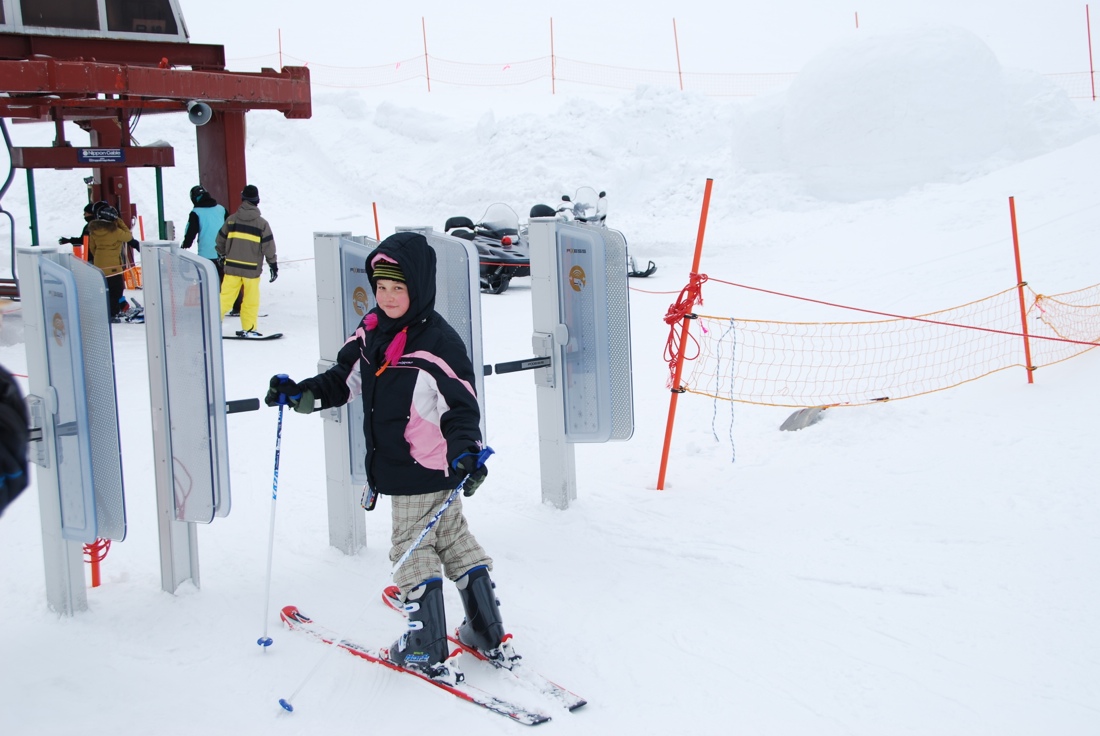 The lift system is so cool.  I don't know where else in the world this type of system is, but I'd never seen it before.  You swipe your card on the sensor and the bars open up to let you through.  It's all automated.  At the other end of this resort there were turnstiles, like at an amusement park, and when you swiped your card they would unlock so that you could push the turnstile and get through.  I thought that was so neat!  We are used to having to show people our ticket and getting it scanned by a hand held device in order to get on the lift.  This automation in Japan is very nice and efficient.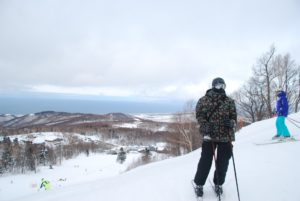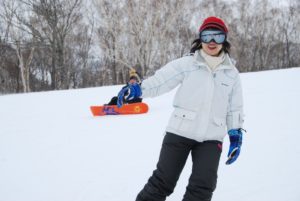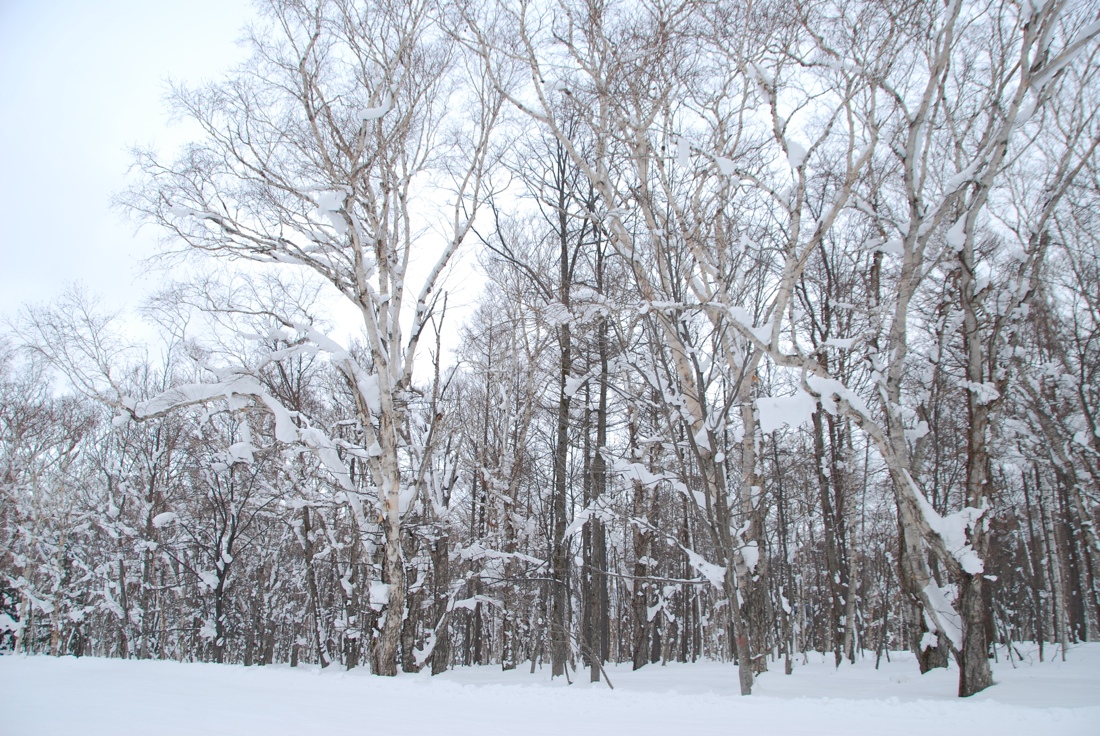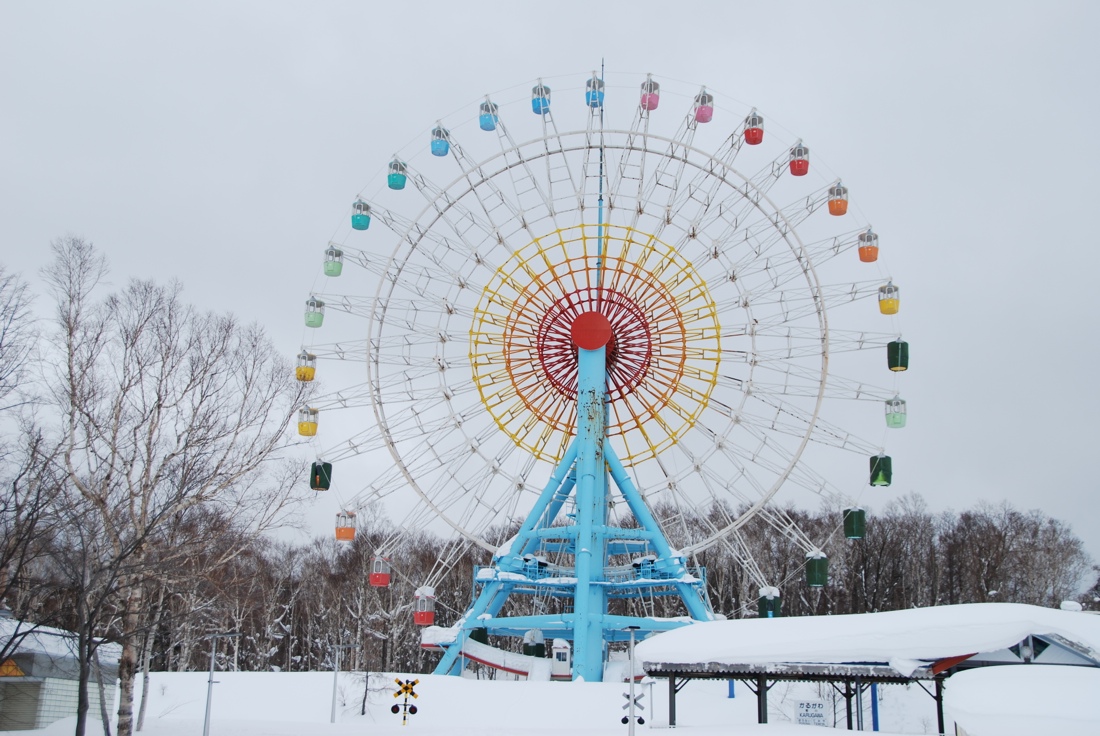 A gigantic ferris wheel at the top of a ski run.  It's so colorful.  I bet you can see a great view of the mountains, the ski runs and the ocean from the top.  Mayumi said it hasn't been working for a few years.  Too bad.  Japan loves ferris wheels.  There are something like 3-4 huge ferris wheels just around where we live in Osaka.
(Despite John not being in a single photo he was actually with us and he did ski, too.)
The evening before our ski adventure, Friday February 10, we were at Odori Park wandering around the snow festival sculptures again and we saw an outdoor ice rink.  My ice skaters, Avalon, Halyard and John wanted to go skating.  So they did.  Kaiyo and Nanamichan joined too.  They had a great time.  John was showing off and being silly.  Halyard was showing Nanamichan how to skate backwards.  And Kaiyo was remembering how to skate again.  Just like skiing.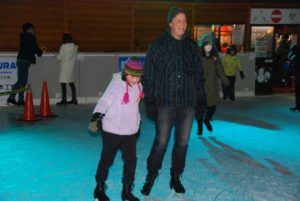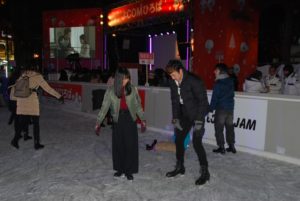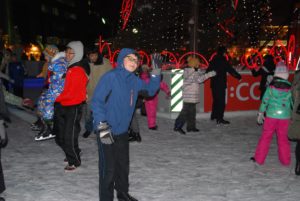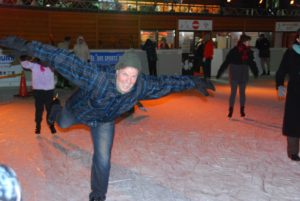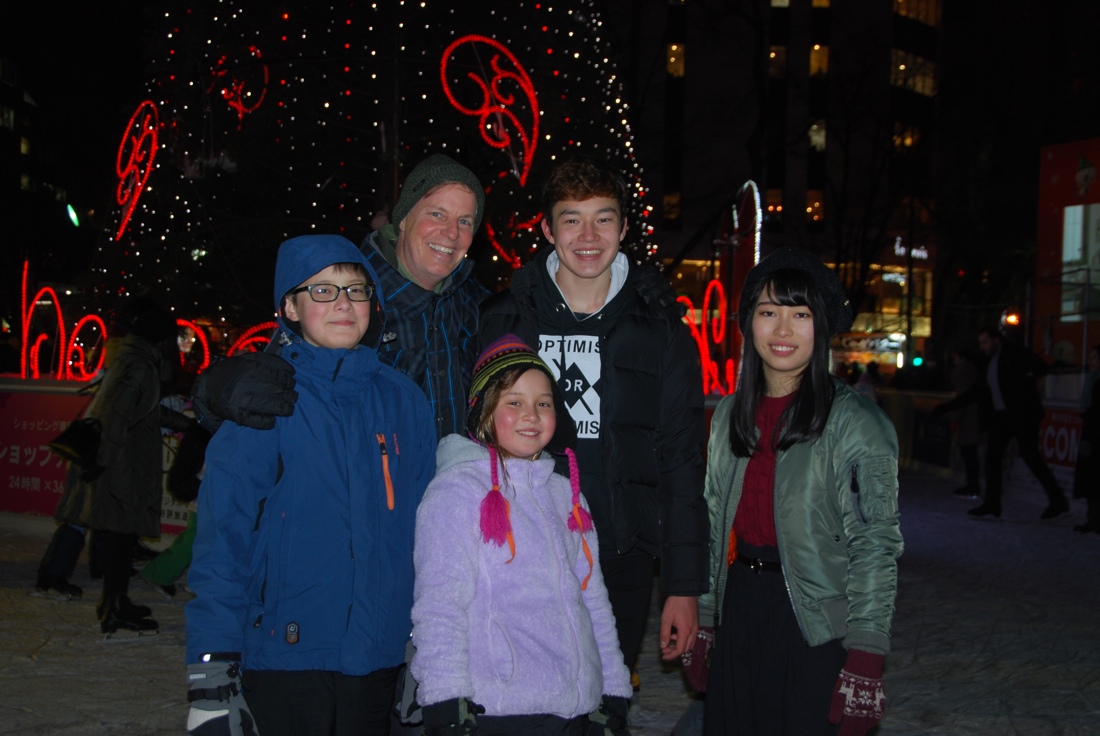 After the ice skating fun we all went back to my cousin Mayumi's house for a dinner party.  When we arrived at her house we got to see her two sons also.  Her husband is the chef of the family and together with Mayumi's mother, they had been working very hard on making a delicious dinner while we were all out playing in the snow and on the ice.  They made all the fixings for temaki sushi: hand rolls – in Japan it's basically "do-it-yourself-sushi."  Mayumi's mom made sekihan, which is a sticky rice dish made with adzuki beans.  I love it.  For dessert we had fruit and ice cream with Mitsuya Cider  (a Japanese soft drink) poured over it.  It made a fizzy sweet and tart treat.  And I finally got to meet Mayumi's best friend Michelle who is a transplant from the US like us, but she's been living in Japan for 16 or so years now.