BTSN for anyone without kids means: Back to School Night.  Most (American?) parents know this, I think.  Is there Back to School Night at Japanese public schools?  I'm not sure.  Thursday, September 15 is Back to School Night for the Middle and High School parents at Osaka International School.  The PTA decided that they would host a welcome party today for the families immediately after school and leading into the back to school night program.  It seems partly to be a ploy to boost parent participation at BTSN.  This is just the kind of tactic that goes on at our home schools so I thought that was pretty funny.
I decided to help out at the PTA Welcome Party.  It was a fun activity and a good way to meet other parents.  The PTA moms made gobs of chocolate chip cookies ahead of time, some of them vegan, popped popcorn, some of it caramel corn, and made cotton candy on site, served Popsicles, handed out cups of cut up fruit, and poured water, tea, milk and juice.  It was quite a feast of snacks!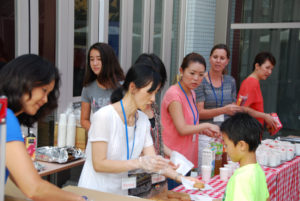 The kids ran around burning off their sugar highs.  Near the end, the school Headmaster announced a game called: Who can pick up the most trash.  I guess the kids like to play that game because he seemed to get pretty high participation.  Impressive.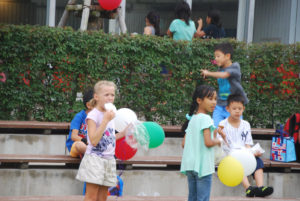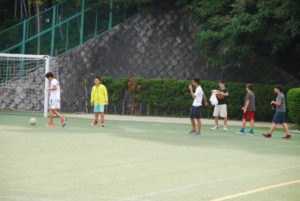 At the party I learned that not only is PTA membership not voluntary, neither is serving as a PTA officer.  Both are mandatory duties.  As it was explained to me, how it works at OIS is that each family is put on a list in their grade.  Each family must serve a year as a PTA officer, often as a class representative, at some point in their school tenure.  This means that you can potentially have a PTA board with a mix of willing and cheerful parents plus crabby, shy or resentful parents.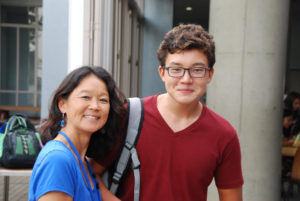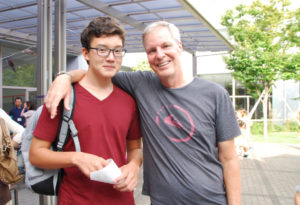 At BTSN, John and I had to split up.  I took Kaiyo's schedule and John took Halyard's schedule.  One  interesting thing that I learned from Kaiyo's PE teacher is that in PE the kids rotate between a lot of different sports, including kendo, badminton, dancing and cricket!  Kaiyo says his friend told him that kendo is "basically whacking each other with sticks and it's a lot of fun."  I also learned that before entering the gym they take off their street shoes and change into indoor only shoes to play their sports.  There is also a small gym room with a tatami mat floor where you do not wear shoes at all.
I absolutely love that Kaiyo has a design class in addition to an art class.  He will learn to use Adobe Illustrator and other graphic applications.  That's so cool.  His art class is a mix of art history and creative, hands on art.  This year he will be studying art from the Carolingian Dynasty, Celtic art and Islamic art.  I want to enroll at this school, too!
I didn't get a lot of details on Halyard's year ahead.  All I really know is that it sounds like his math class is challenging, his Japanese class is challenging and his art class is also a mix of creative art and art history.  He seems to be studying Neoclassicism right now.  He likes his English and science teachers.
In music, the advanced String Ensemble lost their stand up bass player this year and they are looking for a new one.  Well, Halyard just happens to be a stand up bass player!  He will need to focus on extra practice and get up to speed with this advanced program though.  The teacher said they'd love to have him if he will apply himself.  The carrot at the end of the stick is that this coming spring, the String Ensemble plans to travel to Rome, Italy for the Roma Music Festival.  Sounds pretty exciting.  I hope he can do it.  Gambatte kudasai Halyard!
Since we are on the topic of school, Avalon's teacher posts daily updates on the kids' day at school.  Here is one of her recent messages:
It was a busy day in the G4 classroom! We worked on reading our assigned books and created plot diagrams for our fantasy stories.  We listened to the audiobook sequel to Jumanji (Zathura) on the big screen and discussed Van Allsburg's use of time travel as a device for resolving a problem.  In math, we solved problems using Ancient Egyptian Numeration and also had the chance to work with the Roman Numeration System. We work(ed) on IXL modules during our laptop time to practice. With our unit, we inquired into the ways that advertisers use different tricks to alter our perceptions in advertising and possible reasons why.
PHEW!  Sounds like a lot going on in the 4th grade classroom!