The Crazy Last Day
I woke up at 6am on Wednesday, August 1.  Today is departure day.  First thing is to feed the cats and hope they use the kitty litter box before we leave the house.  They get to fly in the cabin with us again so puh-leeeze kitties, no mess on the airplane!  
Other last things on today's to do list:
Osaka Gas will come to shut off the gas and give us our final bill – between 9-10 am.  It's a relief to close our account before we leave.  
Our friend Chiharu will come at 9:15 am to pick up Halyard's twin mattress so that it can be thrown away at her house – she has "big trash collection day" tomorrow.  I've already paid for the "big trash" collection coupon.  It was 600 yen (about $6) at the customer service counter inside Kansai Supa, our local supermarket.  She ended up taking several bags of my recycling trash and also some other large items that I didn't know what to do with.  Phew, got rid of that.  
Our friends who hosted the awesome farewell party for us will come over to say goodbye – around 9:30 am.  … Mariko brought me a package of okonomiyaki mix and okonomiyaki sauce so that I can make okonomiyaki in California.  I'm so excited.  I need to remember to pack the sauce in checked luggage or airport security might throw it away.  I'll cry if that happens!
We have to return our modem to Docomo in the morning – they open at 10am.  This is a major stress point.  Getting all the way to Q's Mall on the bus to return the modem is going to take a little while.  Thankfully Chiharu took that for us and dropped it off at Docomo on her way home.  
Return the house keys to someone in the business office at Osaka International School after we lock up the house for the last time.  That means leaving early so we can drop by OIS on our way to the airport.  
Our friend Bill comes to get John, the cats in their carriers, and John's big bike box at 11:15am.  Avalon decides to go to Kansai International (KIX) with John and the cats in Bill's car.  John stressed about how to get his spiffy new bike to the airport.  He researched it for weeks.  In the end, he measured our friend Bill's car (which Bill got from our friend Art when he returned to the US just a few weeks ago) and found that the bike box would just barely fit in the car.  He thought about taking the bike on the airport bus but the bike box was 2 cm too long and the lady at the bus company told him they are very strict about the measurements.  2 cm over is 2 cm too long for the bus.  
My friend Sayaka comes to pick up more luggage, plus Halyard, Kaiyo and I at 11:30am.  She's taking us to nearby Itami Airport and from there we will take the airport transfer bus to KIX.  
We got it all done and were on our way by noon.  Yay.  Our friend Hiroko said she would like to meet us at Kansai International to say goodbye.  It was such a sweet gesture and as it turned out, it was an absolute blessing that she came to see us off.  Because… I didn't complete any paperwork regarding the cats' exit from Japan.  I just didn't even think about it.  So when we got to the check in counter, the ladies at United Airlines were kind of flipping out over our missing cat paperwork.   Well, I had just shipped all of our old cat paperwork in a box back to the US.  The United agent could not believe that I had nothing to show them.  She said someone might even have to stay behind with the cats and not get on the flight!  Oh no.
We were sent to the secret animal quarantine office inside the airport to get it sorted out.  In the meantime, the United agents set aside my luggage and had all but written me off as not making the flight.  We started thinking about whose house I could stay at with the cats for a few days until it got sorted out.  It looked like I might not get on that flight.
Since Hiroko was with us she came along to help with translation at animal quarantine.  She helped us (Avalon and I) find the right building, the right office and the right people.  After some sleuthing, it turned out they were able to scan the cats' microchips to find copies of my 2-year old paperwork from when we arrived.  The cats and I made the flight along with everyone else.  Arigatou and Sayonara Hiroko!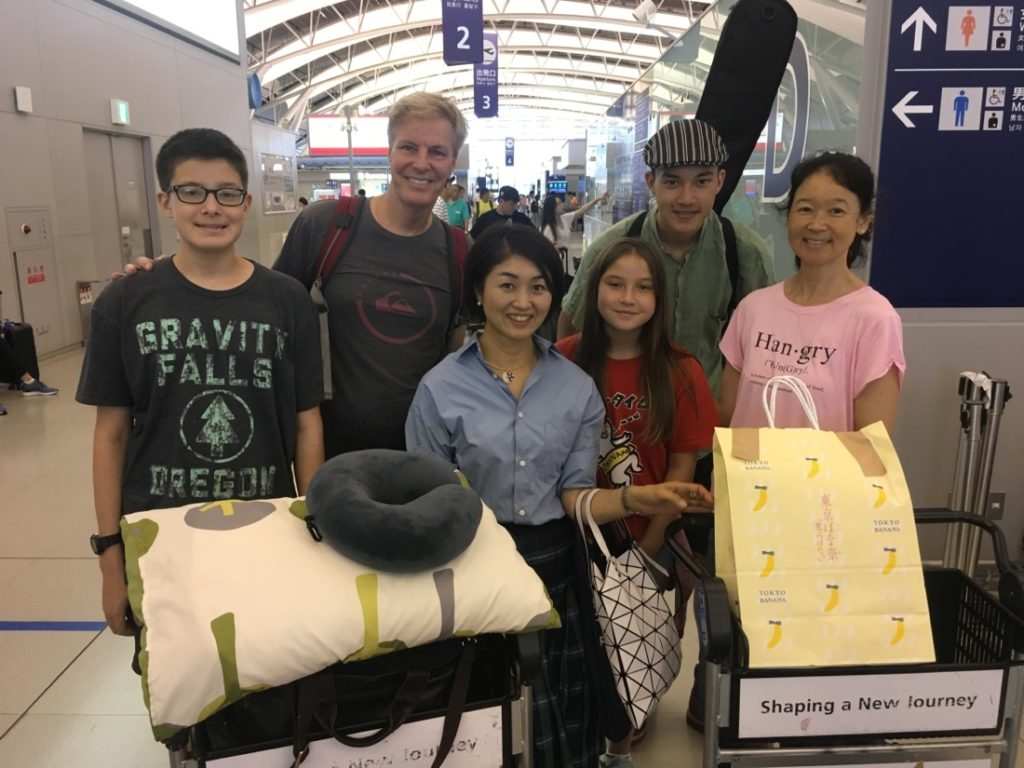 Back home in Orange County, California.  We made it.  We're waiting for two friends driving two SUVs to pick up us, our stuff and the cats.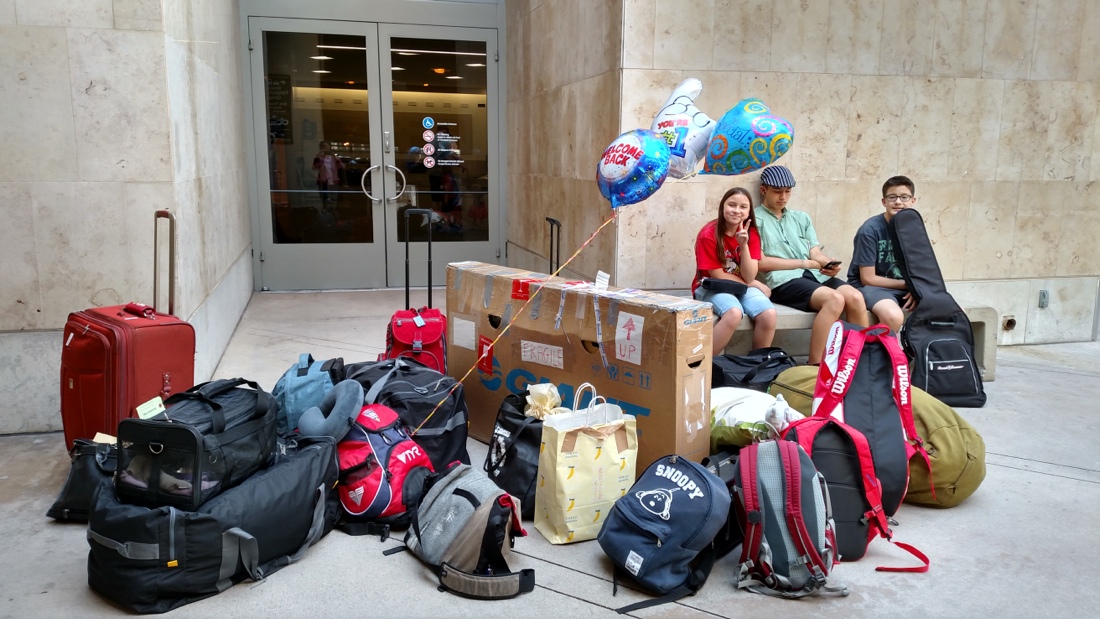 We had the coolest banner waiting for us at home.  Apparently our friends hung it up about a week before our arrival, so all of our neighbors knew we were coming home.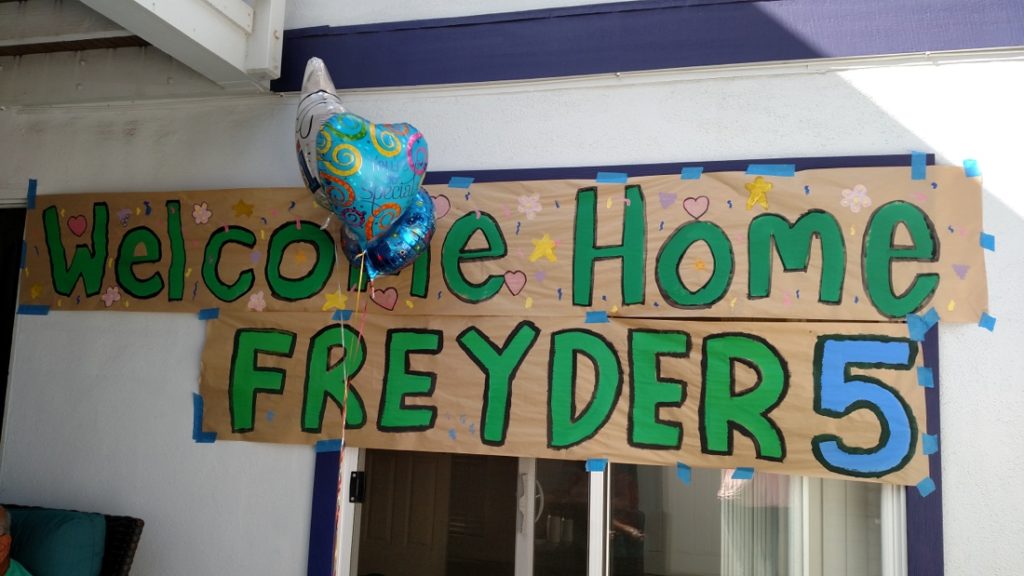 Thank you Lisa for putting together a care package for us upon our arrival home.  Toilet paper and wine, plus snacks.  Just the essentials!  Good neighbors, great friends.