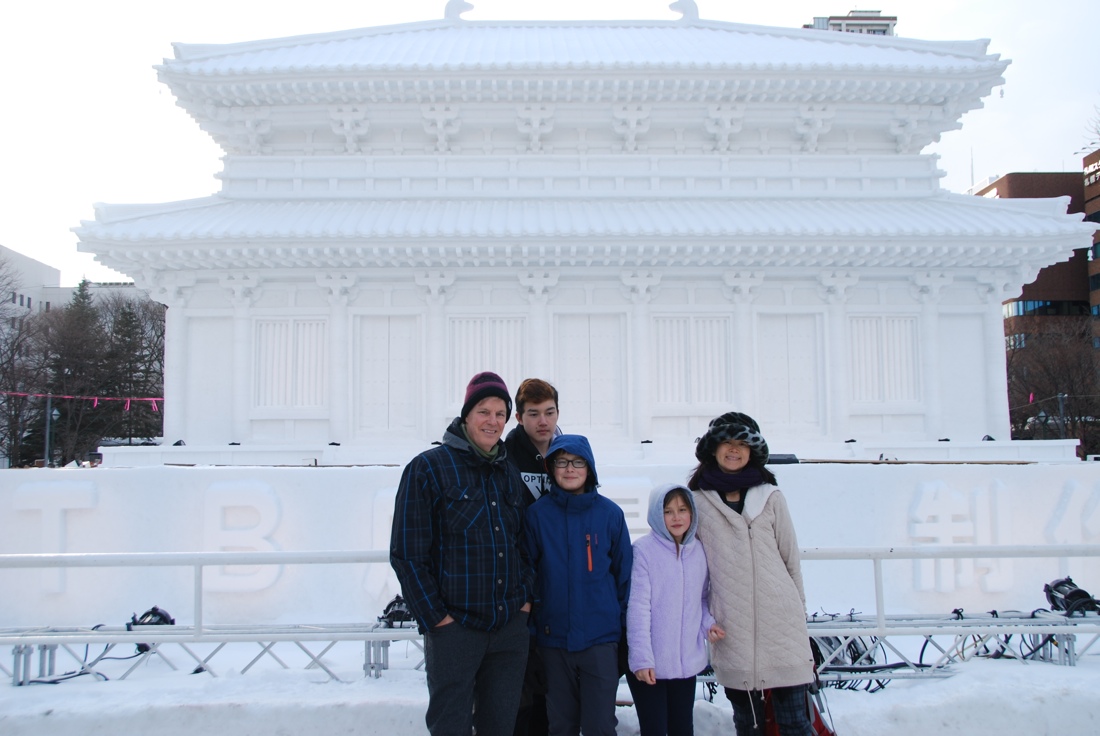 On Thursday, February 9 we got up very early and took the bus and train to Osaka Itami Airport.  This airport is so convenient for us!  We took the monorail straight there and it took only 20 minutes.   We are headed to Sapporo, the main city on Hokkaido, Japan's northernmost island.  Sapporo is the fifth largest city in Japan and home to Sapporo Beer.  It is a hop, skip and jump from Siberia.  I bet Sarah Palin can see Russia from Sapporo, too.  We had already taken the cats to the pet hotel the night before.  Poor kitties.  I hope they like it there.  They are becoming regular guests.
We had two main objectives to going to Sapporo:  to see the famous Yukimatsuri (Yuki means snow and Matsuri means festival) and to see my cousin Mayumi and her family.  In a previous post from last Fall, Mayumi and her family came to Osaka and stayed with us for a night and we all went to see the Hanshin Tigers together.
We landed at Sapporo's New Chitose Airport around noon.  This airport opened in 1991 so it's sort of new, but it replaced an older Chitose Airport and is also adjacent to Chitose Air Base.  I guess they need to call it New Chitose to distinguish it from the other Chitose airports.  We took the airport train to the JR (Japan Rail) Sapporo Station where Mayumi was waiting for us!  We went for lunch to taste Sapporo's famous and delicious ramen.  It sure looked oishii (delicious)!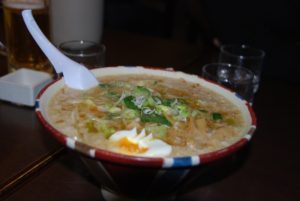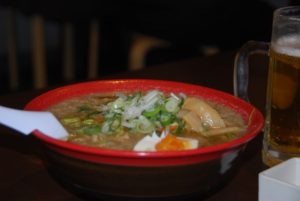 Then Mayumi helped us check into our hotel, called Hotel Yayoi which she also booked for us, and then we took a walk to the Yukimatsuri site at Odori Park.
Everyone loved the amazing snow sculptures at the park.  These first three are from the international snow sculpture contest.  These were snow sculptures crafted by teams from several countries.  The first photo is this year's winner and the second photo is the runner-up.
Crane Dance in Spring created by Macao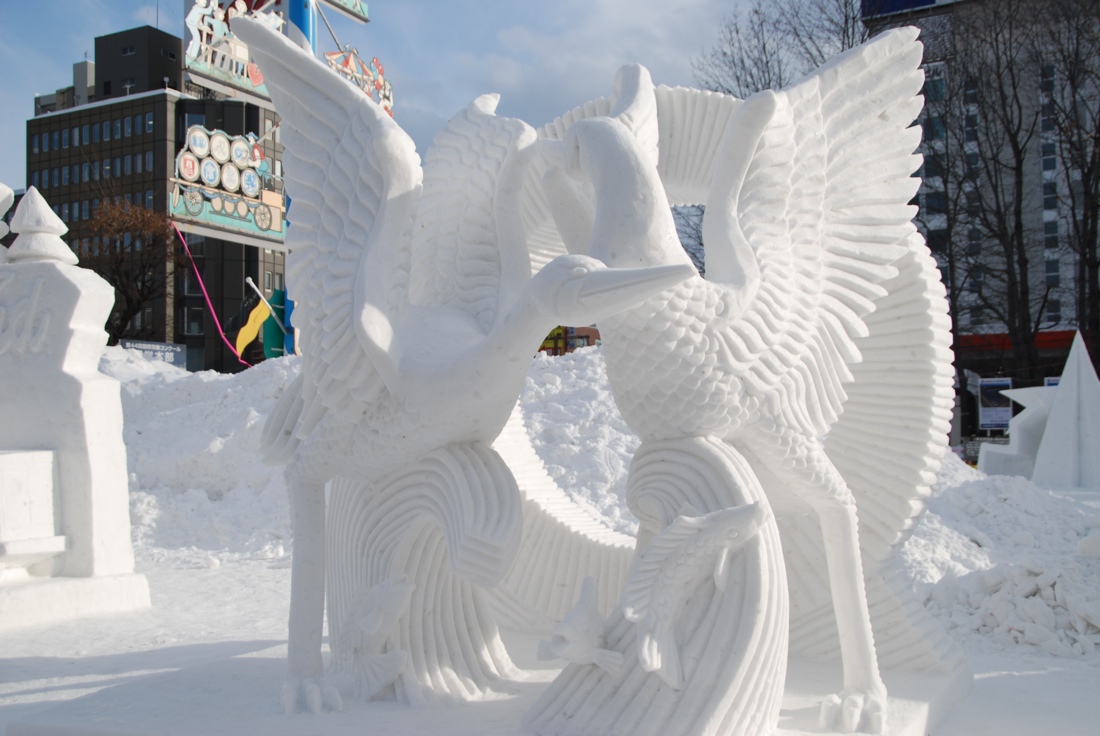 Wooden Dreams made by Latvia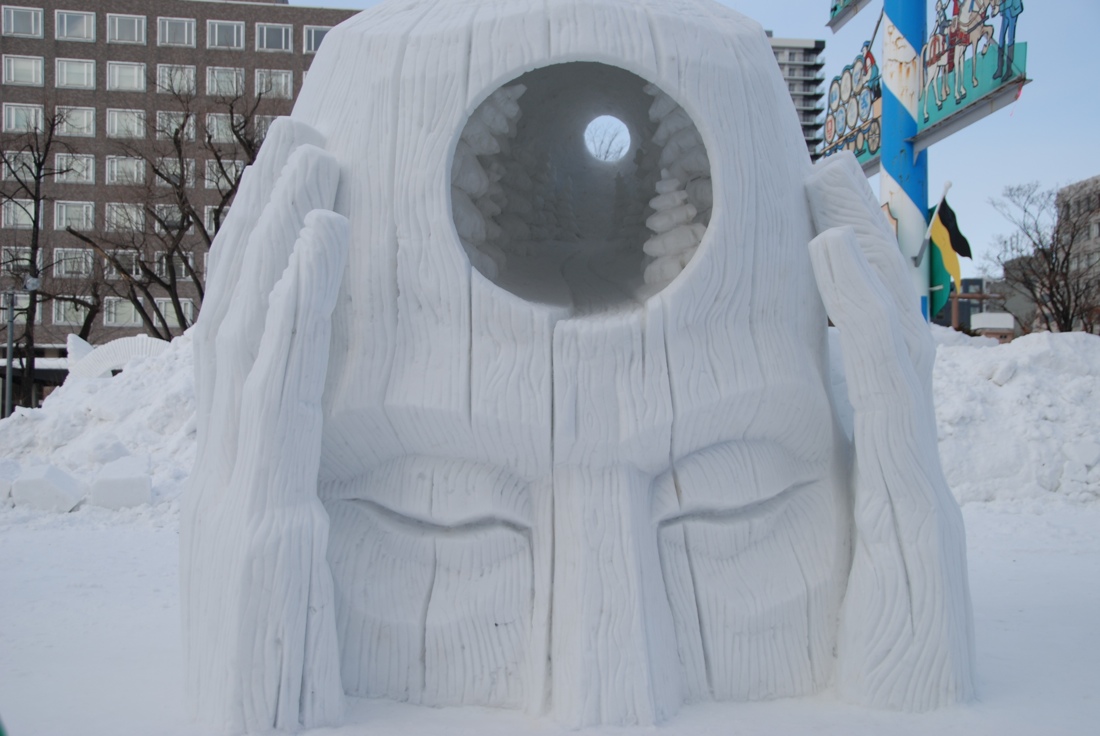 Portland created by Portland, Oregon, sister city of Sapporo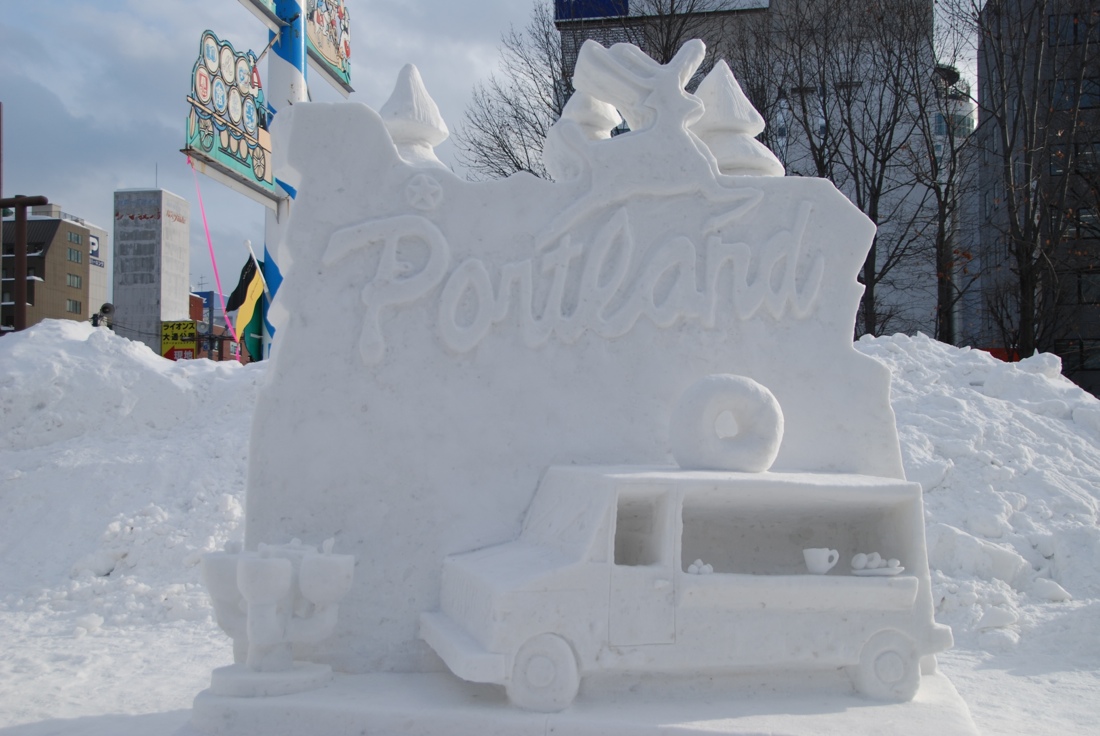 The next three are just a few of many sculptures made by the people in the community of Sapporo.
Cat Bus!  From the Miyazaki movie My Neighbor Totoro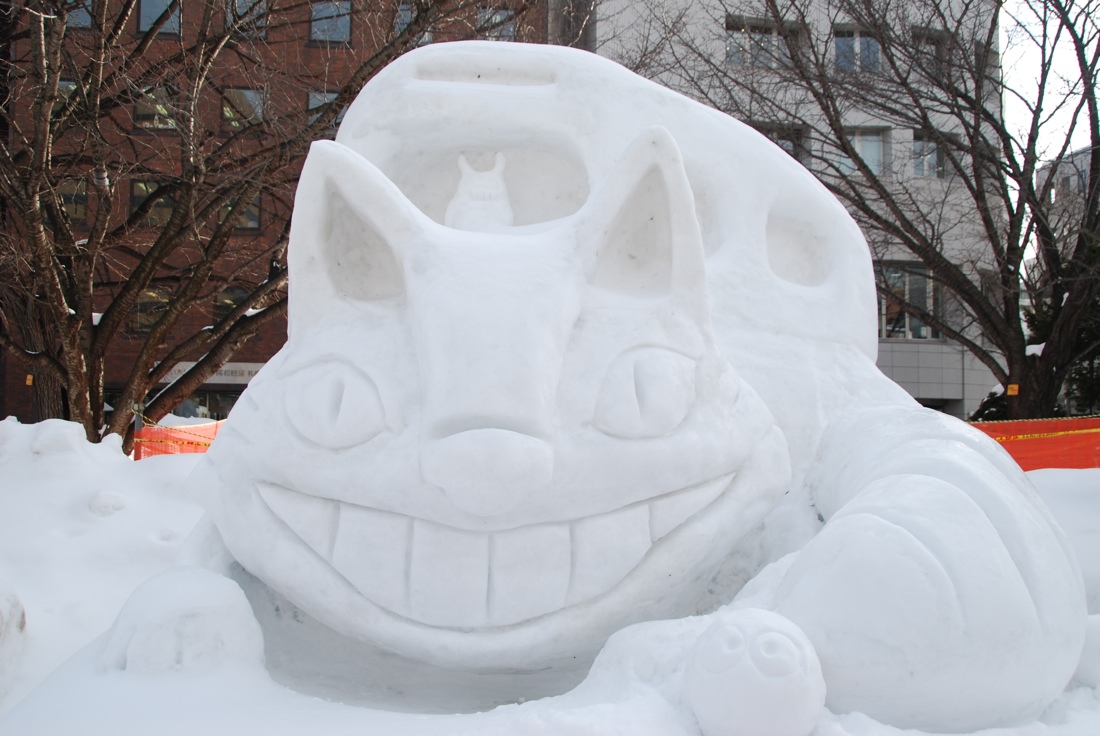 Donald Trump with an apple pen.  He's using it to re-write the rules of decorum in politics.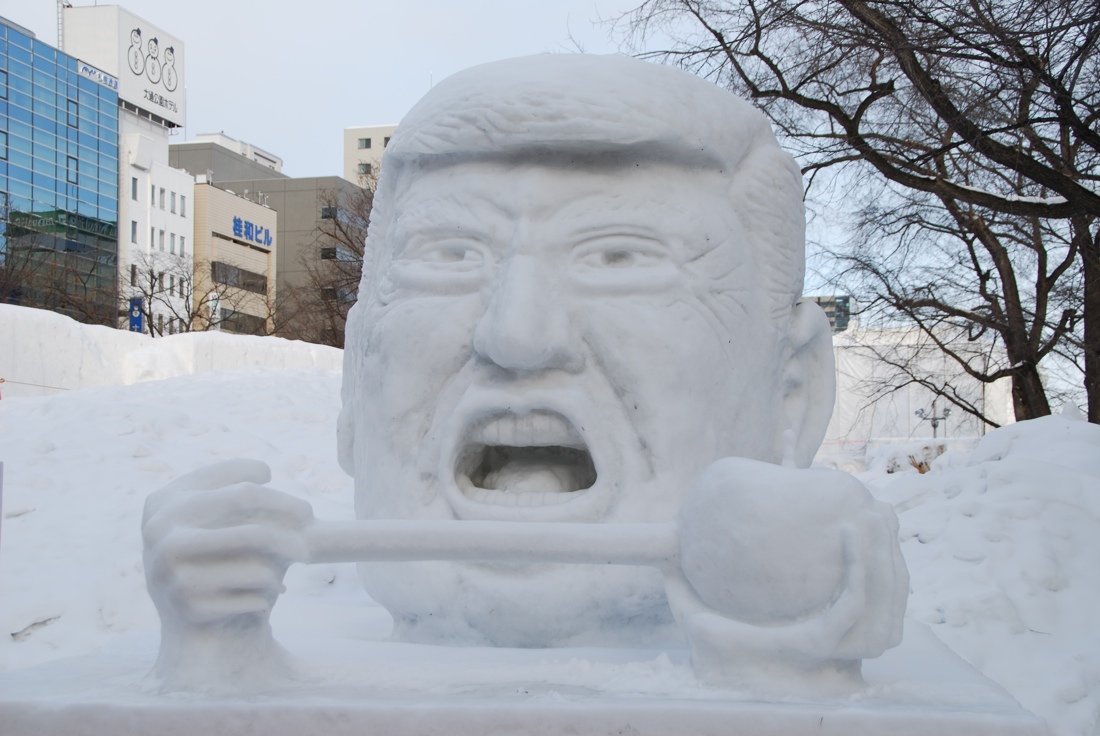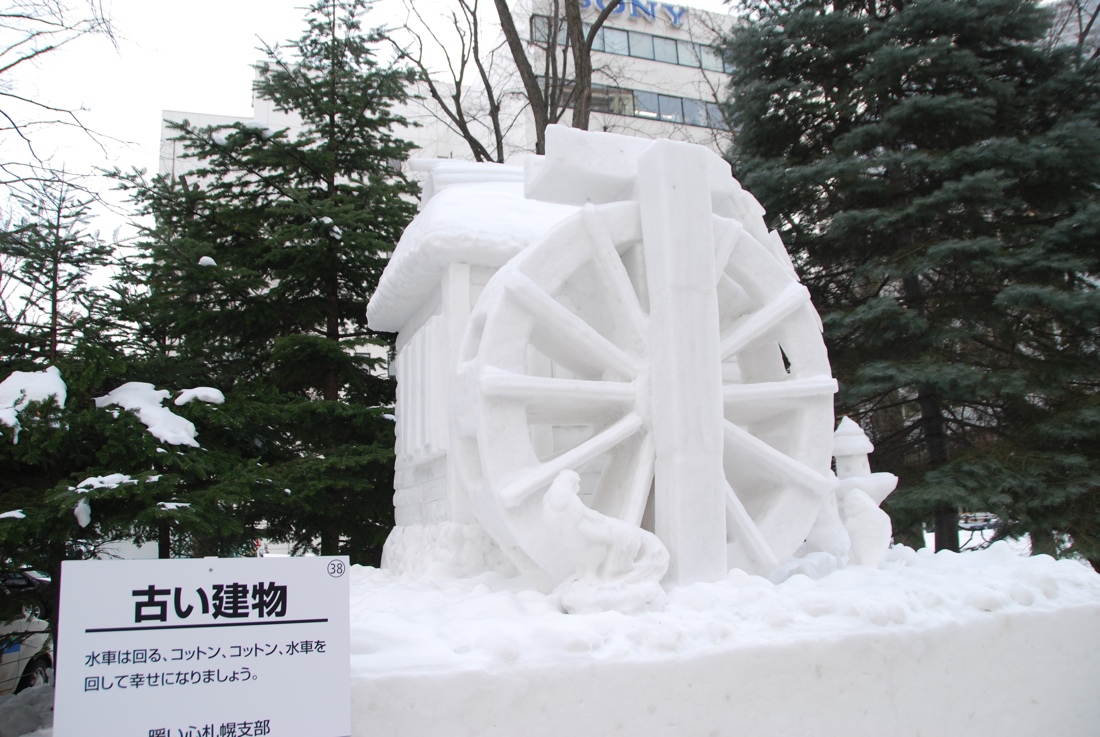 The following snow sculptures are made by professionals.  They are massive and detailed and a sight to see.  Since I'm not a Final Fantasy VII fan I took this info off the internet:
"Decisive Battle! Snow Final Fantasy"  This Cloud versus a one-winged Sephiroth sculpture was created to celebrate Final Fantasy VII's 20th Anniversary.  The lighting on this photo isn't very good so the details aren't very defined here.  This was an amazing sculpture.  Two close-ups follow.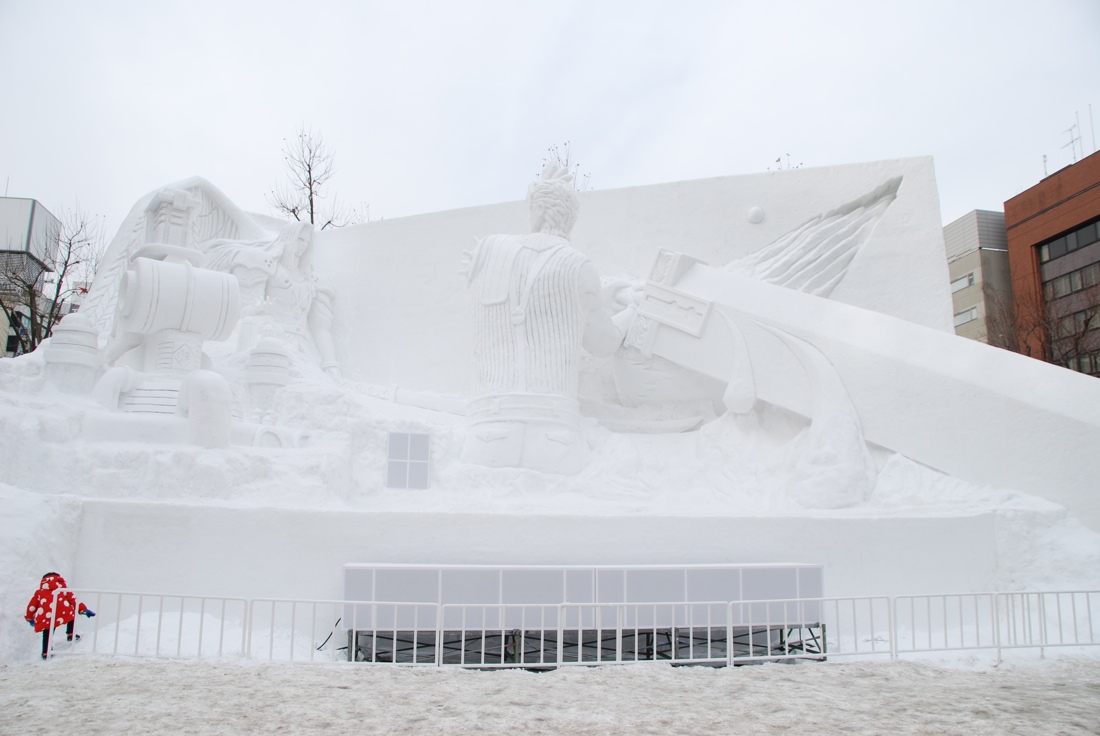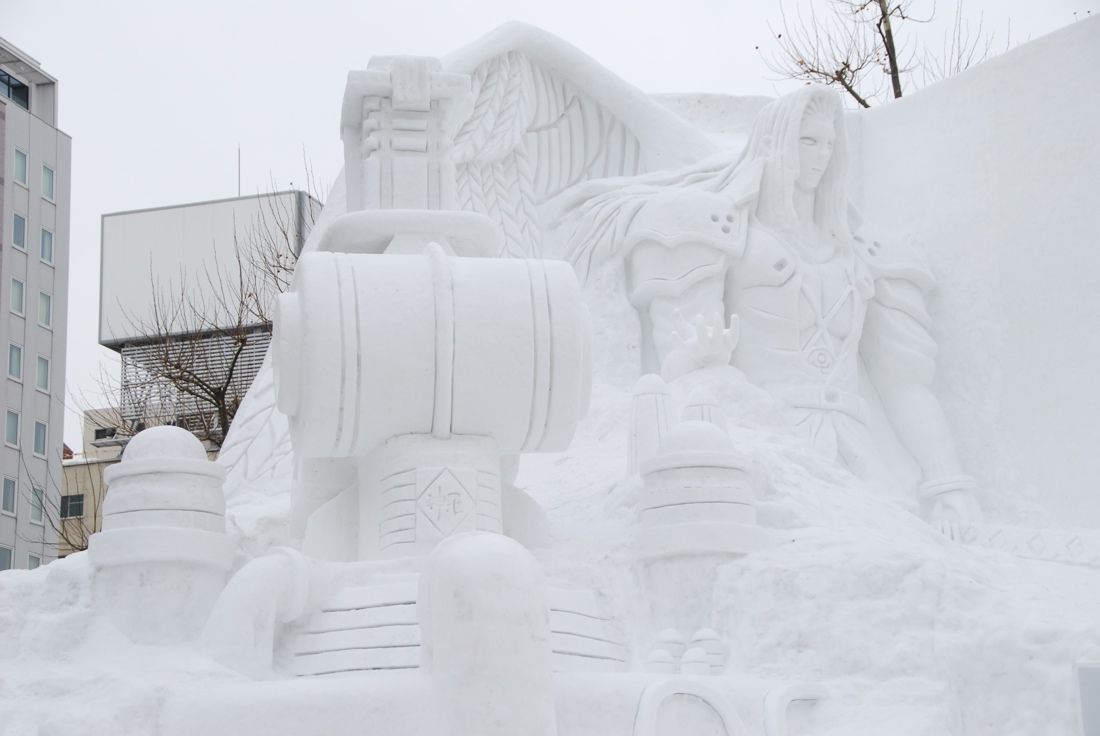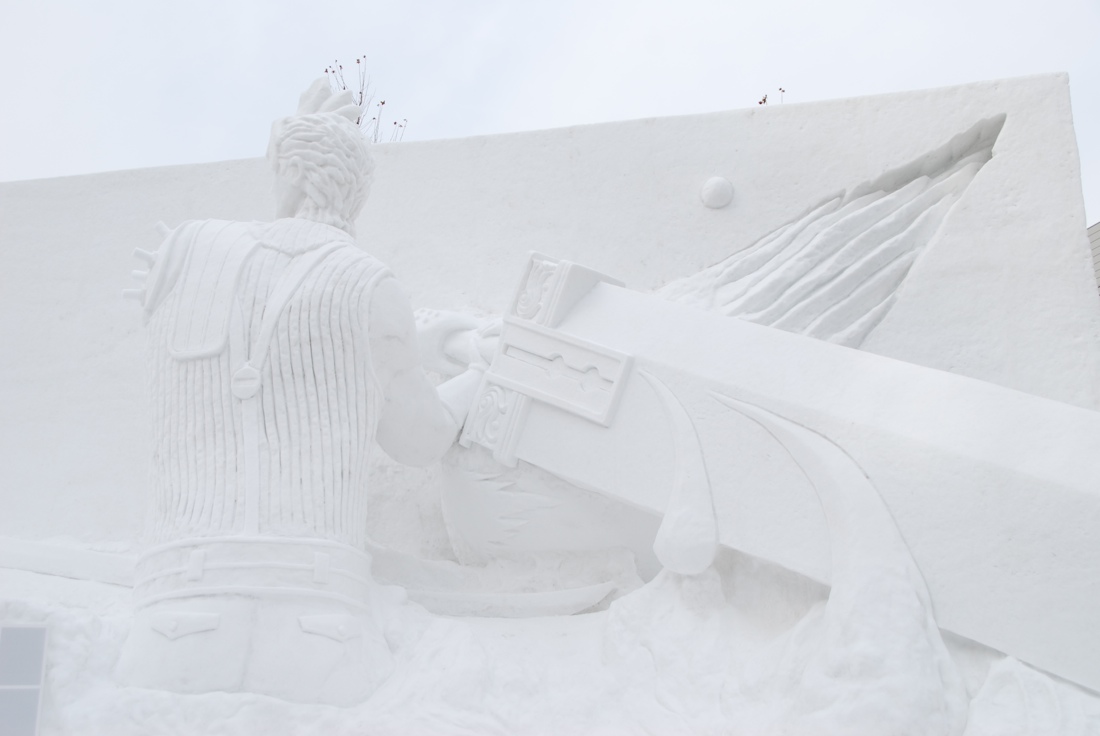 Star Wars the Force Awakens!  Wow, this was huge.  R2, C3PO, BB8 and Kylo Ren.  Amazing!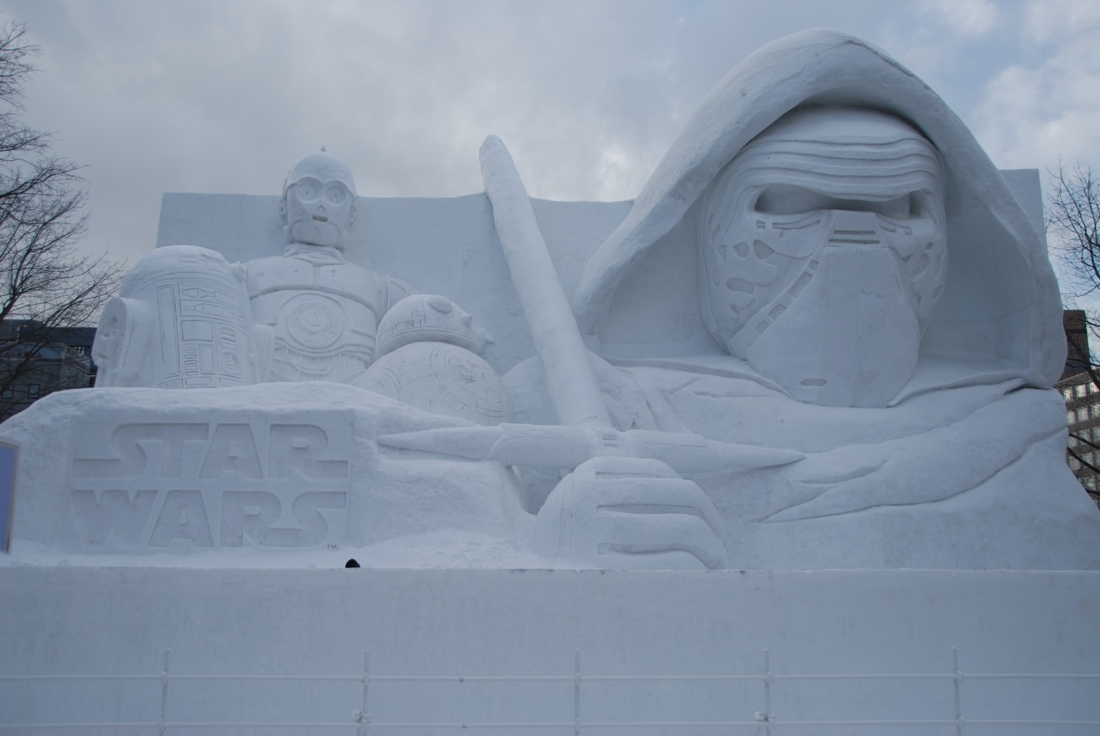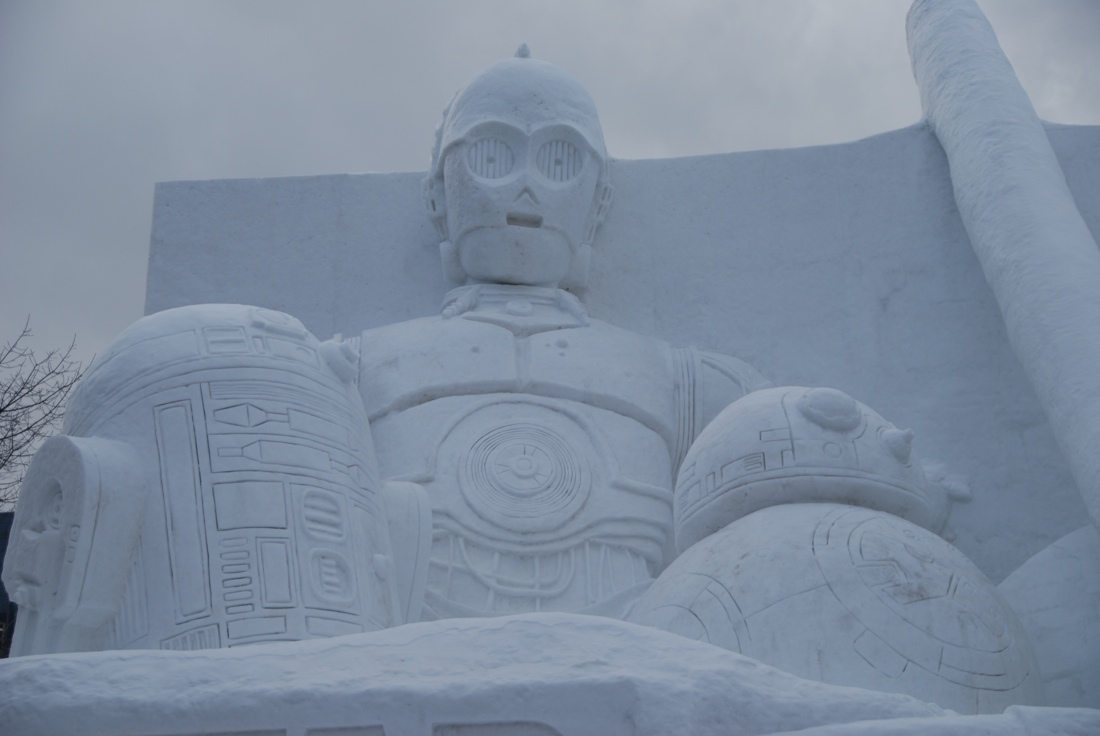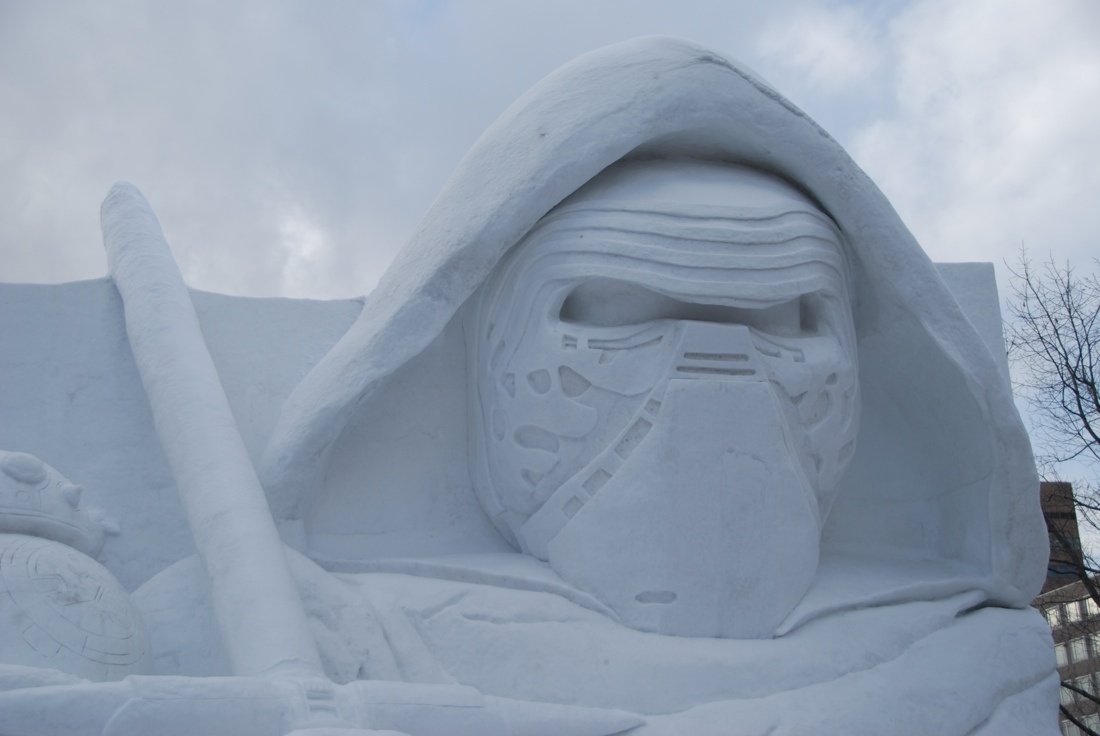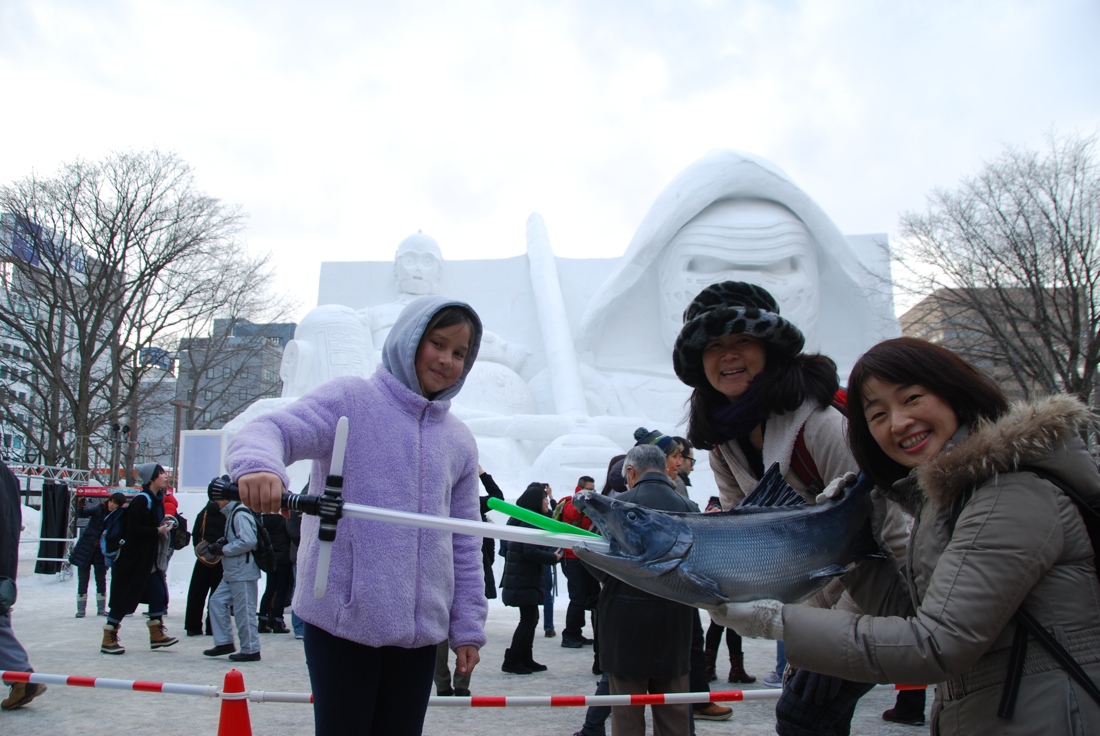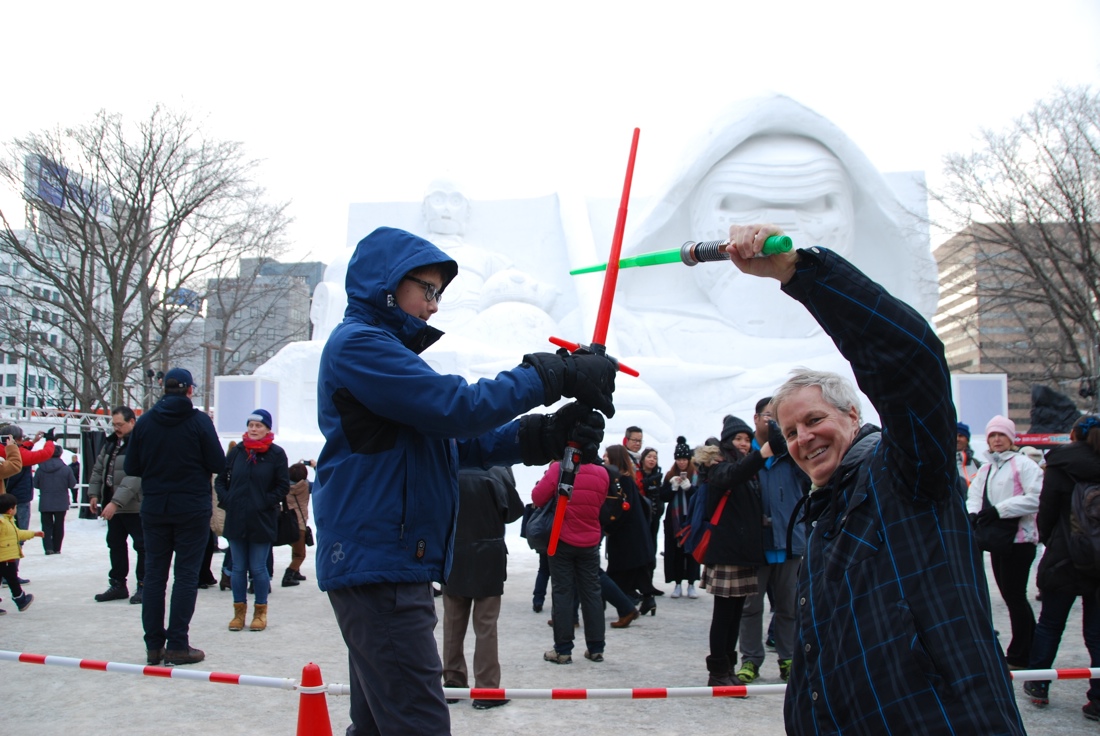 The Arc de Triomphe in gigantic snow form.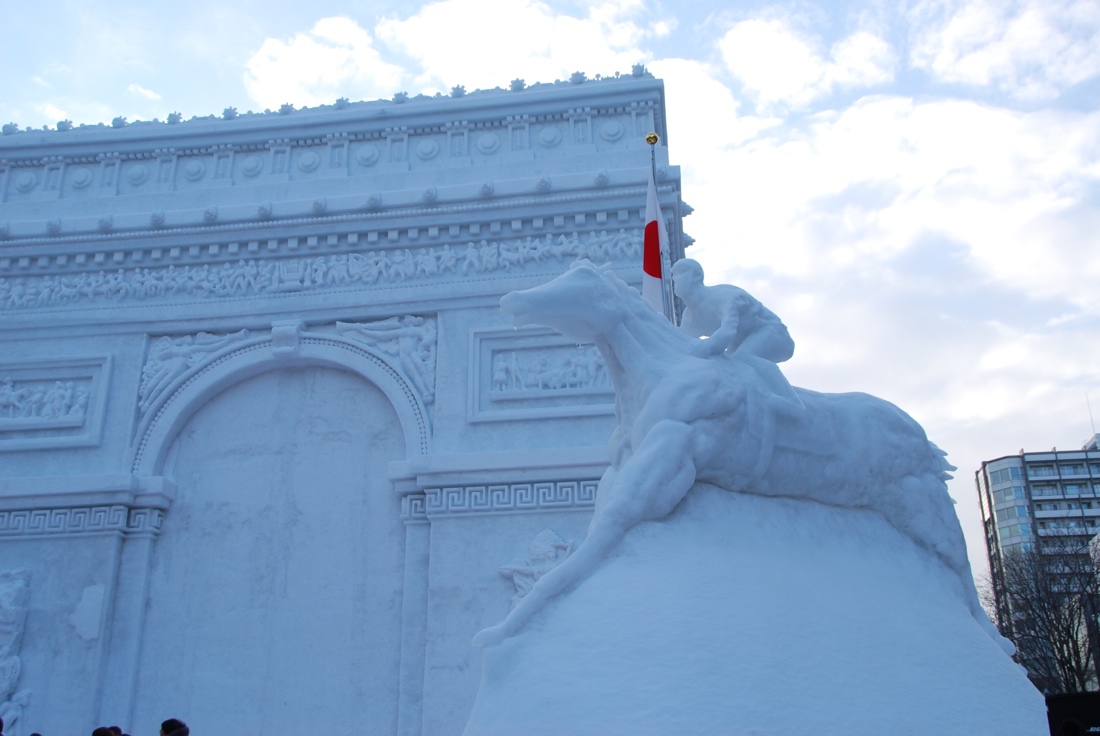 Here on a stage at the Arc de Triomphe sculpture a TV crew was filming a segment for a Japanese entertainment show.  Kaiyo and Avalon wanted to be on TV so they pulled John on stage and after an hour of waiting around they were on LIVE TV in Hokkaido!  My cousin Mayumi called her son at home and asked him to tape it.  Then we all watched it later at her house!  The kids loved it!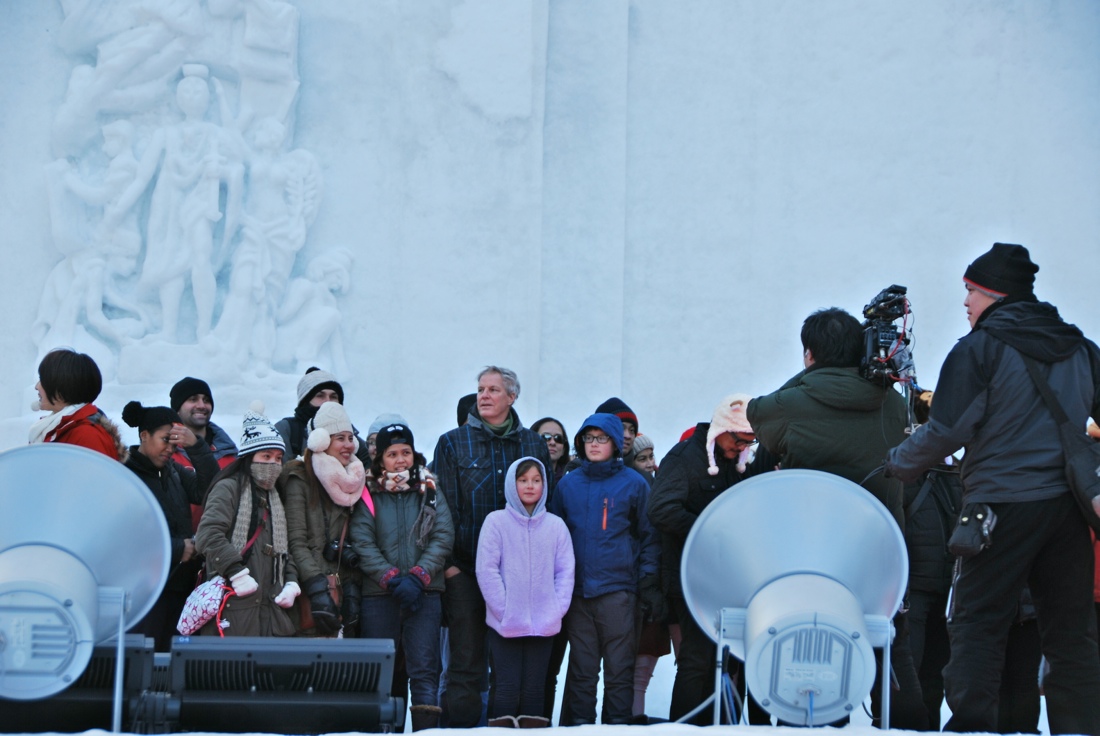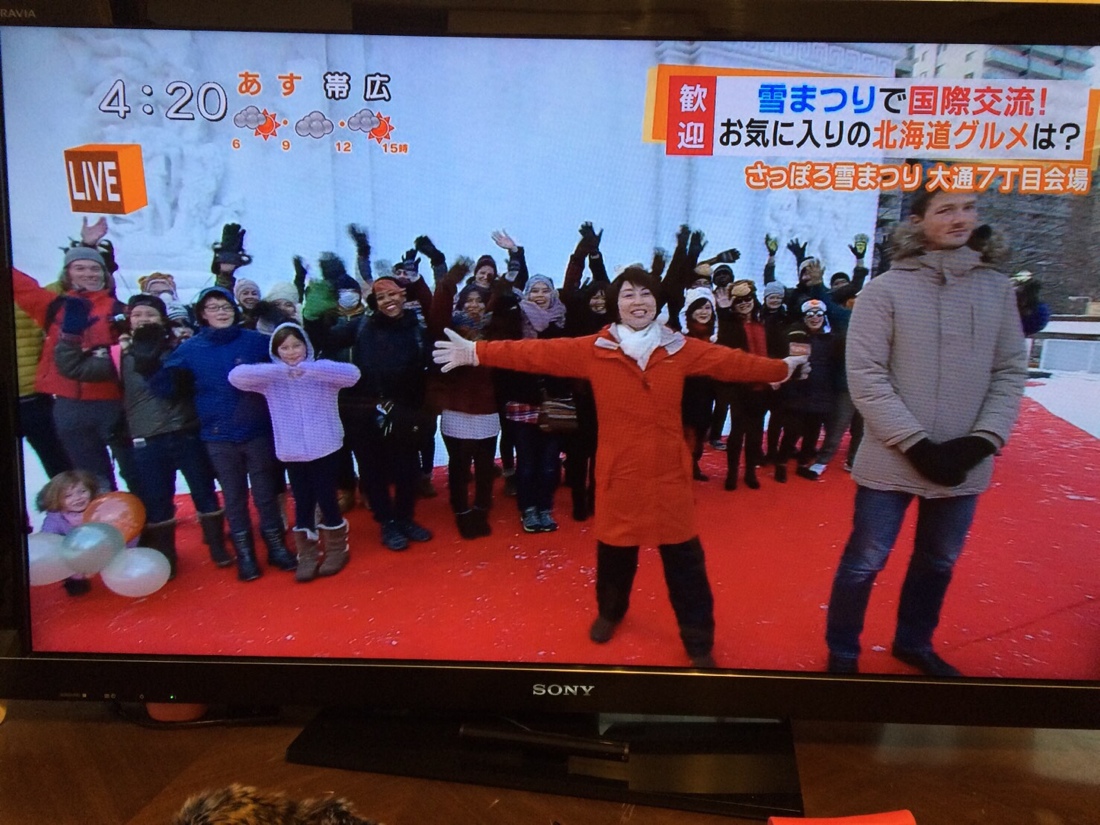 Cup O' Noodles spilling out on the snow!  It's called Cup Noodles now but I can't call it that.  There's a snow slide next to this one that Avalon and Kaiyo waited in line for.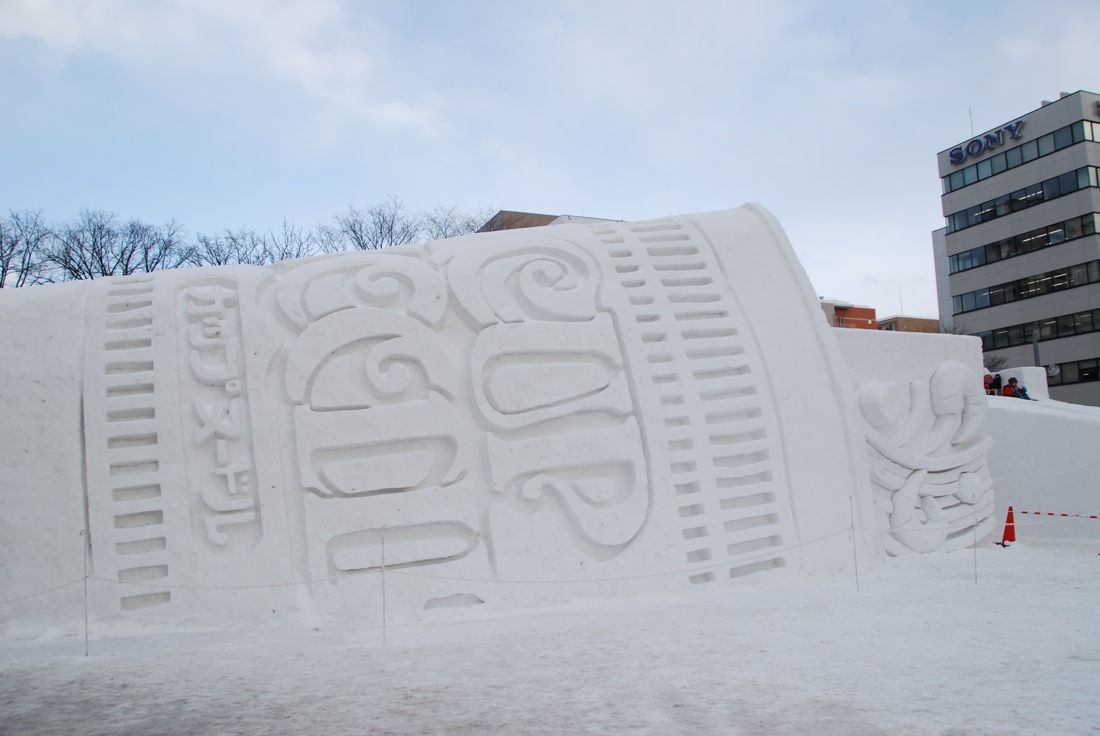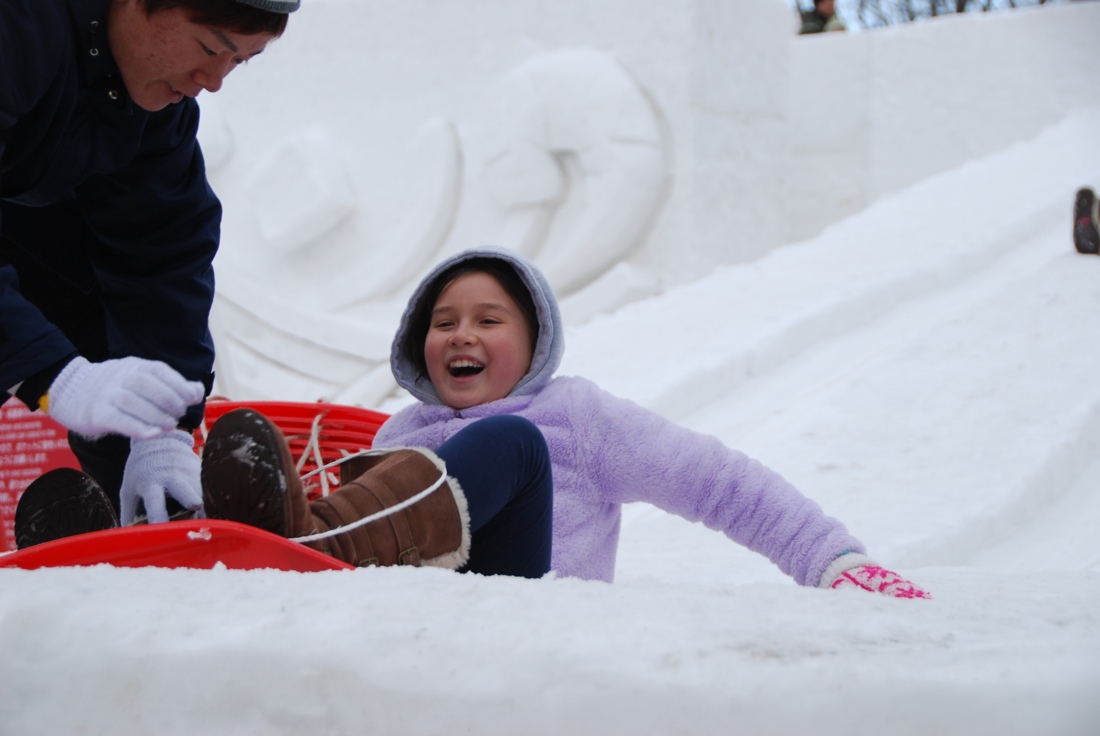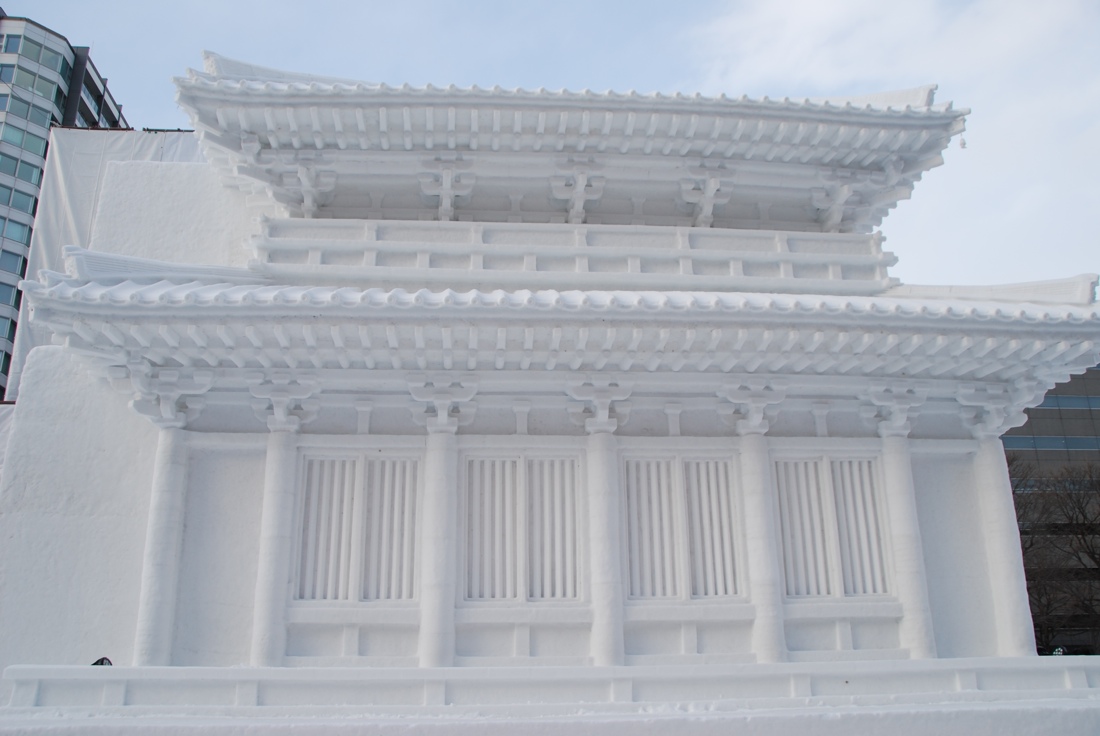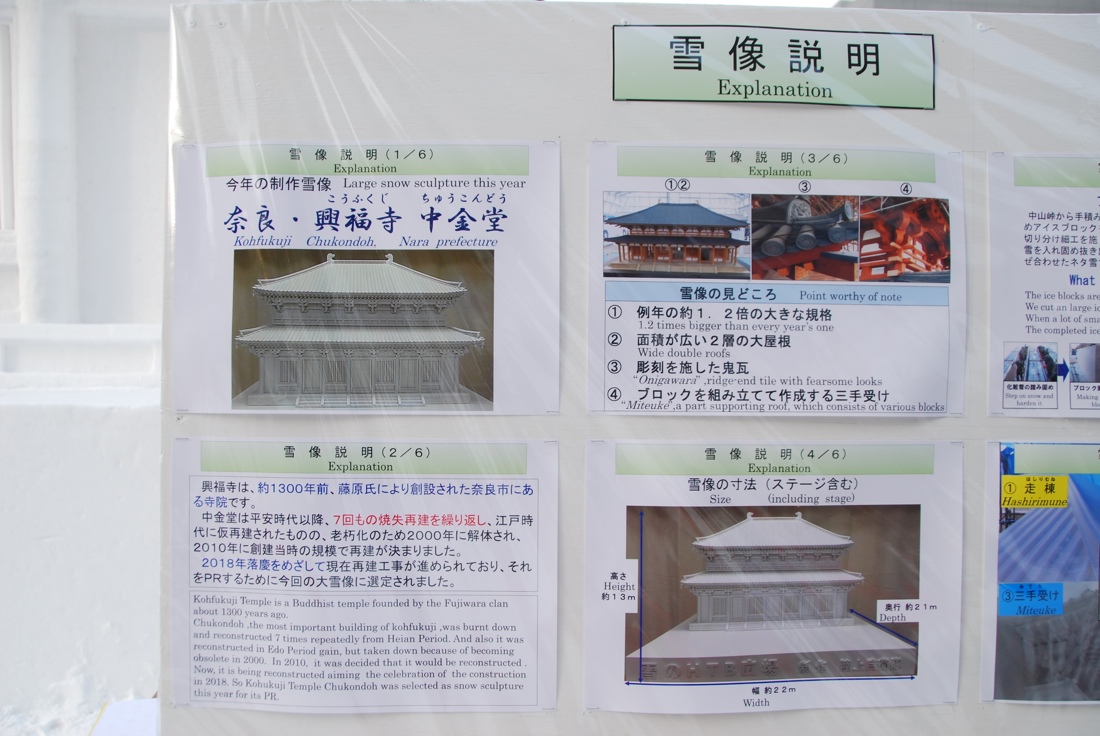 After walking all around the snow sculptures we went back to our hotel for a rest and dinner.  There's a "sento" adjoining our hotel, which is a public bath.  It has a nice, traditional Japanese restaurant and massage tables and chairs, in addition to the steaming hot baths.  At the restaurant there's a ticket machine and this one has about 50 buttons worth of food choices.  You put your money in the machine and push the button for the dinner item that you want.  Then you take your ticket to the counter to order your meal.  It's so cool!
They had low tables where you can sit on the floor and watch a big screen TV while you eat.  It was a show about cooking but we couldn't understand the TV so we just sat at the regular tables with chairs.  We ate udon with tempura, katsu-don (a bowl of rice with breaded pork cutlet), potato fry (french fries), beef curry rice, soba (buckwheat noodles) and to top off the meal a round of super thick and creamy Hokkaido soft cream (soft serve).  Yum!
After you are done with your meal many places in Japan require you to bus your trays of dirty dishes, glasses and tableware.  So you always have to be on the lookout for that.  We bus our trays at Starbucks, the ski resort cafeteria, noodle restaurants, bakeries, the hotel complimentary breakfast room, and come to think of it, any place that has a cafeteria style system of getting your food on a tray.  Places that we do not bus our dirty dishes include sit down restaurants where they take your order and every Indian and kaiten-sushi place that we've been to.
After dinner it was off to bed for our first night in Sapporo.  Western style hotel rooms in Japan are very small so we had to book two rooms.  3 beds in one room and 2 beds in the other.  We split up into a girls room and a boys room.  The rooms are on different floors.  This is fine, except… we didn't pack multiple tubes of toothpaste.  So we have to juggle toothpaste and phone chargers!