We're heading home to California on August 1, 2018.  Our tickets have been reserved and paid for and even the cats have tickets home.  Our Japan adventure abroad is coming to an end.  This August we will have lived in Japan for 2 years.  Before we leave this part of the world, we could (should?) take one final family trip.
Our last spring break in Japan.  What to do.  Last year we went on a ski vacation in Nagano with 2 other families.  This time the kids voted to stay home in Minoh and do nothing.  One last overseas trip?  The question is, where to go.  How about Singapore, Malaysian Borneo or China?  The kids say we don't want to leave the house.  I decided to focus on Borneo and China and see if either of them would be a suitable spring break vacation for us.
The top factors pointing toward Borneo are orangutans and climbing Mt. Kinabalu.  It looks like a beautiful island with gorgeous beaches, but our kids let us know some time ago that they are totally over the beaches.  Beaches with family and no friends are boring and apparently beautiful beaches are especially boring.
The top factors pointing toward China are climbing on the Great Wall and eating chicken feet and live scorpions.  And generally just seeing the country in person because China has become such a large presence in the world.  John liked the educational aspect that a trip to China could include.
I planned out trips to both places.  I planned the trips down to exact places and pennies.  Borneo would be exotic and cheaper.  I believe hiking Mt. Kinabalu would be tough but not impossible, even for Avalon.  China would be gritty, possibly shocking and expensive.
John and I picked China.  I reasoned that if we didn't go to China now, we would probably never go.  I booked a driver and privately guided tour with China Travel over the internet.  I did a lot of research.  I liked the way China Travel customized an itinerary based on our personal desires, needs and budget.  I made a lot of adjustments to our itinerary and Vanessa, our travel consultant, very patiently made my many big and small changes and took into account everything I asked for and made cuts to accommodate our budget.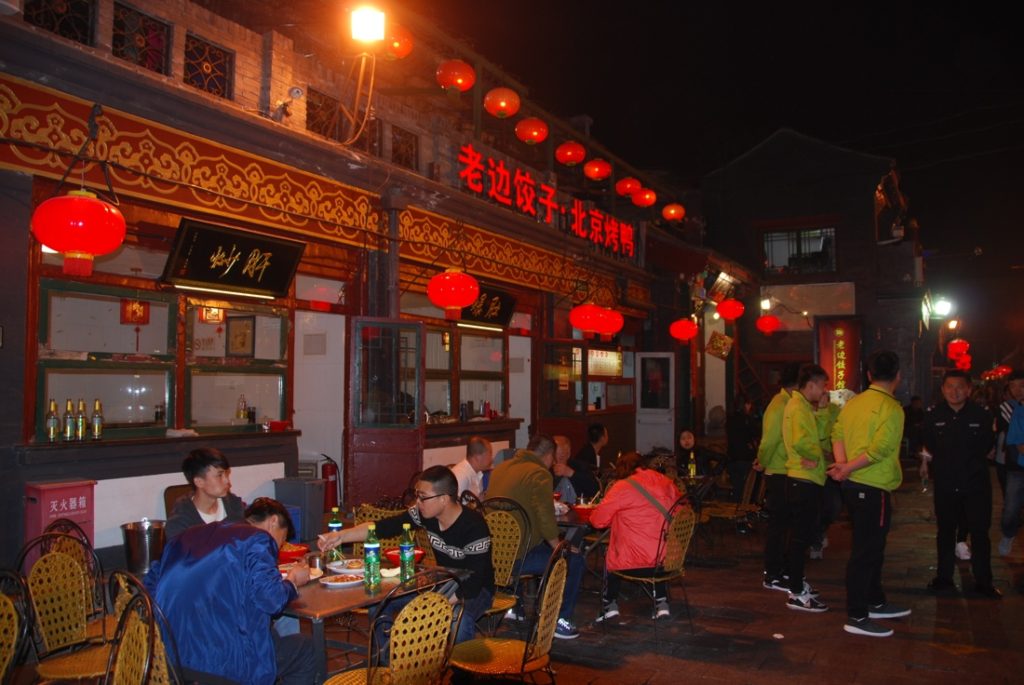 I booked with them for our swing through Beijing and Xi'an, but after Xi'an we planned to head to the mountainous region of Zhangjiajie and I planned that part myself.  There's no question that China Travel took great care of us in Beijing and Xi'an.  They spoiled us by holding our hands every step of the way.  We muddled our way through Zhangjiajie without a guide and it was by the good graces of some really wonderful people there that we never had to take a crazy expensive taxi after getting lost and we were only briefly stranded without enough cash (Oh the cash problem again.  I'm not learning.).
I spent endless hours looking at flights between Japan and China.  Every variation, through every city, and at every hour.  I finally settled on a multi-city plan from Osaka to Beijing and Shanghai to Osaka.  My original plan was to squeeze in Shanghai Disneyland at the very end.  But budget cuts made me eliminate Disneyland.  Our flights to China totaled around $2200 USD for the 5 of us.  Beijing is about 3 hours from Osaka.  Much better than flying from the US!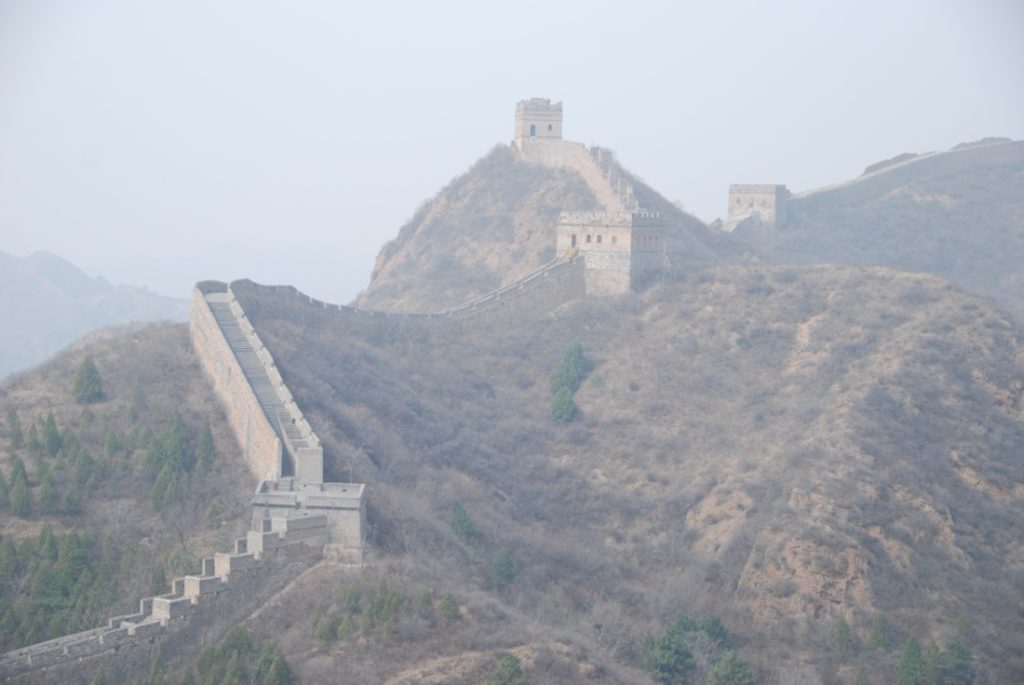 My photos in China are all pretty much gray.  It looks like my camera didn't take very good photos and really, what can cut through all that pollution and crazy sand storms coming from the Gobi Desert?  I never saw blue sky in Beijing or Xi'an and not too much in the mountains either.
We did some pretty cool things, nature really blessed China with a great landscape and they did some amazing things with it.  We witnessed some alarming behavior and we met some extremely kind and generous people.  I was forced to use squat toilets or risk getting a bladder infection.  One place had no stalls, just a bunch of horizontal porcelain squatters on the ground inside a dilapidated concrete building.  It must have been an emergency because Avalon took the risk.  But she waited until everyone was out of there and she made me stand guard outside.
The toilet paper situation in China is not very generous and very selfish people (tourists) take a large amount (from a very small supply) for their handbags for future use.  We were very careful about avoiding the local water, right down to not eating unpeeled fruit.  But John and Kaiyo got super sick with a funny tummy anyway.  And that's not all that happened!
Spring Break China Style 2018.
We landed in Beijing around noon on Monday, March 26.  We were met at the airport by our guide Michael.  Michael was a super friendly guy who checked us in to our hotel, took us to a local dumpling restaurant for lunch and then later, after he'd had a foot massage, came back to our hotel to walk around the neighborhood Wangfujing with us.  We hadn't even booked his services that day!  He just did it anyway.
This is our hotel, the Novotel Peace Beijing.  It's a Western owned hotel and even though it's 4-star, it's probably the same as a Chinese owned 5-star hotel in terms of service and amenities.  At least that's what Michael told us.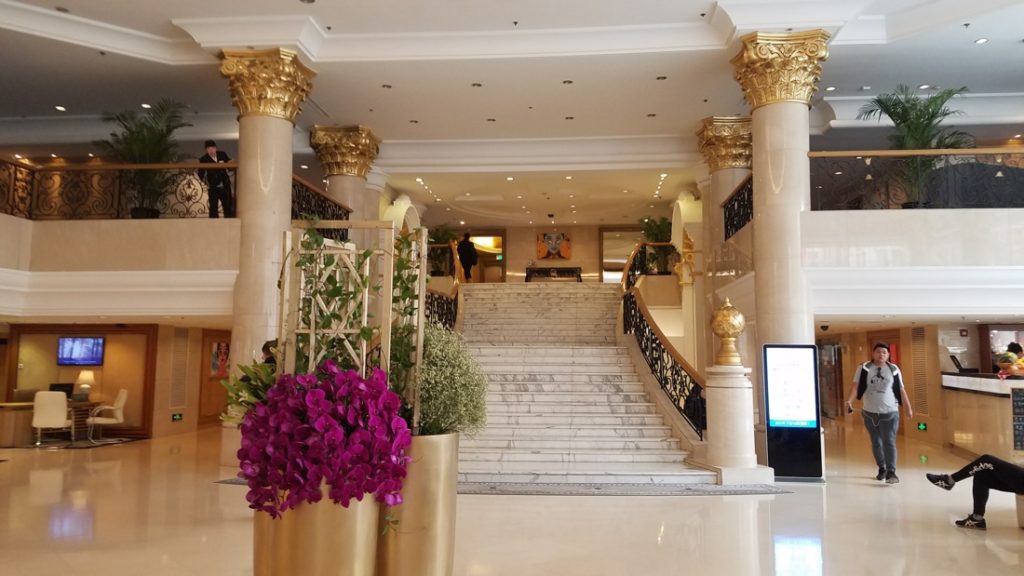 Our first meal in China.  Michael took us to a local dumpling restaurant.  He ordered so much food because that's what Chinese people do.  But then we ate it all.  Welcome to China.  It's all about eating. Oh and the beer is only served cold in summer.  The rest of the year they serve it at room temp.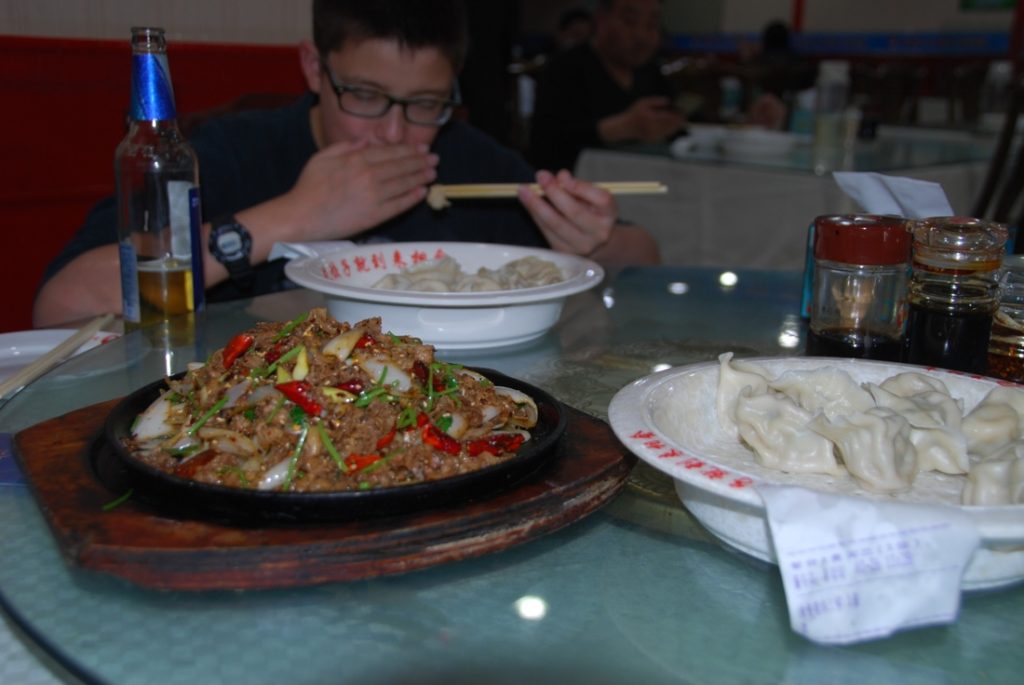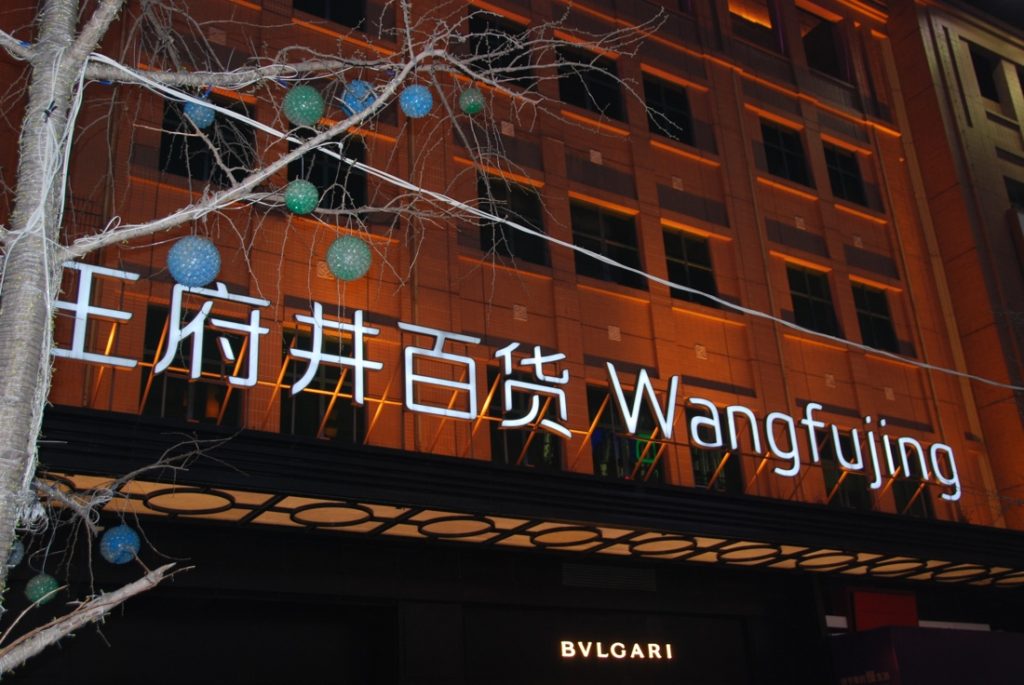 Our hotel is in the hip Wangfujing neighborhood.  It's famous for its snack streets.  Unfortunately there's only one snack street operating right now due to construction.  So I didn't get to see all the wacky snacks that I'd seen on the internet.  Like snakes and bats on a stick.  Or frogs and big hairy spiders.  But at least we saw the scorpions on a stick.  THEY LOOKED ALIVE AND WRIGGLING AROUND.  Oh my.  Michael said they put them in hot oil and it's their reflexes that are making them twitch.  Like a chicken running around with its head cut off?  Anyway, it was downright freaky.  They must be popular though, because there were many stalls with piles and piles of scorpions on a stick.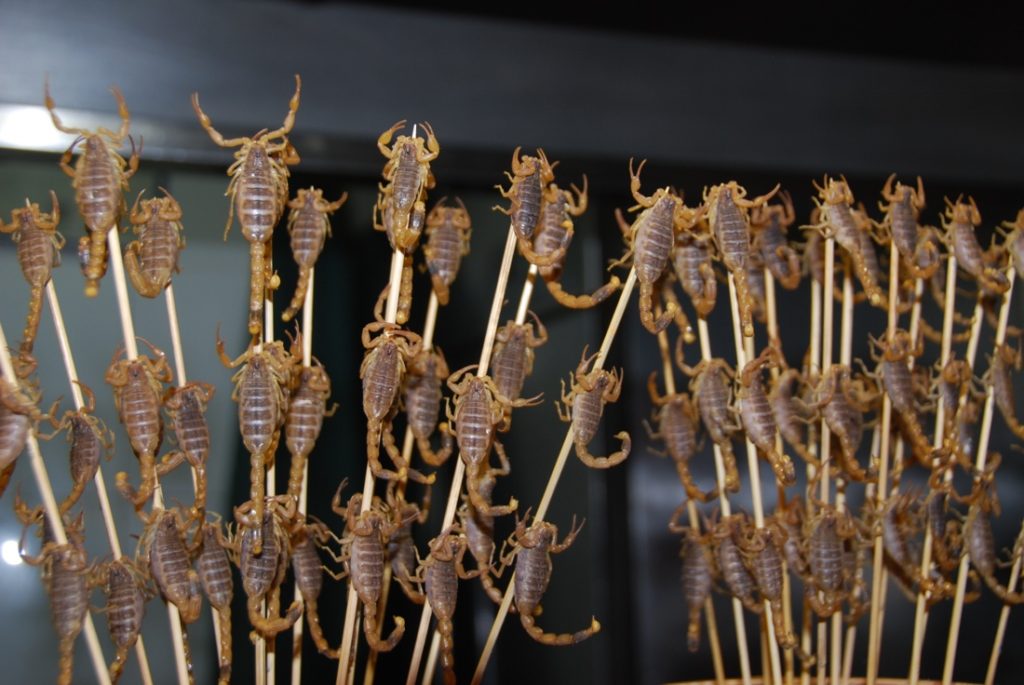 Halyard ate these weird squid things.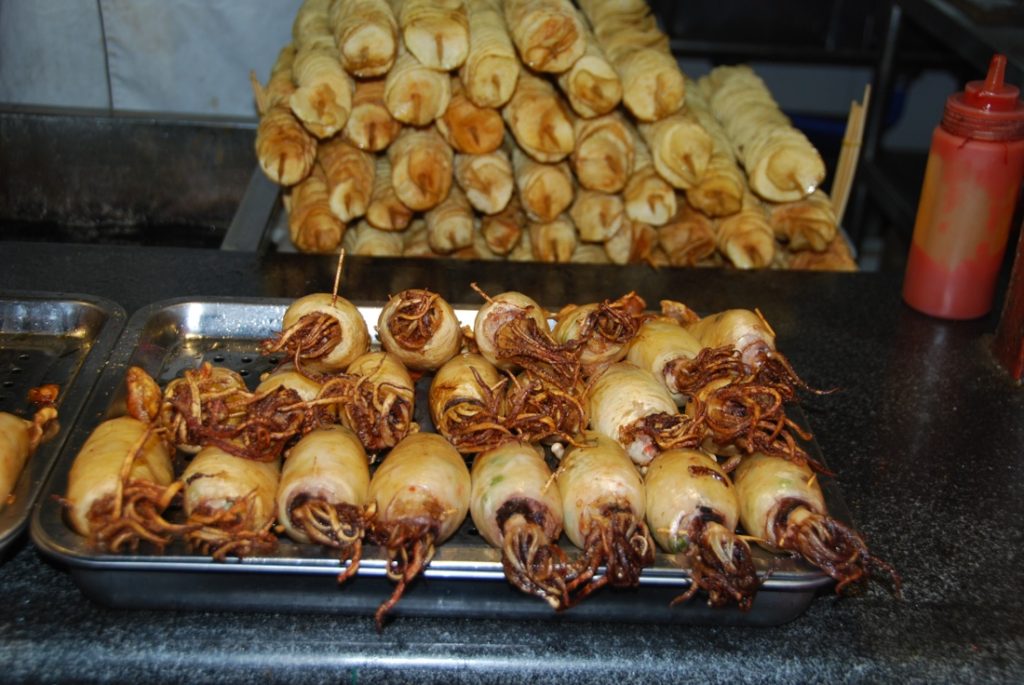 After dinner we made a plan to meet Michael the next morning at 8:30 am in our hotel lobby.  We would start our first full day in China with a 10 km hike and walk along the Great Wall!