Thursday, March 23 is a snowshoe adventure day!  Our friend Nadia doesn't downhill ski so she's been hanging around watching the kids and looking for things to do.  She wanted to go cross country skiing but it was difficult to find rental equipment and someone to guide us.  It seems there's a competition going on that has sucked up all the cross country resources.  At last she was able to book a snowshoe expedition.  The snowshoe guide said she would meet us at our hotel lobby at 14:00pm.  That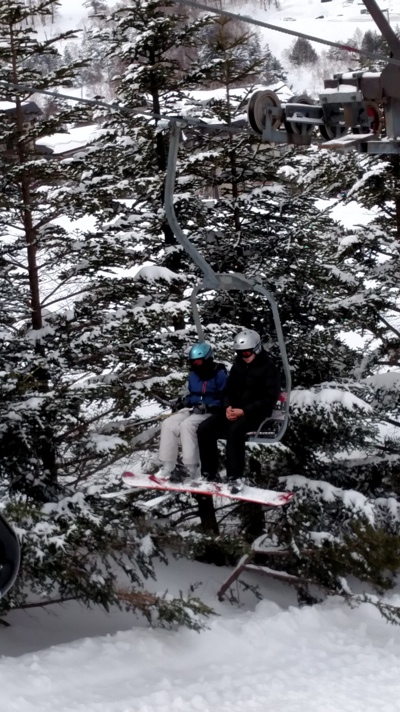 gave us some time to get in a few hours of skiing before lunch.
The snow in Shiga Kogen has been amazing.  We've been so lucky with the new powder in late March.  The snow report said 31 cm fell on Wednesday alone.  Not only is it amazing to ski in, but it's also fun to watch the big fluffy snowflakes fall all around us.  One of John's friends brought his family to Nagano over winter break (from the US) and there was so little snow at that time that they mainly went hiking!  I was so worried that might happen to us.  But we really lucked out.
One Dad in our party finally made it to the hotel last night.  His family arrived on Monday but he had to stay behind for an important work engagement.  So he plans to spend the entire day skiing with the kids.  He is going to be in charge while four of us sneak away to snowshoe.  Halyard was early getting out so he went off on his own.  Kaiyo found his school buddies to ski with and Avalon stuck with her friend and the other elementary school kids.  But by lunchtime, Kaiyo was ecstatic because he had gone down the black runs with his friend Owen and Avalon had tagged along too!  It was a big difference from our ski trip in Sapporo when Kaiyo said he'd forgotten how to ski and was sadly sidestepping down the mountain.  Thankfully it all came back to him.  Avalon said the black run was hard but she was able to do it.  These kids are daredevils!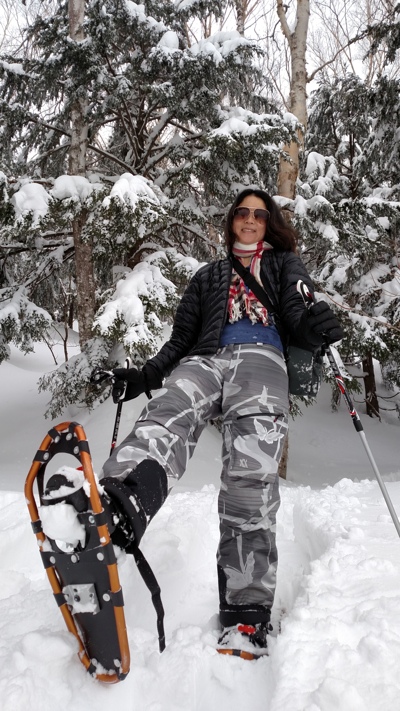 Our snowshoe guide's name is Mio.  She is cute and petite and speaks very good English.  She drove us to an area with a large lake that had frozen over and now has many meters of snow on it.  First she showed us how to buckle on our snowshoes to our boots.  The lake area was a huge open expanse with trees on the perimeter.  She showed us photos of the lake in summer.  It's large with a lot of evergreen trees and fields of grass.  It looks like a perfect summertime fishing and picnic spot.  But now it's a frozen tundra waiting for us to make fresh tracks!
We started out by trekking across the frozen lake.  It was hard work!  In the beginning it was hard because I wasn't used to the motion and I needed to find my rhythm.  This was my first time snowshoeing.  John's first time, too.  I kept stepping on my right snowshoe with my left one and vice versa.  It kept tripping me up and a few times I fell in the snow.  It was okay because the snow felt like a soft blanket.  But wet and cold nonetheless.  And I was out of breath!  I'd like to blame that on altitude but maybe I'm not in the right shape for trekking through deep powder with heavy metal on my feet!
Here are our tracks across the frozen lake.  It looks like we came a long way!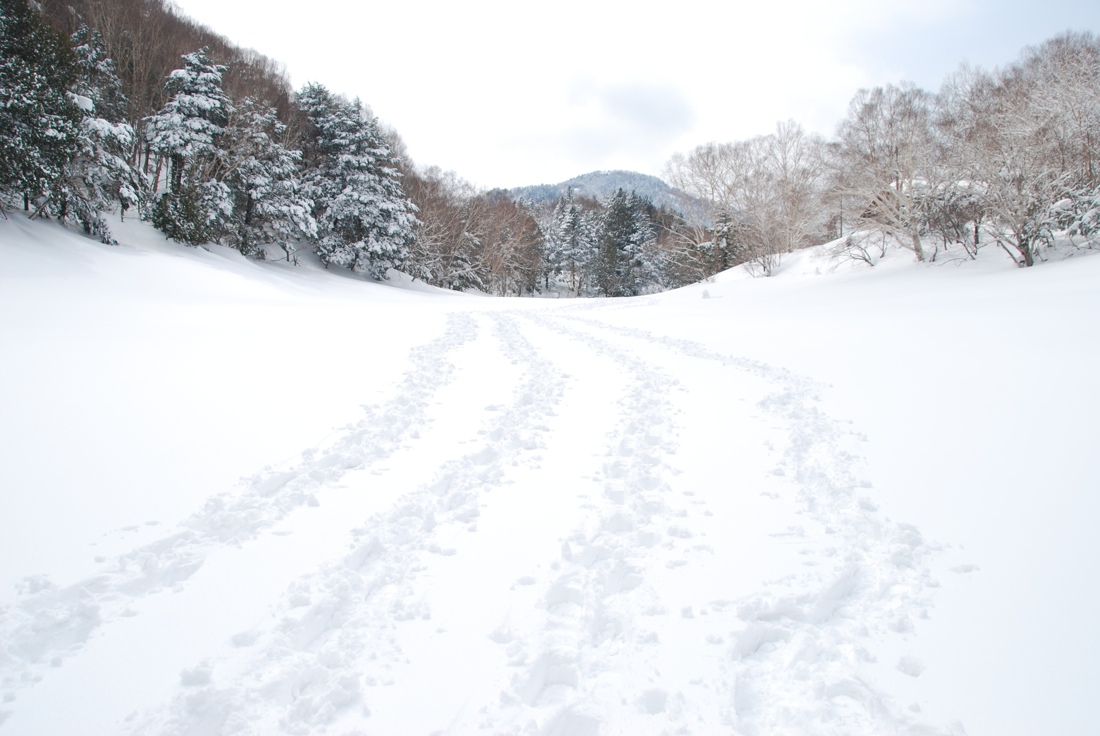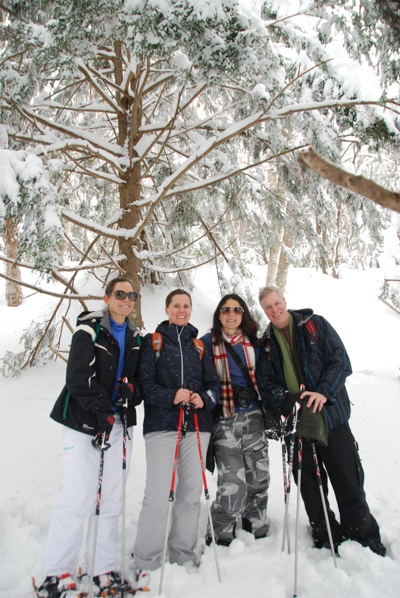 We went up one side of the lake to get a scenic view.  Mio brought us tea to drink!  It was sweet and hot and delicious.  After that Mio took us into the forest.  Even the slightest incline had me huffing and puffing.  After only 15 minutes I had to stop to take off my scarf and hat and unzip my jacket!  It was a cold day and I was sweating.  Mio took us to a beautiful canopy of snowy trees and we stopped for a photo shoot. We saw some trees that were completely covered in snow.  They actually looked like perfectly round boulders, that's how much snow was on them.  Sometimes the snow would fall off
the trees in a mini avalanche of powder all over us.  Super tanoshii (fun)!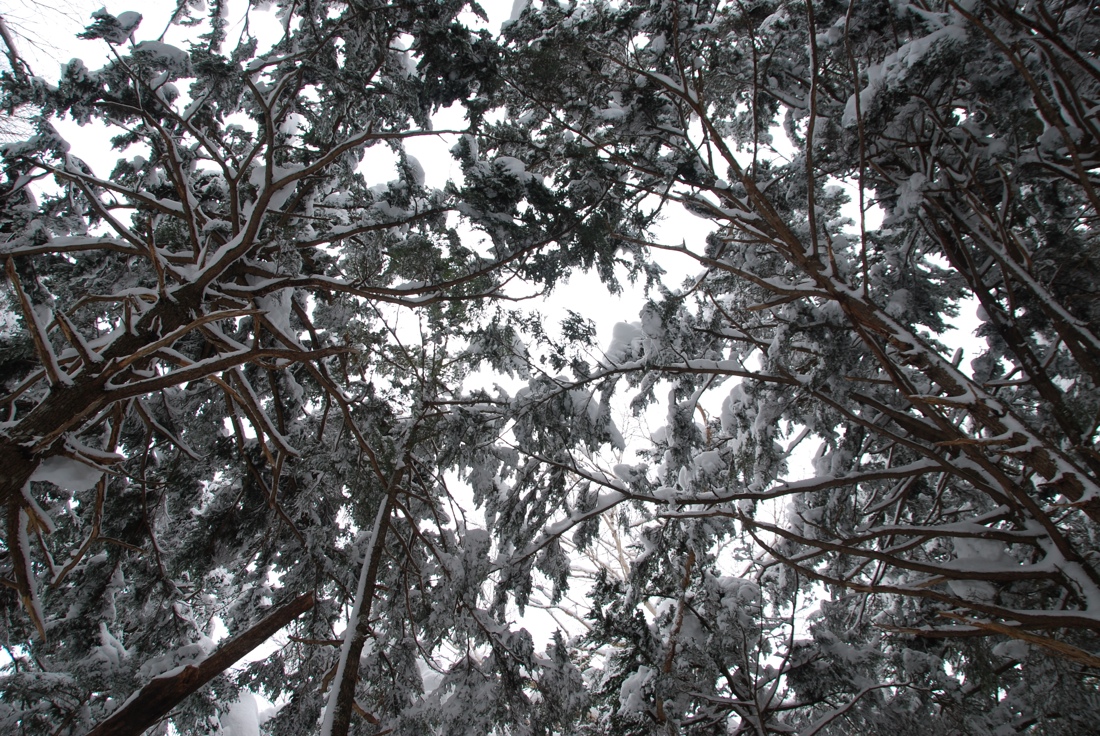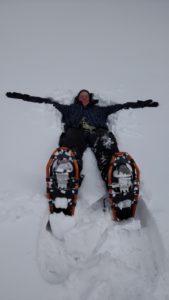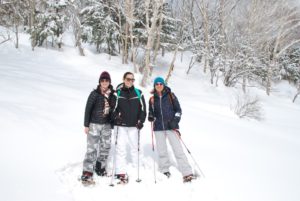 Our friends booked a two hour hike.  By the time two hours was up we'd all found our stride.  I think I could have kept going longer.  It was really spectacular to plow through the powder that had been untouched by
anyone else.  Well we did see some animal tracks.  A rabbit had hopped by and a fox or two had left its footprints in the snow.  But people feet other than our own were nowhere in sight.  Here's John leaving his print in the snow.  Hooray for new adventures!  After we got back to our hotel my friend Mariah and I put our skis back on and went to find her husband and the kids on the slopes again.  John went off to the onsen and sauna.  And Nadia might have said something about Bailey's and hot chocolate.  BEST winter vacation ever!