It's still Wednesday, July 19.  The second half of our one full day in Cambodia began after lunch.  We said good-bye to our friendly and funny guide.  He told us so much about Cambodian history and his country's struggles.  He told us how his parents had been killed by Vietnamese and his aunts and uncles killed by the Khmer Rouge.  We got the feeling they might have been scholars who were the first to be executed in the same type of sweep that Mao led to kill off the cultured and educated in China during the Cultural Revolution.
When he left us I felt so sad that the Cambodian people have suffered so much at the hands of corrupt governments, kings with dubious intentions and neighboring and distant countries.  The land mines that remain in the country continue to be such a danger to the people.  Much of their land has been taken from them and they, for the most part, do not produce anything for export.  Except their rice crops.  Our guide did say that for the third year in a row, Cambodia has grown the best rice according to the EU.  Despite the hardship, they seem to be such gentle and kind people.
Cambodia is a very expensive country to visit as a tourist.  Our side trip here for just two nights cost us about one-fourth of our entire two week total.  The government tacks on a lot of fees and their use of the US dollar makes everything more expensive, but I don't get any feeling that the government is passing any of that along to its people.  Our guide told us that he speaks Khmer, English and French.  He also spoke very decent Japanese with Halyard.  He told me he really studied hard to improve his English so that he could be hired during the low season as a freelance tour guide.  He said during high season there are 8,000 guides.  But on that day that he took us around he guessed there were only about 100 guides working.  Unemployment in Cambodia is very high.  A lot of people rely on tourists in the high season.  He also said he enjoys taking Americans around the most because they are very kind, and extend small generous acts (I found out later that John had bought him breakfast), and politely abide by the temple rules.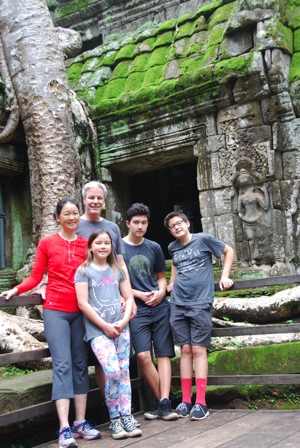 When he talked about Americans being good guests in his country it dawned on me that we (my family) are like ambassadors for the US whenever we travel abroad.  We are representing our country and the choices we make about respecting local customs, being polite guests, cleaning up after ourselves and behaving appropriately are noted by the local people.  My kids are very good travelers and I'm thankful for that.  I see a lot of impolite behavior by both adults and children when we travel.
In just one example, a European lady at the temple Ta Prohm was taking a photo with her partner.  She was wearing a strappy sundress.  The strict rule at the Angkor temples is that shoulders and knees must be covered, and not just by a shawl.  These signs are posted everywhere, and including inside our hotel room.  So a temple worker was speaking very sternly to her about covering her shoulders.  He told her that it was a sign of respect for the Cambodian people to have covered shoulders in the temple area and if she needed to be told again then she would be asked to leave.  Our guide told us that the worker was speaking very forcefully to her because she had been asked to cover her shoulders several times already.  She had a sweater with her so why not just respect the sacred place and the people?
I know from talking to people and reading signs posted in various places that not everyone is as respectful, or just plain aware, as they should be.  That goes for every country that we have traveled to.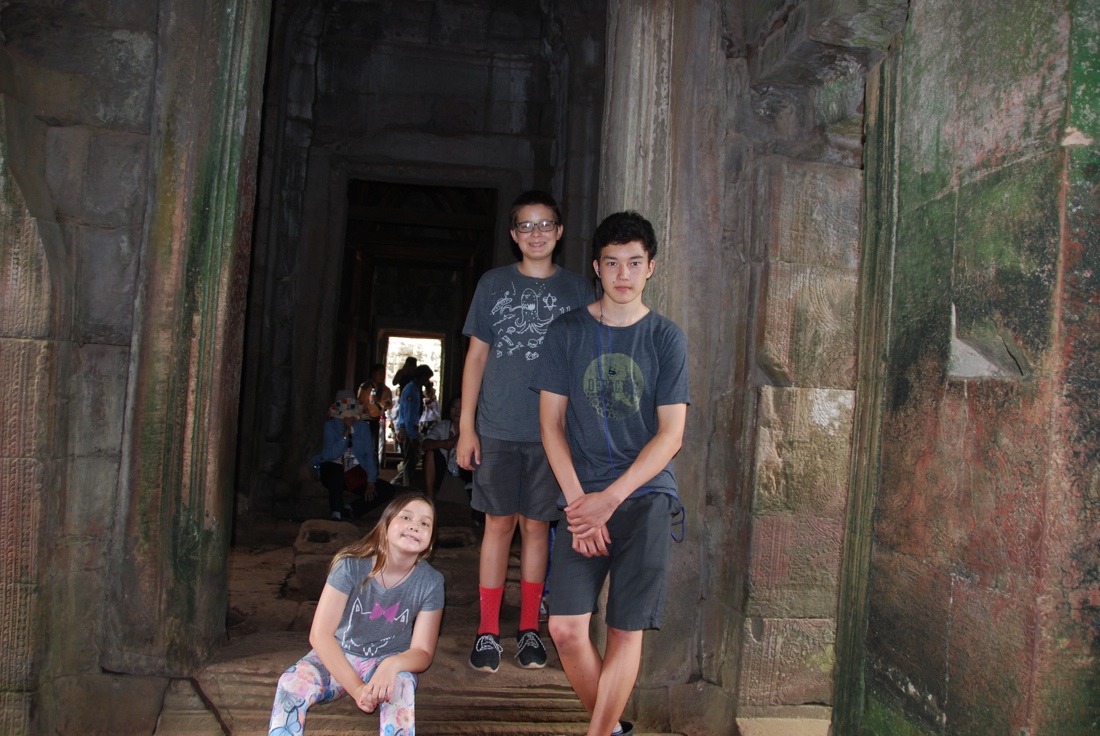 Anyway, back to our day.  After our lunch we said good bye to our guide and the boys chilled out with their electronics in the air conditioned hotel room while John, Avalon and I put on our swim suits for a dip in the pool.  It's a very large infinity pool with beautiful tropical landscaping.  The water is the perfect temperature of refreshing.  Again, a large number of French speaking guests are staying at this hotel.  One French speaking young man was wearing Steph Curry's Golden State Warriors jersey and I asked him if he likes basketball.  He said yes and John asked him if he'd ever seen a game.  He said he watches highlights on YouTube.  What a bummer being limited to just the highlights!  We had about 3 hours to relax before our next activity.  It's a beautiful pool!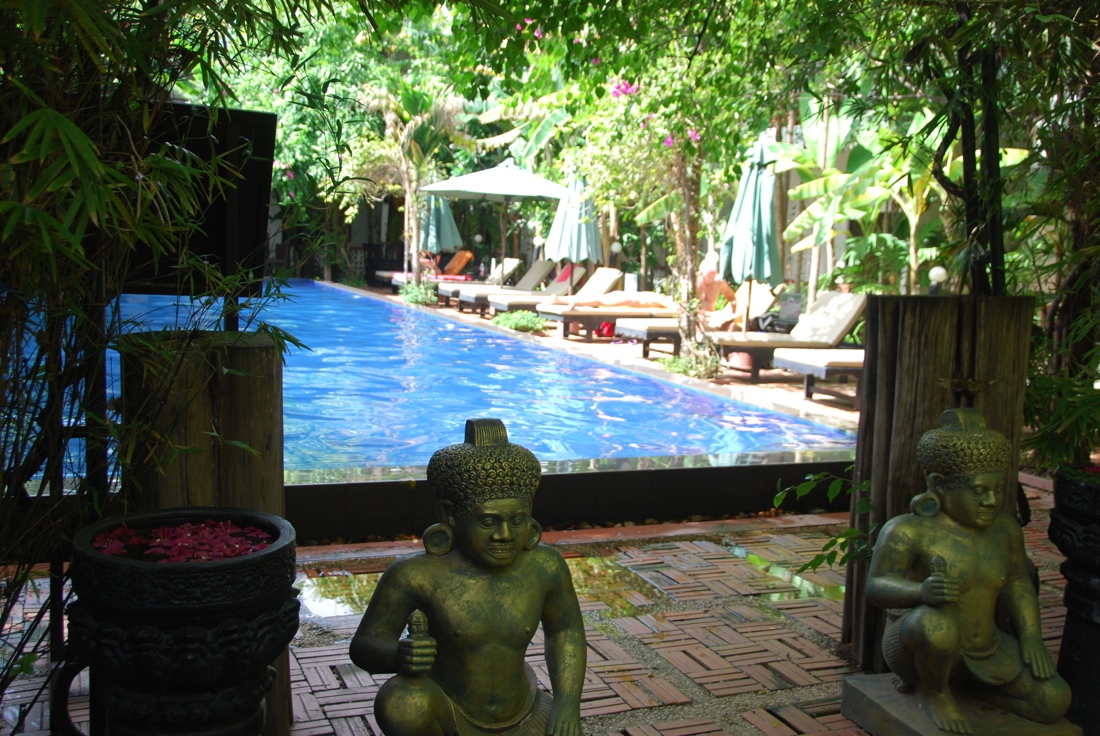 Tonight we're going to Phare the Cambodian Circus.  I've purchased a package deal that includes tickets in the front section and dinner and drinks.  When we arrive we are led to a nice dining area that is set up outside under a canvas roof.  The tables are beautifully set and there are other foreigners having dinner already.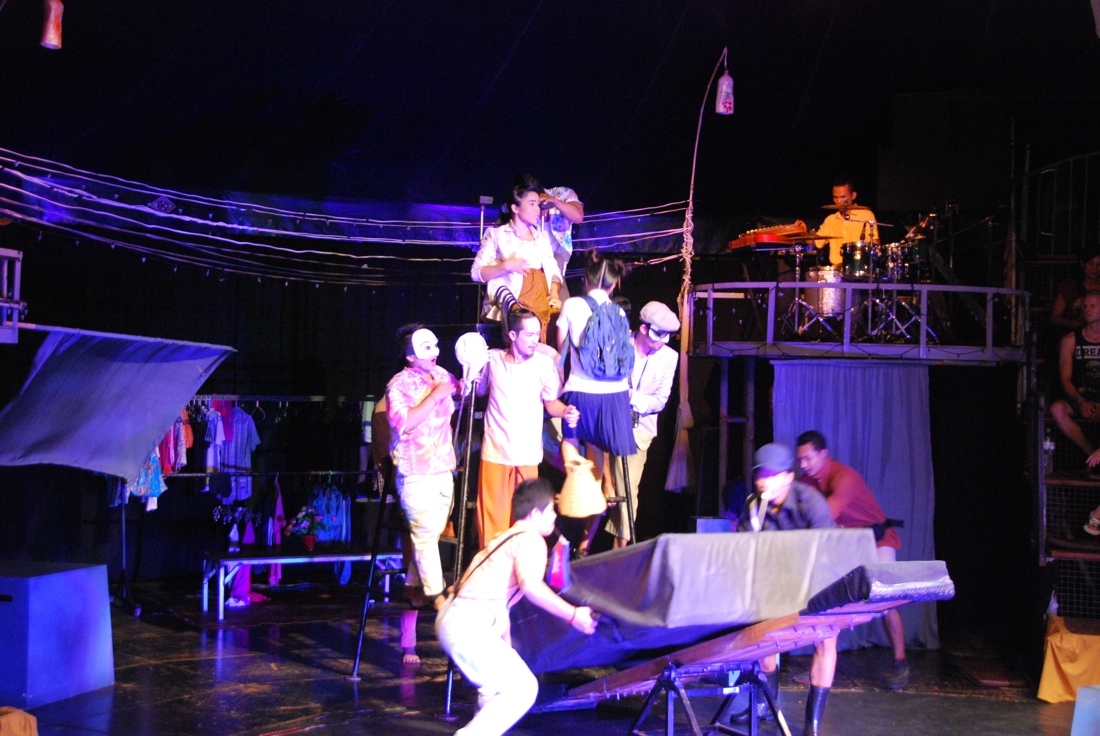 Phare the Cambodian Circus is amazing.  It was started by a group of young refugees when they returned to Cambodia and had no work.  They realized lots and lots of young people here have no career training or job future.  So they started this project to give young Cambodian artists a place to learn a trade, gain experience and have an opportunity at a profession.  This is a circus without animals, only people.  It is mostly acrobatics, juggling and entertaining skits.  When it was near the end Avalon said, I wish this could go on for another hour!  Halyard was impressed by the sheer strength required to accomplish some of the amazing feats.  The music was upbeat and fun.  It was an expensive show and dinner package (relatively speaking), but I believe the ticket prices support the program and these amazing young artists.  This is a number one must do for anyone in Siem Reap.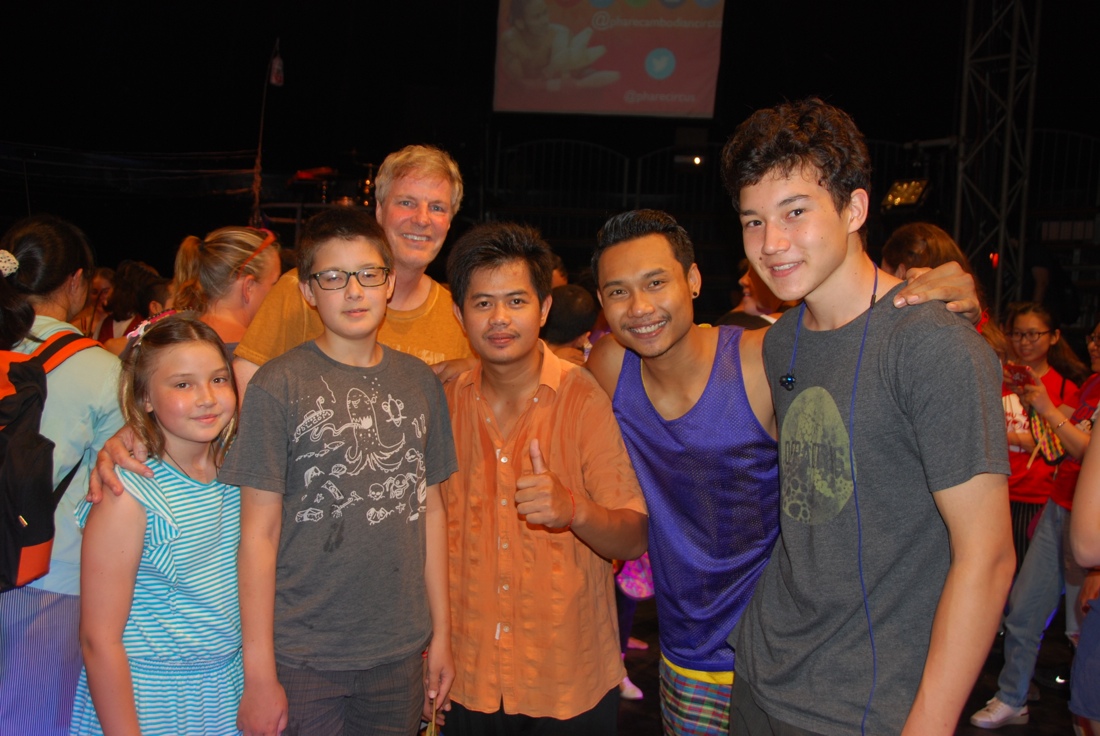 From the website: https://pharecircus.org
Phare artists are graduates of Phare Ponleu Selpak (PPSA), an NGO school and professional arts training center in Battambang, Cambodia.  PPSA was founded in 1994 by nine young Cambodian men returning home from a refugee camp after the fall of the Khmer Rouge. At the camp they took drawing classes and found art to be a powerful tool for healing. When they returned home they began offering free drawing classes to street children. Soon they opened a school, eventually offering formal K-12 education and professional arts training in the areas of visual arts (illustration, painting, graphic design, and animation), theater, music, dance, and circus. Today more than 1,200 pupils attend the public school daily and 500 attend the vocational arts training programs. All programs are offered for free.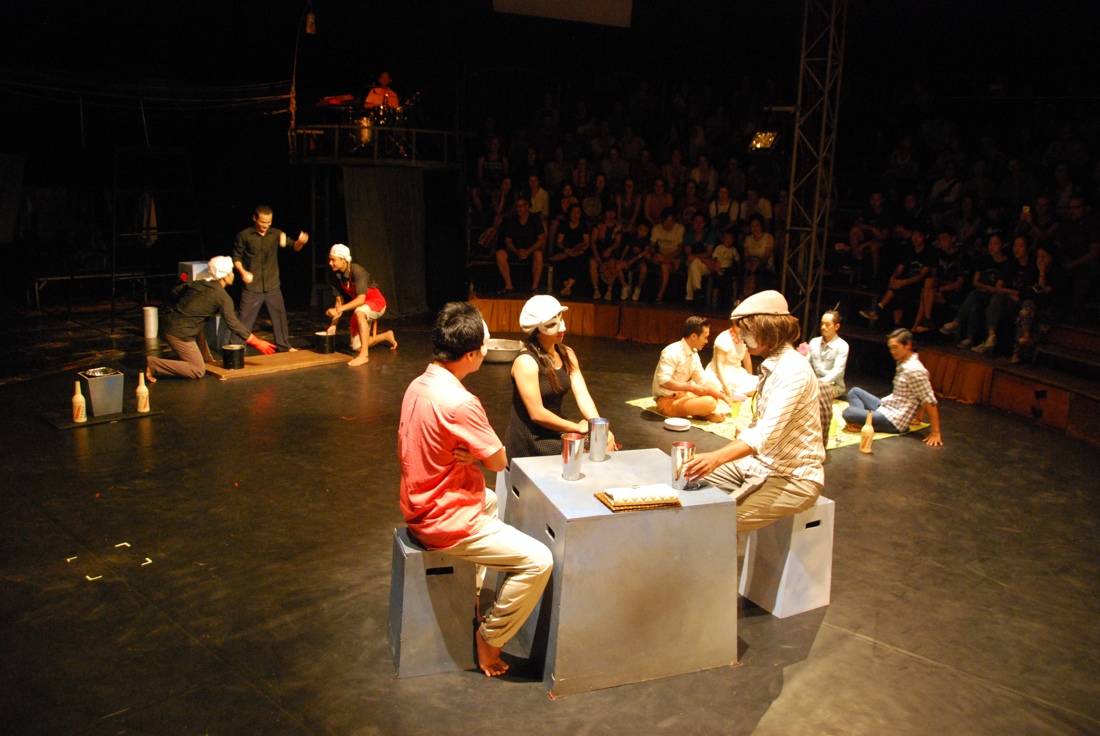 I think the trip to Cambodia was worth it despite the high cost involved.  It was kind of a shame to spend so much money (airfare, visas, temple passes) to stay for only 2 nights, but at the same time, it would have been a further drain on our budget if we'd stayed longer.  Also I was worried about the local sanitary conditions regarding food prep that I'd read about.  We tend to try to find authentic places where locals eat for cheap when we travel, but in Cambodia I felt it was better for us to stick with large, nice and predictably expensive restaurants.  We didn't eat at the Hard Rock Cafe in Siem Reap (over the top expensive), but I just had to visit.  Check it off the list!