Oh wow.  This microscopic kitchen looks like something out of House Hunters International on HGTV.  We have ARRIVED.  We even have a dishwasher, something that every international house hunter was predominately preoccupied with.  It seems that most people (who are featured on TV anyway) do not like to wash their dishes by hand anymore.  In my opinion, it's much more important to have a reliable clothes dryer.
Now we live in an area called Onoharahigashi (Oh-no-ha-ra-he-ga-she).  It's actually Onohara and higashi means east.  We are just down the street aways from the kids' school, which is in Onoharanishi (Oh-no-ha-ra-knee-she).  Nishi means west, so the school is in Onohara west.  Nearby there is also Onoharaminami (Oh-no-ha-ra-me-nah-me) and minami means south.  Kita means north, but I haven't seen an Onoharakita yet.  However, our closest train station is now Kita-Senri.
This next house we're in is smaller than our previous house.  If our house in Newport Beach is about 1600 square feet, and our previous Japanese house was about 12oo square feet, than this Onoharahigashi house is about 1000 square feet.  We keep downsizing.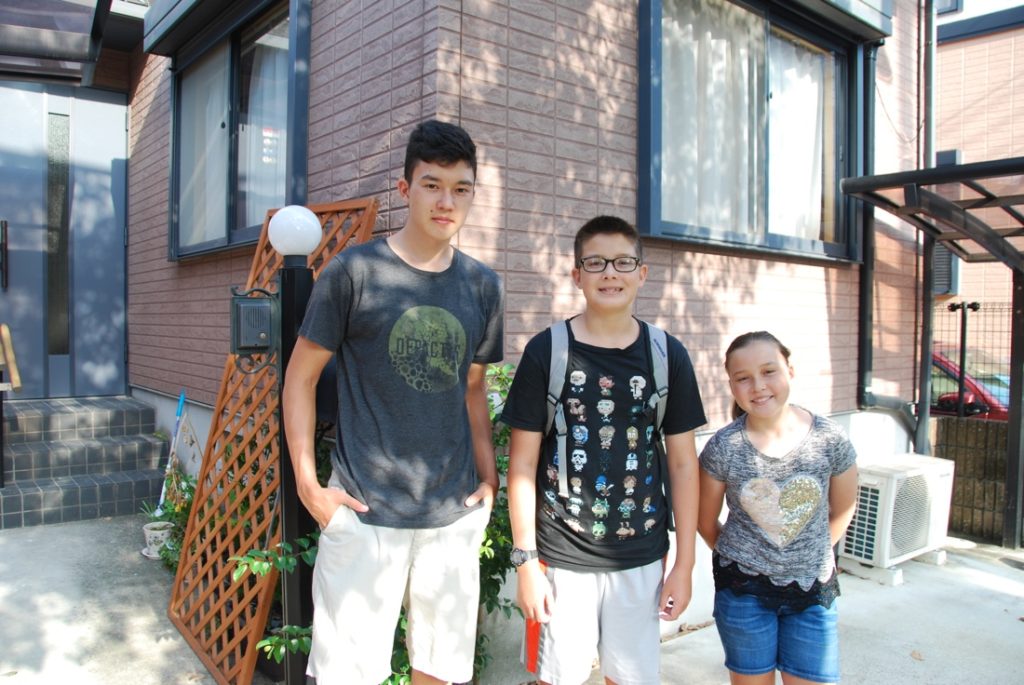 This is the first day of school, standing outside our house in Onoharahigashi.  Halyard is in 11th grade, Kaiyo is in 9th grade and Avalon is in 5th grade.  They are continuing on at Osaka International School.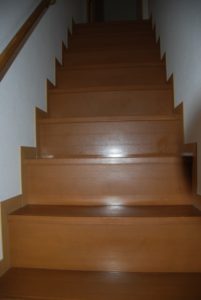 This house has a few quirks and the stairs are extremely steep.  I hope I don't crack anymore teeth!  When you go upstairs you are actually looking at the steps at eye level as you go up.  That's literally how steep they are.  Each step takes you face to face with the dirt and cat hair that's on each stair.  Gross!  It can be quite a workout, going up and down the stairs repeatedly, rounding up kids and picking up and putting away laundry.
There's also an attic.  It's empty so we can play hide and seek and lock our misbehaved children in it.  Actually it doesn't lock.  We put our luggage, empty boxes, extra bedding and my small collection of Christmas decorations in it.  The attic has a pull down ladder from the ceiling so that's fun.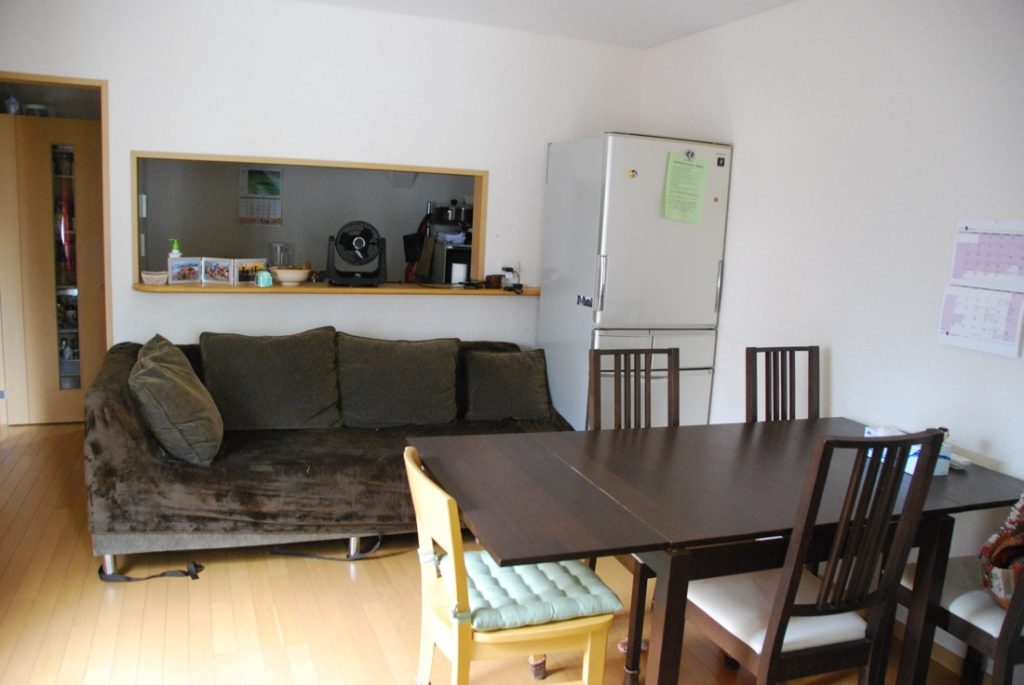 The things I like the least about this house are, number one, the refrigerator is in the "living room" – if you can call it that.  The reason the refrigerator is in here is that it's too big for the kitchen.  I suppose it's not a standard Japanese fridge.  The dining table extends so that we can all fit around it and it is also in the same room as the refrigerator and couches.  It's pretty much like a one room schoolhouse.  It's also very mismatched.  But I'm not complaining.  After this year is over we are tasked with getting rid of all these things so we can't invest too much money into it.
I also really dislike the washer/dryer combo laundry machine in this house.  The dryer doesn't dry a thing.  It only runs in 30 minute increments so when a 30 minute round is finished then you have to manually start it up again.  If I leave a damp load in the machine and forget to start the dryer for another 3o minutes the clothes start to smell.  But the truth is, no amount of 30 minute cycles ever gets the clothes dry.  I end up having to hang them anyway.  If I have a big load of sheets and towels I can take them to the coin laundromat down the road, in my little cart with wheels.  I feel like a little old lady hauling her groceries home!  But the coin laundry is expensive… about $10-15 USD per load.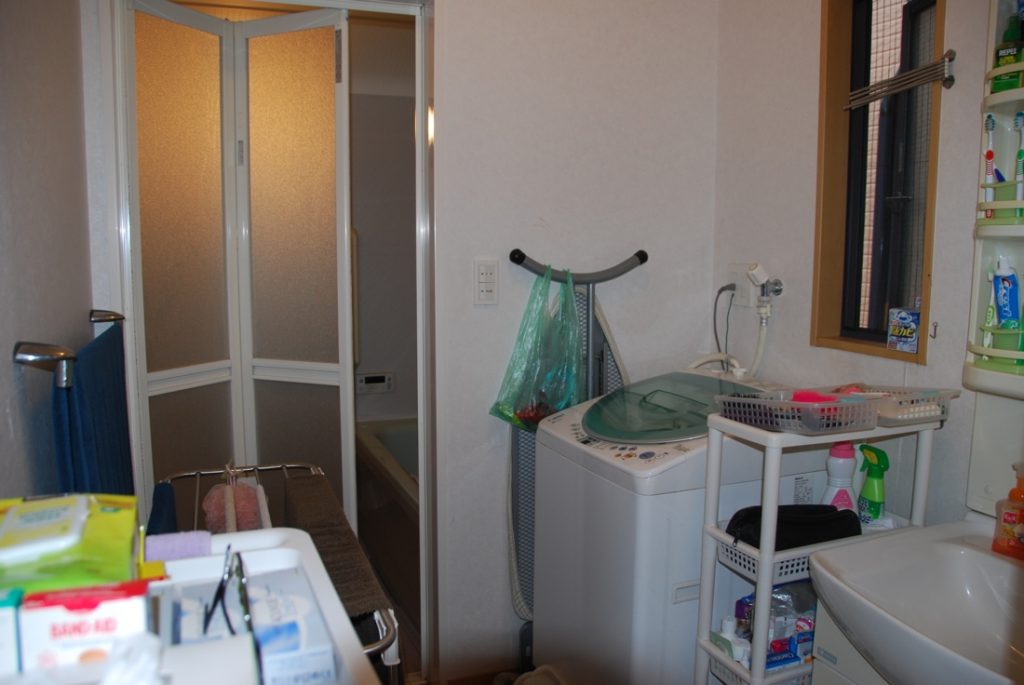 One thing I really like about this house is all the stuff that Mr. E (the previous tenant and also the former music director at the kids' school) left behind for us.  He must be getting a fully furnished apartment in Beijing because he and his wife left an awful lot of useful and random things for us.
They left us a bread maker, a gigantic juicer, a takoyaki (fried octopus balls) maker, a blender, a hand mixer, a toaster, a coffee grinder, an electric tea kettle, a Brita pitcher, a freezer full of meat, baked beans and brownies, tandoori paste, tubs of red, green and yellow curry paste, coconut powder, jars of whole star anise and liquid anise, sauces galore in which I can't even read the labels, agave, ranch dressing (where did this come from???  I have never, ever seen ranch dressing in Japan), molasses, tall clear canisters full of stuff like whole coffee beans and oatmeal, salmon fillets in a tin can, and pounds of sugar and flour – more than I might use in 3 years.  One of the best things that they left for me was a Crock Pot.  These are also hard to find in Japan and very expensive on Amazon Japan.  Mr. E also left four opened jars of honey, one of which he said was very expensive, but I have no idea which one it is.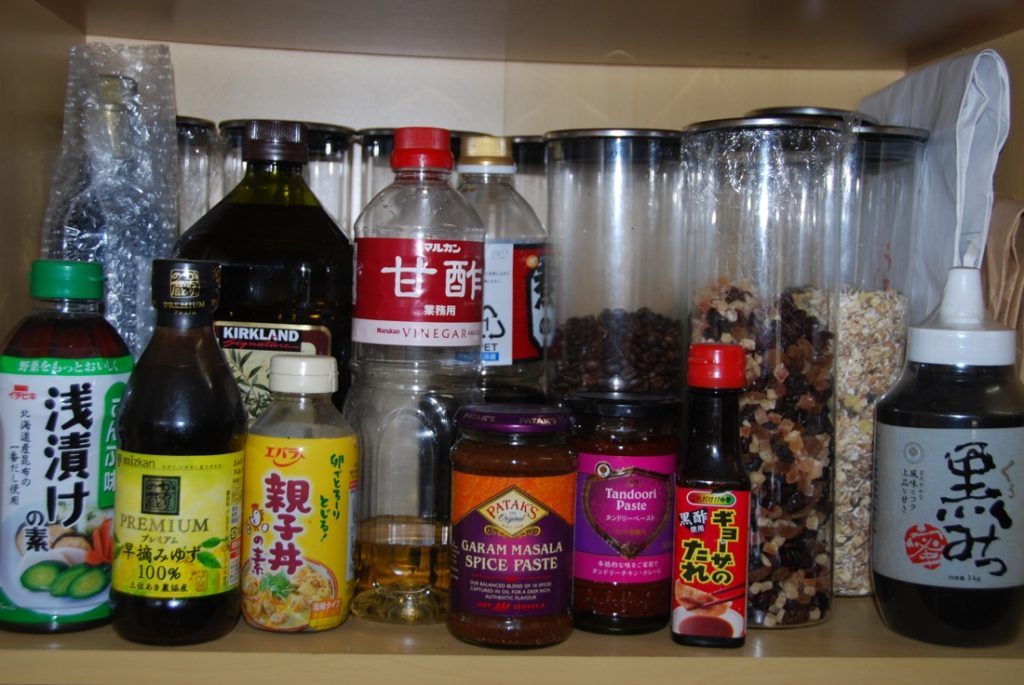 I hate for all this odd stuff to go to waste, so I looked at my supplies and I baked anise biscotti the
other day.  It turned out very well.  I was quite pleased with myself.  Here are two very random items
that I couldn't decipher myself.  I put them in my bag and took them to back to school night to see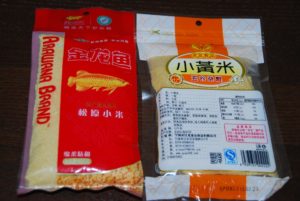 who could help translate.  My friends said the bag on the left is fish food!  Hah.  Very strange.  I don't know if they had fish, but maybe they took it to the park with them?  I had to track down a Chinese native to read the package on the right.  I was told by the father of Avalon's classmate that it is porridge, and then he shared instructions on how to cook it.  This is just a sample of the wacky products that were left in this house for us.
Another thing I really like here is that you can shut a door that closes off the kitchen and dining/living room.  Now it's much easier to shut the cats out during meal time or when I'm cooking.  They are still always trying to get into the people food.  There's a big, propane gas BBQ grill here, too.  For some reason, Mr. E called it a "California grill."  I'm not sure why he gave it that label (he's from Australia), but it's very unusual to find this in Japan.  I'm so excited to use it.  I can't wait to have a big BBQ here.
In terms of space, we've lost the separate dining area and the extra room that served as an office and library.  It's a four bedroom house, which is great for the kids.  Again no one has to share a room.  Avalon says her room is much, much bigger so she is very happy about that.  The toilet rooms are tiny.  You can't even stretch your arms out wide.  A water closet with an emphasis on closet.  The overall bathroom and laundry area is smaller, but not too bad.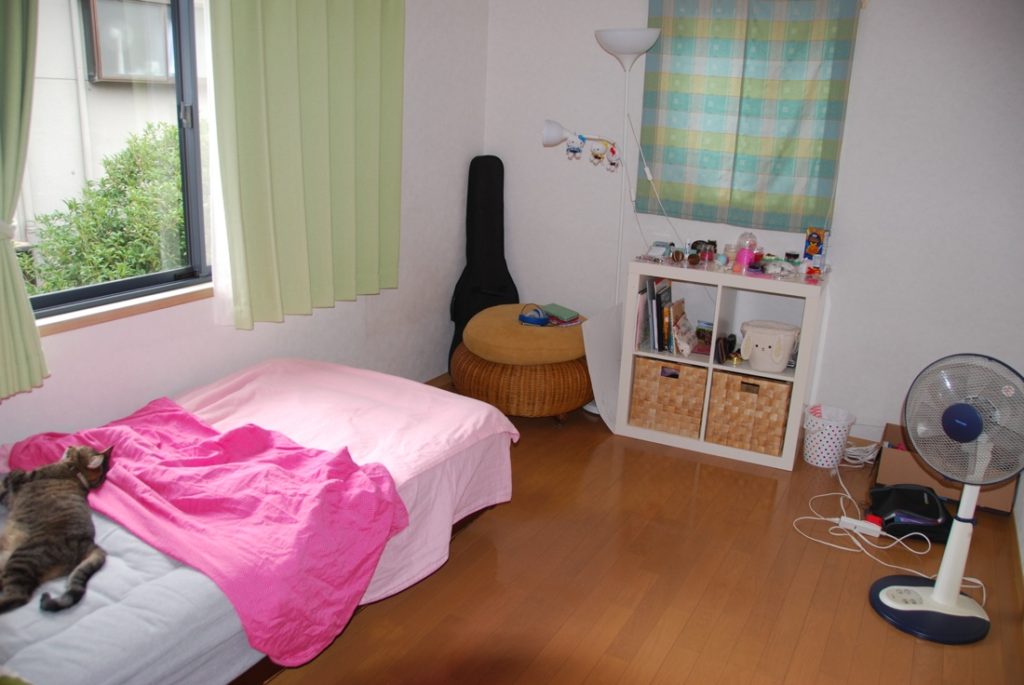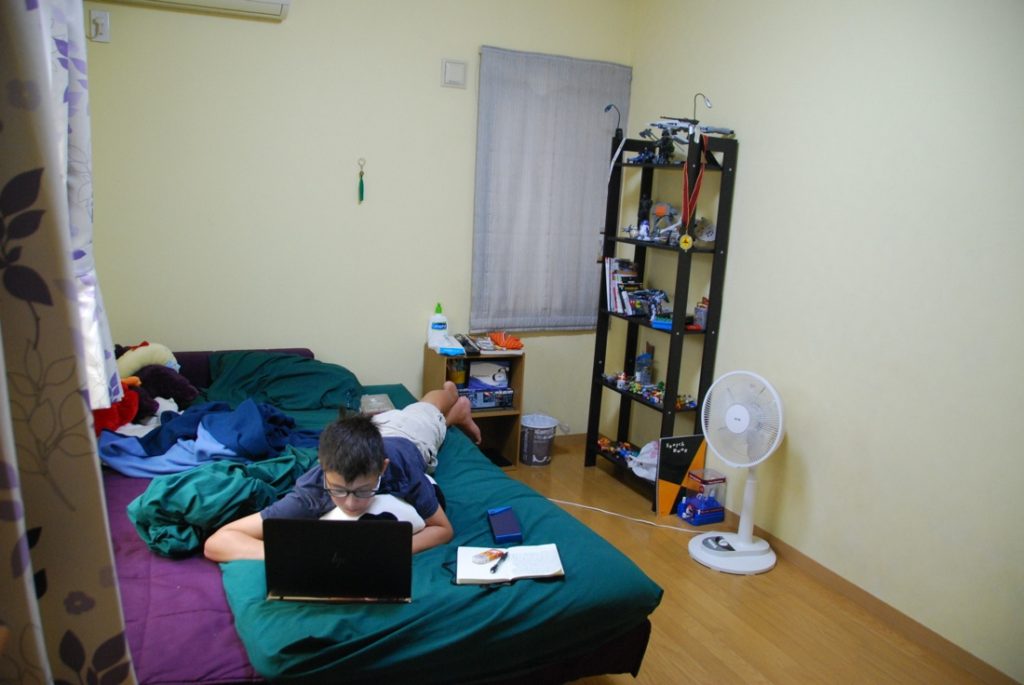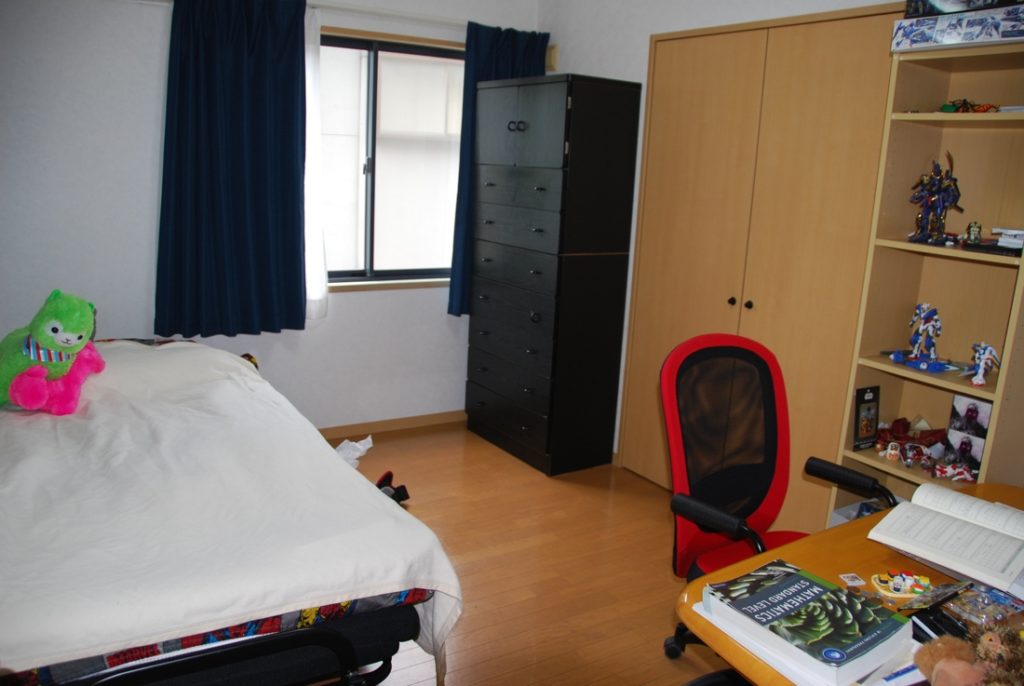 The cats have settled in now.  Initially I think they were put out by the move.  Maybe they didn't like this house at first because they could smell the dog that used to live here!
When we first got back from California, we had no bikes and no car.  When we lived at the other house, Andrew let us use all of his things!  We paid him to "rent" his car last year, and it was handy to be able to drive in the rain and for shuttling people around when they came to town.  Today Halyard and I took the bus to the next town over and bought two more bikes and rode them home.  Whew!  What a challenge for me.  It was hilly and there was no electric battery.  Now we have four bikes.  Yahoo.